9:44 a.m. on October 25, 2011 (EDT)
Tipi Walter

295 reviewer rep
1,436 forum posts
I know, I know, my trips are repetitive---I'm not out in the Bob Marshall or Yellowstone or the Cascades or Glacier or the Beartooths or the Sangre de Cristos---I'm back in the Citico/Slickrock.  It's close to home, and while the trips remain the same, the pictures are different and taken in a different month:  OCTOBER!!  And sometimes I even use different gear.  So here we go---
HIGHLIGHTS  TRIP 126---Oct 4--21, 2011
**  18 DAYS IN THE OCTOBER MOUNTAINS

**  THE TEXAS BOYS

**  FIRST TIME ON THE WINDY GAP TRAIL

**  RAINSTORM AT SADDLE TREE GAP

**  SKID IN THE CLEARCUT

**  WITH JOHN QUILLEN AND THE SOUTHERN HIGHLANDERS

**  WITH PATMAN ON SADDLE TREE GAP

**  WINDSTORM ON FOUR MILE RIDGE

**  HOPPIN JOHN AND HOOTYHOO

**  BACKPACKING WITH HOOTYHOO INTO THE WEDGE

**  8TH TIME ON THE BRUSH MOUNTAIN TRAIL

**  BUTT COLD STORM ON THE SOUTH FORK CITICO

**  COLD FEET AND 9 CROSSINGS ON GRASSY BRANCH

**  LAST NIGHT ON FLATS MOUNTAIN
Little Mitten and I drive up the Cherohala Skyway to 4,600 feet at Beech Gap where I unload a 90 lb pack for 18 days in the mountains of TN and NC.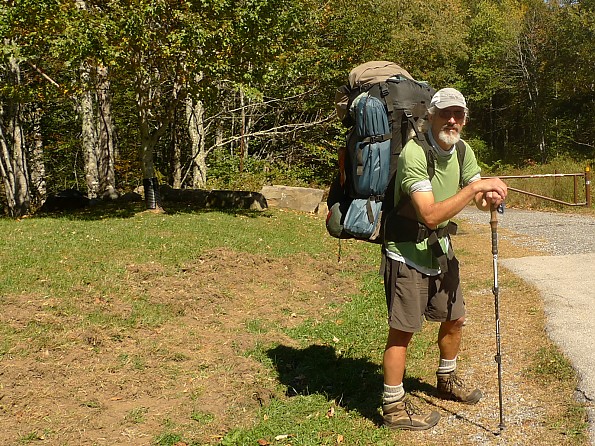 90 lbs you say??  I could list the weights but then my head would explode.  Suffice it to say I have five books, 32 oz of fuel, and a near full winter kit including a down jacket and pants along with too much food.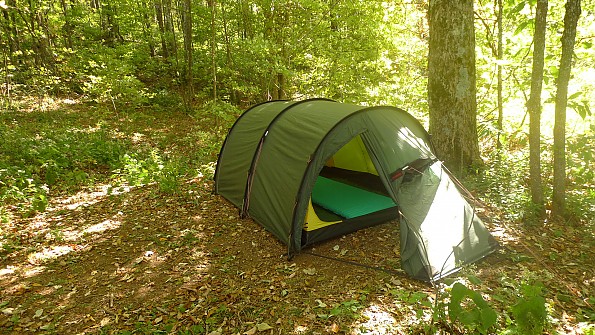 Ye olde faithful Keron tent tags along for the ride.  3.2 miles in I dump the "gun safe" and set up camp at Barrel Gap on Trail 149.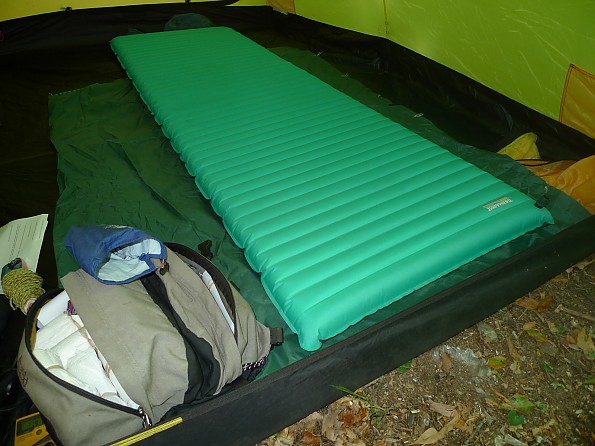 NeoAir All Season Pad---I vowed never to buy the cheap and flimsy looking NeoAir but when they come out with the 5R All Season with the beefier denier cover I have to try it out.  Of course, it passed the "week in the backyard" test and so here it is with me on Day 1 of a long trip.  Keep your finger's crossed.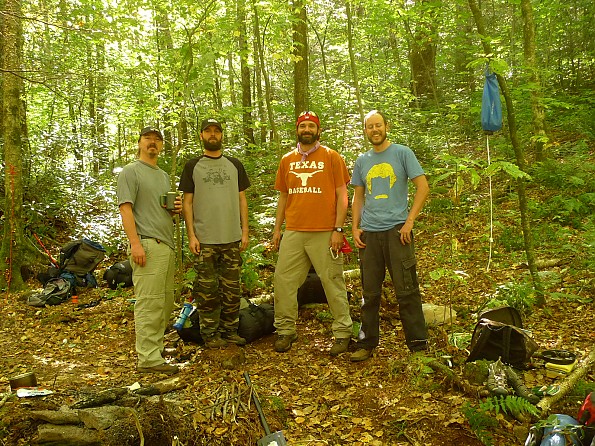 The North Fork Texans---On Day 2 I run into four backpackers from Dallas TX pulling their annual trip.  I leave Trail 149 and hook into the North Fork Citico trail and pass their camp.  Their original plan was to descend the NF and do the South Fork loop, but I convince them with the help of their map to follow me up to Bob's Bald, a six mile day for me with a climb of about 1,200 feet---kicked my sac with day two weight.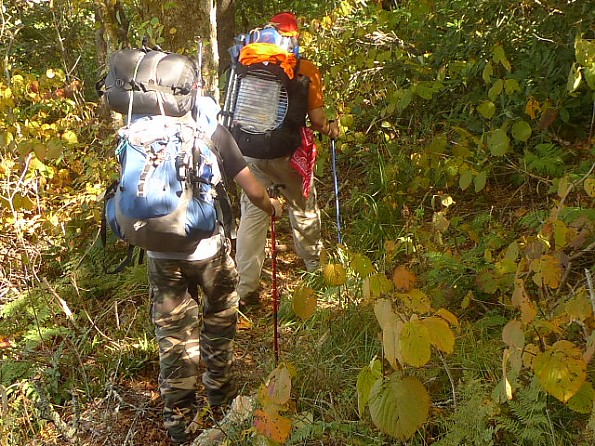 On the trail to the Bob with the boys.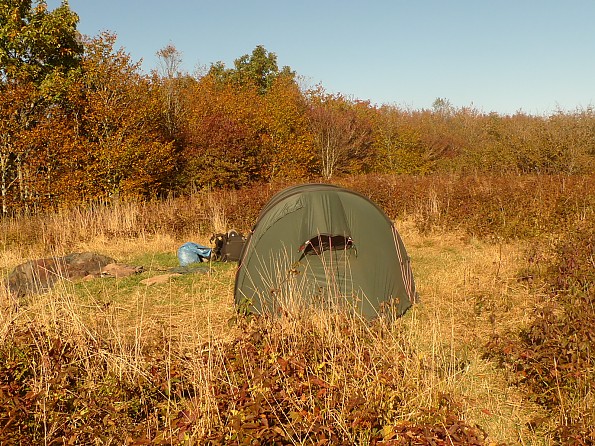 I make it to the top after a hard climb and set up at Raven Camp while the boys set up below by the big firepit.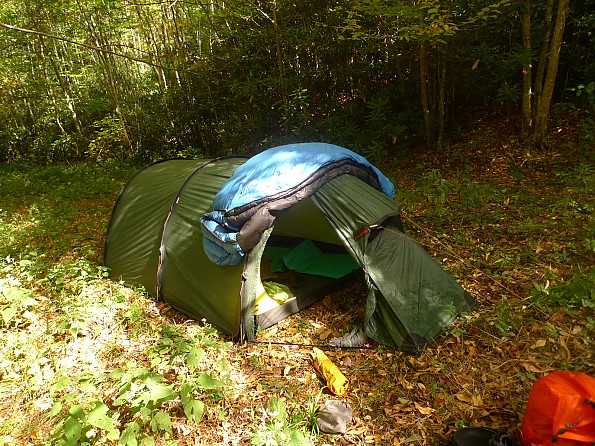 On Day 3 I say goodbye to the boys and fall off the mountain and in 1.5 miles I reach a reststop where I hang out with a newt.  Three miles later I stay on Trail 149 and reach Dean Camp where I set up the old lodgeskins.  This is an excellent campsite with a branch of the NF Citico flowing right by. The weather has so far been outstanding.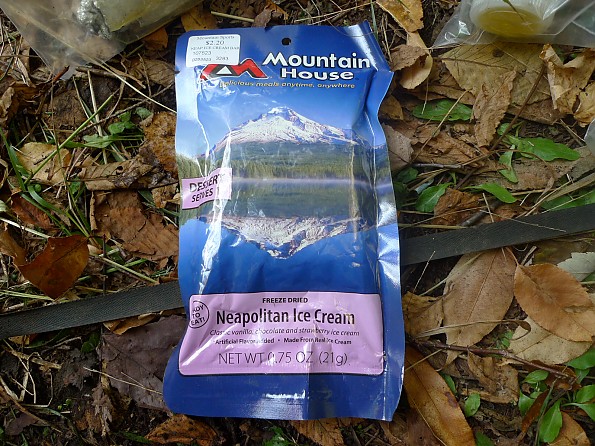 Before I leave the Texas boys they souvenir me a pak of dehydrated ice cream---weird.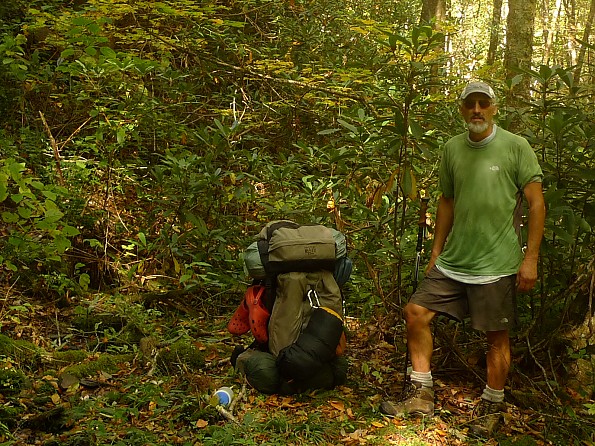 Back on the North Fork---On Day 4 I follow Trail 149 back to the NF and it sure feels good to be back on NF Creek where the air is clean and the moss is green.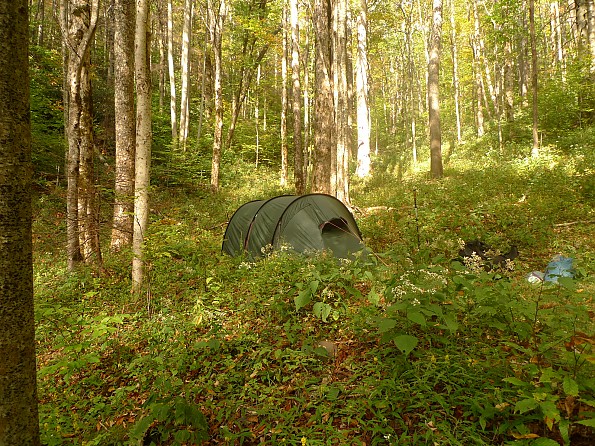 At the trail jct with 149 and the North Fork I turn right and head up the trail to the open bowl below Cherry Log Gap and set up the tent at Snake Mt Camp on the one level spot in a steep bowl.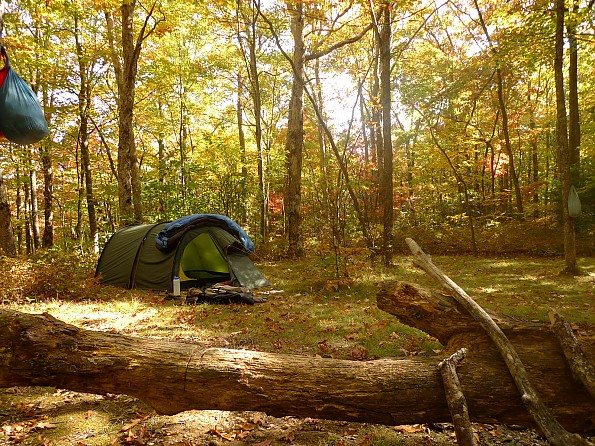 Crowder Camp---On Day 5 I make it to Crowders after about six miles but this time I stay on the ridge and not at the lower camp by the creek.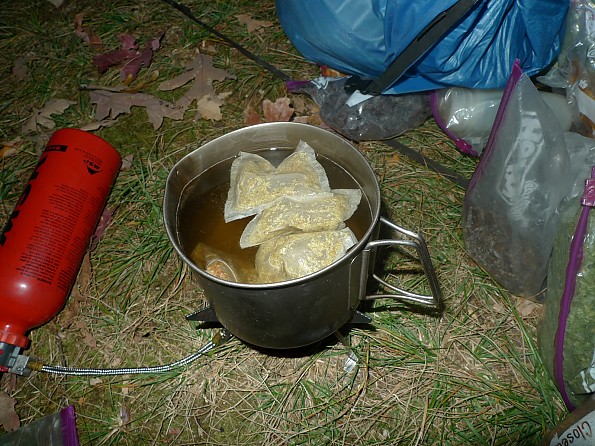 At midnight I brew up some hot tea with honey---chamomile of course.
Day 6---Geared up to hike I stay on Fodderstack Ridge with a full water load and prepare to leave camp and pull the four hills north past familiar landmarks before I find a level campsite close to the one and only water spring on this part of the Fodderstack trail.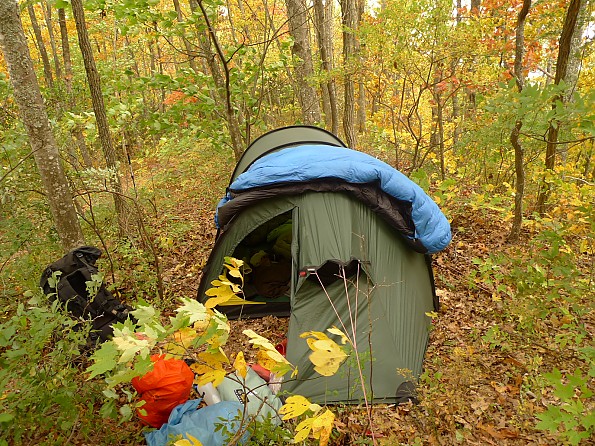 I wanted to find a campsite close to the spring but not too close to Farr Gap and here's what I found---a level little pull off next to the trail where the ridge and the trail meet.  It's home for Day 6.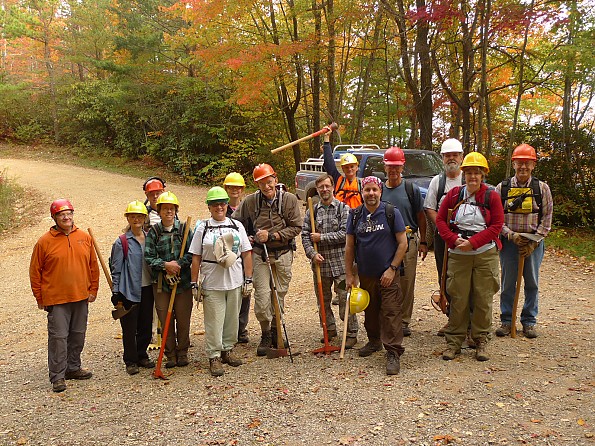 Fourteen trailworkers from the American Hiking Society and the Crosscut Mountain Boys gather at Farr Gap for a run down the Stiffknee trail.  Rick Harris is on the left and Ken Jones is on the right---he's the king of the area trails.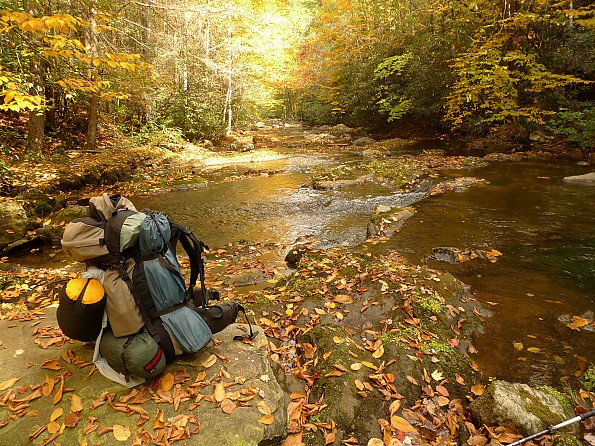 I leave Farr Gap and descend the Stiffknee trail and turn right at Slickrock Creek where there is this crossing taking me to a campsite at the Nichols Cove jct.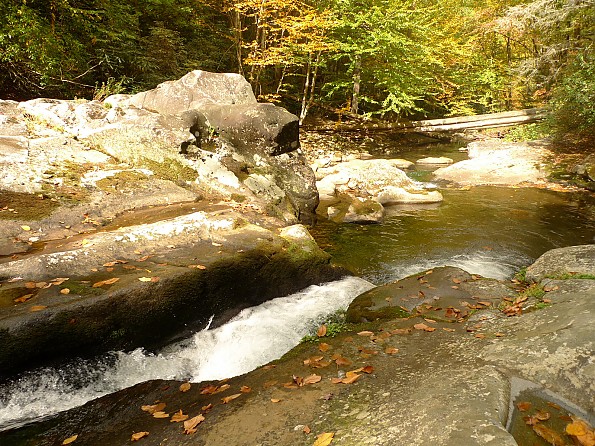 Buffalo Rock---I set Day 7's camp by this rock and come back to wash off an overheated body, head and scalp.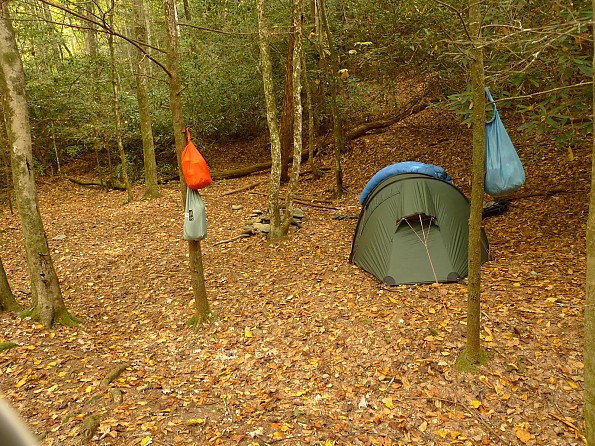 Buffalo Rock Camp on Slickrock Creek by the Nichols Cove trail jct.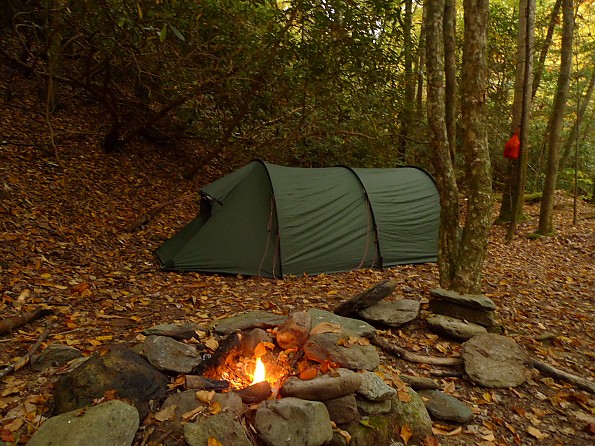 Dusk comes with burning trash in a very light rain.  It's goodnight to Day 7.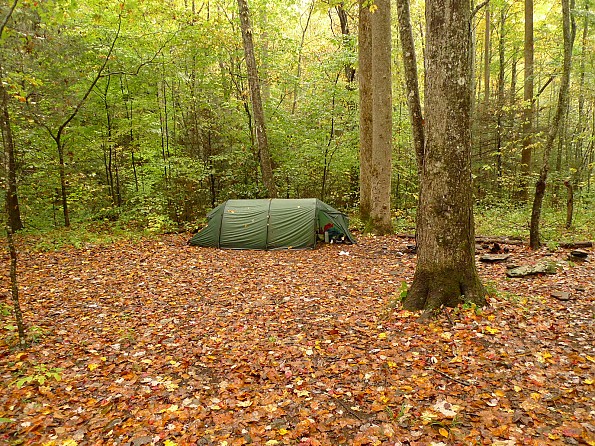 A long wet day---On Day 8 I leave Slickrock Creek and climb up the Nichols Cove trail and cross eight times to arrive at this fine camp below the twin gravesite.  I'm slowly moving up 3,000 feet to Hangover Mt where I hope to see fellow backpacker and Trailspace member Gonzan, among others.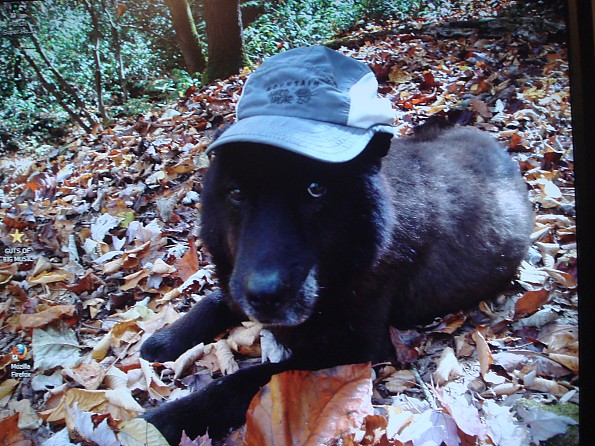 IN MEMORY OF SHUNKA DOG---The last time I was at this Nichols Cove campsite Shunka was with me and here he is posing at the same campsite.  It brings back memories.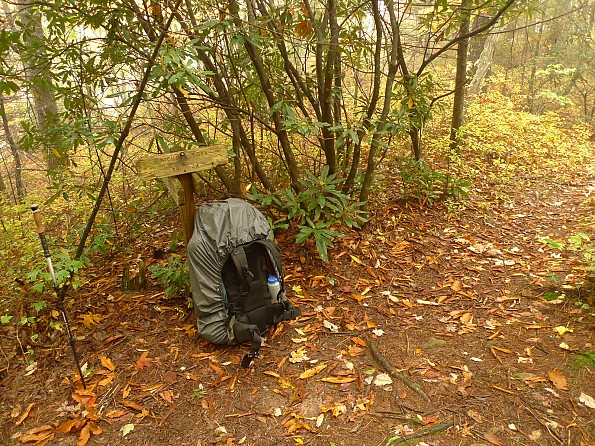 Day 9---The Nichols Cove trail climbs steeply to this trailpost at Windy Gap.  From here I take the Windy Gap trail and climb a series of hills to arrive at Big Fat Gap where I load up 52 oz of water and decide to pull another thousand feet to Elysium Fields, a gap below Hangover Mt.  It's a long day of backpacking with 2,000 feet gained.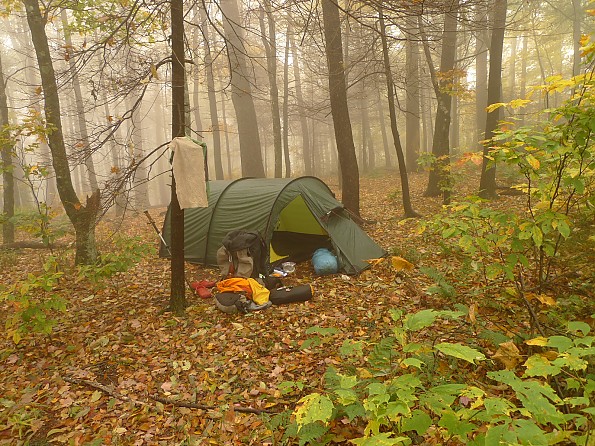 Here's my camp in the fog at around 4,000 feet in Elysium Fields.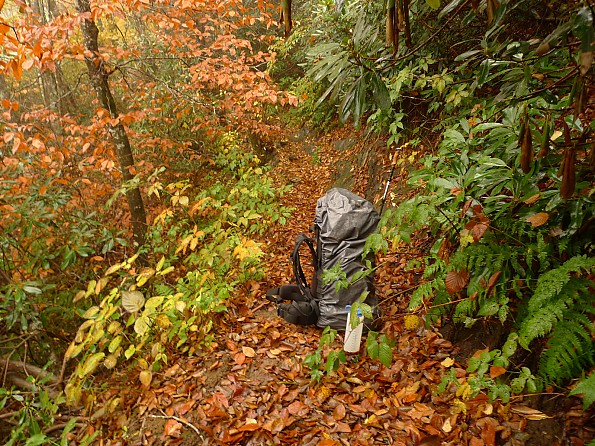 On Day 10 I leave the high gap of Elysium Fields and climb up the Hangover Lead South trail to the top of Hangover Mt.  Here is a scene along the trail where I stop to get water.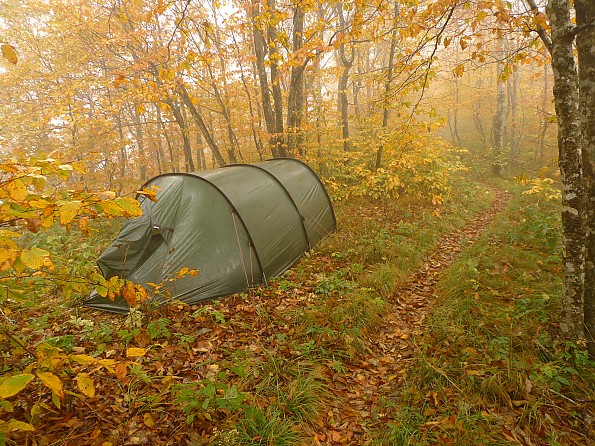 At the top of the mountain I set up this camp in Saddle Tree Gap which is an exposed knife ridge camp close to the Hangover overlook.  It's here I spend all of Day 10 caught in a nasty rain and windstorm with horizontal peltings and high wind gusts, causing me to use 14 pegs to guy out the tent.
It's the kind of weather no sane person would use a tarp and I'm expecting to see Gonzan up here to join me on Day 11?  While stuck in the all night maelstrom I write this little trail journal account:
"Right now we wait cuz there's nothing outside this tent except the hellish twirling dance of a happy woman of the wind.  She brings the predictable combo of horizontal rain and loud inescapable wind, I bring the predictable Hilleberg tent.  We both meet in the middle, her with her gear and me with my gear, and we swap days of show and tell."
"She's not out to eat my tent and I'm not out to do something stupid like suckling on booze so together we should have a rough but amicable dance.  My only job is to stay put and survive with some style and decorum, her only job is to blow our minds.  Her business card reads---"Blowing Minds For 5 Billion Years"."
"I'm just one more set of eyeballs peering out on her trip, one set of trillions since the beginning.  She loves an audience and the only applause she requires is seeing the beauty and sleeping with it.  We clap with our bag nights and the newts do the same under rocks and rotten logs.  They're in their little forest tents hearing the wind and the rain, I join them in my kerlon cave."
"The pigs and bears peer out tonight from different little nests and dens and forts and some are even dumb enough to be as high on the mountain as me.  No normal mammal would be sleeping this storm off on this ridge, no big mammal, and so I share it with chipmunks and squirrels and voles."
"Somewhere on this mountain the ravens sit, some may even be in the sky, but they are the dedicated hard core types, the ones who stand guard and observe it all, the mountain kings.  They see it all.  They see the clearcut fanatics and the firepit drunks and the huddled wet hikers and the frightened cold campers."
"They see all this from a distance and rarely do they intervene.  You'll know it when they do.  This land is ruled by the ravens, they are the tribe you must watch for when entering their territory.  If the humans wipe out the ravens the land will not have a king and then no matter what the humans do they'll always be apart from the land and severed from the spirit of life."
"When you kill the king you kill yourself.  The ravens are out right now and they fly in the storm like fish in water.  They work hand in hand with Miss Nature and they see me here at Saddle Tree Gap and they see Skid over there in his nylon lump and they see what we're up to and what's our intent and how long we've been out and where we call home."
"This is their home and while we are out it's also our home and they know this.  They are kings to the Queen and they do it out of love.  If you know this you won't have any problems out here.  If you don't know this you'll never feel content and you'll come in here just to get back out.  The only way to know this is to see the kings of the land you roam and see them not to hunt them but see them when they decide to show themselves to you."
"Up here it's the ravens, somewhere else it's the grizzlies or the moose or the eagles.  It's hard to get their vision, they require everything and so every long backpacking trip becomes a sort of vision quest.  We are not alone out here, even on a night like this.
MORE TO COME ON DAY 11