ocalacomputerguy
0 reviewer rep | 915 forum posts
12:47 a.m. on October 28, 2011 (EDT)
This is a much belated trip report from our summer vacation in July. 
We drove over to Hot Springs from Asheville the morning of the 26th.  Everybody else (wife, daughter, her friend and youngest son) went white water rafting on the French Broad. I've never been into white water rafting. I stayed behind and organized my family's packs and got some advice from Wayne at Bluff Mountain Outfitters. It's a small shop but has everything you need. He had a GCS pot for Jet Boil he let me have cheap.
Here's a map of the section we hiked.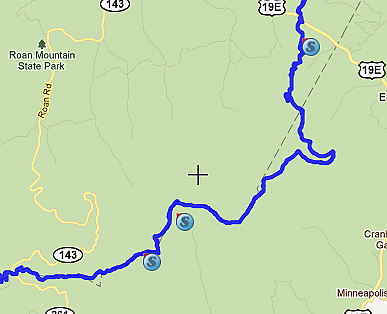 After they got back we drove to Mountain Harbour B&B/Hiker Hostel about half a mile from where the AT crosses 19E. We left our cars their and got shuttled to...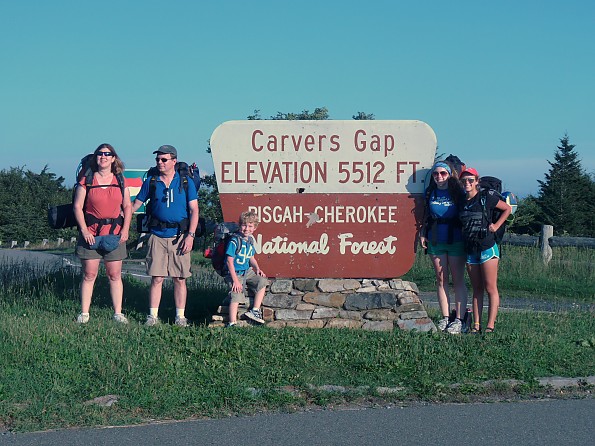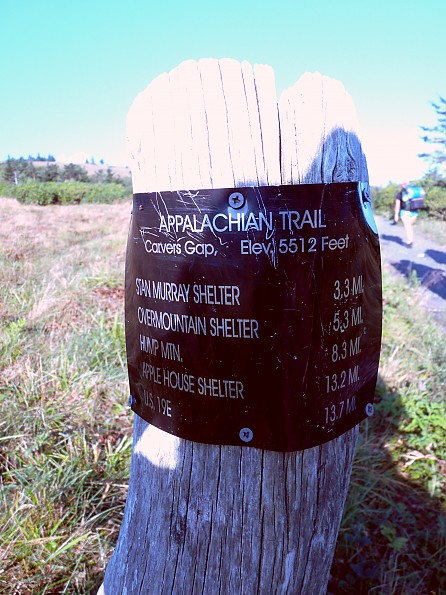 This is a panorama of Round Bald


Should have brought some pancake mix.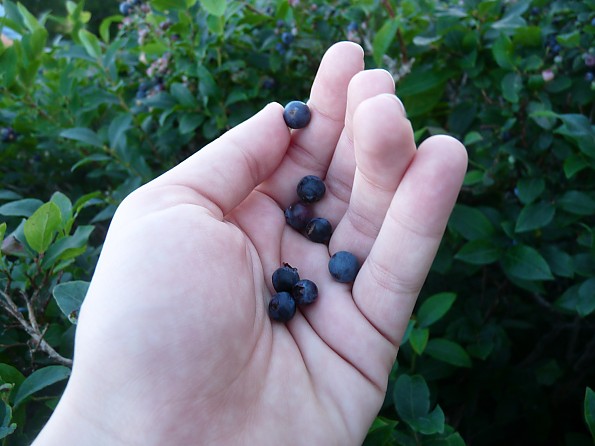 My son really likes his CamelBak.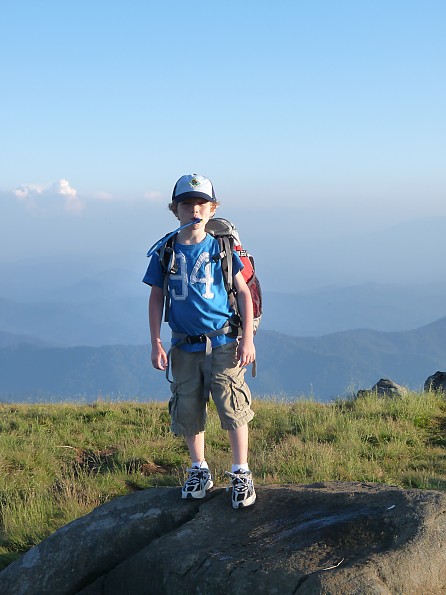 We had a gorgeous sunset.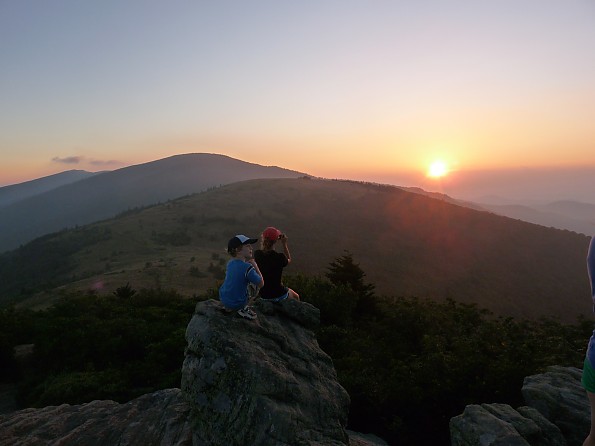 By the time we got to the fork that leads to Grassy Bald it was dark. We set up camp and fixed beans and rice with sausage for supper.
The forestry service has a project in this section where they are trying to preserve the balds.  They have a herd of goats guarded by a Maremma guard shepherd. The goats eat the briars and other woody plants that are ruining the balds. The dog barked until he met me and realized I wasn't going to get the goats.  The goats are contained with an electric fence.
Folding up the tent. That morning we had scrambled eggs and hash browns. My wife and insisted on taking a small cooler for the sausage and scramblers.  The hash browns were Hungry Jack brand dehydrated and were EXCELLENT. Personally I think they are better than fresh.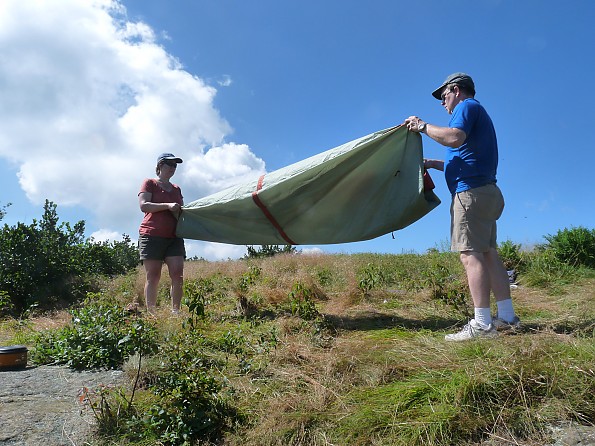 This is the trail to Stan Murray shelter. Plenty of water along this section.  Someone had dug a hole at one of the streams that crossed the trail and left a pitcher tied to a branch to scoop water with.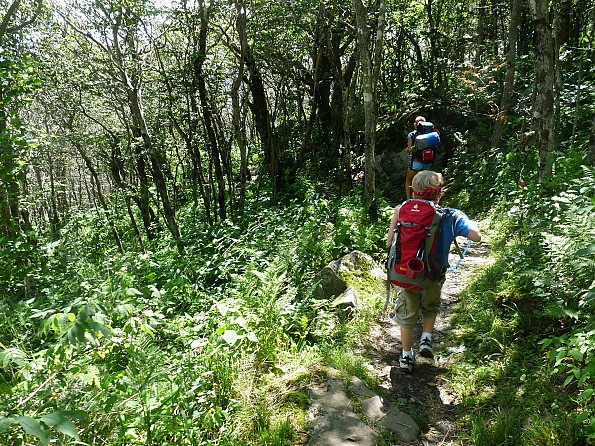 This is the view from Over Mountain shelter.  I believe it is the biggest shelter on the AT.  I think about 20-25 people could easily stay there.


Over Mountain shelter.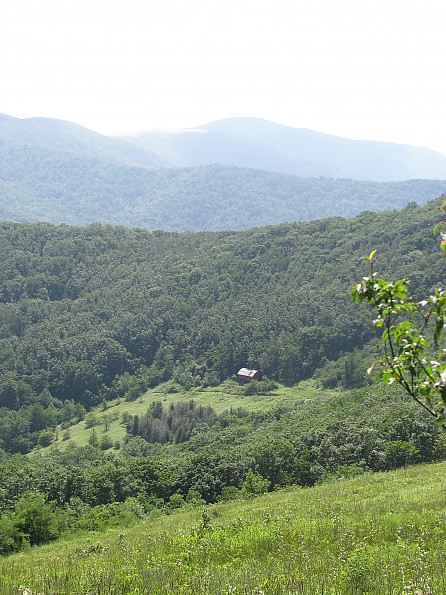 The girls had hiked ahead and decided that Bradley Gap would be a good place to camp, left their packs (except for their water bladders) and came back to the nearest water source and waited for us.
Bradley Gap and Hump Mountain.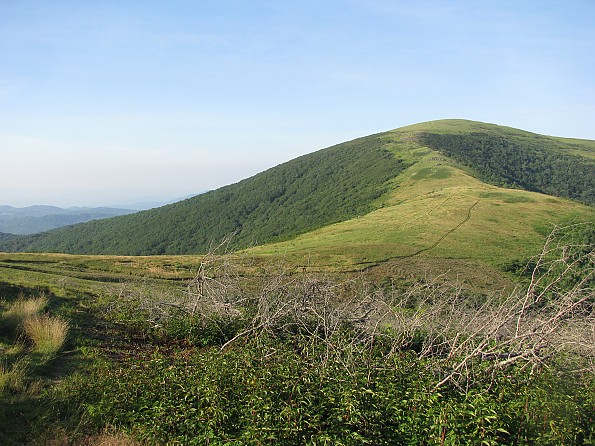 Camp at Bradley Gap.  The people and tent in the back is a father and daughter that we shared the sight with.  It was their last father-daughter hike as she was getting married in a week or so.
We had mac and cheese with sausage that night and oatmeal in the morning.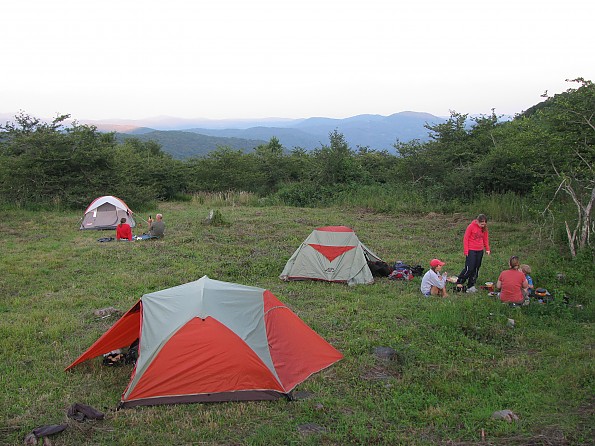 Found the sign post the next morning.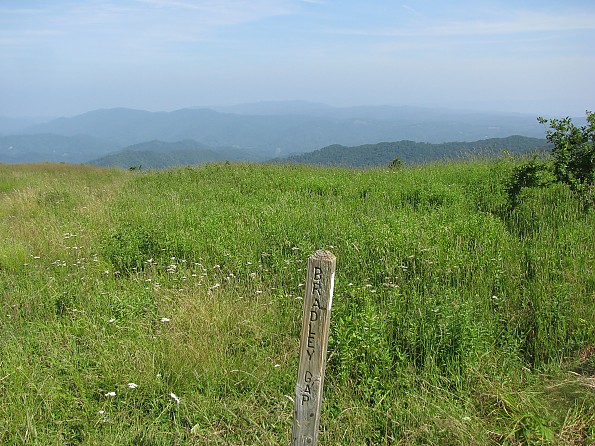 My son scrambled up some rocks on the way up Hump Mountain.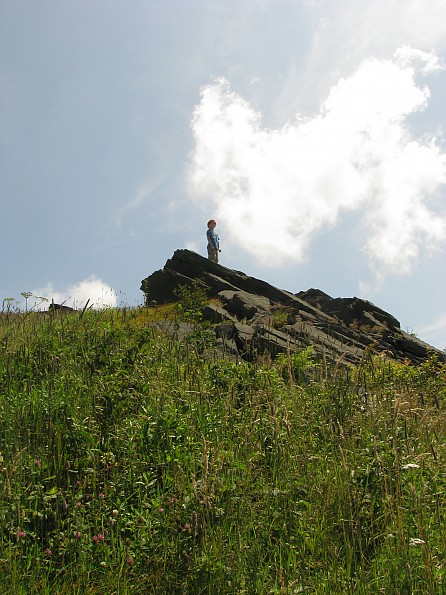 The hills were alive withe sound of... bumble bees.  They were everywhere.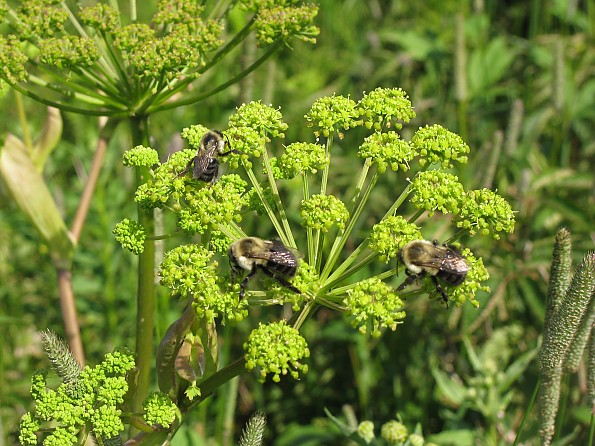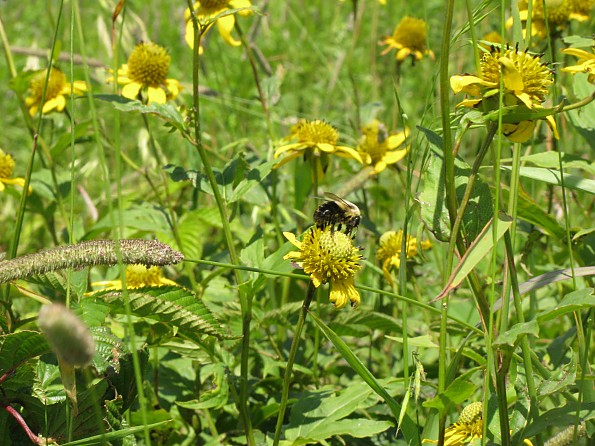 Mom and son resting. In the fore ground is the fence for the cattle that graze on Hump Mountain. We're almost to the top here.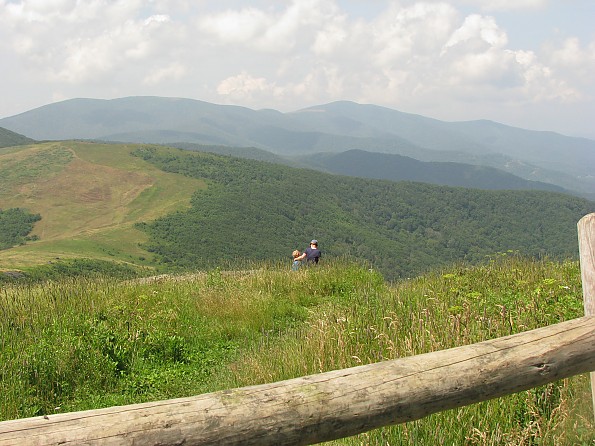 Finally we reached the top.  We stopped here and ate some lunch.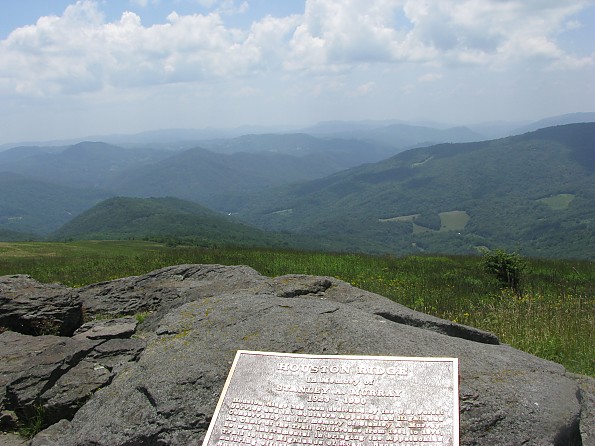 The view from the top of Hump Mountain looking Southeast.


Part of the cattle herd.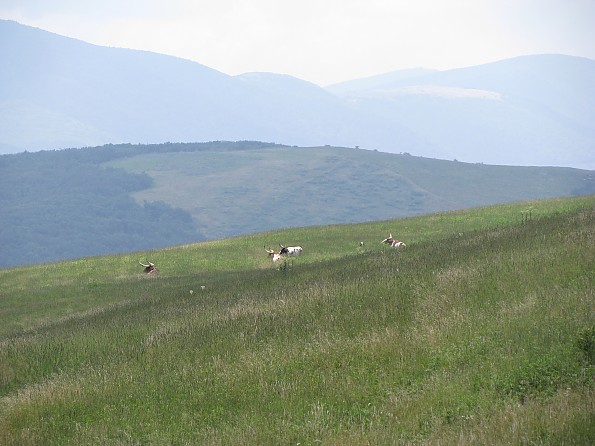 The view just north of Hump facing NW.


This was taken soon after reentering the forest.  My wife had twisted her ankle coming down Hump.  She was too busy looking at the scenery and not watching where she was putting her feet. She still has an occasional twinge from it. Fortunately it didn't begin to really hurt and swell until we got off the trail.  If it had happened the day before I would have been stuck carrying her pack.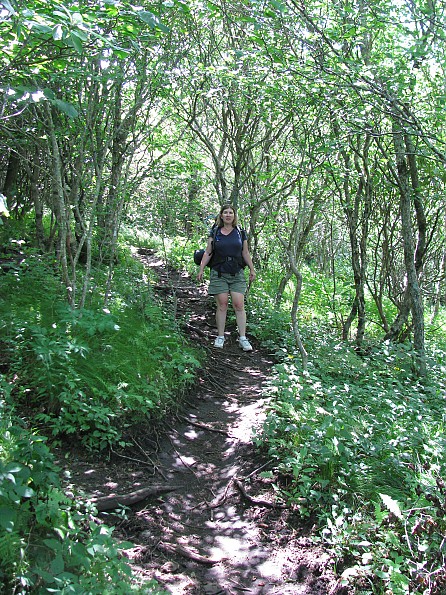 A butterfly along the trail.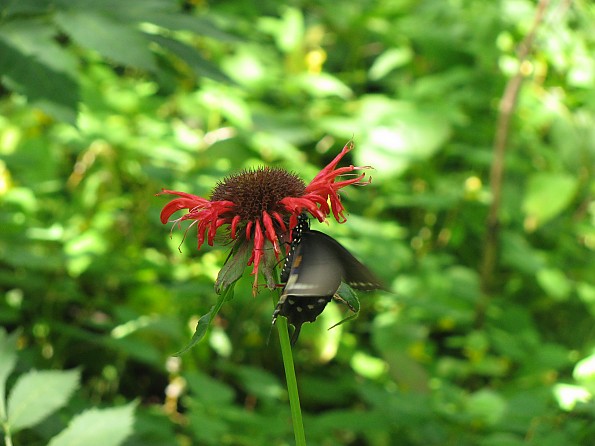 The view just before Doll Flats.


Butterflies and flowers at Doll Flats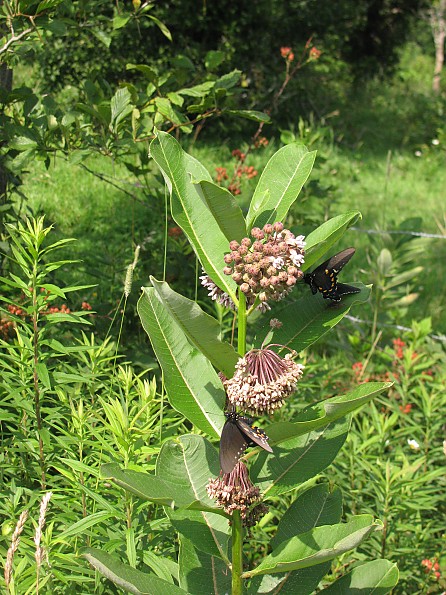 AT sign at Doll Flats.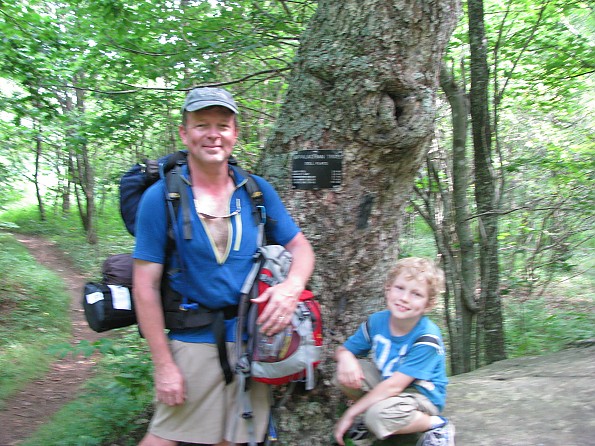 Somewhere between Doll Flats and 19E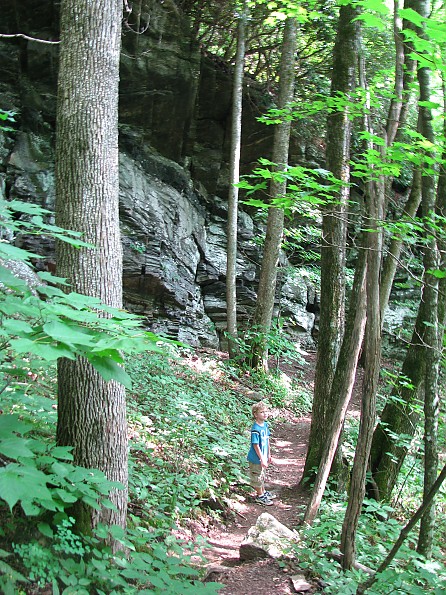 Almost to 19E you could hear the cars from here.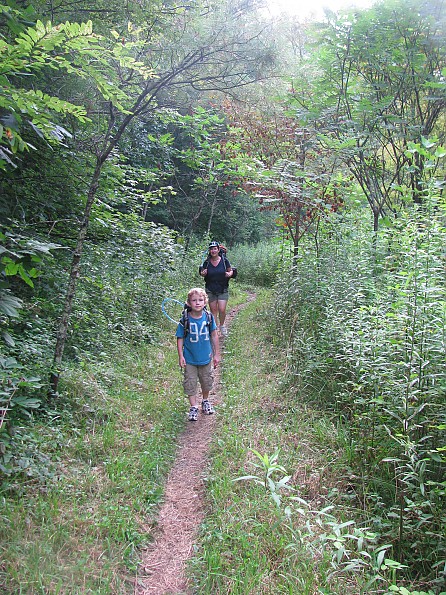 I would like to thank all the Trailspace members for all the advice they have given me that made this trip a success.  Special thanks to Patman for suggesting this section of the trail to hike.  It was absolutely beautiful.