4:22 p.m. on November 23, 2011 (EST)
Patman

3,278 reviewer rep
2,296 forum posts
This trip was planned very differently than executed due to some grievous family issues on my wife's side. I went forward with the trip with my wife's blessing after many matters were settled but I needed to check in often. So I wound up going for three short trips instead of one long one as planned.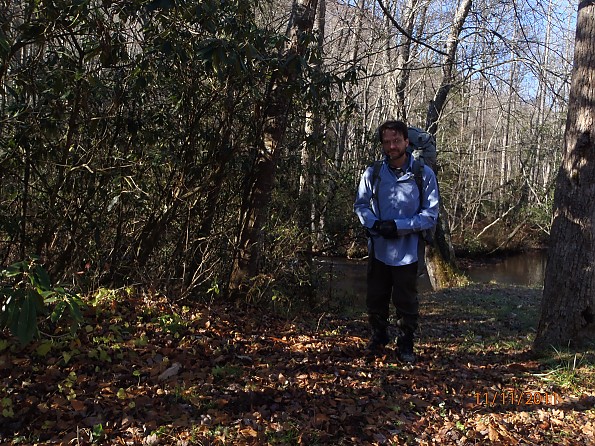 And the trip starts in the Upper Bald Wilderness Study Area two days later than it was supposed to. I had told Tipi I would rendezvous with him on Thursday in the Bald River Gorge; since I was two days late, I wanted to catch up and started my hike from the Holly Flats Road and the fabulous Brookshire Creek trail.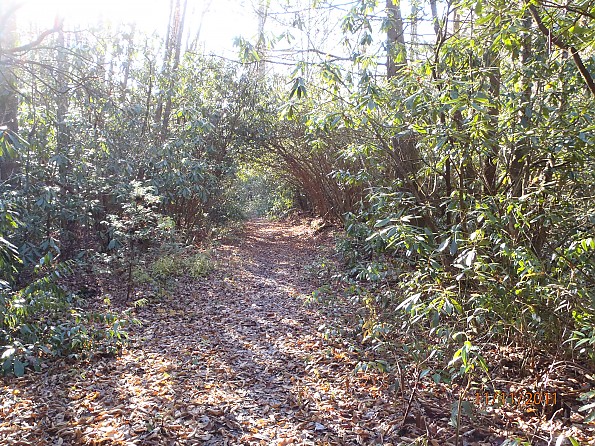 This was such a beautiful trail. Ah well, unfortunately my mind was far away.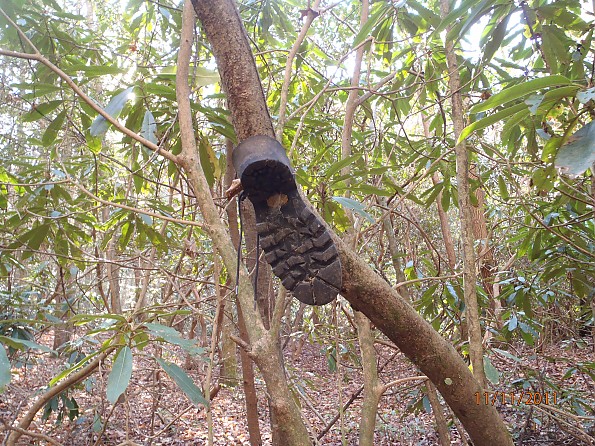 This was a strange sign. Was it a warning? "Abandon all hope-hiker version" kind of thing?
After about a mile I started seeing some fresh tracks on the trail and could tell someone was using a trekking pole (been watching too much Mantracker).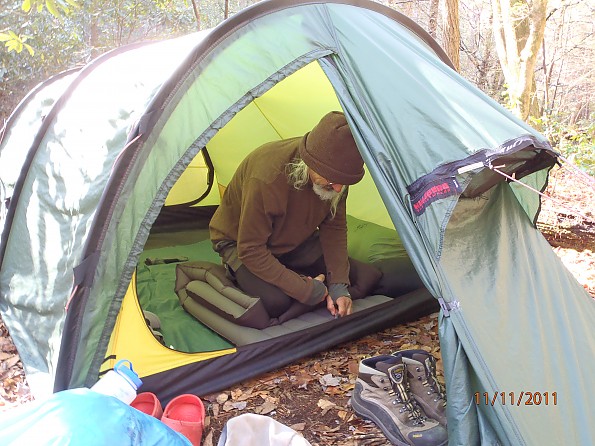 And sure enough I had caught up to Tipi! He was getting ready to strike camp. Here he is deflating his Exped bed.
I didn't really have a plan and with approval decided to tag along with the "Most Interesting Backpacker in the World" for the day. hehe He was sort of making up his plan as he went which was fine with me also.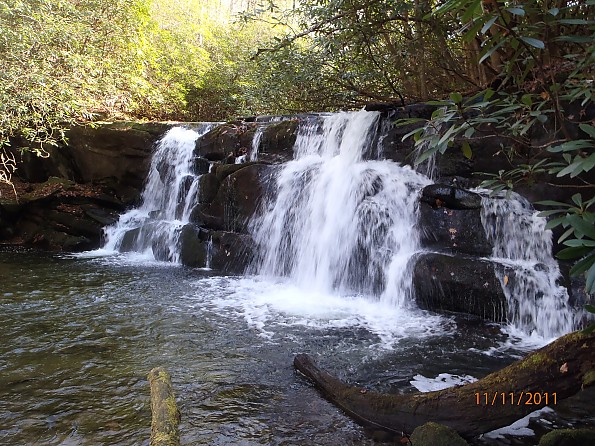 We passed this beautiful cascade and I scampered down an embankment to get this picture on the Brookshire.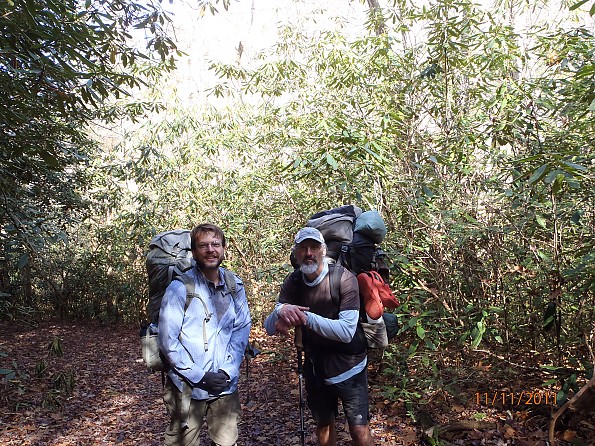 This picture was taken near the next trail junction.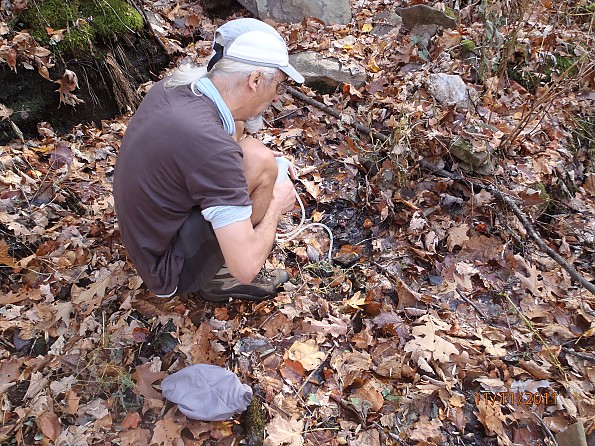 The day's destination was Sugar Mountain. Here is Tipi getting water at a nice little seeping spring a bit below our summit. Hey, this was like a guided hike for me; my guide knew where all the water sources and camp sites were. I hope he wasn't expecting a tip. : )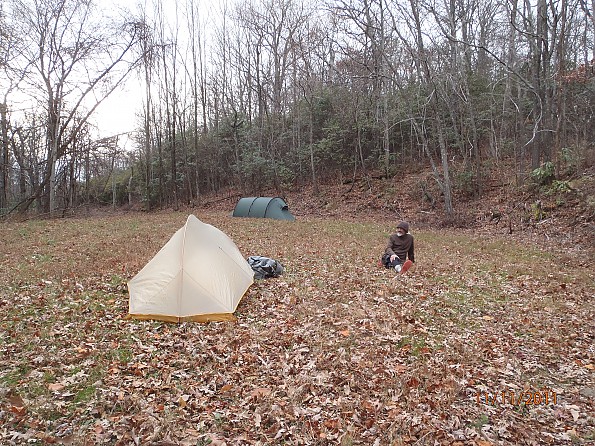 We decided to make camp at an old logging road turn-around on the top of the mountain. It was a nice cool evening enjoyed in good company. Unfortunately, I was still quite distracted mentally and not fully into my trip but I still had big fun…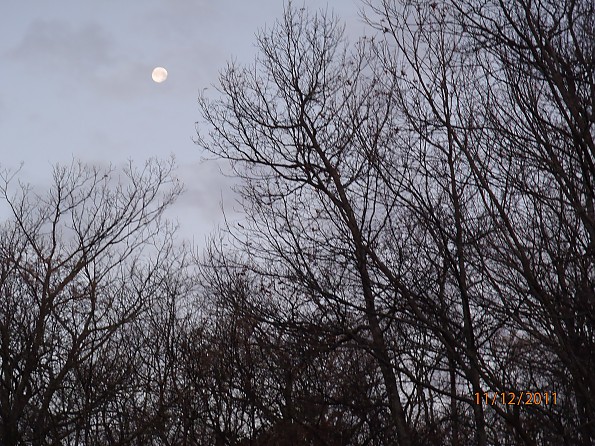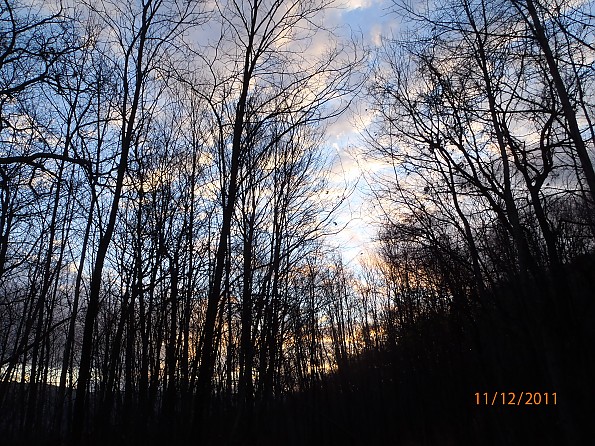 The next morning was glorious weather-wise. There was a cool (but not quite cold) breeze and just that great sense of seasonal change in the air. It's not a smell exactly or a particular color, or a certain temperature but rather some combination of those and more.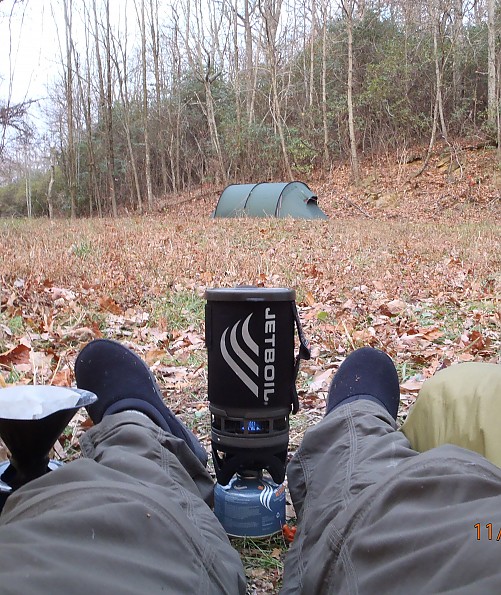 Hmmm, this picture could be a promo shot for either Jetboil or Hilleberg tents…mmm. Coffee is gooood in the morning mountain air.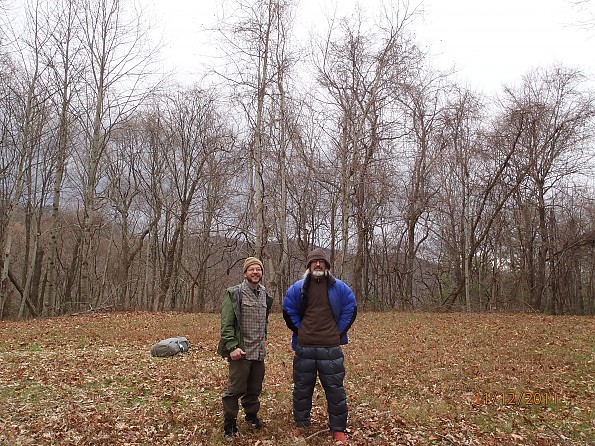 After consulting about routes and with me trying to sort through whether or not I should even be out there, we decided to part ways. I wanted a route that would give me an easier exit back to my car should I decide to evacuate. I initially decided to pull another night and the ridge behind us in the picture was my new destination. (State Line Ridge, Tipi told me). My other hope was that the ridge would allow me to get cell phone signal and check in back home.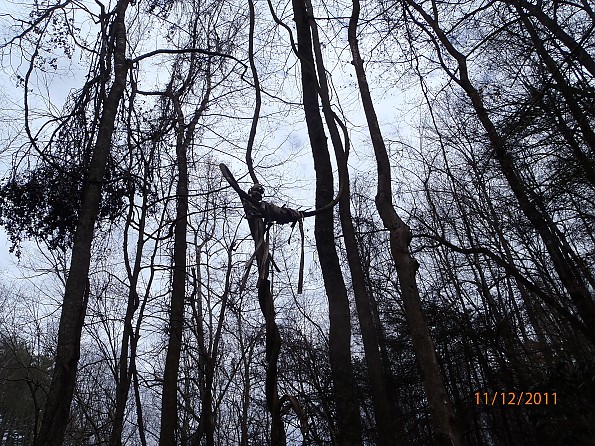 Here was a neat vine that looked like a hanging mummy scarecrow, somewhere near State Line Ridge.
The Brookshire trail was really, really nice and after making it to the top of the ridge but still having no cell signal I was just too distracted to stay. So I spent the late afternoon hiking all the way back to my car and drove nearly to Tellico Plains to make a call out.
After checking in with the wife who was doing fine but aghast at the thought of my returning so soon (threatened to kick my butt if I came home…wow, I love that woman.), I was finally able to have some peace of mind. It was nearly dark and I needed to get back to some woods somewhere to pitch my tent.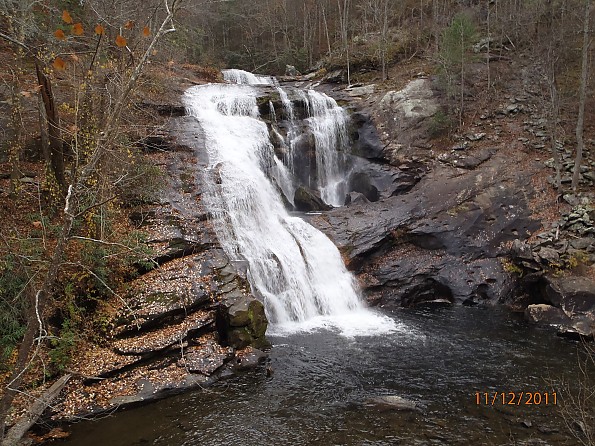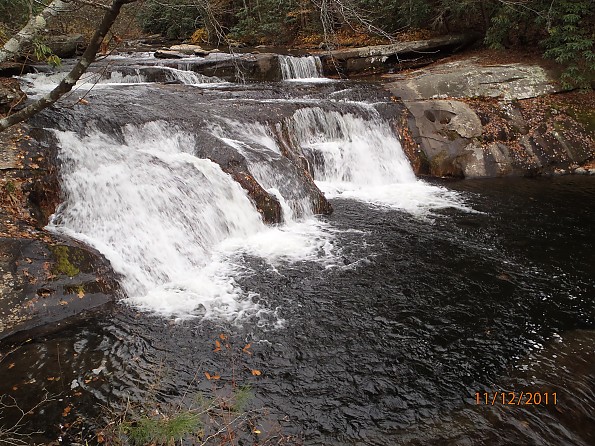 So I drove back up the Skyway and off to the Bald River Gorge and decided to hightail it into the gorge for a quick camp near the beautiful river.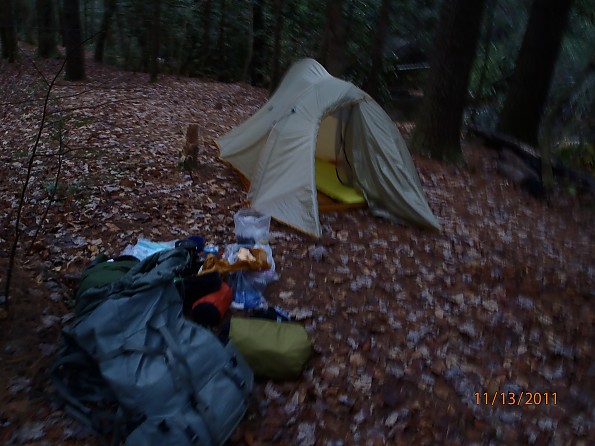 My hasty camp on Bald River.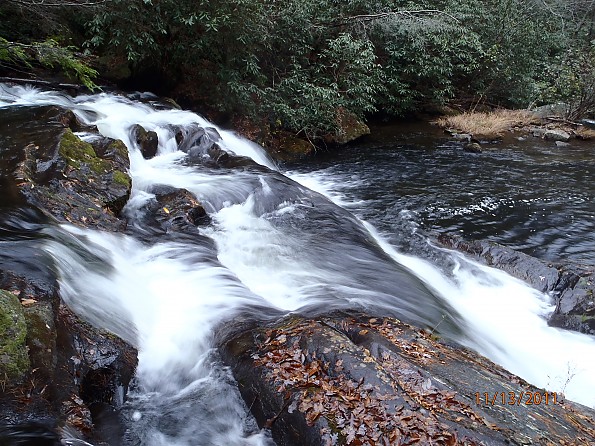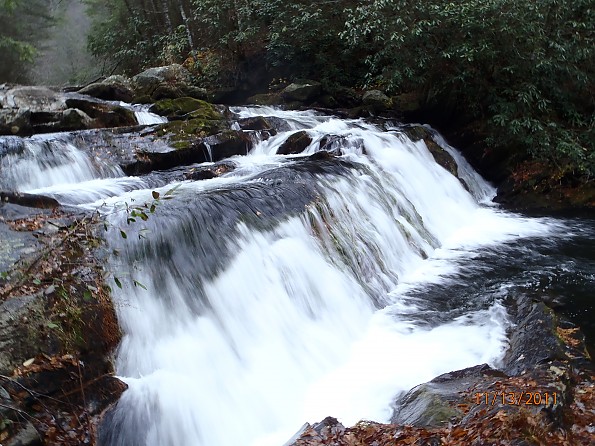 I camped not too far from this….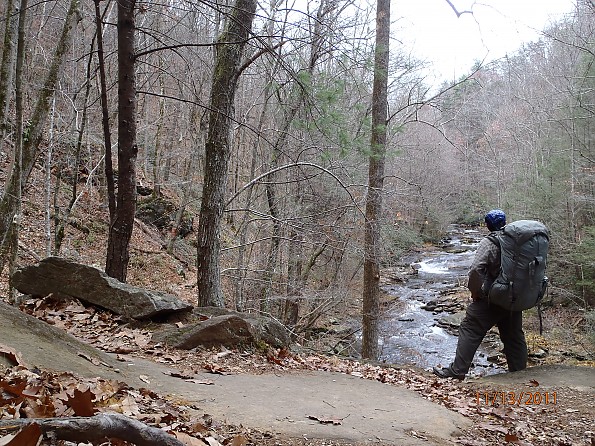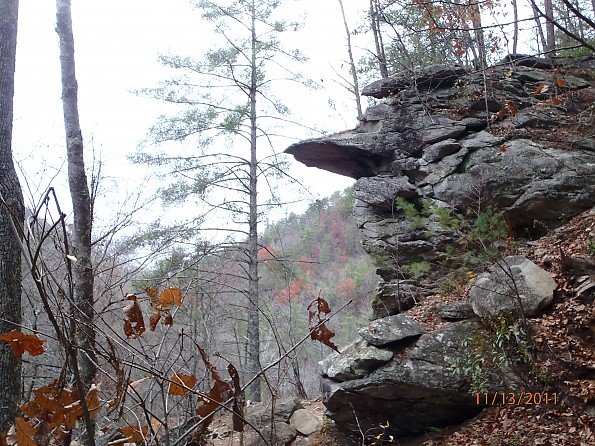 The next morning I decided to hike back out and move the car up to the Citico wilderness which I had never seen in person.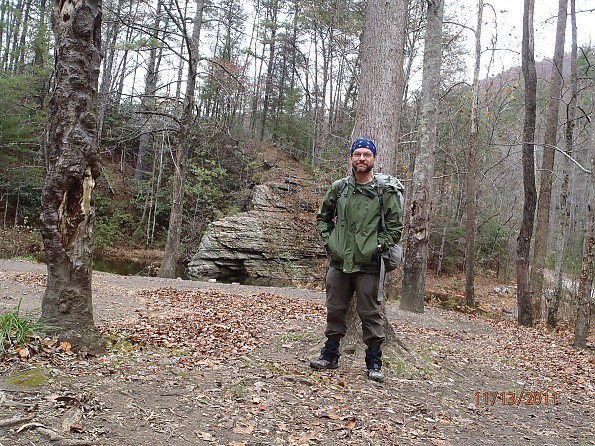 I was about to depart on Citico trail 105 and then up 98 shooting for the top of the ridge somewhere.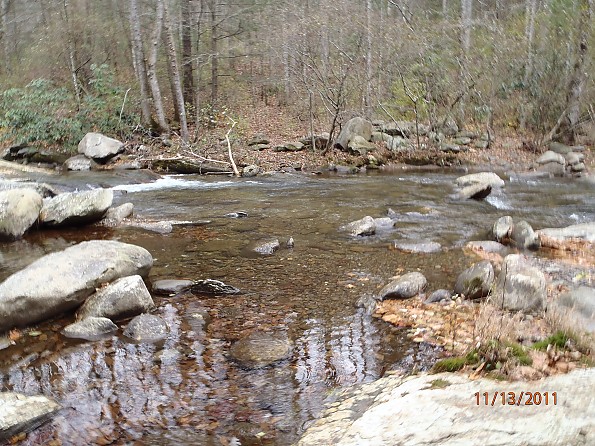 Well, well,, I had to cross the river immediately to go that way. OK then.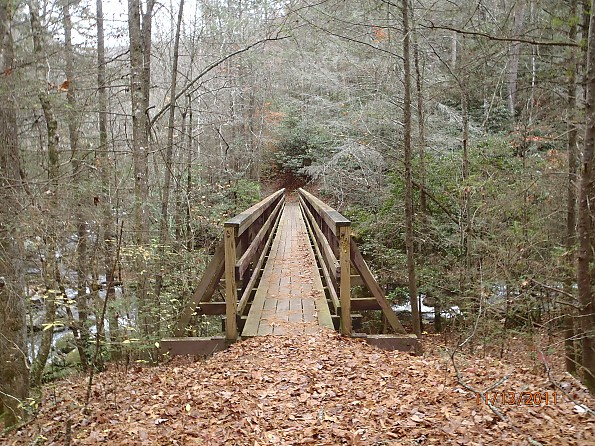 Almost immediately up trail 98 was a nice foot bridge.
And these were views of the two intersecting creeks from the bridge.
The trail crossed the creek a bunch of times (I lost count) and at first I was taking my shoes off to try and keep them dry. (I'm in between boots at the moment and was using cloth trail running shoes) But eventually that became futile and so the slog began.
At some point the trail went up a series of switchbacks to my left but also seemed to cross the creek and I couldn't tell which the more defined route was. So I went up the switch backs and followed a pretty worn trail to an area of multiple tributaries but again couldn't tell where the trail went. I thought maybe I should have crossed the creek back at the bottom of the valley instead and so went all the way back down and crossed. But that path went nowhere also! Frustrated, I went back up the switch backs and decided to just walk a criss-cross pattern around the tributary area and try to pick something up. Sure enough I eventually noticed some broken branches around a blow down and upon investigation saw a trail on the other side of the blow downs. Not sure that I was actually following trail 98, I decided to continue but keep track of any junctions in case I needed to turn back. (If I have any doubt at all about retracing a route I call it quits and retreat.)
The trail became very steep and strenuous at moments as it wound up the valley in and out of a small creek. The trail even stayed in the creek completely for one stretch. I was getting pretty tired and wet on a tough uphill slog.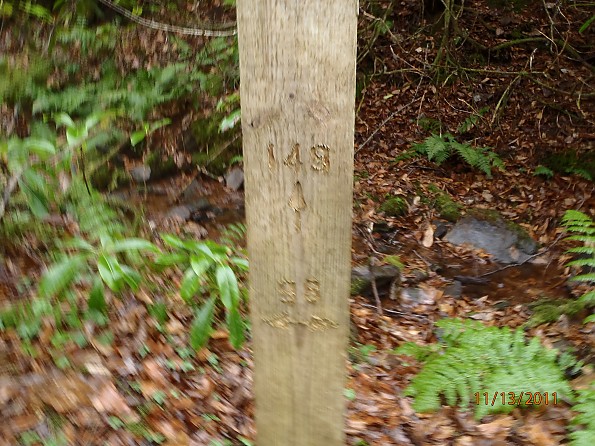 I apologize for the blurry photo but reaching this trail marker was notable; it was such a major point of relief to finally match up with the map.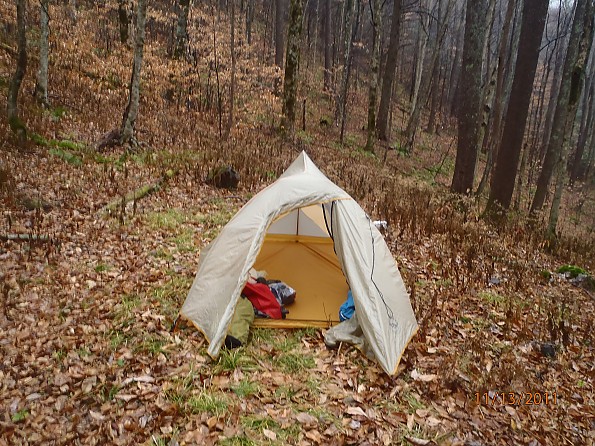 Although I had intended to go all the way up to the top of the ridge, I came upon this relatively flat spot and with the rain and wind picking up, decided to call it home. There was a nice spring just a few meters to the right in the picture.
It rained, and rained and then rained some more. So much for start gazing; and that situation was illustrative of a primary drawback to ultra-light tents. They are not a lot of fun to hang out in for extended periods. I had brought a book of Hemingway short stories and read several of them. The rain never really subsided that night but I was still able to get my jet boil going and have a hot meal (which was nice in those conditions).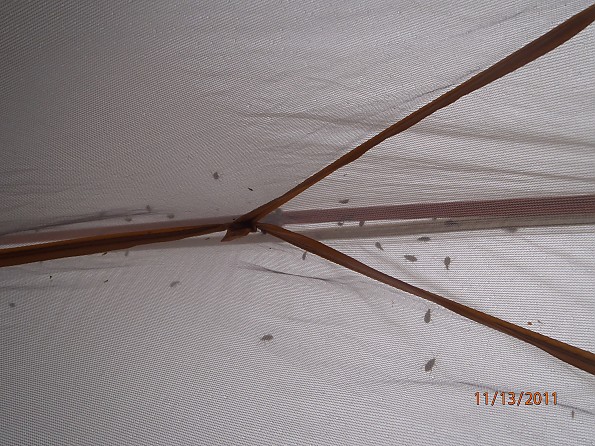 The inner tent became covered with little black and yellow lady bug looking things. They were pretty friendly as they got in every time I opened the door.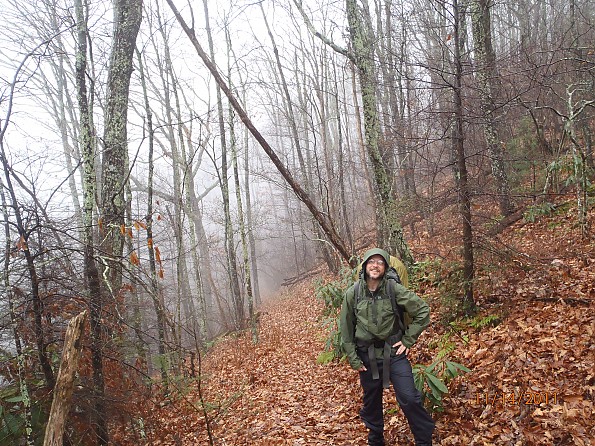 The next day was still wet and a little cold up on the high ground of the Benton McKaye Trail. This pic was taken at the junction of trail 99 and the BMT after a few miles of foggy hiking. I hate hiking in wet shoes.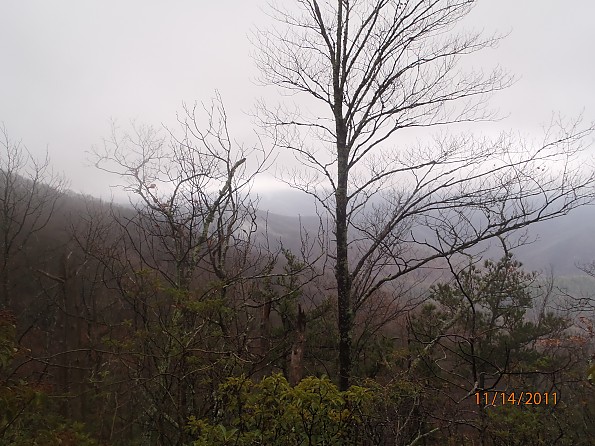 It finally cleared a bit as I took trail 99 back down into the Citico.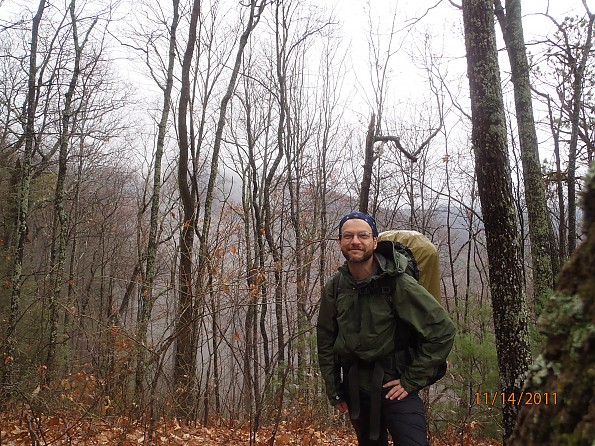 And here I had a sanguine moment in an autumn breeze. I stopped and just let the wind blow against me for about 10 minutes at nice little site on the ridge.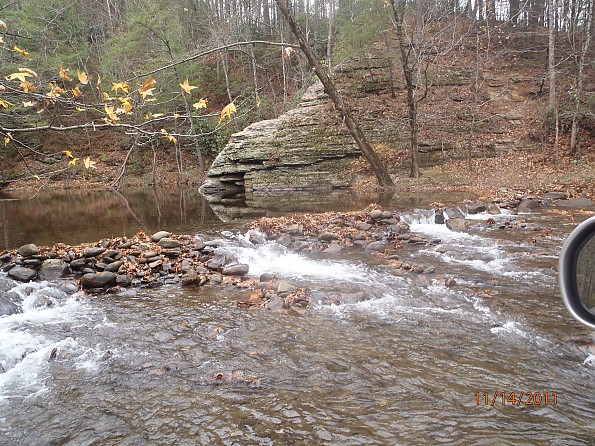 And a parting shot out of the car window as I left the Citico in search of dry shoes and to check in at home.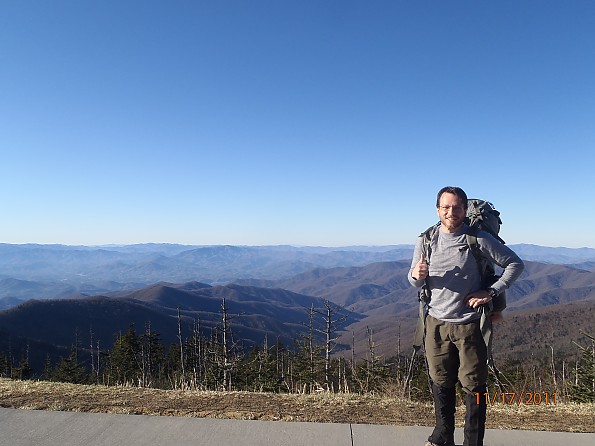 And the trip resumes at the third forest of the week. Here I was about to begin from the Clingmans Dome parking area in the Great Smokies.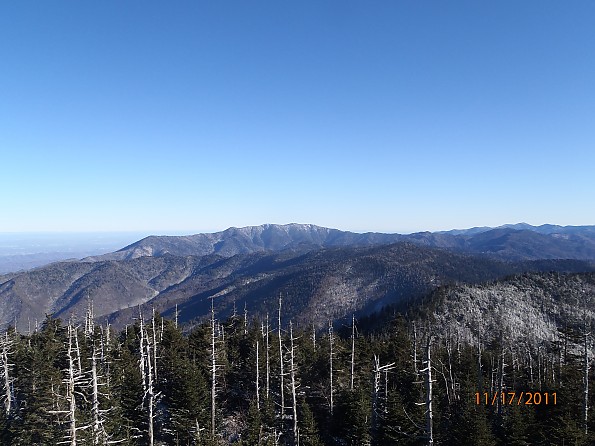 Unbelievably I had the whole touristy area to myself so I climbed the observation tower (which I usually avoid when packed with tourists). This is Mt Leconte on a clear day.
And this was looking back across the AT towards Newfound gap etc…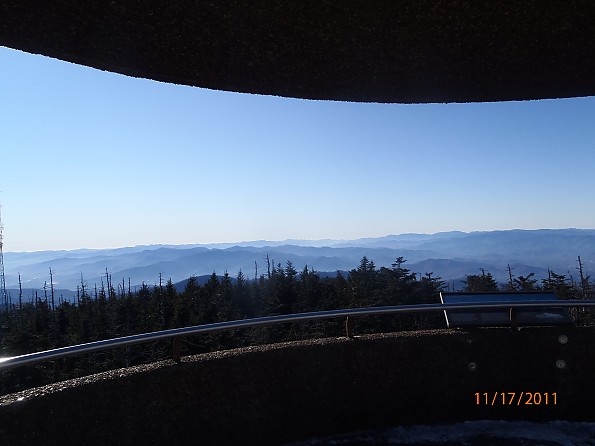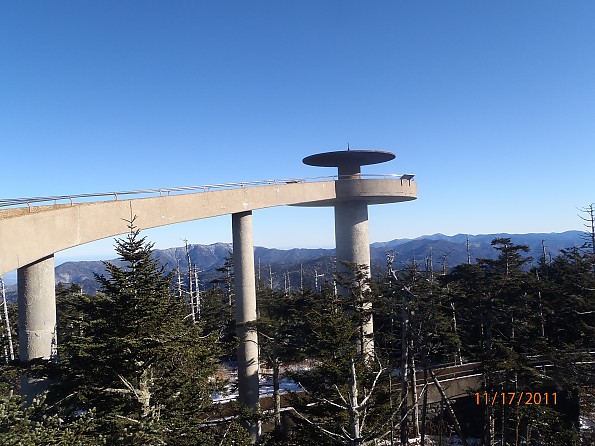 Just cool pictures…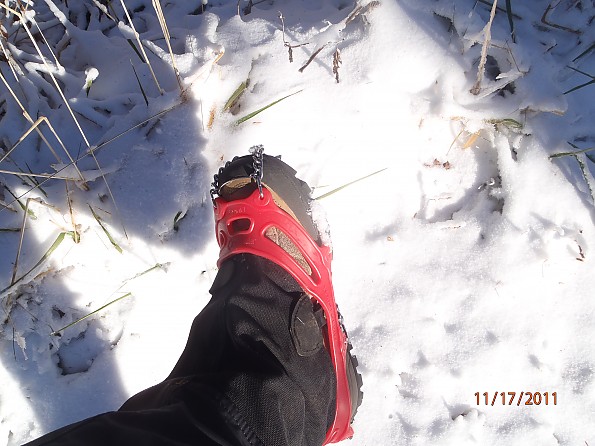 Last time I hiked any distance on ice I fell (resulting in a trip to the ER and six stitches) so I brought some micro-spikes this time. Although, I didn't really need them as it turned out.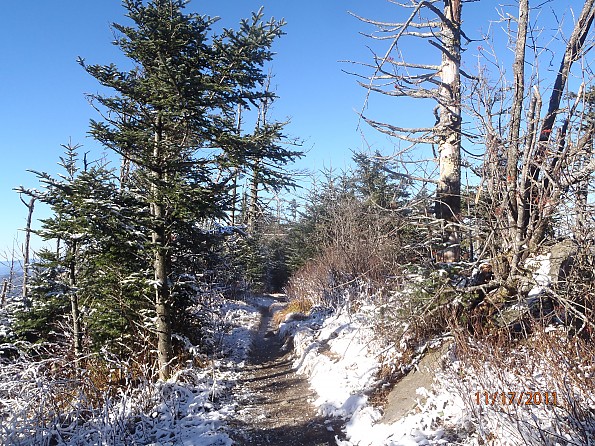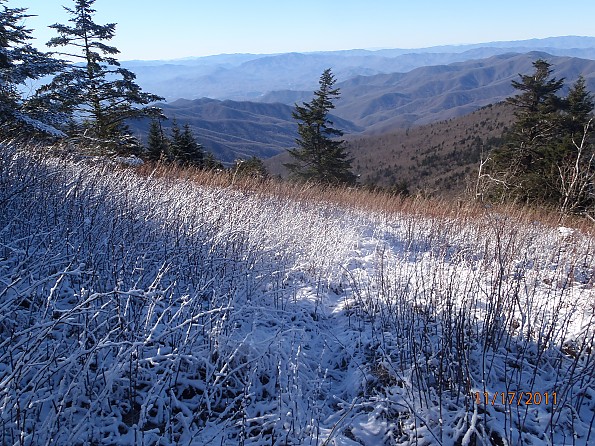 Ahhhh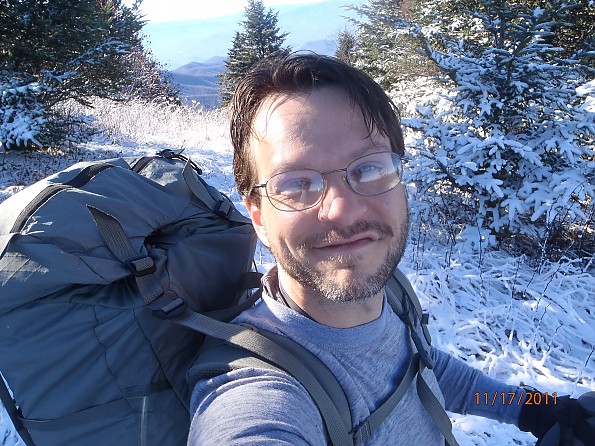 Happy Hiker for sure.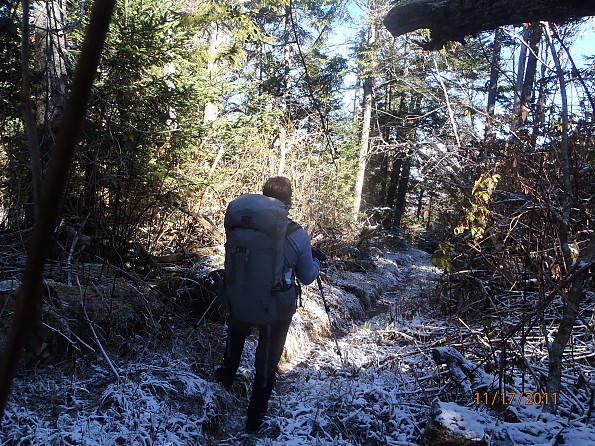 I left the AT (and sunshine) for the Goshen Prong trail on the north side of the mountain.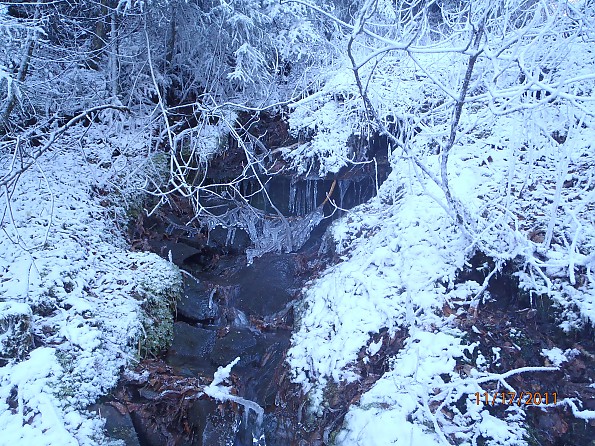 A pretty little ice fall…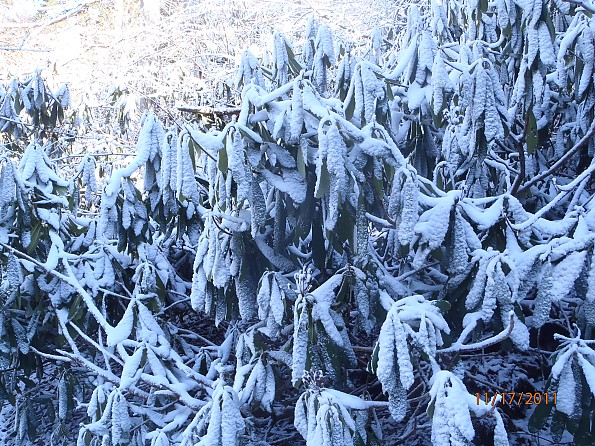 That is some cold rhodo…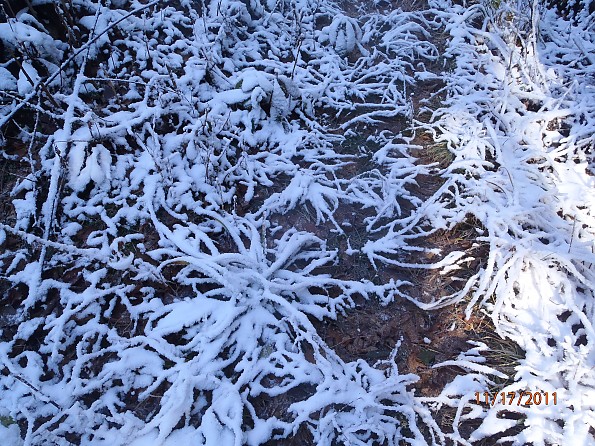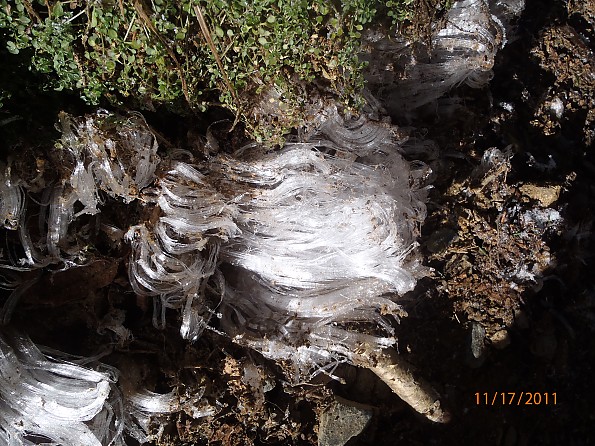 Random cool pictures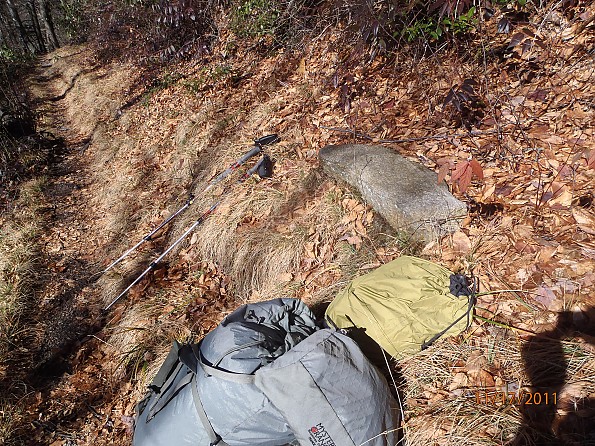 And all of sudden I was out of the winter wonderland…that rock was magically magnetic; it attracted my booty like a tractor beam.
C'mon, let's go see what's in the cave in bear country…brilliance of course.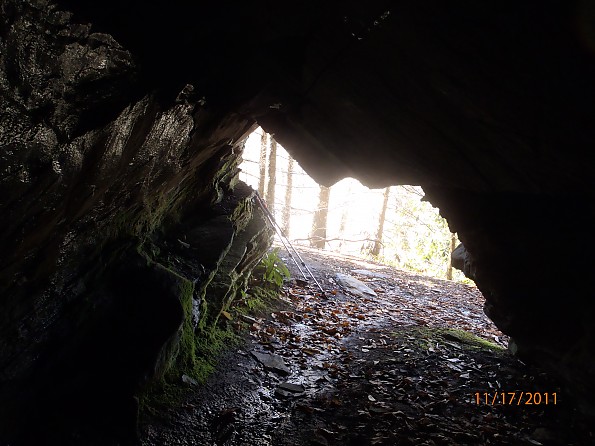 Ah, there was nothing in there but me…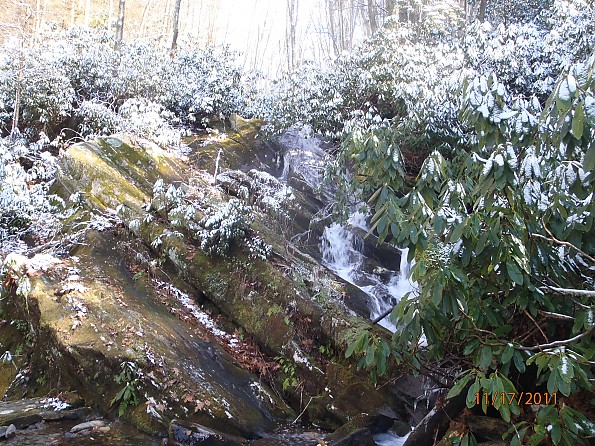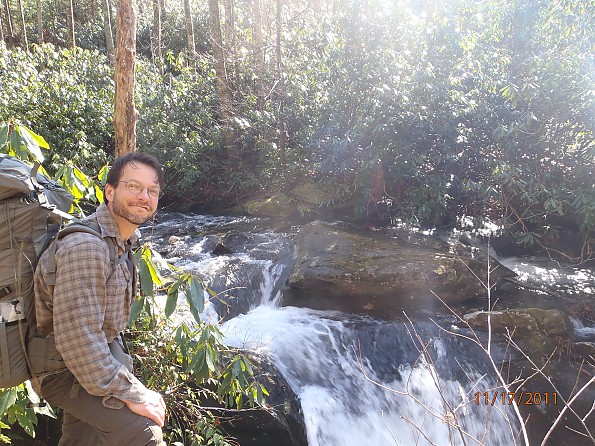 I just love these Southern Apps.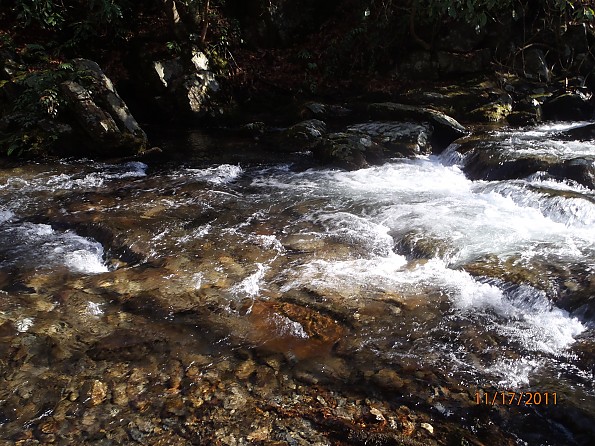 Well, this doesn't look as dangerous as it actually was but this was a serious crossing. It was about thigh deep in the middle and very strong. I had to cross it twice on this route.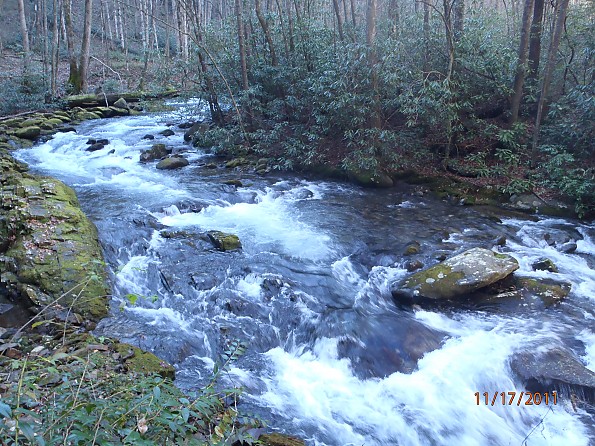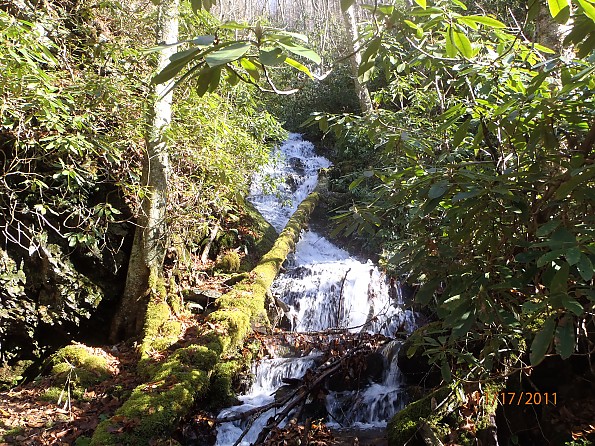 All the rains had really swollen these creeks…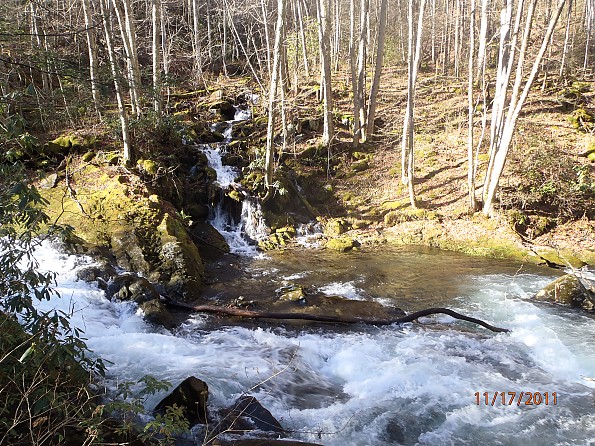 Hmmm. The Little River wasn't so little that day. I kept looking at my map and looking at the river. I'll have to cross it. ..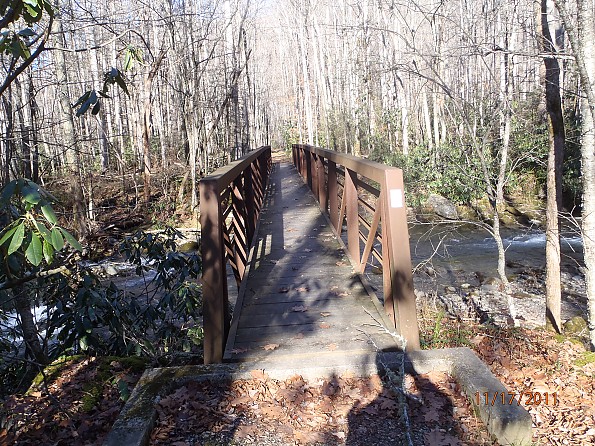 Halleluiah! I was never so glad to see a footbridge…lol.
I had two more deep crossings just before my campsite (#30) that night and barely made it there before dark. 30 is a really nice site and worth the effort and I had all to myself.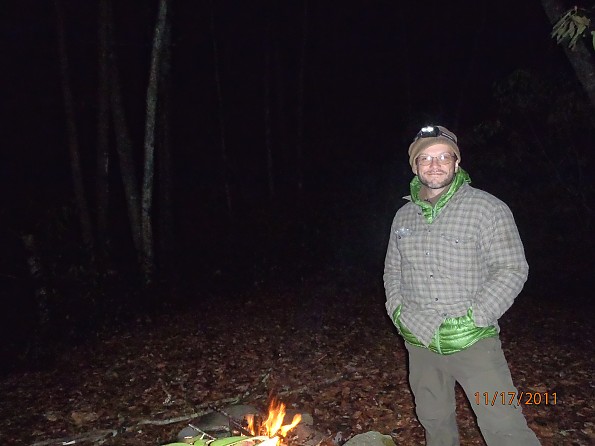 The weatherman said it was getting down to 24F in Knoxville, but my little thermometer registered 19F shortly after dark. I went to a fire ring farthest from my tent and made a little fire, mostly for fun….not much heat from a few pieces of wet wood. I'm wearing a thrift store wool shirt over my down jacket to protect it from any stray embers.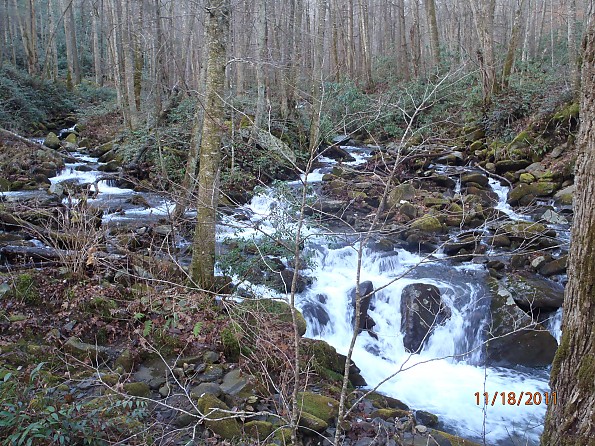 The next morning I explored a man-way as far as I could up into the valley until it became rhodo hell. I did find this cool spot though.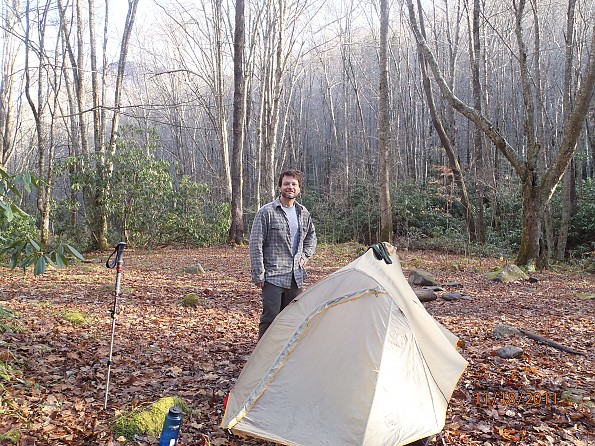 The sun finally got high enough to crest the mountains behind my camp site and the instant warming made me smile.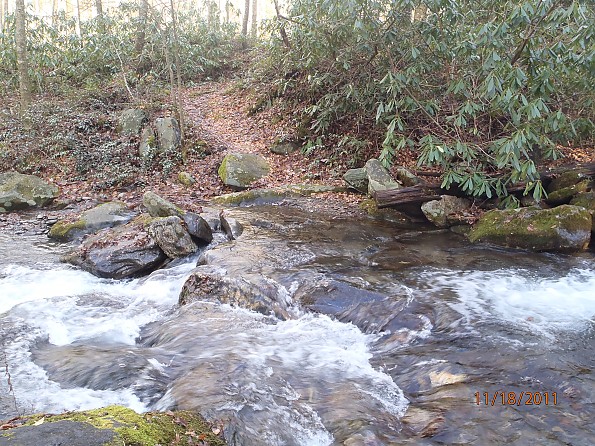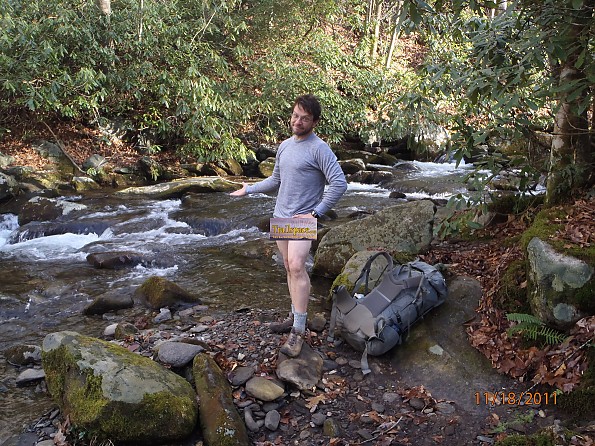 And when it was time to go I had to immediately pull those two crossings again. You can't tell it but this crossing was waist deep in the middle and I didn't want to get my pants wet ( I still had 12 more miles to hike). Good grief was it cold! The ambient temp was still only 34 F.
And I eventually made it back to the car a little cold but highly satisfied!
Happy Trails everyone!