10:33 a.m. on December 2, 2011 (EST)
Tipi Walter

295 reviewer rep
1,436 forum posts
BACKPACKING
THE
BALD RIVER
CITICO/SLICKROCK
WILDERNESS

November 9-28  2011

**  BACKPACKING WITH PATMAN UP SUGAR MOUNTAIN

**  63 HOURS IN THE RAIN ON WHIGGS MOUNTAIN

**  BIG WINDSTORM ON WHIGGS MEADOW

**  FIRST NIGHT EVER AT THE ROCK QUARRY

**  SNOW AT ROCK QUARRY CAMP

**  BACKPACKER MAGAZINE'S PETER RIVES ON THE BOB

**  HOWLING WINDSTORM ON GORAK HILL

**  NATHAN DELAY ON TRAIL 149

**  DELUGE LIGHTNING STORM IN THE WEDGE

**  ROB AND MARK ON FOUR MILE RIDGE

**  60MPH WINDSTORM ON 54A SOUTH
Okay boys, this time I start a trip at the trailhead to the Bald River wilderness in Tennessee.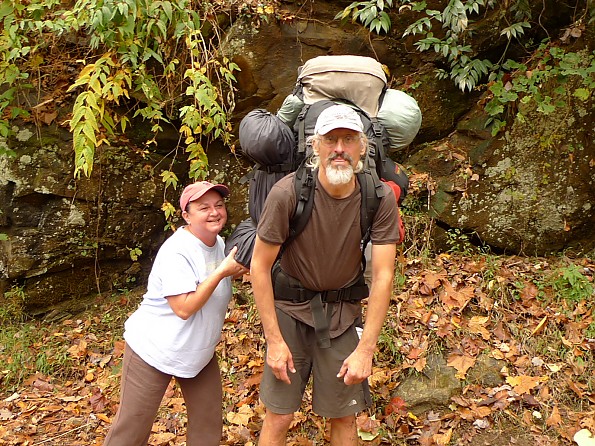 A whole crew of people drive up the Tellico River road with me and we say our goodbyes at the trailhead into the Bald River backcountry in TN.  It's a fine place to start a trip as the first couple days can be spent in a pretty mountain river valley along a near level trail---with no creek crossings.  This pic shows Little Mitten trying to support me and keep me from toppling over with a ginormous pack rated around 90+ lbs.  Exact weight is uncertain as no one is dumb enough to weigh it.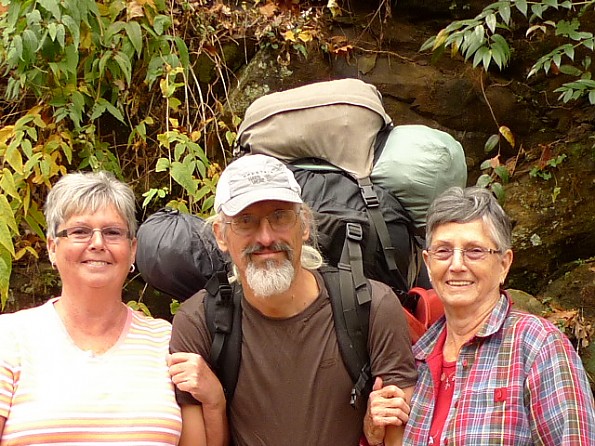 Little Mitten's sister and Mom hold me up and we say our goodbyes at the trailhead.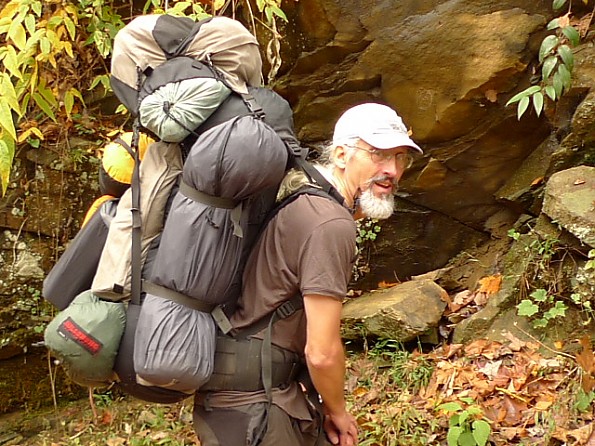 Looks are deceiving (or maybe not) but my pack is a nylon anvil coming in at 90 lbs.  It's my own fault since I'm hauling 20 days worth of supplies including around eight books (the black stuff sack on the back), four candles, 45 lbs of food and the "usual accoutrements of idiocy."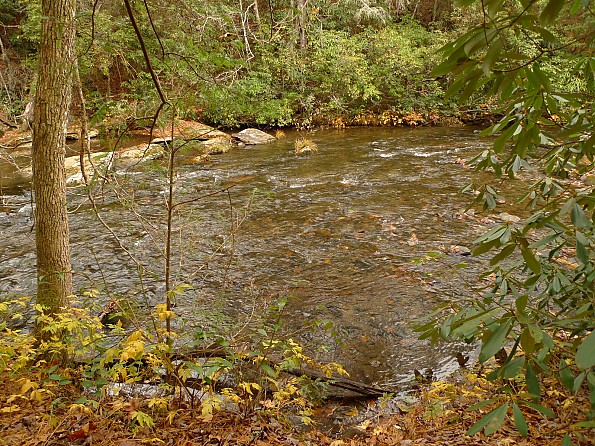 I find a nice campsite next to Bald River and here is the river and below is the campsite.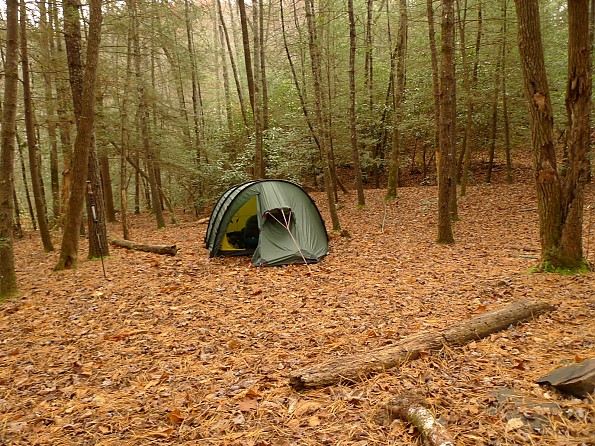 Three miles in I set up at a place I call Big Pine Camp next to the mighty Bald.  Tent of choice of course is the Hilleberg Keron 3---a palace.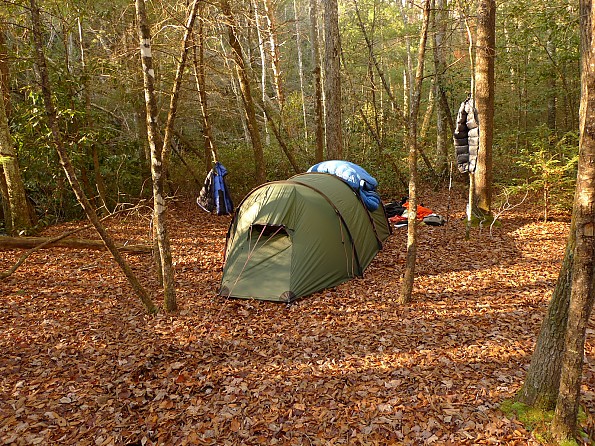 Morning comes with the glint of sunlight thru the trees and so begins a fine day of backpacking.  Several miles up the trail I set up camp at a place called Cascade Winter Camp.  It's the last decent campsite before reaching the falls at the overlook rock.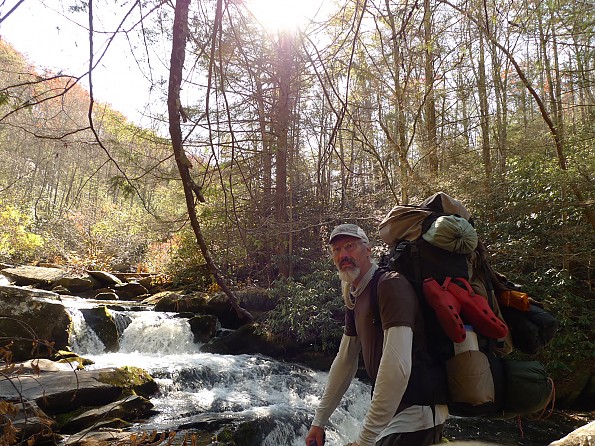 I leave camp on Day 3 and head up river and pose by the Cascade falls, a good place to rest.
Several miles later I get on the Brookshire trail and have to cross the Upper Bald as shown.  This route takes me into the Upper Bald wilderness of about 10,000 acres.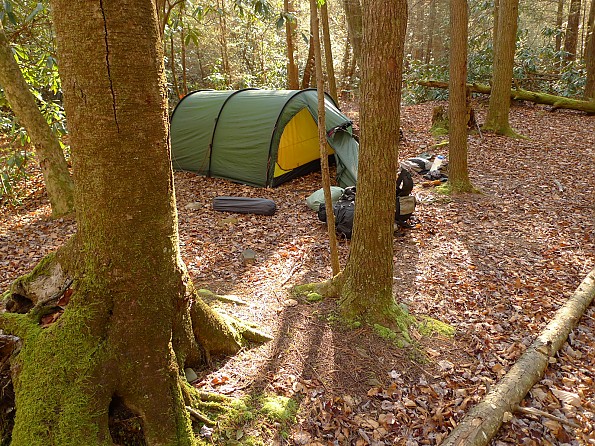 Past the crossing there's Horse Camp where I set up camp in the fine Hilleberg tent.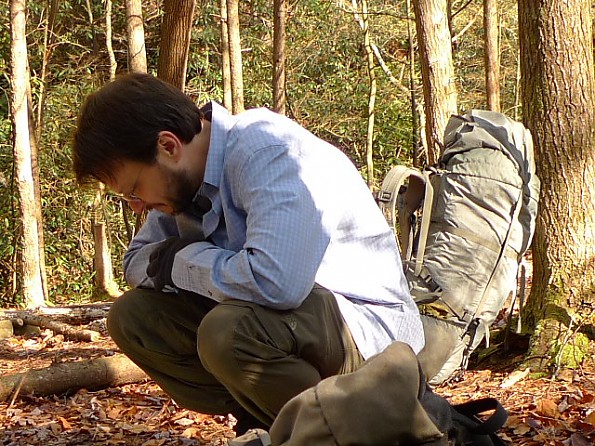 On Day 4 my backpacking buddy and fellow Trailspacer Patman shows up so we pull out the map and see which route we should take together for a couple days of backpacking.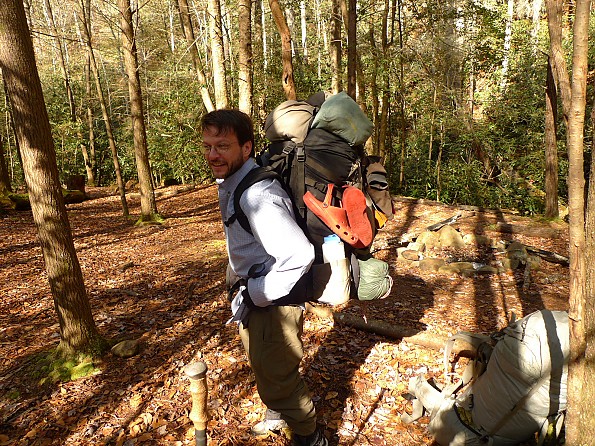 Somehow I convince Patman to try on my Mystery Anvil and he swears it's over 90 lbs and I beam like a red-headed hominid.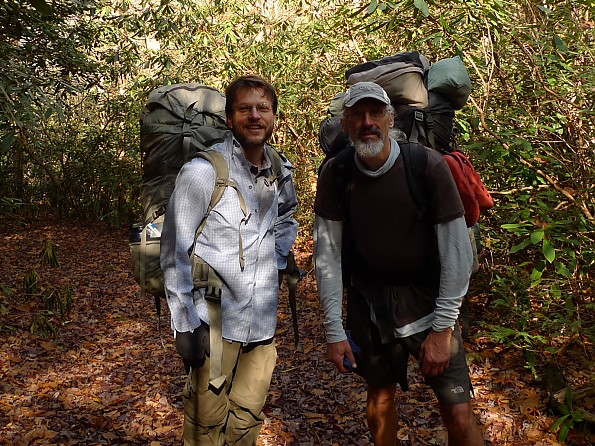 Patman and Uncle Fungus on the Brookshire trail by the creek crossing.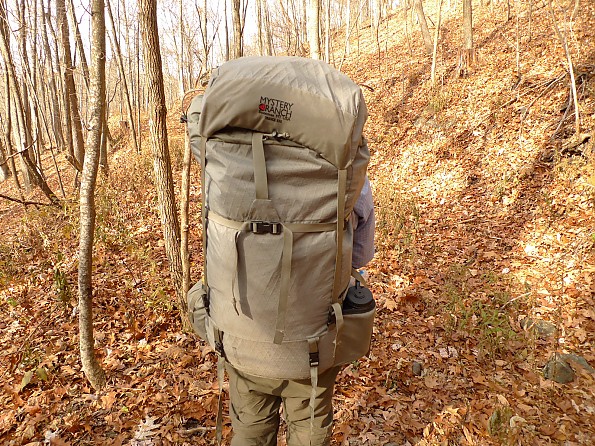 Here's a good view of Patman's MR pack, the Trance.  We're slowly climbing up Sugar Mt.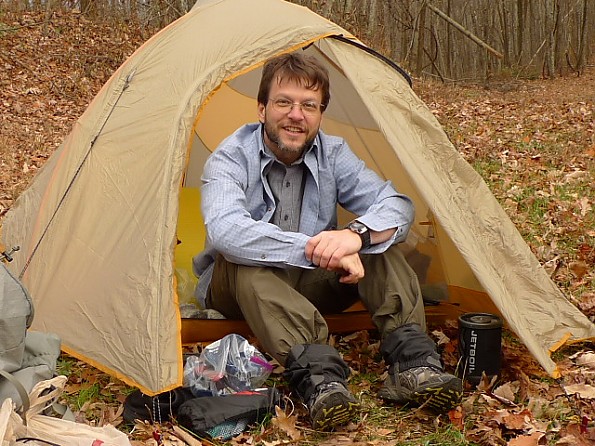 We get on the BMT and cross the Brookshire and climb to the near top of Sugar Mt where we find a fine campsite in the wind.  Patman gets set up and prepares to fix supper.  He's using a Big Agnes Firefly tent (2 lbs!).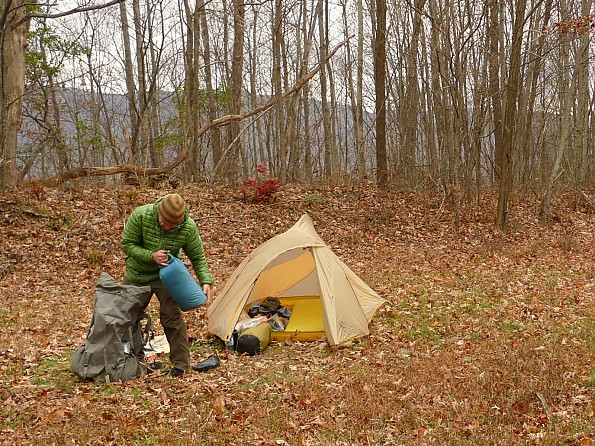 On Day 5 Patman packs up his gear for an ambitious trek off the Sugar and up the Brookshire to Sled Runner Gap and west along State Line Ridge to Sandy Gap and the Kirkland Creek trail.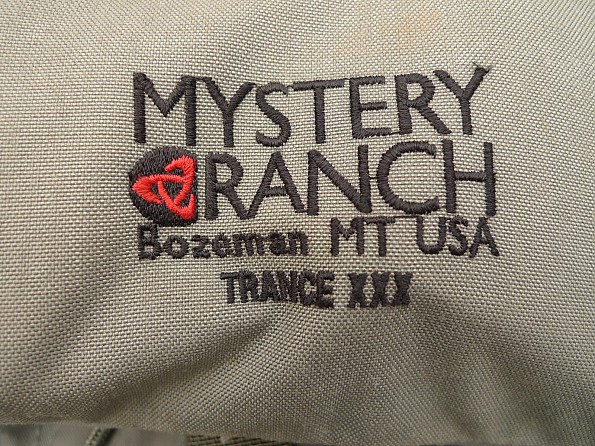 The Trance pack.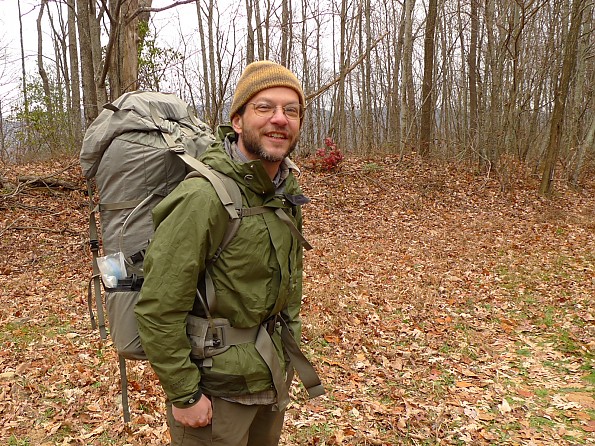 Patman is packed and ready to head south while I get packed and head north towards the high ground of Whiggs Meadow.  We say our goodbyes and plan a rondezvous after Thanksgiving on Bob's Bald.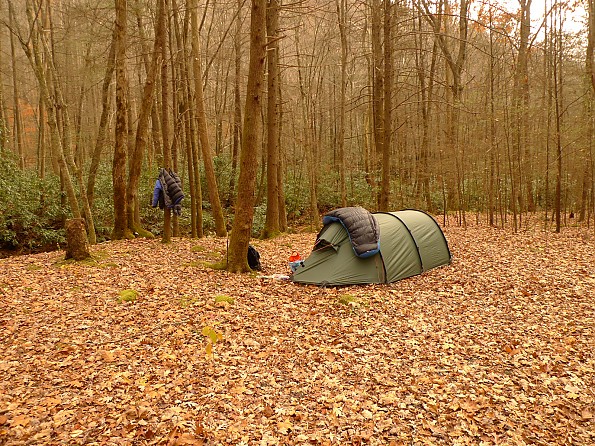 I fall off Sugar Mt and cross the Tellico River where I take a break at the fish hatchery and the Pheasant Fields picnic area.  Close to a mile up Sycamore Creek trail I pull off and set up camp at a favorite spot.  Is my tent two pounds?  Naw, it's 8.10 lbs.  Ow.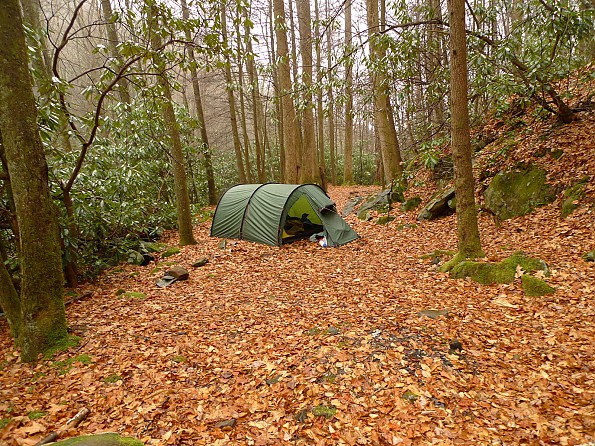 On Day 6 I haul the kit up Whiggs Mt in a cold November rain and near the summmit (okay, a thousand feet below the summit) I get to Hobo Camp where the big tent fits easily and so I'm all set for the forecasted "three days of rain" called for by the TN wee'tards.  Weathermen.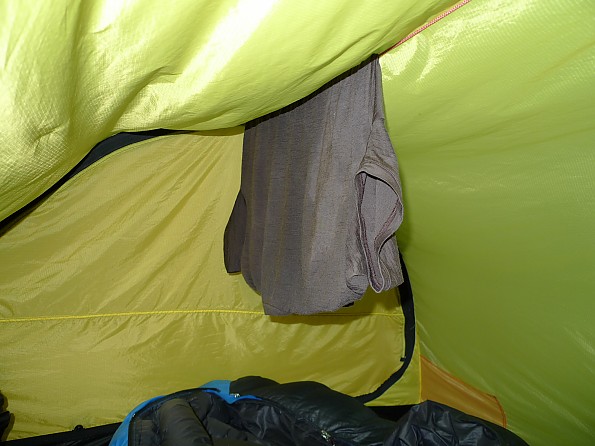 The Keron tent has a laundry line running across the inside top and it's used here to "dry" out my damp Icebreaker merino t-shirt.
Hobo Camp is located behind this trailsign on the Sycamore Creek trail and sits around 3,500 feet.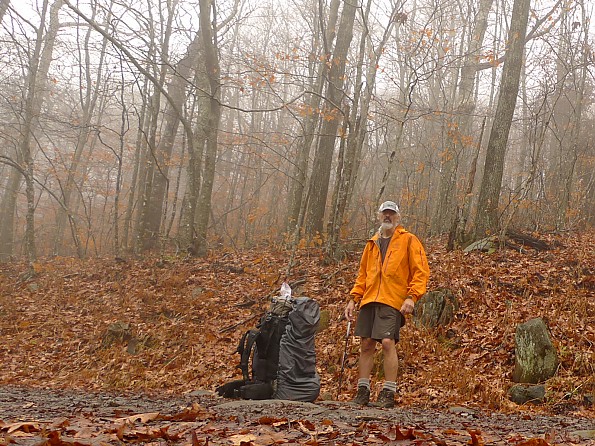 On Day 7 I swab down the tent and pack the kit and leave Hobo Camp for a 3.5 mile climb to the top of Whiggs Meadow and a gain of 1,500 feet.  The orange rain jacket saves my butt again.  It also alerts the hunters.  Here I am on the climb to 5,000 feet.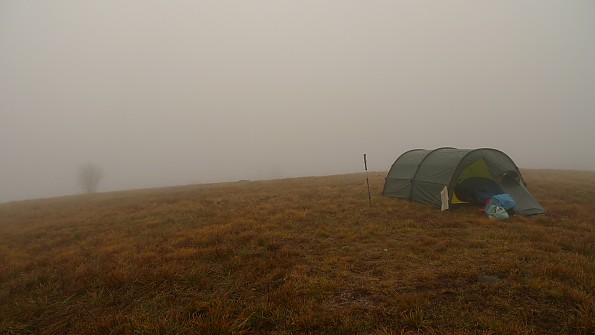 The Keron tent on Whiggs Meadow.  I bolt it down with all 16 stakes as there's a November wind and pelting rain as I enter my 24th hour of the wet stuff.