8:11 a.m. on December 19, 2011 (EST)
Tipi Walter

295 reviewer rep
1,436 forum posts
Backpacking the Citico/Slickrock, Brushy Ridge, Bald River and Warrior's Passage Trails.
December 7--18  2011
HIGHLIGHTS
**  First Snow of the Season.
**  On Gorak Hill with Patman, Gonzan, John and Sean.
**  Patman Shuttles Me to Flats Mountain.
**  Three Days On Flats Mountain.
**  Turkey Feather Camp On Long Branch Trail.
**  Henderson Top Turn Around.
**  Forty Hour Rain on the Bald River.
**  Backpacking the Warrior's Passage Trail.
**  Camping on Wildcat Creek.
**  Hiking Out on Old Furnace Road.
**  Final Roadwalk on Hiway 360 North.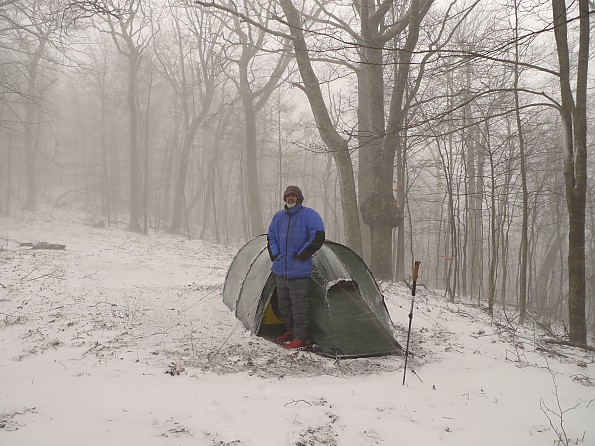 Here's how it works---
**  Nov 28---I return from my last trip cold and wet after 20 days of hauling weight.  Upon arrival home I dimly prepare a December trip using what peanut sized brain I have left.
**  Dec 1---I project December 9, a Friday, to be a good shove-off date for a short December trip so I plan accordingly.
**  Dec 6 arrives in the doublewide and the television warns about a nasty rain turning to snow in a fast approaching deep freeze so my brainstem gets in an air mass uproar thinking about how my Friday departure may be delayed by snowy roads so Little Mitten and I discuss the route and we make a quick decision to set in motion the wheels of lunacy on December 6 for a departure on December 7 before the ice palace develops.

     And boys, it's a'comin'!!  Little Mitten drives me up the mountain and gets me to Beech Gap in a very nasty butt cold rain which quickly turns to snow.

DASHED ROUTES
     I originally fondled a Warrior's Passage trail map as I wanted to mix it up a bit and do something different, then I got on a Snowbird backcountry jag and salivated over a series of topo maps.  Then this nonstop rain came in and kicked open my sac and made all the area streams and creeks and rivers impassable and Warrior's Passage has a very tough ford over Wildcat Creek, and who wants to drive all the way to Mud Gap or Hooper Bald and hike down a long Snowbird trail in a freezing rain?  So here I sit at Cold Gap in the tent on old familiar ground.  It's for the best anyway as Gonzan and Patman are planning to be atop the Bob on Day 4 of the trip so everything's a-okay.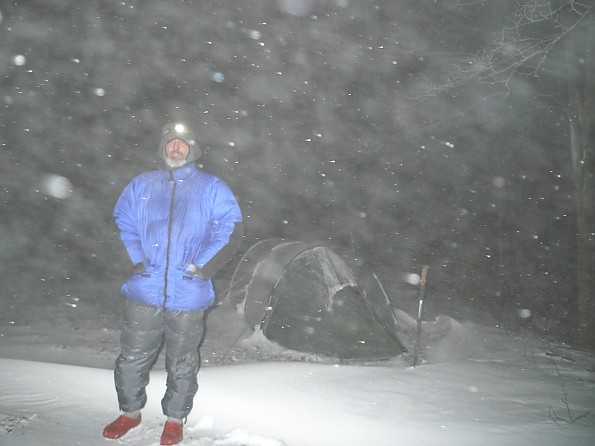 In just a few hours the cold rain becomes snow and with it comes a mean windstorm so I can almost classify my first night as being in a blizzard.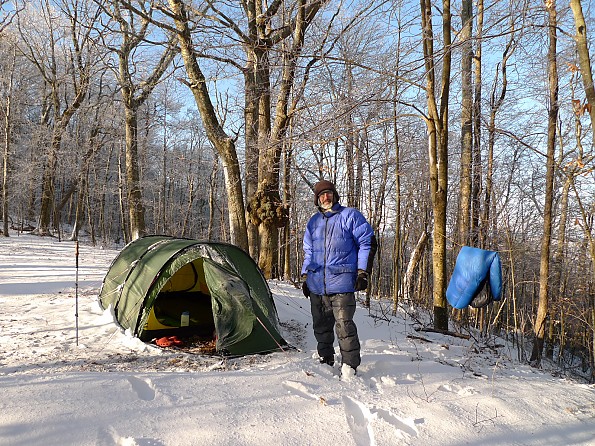 Day 2 dawns white and cold and so the goose down comes in handy---and it helps to always air out your bag first thing in the morning.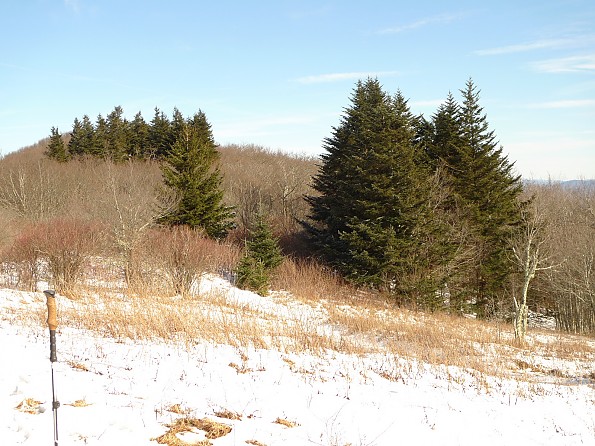 I make it up to Gorak Hill and view the white splendor and also get water for a campsite further up the Wall.  Bob's Wall, that is, a long running knife ridge spine with a few excellent campsites.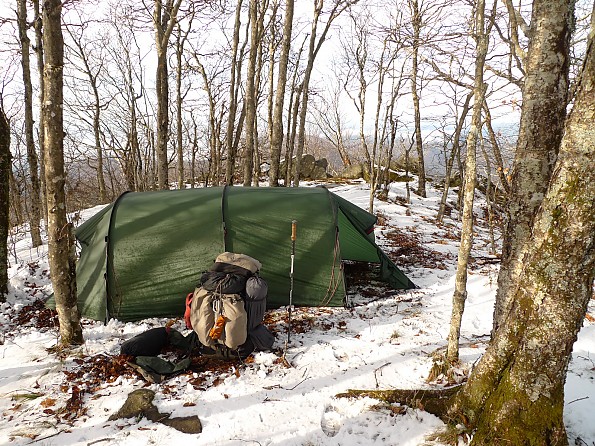 Here's my Wall camp in the snow.  Right behind the rocks in the background is a 3,000 foot drop into Slickrock valley.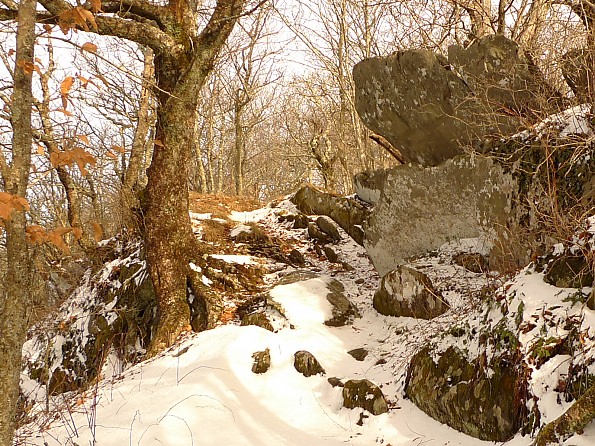 Right next to the tent is the Wall trail and here it is climbing thru some pretty rocks.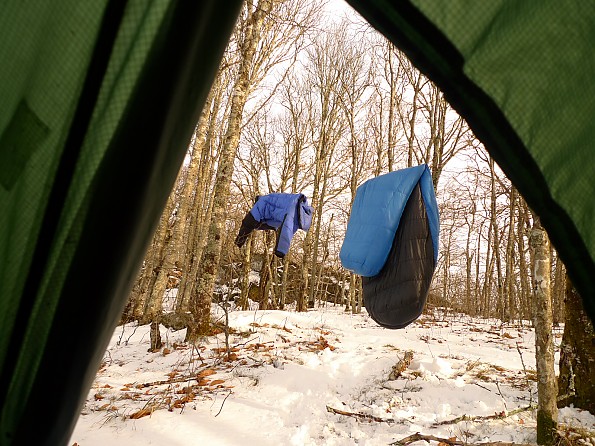 How to keep warm on a winter trip?  Hang out your down items daily.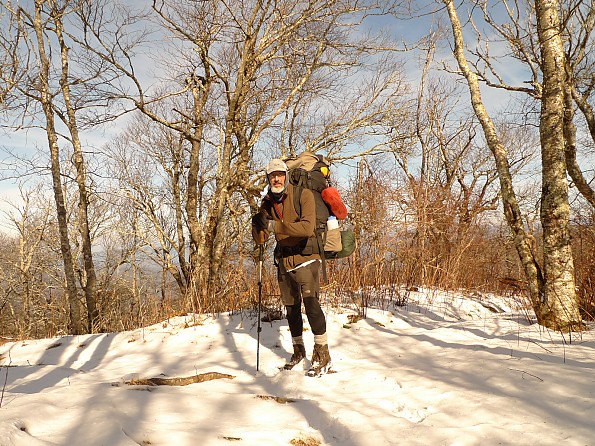 On Day 3 I pack up in fantastic weather in the low 20F's and set my boots on the Wall trail as it winds to the intersection with the Horse Cove trail where I pose for this shot.  The next leg of the journey will take me down the Horse Cove to the Wolf Laurel jct where I set up camp and get water at a nearby spring.
Here I am dressed in typical winter garb---Icebreaker merino longjohns under shorts, Smartwool socks and Asolo 520 boots, IB balaclava, and the all important IB wool zipneck tops (two sandwiched together).  On my hands I have a new pair of light North Face polartec gloves.  My shorts are also North Face.
North Face might've fallen way behind since the 1970's when they made outstanding sleeping bags and tents, but their clothing at least seems top notch and perhaps on par with Patagonia and a couple steps behind Arcteryx.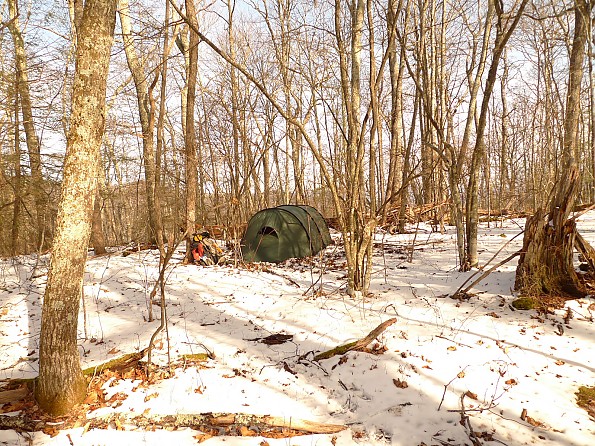 Wolf Camp at the Wolf Laurel Jct---This is a rarely used though favorite camp of mine and it's not the only fine campsite on the Horse Cove trail as it drops down from the Wall.  Past this camp the trail runs another eight plus miles along a fantastic track and loses elevation pretty much the whole way until you come out in the Joyce Kilmer area by Big Santeetlah River and the Rattler Ford campground.  I'll save that trek for another day.