1:02 p.m. on January 2, 2012 (EST)
trouthunter

1,753 reviewer rep
3,956 forum posts
24 hours on a Coastal Plain Swamp Highland with a new tent.
I decided to start the new year off right and spent a night in Bluehouse Swamp.
I got a ride to the trailhead from my brother Steve and started down the trail at 2:00pm Saturday Dec. 31st.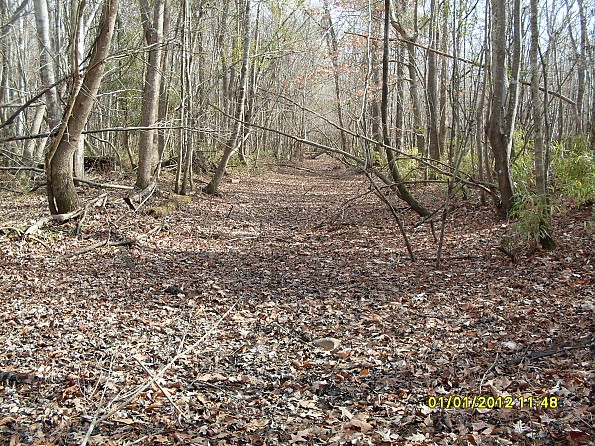 The first part of the trail is an old road, I don't know how old. The road history of this area dates back to the mid 1700's when there were several rice plantations located here. Before that there were several trading routes in the region.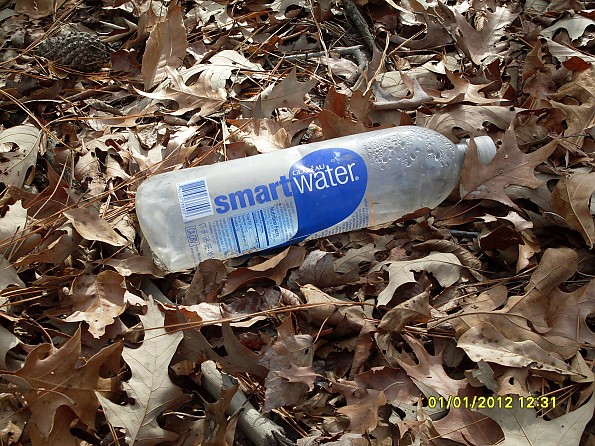 Apparently the "Smart" water didn't have time to work on this particular hiker.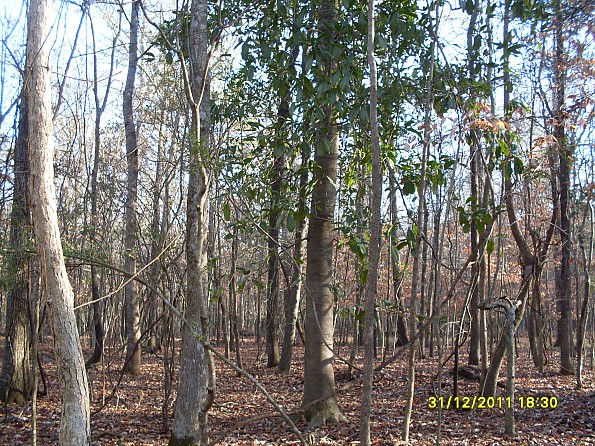 This is basically what the high ground in the swamp looks like, it is a mixed forest with an incredible biodiversity.
In other areas it is much thicker and difficult to navigate.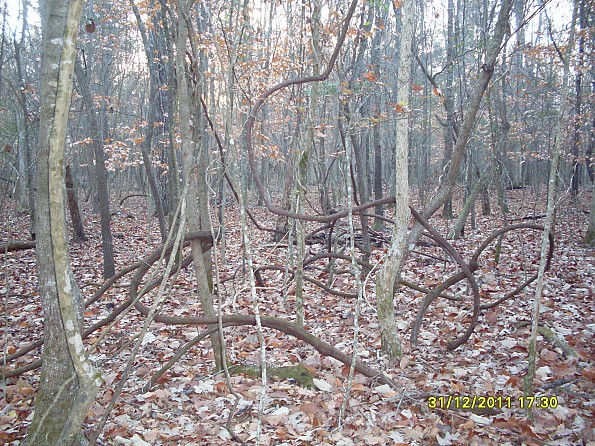 The closer you get to the swamps edge the thicker it can get. In some areas it is impenetrable.

This is the spot I chose to set up camp, it is one of many high ground areas away from the swamps edge. Elevation here was 22' .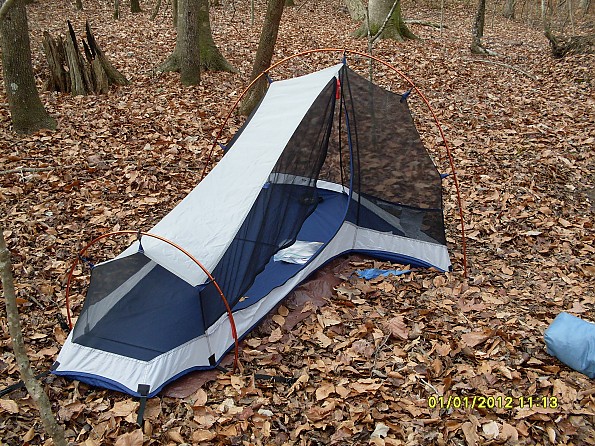 This is my new tent, a Mountain Hardware Sprite 1. I have used it 3 times and so far I like it quite a bit.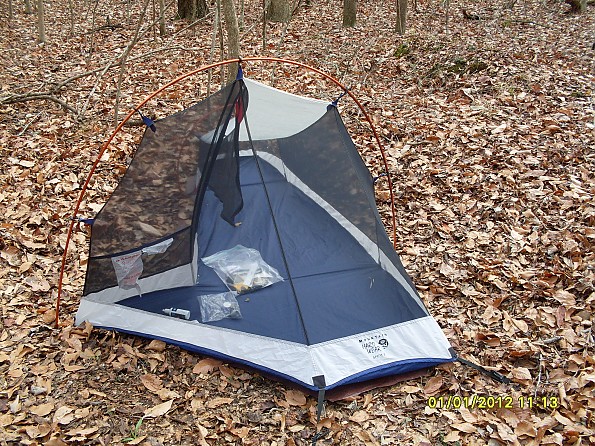 The front side. I like that it has a niche off to the left to keep my stuff inside, plus a small vestibule for my boots & such.

As you can see by the gleam in the photo all the tie out loops on the outside of the tent are reflective and that makes it easy to pitch and guy out in the dark with a headlamp.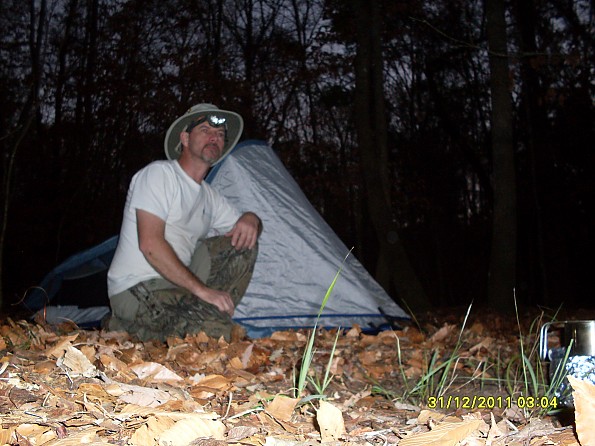 Here I am after adding the tent fly. I waited until after supper to put the fly on because the weather was clear and I was hungry. I wanted to eat before fiddling with the tent fly and learning what my pitch options were.
I have always found the tent pitching time listed by tent manufacturers to be humorous, it takes me 10 minutes or so to pitch a tent correctly after I have selected a spot.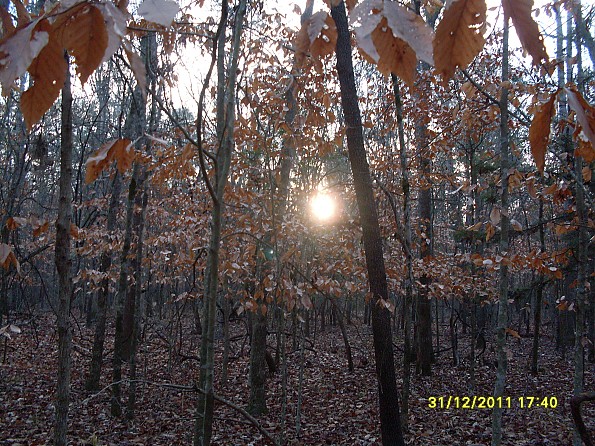 Early morning sunshine is always a welcome sight.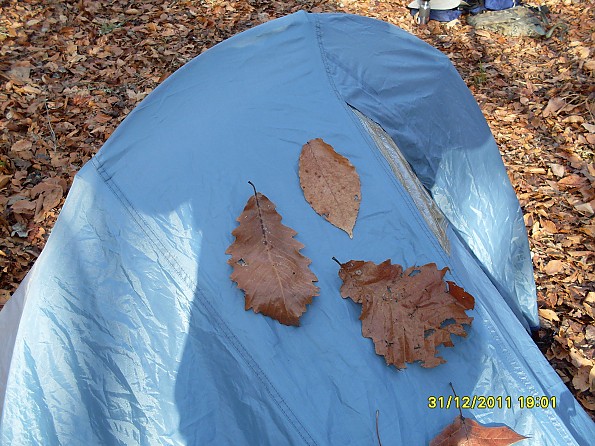 The next morning (after coffee) I walked around a bit. I collected some leaves to take photos of for future reference.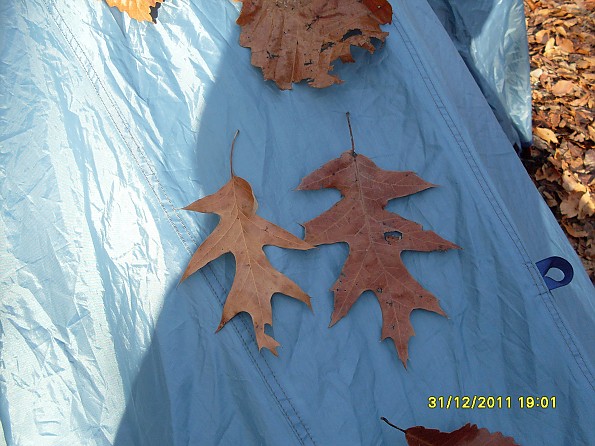 Okay....what kind of tree is this?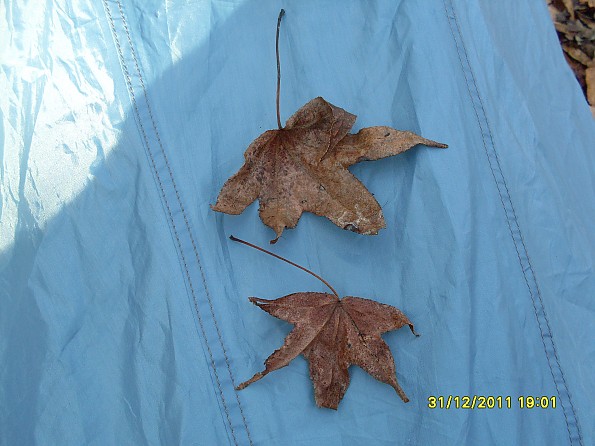 ...or this?
These should be fairly easy to look up in a field guide if you don't recognize them right off hand.

Here's our good old friend condensation! This is the underside of my tent fly, I flipped it over to let it dry off.
The low temperature got down to 41 F during the night and the dew point was 46 F with a relative humidity in the mid 40's.
There was no precipitation whatsoever.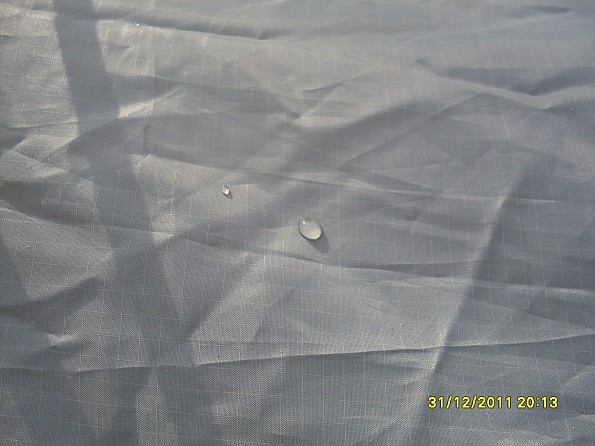 This is the top of my tent inner, it had several beads of water on it that had dripped from the fly.
 It is easy to think your tent is leaking if this happens and it is raining. This tent is a well ventilated tent, but it can't beat the laws of physics.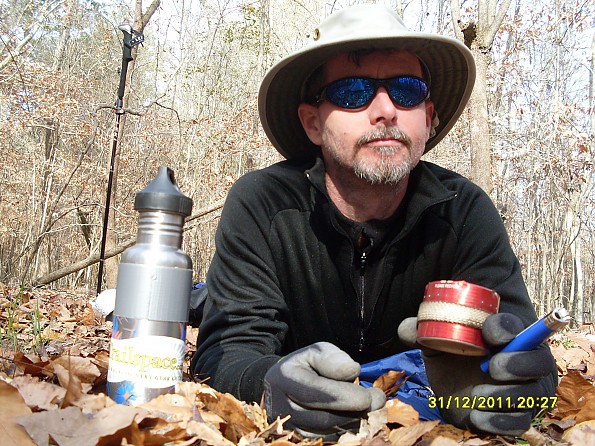 This is my little alcohol stove I like to use on overnight & weekend trips. I have several but I like this one because it is so freaking simple and needs no pot stand. You just wet the wick wrapped around the outside of the stove, fill the stove & light.
It is the Bios 3 from Minibulldesign.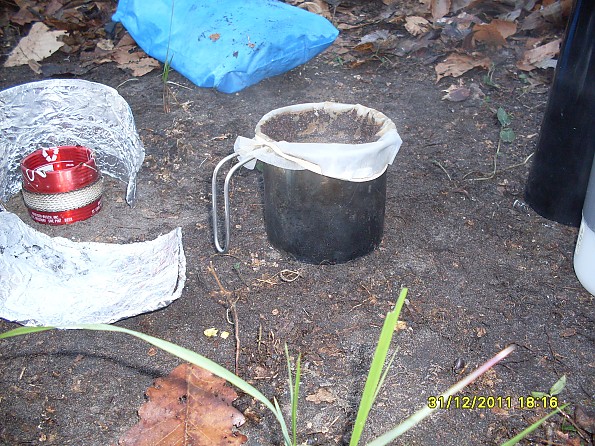 For my cook kit I carry a simple stainless mug (here I've just made coffee) a spork, my Bios stove, a windscreen, and a 8oz. bottle of alcohol. I carry more on longer trips but this is all I need for quick trips.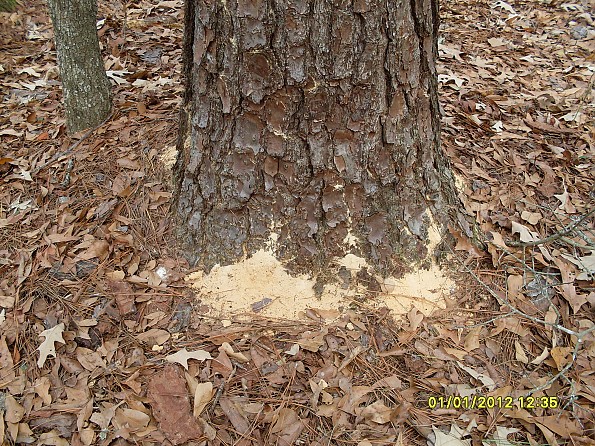 After brunch I walked around some more and took some photos.
This was a pile of sawdust from some kind of wood borer.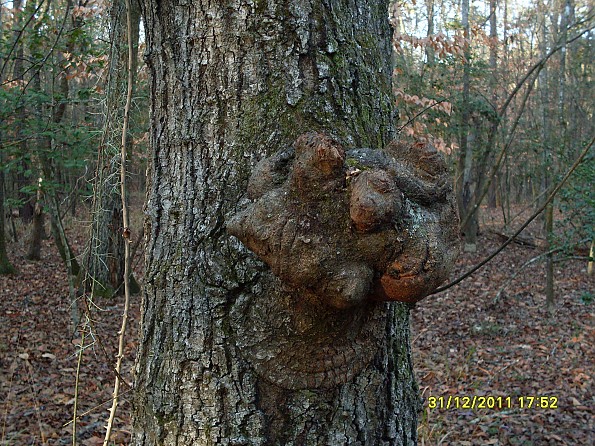 I'm glad I don't have anything on me that looks like this.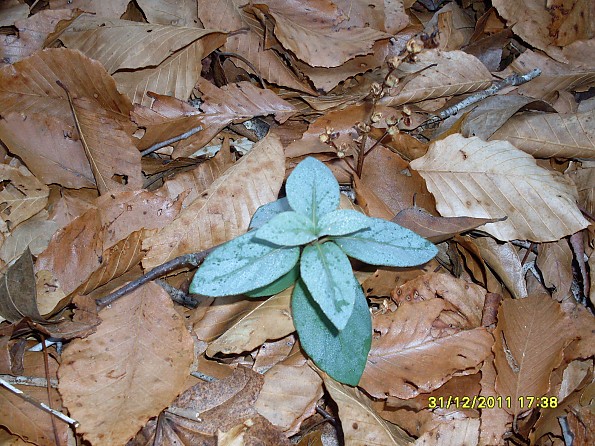 I'll have to look this one up. Anyone know?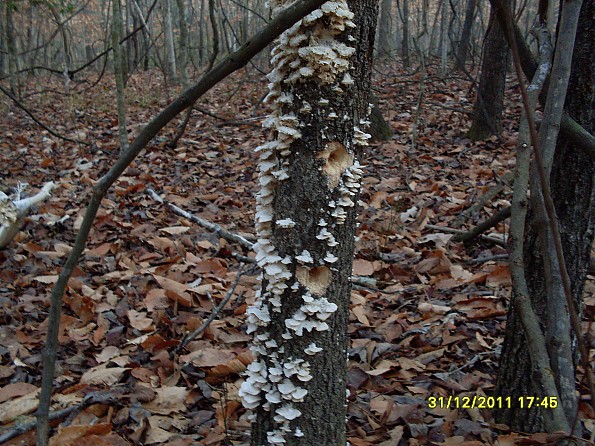 While I was fixing breakfast I was surrounded by large Pileated Woodpeckers, I tried desperately to get a photo of one but they eluded me with ease. I did get these shots of their handiwork.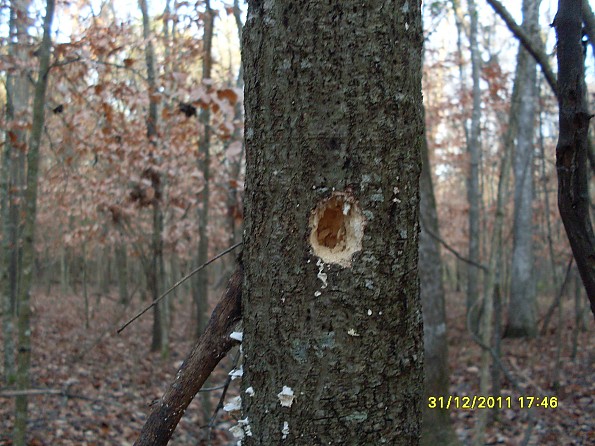 This was a small hole compared to the nests they had chopped out higher up in the trees.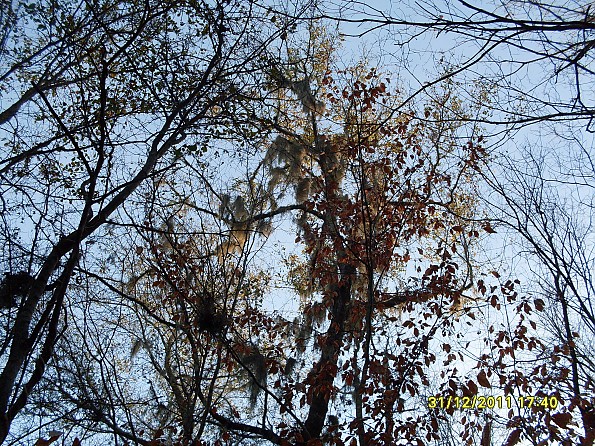 Two major things that stuck out in my mind from this trip:
1. My old Garmin Etrex could hardly get a signal through tree canopy like the one pictured above, it kept asking me if I was indoors. I have put a Delorme on my gear list.
2. I must go back and get some photos of the Pileated Woodpeckers. I'm open to suggestion on how to do this, sneaking up on them is not going to work and the forest is too dense for a telephoto lens to work really.
Ideas?
After eating what was left of my huge dark chocolate and almond candy bar, and drinking the last of the tea, I headed out to my pick up spot.
My brother arrived around 2:00 pm January 1st, 2012 at the trailhead to give me a ride back and that ended a short but very cool trip into a place I must visit again.
What better way to start off the new year?