trouthunter
1,763 reviewer rep | 3,956 forum posts
8:06 p.m. on February 8, 2012 (EST)
It hardly feels like winter, even for coastal South Carolina...but one takes what one can get I suppose.
I live in the coastal plain about 35 miles from the Atlantic coast. Our city is built among many low lying swampy areas. These areas can be small, but very rich in biodiversity.
They do not have breathtaking landscapes, nor are they popular destinations, but they do offer solitude and the opportunity to learn about wetlands.
Last weekend my son Mike, and my nephew Damon and myself packed up and headed into what I call a Micro Wilderness. This area is about 2300 acres of prime wetland habitat with elevated sections of mixed forest.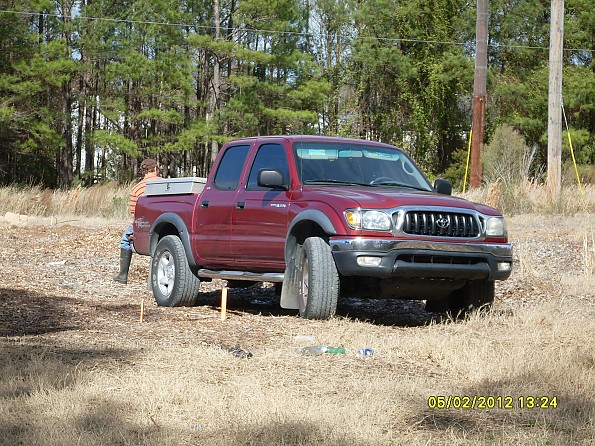 My brother Steve was kind enough to give us a ride to the area and to pick us back up.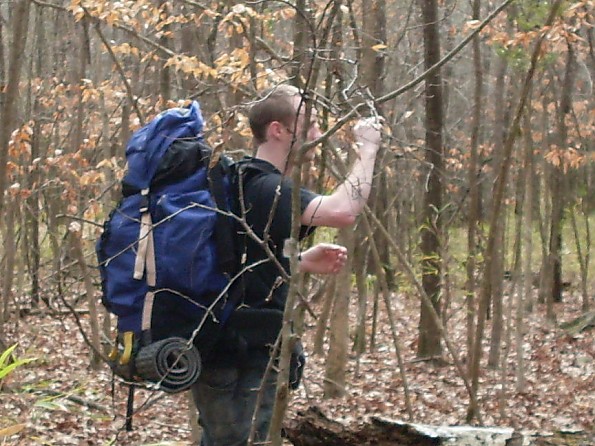 Mike was using a blue Kelty Coyote pack and was having to push branches aside here. The trail was a little thick in places and branches had to be tamed long enough to let a hiker pass.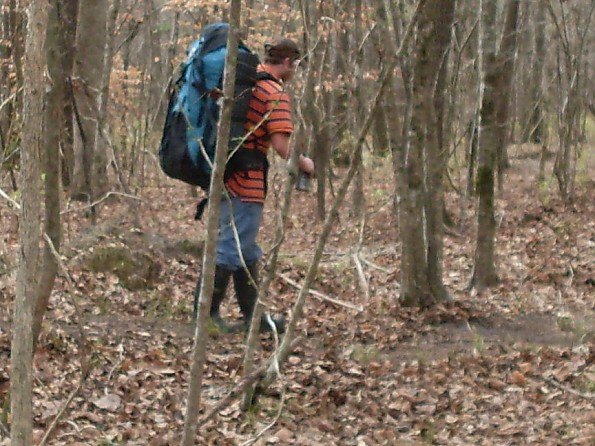 Damon was using a Lowe Alpine pack and here he walked part of a hiker / biker path that was under construction by a local trail bike club.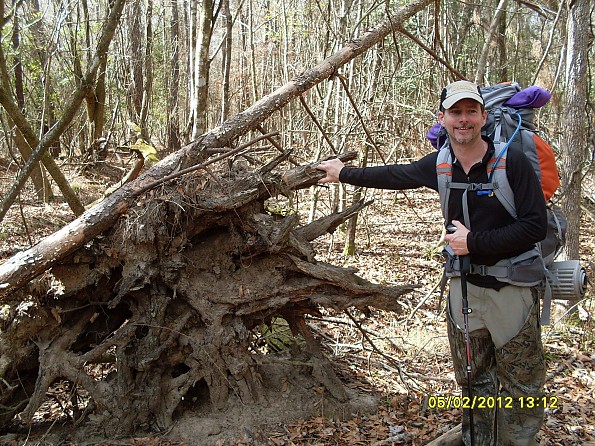 This area is full of old blow downs from hurricanes and storms as is typical of the outer coastal plain region. Really old ones resemble a mound of dirt more than tree roots.
These slowly become homes to many animals from insect larva to larger fur bearing mammals that burrow into the dead tree or the soil mounds left by the decaying root systems.
I am using a newer model Kelty Coyote pack.
I wish I had stood beside this tree so you could tell how big it was, it was close to 3 feet in diameter. This forest is full of large trees, some of them really old and were spared cutting because it would have been very difficult to get them out in times past.
Lots of large Cypress trees were harvested in colonial times from the region and were floated down the major rivers to the port of Charleston.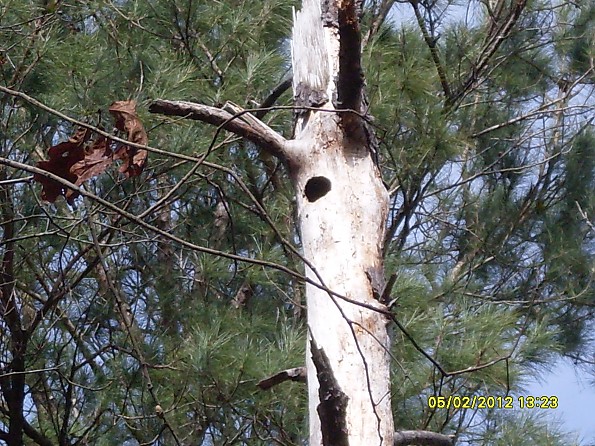 I think this is a Pileated Woodpecker nest. I'm not sure but I saw one of them fly out of this hole. This was about 60 - 70 feet up in a dead pine.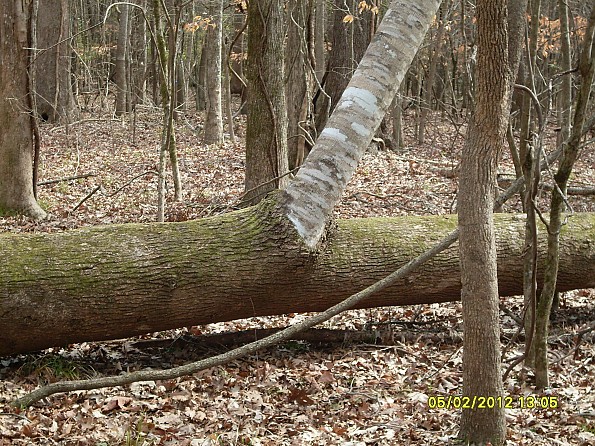 This was really interesting, the tree had fallen but was not dead although all the branches on the main trunk appeared to be. This solitary large branch shot upward with new growth & foliage.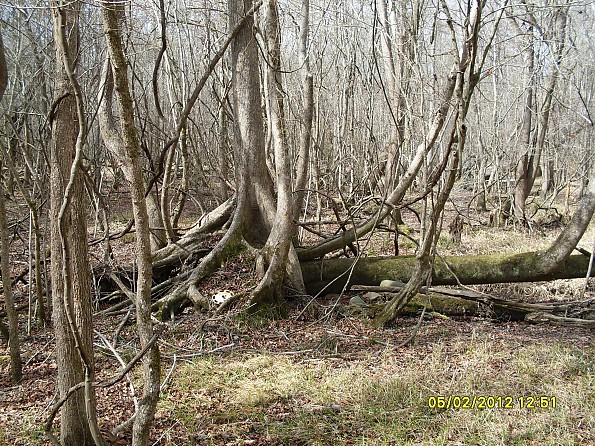 We came across lots of intermingled trees all vying for life. It reminded me of the game twister.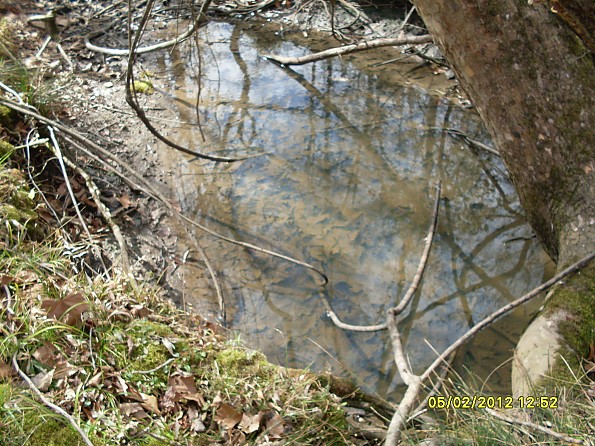 This is what most of the water sources here look like, murky and questionable! We opted for carrying our own water in since we were not going all the way to the section of the swamp with flowing water. The good news is that these holes hold large frogs that are fun to spot.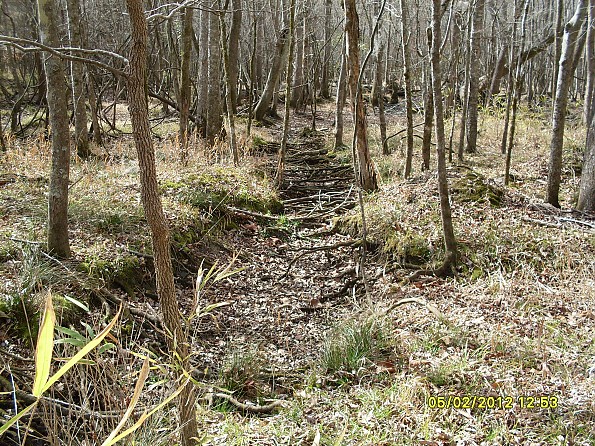 Here is a photo of one of the many creeks we crossed that are dry this time of year, even so ground water is abundant just a few feet below.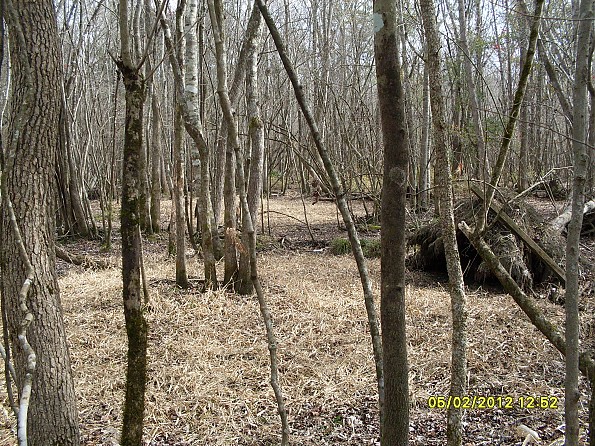 This area was very soggy but a short grass seems to grow well here along with Palmettos and some short variety of Cane.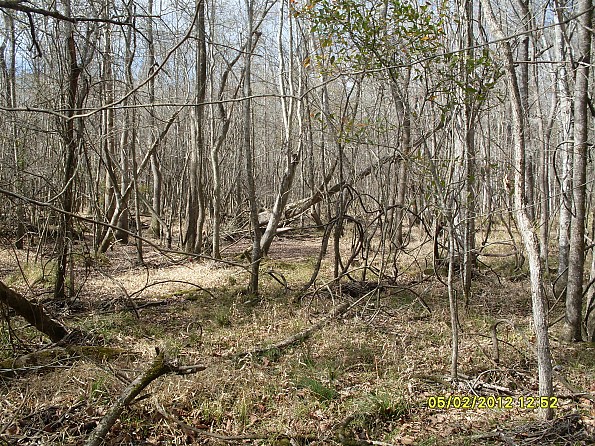 Some people call this twisted growth "water vine", I'm still not sure what its proper name is. It is a type of woody vine I have been seeing a lot of lately.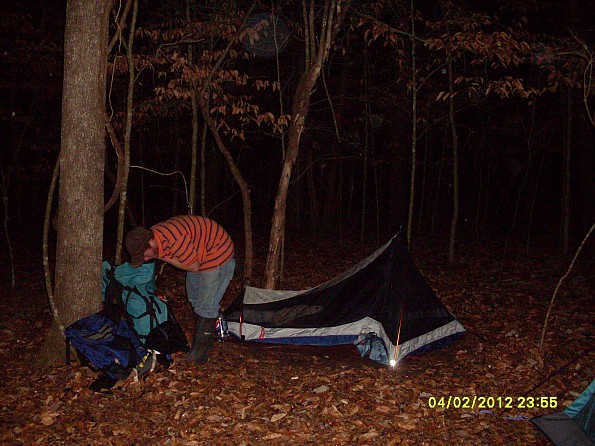 Well we finally make it to camp after a late start in the day.
Damon is using a MH Sprite 1 as a shelter, he opted to leave the fly off since the weather was so clear.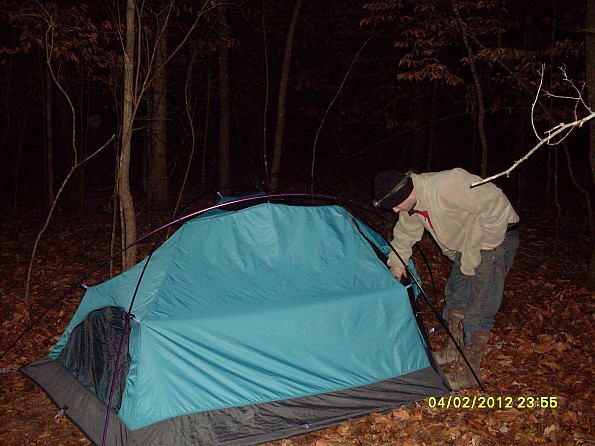 Mike gets his stuff loaded into the other tent he and I shared, a MH Skyview 2 that I have had for many years. We too opted to go fly-less and to zip open the panels in this convertible tent.
This truly is a two person + gear tent with a huge vestibule, but it is heavy at 8 lbs.  Not bad split between two people for the amount of real estate you get.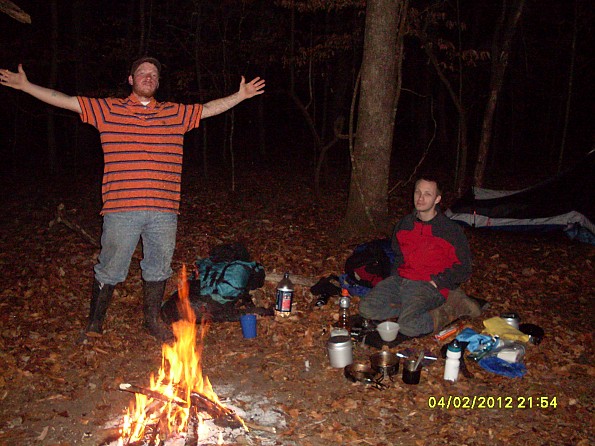 Can you believe huge man eating mosquitoes in February??
I have never had a problem in February until this year, we just haven't had enough freezes to do then in.
We finally decided to combat them with a campfire and that worked.
Here is Damon showing how big the mosquitoes were...you should hear our fish stories!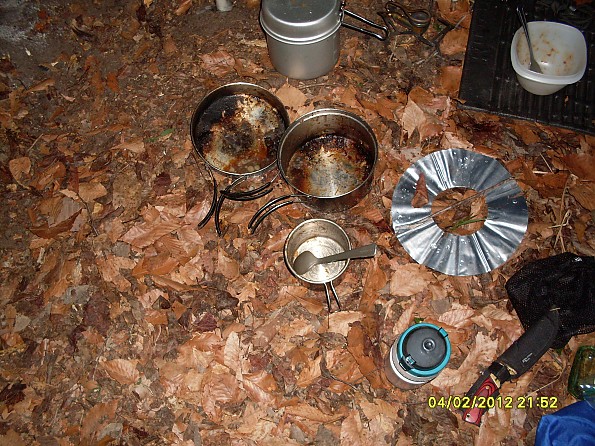 This is the aftermath of three hungry guys cooking, the only thing left unconsumed was the burnt stuff in the pans. We had Ribeye steak that was carried in frozen, Santa Fe rice & beans, and sweet tea.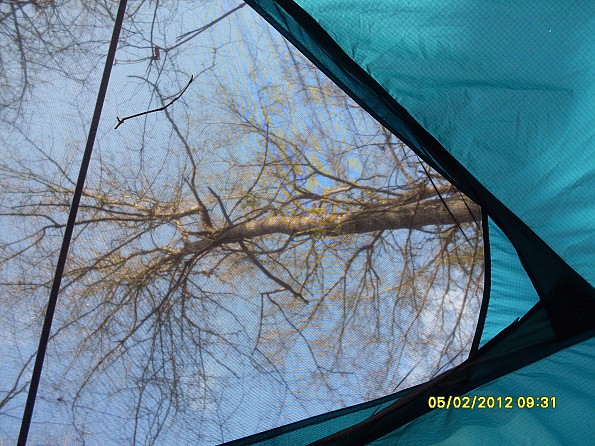 Well we survived the night with all the huge Cottonmouths, Alligators, creepy crawlies and such. The next morning was bright and sunny. This was the view out of the top of my tent, I just laid in my bag for a while watching the birds fly around. It was great!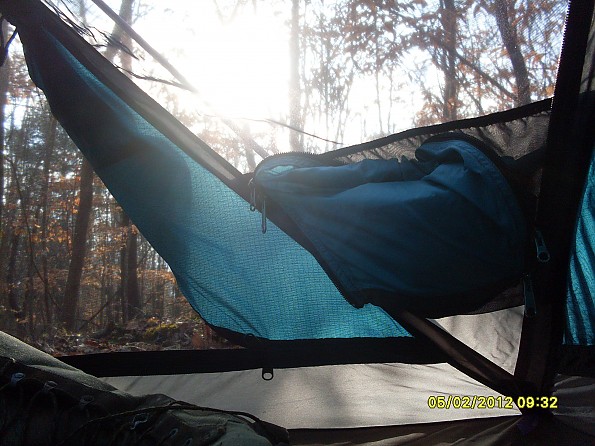 ...and then I laid there some more just totally enjoying it.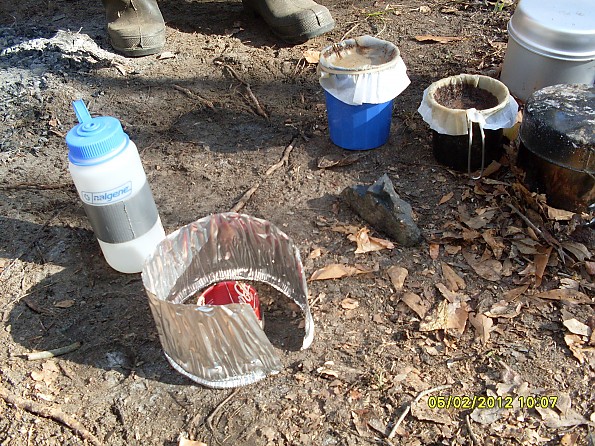 Morning means coffee in my camp, so we proceeded to heat some water on the alcohol stove and used it to brew some Eye Opener coffee. I figure if you put a spoon in it and the spoon falls over it ain't strong enough yet.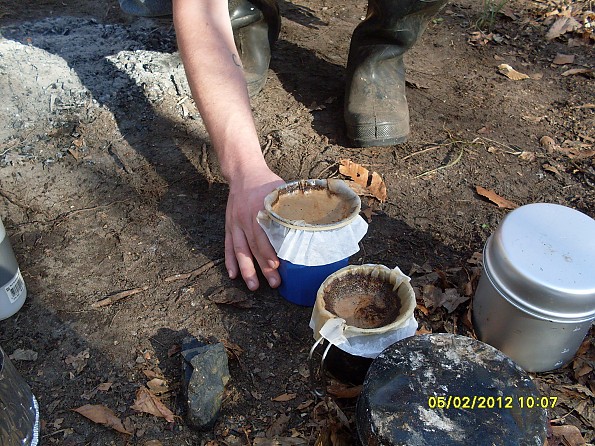 Someone goes for the big cup every time, then they run in circles for a while.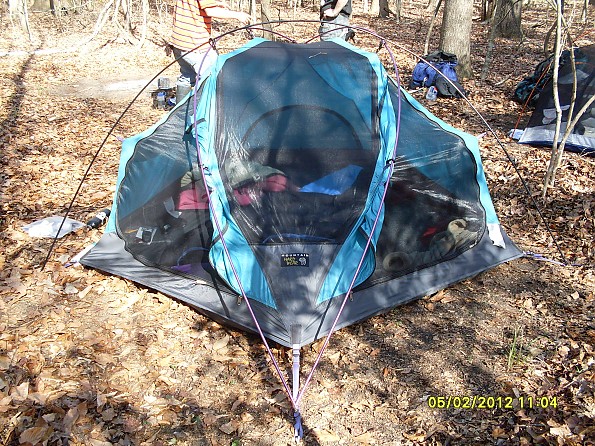 Here is a frontal shot of the Skyview with the doors and roof zipped back.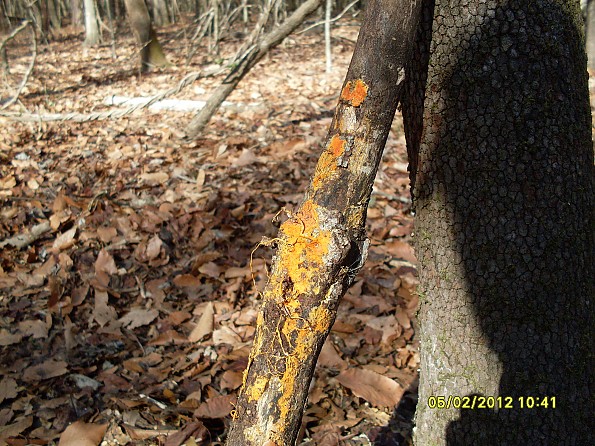 While gathering firewood the night before we found this piece of tree branch with some type of stringy orange Fungus.
I'm calling it Orange Rot until I can look it up. Anyone know what this is?
Here is my brother Steve and his daughter Haley who hiked out to meet us while we were breaking camp to head home.
My brother and I have run around these woods since we were kids having lived a while in the nearby neighborhoods.
We also got lost in this same area when we were teenagers and had to spend the night out with little more than jackets and a lighter. We had walked in on a long narrow ridge surrounded by swamp and couldn't find our way back before dark.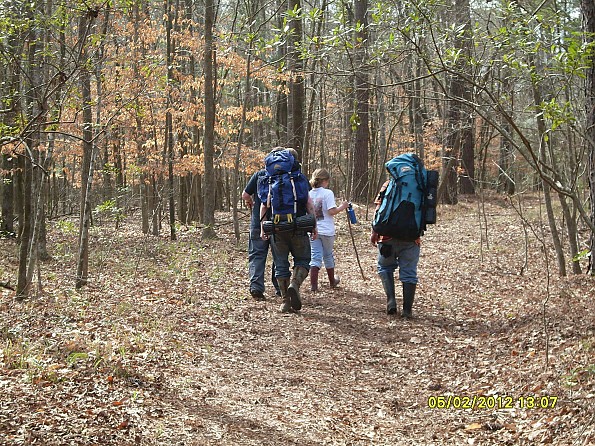 All good things must end I guess, here we are on the short hike back to the truck, warm meals, hot showers, and talk of another trip.
On the next trip I am going deeper into the swamp and get some photos of the various animals and unique plants that grow in these areas. There are some large Pitcher plants, Palmettos, Virgin Cypress (if I can find them) as well as Aligators, Turtles, Salamanders, Large Cottonmouth snakes, Osprey's, Owls, etc.
I hope that will make for a more interesting trip report.
Thanks for checking out my trip!
Mike G.