9:30 a.m. on March 5, 2012 (EST)
Tipi Walter

295 reviewer rep
1,436 forum posts
Yes boys, strap on your head gear for another long trip with a butt heavy pack into the mountains of Tennessee and North Carolina.
HIGHLIGHTS
Trip 130
February 8-27  2012

**  20 DAYS OF SOLITUDE

**  100 POUND PACK---HEAVIEST IN THE CITICO YEARS

**  SNOWSTORM ON THE PINE RIDGE FODDERSTACK

**  PATMAN JOINS ME AT CROWDER CAMP

**  10F NIGHT ON FODDERSTACK RIDGE

**  A NEW SITE IN THE BURNTHOUSE CAMPS

**  BACKPACKING THE NICHOLS COVE YELLOWHAMMER ROUTE

**  THE TREACHEROUS LOWER SLICKROCK GOAT TRAIL AND THE NEW FOOTBRIDGE

**  CROSSING THE MIGHTY SLICKROCK FIVE TIMES

**  THE LONG SLOG UP STIFFKNEE TO SNOW CAMP

**  SNOWSTORM AT SNOW CAMP

**  INTO LITTLE SANTEETLAH VALLEY

**  WINDSTORM IN JENKINS MEADOW

**  TUMULT ON HANGOVER MOUNTAIN

**  WINDFEST AT NAKED GROUND

**  PATMAN LINKS UP AT NAKED GROUND

**  WITH PATMAN AND GONZAN ON BOB BALD

**  MY LAST NIGHT ON THE SOUTH FORK JEFFREY HELL

**  TRIP MILES 63

GEAR LIST
This should satisfy all those nylon droolers who think they need a bunch of gear but are smart enough to not be willing to carry it.  On second thought, forget about a long and involved gear list and let's get right to the trip.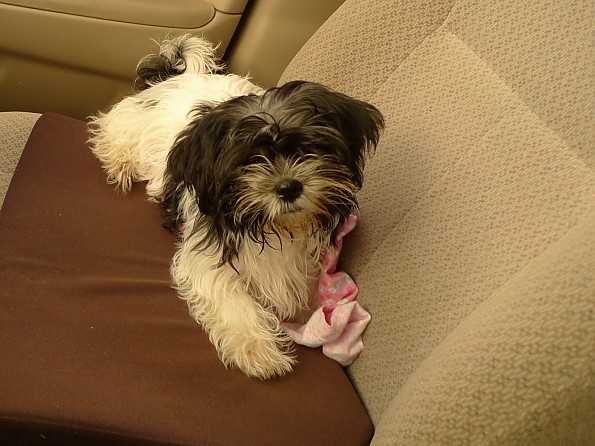 On Day 1 Little Mitten and I drive up the Skyway to the Flats Mt trailhead where I say goodbye to Mitten's new friend Zoe Dog the Mighty Mite, a new addition to the Uncle Fungus family. 
What does 100 lbs look like?  It looks about like 75.  There's no reason for the insanity except for the book reading and food obsession.  Here I am on a three mile hike to Day 1's camp somewhere on the Flats Mt trail.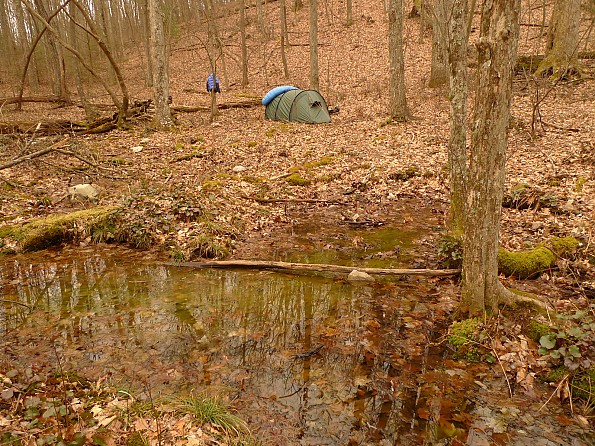 FLATHEAD CAMP---It's too good a camp to pass up and so I use it to divide the Flats trail into two separate but equal parts.  The tent of choice of course is the Hilleberg Keron.  As previously posted on other reports, this pool of water is what makes Flathead Camp so nice.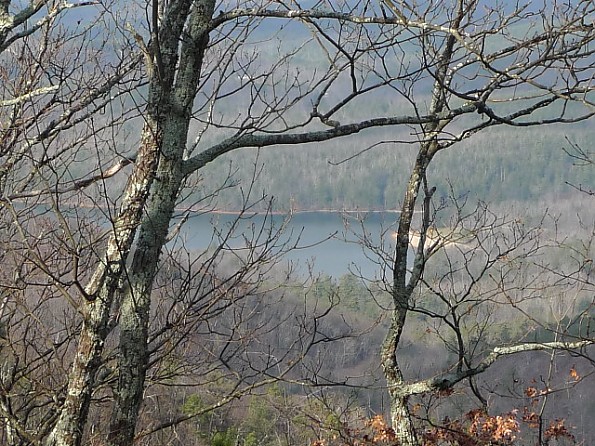 On Day 2 I leave camp and fall off the three main hills and right before leaving the ridge on three switchbacks I turn to my left and say goodbye to Indian Lake below.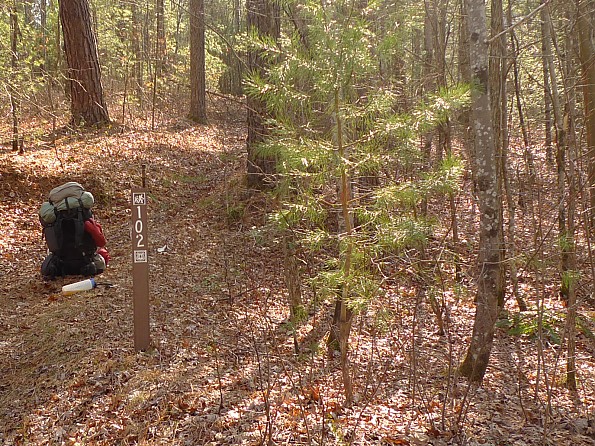 Flats Mt trail ends at Beehouse Gap where I take a needed break after pulling 6.2 miles with 99 lbs (burned some book pages and ate a meal or two).
After a short one mile roadwalk I reach the trailhead to South Fork Citico and further to Warden's Field where I decide to camp.  Here's the SF trailhead.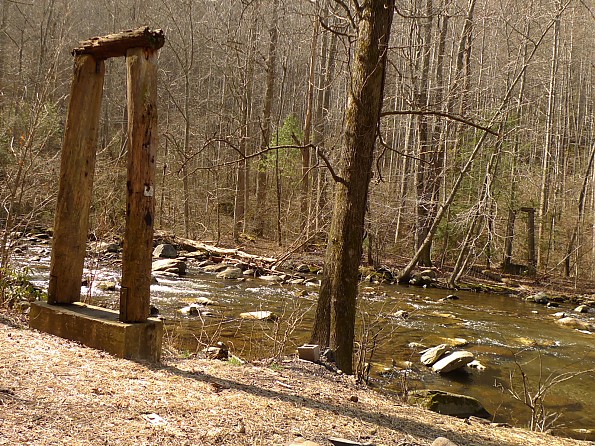 Warden's Field was at one time long ago a small town with a ranger station and a post office.  Here's a vestige of an old footbridge across Citico Creek.  I go upstream a couple 100 yards to camp.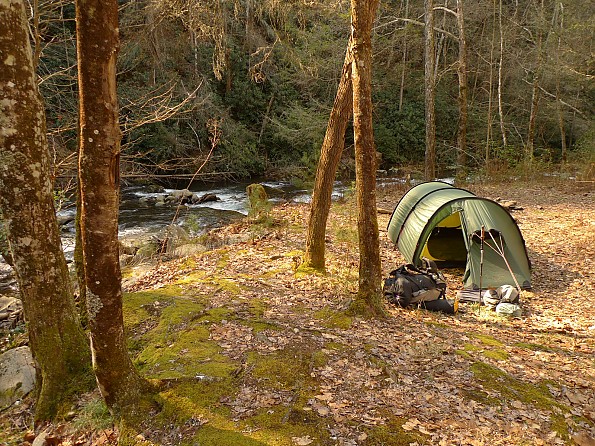 LOG GATE CAMP---A new spot for me but a very nice one with the good sound of water all night.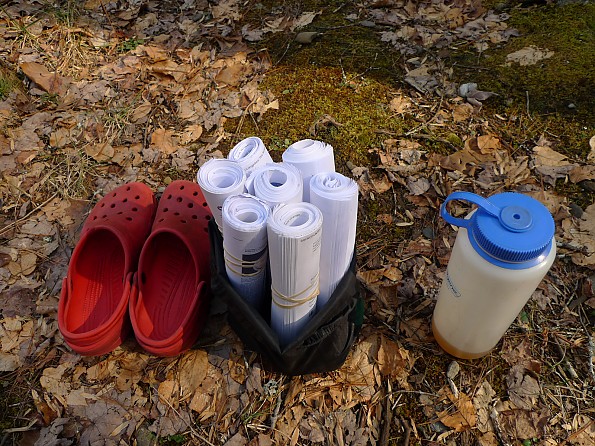 I carry in 11 of these interweb rolls of reading material---60 pages each with both sides printed---they are heavy but easily burned.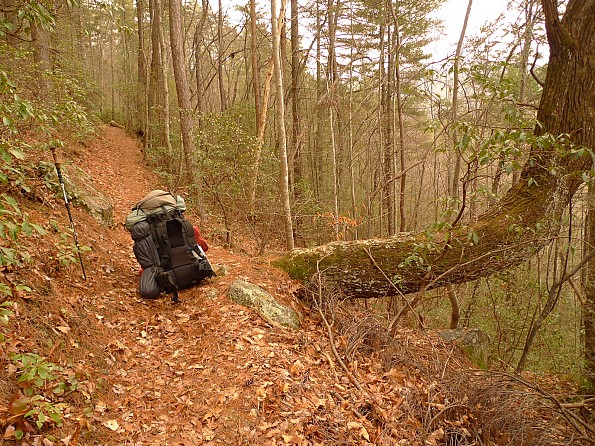 Climbing Up The Pine Ridge Trail---It's a nutbuster with alot of weight and a gain of 2,200 feet so I stop alot and ponder the futility of my existence.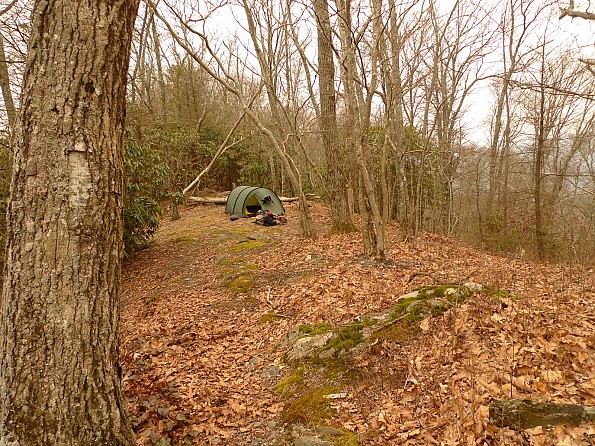 Here's a site I call Oglala Camp cuz it's on the Pine Ridge trail.  Get it?  Pine Ridge rez.  I finally reach the top where the Pine Ridge jcts with the Fodderstack/BMT and decide to set up for the night.  First though I have to pull down a dead pine snag leaning over camp and I do so with my bear line and swaying.  It works---see it leaning safely away behind the tent.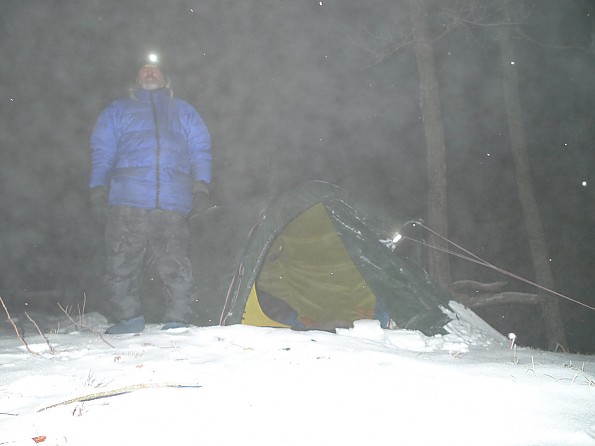 Welcome to a 4 am snow---I go out in the early morning of Day 4 to take the mandatory nighttime snow shot with flash.  It's cold but not unbearable and hey, I brought my geese.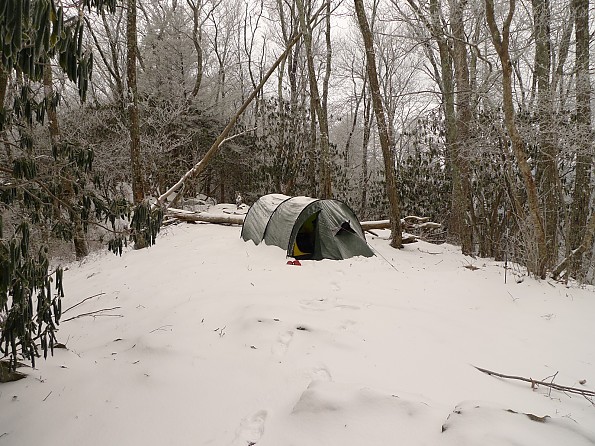 Morning dawns white and crisp at Oglala Camp.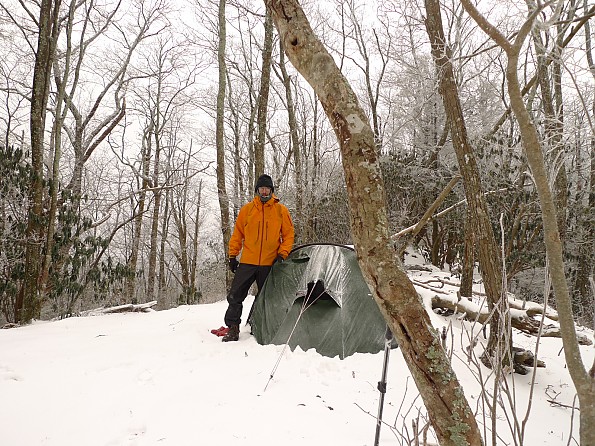 It's time to pack the kit and leave to go north to Crowder Camp where I'm to meet Patman.
CROWDER CAMP---I leave Pine Ridge and descend to Mill Gap and climb up the short but steep hill to a place I call the Little Big Horn---where the white man in me is killed (by the climb) ha ha ha.  Anyway, I reach Crowders and set up and prepare for another cold night.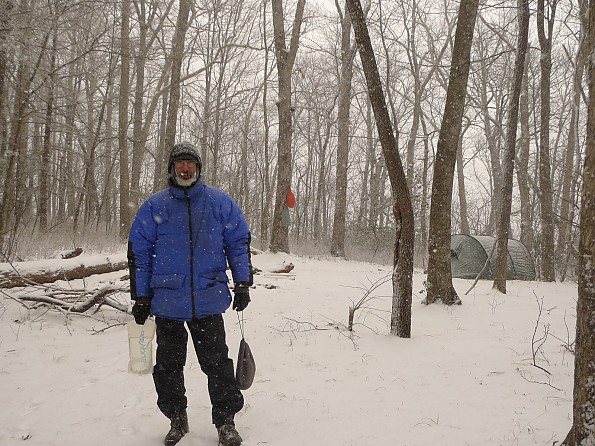 I'm back from a quarter mile water run using my Pur Hiker filter and my two-plus liter platypus bottle.
Patman arrives after an eleven mile slog and a gain of several thousand feet.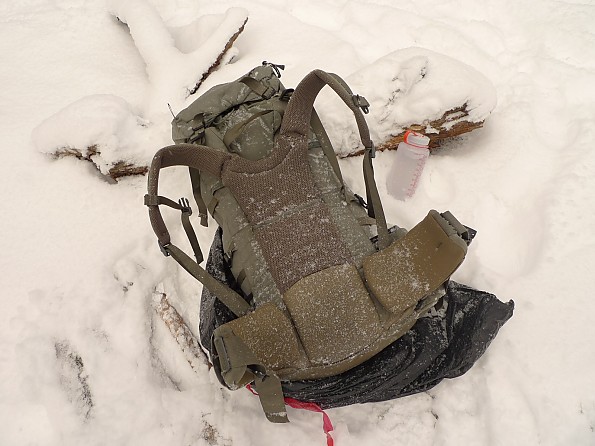 Patman's pack is dumped while he goes to get water.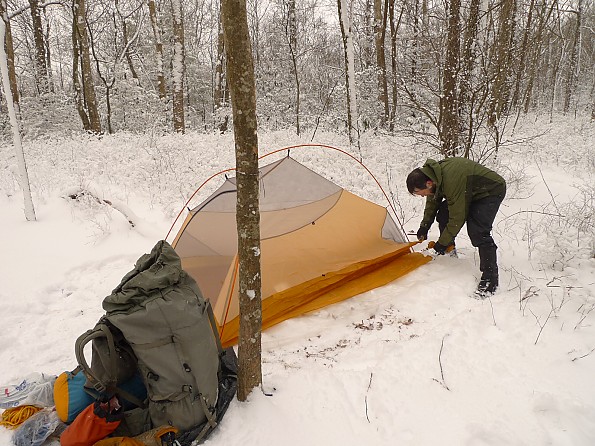 Patman sets up his Big Agnes tent as the temps fall in a crisp wind.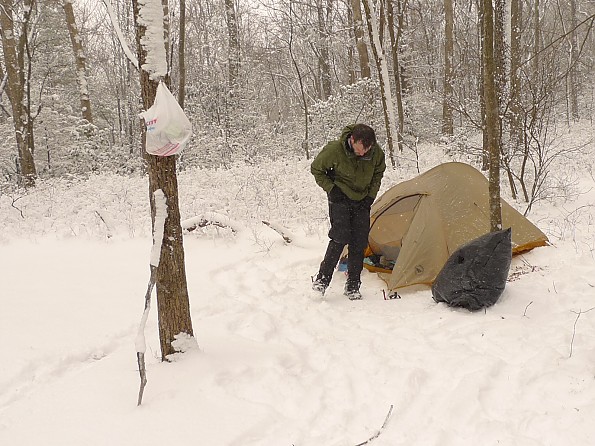 Camp is arranged and we hang out to talk and think about supper.
MORE TO COME