3:57 p.m. on March 16, 2012 (EDT)
EtdBob
189 reviewer rep
192 forum posts
Well now, I figured a good way to start off on this forum might be to show a trip my wife Heidi and I took last July.
Yeah, it was a while ago but it still shows lots of snow and stuff so it is still sorta fits with the season, right??
This is the Long Canyon Loop in northern Idaho, and this was the third time we'd done this loop.
Because this trip was a while ago, I'm going to use excerpts from our journal as reference in this post.  
 I'm sorry it is a bit picture heavy and probably hard to view with some internet connections but I couldn't resist including so many photos.
This particular trip 'round the loop was made difficult by heavy snow pack and high water levels, but as always the Loop does not disappoint! 
Here we are with heavy packs the first day of the journey –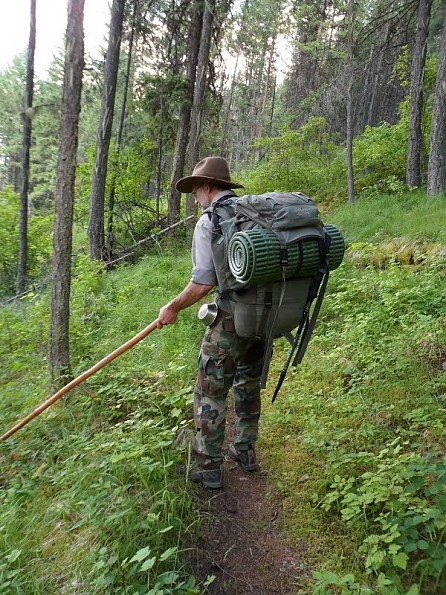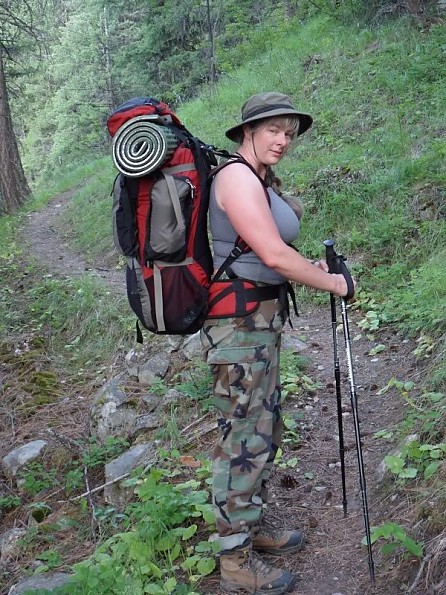 The trail starts off steep, and switchbacks up through an old tumble down forest. It's the steep and rugged entrance to the canyon that has protected it from loggers. This watershed has never been logged.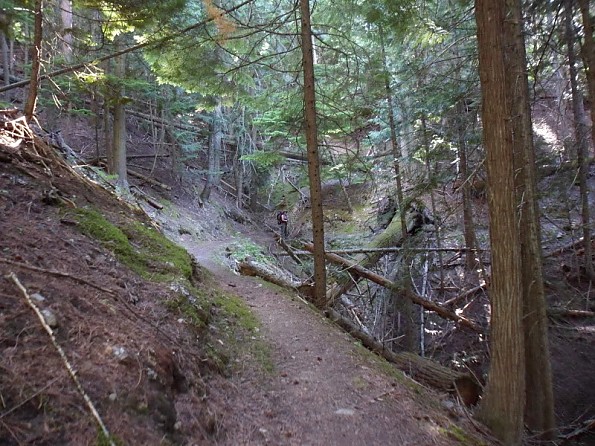 Exerts from our journal - 
Heidi - 

We left home on July 7 th. Tabbitha is watching our animals and home for us. We stopped in Bonners Ferry for lunch and got to the trail head about 3:30 PM.

The bugs were nasty! So we headed on down the trail at a good clip. It was close to 90 degrees and muggy so both of us were sweating freely.

Bob -

The climb up was hard!  We passed the place where we camped on our 2001 trip and found salmon berries, straw berries, wild onions, rose petals and all sorts of interesting plants. Munching as we went, we continued on.

Eventually we found the gallery forest by the old cabin site. The woods were simply a-buzz with bugs! We pressed on in a hurry. Heidi had on some bug repellant and it seemed to help.

We found the cabin site but didn't linger long. Pressing on down the trail Heidi tried using both her trekking poles and decided she liked them.

We are now on a trail high on the canyon side with the wild river below. We kept on through a few light thundershowers and arrived at camp about 7:30 or 8 PM.

We were pretty tired.

I set up the tent and when I turned around Heidi already had a roaring blaze going in an old fire ring. I asked her how she did that so fast and she simply smiled and held up a Bic lighter.

We heated water over the fire for much needed towel baths and cooked dinner over it as well. Just as dinner was finished it started raining so we scurried into the tent to eat.

Our new Sierra Designs Clip Flashlight 2 tent was cramped and wet with condensation. We want out Timberline back!
Our first nights camp –
Which was right beside this little roaring river. It was so loud we had to shout to be heard! We knew we'd be fording this river a total of three times as we hiked up the canyon. Not looking forward to it.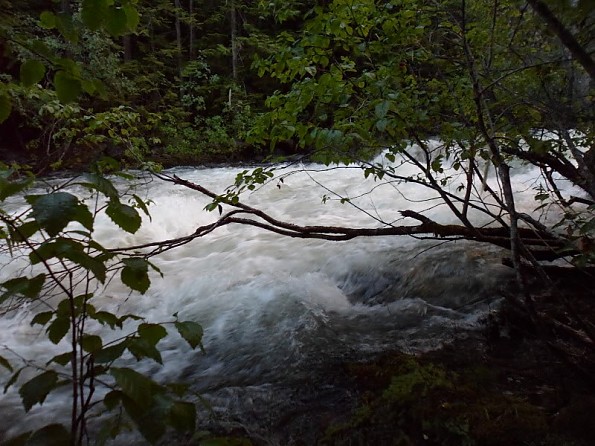 10:30 AM July 8th. 57 degrees 46% humidity.

The new foam pads - "Thermarest Ridgerest Solite" are not as comfortable as our old inflatable thermarests. Our old gear was six or seven pounds heavier but made a much more comfortable camp.

Got down to 50 degrees and up to 85% H last night. Inside of rain fly was soaked!

Up at 7-ish, on the trail at 9-ish. Had a fire again this morning. There are some nice camp sites further down and across the trail. It is now 10:30 and we are enjoying our first break.

 It's nice to be away from the noisy river! 
First break, July 8th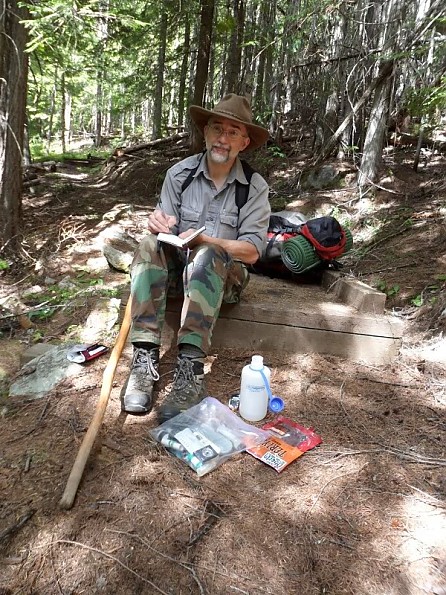 Coffee camp, 4:30 PM, 70 Degrees 36% Humidity.

Made it across the fords. The first one by log. It was scary but OK.

Second was bad. Ice water up to our waists and so strong we could barely move against it. First part of the Y was the worst. Drying out and drinking coffee now. Not sure how much farther Heidi can go today.

Hike between fords was fun. Found a data logger hidden in the forest recording climatic data, and had to wade across a small side stream. Water below the knee. When we got out we kept on down the trail barefooted till our feet were dry and a handy log for sitting on presented itself.

I understand people have hiked the entire Appalachian Trail barefoot, so I wanted to try barefoot hiking out for a bit.

Next time, bring rope for the big fords!
The log jam we crossed the first ford on -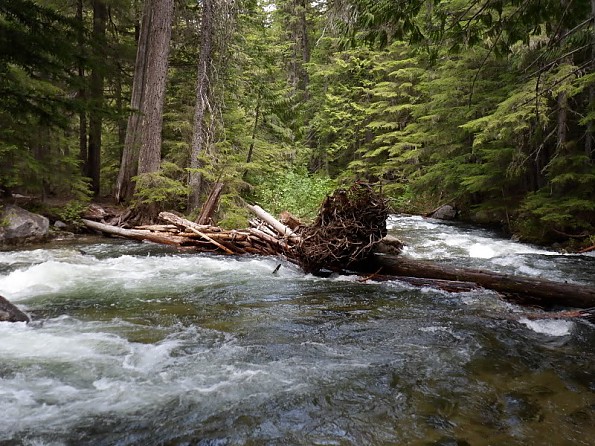 The forest in the canyon is very lush and full of water, but the undergrowth can be limited by the forest canopy.  This beautiful little stream springs right from the earth at the base of the cedars in the top of the photo –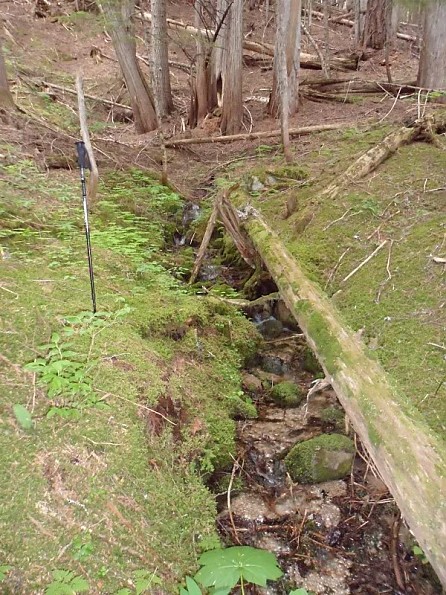 9 PM, 55 D, 47% H Many logs camp.

Got here after 7 PM. Long hard slog.

Ready to stop an hour ago, snow in spots along trail and much water.

Side streams in the canyon really running hard.

Nice camp, big fire, good benches!

Found lean-tos built by previous hikers, one made it through the winter and is still standing.

Heidi cleaned up the old fire ring, she's really liking the snow-stake as it makes a fine trowel, tent stake puller, extra tent stake, etc and weighs only an ounce.

Tent set better tonight, should sleep better.
One of the shelters we found at this camp site –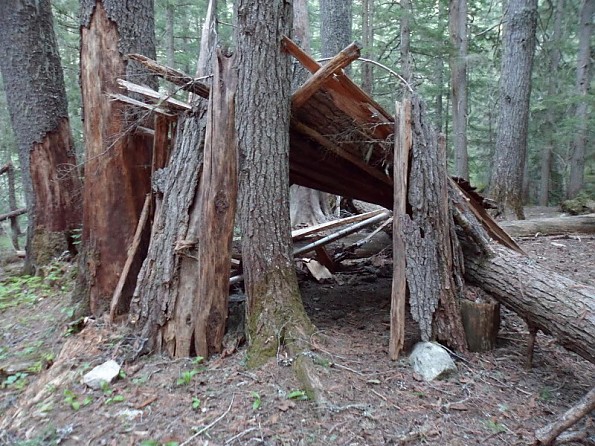 10 AM, 52 D, 56%H July 9th.

Ready to leave many logs camp. Very uncomfortable night. pads like waffle irons. Cold. Nice morning though.

--------

July 11th, Sunday. 7:40 PM 63 D, 41% H, still air.

A perfect evening in camp after two very hard days. It took all Saturday to climb up pyramid pass.

Even the very last ford was difficult. Much snow on top of trail 7 and especially 221 made travel and route finding very difficult.

Had to leave 221 several times to avoid very steep snow fields.

Finally, late in the day we made it to the top of the pass exhausted.

We camped right there on a tiny flat spot right by the snow pack that clogged the top of the pass.

We would have camped hours ago but couldn't find a flat spot big enough anywhere.

The camp was windy and the tent platform uneven but we had a nice fire and dried out and warmed up a bit.

Heidi was simply exhausted. We went to bed before full dark and slept 11 hours.
The hike up the pass. This is a trail?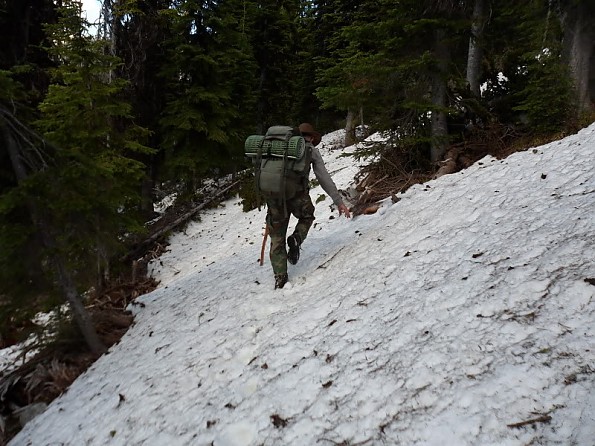 Made it to the top!
That's Parker peak in the background. The trail runs to the left along the ridgeline to the base of Parker peak, then to the right below the peak, and on down the ridge to the valley floor.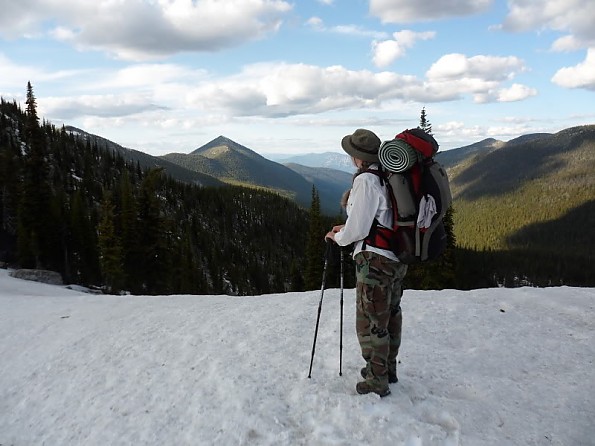 Camped at the top of the pass, exhausted, late in the day.
Incredibly we found enough cell phone signal to get a few text messages in and out, but no calls. I think we were roaming on a Canadian system.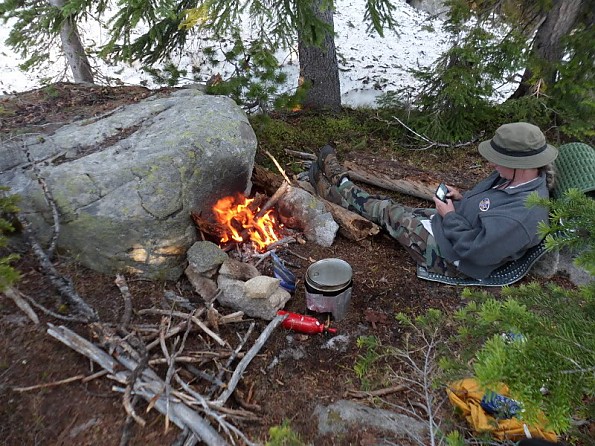 It was hard getting going the next day. I was very worried about what lay ahead - I am terrified of steep snow fields - But Heidi insisted the way out was to go forward. We did not want to face the fords again after having been almost swept away.
So began a long day of ridge walking in the snow, avoiding undercut and unsafe spots and pine-traps
Snow pack on the ridgeline –
Stay back from the edge and watch out for pine traps!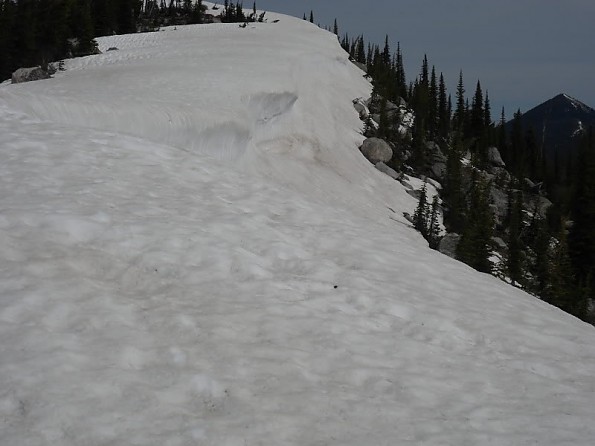 Later that day looking back the way we've come.
We hiked along the very top of this ridgeline.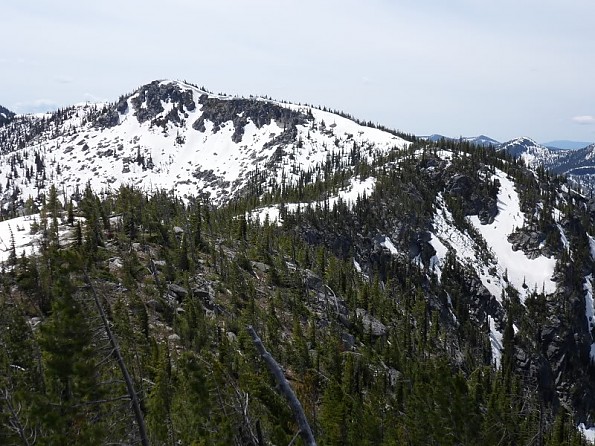 Ever see "watermelon" snow?
It's caused by alga in the snowpack. It can be almost as red as blood sometimes and sometimes you leave weird red-smear footprints when crossing it. Don't melt this snow for water, I've read the alga can be poisonous. 
Good sun glasses are a must on snow pack!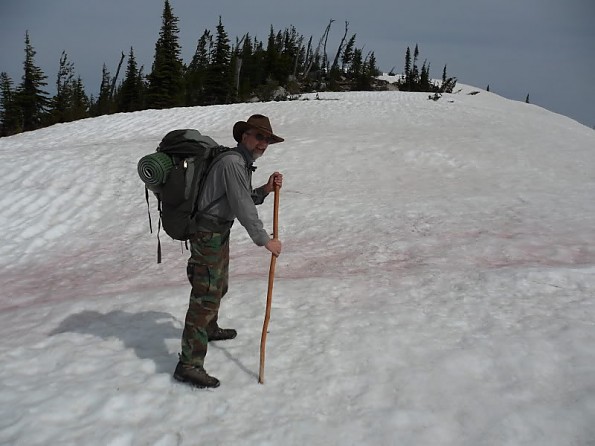 Now and then we'd have a nice snow free stretch to hike; sometimes we'd find only 3" of trail that told us we were on track.
We stopped for lunch behind Long Mountain where we found water and loaded up on it. We had melted snow for water over our fire last night and again on our stove, but snowmelt tastes flat so It's very nice to find running water. From here I carried away a gallon and Heidi half a gallon as we knew there is only one reliable water source on the last leg of the trip.     
 The water we'd melted over the fire tasted like charcoal – Heidi yelled at me to get a new pot with a lid that actually fits to keep the ash out!
Looking south and west from the ridgeline.
If you know the Priest lake region you might recognize Mt. Roothan and Chimney Rock.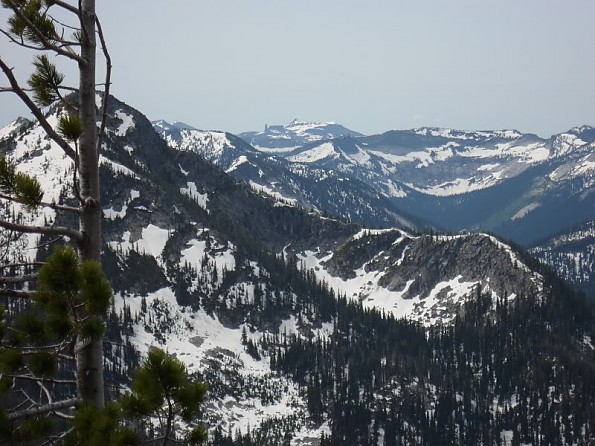 Top of the world!
Actually a bit below 7,500 feet.
See that dark, narrow and rugged valley below?
We spent three days hiking up it to get here and take this photo!
Its views like this that makes the whole trip worthwhile.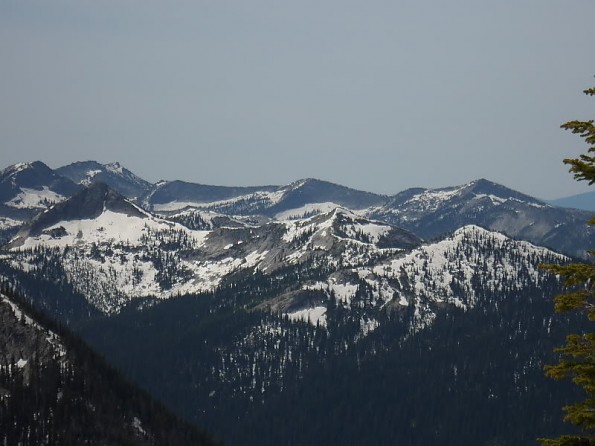 In the afternoon we took a break at the base of Parker Peak and two hikers passed us with hardly a word. They had hiked in from Ball lake and had followed our track in the snow all day.

After that point we left most of the snow behind and the way was easier.

We pressed on to Parker Camp where I sit by a fire drying my boots as I write.

We got here pretty tired out but tea, baths, dinner, desert and a warm fire has revised up wonderfully!

I've been wearing the same socks for the whole trip and have partially charred them with my attempts to dry them out by our fires! They still feel luxurious every time I slip them on, merino wool and silk make great socks but this is defiantly their last trip.

Ditto our "waffle iron" pads. Never again!

We wake with ridges embossed in our bodies and have to sleep in our fleece jackets for the extra warmth. Temp has not gotten below 40 d. Our thermarest sleep system used to keep us comfy down to at least 35 d and it's much more comfortable with inflatable pads. So this experiment hasn't worked out. I'm sure they are better under a sleeping bag but even then I am now a little leery of them. 

The tent is also not a winner. To much condensation in bad weather. It's OK in good weather but who needs a tent in good weather anyway? It's when conditions are miserable that the tent must work well, and this one is only OK.

Probably a fine solo tent but to cramped and wet for a retreat for two in foul weather.

Heidi likes her trekking poles and thinks they help her knees quite a bit.

They telescoped a few inches in the ford when she needed them most, and I wonder how long they will last but for ordinary walking they are a boon if you can get used to feeling like a big spider picking your way down the trail.

Once again I have failed to bring sufficient T.P. I took half a roll and two pocket packs of Kleenex along yet we are now using snow and oatmeal packets. I need to write to Quaker because we think they are making the packets from rougher paper these days.

Feels great to be clean, warm, well fed and have time just to sit. This was supposed to be a relaxing trip and it turned out to be a test of our endurance!    

Heidi built a fantastic fire ring tonight with benches and everything . It's 8:30 now, time to think about getting ready for bed while we still have light to see what we are doing.

It would have been nice to make White Rock camp tonight but we are glad we stopped when we did. 55 D, 55% H.
Fourth and last camp –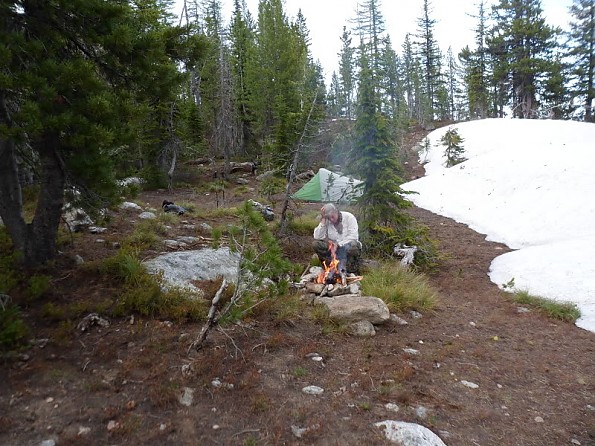 Fifth day on the trail, looking up back the way we've come.
OK so this isn't a very good photo but it does help to convey the distance covered on this hike. We camped in a pass on the extreme left of the snowy ridgeline in the background of this photo two nights ago.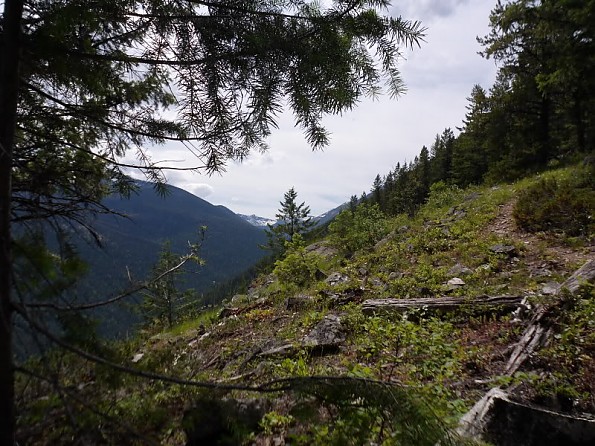 We turn a corner in the trail and get the first view of the valley below where we're headed this day.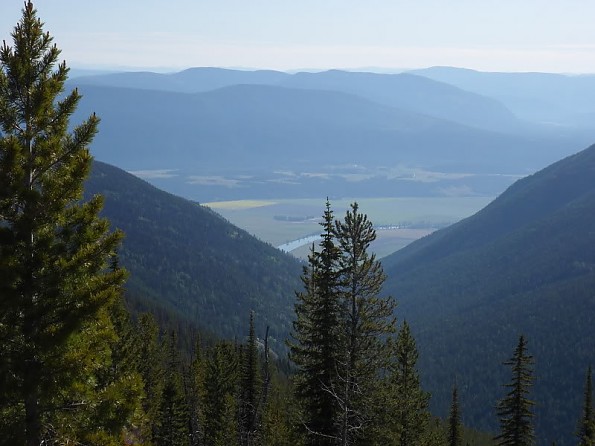 This is the only water source on the long decent from the ridgeline –
Delicious stuff! I do worry about this spring though. It's such a tiny thing and it looks like it could dry up any time. It's been there on all three trips I've made though, and has been reliable enough that the trail was run close to it.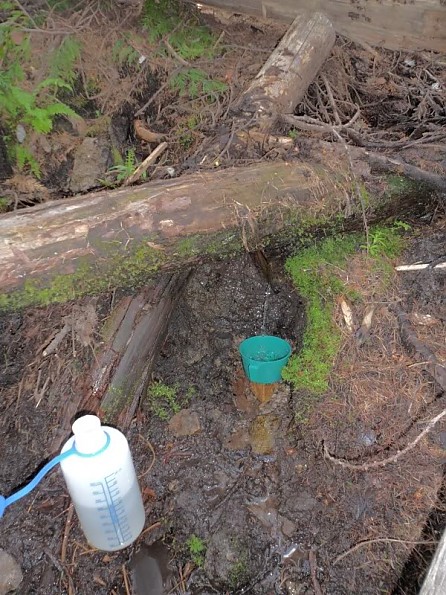 Late in the day the valley looks much closer now!
It's still two hours of hiking distant! If you look close you can see the white line of the little river below, all white and frothy as it tumbles down the valley. To the left ahead and below on the hillside one can see the faint trace of the trail. The Kootnei valley opens out in front of us all tame and civilized looking, and the wild little mountain river flattens out and becomes just another quiet backwater.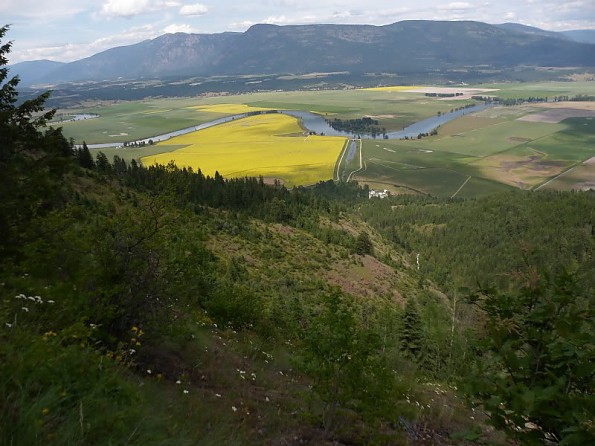 Down in the valley we hid our packs in the woods, cleaned up in the river a bit and then hiked three and a half miles of road to get back to our car, just enough to finish off our already sore feet!
Made the 3-1/2 miles in an hour and five minutes so I guess we still had a good pace set despite sore legs and feet!
One old pickup and two quads passed by during this hike – All going the wrong way. So much for hitching a ride!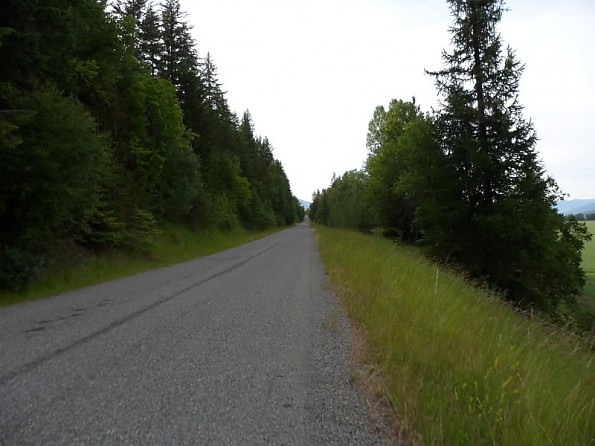 Last summer the run off levels in north Idaho are at 150% this year. The winter snowpack was indeed exceptional and the spring had been a cool one so the rivers were up and staying that way. If it had been a hot spring we would have had record flooding.
Next time I do this loop I need to pay more attention to snowpack and water levels!
My two earlier trips were both a week earlier, yet there was just enough snowpack up high for water and to throw a few snow balls around. Just enough to make it fun.
The weather was fine, we hiked in shorts, and we didn't have to walk on any snow at all.
I have heard of mountain bikers making the whole loop in a single day. That seems almost unbelievable to me!
But under ordinary conditions the river crossings and snowpack are not the real obstacles they were this time.
Anyone else here ever hike this loop?