10:44 a.m. on March 23, 2012 (EDT)
Tipi Walter

295 reviewer rep
1,436 forum posts
BACKPACKING THE CITICO/SLICKROCK WILDERNESS
March 10--22  2012
Okay boys, grab your winter kit and your geese and your platypuses and your protective cups and your tusk-resistant layered vellum hipbelts and your marsupial hung buttpacks and your nano cuben moonraker 2x2 foot tarp tents and your dyneema codpieces and sit on a comfy couch and read thru my latest swaray into the hot March mountains of TN and NC.
A COMPLEAT GEAR LIST---Forget about a long and involved legalese-like nomenclature prepared by my team of gear lawyers---suffice it to say I have a tent and a pack and the usual winter kit with books and tumeric and fuel and food and some q-tips.  The only important thing is the weight---90lbs starting out.  Read it and weep.
TRIP HIGHLIGHTS
**  13 DAYS WITH THE CRANBERRIES

**  MEETING PAUL AND AUDREY'S CRANBROOK GROUP AT NAKED GROUND

**  A SERIES OF FIVE THUNDERSTORMS WITH LIGHTNING BLASTS

**  IT'S JULY IN MARCH

**  CAMPING WITH BRYAN AND CHELSEA'S GROUP ON THE SOUTH FORK

**  THE SOUTH FORK CROSSING AND LOG GATE CAMP IN WARDEN'S FIELD

**  MEETING IAN AND EGLEE'S GROUP AT CROWDER CAMP

**  CAMPING WITH PAUL AND AUDREY'S GROUP AT WILDCAT FALLS

**  CROSSING SLICKROCK CREEK WITH IAN AND EGLEE'S GROUP

**  FAREWELL TO THE CRANBERRIES

**  CLIMBING THE UPPER SLICKROCK NUTBUSTER TRAIL 27TH TIME

**  FAMILY EMERGENCY SHORTENS THE TRIP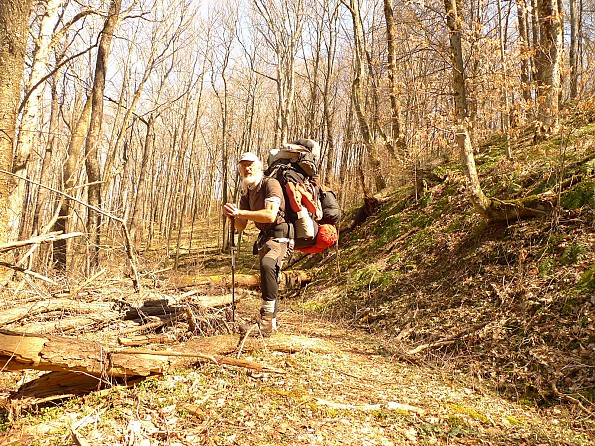 The trip begins on March 10th in cool temps at 4,000 feet in the TN mountains and the Citico wilderness at the Jeffrey Hell trailhead.  Here I am on the trail and the third world load behind me is my pack.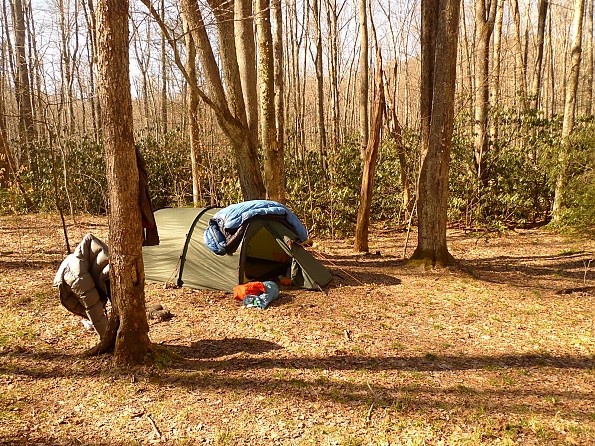 GOING DOWN ON JEFFREY---Yes, the Jeffrey Hell trail descends for a couple miles and reaches an important crossing over the South Fork Citico.  A right turn on the South Fork and in a mile you're at Iron Camp, a favorite spot as above.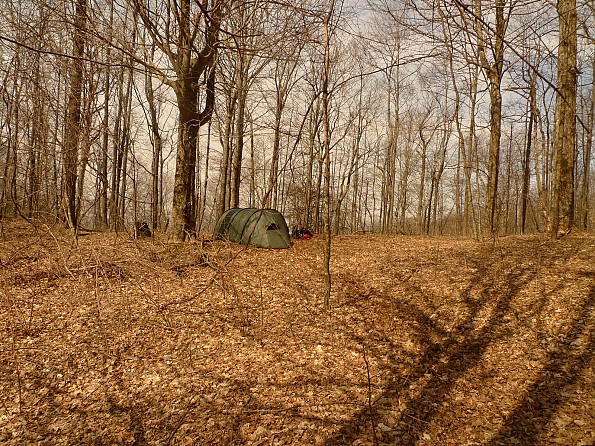 Day 2 begins by finishing off the South Fork trail on a mini nutbuster climb of a thousand feet to Cold Spring Gap and a left turn onto Trail 149.  After awhile you reach a fine campsite in a place called Barrel Gap where I set up for the night.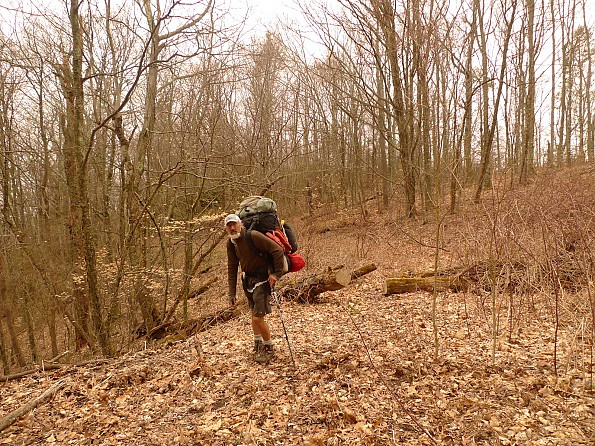 On Day 3 I stay on Trail 149 as above.  The trail skirts the high bowl of the Citico wilderness and eventually jcts with the North Fork Citico.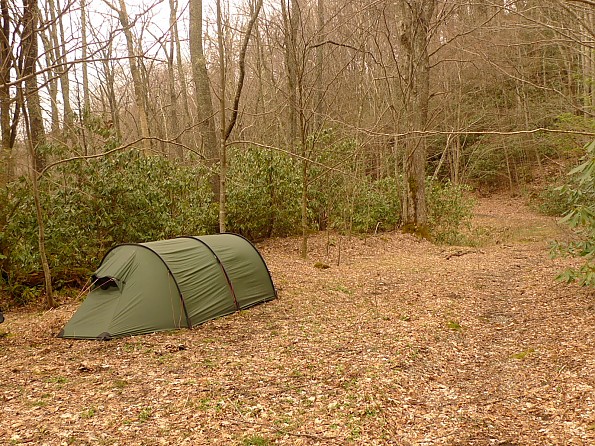 My camp for the night is on Trail 149 by the headwaters of the North Fork at a place I call Dean Camp.  My pack is heavy in part due to the books I am carrying but on this trip I decide to go slow and take my time so as to relax and read.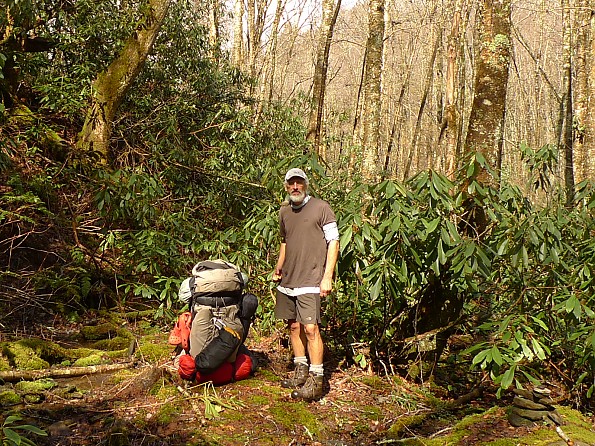 On Day 4 I finish 149 and reach the North Fork Citico where I eat a crisp red apple and take a break.  My goal is to climb the North Fork up to the headwaters and set up in the open bowl at a place I call Snake Mt Camp.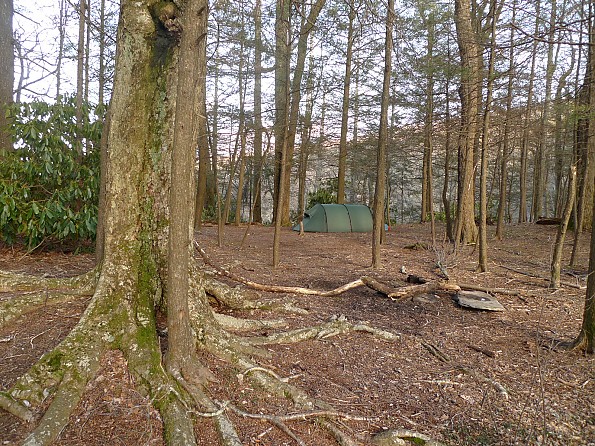 But instead I finish the stiff North Fork climb to Cherry Log Gap and take Fodderstack Ridge to another favorite spot, Snow Camp.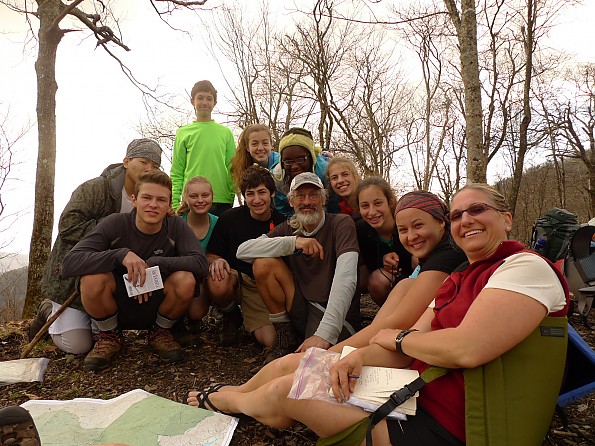 On Day 5 I climb 700 feet to Gorak Hill and over to Naked Ground Gap where I run into my first Cranbrook group led by Paul and Audrey.  Old Uncle Fungus fits right in dontcha know. 
Cranbrook School is a high school in Michigan which has been running a 10 day spring break wilderness backpacking trek for the last 43 years, and they usually always come to the Citico/Slickrock.
Paul brings out the map.  It's time to study the topo maps as the kids are encouraged to find the route and lead off with minimal help from the leaders.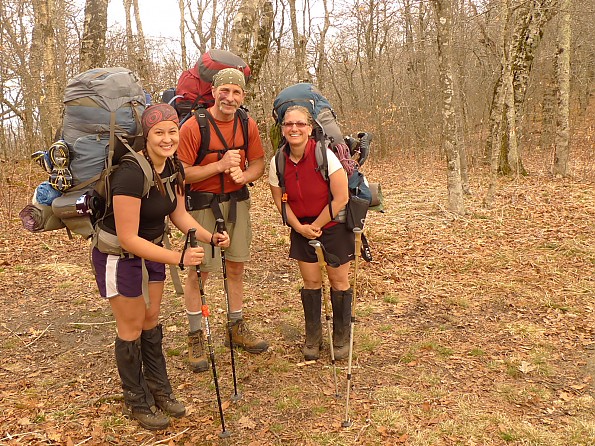 Here are the three Cranbrook leaders, Noa, Paul and Audrey.  They are headed over Bob Bald to the Wedge and Little Cove Camp.  I'm headed the other direction.
Paul gives some final instructions.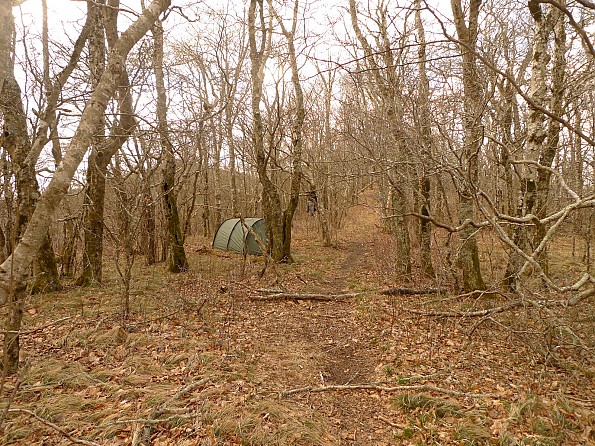 I stay on Four Mile Ridge past Naked Ground and get to Watauga Camp, another prime favorite.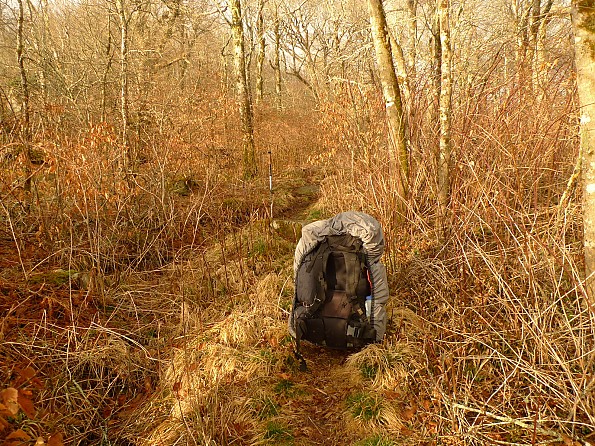 On Day 6 I leave Watauga Camp and climb up Four Mile Ridge to Bob's Wall and the butt rock.  I stop on the climb to cover the pack as a thunderstorm strikes.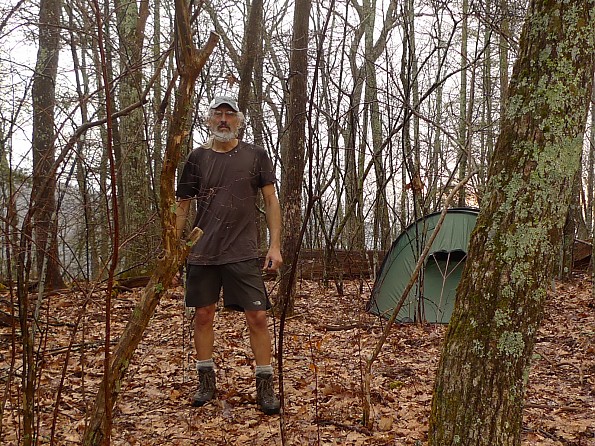 SHELTER FROM THE STORM---I bail off the high ridge zapped by lightning bolts and set up camp by the Wolf Laurel jct on Horse Cove Ridge, a thousand feet below the Wall.  After5 the morning mortar rounds the rest of the day turns sunny and warm.  Too warm.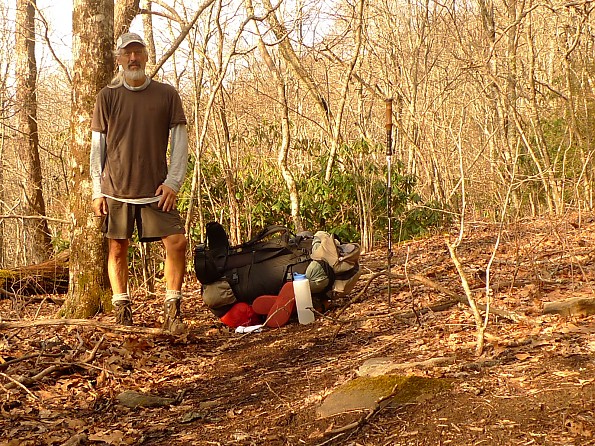 A nighttime hell barrage hits camp but I get thru the lightning zaps and on Day 7 retrace my steps a thousand feet to Bob's Wall and the mountain top.  Here I am on the Horse Cove climb.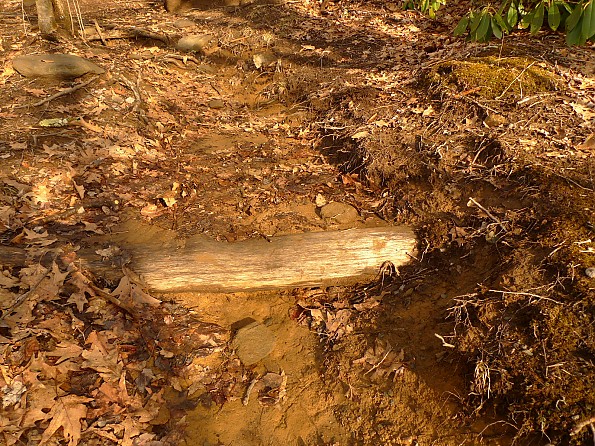 The Student Conservation Association fixed this trail two years ago and put in 41 of these steep trail water bars.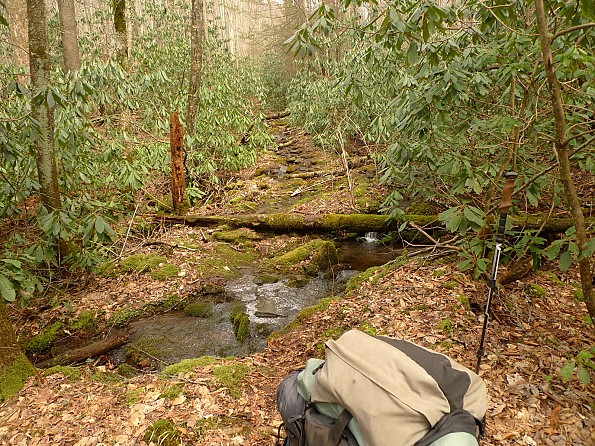 I decide to lose 2,000 feet from the Bob and seek the low ground due to the daily thunderstorms and stop on the upper South Fork for this photo.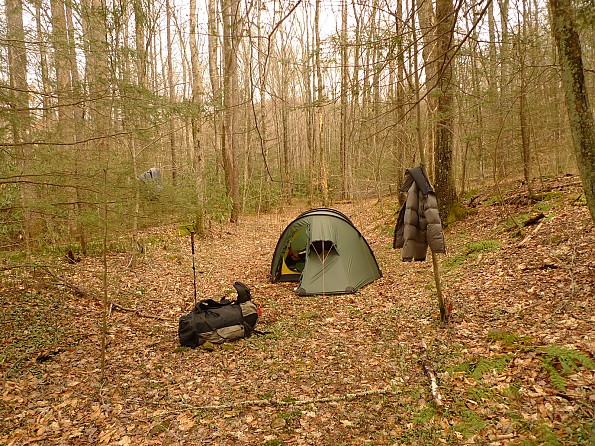 Iron Camp on the South Fork has many tent sites and I find a new and better one near a pile of 100 year old cans left by loggers.
DAY EIGHT MORE TO COME