trouthunter
1,763 reviewer rep | 3,956 forum posts
9:45 p.m. on April 8, 2012 (EDT)
Dates: March 31 - April 2
Palmetto Trail - Moultrie Passage section.
Physiographic Province: Outer Coastal Plain - SC.
Temps: Mid 70's during the day and mid 40's at night.
   Last weekend I did 12.5 miles of the Palmetto Trail in South Carolina.
The trail traverses the whole state connecting the mountainous part of the state with the coastal plain and on to the Atlantic ocean. The trail is divided into sections, I hiked part of the Moultrie Passage section that wraps around the top part of Lake Moultrie.The first few miles of the trail section I hiked was a gravel road up on a dike at the edge of the lake.
After parking my vehicle at my destination point a friend shuttled me to the starting trailhead. My load for the trip which included cameras, stoves, water, and other gear I wanted to try out was 46 lbs. My hike started at about 9:30 am.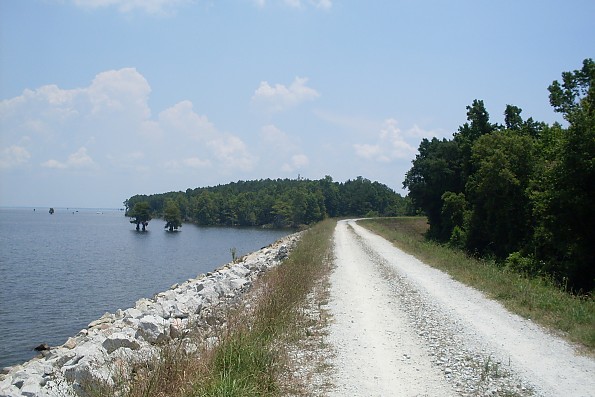 The day started out nice, but within an hour or so storm clouds started to move in and it rained for most of the day.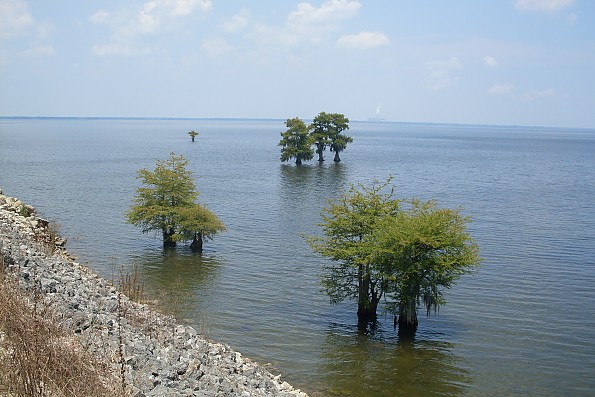 Here are some Cypress trees hangin' out in the shallow water, the water here remains knee to waist deep for several hundred feet. The coastal plain is home to many species of waterfowl and birds of prey. It is common to see Osprey's nesting in these trees, they like staying close to the buffet I suppose.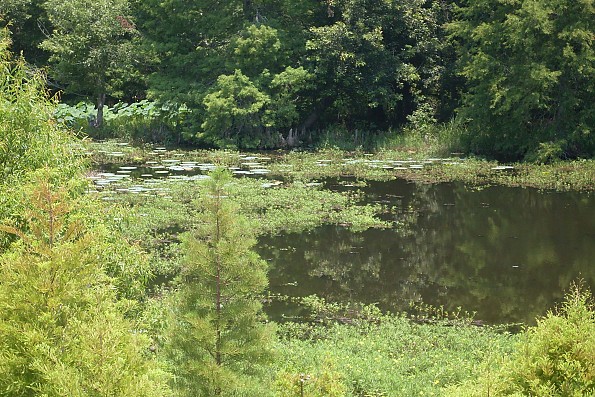 On the other side of the dike road (trail) there are swampy wetland type areas like this one all along the lake as well as throughout the region. These places are buggy & snakey.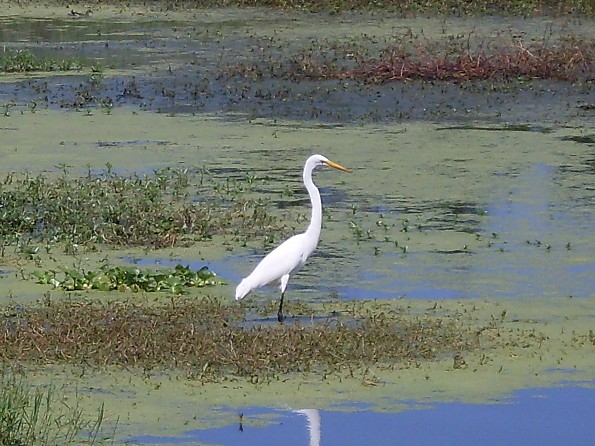 Here is an Egret doing a little mid morning fishing. These are some of natures spear fishers, they are very adept at catching fish by "spearing" them with their beak.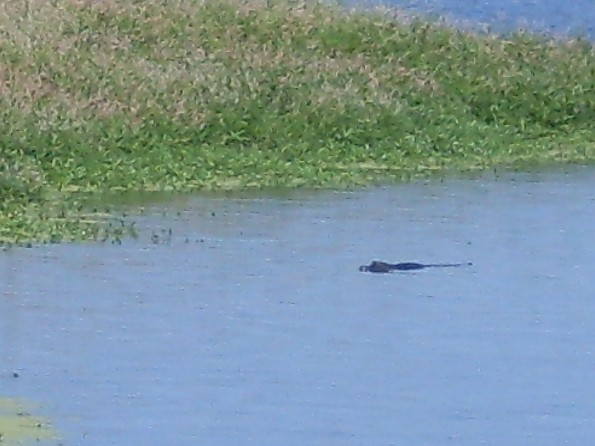 A small Alligator trolling for a meal.
Well, after getting the shot of the gator the rain set in and I stopped to put on my Columbia rain pants & Patagonia rain jacket. If I had known the trail was going to be this open I would have probably brought my poncho for the extra ventilation. I put up the camera and hiked on to my camp area. The hike was 10.5 miles and I was in camp by 4:30 pm.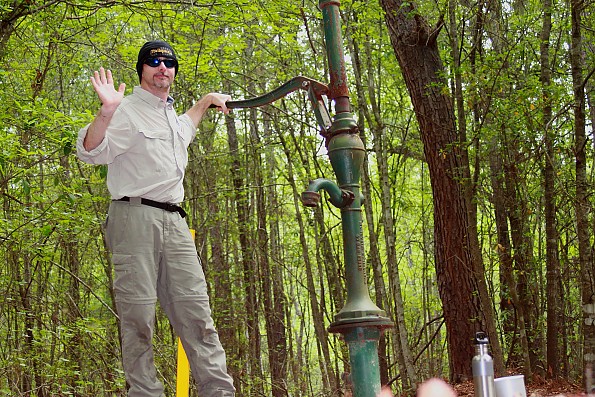 Once in the designated camp area (right on the trail - why?) I found this cool water pump. It looks to be a lot older than me.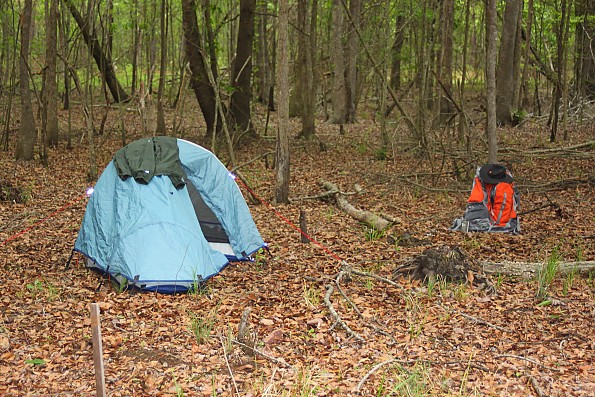 I set up my tent about 200 yards into the woods and grabbed a quick meal of trail mix, jerky, and some powdered tea to hold me over until supper.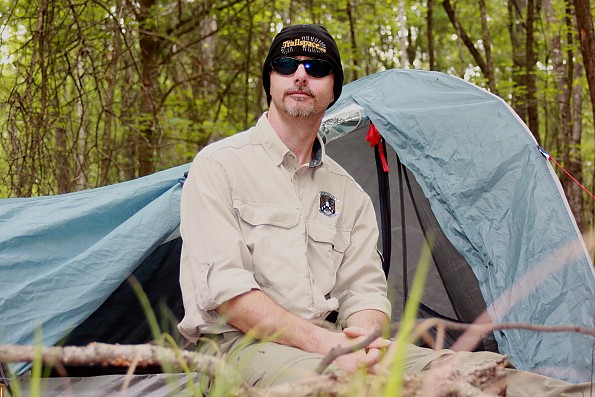 Here I am after unpacking and getting ready to go find a site to make a camp kitchen and a place to hang my food.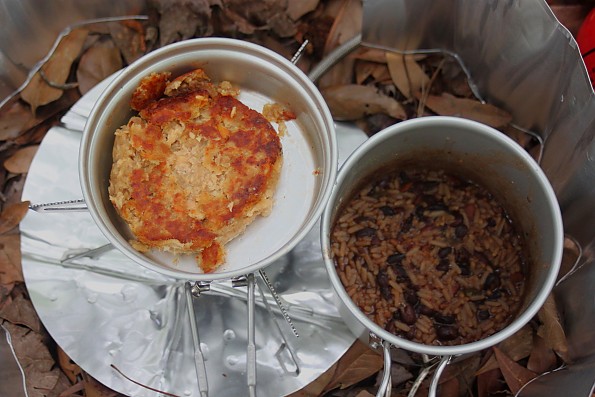 MSR & Snow Peak make Salmon Pattie with black beans & rice. If only I could automate this process.  Enough for two maybe, but I wasn't sharing. I was hungry.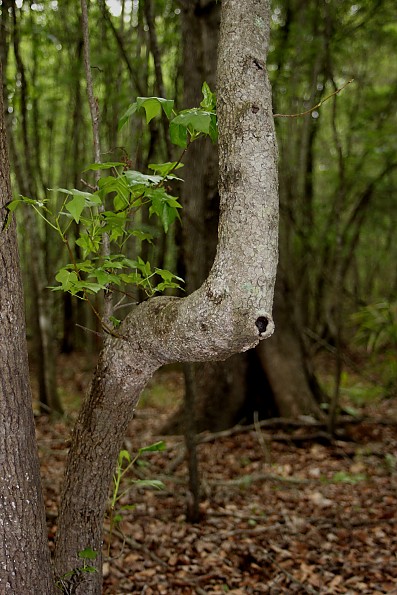 I noticed this crooked little tree on the way to refill my water bottles at the wonderful water pump out by the trail.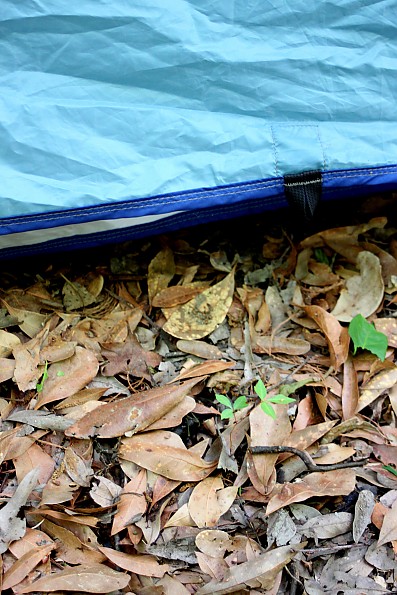 As we have all learned from recent threads lately, site selection is very important. I checked for dead limbs overhead, picked high ground, put the foot of my tent into the wind, and so forth.
I did not however check the location very well for poison ivy, if you look closely you will see a young plant close to my tent here. My bad.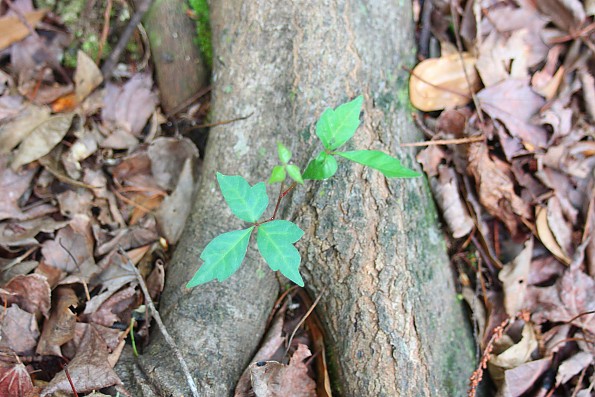 And nearby some more. Toxicodendron Radicans - Poison Ivy. Range is widespread from AZ to FL and North to Canada and west to the North West Us.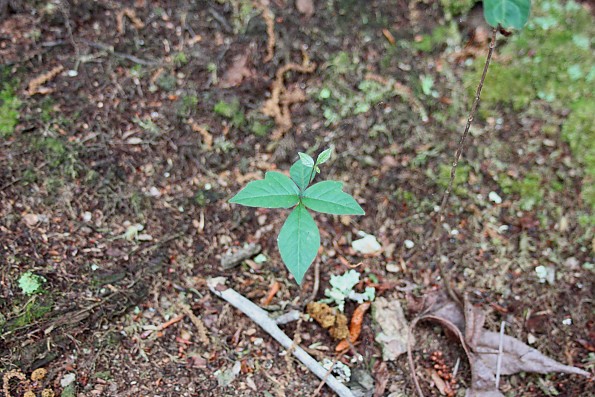 I soon learn it is everywhere, seriously! Poison Oak too.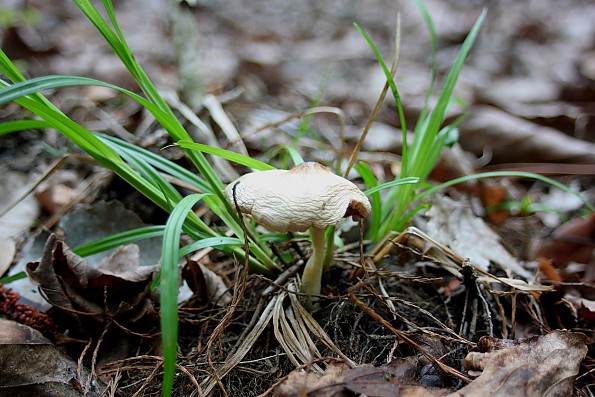 A little mushroom of some kind - ?
So after walking around a while I decided I was tired and went to sleep early around 7:30 so I could get up early and watch the sun rise. I like walking around very early in the day, after a quick snack, taking photos then eating my 2nd breakfast around 8:00 am.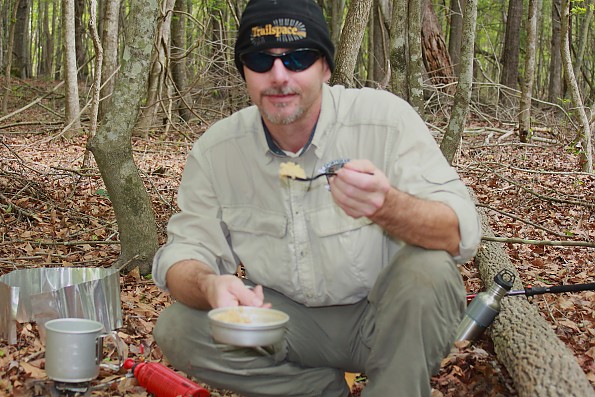 Here I am eating my 2nd breakfast of Quaker oatmeal - Apples & Cinnamon. Two packs of course.
Before and after eating breakfast I shot some video of my camp and showing some of the plants and trees. Here are some of the photos I shot as well.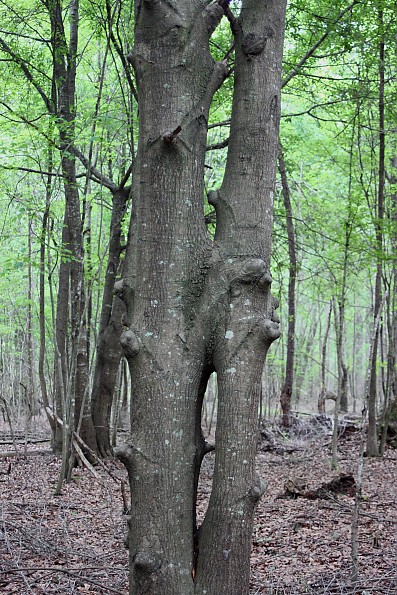 Must be something in the water. They look like they are hugging.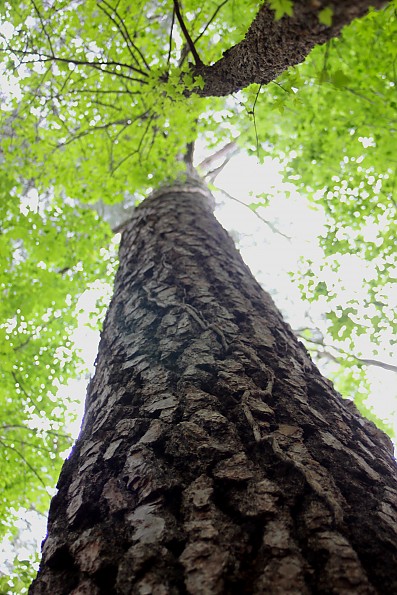 I tried to get a shot of the squirrel running up this tree, but he outsmarted me and ran to the other side...of course.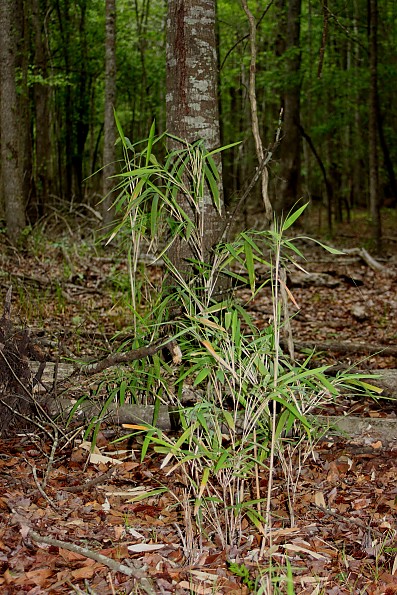 This is Switch Cane - grows 1 to 3 meters. Most of the plants I see are waist to chest high. These also grow in large stands called cane breaks. Kinda like stands of bamboo.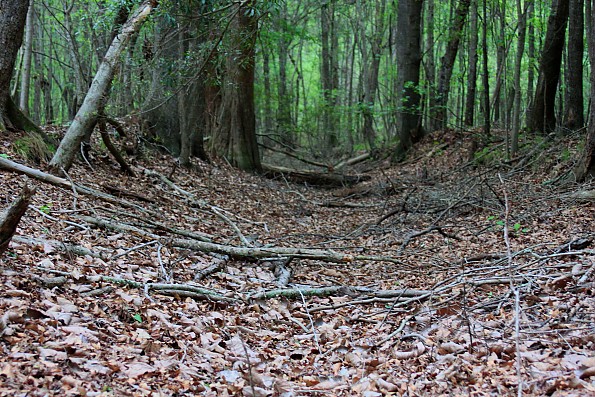 I worked my way over and into this fire break / canal to see what I could find.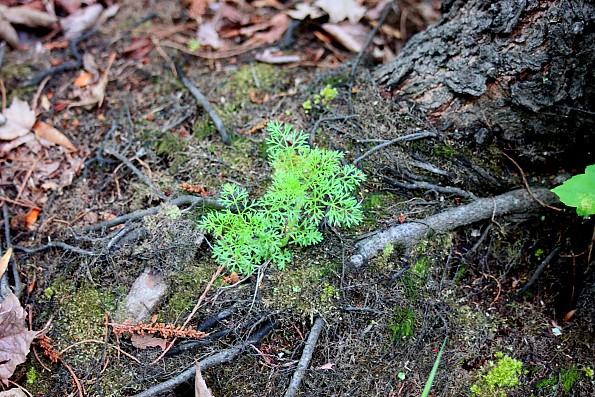 I find this small solitary plant - ?
Any ideas? It looks like something I get on a salad.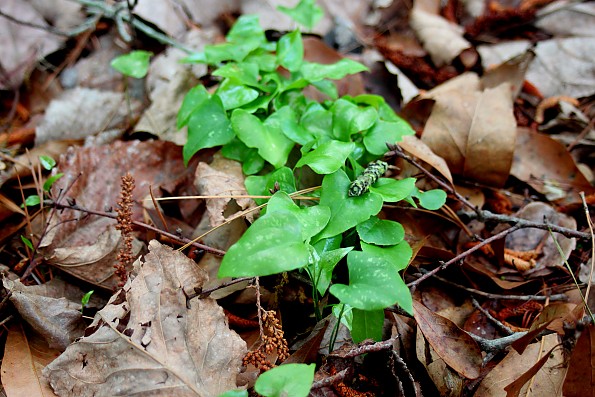 Smilax bona nox - Catbrier or Greenbrier. This grows all over the region I backpack in and throughout the Southeast.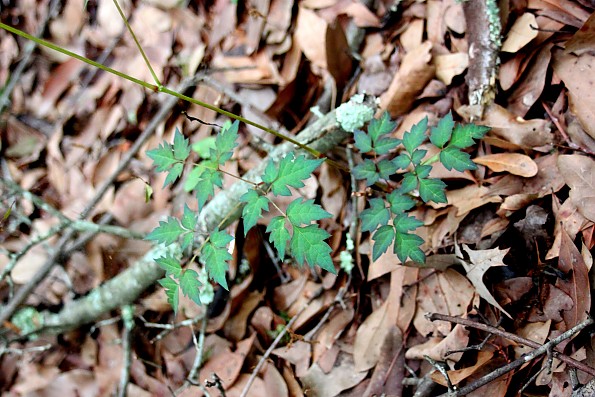 Ampelopsis arborea or A aconitifolia - Peppervine. Grows all over the coastal plain.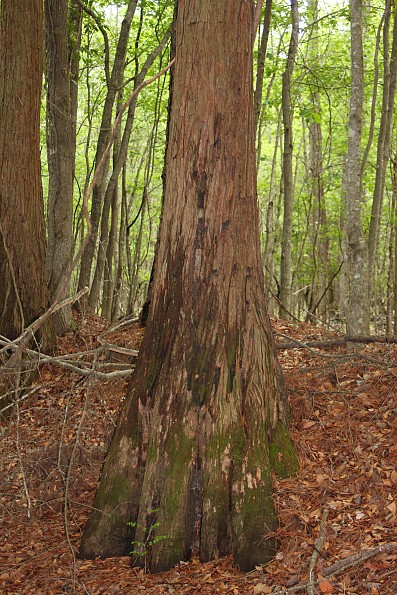 Okay....what kind of tree? For a clue look at the next photo.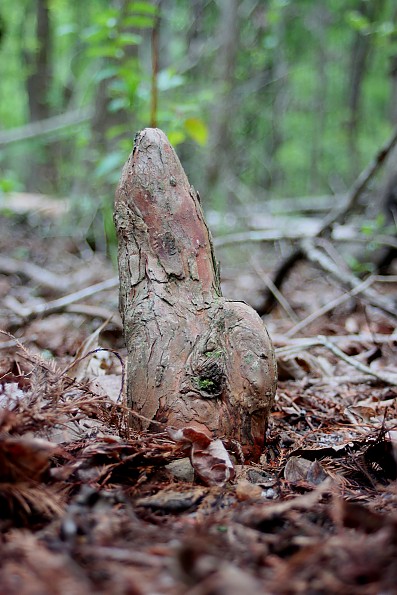 This part of the tree's root system.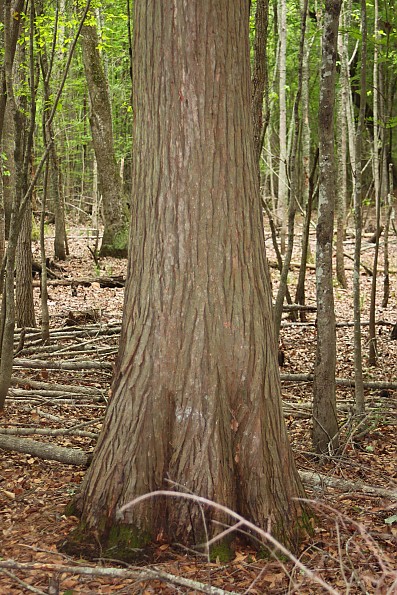 It is a Cypress tree. These trees are Pond Cypress I believe judging by the needles and stubby, fat root knees. The other species that grows in the area is Bald Cypress.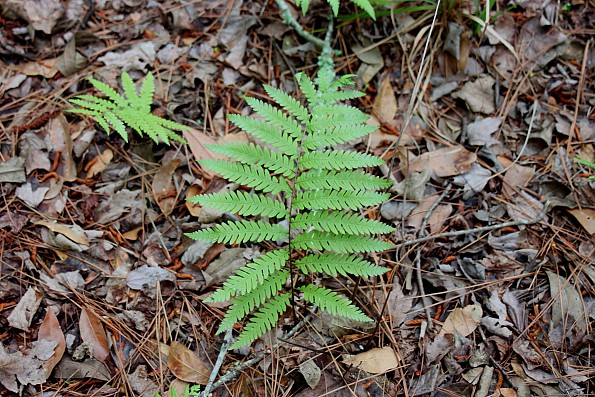 A fern, I'm still not sure which one. It resembles Brackenfern, but this looks different.

A quick squirrel check up the Pond Cypress.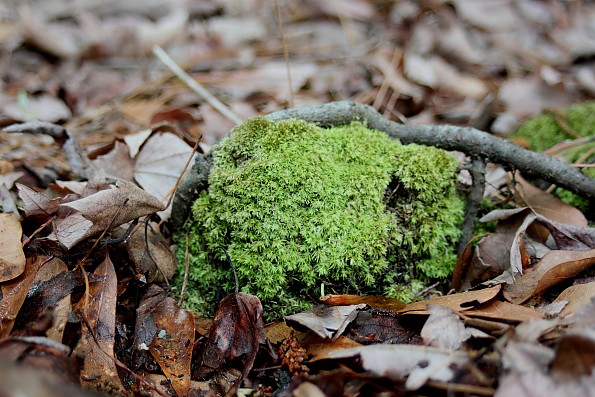 Atlantic Coastal Plain moss...I added the first three words to make it sound special.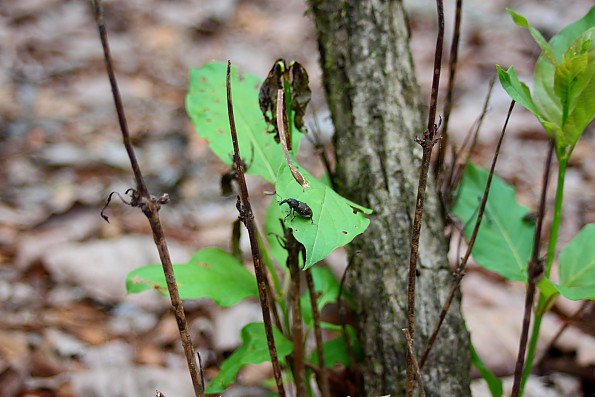 Look closely at the leaf in the middle for the little black bug. A Weevil?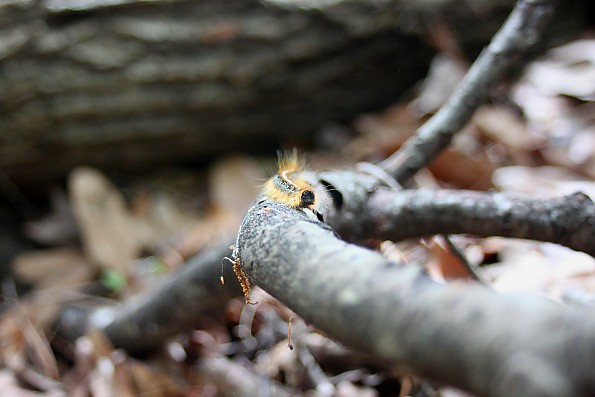 Eastern Tent Caterpillar. They really like tents, mine was covered in them.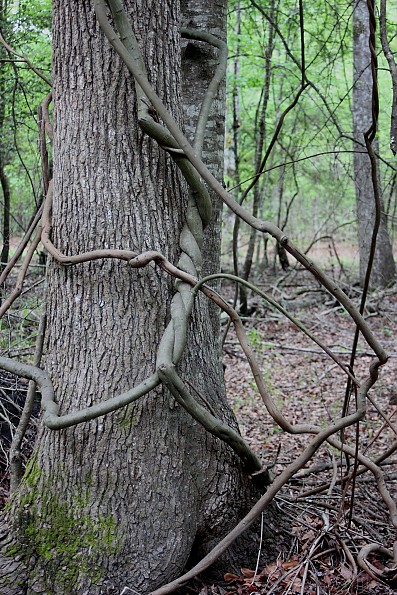 I think the twisted vine is Rattanvine, also called Supplejack. I'm not 100% on this one.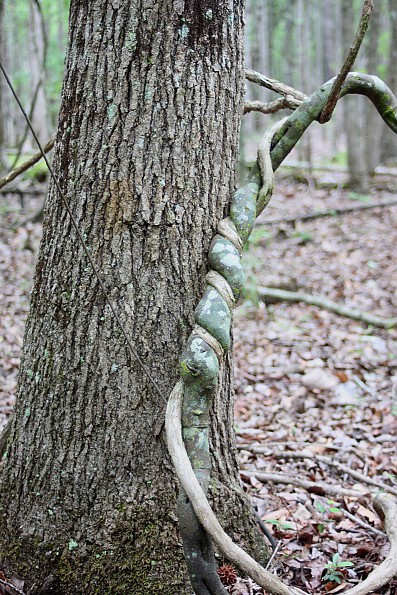 Some more. There was lots of this growing here.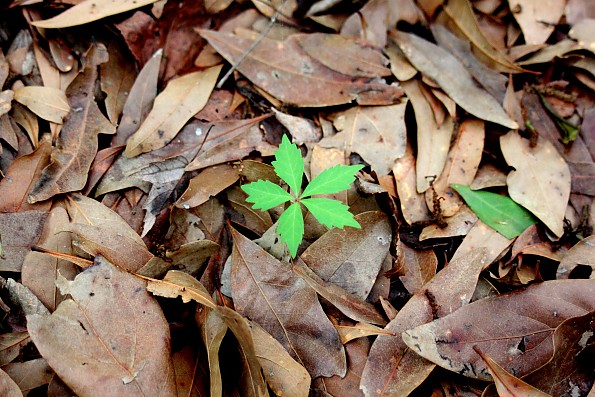 Parthenocissus quinquefolia - Virginia Creeper or Woodbine
Lots of it too.
Well that's about all the photos I have. I spent Sunday in camp, no miles. I got up late Monday, hung around some and finally packed up and hit the trail for the arduous 2 mile hike out to my truck which was all safe and sound despite my anxiety about the parking situation (long story).
I did finally manage to edit & upload about 2/3 of my video. I had to get new editing software to handle the file type my new video camera spits out. I had a hard time learning the new software in one day so the editing is a little rough and the audio is not level.
Anyway....here it is. The next video will be better, I just need some practice.
Happy Trails!
More to come.
Mike G.