9:47 a.m. on April 15, 2012 (EDT)
Peter1955

1,379 reviewer rep
1,339 forum posts
The Cline River joins the Saskatchewan at Abraham Lake. From the TH, you can follow an old fire road to the junction at Coral Canyon and keep going up into the White Goat Wilderness, but for a day hike there is a pretty little path along the east bank of the river.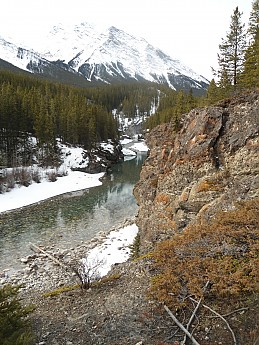 Some people here might like the fisherman's shelter built at the base of a cliff. Plastic tarp and pine boughs for a roof and walls, a fire up against the cliff face to reflect the heat back, and even a double bed inside!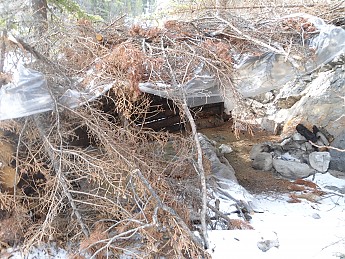 Nice views pretty much all the way.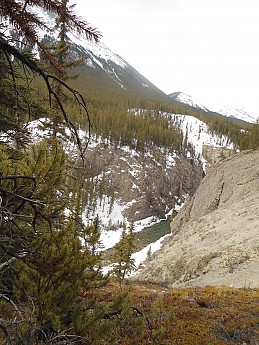 The trails was snow-covered and patchy in spots and to avoid the crumbly limestone cliff tops, we had to do a bit of bushwhacking. No real concerns as long as everyone stayed back from the edges a bit.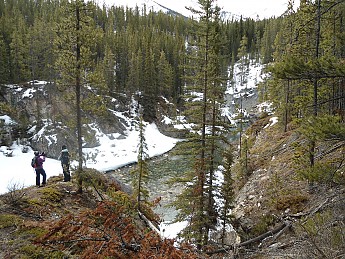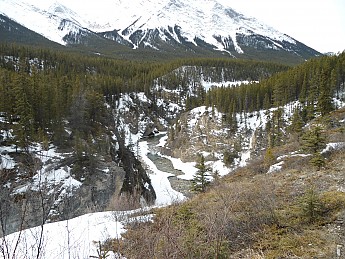 One thing the trail is known for in winter is the Cline River Gallery. We were on the opposite bank but we had nice views of ice. For an idea of the size, note the ice climbers at the top of the photo.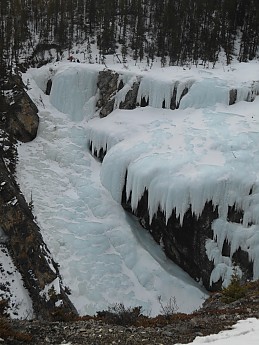 The cliffs along the way get as high as a couple of hundred metres, but that made for a lot to enjoy when we stopped on the top for lunch.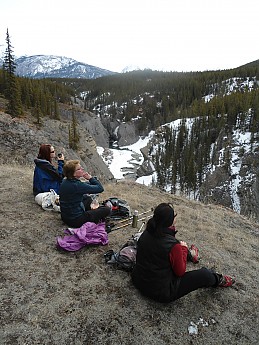 Just for the fun of it, we did a little bit of compass-based route finding to shortcut back through the woods to the White Goat horse trail. From there it was an easy walk back to the TH.
Note that like most trails in the area, no maintenance is done and there are no wardens. This is not part of the National Parks system. Basically, you're on your own - cell phones don't work and any help is many hours away.