Patman
REVIEW CORPS
3,278 reviewer rep | 2,325 forum posts
7:25 p.m. on April 16, 2012 (EDT)
She doesn't own a dress, her hair is always a mess.....oh wait, no this isn't about the Train song. It's a trip to the Virginia High Country!
This trip wrapped up three consecutive weekends of backpacking (the other two being Frozen Head in Tennessee and Shining Rock in North Carolina).
I had contacted Tipi Walter to see where he would be in April. I decided it would be fun to try and find him on the trail with no real set meeting point as we have arranged in the past.
It worked out that I had a partial day off work which really helped offset the 3 hour and 10 minute drive from Knoxville to Grayson Highlands State Park in Virginia. I knew Tipi would be on (or rather camping just off of) the AT somewhere near the park and so decided to loop around the park in my search.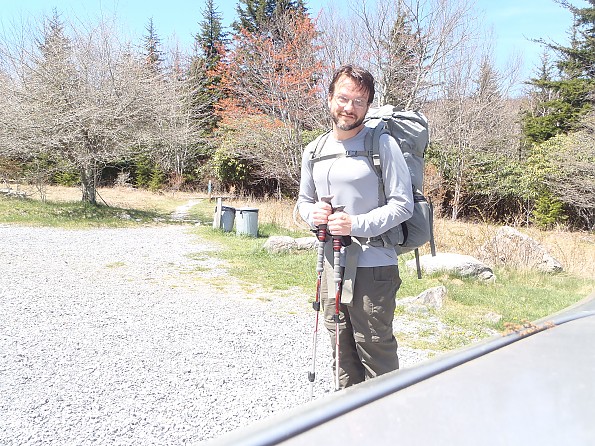 I started from the overnight lot and took the AT Spur trail to the main AT and headed North on Friday afternoon.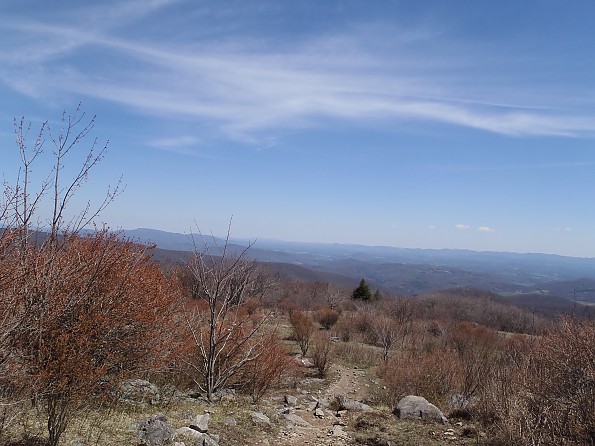 Ah... as soon as I emerged from the forest the big views opened up.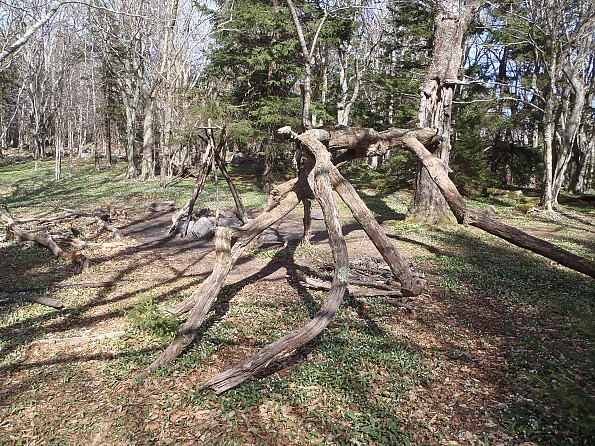 I left the AT for the Pine Mountain Trail (for looping purposes) where I passed this neat camp.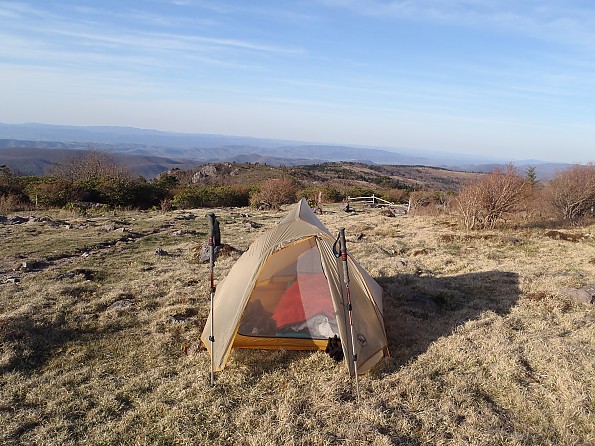 Here was where I decided to make camp Friday after not seeing TW yet. It's called Rhododendron Gap and is back on the AT South of where I started.
It was really funny over the course of the trip running in to all the confused thru-hikers that couldn't figure out why they met me multiple times going in different directions. (Directionally speaking, thru-hikers tend to think in linear terms....they don't process loop routes very well, lol)
A fine dinner of Mary Janes Black Bean Hummus (heated), bell peppers and Spring Mix, on a wheat tortilla. Good stuff, enjoyed whilst gazing upon views new to me.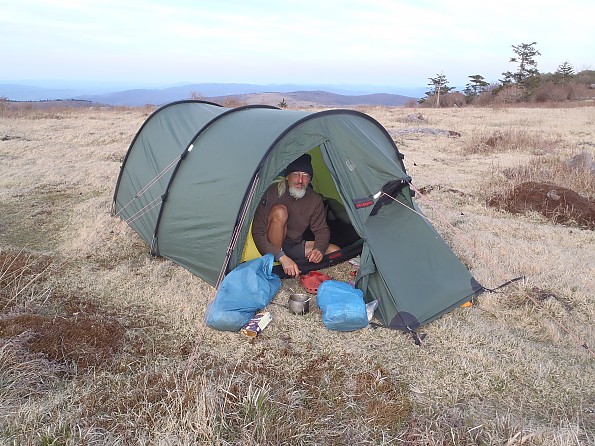 After dinner I decided to explore the area a bit more and ambled a bit in every direction from my camp. I climbed an overlook about 2 tenths of a mile from camp and off in the distance, in the most exposed spot a person could choose, was Tipi! I trekked on down to where he was to make greetings.
I spent some time hanging out and jawing but I didn't plan on staying away from camp that long and needed to go back to get some warmer clothes on as the temps dropped.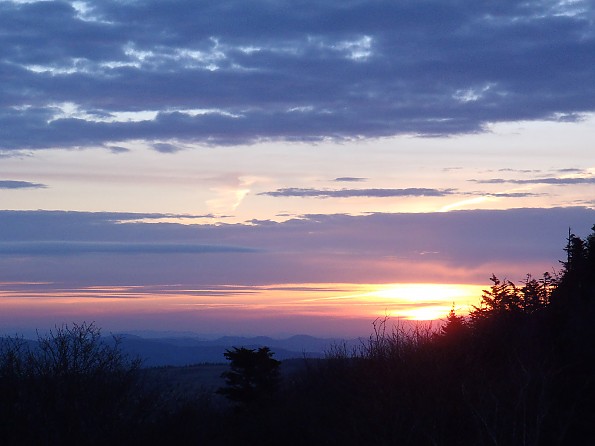 This was sunrise from my beautiful camp spot.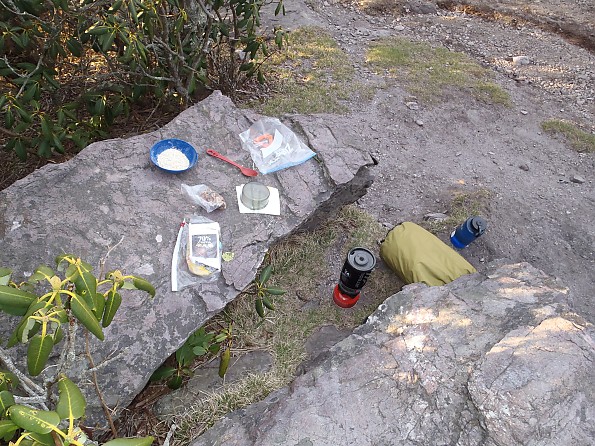 The morning came with strong winds and I chose to find a more protected spot to make breakfast (the usual 1000 calorie serving of oatmeal with added walnuts, pecans, almonds, raisons, honey and Starbucks House Blend made with a one cup pour-over funnel).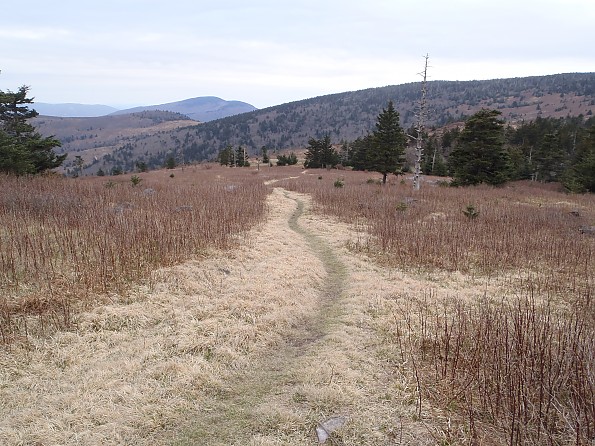 My first inclination of day 2 was to go see Mount Rogers (name sake of the general forest area); named for William Rogers, eventual founder of MIT. This is a marvelous section of the AT going South from my position on the way to the summit spur trail.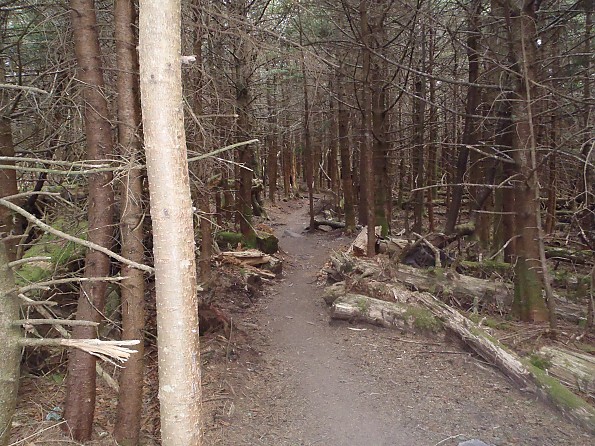 Most of the MT Rogers Spur trail near the top looks like this: a dense Fraser Fir forest. Even if camping were allowed this would be no fun.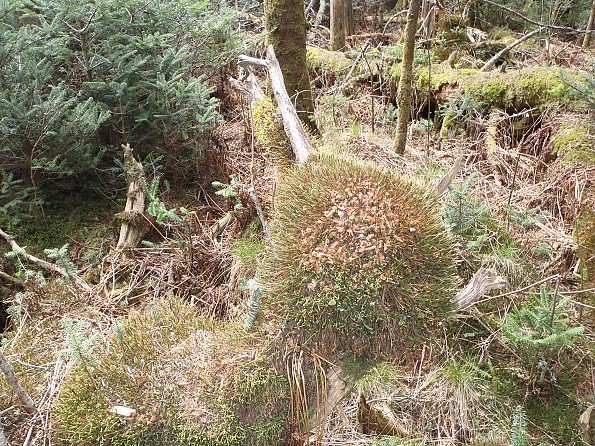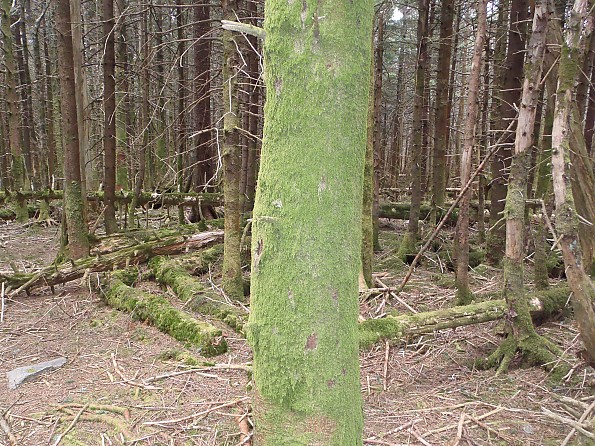 These are just neat summit pictures.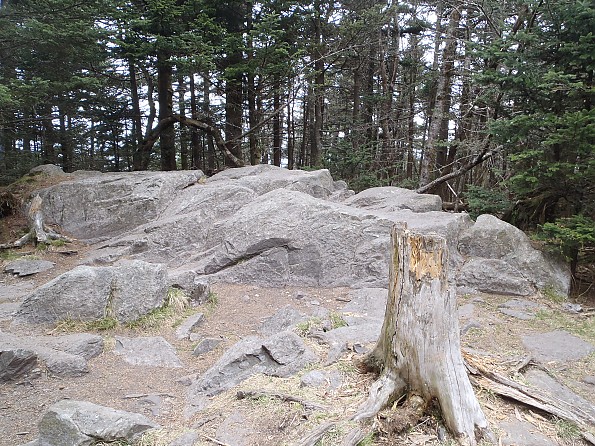 And here is the anti-climactic summit at 5729 feet and the highest spot in the state of Virginia. Nope, no views from there.
Hiking back towards the gap, I ran into Tipi who was out stretching his legs and searching for me so we could hook up and do some trekking together.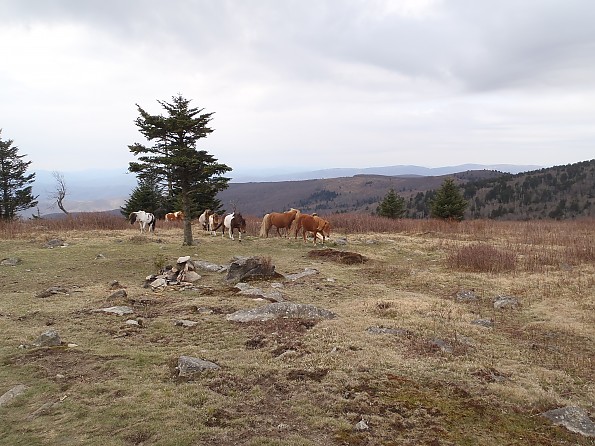 Here was my first encounter with the wild ponies! It was very exciting!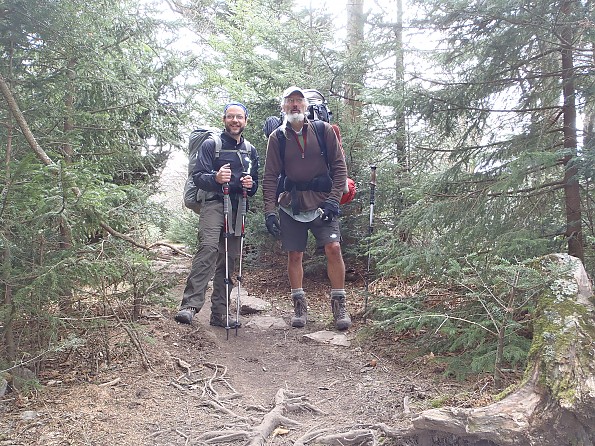 Uncle Fungus and me posing for a photo on the AT.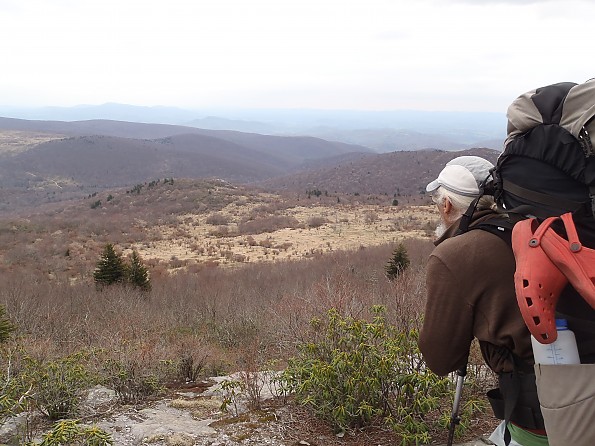 Checking out the "not really spring yet" view while going over Wilburn Ridge as we headed North for the day.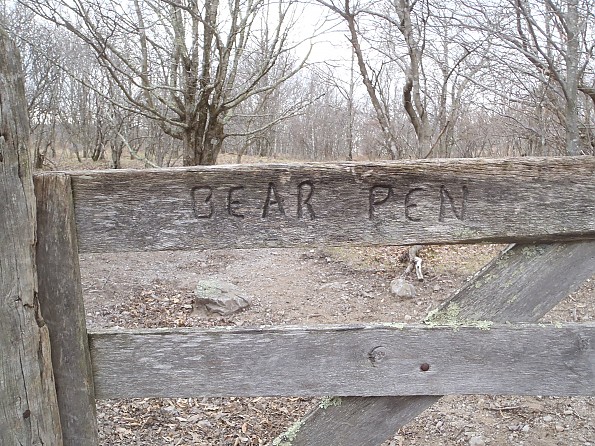 Tipi was taking me way off the main trail to a place known as Bear Tooth rock and we had to go through a gate labeled Bear Pen. Ominous.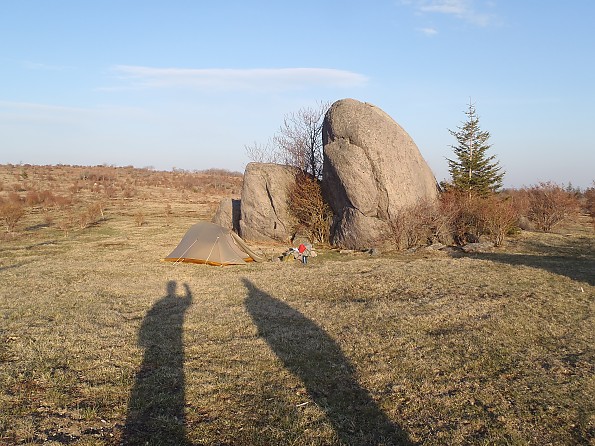 Here was my tent near the Bear Tooth rock.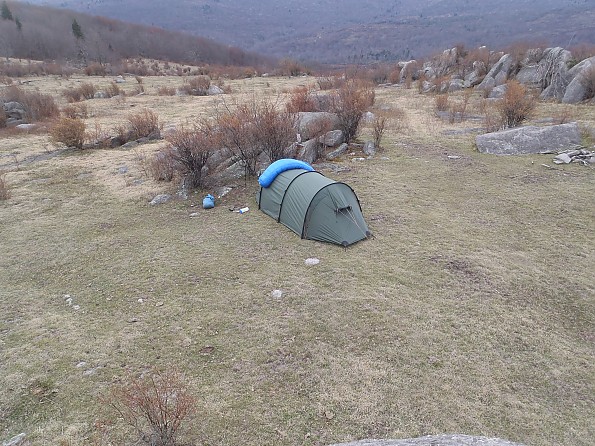 I couldn't resist climbing the rock. Here is a down shot of Tipi's tent and the northern view.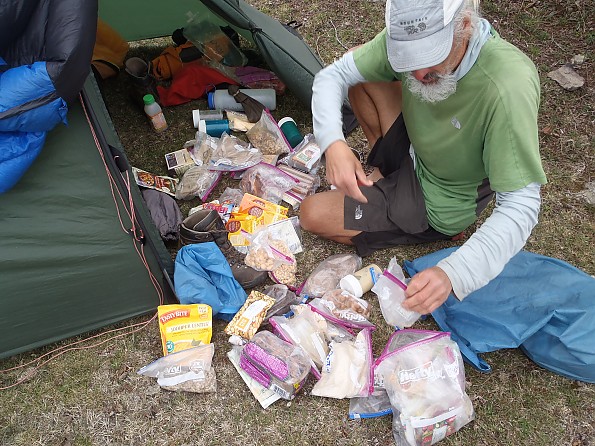 Here we see ten days of food spread out (actually not all of it…the blue bag to the right had probably 8 pounds of protein and granola bars in it!) You know you're on a long backpacking trip when you have to write expiration dates on stuff! Funny to think he had already been out for ten days when I showed up….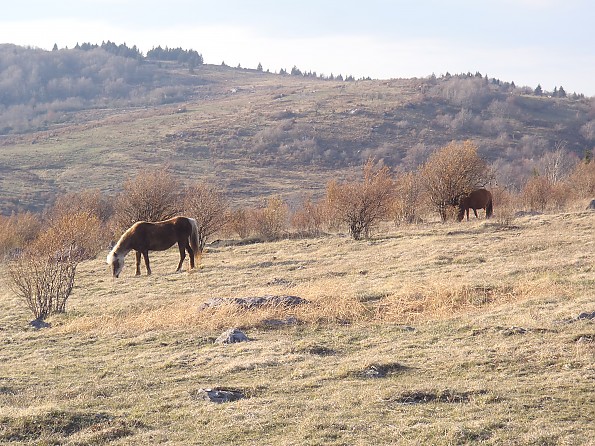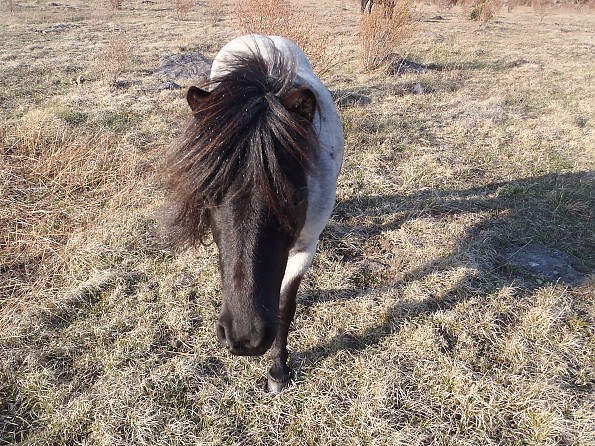 After dinner I went roaming around to play with the ponies.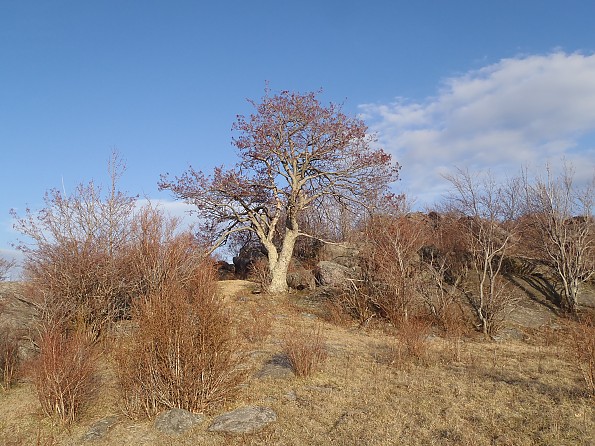 This was a nice shot near our camp. We had hiked from about 8AM that morning until 4PM that afternoon and I think we both were ready to crash pretty early.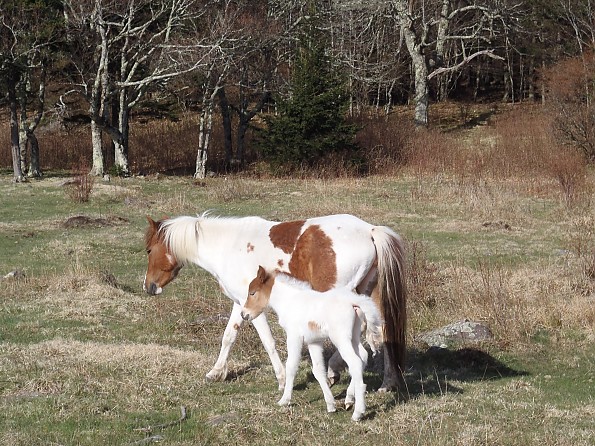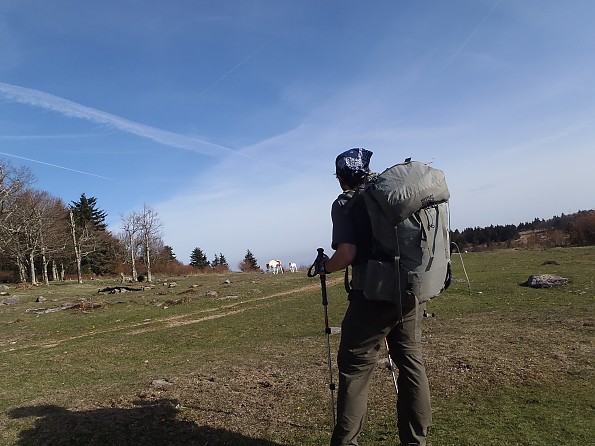 The morning of day 3 and it was time for me to head out and start working back towards my car. This shot was after I had climbed up the Crest trail so as to take an alternate path around the park. These ponies were just too cool. I like em better than bears.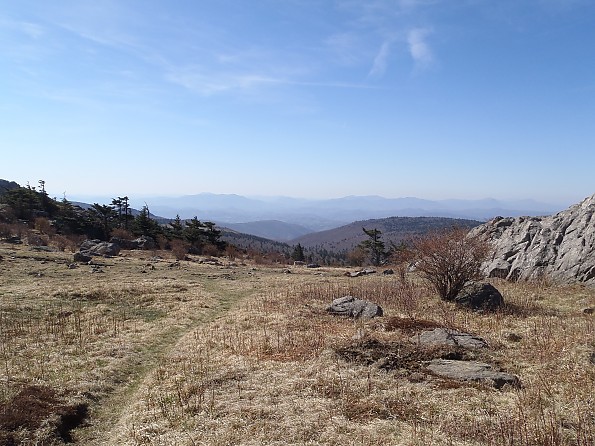 That place was just so much fun…these open areas are a real treat when you're used to hiking under canopy.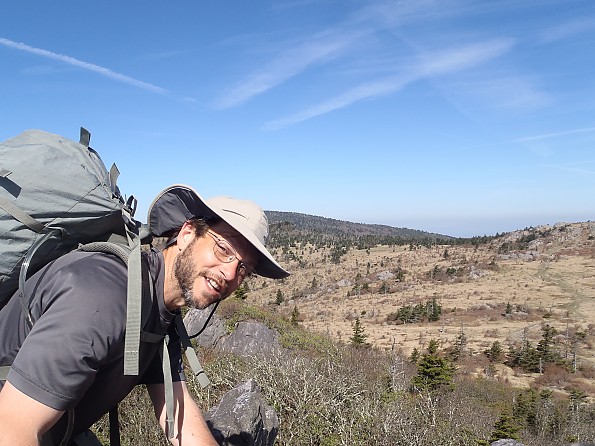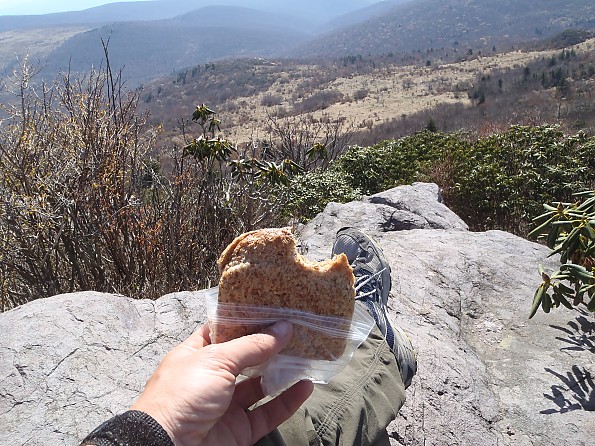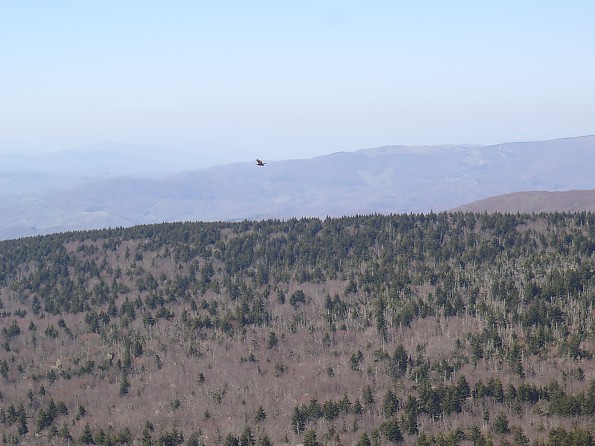 Shots from the summit of Wilburn Ridge 2 off the Blue Blaze trail.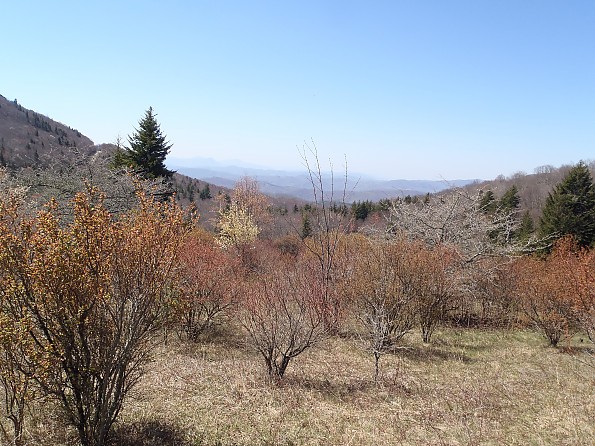 This was a North bound view from the AT right before my next trail junction (VHT to RHO trail)
.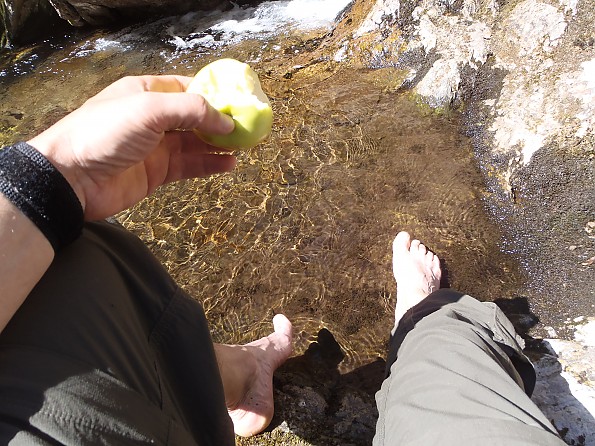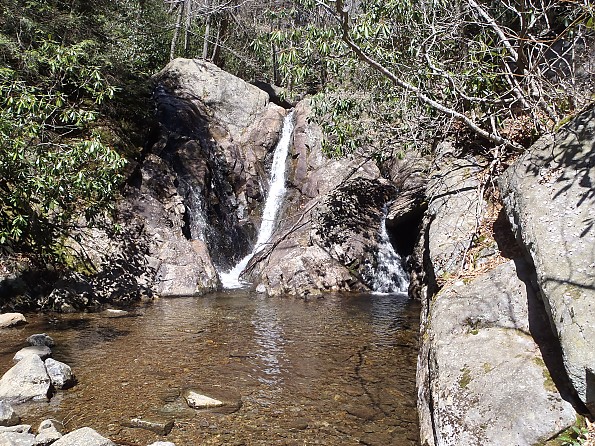 I ended the day by hiking the Cabin Creek trail which advertised waterfalls. It didn't disappoint and made a nice place to cool off after a hot day of hiking.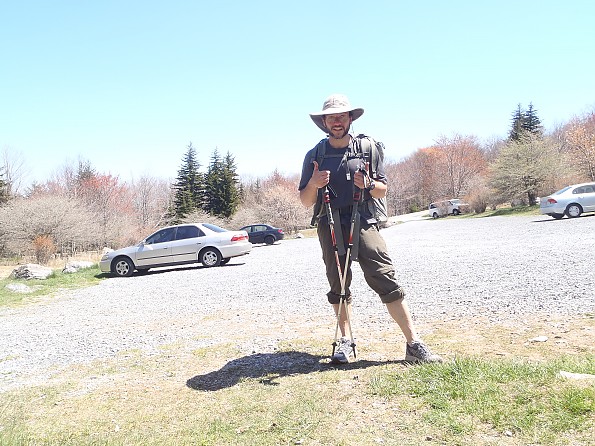 The Grayson Highlands were wonderful and I will be back. Tipi will no doubt have better photos and a better report when gets back but I hope this gives some representation of the amazing Virginia High Country.
 Virginia, I'm glad I met you!
Happy Trails, Trailspacers!