Tipi Walter
295 reviewer rep | 1,444 forum posts
11:00 a.m. on April 26, 2012 (EDT)
Okay boys, let's go to Virginia and pull a cordura swaray in the Mt Rogers Crest Zone along the Appalachian Trail.  A little over three hour drive and I'm out of Southeast TN and into the mountains of Virginny where humans actually consider backpacking to be a worthy endeavor.
After arriving at the Mt Rogers ranger station I get a permit to leave my car for 22 days and load up the stegosaurus maximus to pose at the entrance to the backcountry.  Once again I'm hauling too much weight but I'm used to it by now.  85 lbs.
BACKPACKING MT ROGERS
April 4-23  2012
HIGHLIGHTS
**  20 DAYS IN GRAYSON HIGHLANDS

**  20 DAYS ON THE APPALACHIAN TRAIL

**  ON THE TRAIL WITH GRINDER, YAPPY, HOYTS, ALWAYS FINE, BAT, SANKEBIT, BOJANGLES AND PAPPACCINO

**  WINDY AND DRY IN THE TEMPLE OF THE GODS

**  SUB FREEZING TEMPS ON THE GAUNTLET

**  PINE MOUNTAIN CAMP IS THE BEST

**  CAMPING IN GRANDMOTHER GAP

**  PATMAN JOINS ME IN THE TEMPLE OF THE GODS

**  CAMPING WITH PATMAN AT BEARTOOTH ROCK

**  BIG CREW AT THOMAS KNOB SHELTER

**  CLIFFSIDE TRAIL: THE NUTBUSTER OF THE CREST ZONE

**  FIRST RAIN AFTER A 14 DAY DROUGHT

**  A 12.5 MILE DAY

**  THE PUD'S OF MAYAPPLE RIDGE

**  LAST NIGHT IN THE SNOW AT PARTNERSHIP SHELTER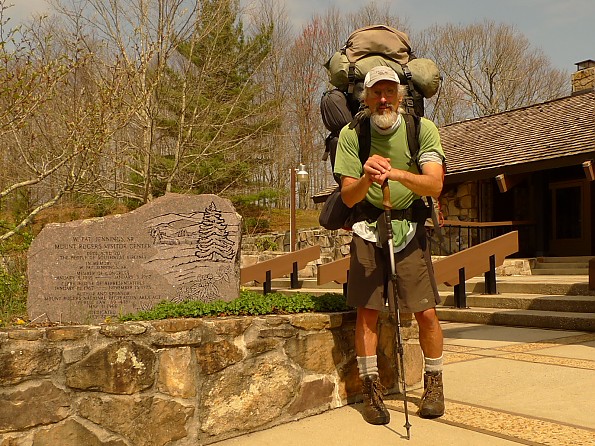 The trip begins in warm April temps at the Mt Rogers NRA station.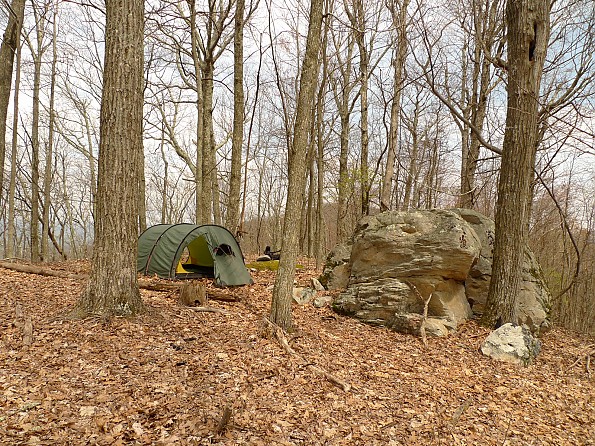 A couple miles in I get walloped by the Dark Blue Poem---spring lightning zaps and thunderstorms---so I set up at Little Beartooth Rock and call it a day.  Why not?  I vow to go so slow and enjoy myself.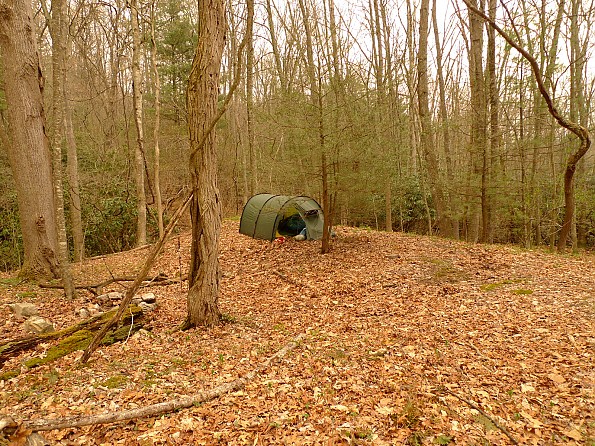 On Day 2 I get to 7 Mile Camp which is seven miles from the Mt Rogers station and at the bottom of the long ridge running from Partnership shelter on the AT.
Day 3 begins under blue skies and a warm sun so I pack a wet tent and hoof it a good part of a mile to the South Holston River footbridge where I stop and give the pack a rest.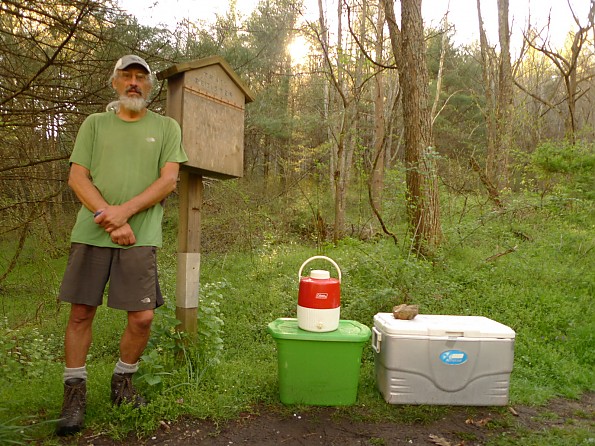 Trail angels always seem to leave food and drinks at the bridge.
A mile further and I reach the open cow pasture which is an excellent place to rest.  It's a reminder of what's to come on Stone Mt and Wilburn Ridge.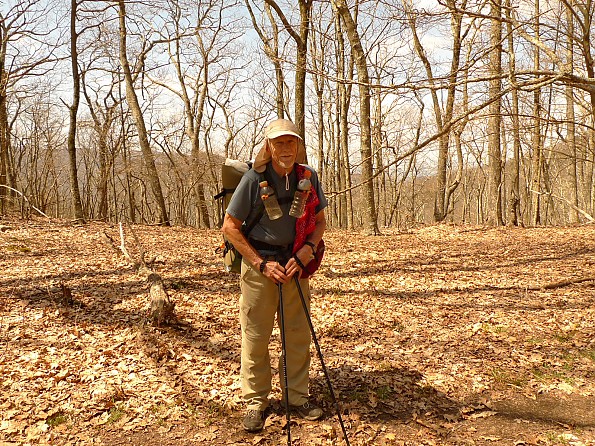 Past the meadow I reach the Trimpi shelter spur but my goal is beyond 2.5 miles to a pretty little campsite on Raccoon Branch Creek.  From Trimpi the trail climbs 800 feet in 1.8 miles and it kicks open my sac with the silvertip grizzly which is my pack.  Throw it on your back, son, and it'll rip your head off but you'll be a better man for it since you'll be headless ha ha ha.
On top of the mountain at a place called High Point I run into Grinder pulling a three week backpack from Damascus to Roanoke.  He knows Sgt Rock and he knows me from Whiteblaze.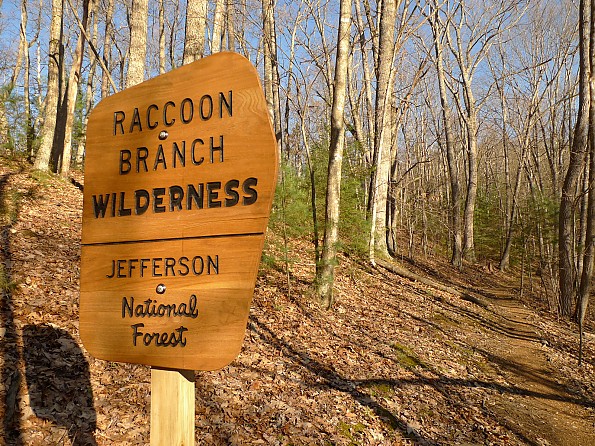 On Day 4 I leave Raccoon Branch Camp and pull into Dickey Gap where I not only find a new trailsign but a new wilderness.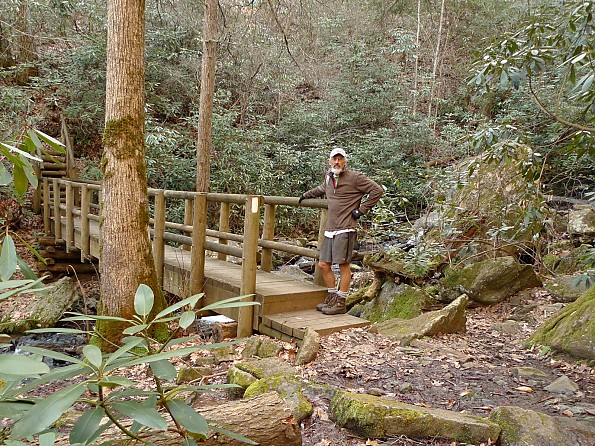 Past the Gap I reach Comers Creek Falls and the sweet little footbridge.  It's time to take a break at the bridge.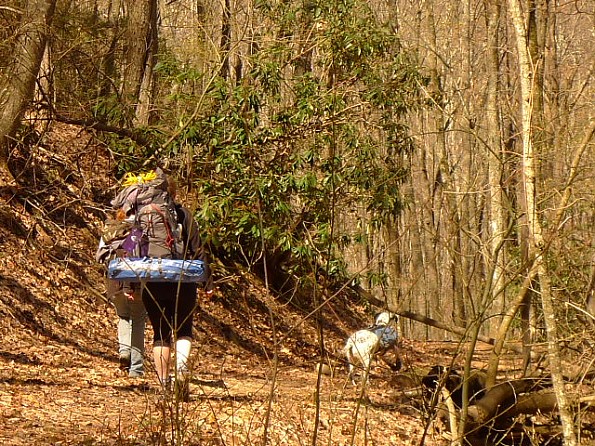 Two backpackers falling off Hurricane Mt as I climb up Hurricane Mt and it's a tough 1,200 foot climb with weight.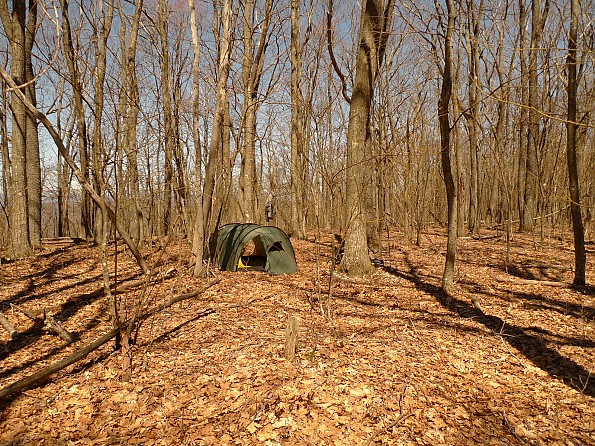 I pass Hurricane Mt shelter where I get water and pull the last hump to the long top ridge of Hurricane Mt and set up camp after a long eight mile day with too much weight.
DAY 5 MORE TO COME