8:38 a.m. on May 3, 2012 (EDT)
Tipi Walter

295 reviewer rep
1,436 forum posts
Another next trip is being planned as a return to my old stomping grounds in the Pisgah holy lands of Wilson Creek backcountry in the Grandfather Ranger District of Pisgah NF.
It's an area with Linville Gorge as the western boundary and Wilson Creek to the east with Grandfather Mountain to the north and bisected by the Mountains To Sea trail running thru the Gorge and along Steels Creek and across Hiway 181 to Upper Creek and north to Harpers Creek and other points of interest.
It's a place of big creeks and giant rock creek canyon and big river swimholes.  It's the place where all this madness started.  Check out some of the old photos---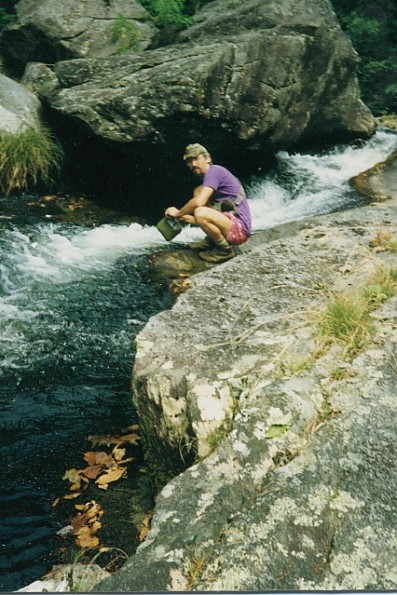 Back in '84 I favored various military items and so here I am getting water from Upper Creek with my GI bladder and in my jungle boots.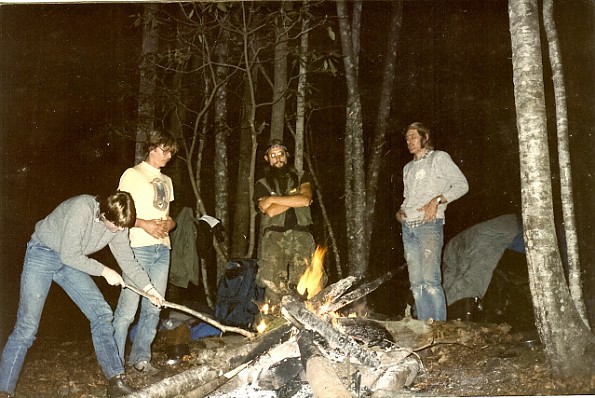 In '82 a couple friends backpack to Harpers Creek and set up a sweatlodge which is visible in the back, right.  I'm with my buddies Bob and Steve.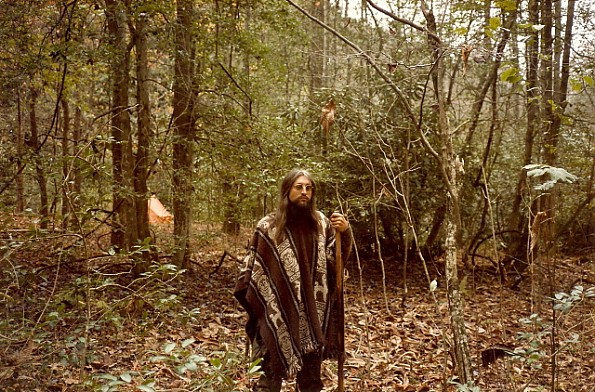 This shot shows a campsite on Raider Camp Creek when I was in my Yoga-Hippie-Grizzly phase.  A German student in my rinky-dink backpacking school souvenired me this neato Peruvian wool poncho.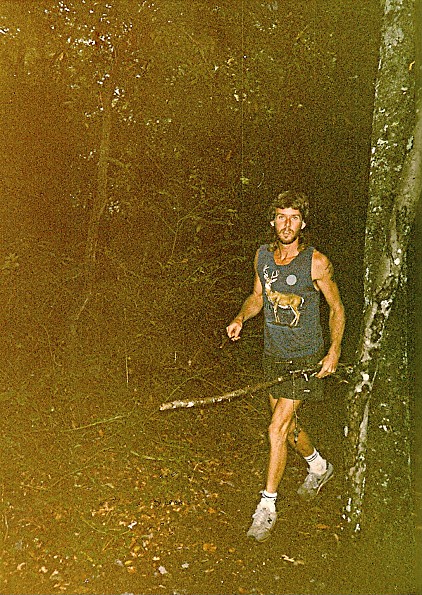 Here's a shot of Johnny B at Burnthouse Camp next to Upper Creek Pisgah.  He was my best backpacking buddy for years and we pulled a hundred trips into the "Piz".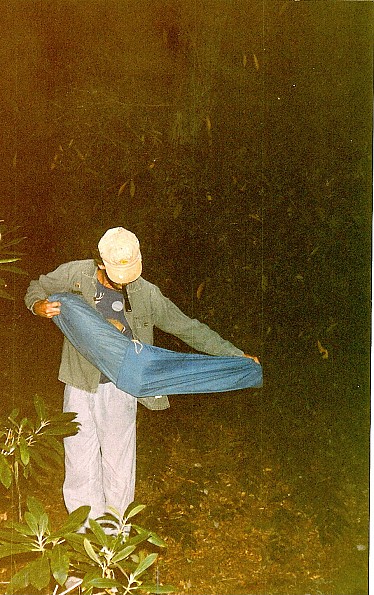 We arrive to our standard Upper Creek campsite and Johnny pulls out his tent to set up.  In those days everyone drooled down their mini mag flashlights.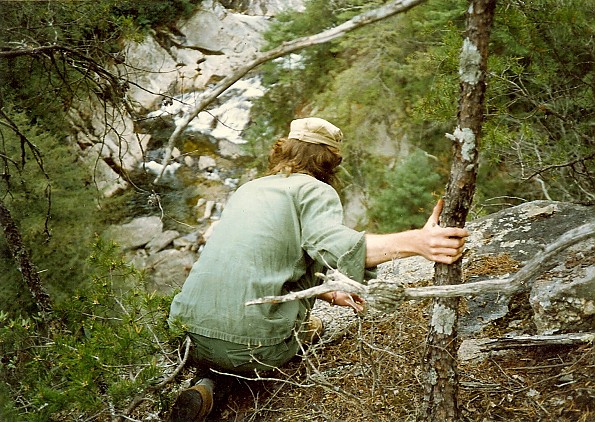 Upper Creek has a hidden secret canyon gorge which has a 100 foot cliff wall overlook and the edge can be accessed on a very tricky bushwack full of rocks and pines.  Here's Johnny B checking out the scene from the heights.  We call it Babaji Point from an old yoga story.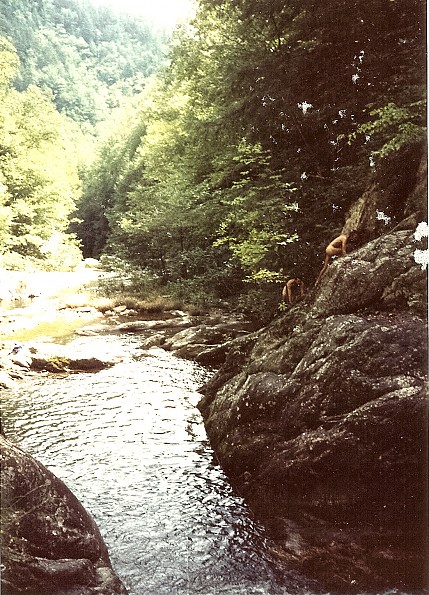 Directly below the Babaji Point cliffs there's this 30 foot deep swimhole in a V-notch and so Johnny and I climb up to a jump off point for our ceremonial plunge.  1980's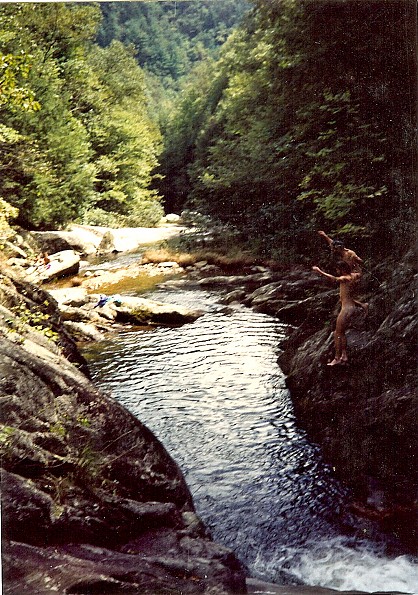 Into the sacred Pisgah waters!  The entire Upper Creek canyon ends in this swimhole and so if you go upstream here you'll see the best of the rock gorge.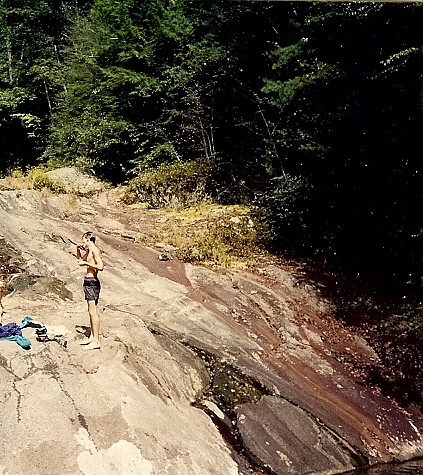 Hee's a partial shot of Upper Creek canyon and the rocks.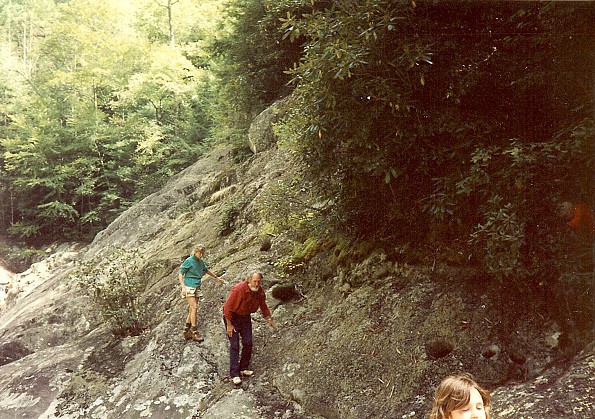 Lindal Newbius and Carl hike above the creek in the canyon.  It's tricky.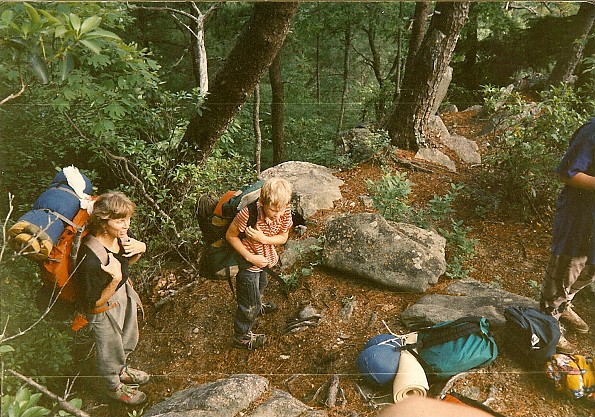 The trail in to Burnthouse Camp and Upper Creek canyon is shown here as it scoots across rocks in a rugged section above the canyon.  Here is Lindal Newbius taking a break.  On the map this trail is called 268A. 1990.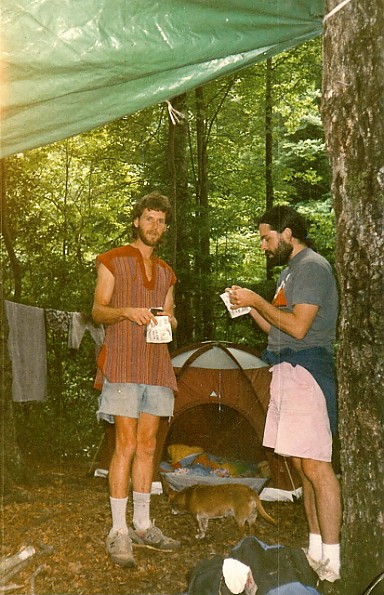 Once camp is squared, Johnny B and Rob Messick hang out with the crew.  Rob is well known for the work he has down on studying old growth forests in the Southeast.  1990.
Johnny B and I pull annual June solstice gatherings to Burnthouse Camp on Upper Creek and here's one of them in the 1990's.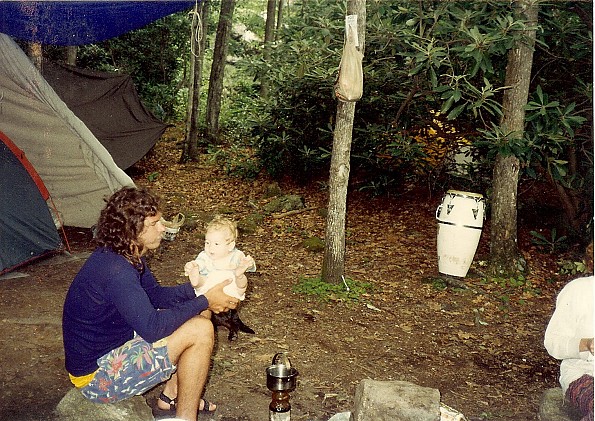 It's a two mile hike in to Burnthouse Camp and the trail ain't easy as it climbs Heartbreak Ridge but we all managed to get in with strange objects.  Conga drum.  I once humped in a whole watermelon on top of my external frame pack, and another time humped in a complete canvas tipi cover.  Here is Jodal with the Mighty Mite.  His wife is Amal who thruhiked the whole AT in 2006.  This pic was taken in the 1980's.  Johnny B and I did a 5 week trip along Upper in 1987.
MORE TO COME AND MORE RECENT TRIPS