Ashleigh
RETAILER
REVIEW CORPS
4,241 reviewer rep | 603 forum posts
12:58 p.m. on May 8, 2012 (EDT)
This is a beautiful 14 mile hike on The A.T. Perfect overnight backpacking trip. It can be done in a day if you are in really good shape, but it is relatively tough, so I like to take my time and make it an overnight.
We went into the town of Roan Mountain, TN, and parked our car at the Mountain Harbor Inn hostel. I think it was $2 to park overnight and $30 for a shuttle to Carver's Gap (if there are other hikers there, you can all split the $30). Very nice people! The hostel and Bed & Breakfast are also very nice in the event that you go further and end up needing to stay there or even to just grab a shower.
I am compiling pictures from two trips...one in 2010 and one in 2011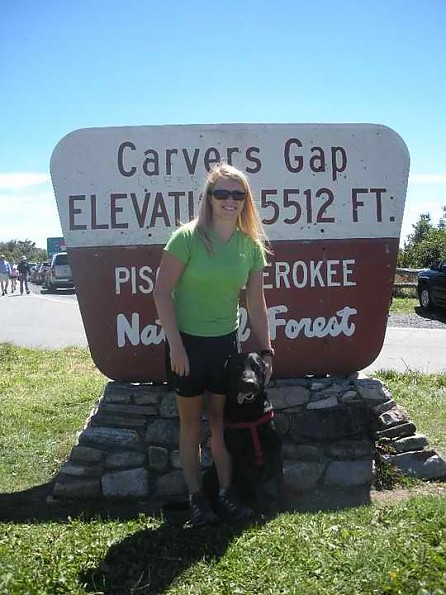 My dog, Brice, and me at Carver's Gap. you can see the sign for the NC border in the background on the left side of the sign.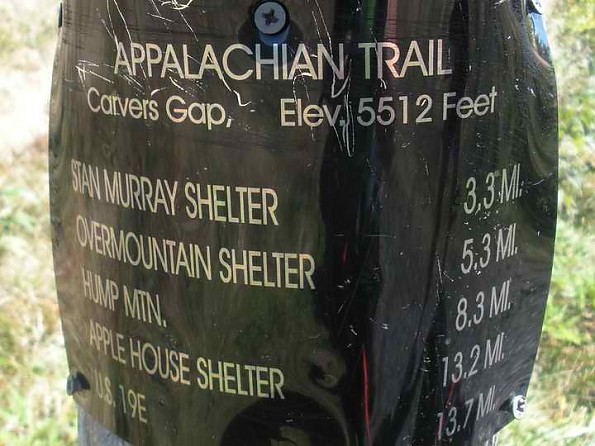 AT sign at Carver's Gap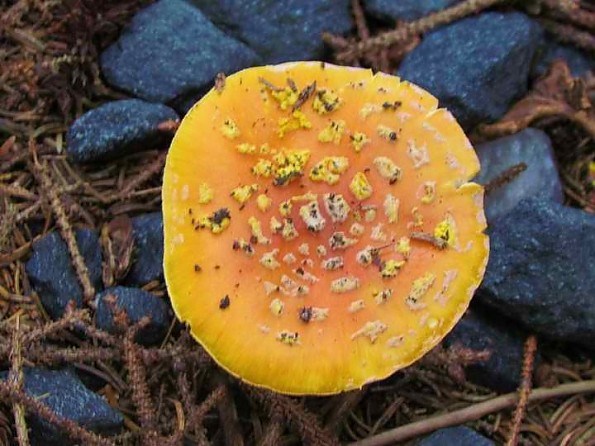 Pretty mushroom in Carver's Gap, before the first bald, Round Bald
woods btw Carver's Gap and Round Bald...nice spongy mulch/trail...THANKS TRAIL ANGELS!! :)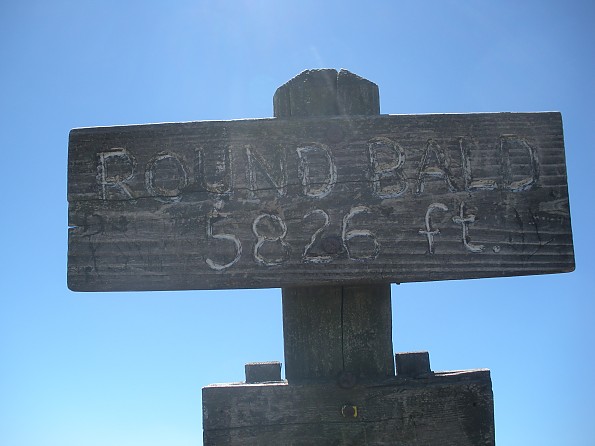 Jane Bald from Round Bald Summit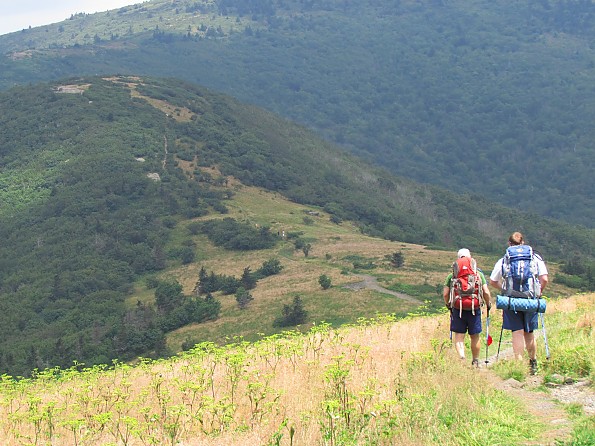 Jay and Ryan headed toward Jane Bald.
We started later than anticipated, so we did not hit Grassy Ridge Bald. It is easy to spot and I hear it has one of the best views on the AT.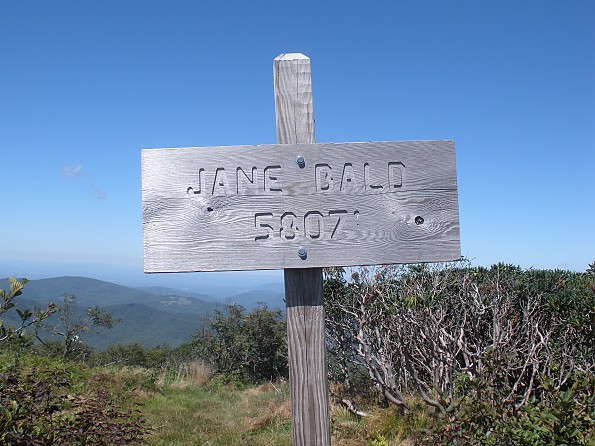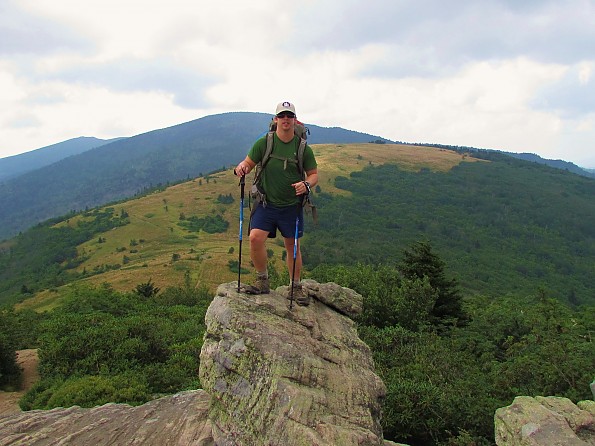 Jay on Jane Bald summit with Round Bald in the background.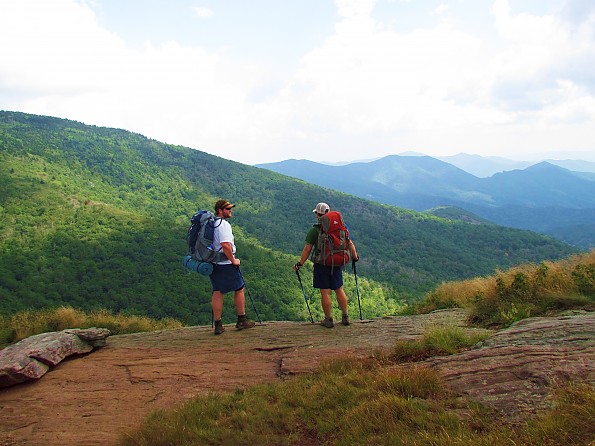 Ryan and Jay enjoying the view from Jane Bald summit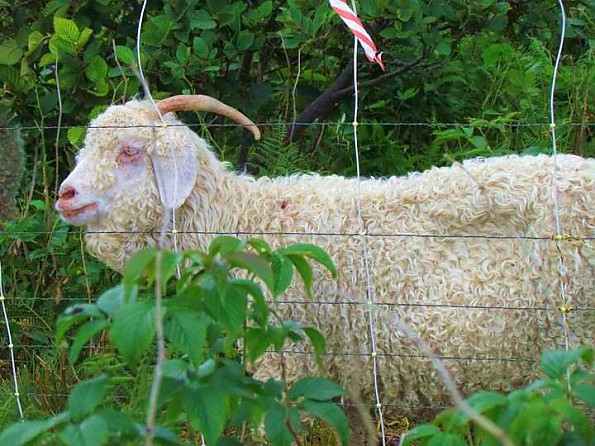 there were several of these guys in a fence...I can't remember if they were in between Round and Jane or Jane and Stan Murray shelter...very random lol!
After you leave Jane, you go through the woods for a good while (sorry, not sure of mileage!) It is also very nice with lots of flowers in the summer time. I don't remember much elevation change.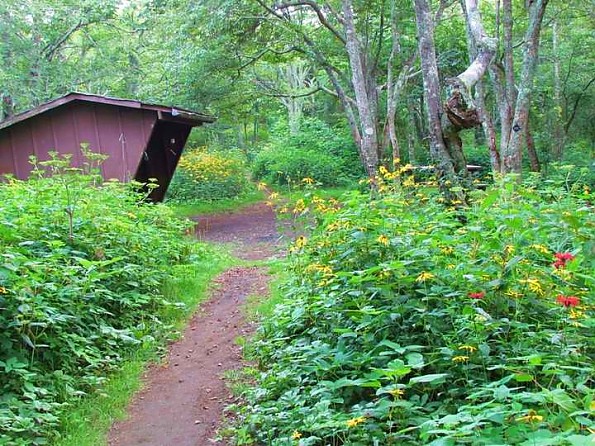 Stan Murray Shelter...mile 3.3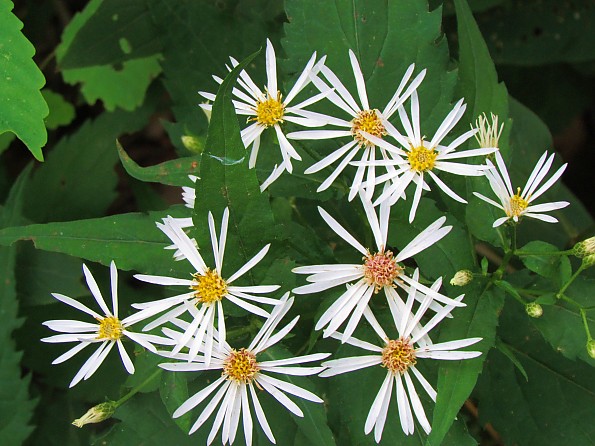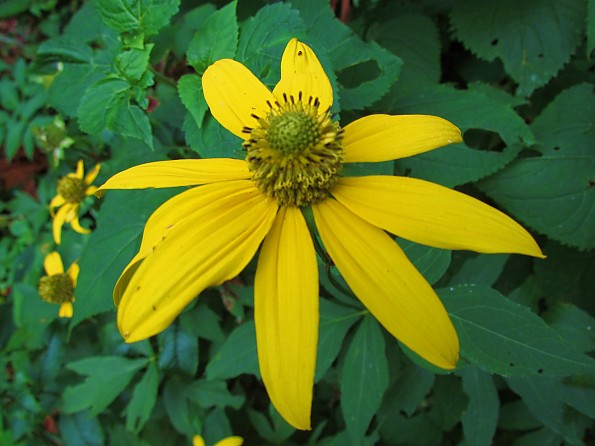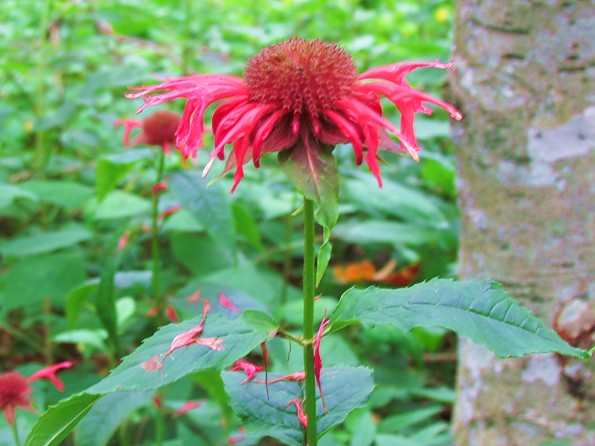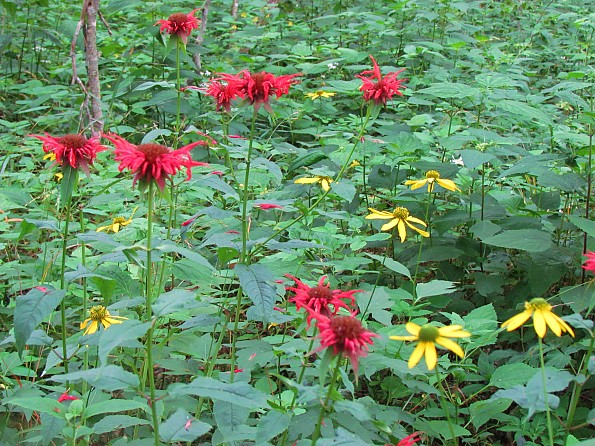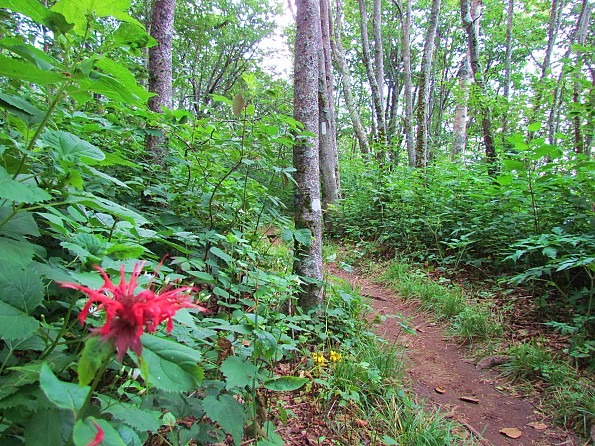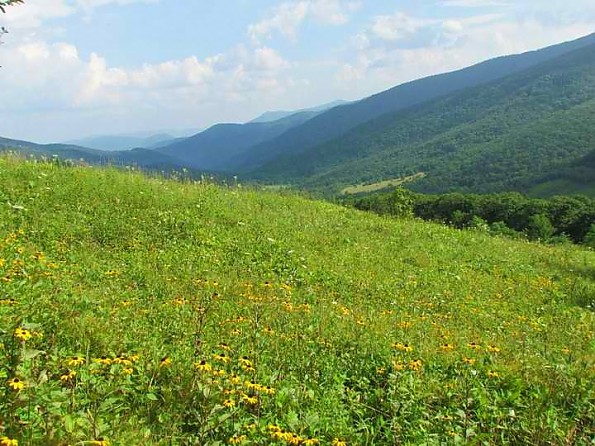 This view doesn't come for free! Pretty tough climb from Yellow Mountain Gap. The Overmountain Shelter spur trail is at Yellow Mountain Gap, I believe. I tried to get to it, but I am pretty sure I took the wrong spur trail and gave up. I probably could have found it if I tried again once I saw where it was. There are also some campsites at Yellow Mountain Gap.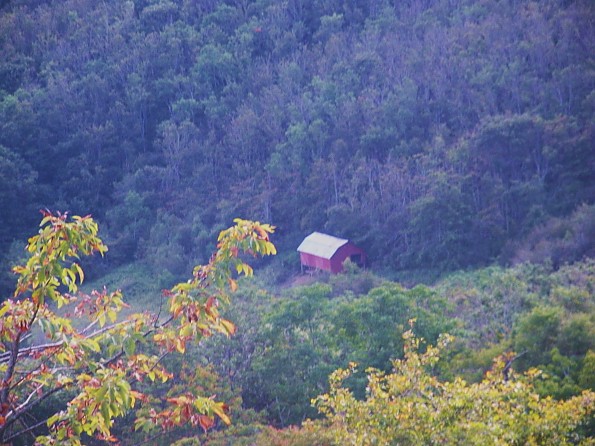 Overmountain Shelter...supposedly has the best view from any shelter on the AT and also is one of the largest (if not THE largest).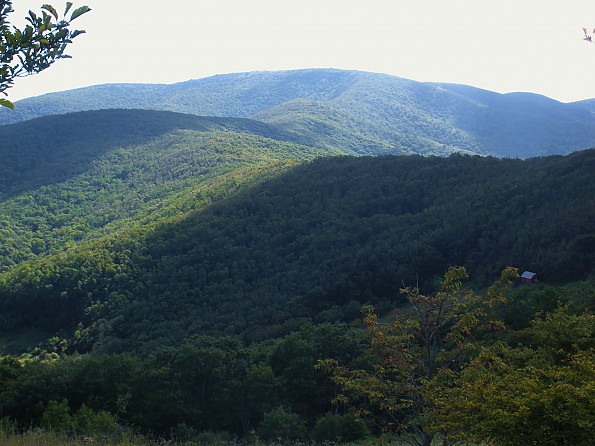 You can see the roof of the shelter on the left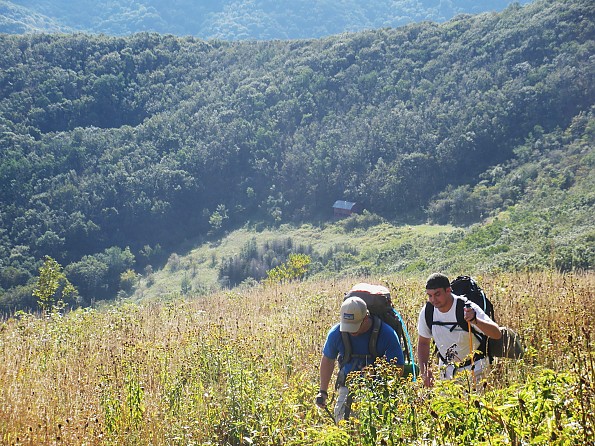 Climbing from Yellow Moutain Gap. Jay and Blake are glad to be almost at the top! See Overmountain Shelter behind them.
Our campsite on Little Hump was about a half mile from here, if I remember correctly and not a bad walk at all!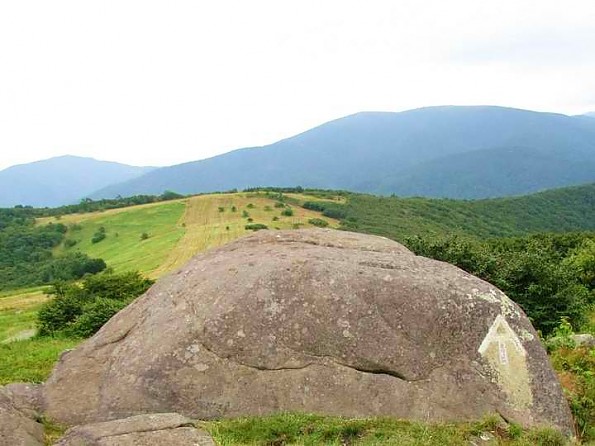 This is about halfway up Little Hump. We camped right behind these boulders/granite slabs. There are two great places to put tents and there is already a GREAT  fire pit!
Speaking of Little Hump, Highland Brewery (Asheville, NC) makes a delicious spring ale named  Little Hump! Try it out if you are on the east coast!
It is about the half way point on the trip...about 7 miles in
our MSR Carbon Reflex 2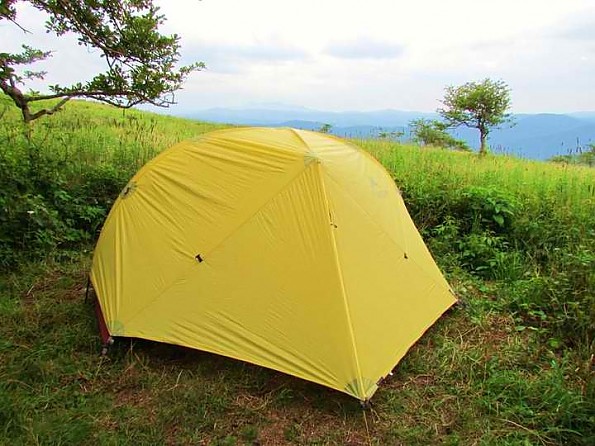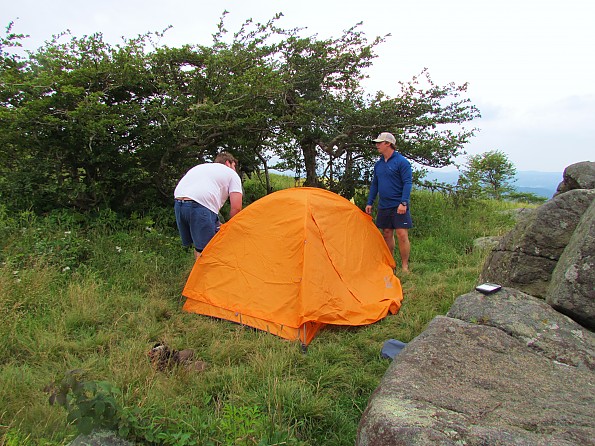 Ryan's Marmot (we set ours up just underneath those trees)
Ryan upgraded to this new tent from a large 3 man Eureka that we called "The Welcome Center"! He was very happy with the weight!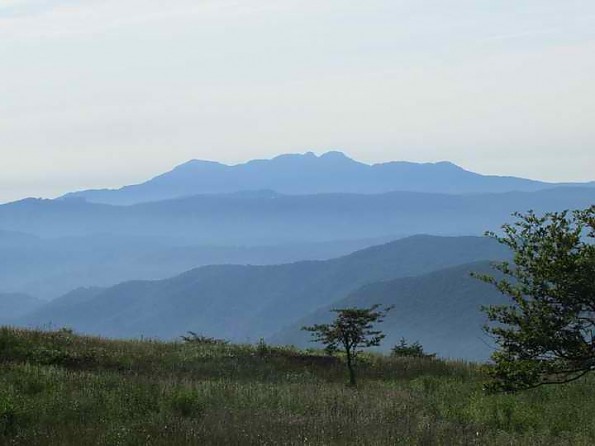 view from Campsite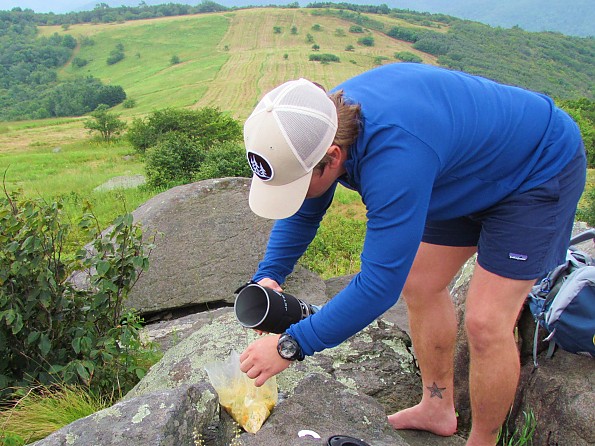 Jay cooking dinner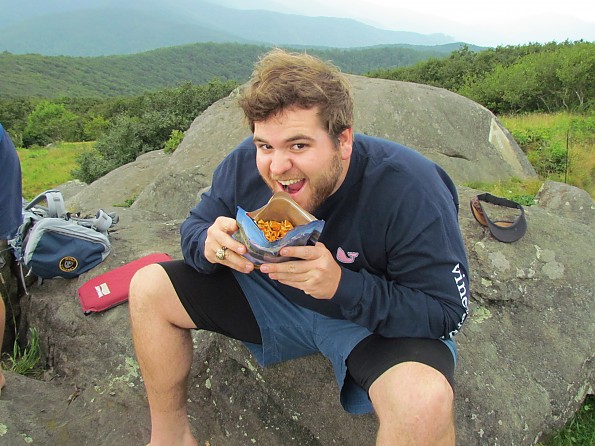 Ryan about to devour a Mountain House Chili Mac!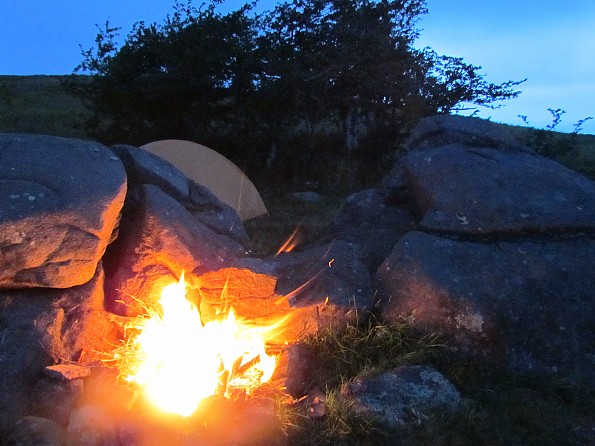 The awesome fire pit. Interesting story here. Some slack IDIOTS left 3 full cans of tuna in the back of this pit under some wood. I bet you can guess what happened. 3 exploding Tuna bombs! Just sitting around talking, enjoying our nice Mountain House Turkey Tetrazini and BOOM!BOOM!BOOM! almost the whole fire shot out and hot tuna went flying all over us. Tuna Bomber, whoever you are, you better hope I don't find you!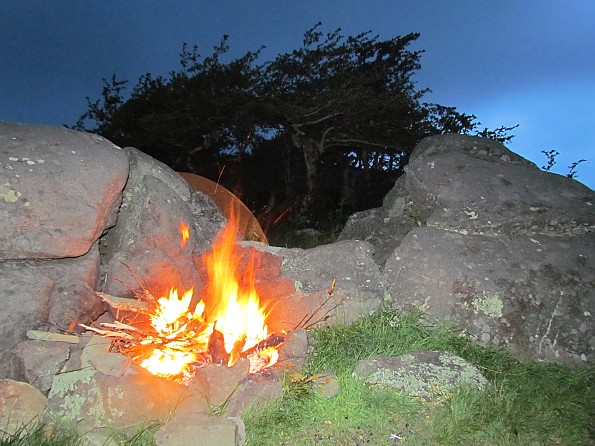 You can see a storm is brewing!
Nowhere to go, and a HUGE thunderstorm came out of nowhere!! That'll teach me to go out hiking to balds with a 30% chance of thunderstorms!
Red and white lightning was popping all over the place and the storm came right through the bald! I have never been more terrified in my life! All three of us huddled up in Ryan's 2 man marmot! I was sure someone was going to find us charred in our tents the next day! But after about 30-40 minutes, it was gone and we were able to go to sleep. Both tents were champs and we stayed bone dry!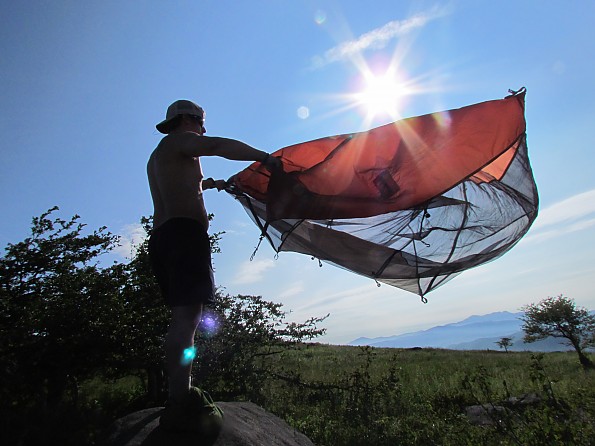 shaking off the dew from the Carbon Reflex before we head to Hump Mountain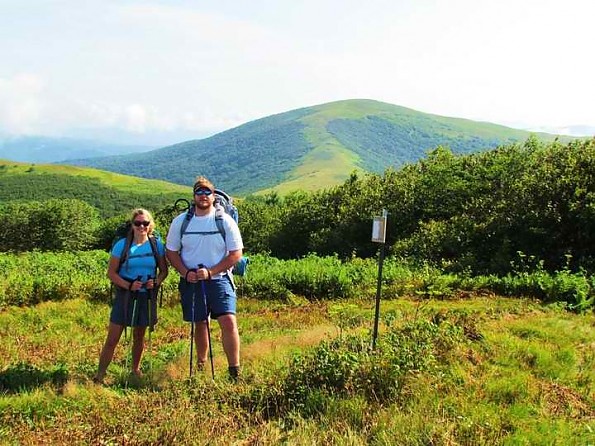 Ryan and I on the summit of Little Hump Mountain. Hump Mountain towering in the background. FYI...the AT winds down and around Little Hump here. DO NOT GO INTO THAT THICKET lol. Once you are headed in the right direction, you do actually go through some really cool thickets and tunnels before you get to Bradley Gap and Hump Mountain.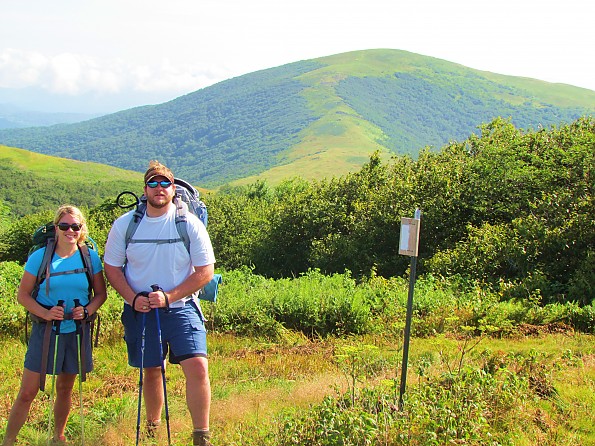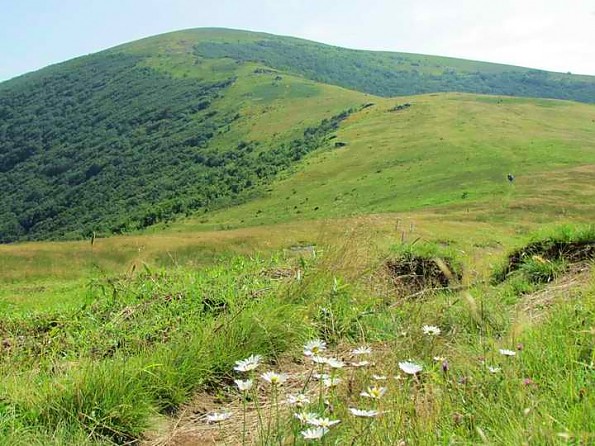 Just past Bradley Gap. The dot in the middle of that smaller hump is Ryan. I wanted to get some perspective shots to show how big this mountain is.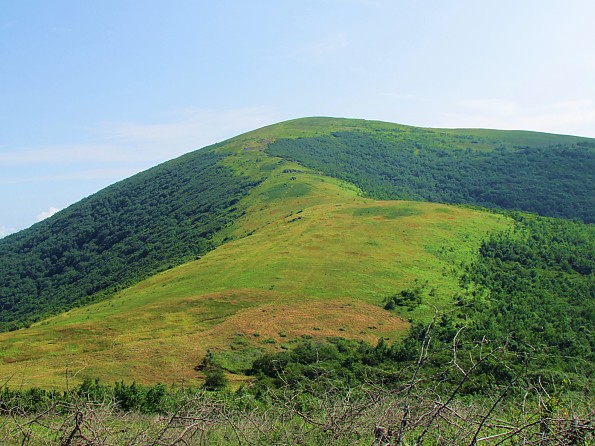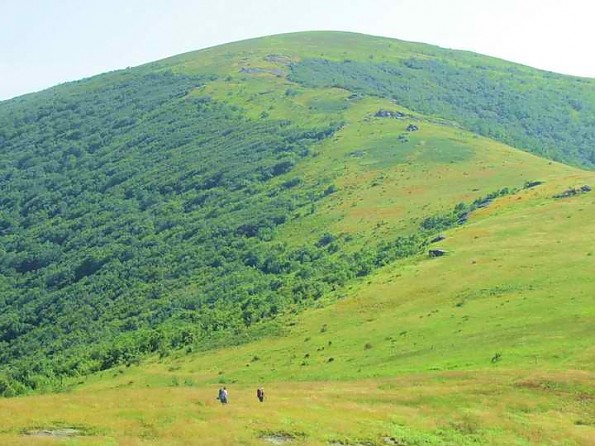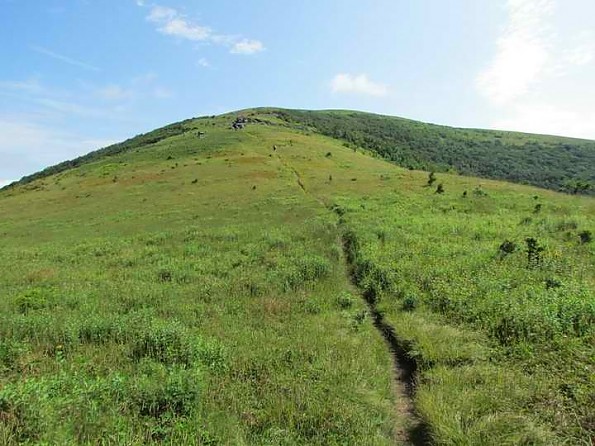 straight up! I believe it is 800 ft elevation gain here, but good lord, it felt like much more! Like climbing into the sky!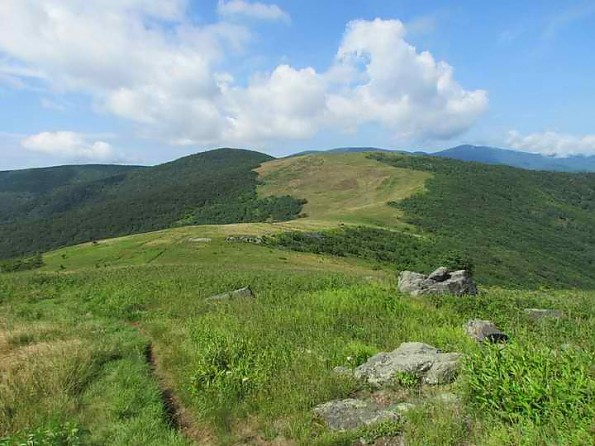 Little Hump from halfway up Hump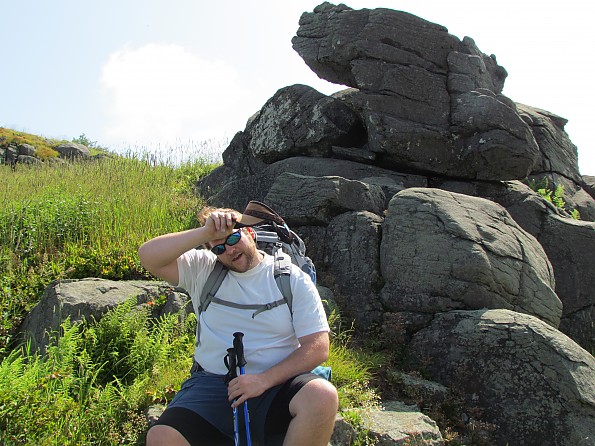 whew, not even halfway to the top!
Hey oh! There's the summit view!
Little Hump from Hump summit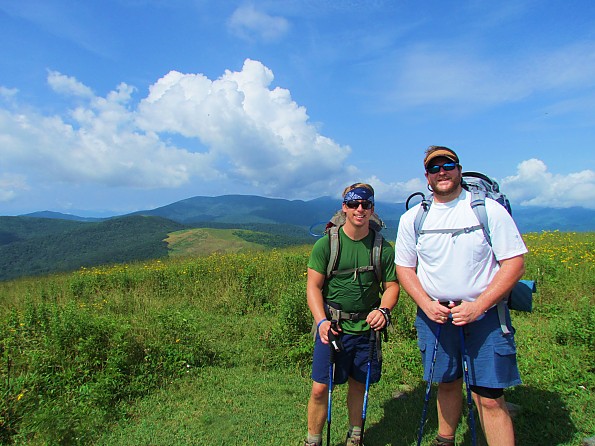 VERY happy to be at the summit! beautiful views and DOWN HILL after here!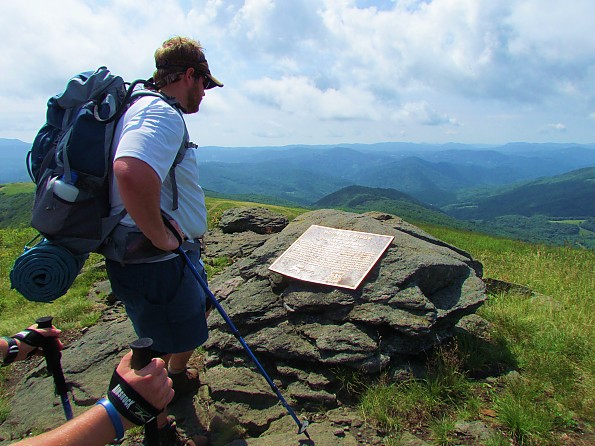 plaque on the next little bald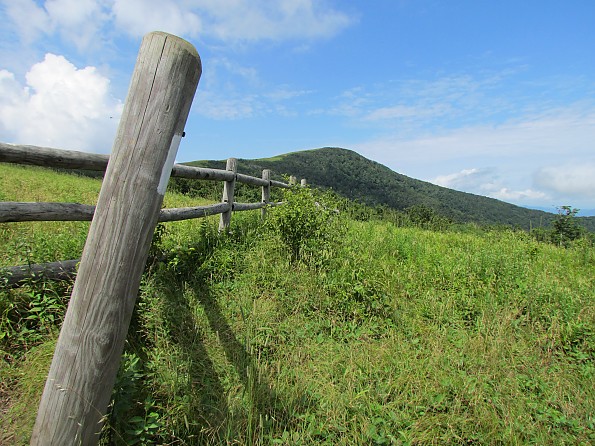 BYE HUMP MOUNTAIN! Pretty shot of Hump with the AT marker
after this, we went into woods for about 4 miles. It was nice, but they seemed to go on forever after all of those knockout views we'd had so far.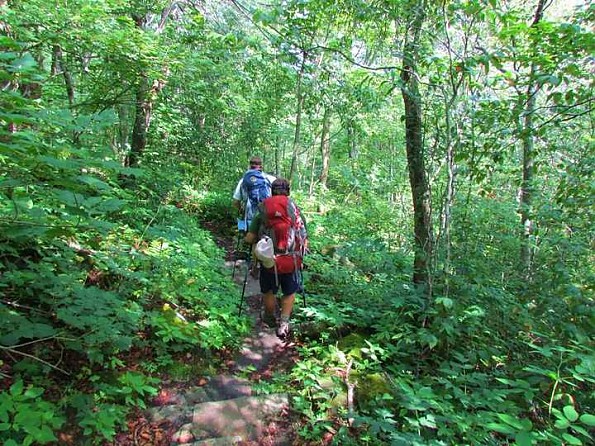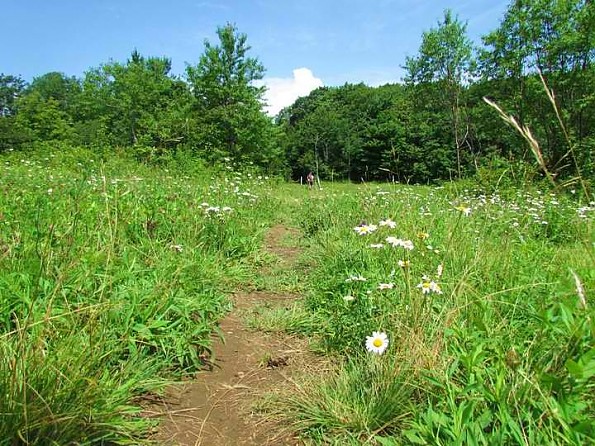 really nice meadow almost to Doll Flats (a camping area)
This is pretty much the last good view...there were some really pretty meadows and a farm after you get out of the woods, but that's about it.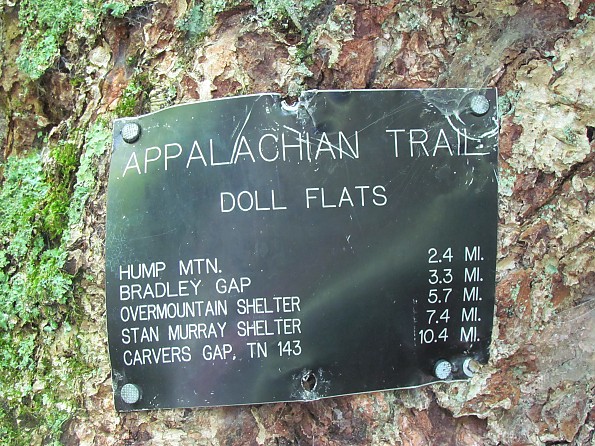 about 3.5 miles to go! (these destinations are all behind you)
When you finally get to the highway, hook a left and continue walking about 1/4-1/2 mile back to Mountain Harbor Hostel.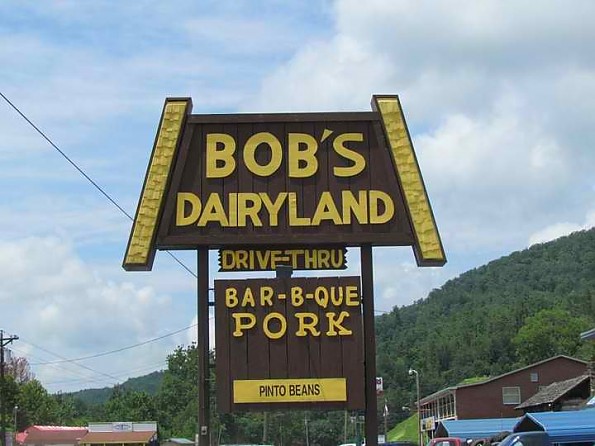 Make sure you hit up Bob's Dairyland on your way out of Roan Mountain! Amazing post hike tea with unbelievable BBQ sandwiches, ice cream, and sweet tea!!
*** I did not see water until the end of this trip in the woods past Doll Flats, near the last little shelter. I am not sure if there was any and I missed it. We brought enough of our own, just to be safe!
***Overall, AWESOME trip!