10:27 p.m. on May 29, 2012 (EDT)
lambertiana

0 reviewer rep
443 forum posts
About ten years ago I heard that a group had just finished taking measurements of a Giant Sequoia in the Garfield Grove at the southern end of Sequoia NP that turned out to be the third largest giant sequoia. They named it the Floyd Otter tree, after a forestry official who worked not too far from there. I was determined to find the tree, and obtained a detailed grove map from a relative of Floyd Otter. The Garfield Grove is not easily reached, the trail starts at South Fork in Sequoia NP, and ascends about 3500' vertically to the main part of the grove. You have to really want to go there. And the Floyd Otter tree (as well as the King Arthur tree, which is #10 on the list of largest sequoias) is well above the trail, so some bushwhacking is required to go up the 30 degree slope to find these trees. I made one attempt about eight or nine years ago, when I was on a dayhike with some cub scouts, but they all bailed out on me and didn't want to continue. I turned around only a quarter mile below the trees because they were waiting for me.

Today I remedied that, and went with a friend to finally find the tree. It is a strenuous hike that is best done spring or fall - it's too hot at South Fork in the summer to do that kind of vertical, and in the winter the grove is buried under many feet of snow. We started this morning to find that the poison oak is having a banner year (good thing I'm not allergic to it, I was wearing shorts). The first mile of the trail was a lot of this: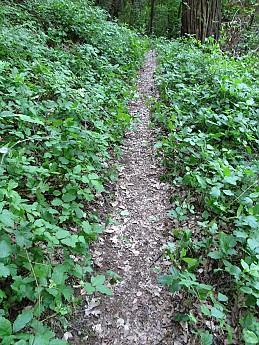 The trail is steep and gains the first 3000' in about three miles, then levels for a while, then gains another 500' in about half a mile. We started in lower elevation oak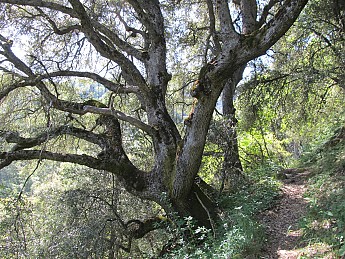 And eventually made our way up to the middle elevation forest of incense cedar, ponderosa pine, white fir, and sugar pine. 
We were under forest canopy most of the day, with few of the typical sierra vistas, but here are a few that we had
When we got to Snowslide Canyon, this is a view looking up the creek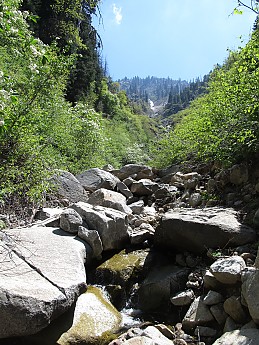 And then down the creek and across the canyon toward Homer's Nose