Tipi Walter
295 reviewer rep | 1,450 forum posts
6:45 a.m. on June 9, 2012 (EDT)
Let's go backpacking into a southern furnace.
Little Mitten and I drive up Tellico River in Tennessee with Zoe Dog and we set up camp at the old Green Cove school which is now a membership cabin leased from the forest service by Mitten's Dad and a dozen others.
My trip thusly begins by camping with Mitten next to the cabin for a couple nights before she drops me off two miles up river at the Fish Hatchery and onto the Benton MacKaye Trail going south.  Here are the trip highlights---
May 18--June 8  2012

**  22 DAYS TO BIG FROG MOUNTAIN
**  THE LONGEST TRIP WITHOUT RESUPPLY
**  2 DAYS WITH LITTLE MITTEN ON TELLICO RIVER
**  BMT THRUHIKERS BOOTS AND ONE LINER
**  TRIP SUBTITLE---THERE WILL BE TICKS
**  INTO THE HIWASSEE FURNACE
**  LOSS CREEK SWIM
**  TOWEE CREEK SWIM
**  TRIP SUBTITLE---THERE WILL BE SWEAT
**  COPPERHEAD
**  HIWASSEE SWIM
**  LOST CREEK SWIM
**  PINEY FLATS CREEK SWIM
**  RATTLESNAKE
**  2 DAYS ON BIG FROG MOUNTAIN
**  CAMPING AT HIWASSEE OUTFITTERS CAMPGROUND
**  MEETING EVELYN FROM TRIP 102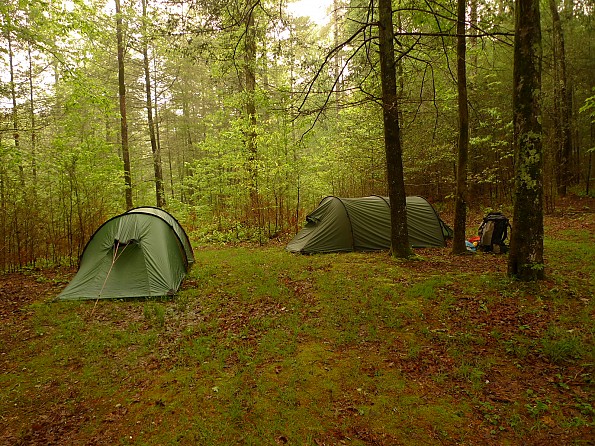 Mitten is using my old Nammatj and you can tell how little used it is when compared to the faded Keron.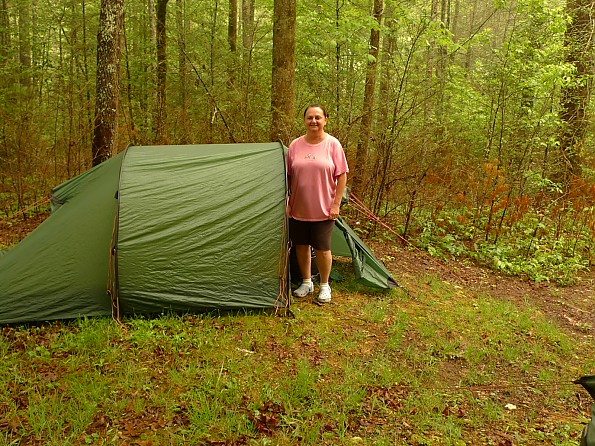 Little Mitten has found her personal home in the woods.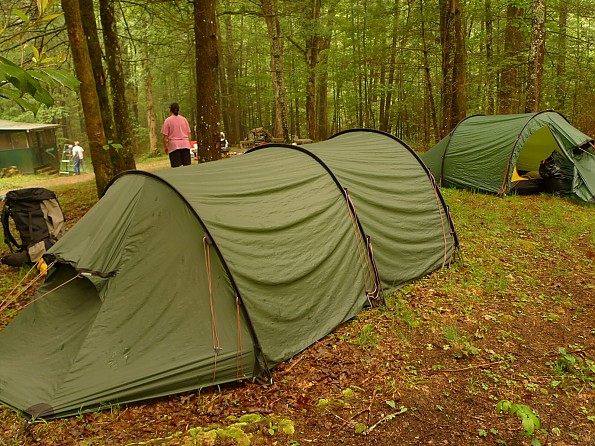 The cabin can be seen along with the two Hillebergs.  This is the first time two Hilleberg tents have been set up on the Tellico River in the last 40 million years.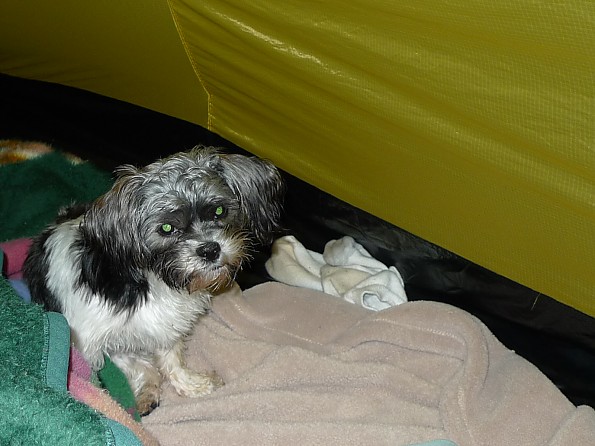 The Nammatj is apparently a perfect tent for a dog as Zoe-bean seems to like it.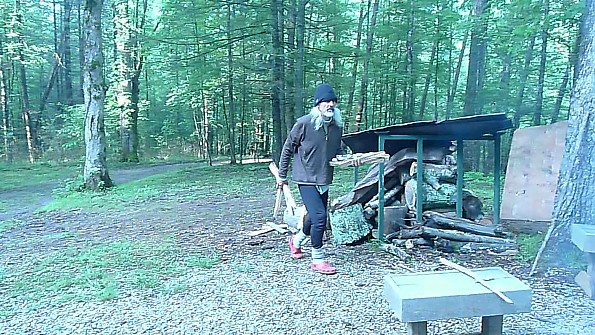 The weather's cool enough to allow merino tops and bottoms as I split wood for the campfire, a rarity in my line of work---a campfire that is.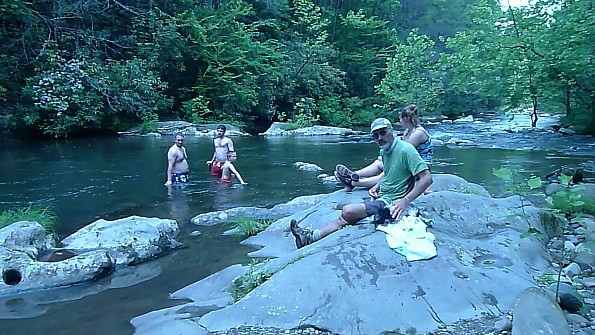 The water's ice cold on Tellico River but the younger sorts are braver than old Fungus.  I sit back with the Zygoat dog and watch.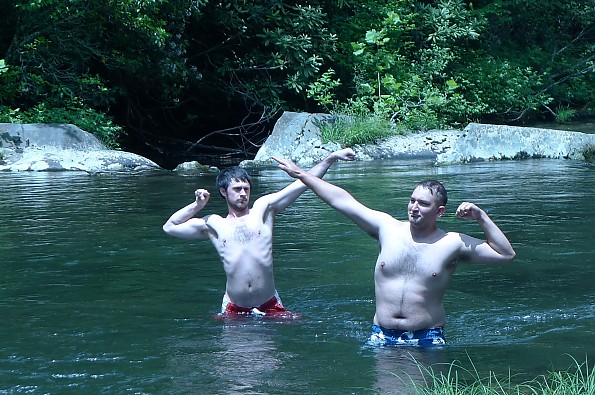 The boys, Blade and Jerm, perform the all important Mister Tellico power clenchings.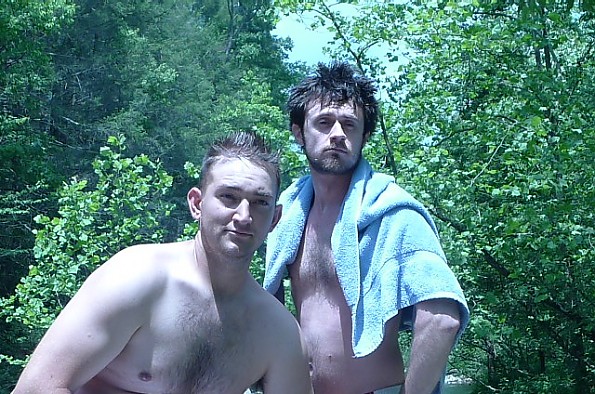 "See, I was on this river with Burt Reynolds and Ned Beatty when we ran into these disturbing local boys . . . . . ."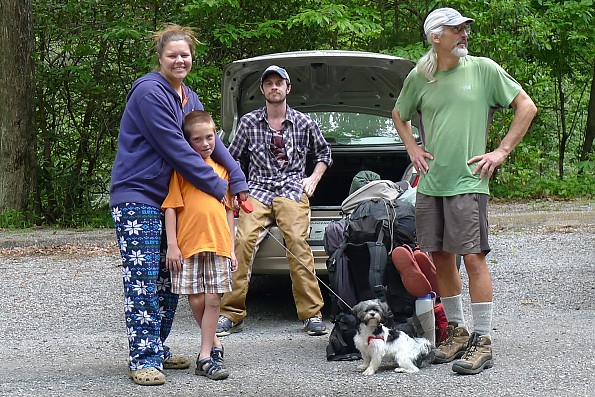 On Day 3 Little Mitten drives me up the Tellico River to where the BMT crosses and I prepare the kit with the relates on hand.  So begins my journey into the Hiwassee Furnace.  If the pack happened to tip over old Zoe Dog wouldn't be with us anymore.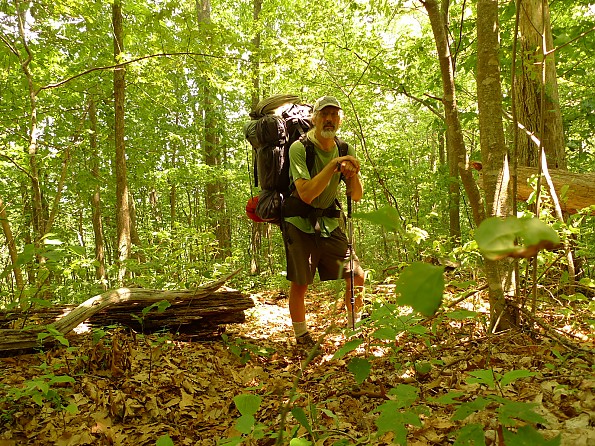 My journey begins on a tough climb up Sugar Mt with too much weight.  Here I am on switchback 7 out of 10.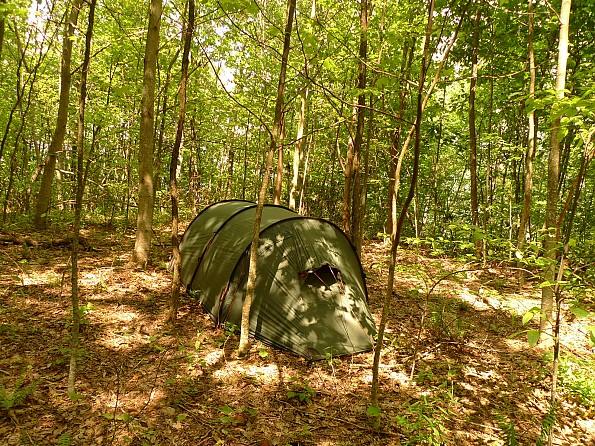 By 3pm I'm on top of Sugar Mt and find a new spot in the shade to call home for the night.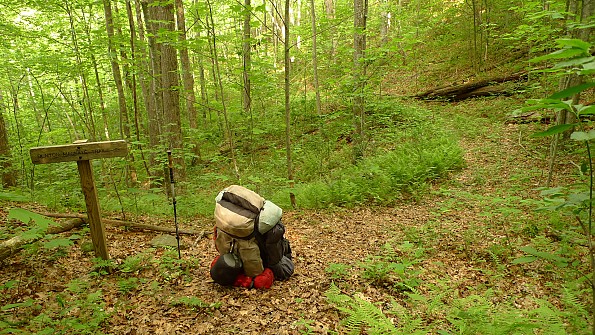 On Day 4 I fall off Sugar Mt and reach a swtichback turn marked by a trailsign compliments of the Crosscut Mountain Boys who maintain this trail in an excellent manner.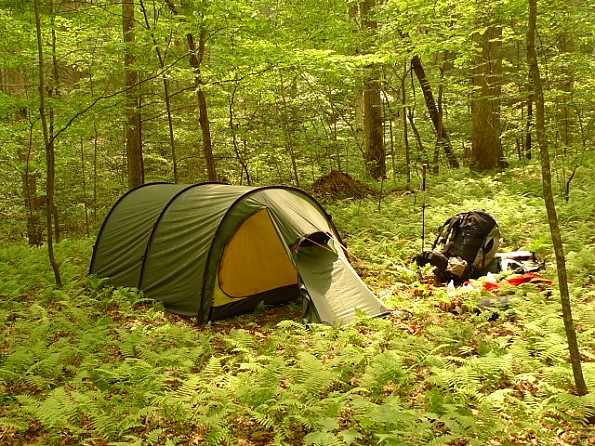 I quickly reach Brookshire Creek and its crossing which is done in crocs but it's low and easy.  The B Mac now becomes the Brookshire Creek trail and not far up it I reach Fern Valley and my night's home at Fern Camp.  It's close to water and a perfect place to camp.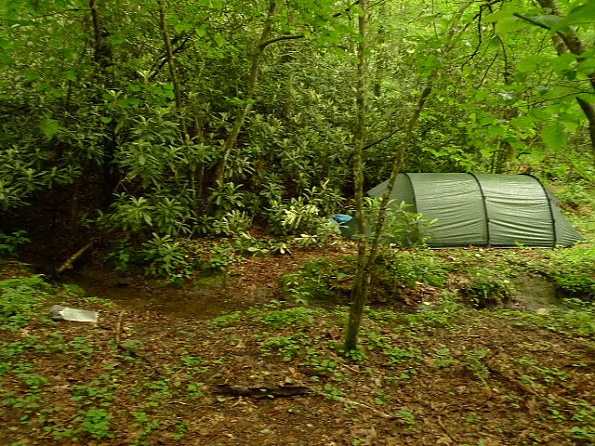 Day 5 begins by sitting thru a night of Day 4 rain and by 9am I'm packed and ready to leave beloved Fern Camp.  The Brookshire is pretty as it climbs 1,700 feet to Sled Runner Gap and the beginning of State Line Ridge.  Near the top at the gap I set up the tent next to the headwaters of Brookshire Creek at Iron Ring Camp after a good climb.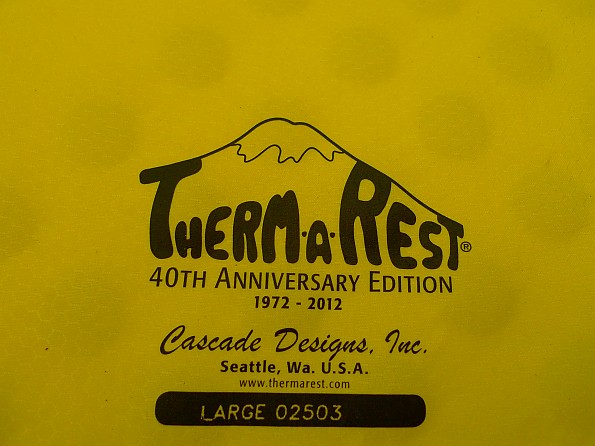 A closer look at a near perfect three season backpacking pad, the Thermarest 40th Anniversary at 2 inches thick and 4R.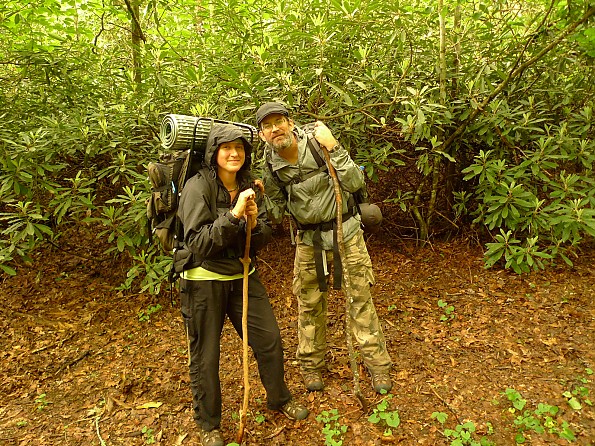 These are the only BMT thruhikers I see in 22 days and they are Boots and One Liner.  I tell them about a great campsite at the bottom near the Brookshire crossing.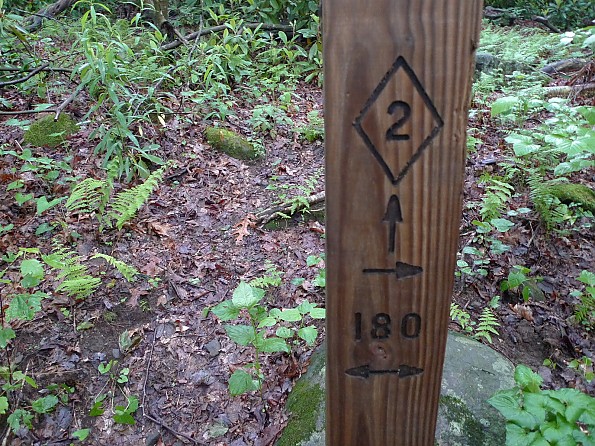 Day 6 begins by leaving Iron Ring Camp and the Brookshire trail and passing this trailpost on the way up to Sled Runner Gap and State Line Ridge---all part of the BMT.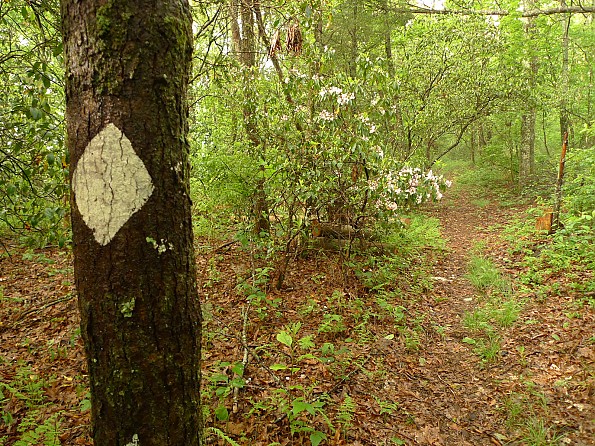 The diamond blaze of the BMT near Rocky Top, Tennessee.  Yes!!


"Wish that I was on ol' Rocky Top,
down in the Tennessee hills;
Ain't no smoggy smoke on Rocky Top;
Ain't no telephone bills"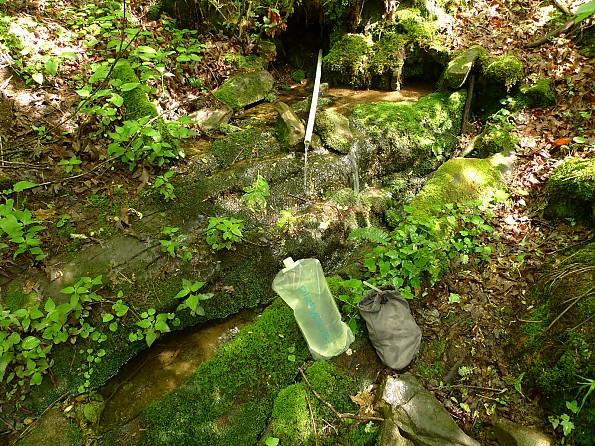 Before reaching Hazelnut Knob you reach a gap with a .4 mile loop to this fantastic water source.  Who knew there's a creek on State Line Ridge??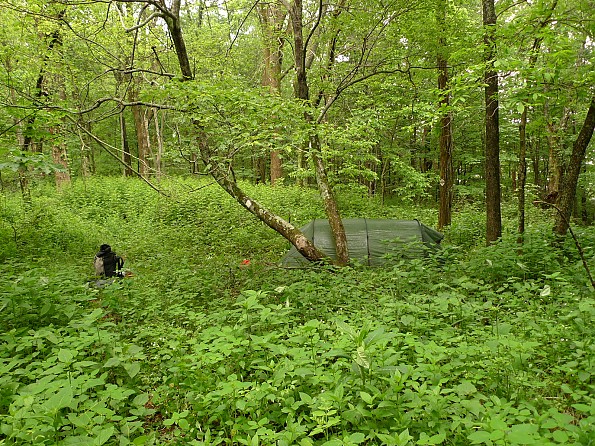 After getting 3 liters and several more lbs I hump up the half mile 450 foot gain to Hazelnut Knob and fall off the south side to this campsite which is above Moss Gap so I call it Moss Gap Camp.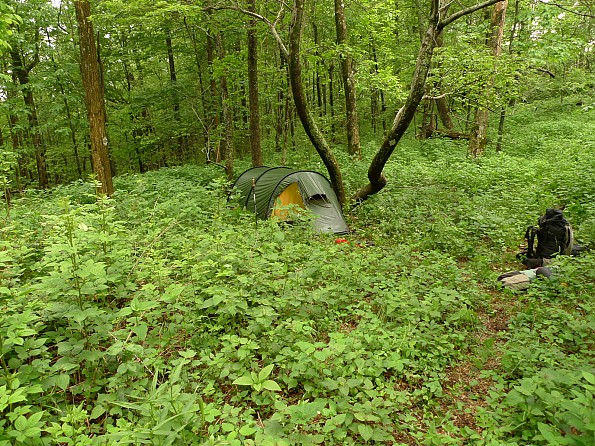 Here's another shot of Moss Gap Camp.  The BMT is rarely hiked and so campsites have to be cleared by hand---hopefully not in a big patch of poison ivy.
DAY 7 TO CONTINUE