11:35 p.m. on June 12, 2012 (EDT)
Mumblefords

27 reviewer rep
103 forum posts
On Tuesday and Wednesday (May 8th &9th) I spent some time hiking in Great Smoky Mountain National Park.  I wanted to do a training hike for my  upcoming trip to Olympic National Park from May 22nd-30th. I figured one of the closest places with a similar climate that also had a significant am mount of elevation gain was the area around Elkmont in GSM along the Little River and the climb up Clingmans Dome (the 3rd highest point east of the Mississippi River). I got exactly what I was looking for.
(I have realized that this forum's core reason for being here is: gear. In light of that, I will from now on try to emphasize the use of gear in my Trip Reports)

The route I took was as follows: Little River trail -> Goshen Prong trail 3.8 miles. Goshen Prong -> the Appalachian Trail 7.6 miles. Appalachian Trail to->Sugarland Mountain Trail 5.7miles. Sugarland Mountain trail -> Rough Creek Trail 4.8 miles. Rough Creek Trail -> Little River trail 2.8 miles.  LIttle River Trail -> Elkmont 4.6 Miles. Total Mileage = 29.3 miles.


I left New Orleans after work on Monday at about 745pm and drove through the night. I made it to Elkmont at about 915 am after taking a short 1 hr cat nap at a rest station in TN outside Chattanooga. I hit the trail at about 945 and began my hike.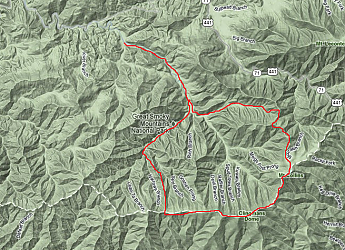 It was threatening to rain but I didn't care, Patagoina's Rain Shadow Jacket and a Sea to Summit Ultra Sil Pack Cover would keep me, and my gear, dry. Rain is all part of the game in the Smoky Mountains. I started the hike at a very quick pace and by the time I had covered the first 3.8 miles it had been only an hour on the trail. I was carrying my Mountain Hardware Trad 35 loaded up with about 30 pds of gear and hiking in my Scarpa Raptor trail runners. At the intersection of Goshen and Little River trails I noticed three very large dark creatures down the trail and I began to watch. I assumed they were bears. I slowly came towards them and began to notice they were not bears but just some old men hiking in all camo rain gear. (I never have understood the whole "hiking in camo" thing. It seems counter intuitive if you want to stay safe.Ie. Rescue or hunting season. Hi visibility gear has a very important place.)

After my initial hesitation at the intersection with the bear-men I continued trucking it on. The men were very stunned to hear that I was going up Clingmans that day. I maintained my speed of around 3.5-4mph up until the last few miles before the AT. MY Leki treking poles kept me climbing the gentle grade aat my pace but at about 4,000ft I was stuck in a classic Smoky Mountain rain storm. Due to the fact that my Scarpas are not waterproof I put on my river/camp shoes (addias Boat lace CC's) These are not hikers and I started loosing time. When I made it up to the AT the sun started to break out through the clouds to reveal some of the views. I took the opportunity to put my trail shoes back on and continued to Mt. Buckey Clingmans and Mt. Love.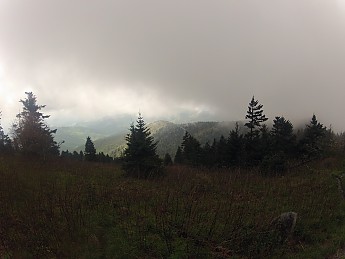 At Clingmans I ran into one of my most hated hiking experiences. After hiking dam near 15 miles and climbing over 4,000 feet, there were tourists who drove to the summit of Clingmans so surprised to see a hiker.  I spoke with a few people for about a half an hour, talking about the Country and its many great public lands.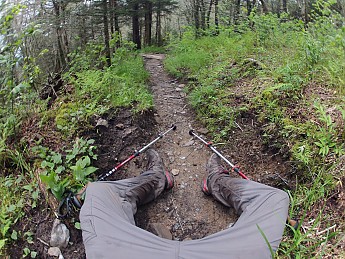 I left the fire tower at the top of Clingmans and hiked on towards the Mt Collins shelter slightly off the AT. When I arrived at the shelter there were 16 thru-hikers at the shelter forcing me to pitch a bivy site near the shelter. Although it is a wet place my sleeping bag of choice for that night was my Marmot Lithium 0degree bag. (I use it as am all year bag;  just open it to vent depending on temps. Lowest temp that night was 31) I met a few interesting people there. One gentleman they called "Tortuga" spoke to me about my adventures out west and gave me insight onto where to go.

My Suunto Core was waking me up with it's Storm Alarm function so in the morning I reasoned that it was going to rain all day. I convinced myself that spending my other night in the park was not what I wanted to do so I got ready to hike out. I got out of the shelter at Mt. Collins just before sunrise. It started storming almost immediately and my poor non GTX scarpas had some trouble. I decided to keep them on and trail run some of the shorter, safer distances. Rain in the deep south has often been described to me as being a "violent attack upon the ground" and this day was the epitome of that concept.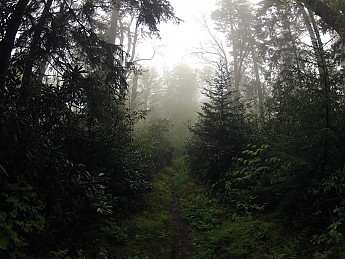 I exited the park at 10:30am on may 9th having completed all my objectives  one day early. Having only spent 25 hrs in the park I covered my 29 miles, climbed the 3rd highest peak on the east coast and spent the night.
**All photos taken with the GoPro2 HD camera**
-mumblefords
P.S. I have obviously returned from my Olympic NP trip. A teaser for that TR: