Patman
REVIEW CORPS
3,293 reviewer rep | 2,327 forum posts
7:37 p.m. on June 20, 2012 (EDT)
I wanted to meet Tipi Walter last weekend for the Hammock Hang event but I needed to stay in cell range for my job so I planned a route to accommodate that. I planned a reliable old loop hike in the Smokies: Anthony Creek to Treemont and back via Russell Field and Derrick Knob.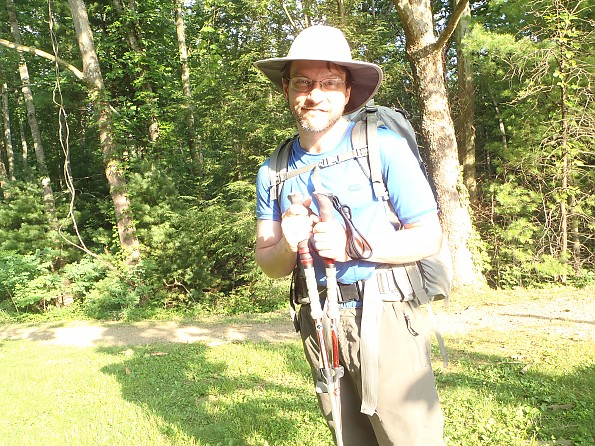 I started up the Anthony Creek Trail just before 7 PM last Friday. Notice that I was wearing a pack when I started.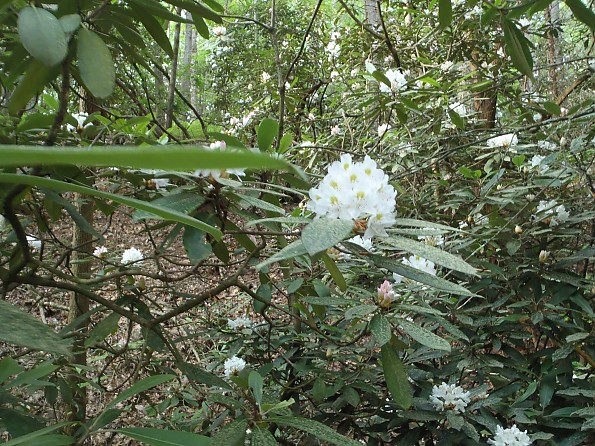 There was still a lot of blooming Rhododendron.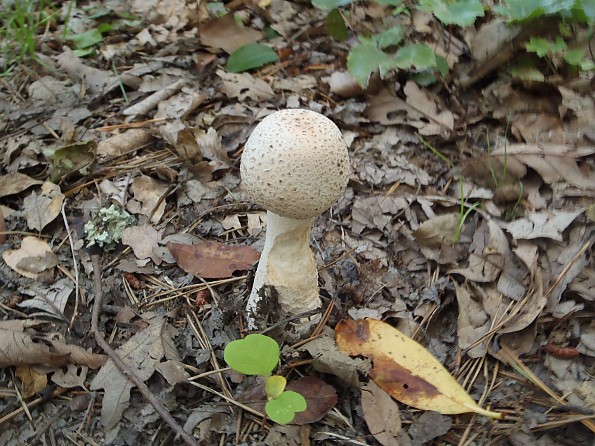 And up where the trail levels out for a while I passed this neat mushroom.
I reached the shelter a little before 9PM and found two fellows already there.
 I'm still experimenting with the tarp so I pitched it out in front of the shelter about 40 feet away under some trees. (yes, I know that kind of thing is frowned upon)
After setting the tarp and blowing up my sleep pad, I hung my food and pulled some of my stuff out of the pack….clothes, sleep pad, blanket, diddy bag etc… I was about to hang the pack like I usually do and decided to wait until I got back from the water source because I wanted to get a few more things out.
It was dark by then (about 9:20 PM) and I went to go get water.
When I got back the two guys in the shelter called me over and were all freaked out. They said two large bears were roaming the area and had come by the front of the shelter while I was gone. They also said they heard some thumping around and assumed it was me (too dark to tell).
I immediately ran up to my little camp and noticed that my pack (which had been leaning against a tree) was nowhere in sight. I had only been gone for 15 minutes. I beat the brush in the immediate area by headlamp trying to find it to no avail. I then search up in the woods behind the shelter for about 30 minutes and heard a lot of moving around in there and decided to wait until morning. If I had found a bear still chewing on my pack I don't know if I could have persuaded it to go way or not anyway.
So after a restless night I got up and canvassed the area as best I could. I spent about three hours looking in all directions, and the two guys helped for while. I didn't find it.
So I had to decide if I should continue my hike with no pack, wallet (including drivers license and bank cards), toilet paper, water treatment, stove, fuel, head-net, bug spray, first aid kit, etc…I decided that for two more days, I could make do without all of that stuff….except the pack. I still had 27 miles (43.4 kilometers) to go on my planned route.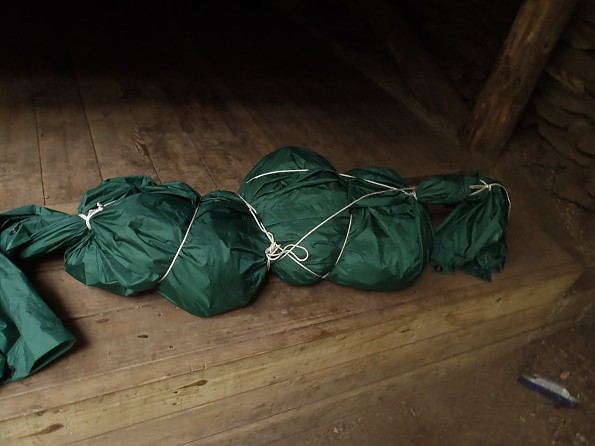 I wound up wrapping up my remaining gear in the tarp. (It was all I could think of.)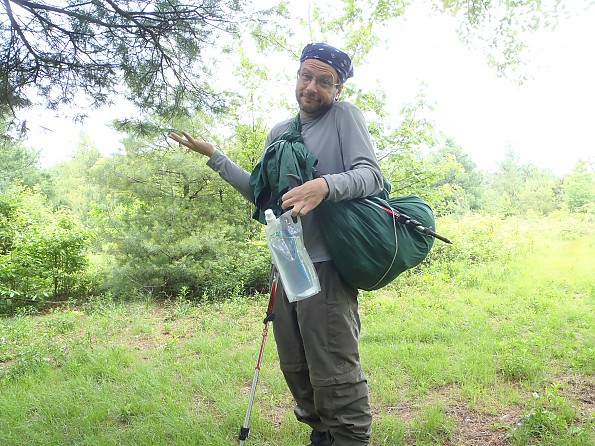 I tied the ends together and wore it like a Mexican mother carries her baby in those wrap things.
I skulked back down the mountain agitated and defeated.
I reported the incident to the Backcountry office and they said a "wild-life expert" or some such would call me back to get details. They also said they would call me if the pack turned up (and mentioned that in such cases the stuff usually turns up on the trail somewhere).
I got home in time to head to the County Clerk office that was open on Saturday and got a new license. I also canceled my bank cards.
Well, I got a call Monday from the Backcountry Office; someone had found my pack and brought my wallet to the Rangers Station! Since I had already dealt with that stuff my first question was:"did they find my pack?" Turns out they had hung it up on the bear cables at the shelter.
 So now I needed to go get my pack but I have to work this upcoming weekend….what to do?
So I planned a midnight run after work Tuesday: get off at 5PM drive the 1.5 hours to the trailhead, high-tail it 5.5 miles up the mountain, grab my stuff (if it was still there), hike back down in the dark and drive 1.5 hours back home, sleep for four hours and then go to work! Not a great plan but hey I brought that stuff up on the mountain and I'm responsible for cleaning up my mess.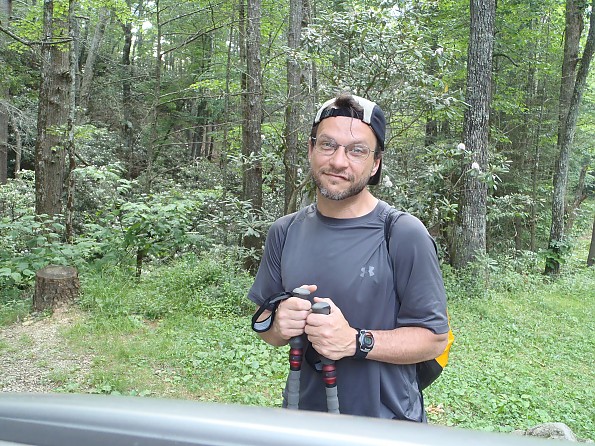 So here I was Tuesday after driving to the trail head.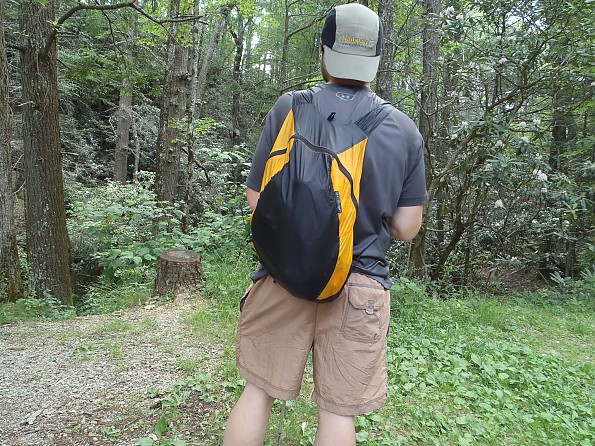 I brought my Seat To Summit day pack with three liters of water, a few protein bars, rain gear, etc.. (And Trailspace hat of course : ))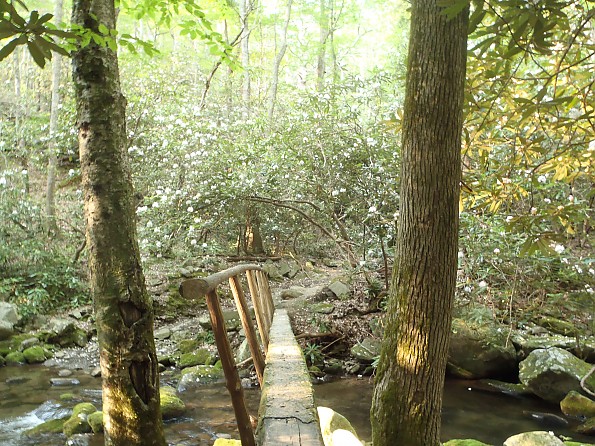 It was a beautiful evening but I was focused on making time.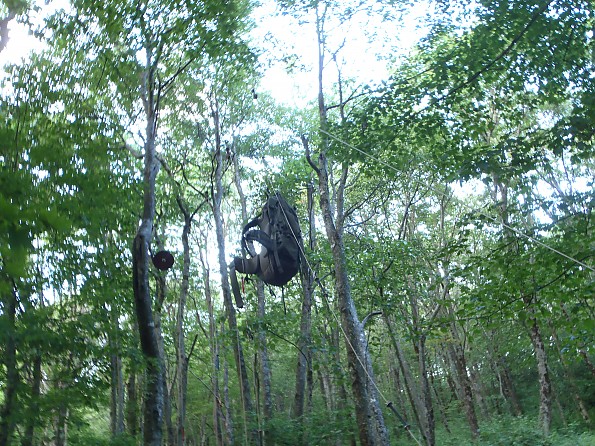 Woo-Hoo! My pack was still hanging!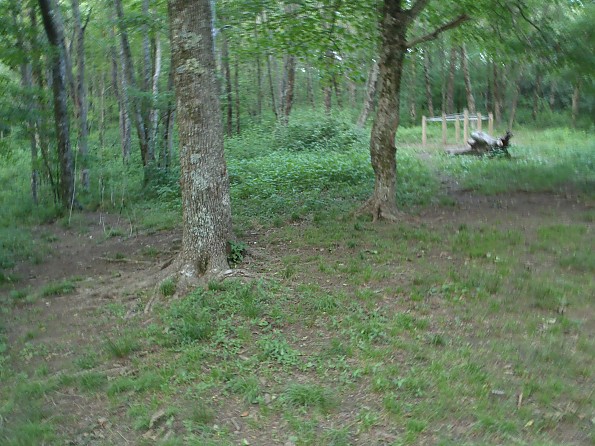 The tree to the right in this photo was the scene of the crime.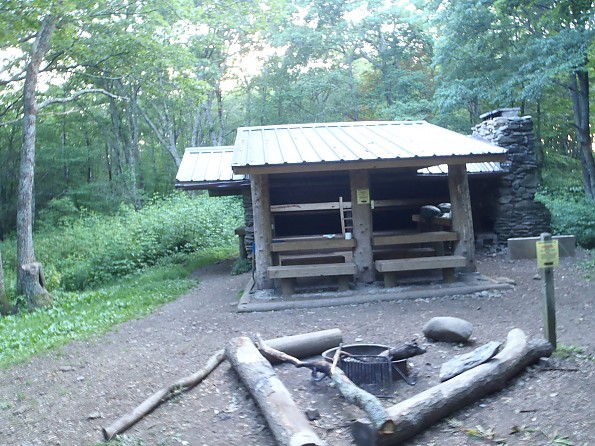 And here is the shelter. (I'm now way more familiar with this area than I really wanted to be after all my searching).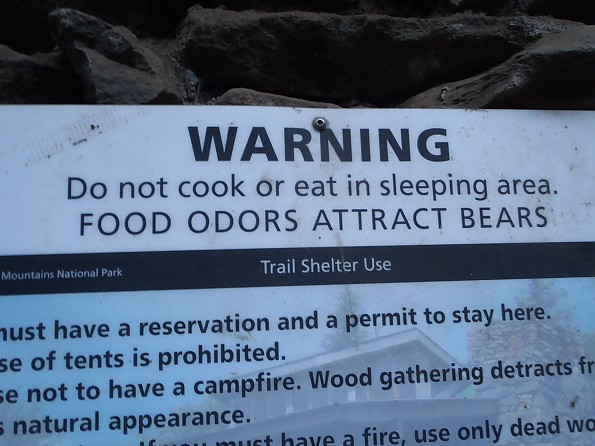 You don't say?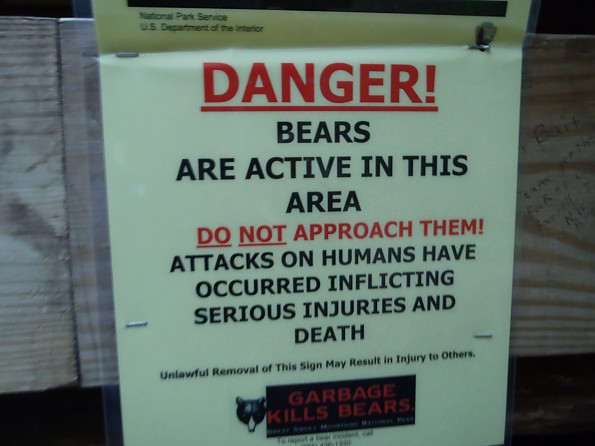 Yep…I must agree.
 I raced the sun back down the mountain. Wouldn't you know that I ran into a huge bear on the way back? No joke, that big guy crashed all around the woods; I shouted and clacked my poles on rocks and kept on trucking. It sure got my adrenaline going as I was all alone in the dark coming down the mountain wearing an ABC pack. (already been chewed)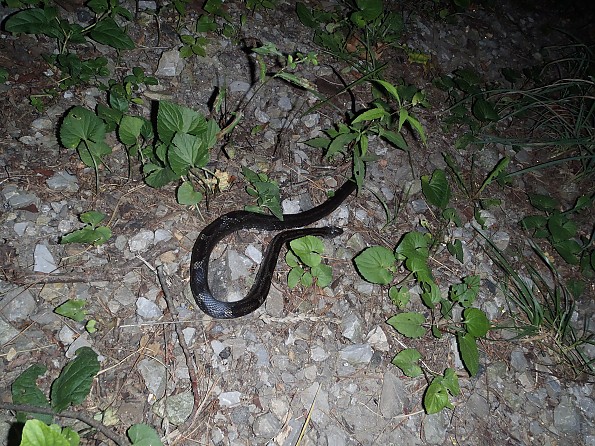 Hmmph, somebody went psycho on that little snake.
And so here is the damage: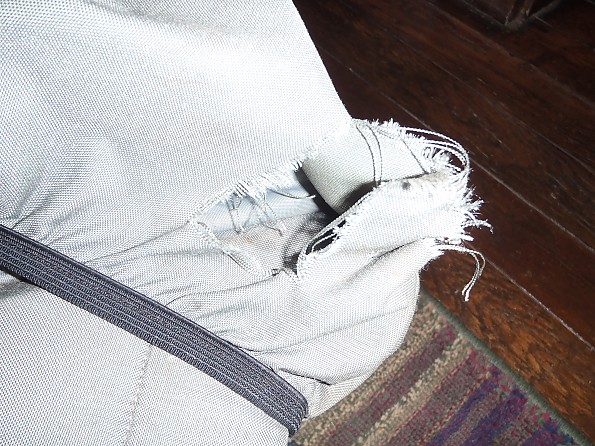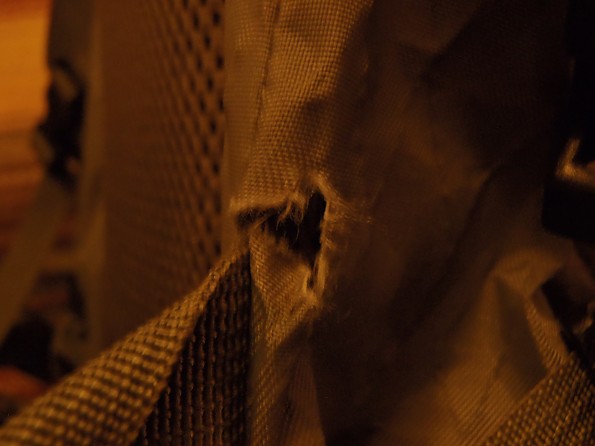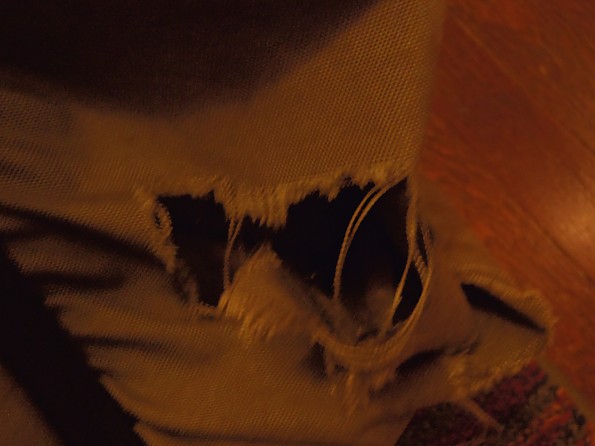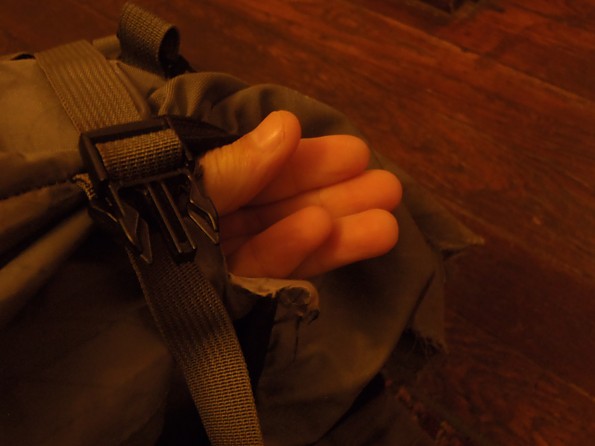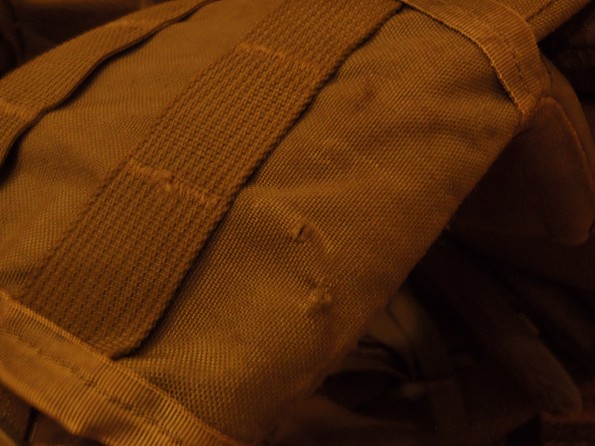 I'm going to send some picks to Mystery Ranch and get a quote for repair. Hopefully it won't be too expensive!
So the other strangeness: several of my items are gone and I'm certain they were taken by people. They took my JetBoil, my TP, my head-net, my Aqua-Mira, and my pocket knife.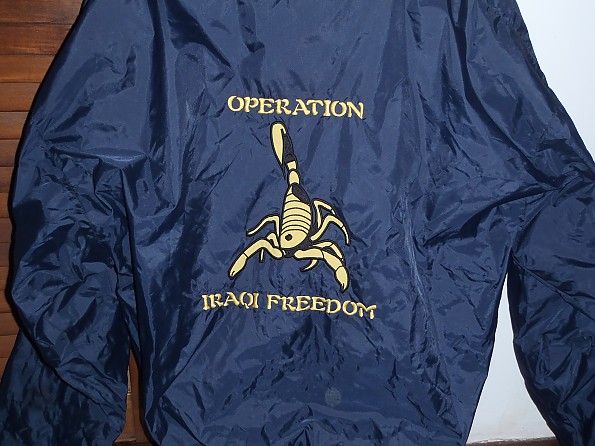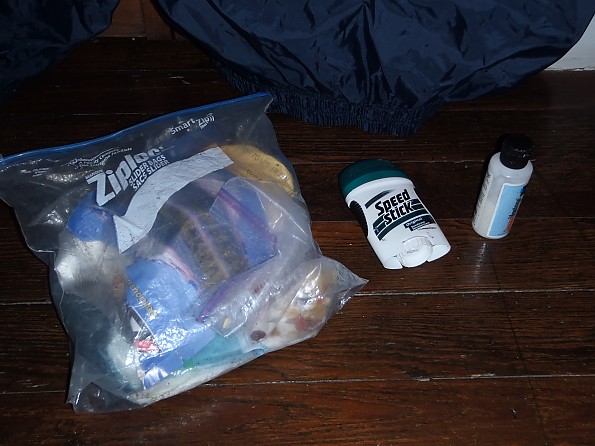 But the stranger thing is that things were added! They put in a bag of garbage, a full container of Speedstick deodorant, a bottle of lotion and the grand prize….an Operation Iraqi Freedom Jacket!
Oh the things my pack has seen!
I had been racking my brain trying think of any food or attractant items I might have left in the pack. I was considering that I left it really close to where Gonzan was grilling onions on Roan Mountain the week before; maybe it picked up some odor? But after seeing where it was ripped (lower left side) I finally remembered what I left in that pocket: coffee grounds! Starbucks House Blend which we all know is a favorite of black bears everywhere.
I've left my pack laying like that in bear country a thousand times but finally got caught. So let this be a lesson to you! (er,,,,and me)
Happy Trails!
Patrick