Cleric
73 reviewer rep | 303 forum posts
9:27 p.m. on July 7, 2012 (EDT)
It has been nearly a month since I have gotten home from my Wilderness EMT course.  It was a VERY busy month of completing my frontcountry EMT licensing and getting back into the swing of life.  A month away from wife, kiddos, work, and other things is a wonderful thing in its own way... and a horrible thing in its own way as well!  But, now it is finally time to share this experience with all of you.
In a word: AWESOME.
We were located at the Glacier Institute's field camp just inside the park's western entrance.  So, our day-to-day living was not as backcountry as hoped/expected.  We had showers, running hot water, a kitchen, and cabins.  But, after a few weeks of hard studying and working, these pieces of civilization were appreciated.
The course was run by Aerie Backcountry Medicine.  The company runs 4+ WEMT courses each year and many, many WFR (Wilderness First Responder) and WFA (Wilderness First Aid) courses.  We had three main instructors; two  of whom stayed at field camp with us.  We also had several guest speakers and additional swiftwater rescue instructors from Whitewater Rescue Institute.
Our days mainly consisted of hours of lectures broken up by practical drills in the surrounding woods.  Bear in mind that the WEMT license is actually a EMT-B license with additional training.  So, the lectures were necessary to cover all the medical conditions, etc.
Photo break!
Picture of me applying a little magical O2 to a "patient" who was "hypothermic" and having an "asthma attack":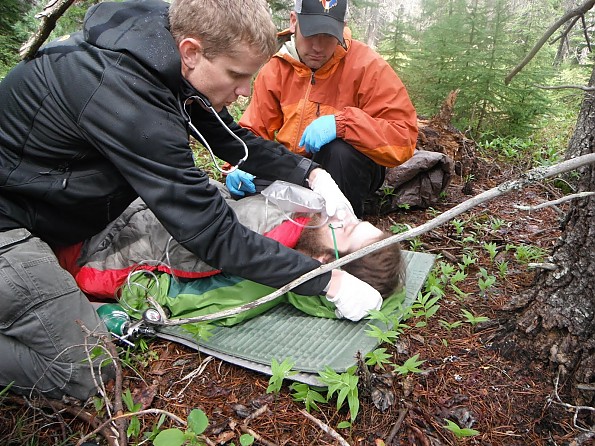 Yours truly being immobilized in a backpack litter with a "Montana Horse Collar" and "Idaho (Blue) Bonnet" blanket wraps being used to immobilize C-spine: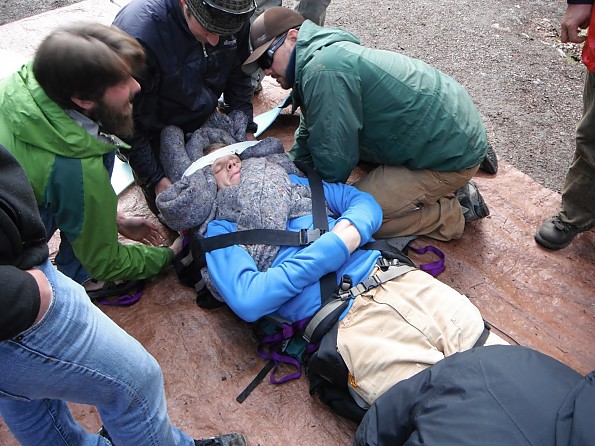 A.L.E.R.T. Life Flight crew coming in to do helicopter safety and generally answer questions as to why they are so awesome and amazing: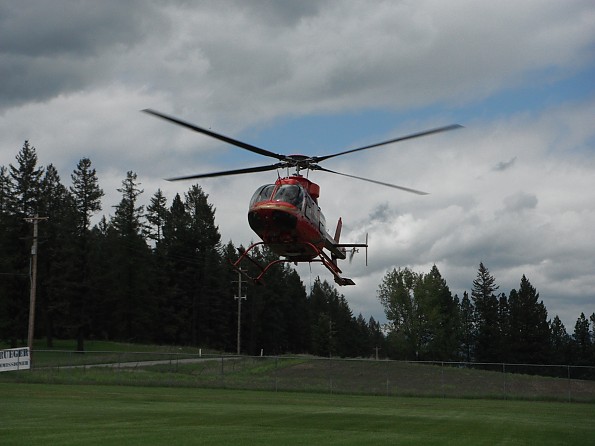 And, as a bonus, the Whitefish, MT Fire Department let us finish off some practice cars with the hydraulic spreader and shears (NOT part of EMT training!).  I had substantial bruises from this particular door: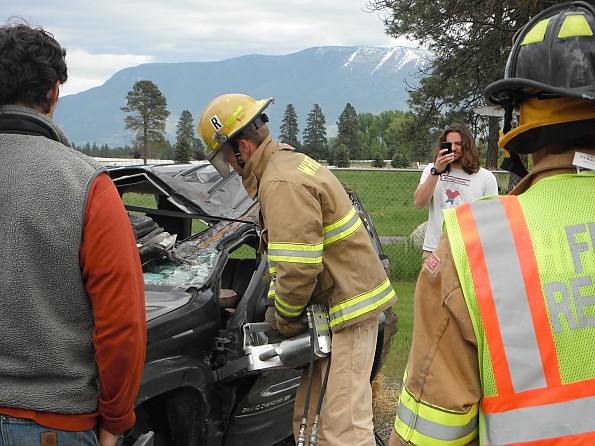 The course was a fascinating balance between the frontcountry EMT material and backcountry adaptations of it.  Clearly, you aren't going to carry a full trauma pack or med pack into the backcountry every time you go, unless you are some kind of mule (or have mules along).  The backcountry adaptations were just that... how do you adapt these skills to limited resources and extended evacuation time?  In short, improvisation and a few skills and decision-making tactics that aren't advisable (or legal) in the frontcountry.  
The course was also flushed out by a couple of special events.  We had an incredible and overwhelming lecture from a MD who is an expert on high-altitude medicine.  If I learn as much about high altitude pulmonary edema and cerebral edema as he has forgotten... those I care for will do fine! :)
We also were treated to two days of swiftwater rescue training.  The instructors were amazing guys who swam like otters in the Middle Fork of the Flathead River with us.  They also had some of the BEST dry humor I have ever heard (and I consider myself an expert of that stuff).  We learned the basics of using throw-bags and doing "live bait" rescue swims.  I did things I never imagined I would do.  As detailed below:
Me prepping to do a "live bait" swim: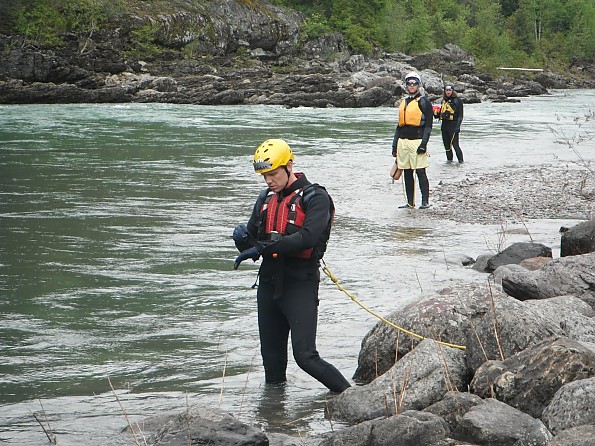 Me swimming into the current: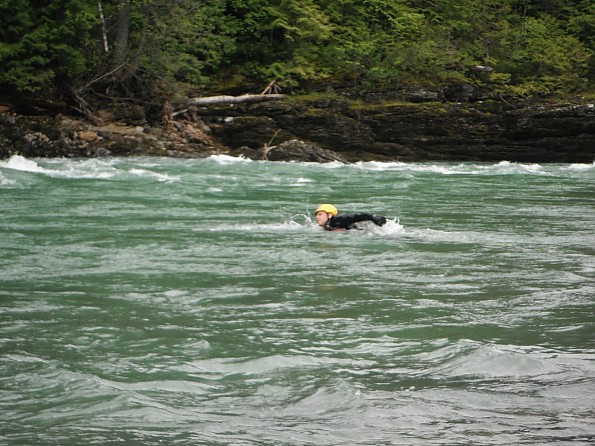 And, snagging my "victim:"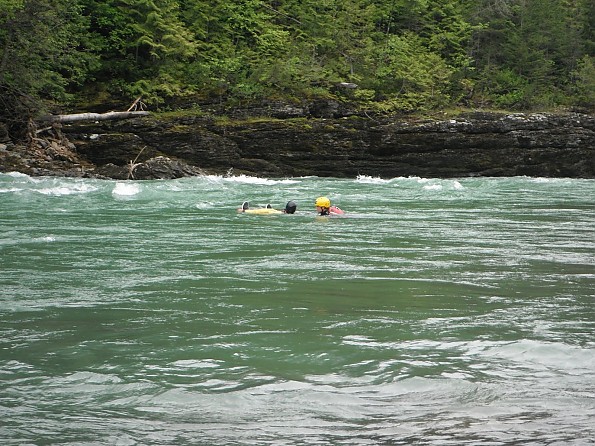 Quick note: Individuals go from "victim" to "patient" once they have been rescued and are in medical care.
The highlight of the course was the all-night mass casualty incident (MCI) that we had during the last week.  An MCI is any situation where the number of patients exceeds the care-providers resources.  We were dispatched at 9:30pm for a hike into the woods where we found, treated, and evacuated 12 patients.  Three of those were "programmed" to die.  Seven of those were walking wounded.  And, two took considerable effort to litter and carry out.  It was one of the most exciting, terrifying, and rewarding events I have ever done.  Yes, it was a simulation.  And, yes, the adrenaline was still there.  Obviously, cameras didn't perform well.  But, this gives you a rough idea of how it went: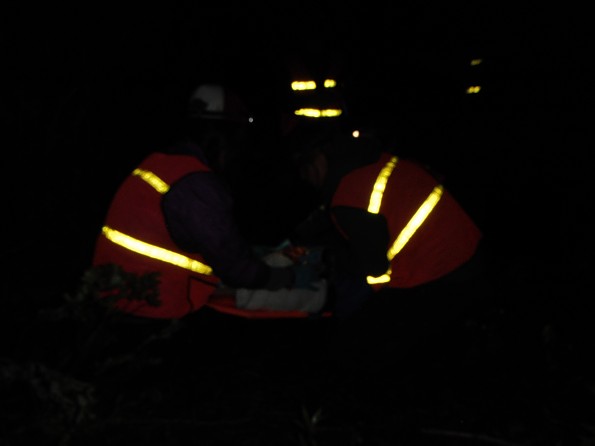 Ha!  :)
Overall, the course was a massive success.  Our instructors managed to teach us enough information that I passed the course and both the NREMT (National Registry of EMT's) practical and computerized exams.  I am now a fully-licensed Wilderness EMT and EMT-B for the state of Montana.  
It should go without saying that I am a HUGE proponent of wilderness first aid and preparedness.  If you have a month to devote and are able to maintain an EMT license, I highly recommend a WEMT course, particularly from Aerie.  If you don't a WFA or WFR should be mandatory for anyone who works and/or plays in the backcountry.
Full disclosure: Now that I am licensed I will be working more with Aerie as an instructor for them... so I am a bit biased about the great folks at that company.  But... I can also get you a discount! :)
Thanks for reading!  Ask any questions!