12:27 p.m. on July 26, 2012 (EDT)
BigRed

TOP 10 REVIEWER
REVIEW CORPS
6,632 reviewer rep
1,206 forum posts
With my wife and younger daughter in England for their own village-to-village hike in the Cotswolds (and my older daughter Molly back in Oslo with her boyfriend), Ralph and I were left to fend for ourselves. (Ralph is our dog -- actually his name is Sebastian, but we mostly call him Ralph). We decided we would go on our own four-day hike, mostly camping instead of using the huts.
The plan was to hit a couple of peaks in Sunndalsfjellet out towards the west coast, but the weather forecast was not good, so we decided to revisit Rondane,  an isolated alpine plateau/mountain range in eastern Norway, where the weather is often better than points west. We have been there several times, at least once in all four seasons, but mainly for skiing. But we were always based in Mysuseter on the south side of the range, where we have stayed at friends' huts or rented one for ourselves. So Ralph and I decided to go through Folldal to Døralseter on the north side of Rondane, as a starting point for a round trip that could potentially include ascents of nine of the areas ten 2000 meter summits.
Rondane is lichen country -- there are nearly continuous carpets of lichen on under the trees in this pine-lichen woodland,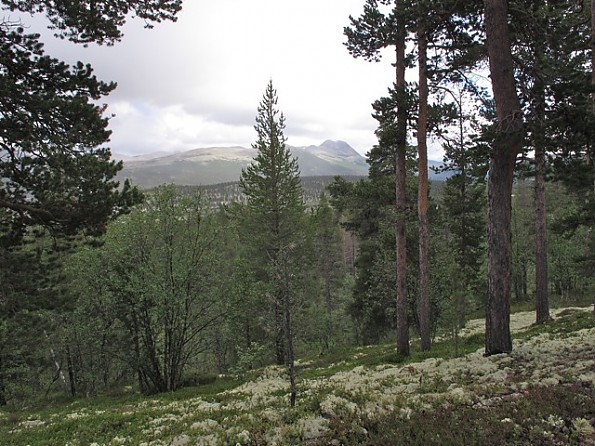 and on drier slopes and flats above treeline.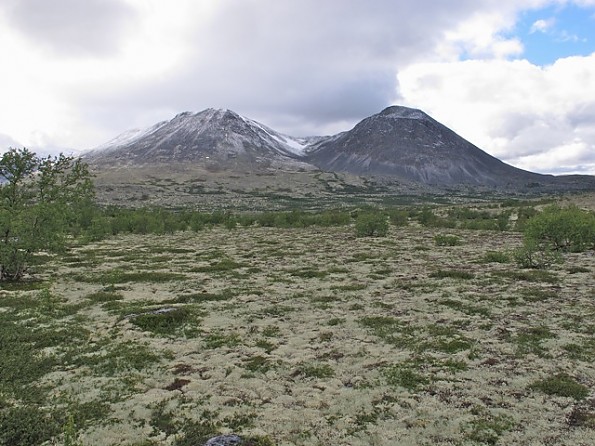 Here's a close up of one of my favorites, Stereocaulon paschale.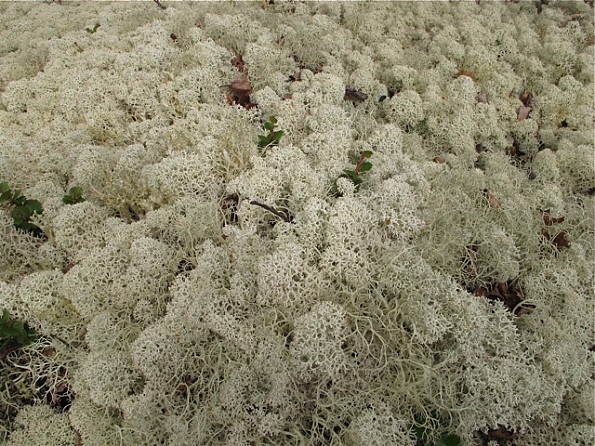 The river flats where I camped the first night were also blanketed by a nice spongy covery of lichens, but they had sponged up a lot of water from recent rains, so I camped on a little bit of mostly bare ground created by previous campers.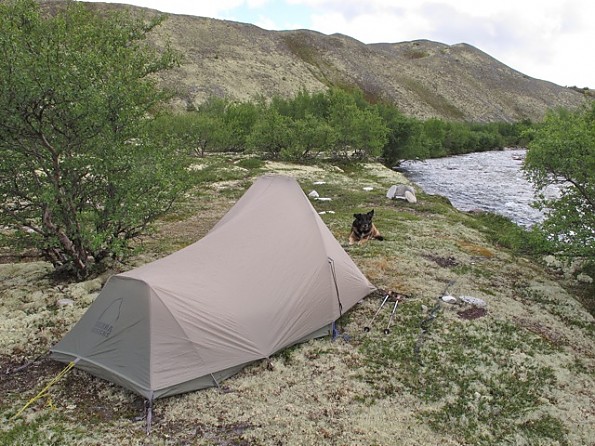 The first major goal was to traverse the four 2000 meter peaks (all within a few meters of 2015 m) that form Rondane's northern ridge, beginning with Digeronden: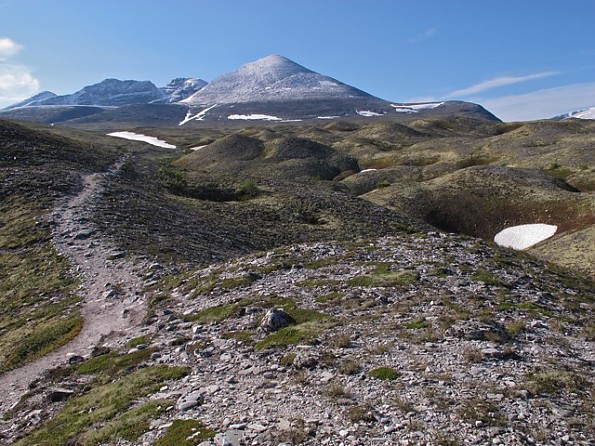 Yup, that's new snow, in late July! The whole foreground is a "textbook" example of kame and kettle topography, formed when rivers flowing over, through, and next to ice deposit a blanket of sediment. Then when the ice melts the sediment forms a sort of 3D negative of the ice. Here's another look: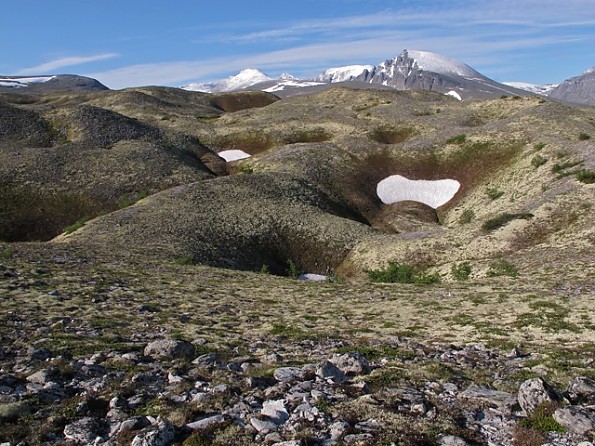 Early on I took off Ralph's pack se he could have a nice roll in the snow: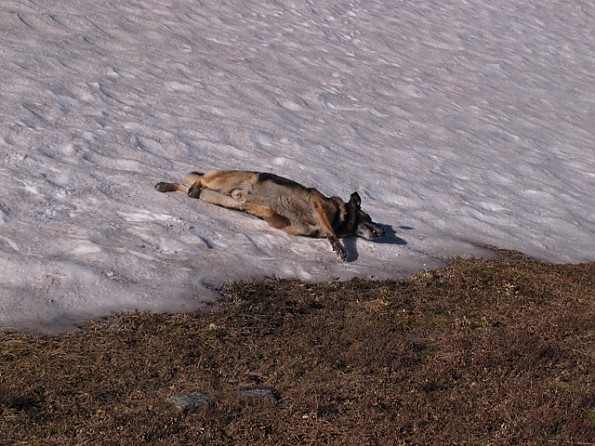 There is no trail on Digeronden, but there is one over Høgronden at the other end of the ridge, and we used that to get closer to the mountain and then just set off a cross the tundra. The upper slopes were steep and loose rock well greased with new snow snow that built up to about 10 to 15 cm (4 to 6 inches) at the summit. On the way up we got a good look at the ridge to Midt-Ronden an its unnamed neighbor, the next two peaks on the list: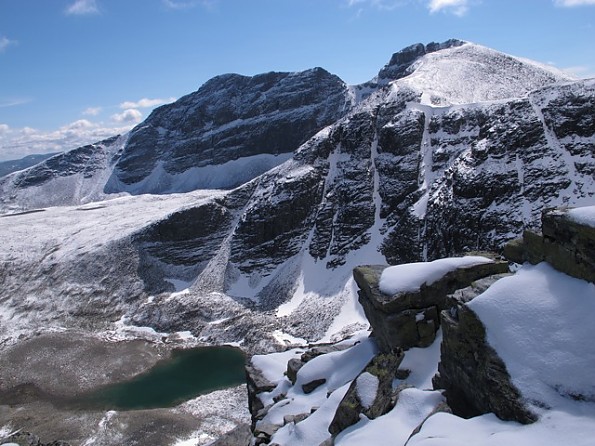 It's more forgiving on the other side, but I was carrying my full load and the going was real loose and slippery, so already I started to doubt the wisdom of continuing with Plan A. Nice views from the top, though. Here's Ralph checking out Rondvatnet, a lake in a deep Valley that separates the eastern and western ranges on Rondane's south side: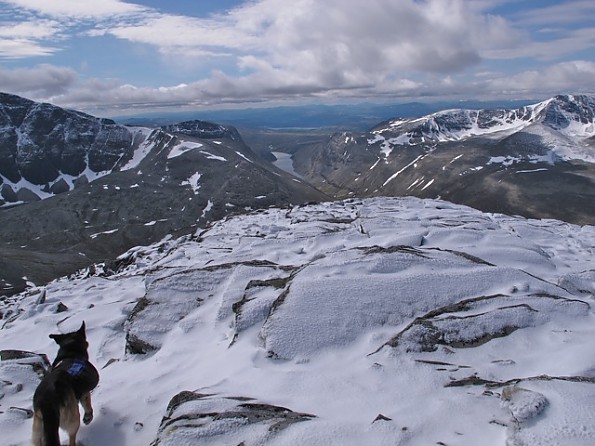 And moving a tad bit right, here's Veslesmeden, a 2000 meter top that I have done on skis and the only one not on the checklist for this trip, but I did want to hit Storsmeden and Sagtinden a bit further back: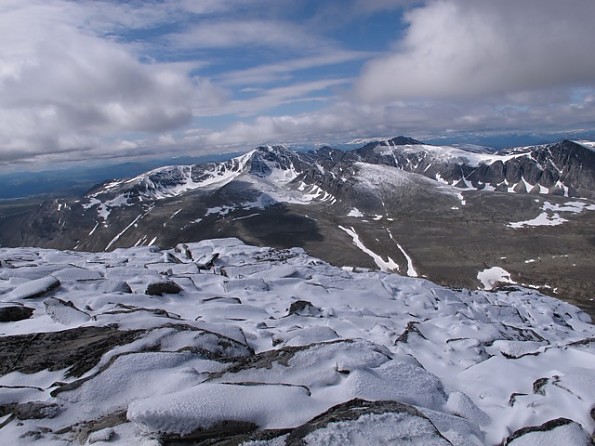 We could also look back down on the deposits near where we started and a beautiful alluvial fan right next to them: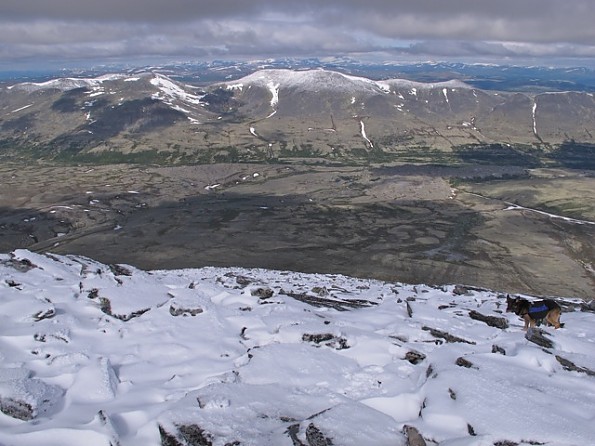 Here's a better look at the alluvial fan: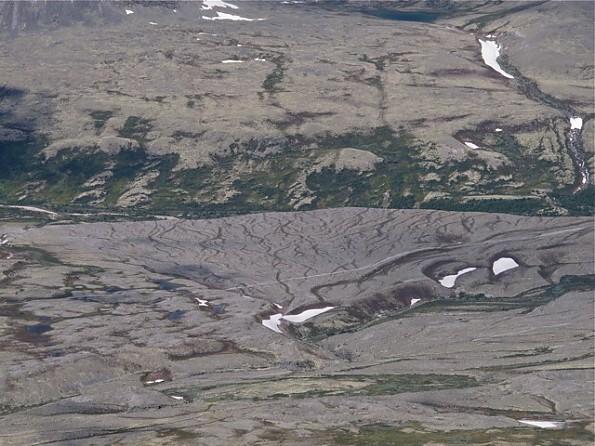 It's abandoned -- the stream that created it has cut a new channel along the R side, and the stream that runs through the valley at the top of the photo has also cut away at the front of the fan, leaving a 20 to 30 meter high terrace.
Here's the mighty Snøhetta on the Dovrefjell plateau, looking like a blown-out volcano but that's actually a big cirque on the N side of the mountain: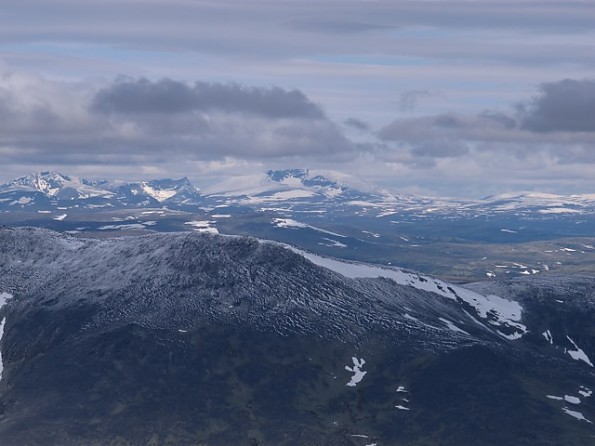 Getting down off the summit along the connecting ridge was steep, loose, and greasy, and after having my feet go out from under me a couple times we realized it was kind of stupid for me and Ralph to be up there alone and we decided to head on down. The way I chose turned out to be even more treacherous - the quartzite rock of these mountains comes apart in flat plates that all lie parallel to the slope and so are ready to slide. But we just geared it way down and picked our way down into Langglupdalen, the valley that separates this and the western range. That put us right under Rondslottet, at 2178 m the highest peak in Rondane: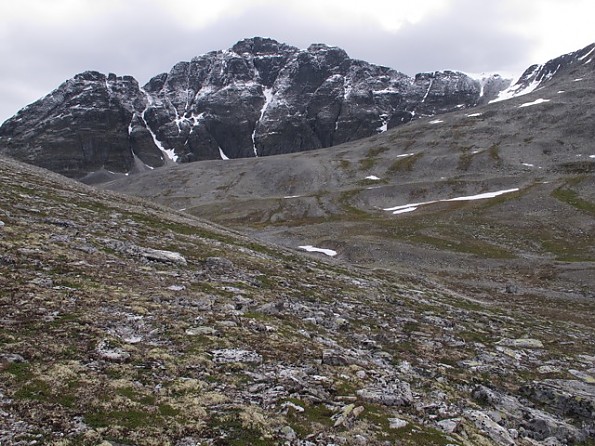 I've been up there once and on it's two neighboring peaks twice each, but if the weather was good (not!) I planned to traverse all three. We camped near a bridge over a gorge/cascade just enough down in the trees to get out of the moderate wind.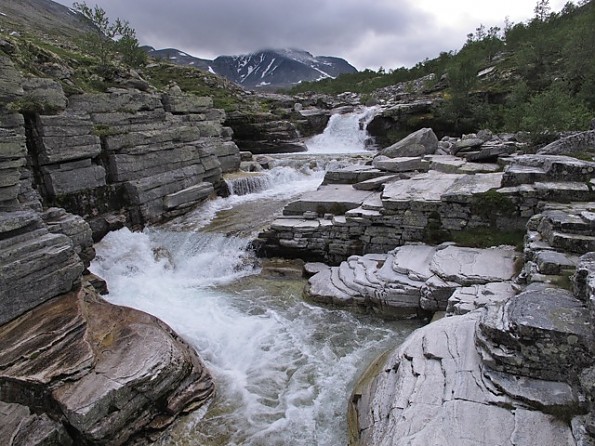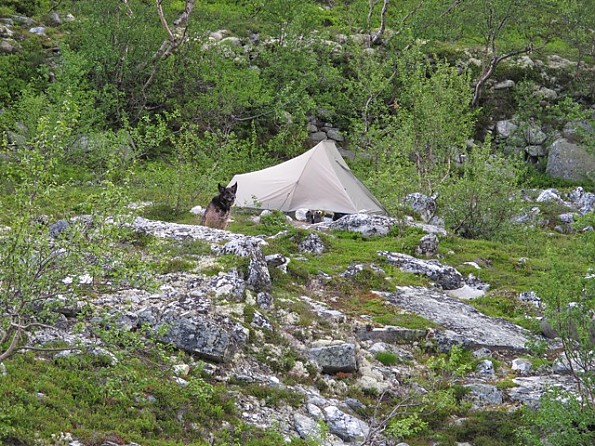 Ralph was pretty tired. The tent doesn't have much of a vestibule so to keep him out of the weather I spread out his towel and let him come in.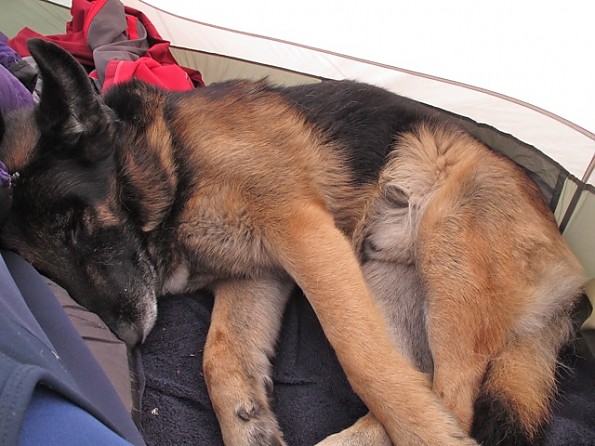 Up early the next morning, week took the trail up to Høgronden, at the other end of the ridge from Digeronden, and again decided not to do Midt-Ronden because of deteriorating weather and slippery conditions. Here's the summit slope of Høgronden, with a little stone emergency shelter in the foreground: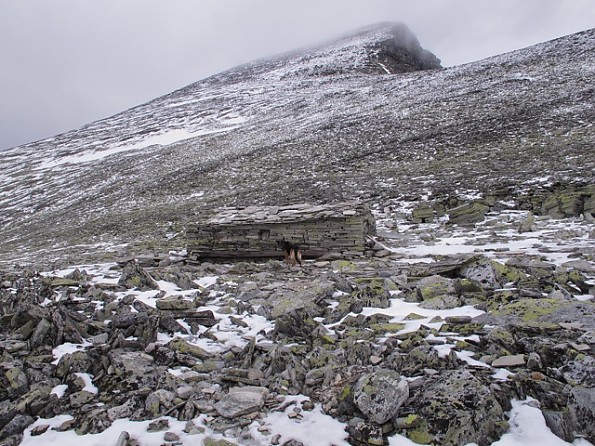 Ralph on top: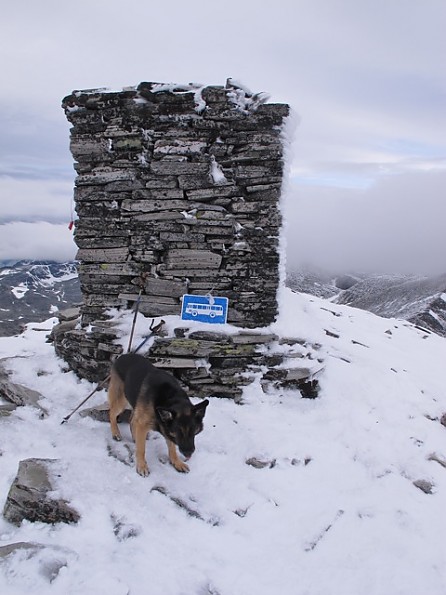 The boys at the emergency hut: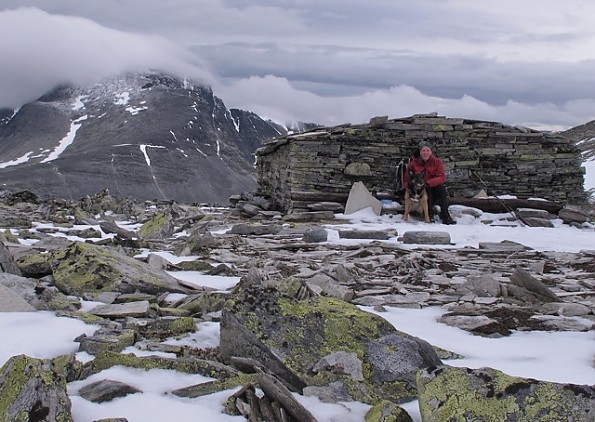 And cloud caps on Storronden and Rondeslottet: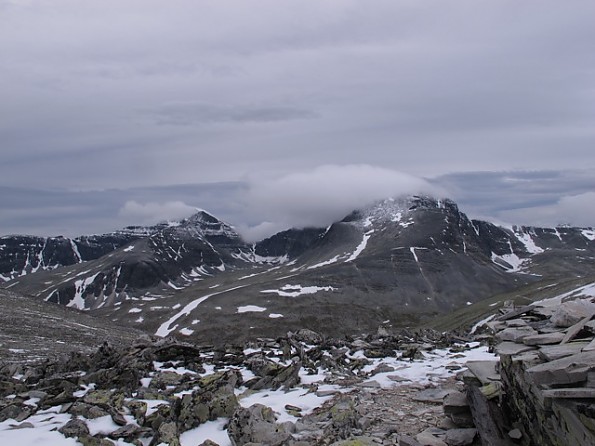 After getting down we broke camp and headed for Bjørnhollia, a full service hut down in the valley a ways. On the way it started raining steadily, and faced with a choice between a night in the hut or a night in a tiny tent with a a wet dog, I chose the former. Fortunately the hut a good dog room where it was OK for Ralph to sleep on the floor. SHower before supper, meat and potatoes for supper, cheescake and a long talk with a couple form Oslo for dessert.
These pictures kind of sum up the first half of the next day: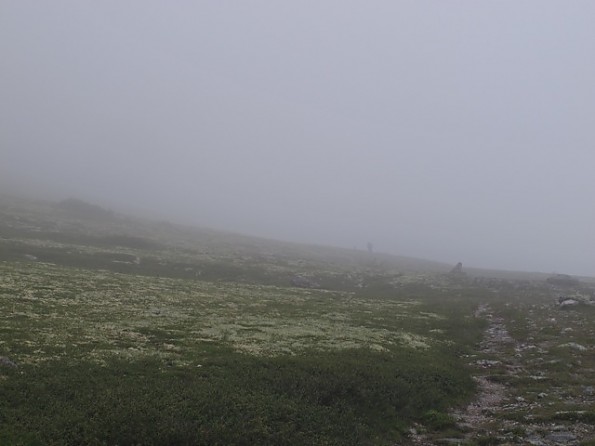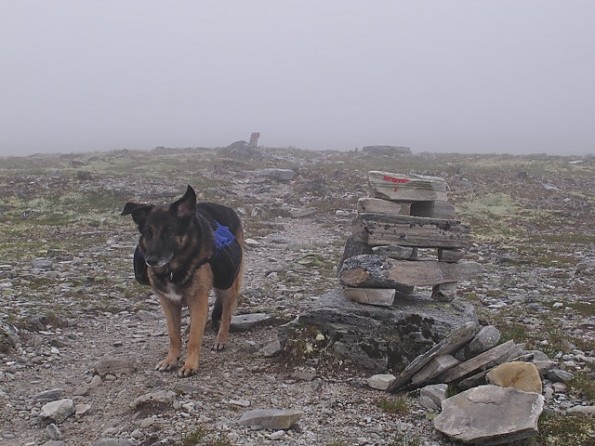 Sometimes this kind of fog can lift, or you can climb up above it, so to keep our options open for going over Rondslottet and Vinjeronden, we substantially retraced our steps up into Langglupsdalen.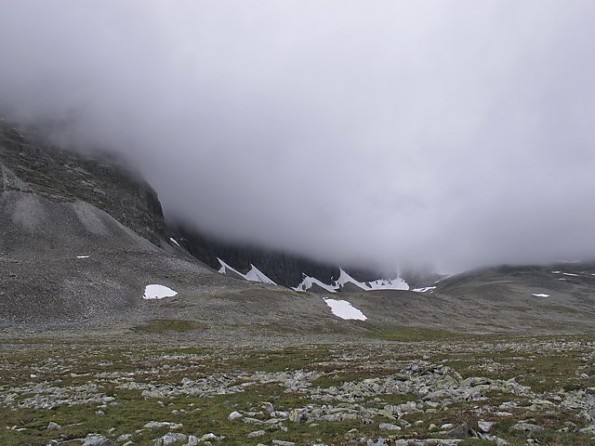 The clouds did lift some, but it still didn't look too promising up there, so we continued up the valley to take the low road to Rondvassbu, the central hut in Rondane, via a boat ride down the length of Rondvatnet.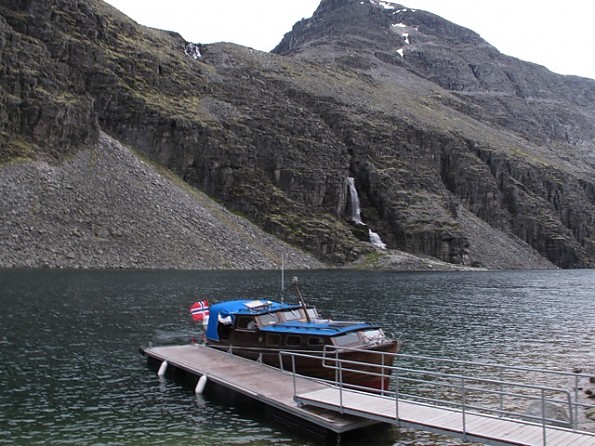 There was a Dutch family as well as an older Norwegian couple also taking the boat ride.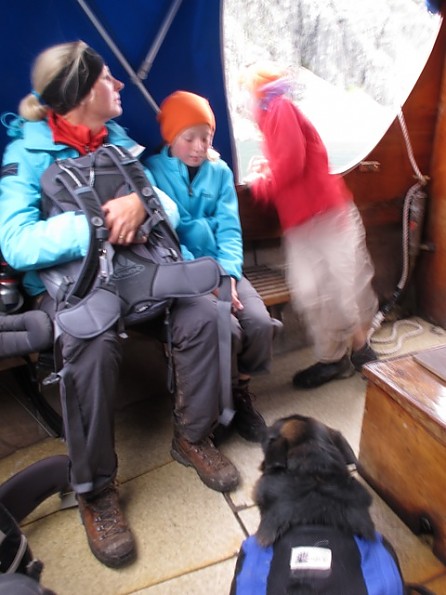 Rondvassbu was full to overflowing, but there is good tenting area just up the hill and we found a nice quiet site.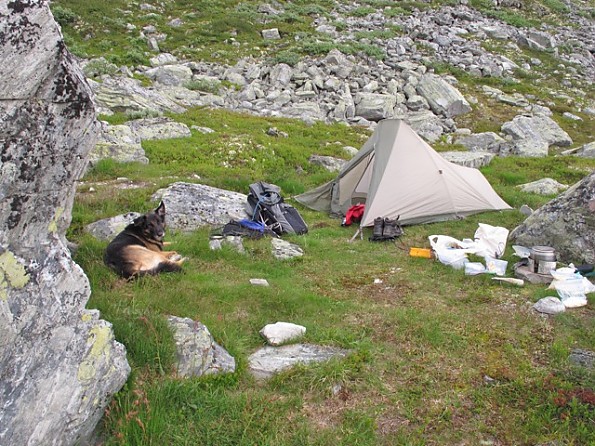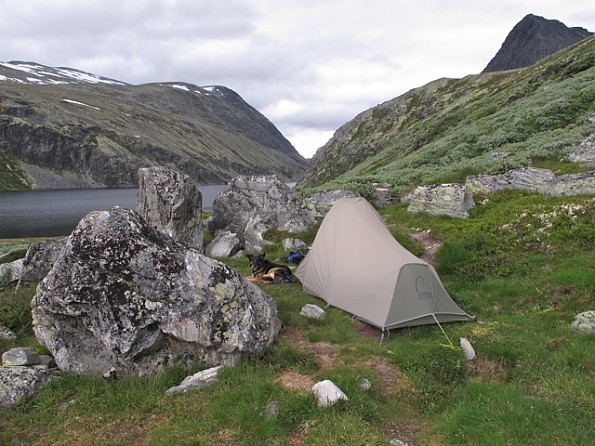 Above is a parting shot of Rondvassbu, a cluster of buildings on the R side of the lake. The plan for the final day was to circle back around to Dørålseter via a pair of out of the way peaks called Storsmeden and Sagtinden. The forecast was quite good, but it took a while for the clouds to move out. At least we were under them and could see down to the sunny lowlands: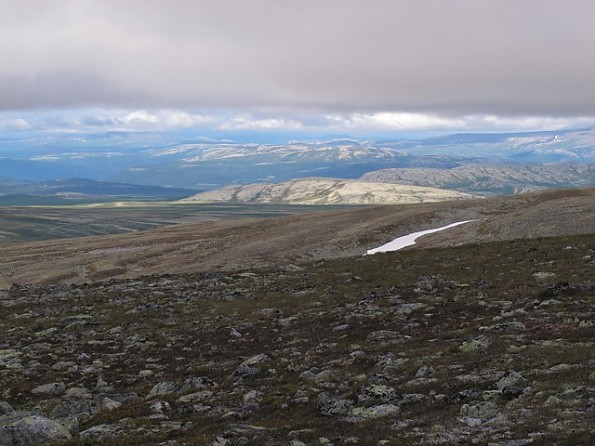 Storsmeden, looking rather triangular, the route a scramble up the L ridge from the col on the L: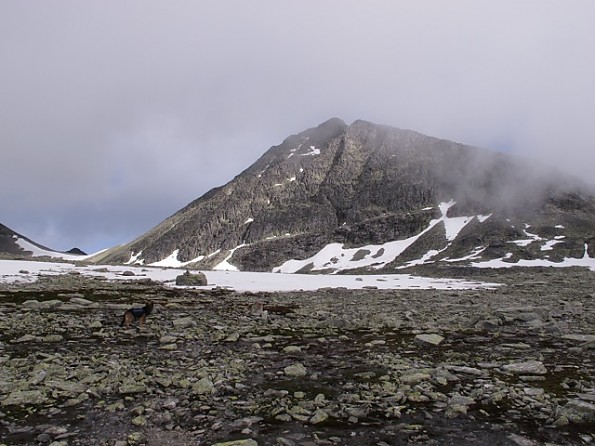 The col and the broad cirque below it: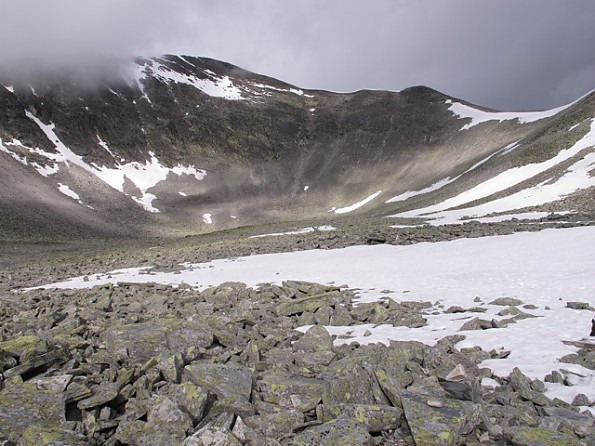 Looking up the ridge from the col: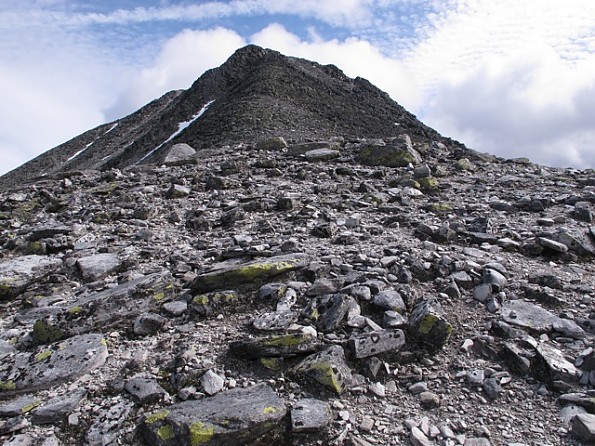 Ralph on top. That's Veslemeden nearest, Digeronden, Midt-Ronden and Høgronden L-R behind it, and Rondslottet still under cloud on the R: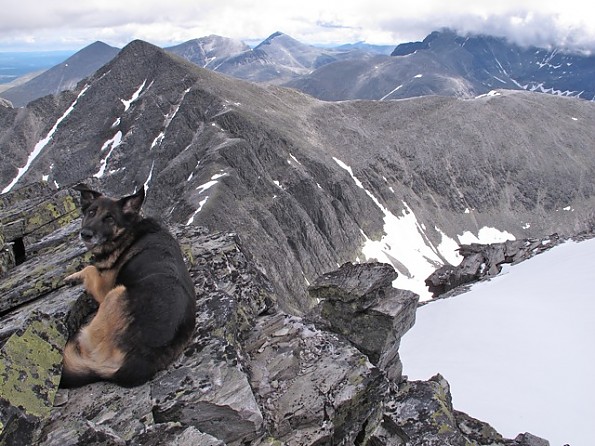 A look at the ridge to Sagtinden, which we once again decided to go in part because I wasn't show how Ralph would do on it: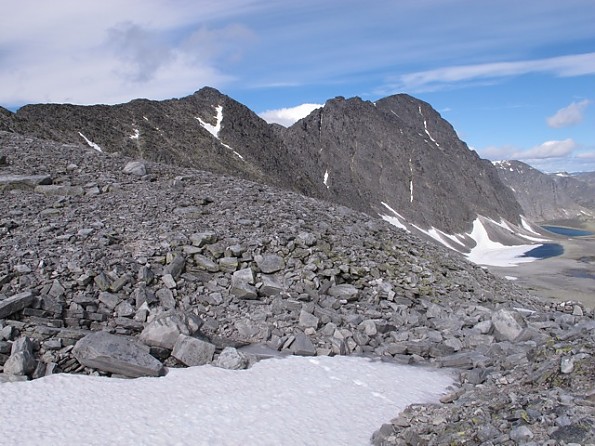 A fast glissade down to the really broad cirque on the N side of the col. Not much but rock and moss up here: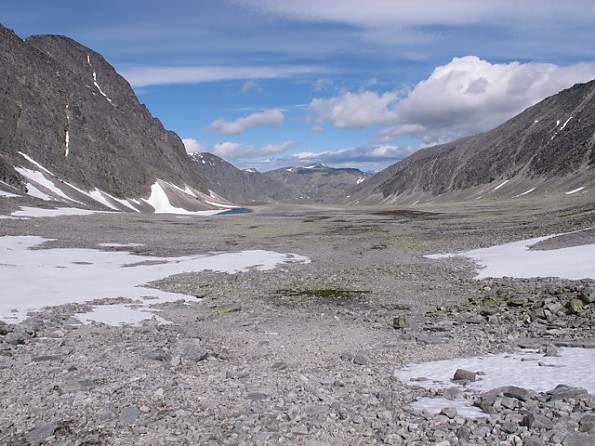 But it gets greener further down: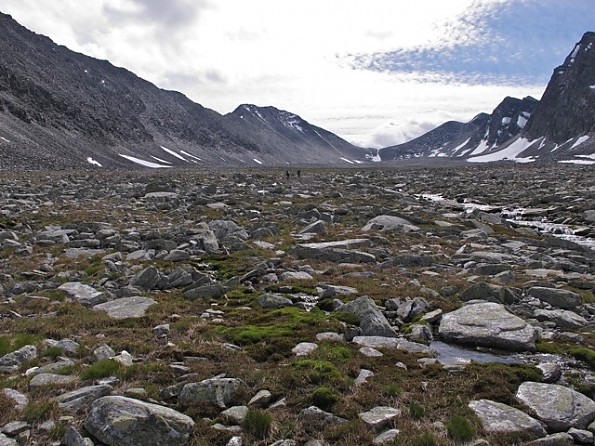 And lower still there were patches of cloudberries, unfortunately still flowering rather than offering fruit: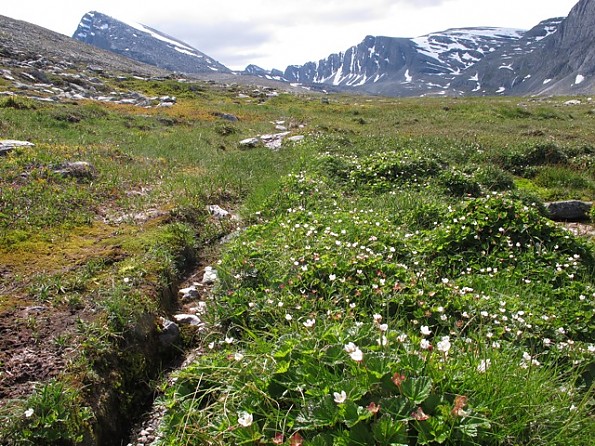 Mackerel sky: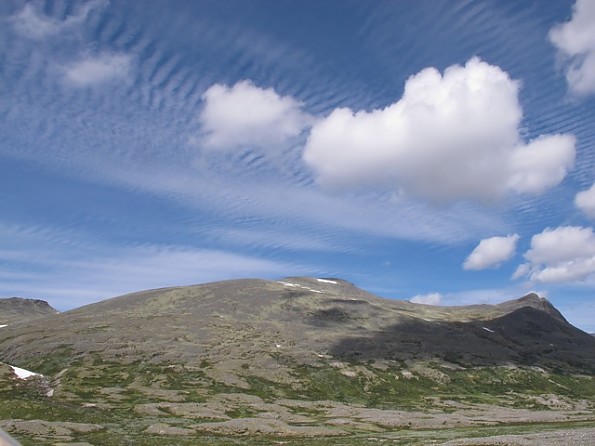 And here's Ralphie on the big alluvial fan, part of the long slog back to Døralseter: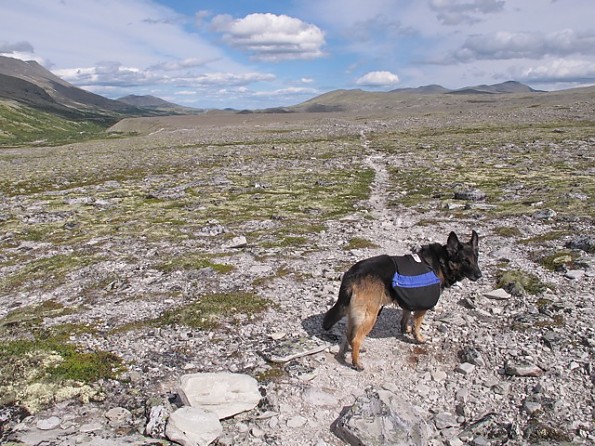 So, three new peaks over the four days, not as much as I had hoped, but I think I acted with reasonable caution. Maybe I could push it a little more if I could train Ralph in first aid or teach him how to use a cell phone in case I take a tumble. We'll have to work on that one.