1:15 a.m. on September 13, 2012 (EDT)
shashiraj8

0 reviewer rep
15 forum posts
On July 31, I summited Mount Rainier via Disappointment Cleaver Route with some friends and here is a report on the climb, along with some other information.
In June, 2010 I did a 12 day course with American Alpine Institute. To say the least, I was not prepared for this course and I learned my lesson the hard way. Next year in 2011, I put in more efforts into training and climbed Temple Crag  in High Sierras with friends from Vanderbilt University.
Earlier in April this year, I started training for Mount Rainier. I trained 4-5 days a week – 1 or 2 days of strength training, 2 days of cardio and a day hike over the weekend. I found this link very useful in planning my training. By mid-July I had trained for three months and hiked 50+ miles with a 45 pound backpack in my mountaineering boots. I felt good about the overall training, so I booked my tickets to Seattle. In the last week, I also practiced crevasse rescue at home and this video really helped in revising the technique.
A week before the climb, I started organizing my gear. I bought a 90L North Face duffel bag from REI and after several attempts I was able to pack all my gear (including 70L backpack, ice axe, trekking pole, boots, 15F sleeping bag) into this duffel bag and a 30L Lowe Alpine Summit Attack pack. One check in bag and one carry-on bag – light & compact and I loved it.
The team met in Seattle on July 27 and over the weekend we bought some gear - mainly food items from REI flagship store in Seattle. On July 29, two people went ahead and reserved a camping spot in Mount Rainier National Park. This helped us a lot, as the campgrounds in the National Park were full by the time rest of the group reached there by afternoon. After we setup our tents, we went to Paradise Climbing Information Center to get our climbing permits. Later at the camp, we organized personal as well as group gear. I was not carrying the rope and when I packed my bag, it felt lighter than what I have been training with, maybe around 40 pounds :)
The next day on July 30, 2012 we started our hike from Paradise parking lot (5400 ft.) at around 08:30 am. As you can see in the picture it was a beautiful sunny day.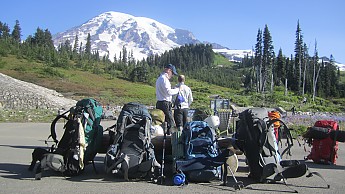 I am a slow hiker and my target for the day was to just hike at a steady pace for an hour and then take a rest. I had two 32 oz. Nalgene bottles – one filled with water and the other with water + hydration tablet. For food on the trail, I had pre-packed zip-locked bags with trail mix and bloks.
Our first stop I guess was at around an altitude of 6400 feet.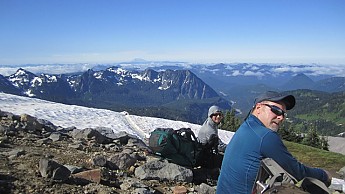 I was able to maintain a consistent pace I guess for the first two hours or so. Later, as it got steeper, it was bit more challenging and I slowed down. I stopped more frequently to take a breather. Another shot taken during one of the breaks –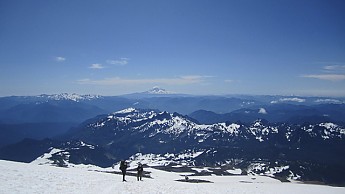 Finally after around 4.5 hours we reached Camp Muir (10,100 ft). We went into the shelter and were happy to see spots available for the group in the bottom bunk. We carried our tents, but decided to sleep in the shelter to save time. Once the rest of the group joined us, we melted some snow and had our lunch. Fellow climbers who had summited earlier that day warned us about the long wait times on their return. Our group decided to leave Camp Muir before midnight.  We organized our gear in two rope teams of four people. I tried to catch some sleep, but it was too noisy in the shelter. Finally at 11:00 pm everyone got up, had some food and at around midnight with our crampons strapped we were walking on the Cowlitz Glacier. Our first challenge was to keep the rope above the ground when we moved from snow to rock section on Cathedral Rocks.  It was not particularly difficult, but if you don't coil the rope properly, it can be a hassle. In the picture below you can see a trail that climbs Cathedral Rocks on the right hand side. This picture was taken earlier that day.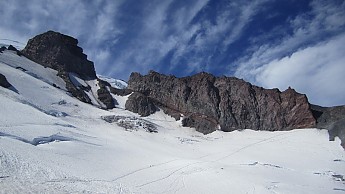 Walking with crampons on rocks is weird and I didn't particularly enjoy this section. There was much more to come in form of Disappointment Cleaver. Earlier, I had adjusted my crampons and walked in them to test the fit. It looked good. But on these rocks, it was really bad. The crampons came off a couple of times and finally a friend helped me readjust it and showed me the right way to fit the crampons.  After Cathedral Rocks came the Ingraham Glacier where we came across our first crevasse. After some confusion with the route, our lead rope team found the right route and we jumped over the narrow section of the crevasse. We did this a couple of times on the Ingraham Glacier.
The pace was much slower compared to the previous day. Once we hit the Disappointment Cleaver it was worse. The trail was marked with flags, but sometimes it was difficult to see them. At the final section of the Disappointment Cleaver, we had no clue about the trail. We were going up, but we were not on the trail for sure. As we were trying different routes, we saw a guided group coming up a trail on the snow. Two more groups passed and then we followed them. The map below might help to visualize the route and the overall topography of the area -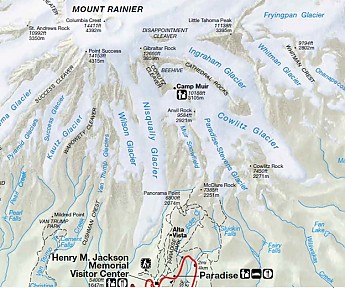 The 'final push' to the summit seemed never ending. Every time I thought the switchbacks were ending, few more would appear. There were couple more crevasses to 'hop' on our way to the summit. Finally at around 08:00 am we reached the Summit Crater.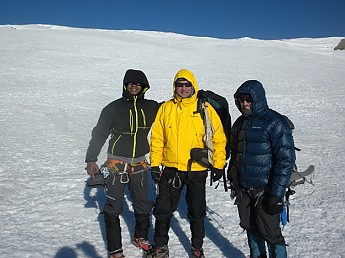 After a long break, we headed back to Camp Muir. On the way back, the view of the Little Tahoma Peak was beautiful and here is my favorite shot from the trip -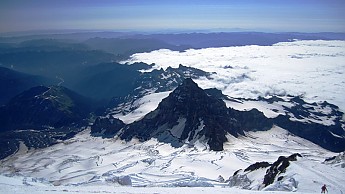 Few other shots that I took on the way back -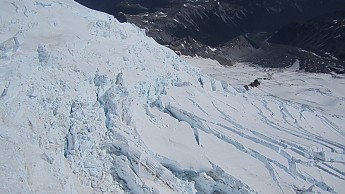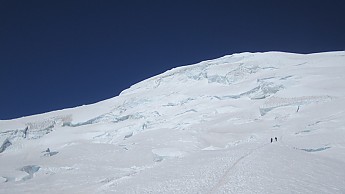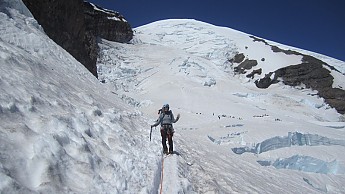 We reached Camp Muir at around 12:45 pm. It took us almost 13 hours to summit Mount Rainier and get back to Camp Muir. Everyone was exhausted, but the group was eager to get back to the parking lot. We decided to rest for some time and then leave at 03:00 pm. I had barely slept for an hour and I heard people packing their bags, getting ready to head down the mountain. At around 02:30 pm all of us were back on the trail to Paradise parking lot. When we got closer to the parking lot, we took a longer route by mistake, but finally managed to get back to the parking lot. The group celebrated the climb at Copper Creek restaurant with a delicious dinner and yes with their famous 'Blackberry Pie'.
I don't know what I will climb next year, but this climb has motivated me to continue with my training and push my limits a little further :)
- shashi...