Tipi Walter
295 reviewer rep | 1,450 forum posts
1:33 p.m. on October 17, 2012 (EDT)
4 Days with John Quillen, Gonzan and the Southern Highlanders
October 12-15 2012


My October is occupied with selling a doublewide trailer and moving into a house several miles away but still in the vicinity of the mountains of TN and NC, and so in the tumult of relocation I'm able to squeeze out a ridiculously short trip into the Citico wilderness and Hangover Mt to meet up with Trailspacer Gonzan and John Quillen and his Southern Highlander boys.
John is notable and a hero for trying to stop the GSMNP from targeting backpackers with overnight fees and reservations needed at all campsites.  He's my hero anyway.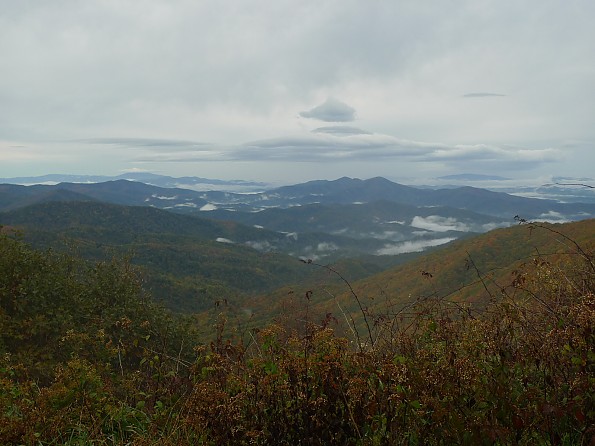 My trip begins at Beech Gap in TN where I leave the car and hoof it to the trailhead a couple 100 yards away but stop for this view off Beech Gap into the Unicoi Mountains.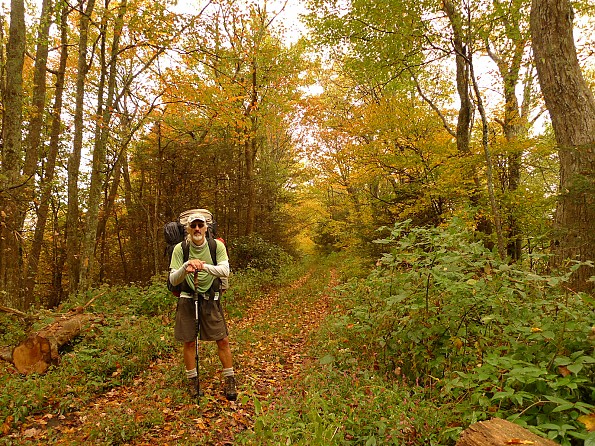 Here I am on the Fodderstack trail from one gap to another and then comes a thousand foot climb over Bob Mountain.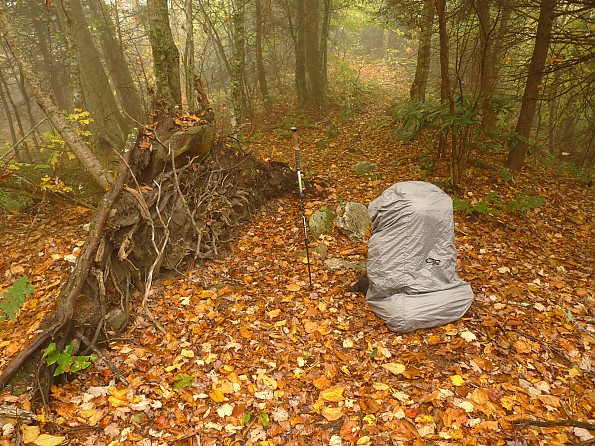 After the hump is over I take a break in wet autumn leaves and it's sad to know this trip is too short.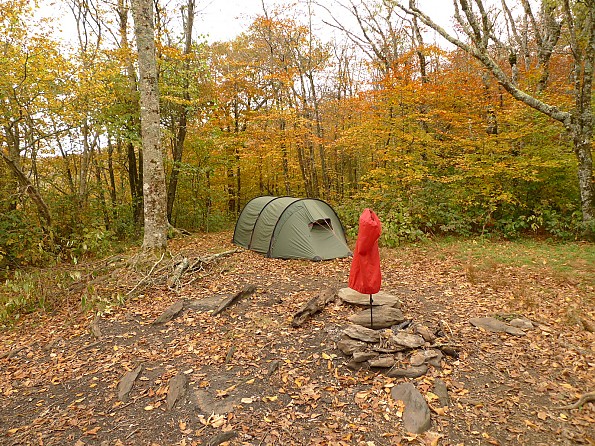 A short 5 mile day gets me to the high gap at Naked Ground and the weather is perfect.  My pack is uber light with only 4 days of food but I end up fasting for 2 of the days and I actually have 10 days worth.  Old habits die hard.  I'm an idiot.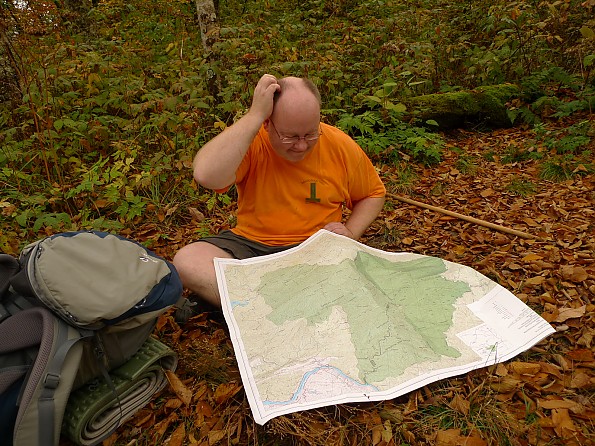 WHERE THE HELL AM I??  The first of the Highlander boys, Dave, shows up and he consults the Citico/Slickrock paper map.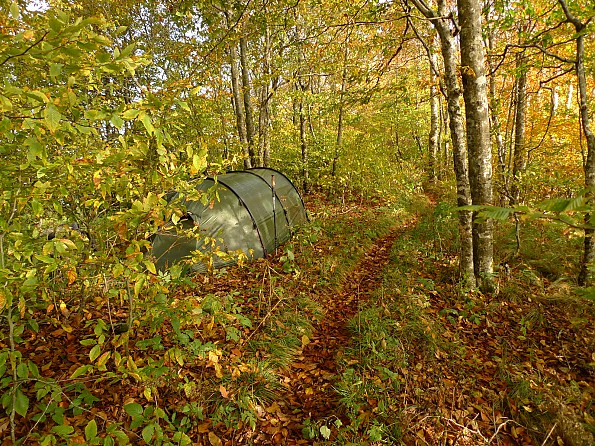 On Day 2 I leave Naked Ground and stay on Four Mile Ridge to this great campsite near Hangover Mt in Saddle Tree Gap.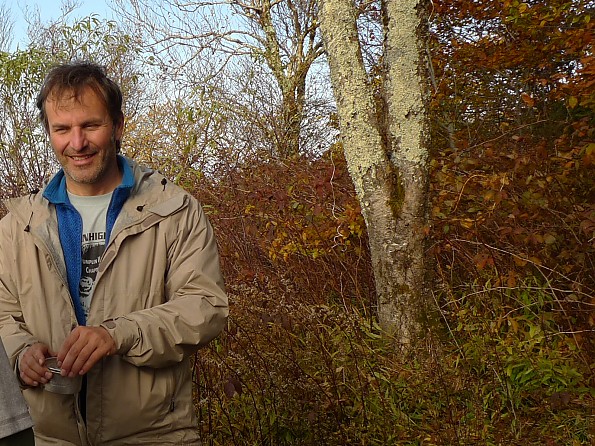 A short dayhike from my camp and I find John Quillen and his Highlander boys.  They are camped all over the mountain but mainly in the clearcut.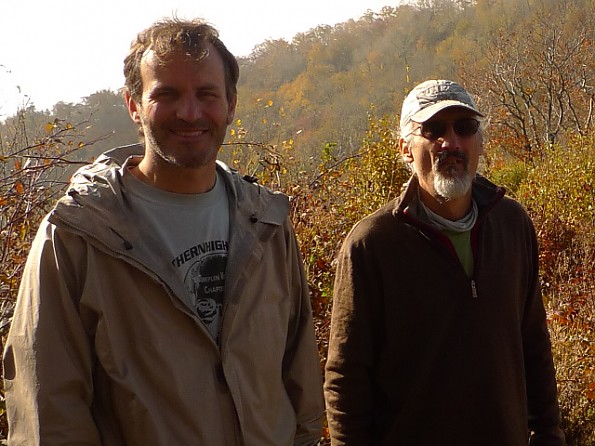 It's always good to meet up with liked minded backpackers.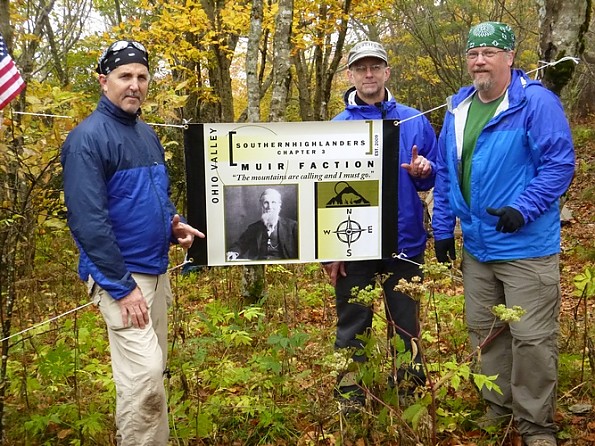 Here's a pic of the Ohio Faction of the Southern Highlanders (photo from John Quillen).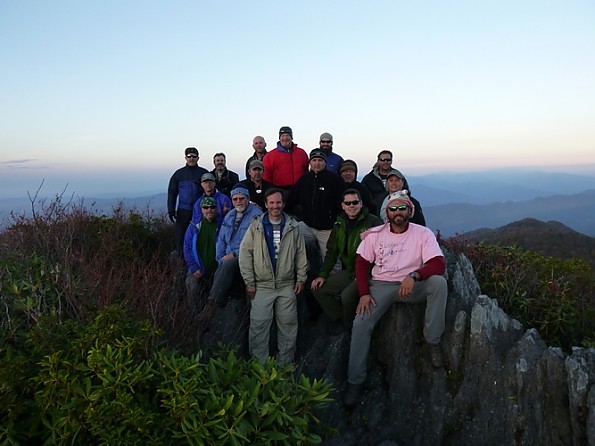 Hangover Mt group shot (John Quillen photo).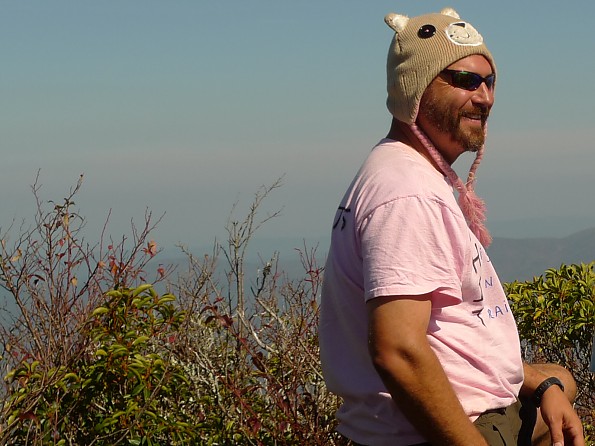 A new inductee to the Highlanders is Slapnuts, who must pass a series of intricate tests to be accepted.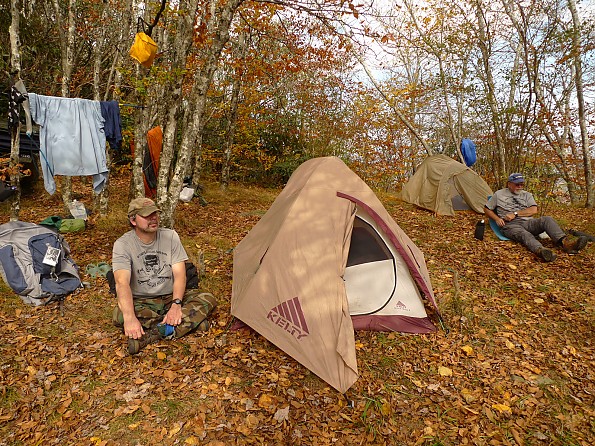 A typical Highlander camp on Hangover Mt.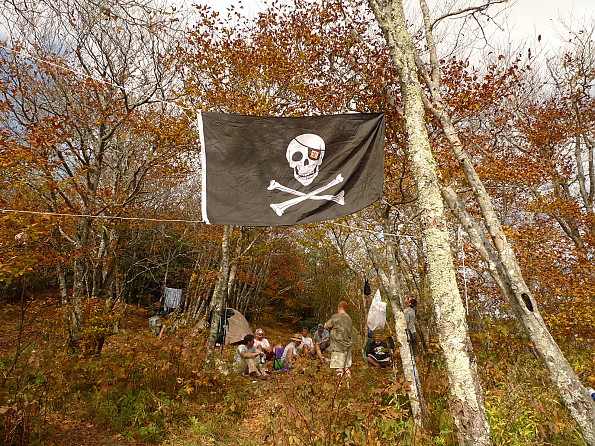 Pirates of the Hell No!  The Southern Highlanders will not acquiesce to the Park Service and pay to camp when millions of cars enter the park for free.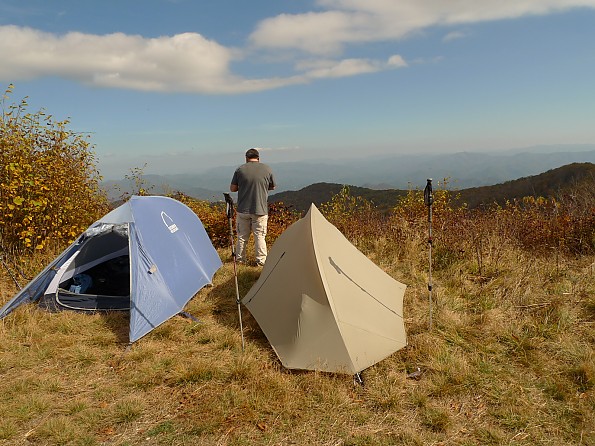 A sunny day at 5,000 feet.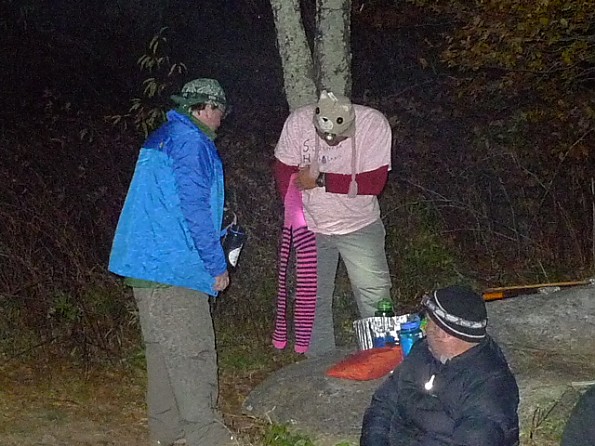 Slapnuts is gifted a pair of pink leotards, size x-small.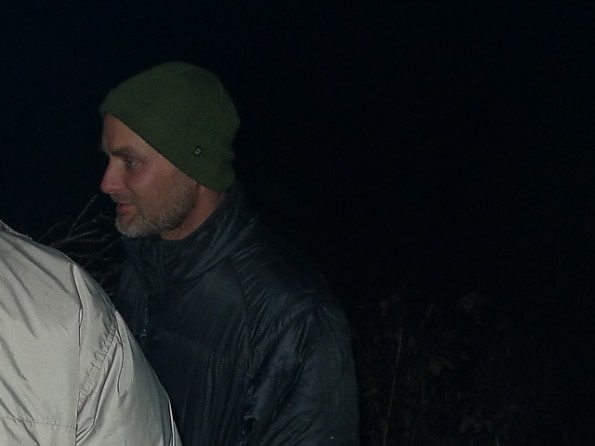 Ricky Bobby shows after doing a nighthike up the 2,000 foot South Lead trail from Big Fat Gap.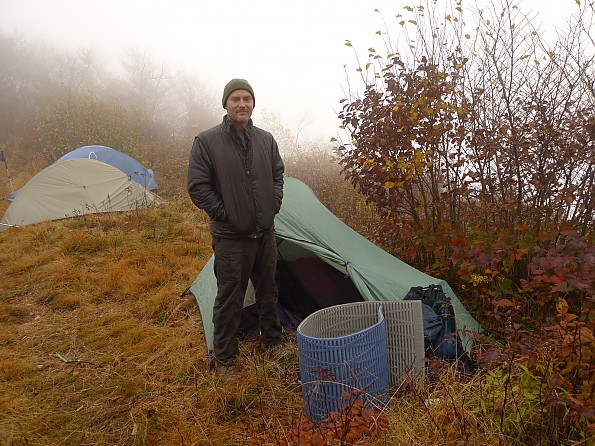 On Day 3 we all wake up to cold October winds and so I inspect Ricky Bobby's old Mt Hardwear PCT tent.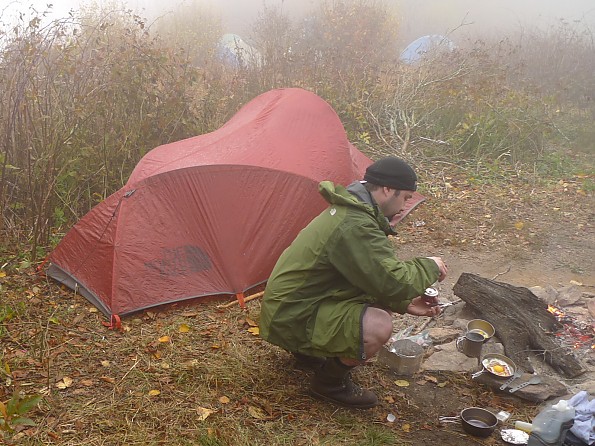 Trailspacer Gonzan showed up the day before and by morning he's using his alcohol stove to cook an intricate breakfast.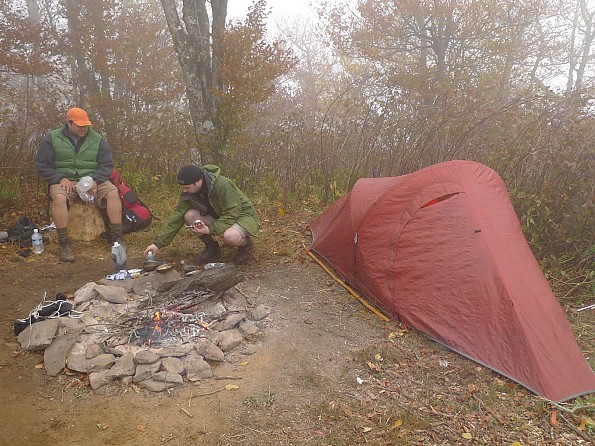 Gonzan cooks next to an old North Face tent.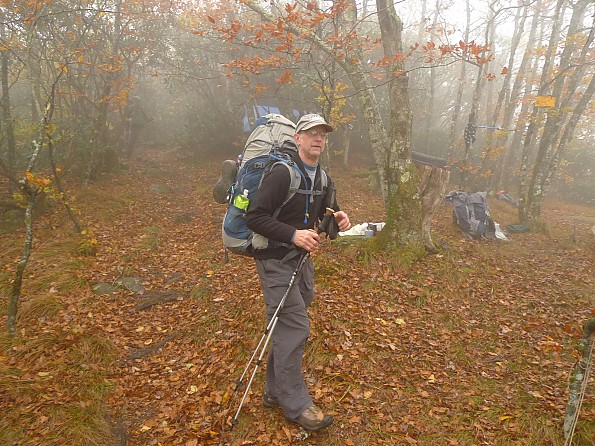 The Ohio boys leave.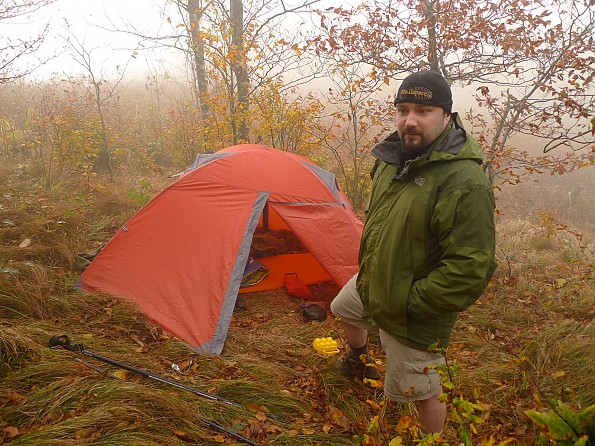 Gonzan's tent on the side of Hangover Mt and above the spring.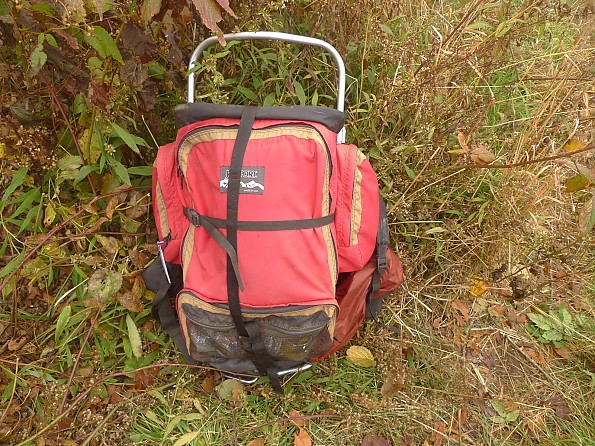 One of the Highlander boys brought out this old Jansport pack.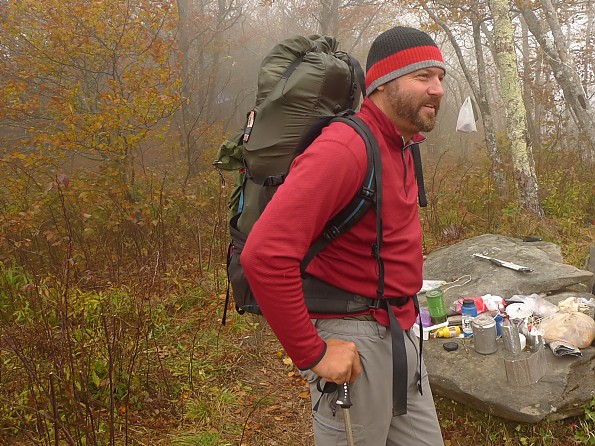 Slapnuts has been successfully inducted into the Highlanders and is apparently a full member.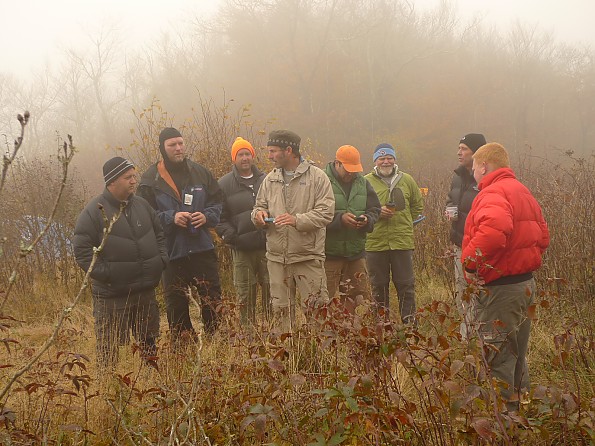 The group poses one last time in the clearcut.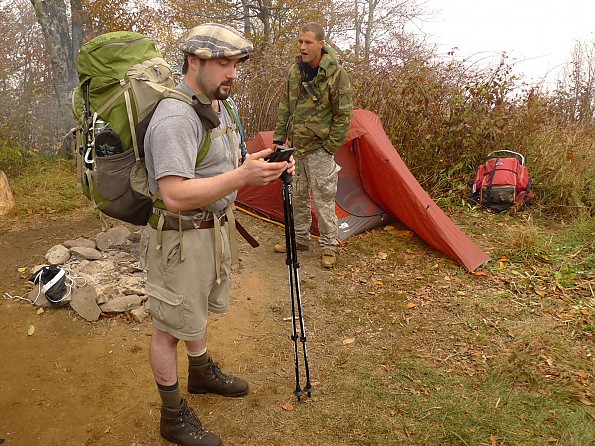 Gonzan is ready to hit the trail on a long hike back to Calderwood Lake.  Check out his Trailspace trip report.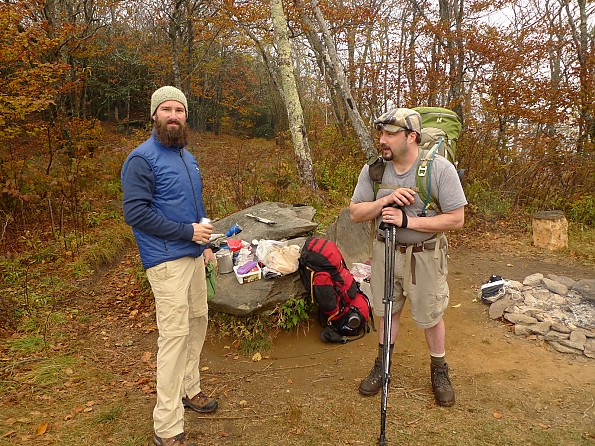 Brian says goodbye.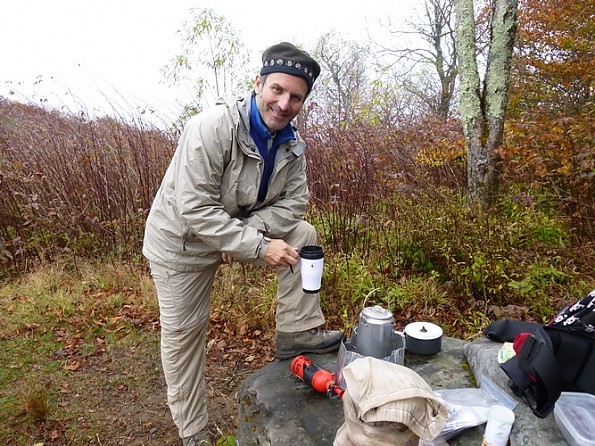 While everyone is leaving, John finishes his morning coffee.  (John Quillen photo).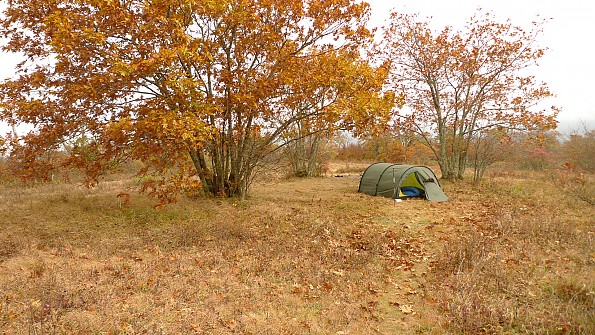 I leave the crew and Hangover Mt and return to Bob Bald for my last night.  A big thunder and lightning storm hits past midnight and scares the crap out of me.  A very nasty loud explosion started the festivities.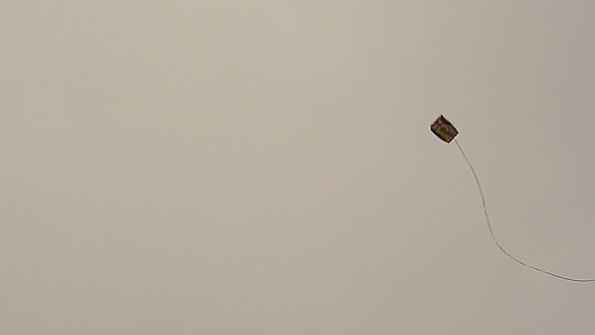 Before the big storm though, 2 backpackers from NC decided to fly a kite in the head winds.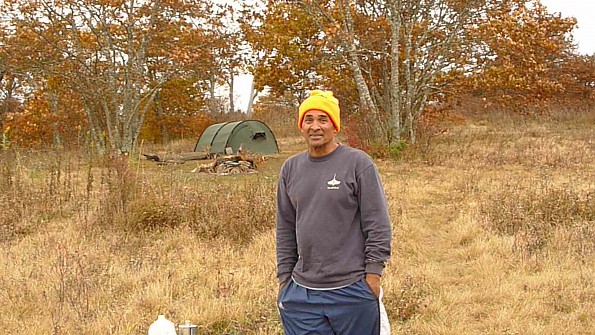 The kite flyer(s) from NC on Bob Bald.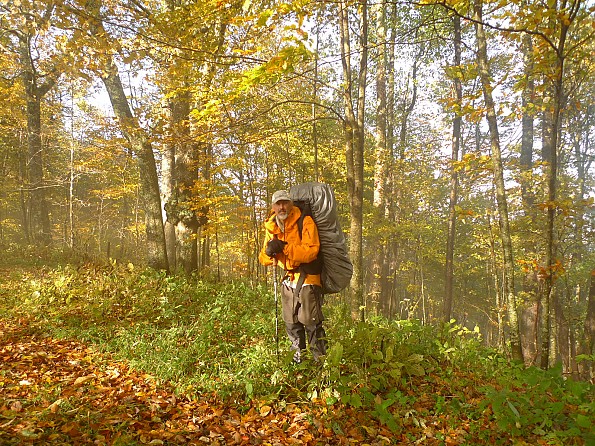 Into the Autumn sun and out of the woods.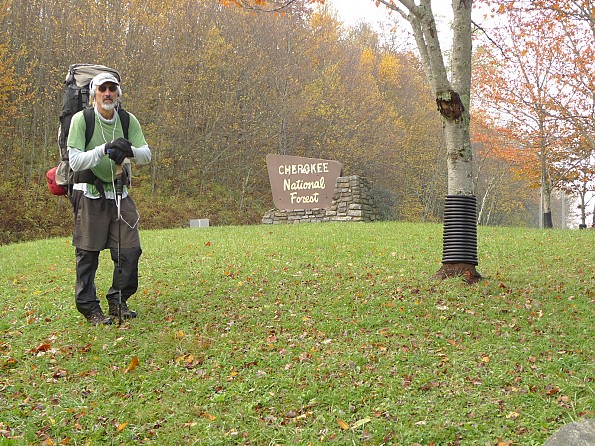 And so ends another trip at Beech Gap.  God knows when I'll be out again.