10:17 a.m. on November 4, 2012 (EST)
Tipi Walter

295 reviewer rep
1,444 forum posts
HIGHLIGHTS OF ANOTHER TRIP
Trip 139
October 28-31 November 1-3  2012

**  7 DAYS IN A HALLOWEEN SNOWSTORM

**  3 NIGHTS IN A BLIZZARD AT COLD GAP

**  3 HUNTERS IN A RED TRUCK BREAK THRU THE BEECH GAP GATE

**  HELL SLOG SNOWDOWNS ON THE SOUTH FORK TRAIL

**  THE TOUGH 2,000 FOOT CLIMB TO BOB BALD

**  SEEING HOOTYHOO AND ROOTY ON THE LAST DAY AT COLD GAP


When the local wee'tards (weathermen) call for snow it's my legal obligation to gear up and get to the highest point I can find and pull a backpacking trip and so here it is I'm sitting in a Hilleberg tent during a snowstorm as a mean wind ships across Cold Spring Gap at 4,500 feet in the Citico wilderness of Tennessee.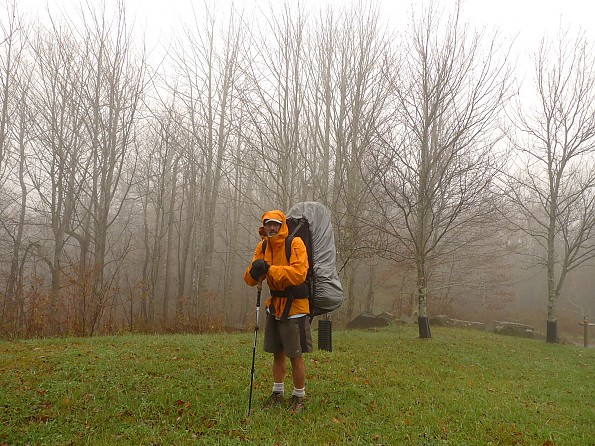 Little Mitten and I drive up the Tennessee skyway to Beech Gap as I need to be on the highest ground to find snow if possible.  At the gap a butt cold wind attacks me and causes me to cower under sleet and crap but the Arcteryx rain jacket saves my butt and I wave Mitten off and hike in quick step to Cold Gap where the wind is always fierce.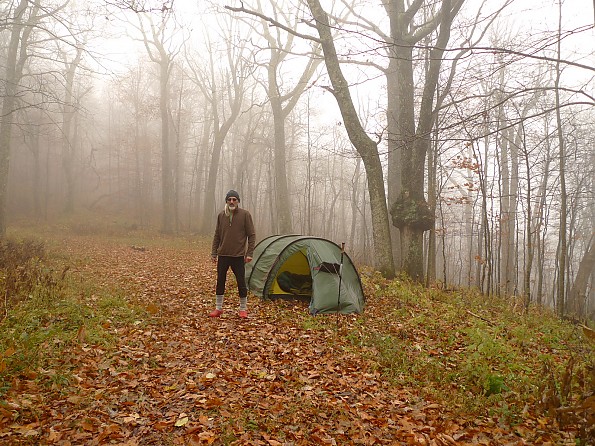 I'm all set up in the wind and rain at Cold Spring Gap and spend 3 nights here suffering from a nasty stomach virus which gets me all out of whack but a couple days of fasting cures it.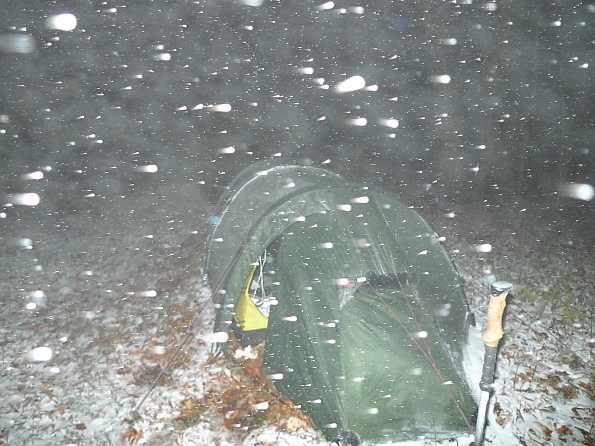 The pitter patter of a midnight storm turns camp interesting by the early morning of Day 2.  The Keron tent is made for this kind of crap.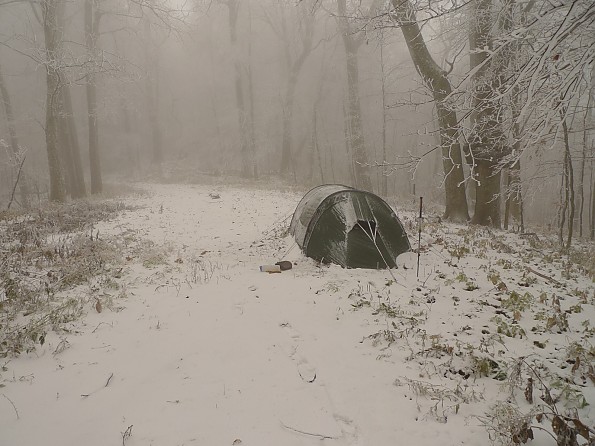 I'm caught in the fringe of superstorm Sandy as the Raven's Yard of rain has become a blizzard field as Cold Gap gets a face change from rain to snow and it sounds like God kissing the outside of the tent.  Pleasant, ain't it?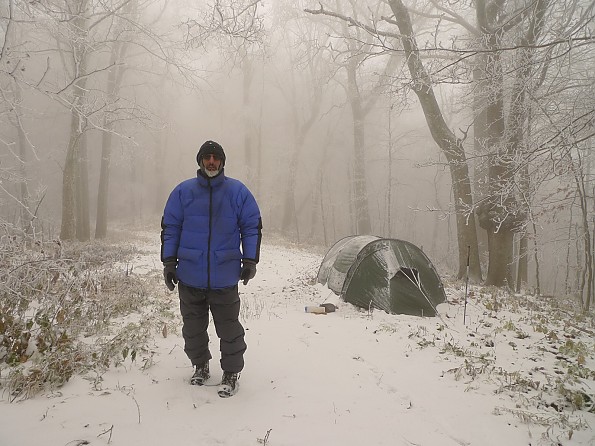 The 4,500 foot gap at Cold Gap turns white and windy and of course I bring my full winter kit of the FF down parka and the WM Flight down pants---2 wonderful items for winter living when you get socked in and need to zero out a few days.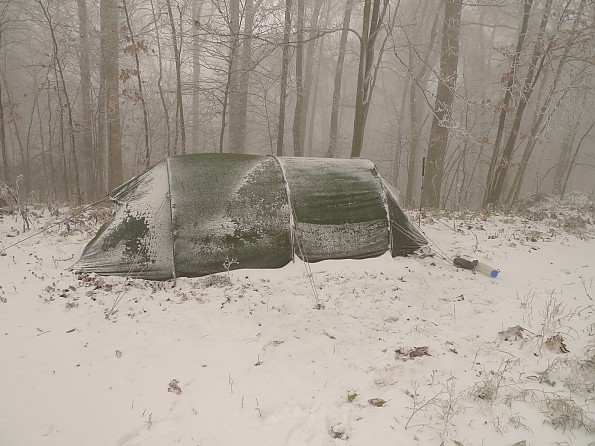 Another baptism of winter for the faded and tired Hilleberg Keron.  It has around 7 wear holes on fly but easily fixed with dabs of McNetts silnylon seam sealer.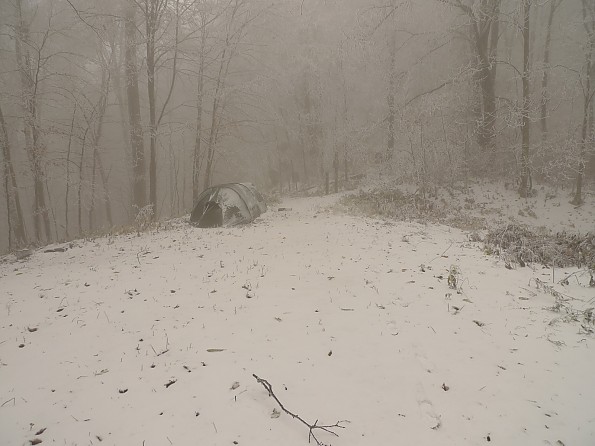 Another shot of windswept Cold Gap.  The wind is bitterly cold but the tent is home.  I decide to sit put and pull a 3rd day in zero basecamp mode and do an all day fast while I'm at it.  By midnight on Day 3 I've got 5 inches with 12-14 inch drifts.  It's a Halloween snowstorm just like the one in '92.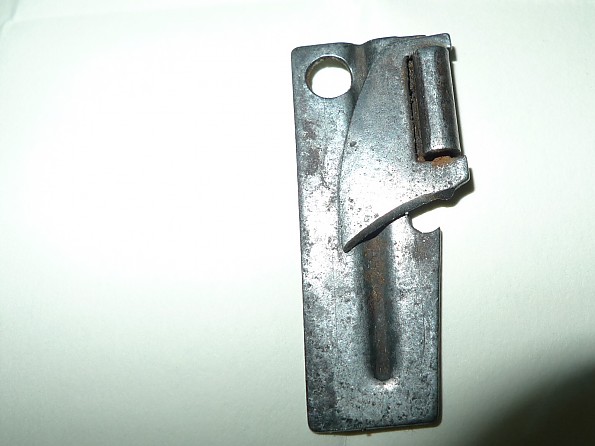 For such a short trip of only 7 days I bring a couple cans of food and bring the oldest piece of gear I have in my kit---this 1970's P-38.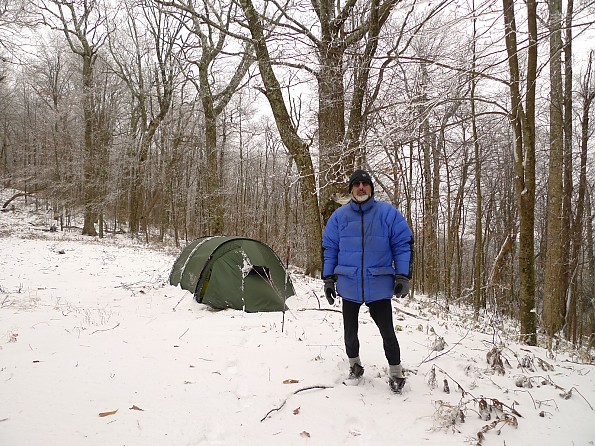 I have one more zero day in the gap and so there's not much to do except get water and walk around camp and take fotogs.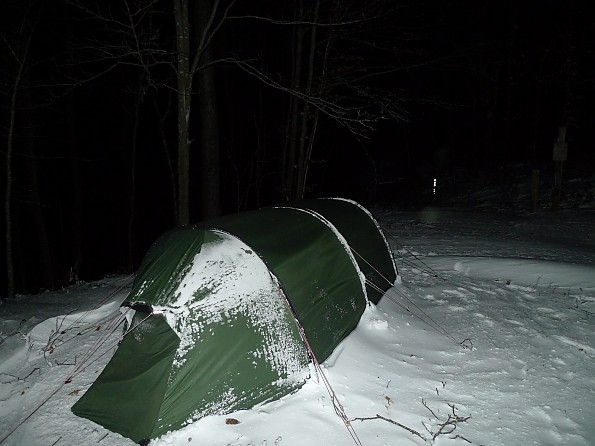 The wind forms small drifts around the tent and at night everything freezes solid.  In-tent condensation is bad when you don't move for several days, much worse than when you pack and roll up the tent and set it up again.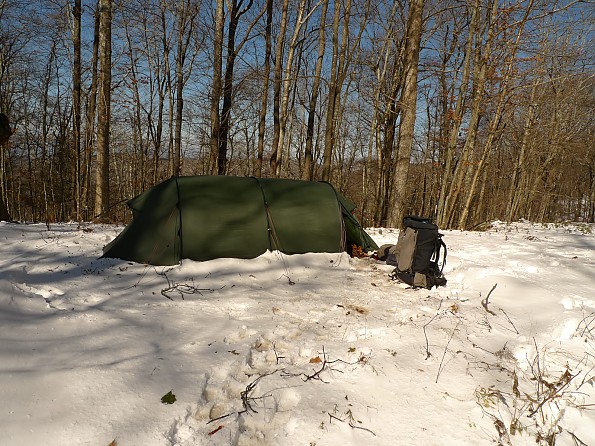 Morning comes to Day 4 and I'm getting ready to leave Cold Gap and motivated to do so by a blue sky.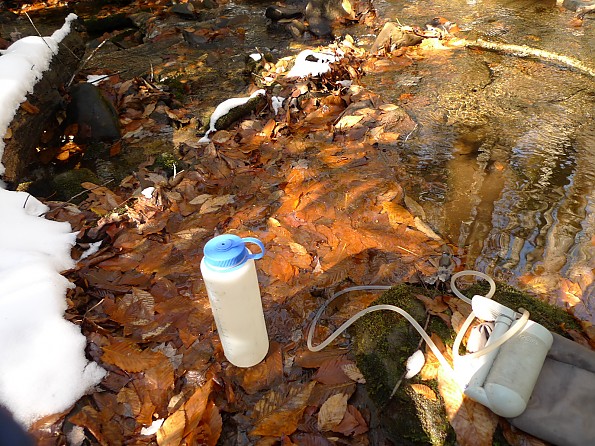 I leave Cold Gap and drop a thousand feet to South Fork Citico where I set up camp and get water from the creek.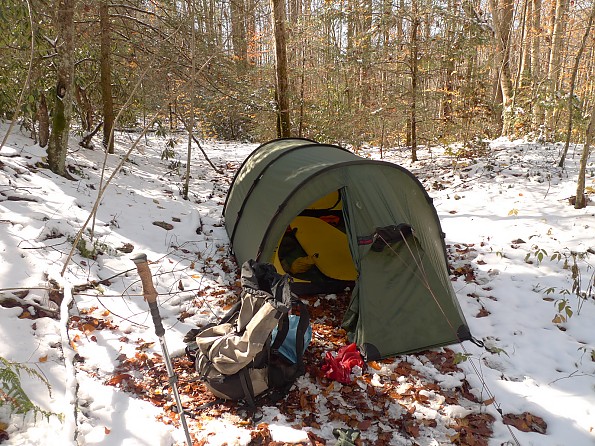 My camp on the South Fork trail.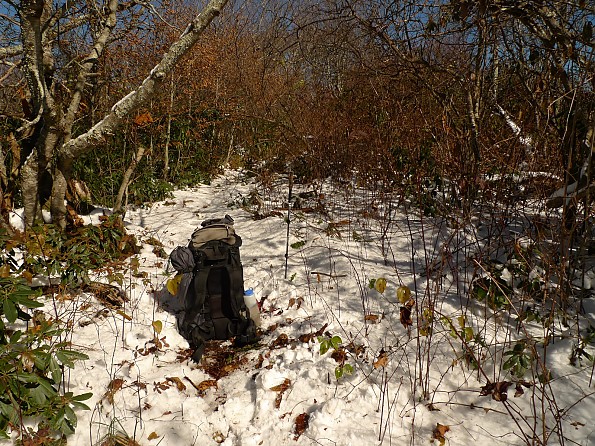 On Day 5 it's time to leave Iron Camp on the South Fork and climb 2,000 foot to Bob Bald but it's a difficult slog going up a mountain in the snow even if the snow is only a few inches deep.  Here is the pack on Trail 54A South approaching the Bob at 5,300 feet.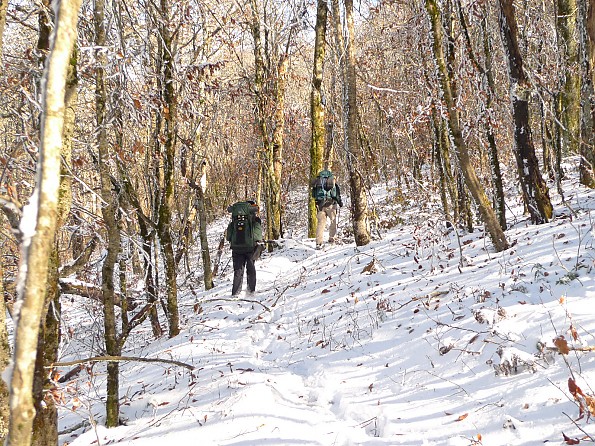 As I climb to the Bob I run into these 2 backpackers from Chattanooga, Steve and Julie.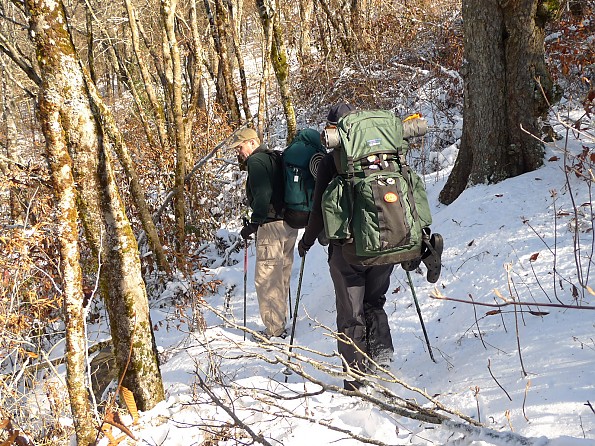 Steve and Julie on the trail.  Julie is using an LLBean pack.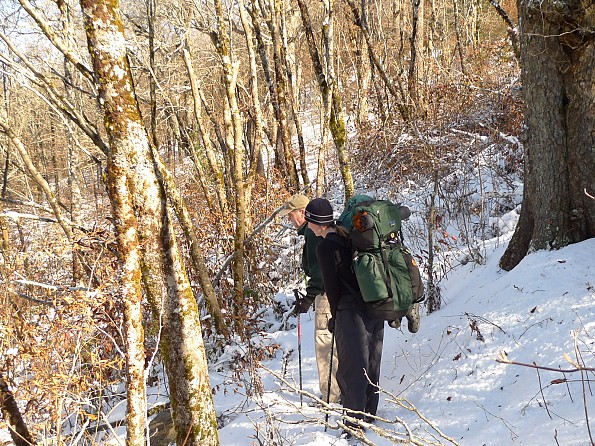 Checking out the spring flow on the trail to the Bob.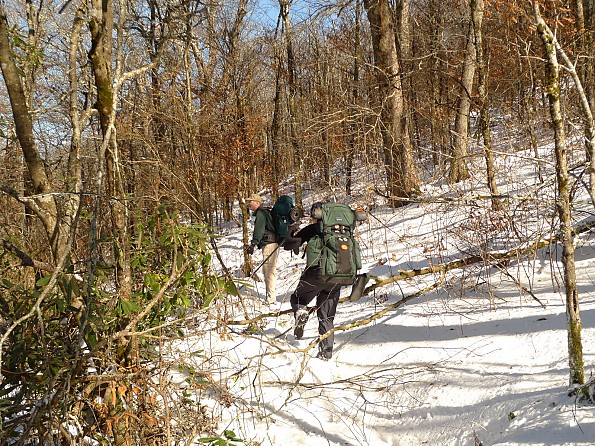 Fellow backpackers.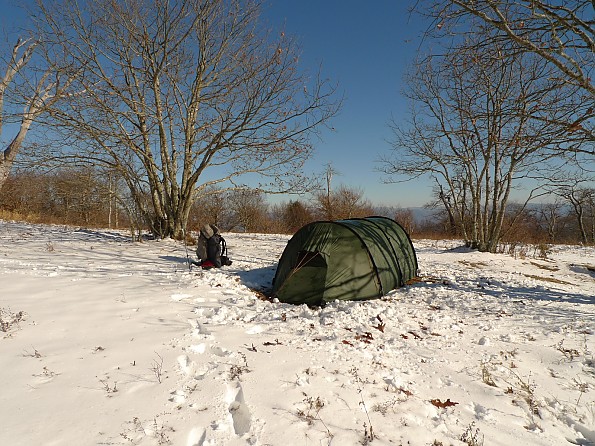 I get set up on the Bob in Hutnons Camp and prepare for a couple days of high winds, the radio says in the 50mph category.  No big deal with the Keron and the 16 pegs.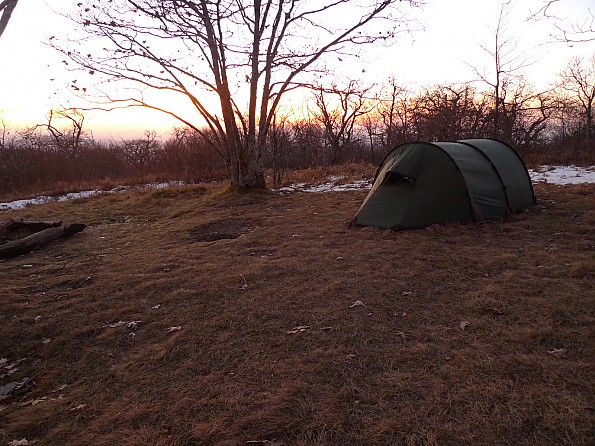 The day's sun melts the snow and then sunset comes to end the day in a moderate wind.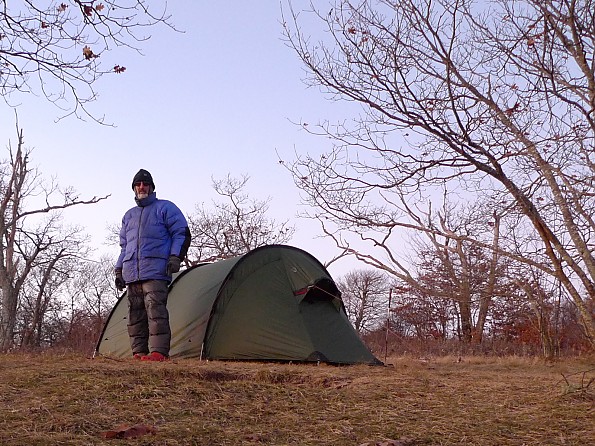 I pull another zero on the Bob and get ready for dusk in my layered geese.
Morning breaks on my last day and so it's time to pack at sunrise.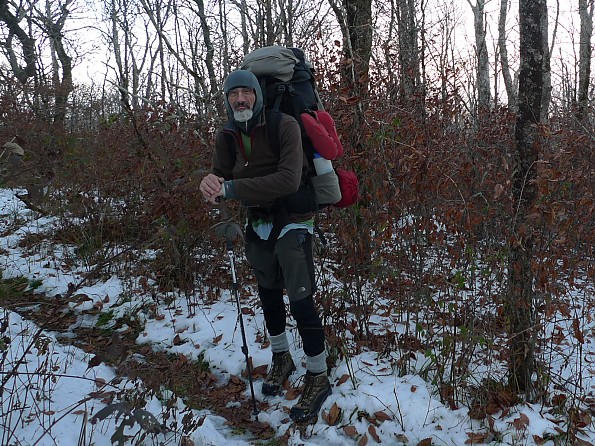 Icebreaker tops and bottoms make for some good hiking layers.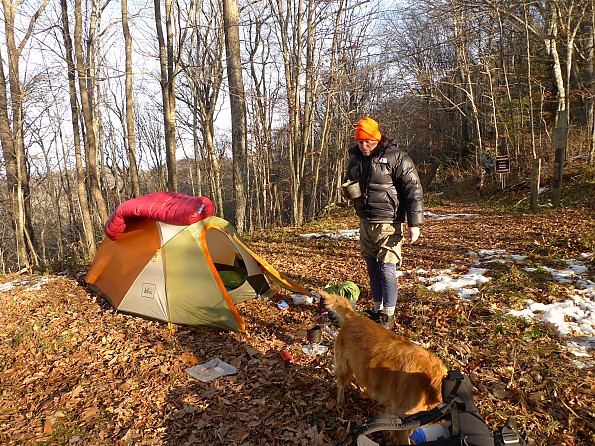 On the way out I run into my old backpacking buddy Hootyhoo and his dog Rooty.  It's a welcomed surprise and he shows off some of his new gear.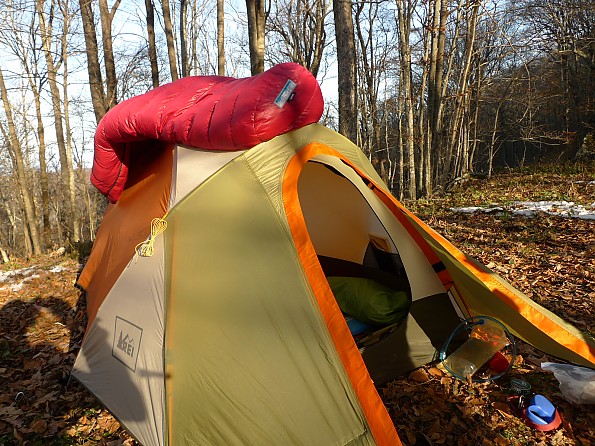 Here's a decent four season REI tent Hootyhoo is using for his winter trips.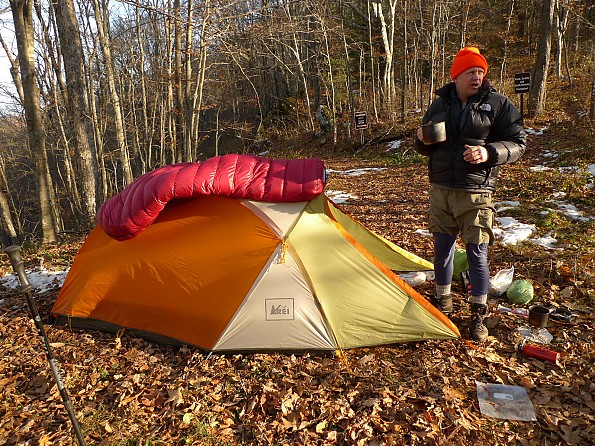 Jawing with Hootyhoo and checking out his tent and WM sleeping bag.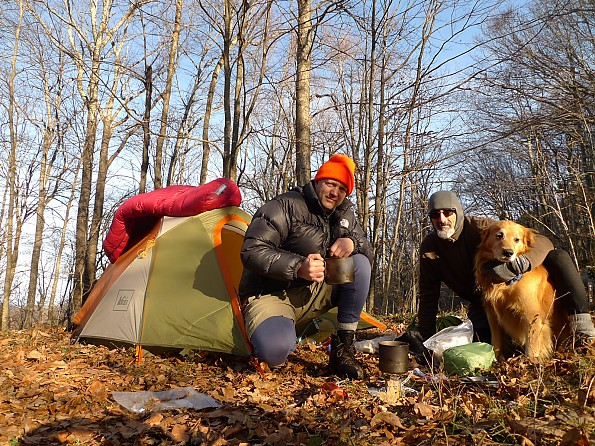 It's good to be back with old Hootyhoo.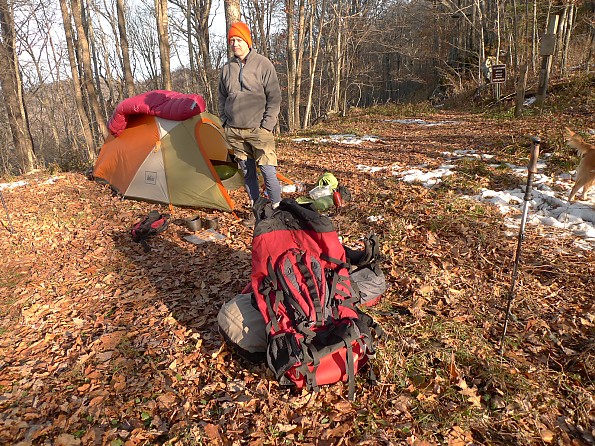 Hootyhoo shows off his nice new ginormous pack, a Gregory Denali Pro.  It's too bad I can't stick around and talk but Little Mitten is waiting for me 2 miles away and so it's goodbye Hoot and hello world.