7:22 p.m. on December 19, 2012 (EST)
Patman

3,278 reviewer rep
2,320 forum posts
I was itching to get out last weekend and arranged a wilderness intercept with Legendary Backpacker Tipi Walter.
He was out in the Tennessee and North Carolina wilds for some crazy long trip no doubt.
I didn't get off work until after 5:00 PM last Friday and so didn't make the trailhead until about 7:15 PM.  I don't mind night hikes in familiar areas.
The trip starts at Beech Gap on the Cherohala Skyway. This was my first use of a new balaclava. As it turned out it wasn't near cold enough to use such a garment. I pulled it off and the fleece after a mere 10 minutes of hiking.  I was tired before starting: I pretty much hiked up to Bob Stratton Bald, looked around (I was alone), pitched my tent, and started snoring. Only took this one night picture: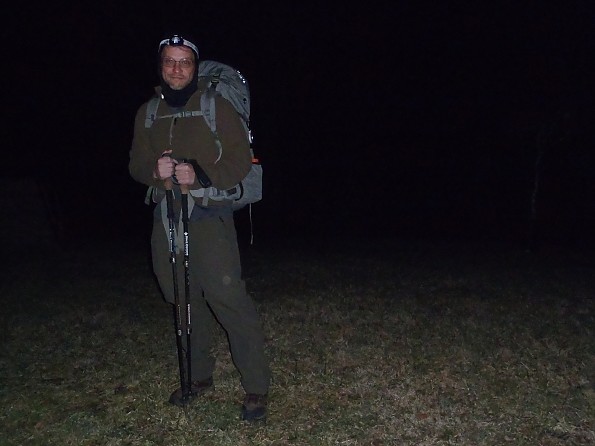 I slept in (7AM is sleeping in for me) and made breakfast just outside of the short vestibule. I like how the Britt's call them porches, seems more appropriate.
Muggin' on the Bob before searching for Tipi: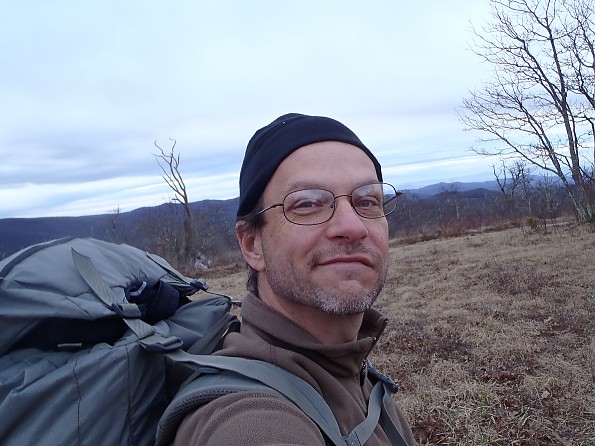 I headed out towards Naked Ground and passed a view of foreboding sky: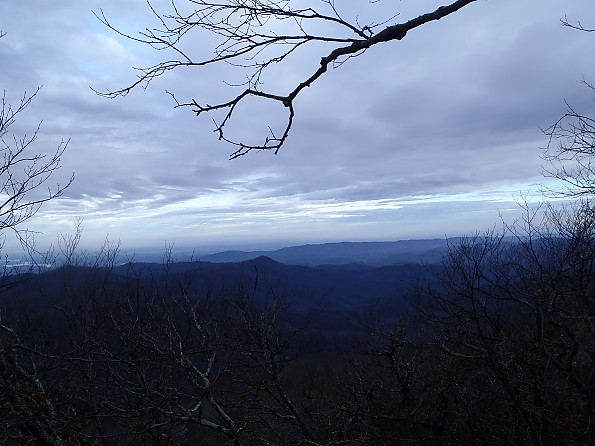 And before long, whoop there he is! Wow that was a dated reference. My famous backpacking friend Tipi Walter!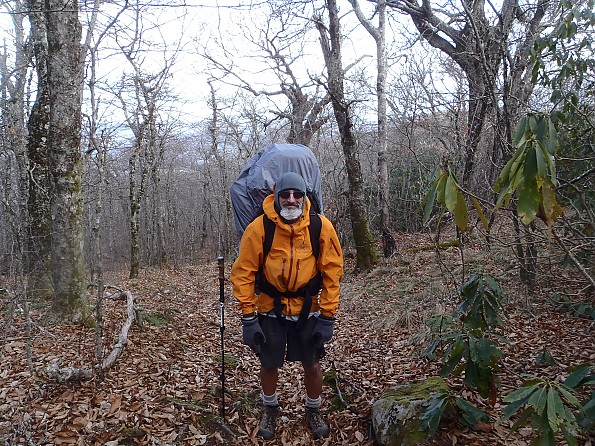 We stopped and gabbed for a while. And really, once Tipi loses momentum he has to go ahead and bring that gargantuan pack to rest on solid terra.
We were going in opposite directions and I was still stretching my legs so I decided to hike around for a while and then return to camp with TW on the bald.
I passed a favorite view at Naked Ground: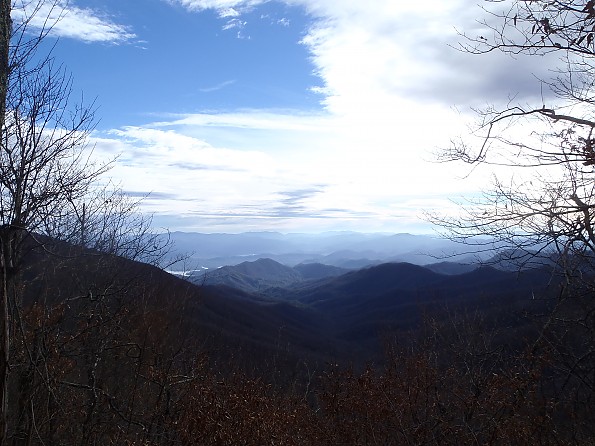 "Click on picture to enlarge."
After going almost to Haoe Peak, I returned and then went down trail 42 to the Heath Bald for fun: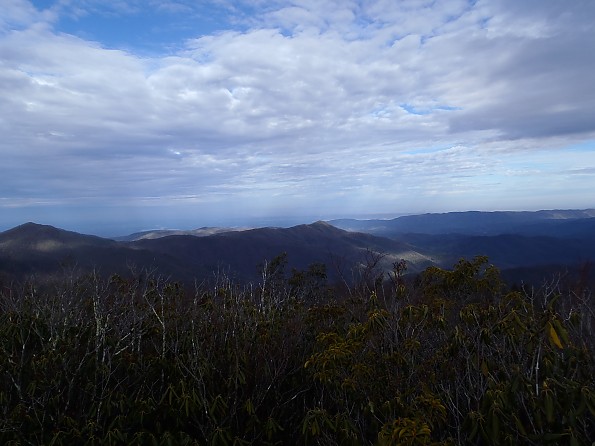 "Click on picture to enlarge."
Moss and Rhodo lined trail: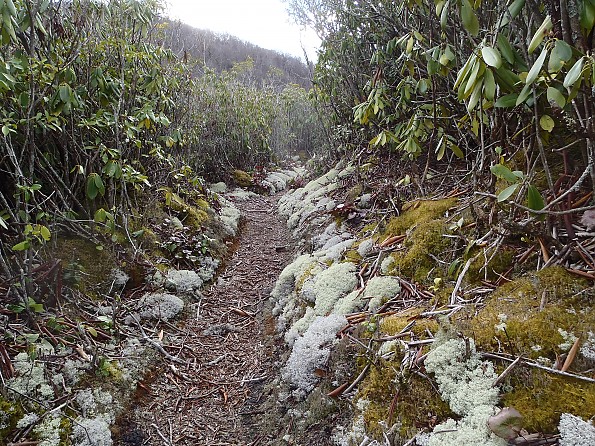 An inadvertent drawing filter applied to a pic: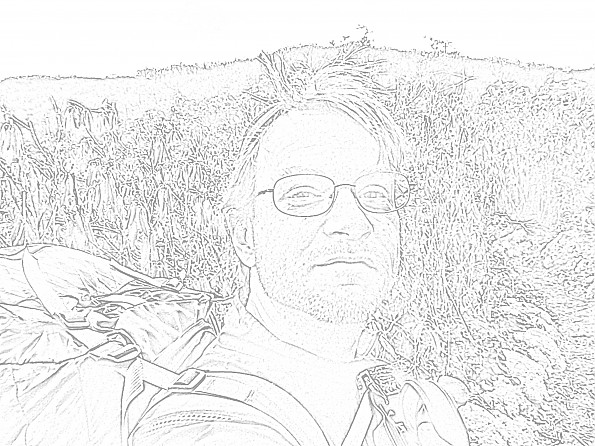 A classic backpacking pose at NG: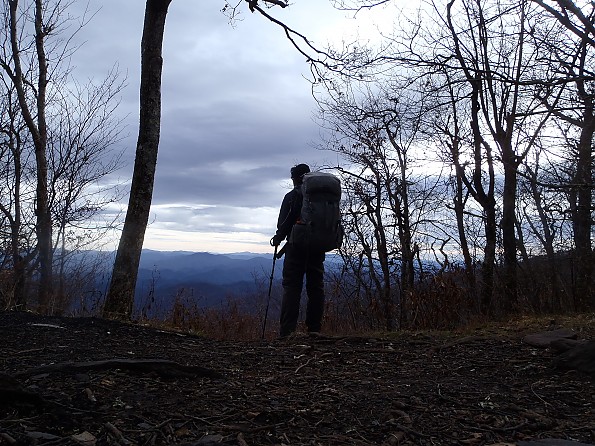 After retuning to make camp and hanging out in the Keron for a while with Tipi, I decided to hike the "tractor road" and back having never done so.
Here is a funny hair picture (just removed a beanie) at one of the tractor road balds: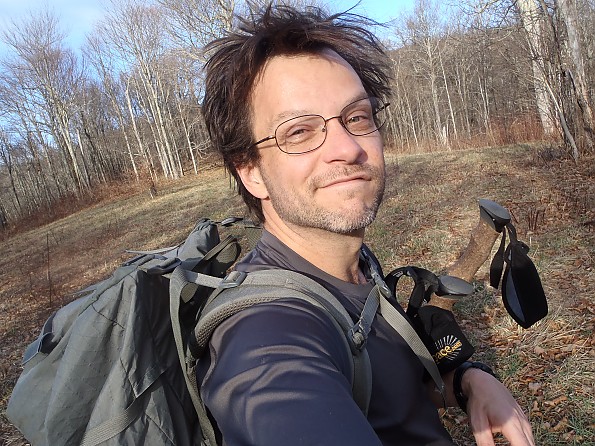 I found TW roaming the bald upon my return several hours later: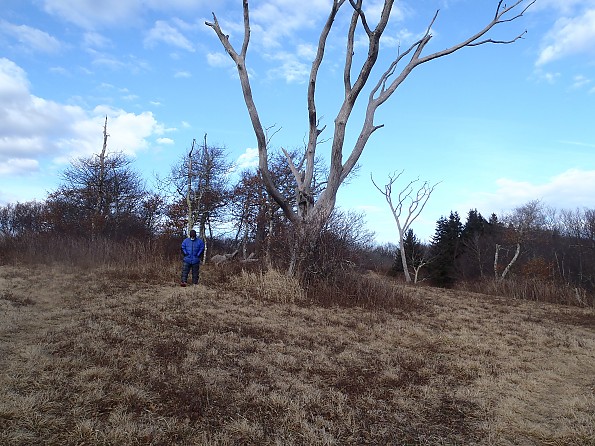 "Click on picture to enlarge."
Tipi's base camp: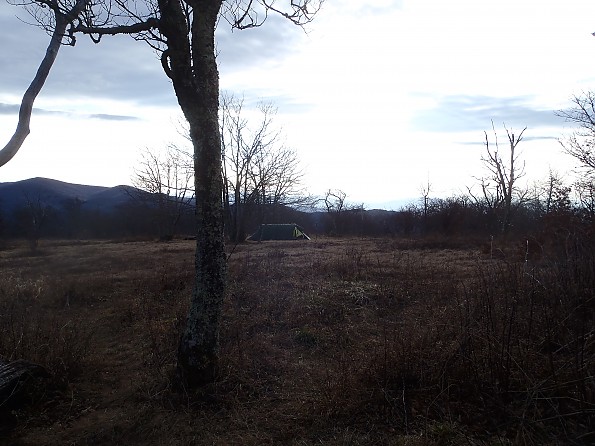 I had dinner with my friend and shot the breeze for a while and eventually returned to my little coffin of a tent. It sure seems that way after hanging out in the Hilleberg Keron for a while, anyhow.
Well that evening was remarkable. A ferocious windstorm swept the mountain and it started slamming my tent so hard that I did in fact organize my gear for quick evacuation. I had some anxiety about the poles breaking and or the fabric tearing under such stress but thankfully all components held fast.
I didn't sleep well however and decided to make an early exit at first light. After packing up in the drizzling downpour I made a quick stop by TW tent to say goodbye. He asked if I made it through the night OK, and I replied nonchalantly "oh yeah, no problem". But in truth it was pretty darn scary.
My last (blurry) picture of the trip is the dry spot left behind by my tent: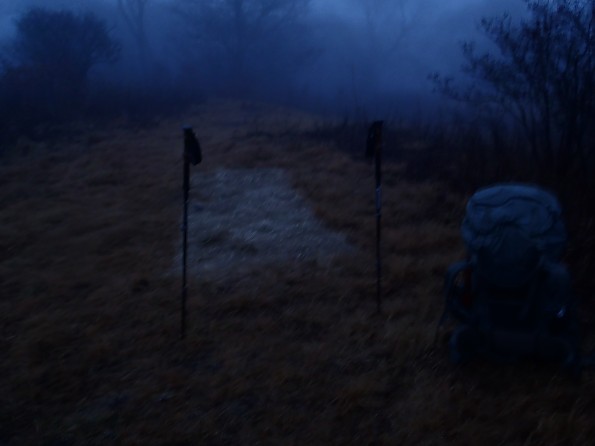 As usual, getting out there and roaming with my house on my back was "good for me head!"
Variable weather notwithstanding, a healthy thing was done and enjoyed!
Happy Trails everyone!