12:27 p.m. on December 22, 2012 (EST)
Tipi Walter

295 reviewer rep
1,436 forum posts
BACKPACKING
THE
CITICO/SLICKROCK
WILDERNESS

Trip 140

December 3-17  2012

**  15 DAYS IN A DECEMBER DECOMPRESSION

**  WITH RANDY "CADENZA" ON BOB BALD

**  25 HUNTERS AND 2 DEAD PIGS IN BIG FAT GAP

**  BUTT COLD CAMPS

**  HOOTYHOO NO SHOW

**  5 DAYS ON FOUR MILE RIDGE

**  WITH PATMAN ON THE BOB

**  HELLSTORM ON THE BOB AND A 32 HOUR RAINSTORM


Okay boys, a whole month goes by since my last trip and the length is determined by moving from a doublewide fema trailer into a rural home in the land of Little Mitten's people at a place called Riceville, TN.  After attending to the endless emasculating details of such a move I get a break and a window of opportunity to square the winter kit away and go on another backpacking trip into the old haunts of the Citico/Slickrock.
Since Riceville is closer to the Big Frog/Cohuttas I could've done this December trip there but after the move my peanut size brain's in a jumble and I need to decompress and what better place than old stomping grounds.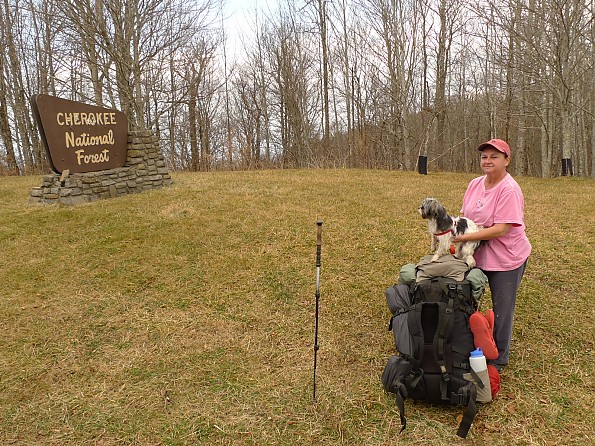 Beech Gap is once again my drop off point as Little Mitten and the mighty Zoe Dog leave me with a big pack by the Cherokee NF sign.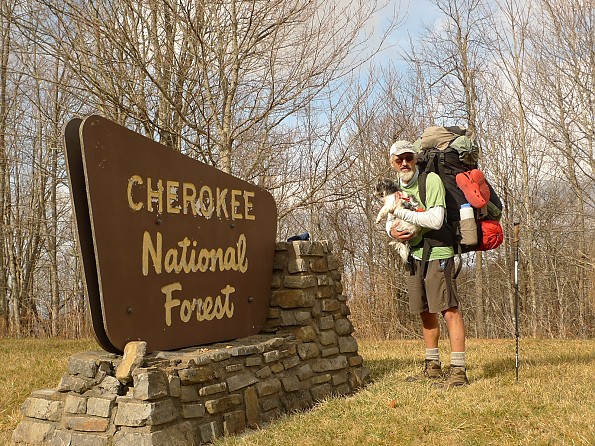 Zoe Dog wants to go with me but she cannot, she can only be held in a final hug.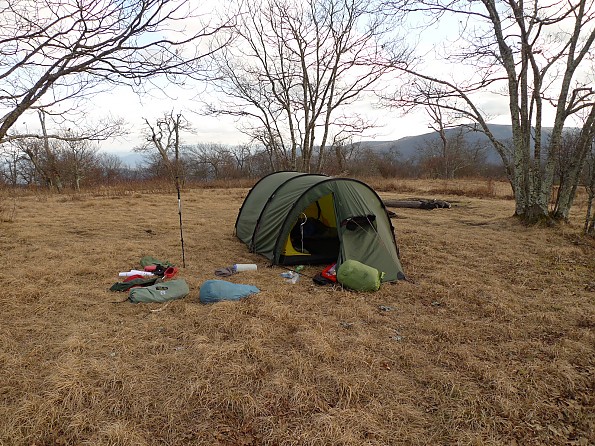 After a 3+ mile climb of 1,000 feet I reach Bob Bald at 5,300 feet where I set up in the usual windy spot.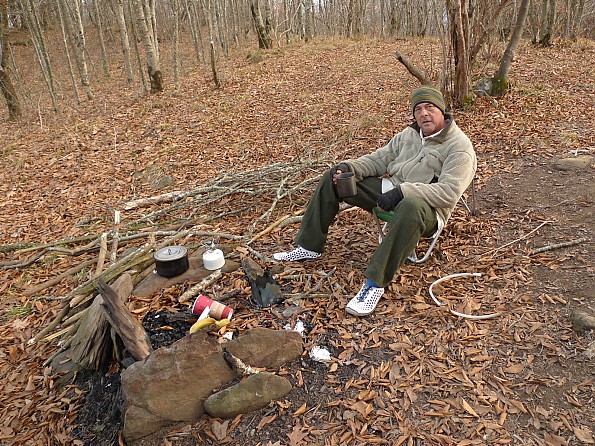 Cadenza is a backpacker out of Nashville who's been doing Citico trips since 1984 and we link up and camp together on the Bob.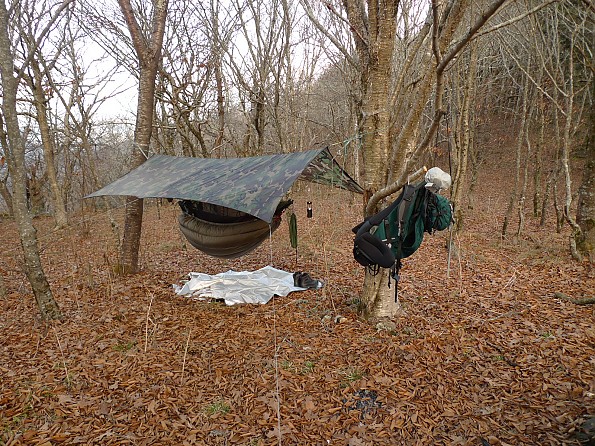 Cadenza's camp is a hammock and he has an old style candle lantern, barely visible.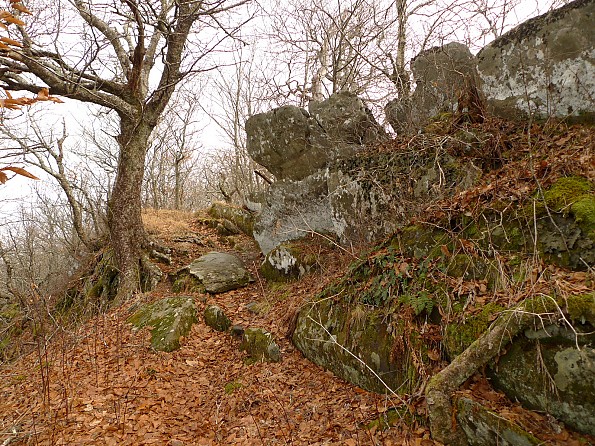 FOUR MILE RIDGE---On Day 2 I leave the Bob and follow the ridge to the high gap at Naked Ground and along the way pass these pretty rocks.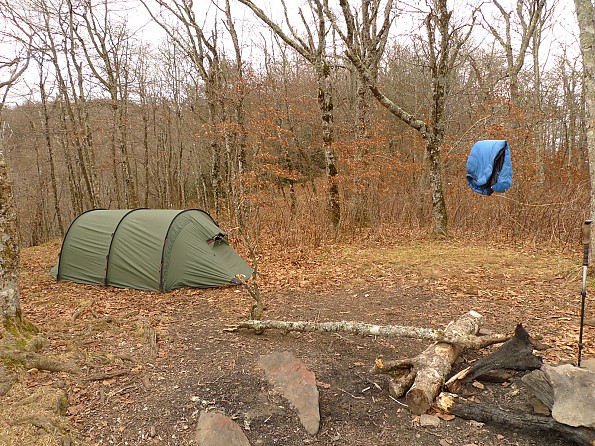 My camp in Naked Ground soon gets pelted with a cold December rain but it's nothing much.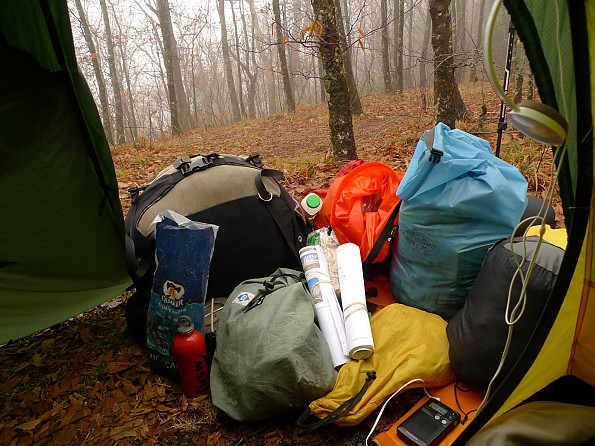 On Day 3 I throw out everything and get ready to follow Four Mile Ridge to Hangover Mt.  The rolled paper are my internet books of which I brought 10.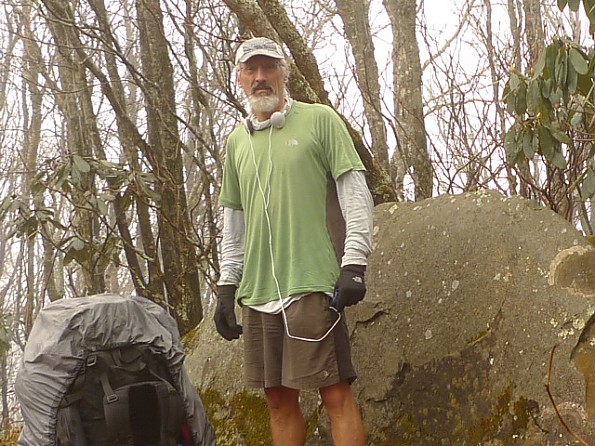 There are 4 hills on Four Mile Ridge and then you reach this high point on Haoe Peak.  Then it's downhill to Hangover Mt.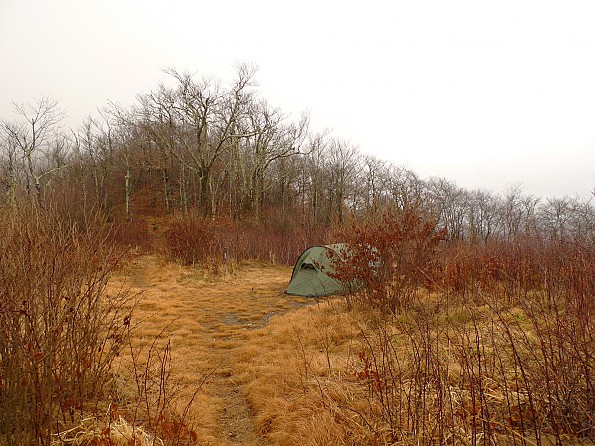 I wake up on Day 4 to an all-night and all morning rain so I sit put and write an essay on Birthing the Elusive Turtlehead.  The tent keeps me dry at 5,000 feet.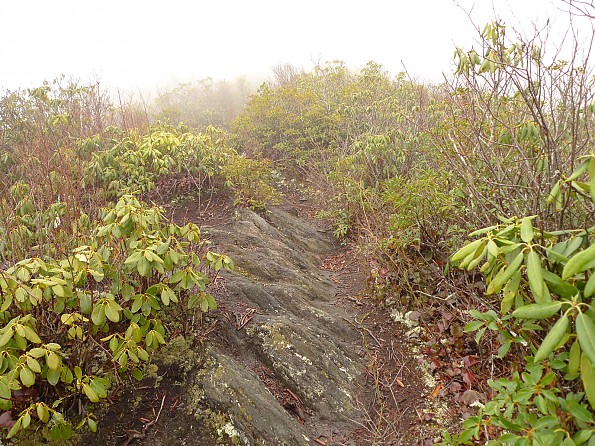 The rain finally lets up and I pack and fall off Hangover Mt on a treacherous trail called the Hangover Lead South trail.  Not far down I take this shot in the heath and rocks.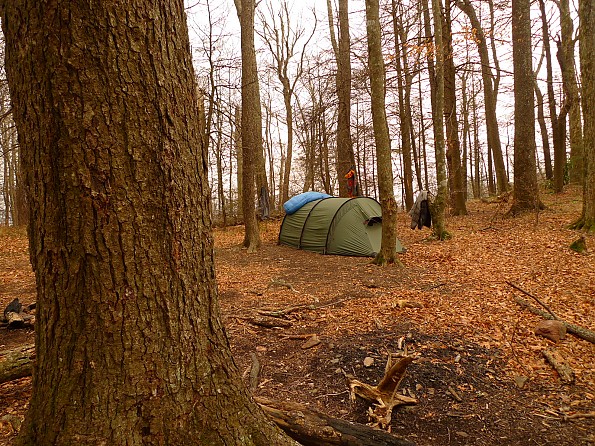 A 1,000 feet below the mountain I reach another favorite camp I call Elysium Fields because it's like heaven and beautiful.  There's even a creek nearby if you know where to look and enjoy a moderate bushwack.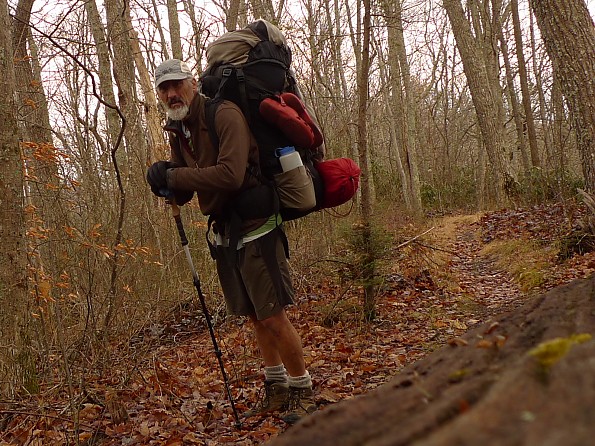 The first day of the trip I climbed a 1,000 feet and stayed put for the next several days at 5,000 feet.  On Day 4 I dropped off Hangover Mt and lost a 1,000 feet, so on Day 5 here I am dropping another 1,000 feet on the South Lead trail.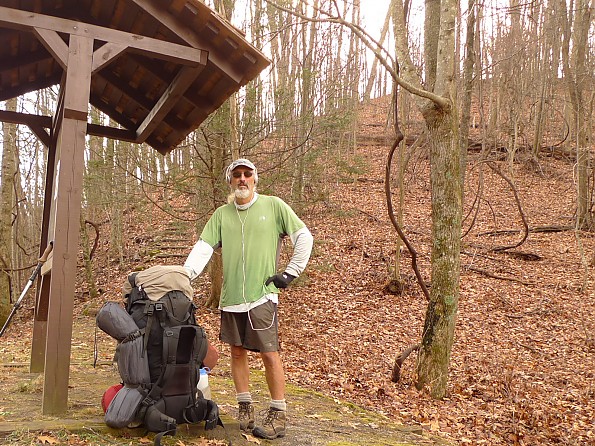 I make it to Big Fat Gap and take a break near the Windy Gap trailhead.  Behind me is the South Lead trail coming off Hangover Mt.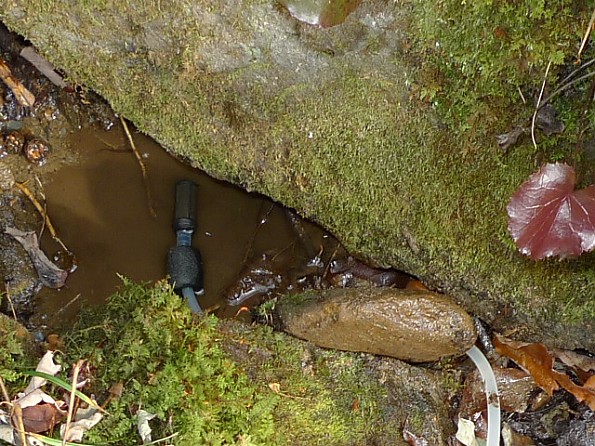 I luckily find water at the Windy Gap spring but it's low and my filter is almost completely clogged but a couple liters are filtered for the night's camp on the Windy Gap trail.  The filter will have to be cleaned when I reach Nichols Creek).