12:22 p.m. on January 2, 2013 (EST)
FromSagetoSnow

TOP 25 REVIEWER
REVIEW CORPS
6,158 reviewer rep
1,630 forum posts
The cool part of this trip isn't so much the dog sledding but the new dog (new to us) we got to try out.  Noel the Wonder Dog has a hurt tail (something bit her, a rat maybe?) so we harnessed up Lady, the mastiff we just adopted and hit the trail with her for a tryout run.  A while back you might recall that we had a bad experience trying to adopt a male mastiff  who wouldn't warm up to the kids.  We tried again with a smaller female and have have decided to have her join the family. 
I think this one likes the kids a lot more than the last mastiff we interviewed: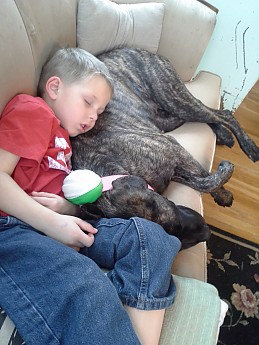 She takes turns sleeping with the kids each night.  I don't like dogs on the furniture but she is three years old so we figured we'd make an exception for her since that's how she was raised.  Where does a 90 pound dog sleep? Wherever she wants I guess.
The largest breed next to the smallest: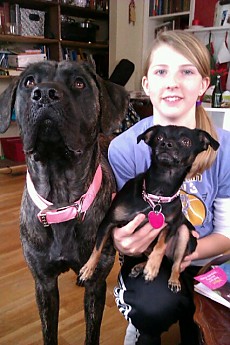 The kids titled the above picture "Bring the Sacrifice!" but she actually loves the other pets.
Lady was the smallest in her litter and "only" weighs 90 pounds which might not even qualify her for the breed standard but her small size seems to make her WAY more athletic, which is a plus for us.  Despite being a mother of eight she pulled the sled like a champ: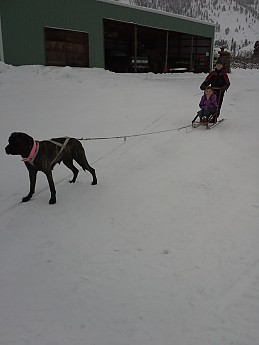 I didn't have a camera for the trip but took pics after we got back home.  Lady pulled the girls for about 2 miles while I ran alongside her keeping her on task and pulling straight.  We ran around the hills surrounding Chelan, WA where Grandma lives (the one I got the ice axes and climbing gear from) and had a great time. 
Being a single-coated breed, Lady stayed warm by staying moving and loved pulling the girls at speeds that sometimes precluded me from keeping up alongside her. I managed to remain warm and dry by wearing a wicking base layer (UnderArmor) under a wool sweater (Army Surplus) with wool pants.  Temps were in the high twenties (F).
This year, to add floatation in soft snow I added a pair of old skis to the runners on the kick-sled and so far they work great.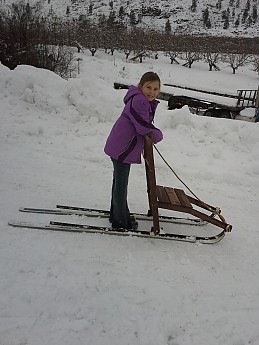 Thanks to everyone on TS who encouraged me to give the Mastiff breed another try and to build a kicksled.  As each winter approaches the kids all ask when we will start going kick-sledding again.
Jeff