9:16 p.m. on February 3, 2013 (EST)
bigup79

16 reviewer rep
33 forum posts
Recently back from a overnight trip to Mt. Gozen (5400ft) and wanted to post a few pics. Since I'm without a car for the year, I'm relying on trains/buses for trail access, which makes the approach to some out-of-the-way trailheads pretty long. Can't complain, because it's nice to have these options though! My guidebook says this hike can be done in a day (6-7hrs) in summer and with a car, but why rush?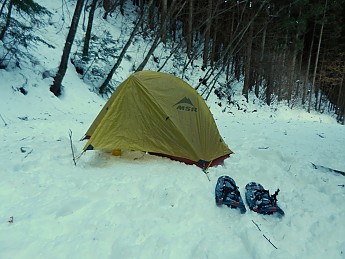 Got an early start from camp not too long after sunrise. Left the tent up and sleep bag inside, and packed for a long day-hike. Quite a bit of snow on the ground, but no wind at all and pretty mild temps. I know I'm pushing it using this tent in mid-winter, but I had been watching the weather forecast like a hawk pre-trip.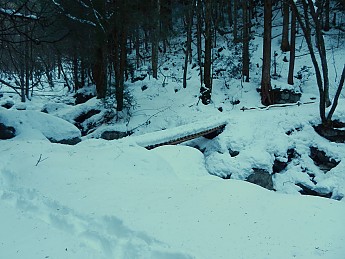 The hike follows this stream up to its source, and a series of narrow (but sturdy) bridges crisscross the creek the whole way up.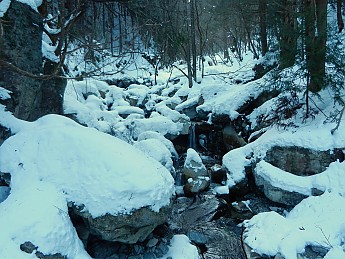 Looking upstream from the bridge. Water is still flowing pretty well, not much freeze-over.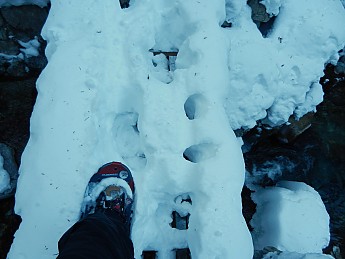 Here's an idea of the how narrow the bridge was. Put the camera away and proceeded carefully..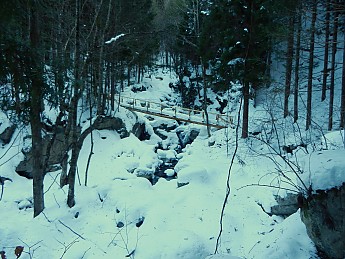 The next log bridge in the distance, this one was wider and had handrails. Really deep snow from here on up.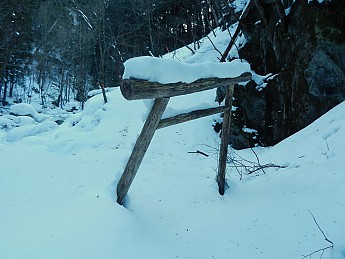 A shrine gate along the trail, leaning with the weight of the snow. I ducked down and walked right through it. Entering sacred ground?

Spray-painted rocks, yuck. Well, at least I know which way to go now.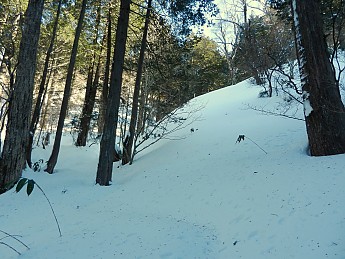 Getting higher up now and the sun is coming in over the top of the mountain. The climb is really steep from here to the summit, less than an hour away.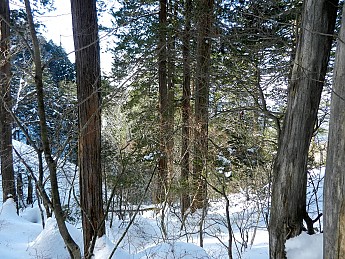 The forest in this area was beautiful, an old growth stand of cedar/spruce trees (says the guidebook). I may have to come back in the summer...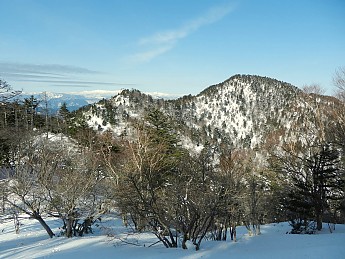 Looking back across the ridgeline, away from the actual peak I'm aiming for (which is behind me).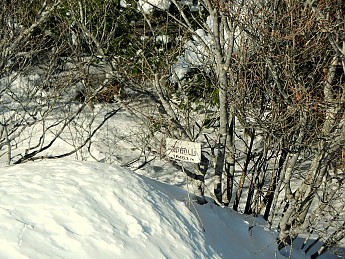 Made it to the top! Saw this little summit marker attached to a tree branch, everything else was buried in snow. But the best view is behind me...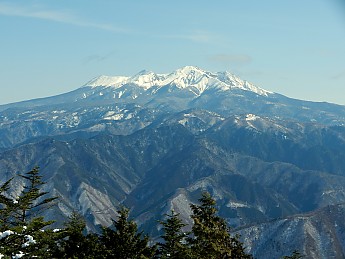 One reason I wanted to hike this mountain was for the views of Mt. Ontake (~10,000ft), about twice the elevation of where I'm standing. Lucky to have weather this nice!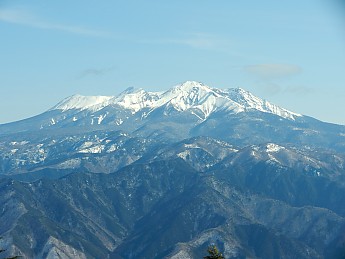 A parting shot, and it's time to head down..got a train to catch later in the afternoon.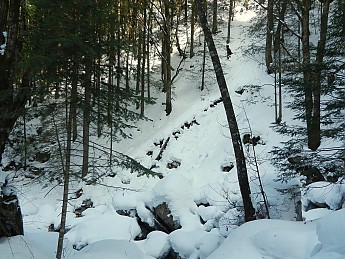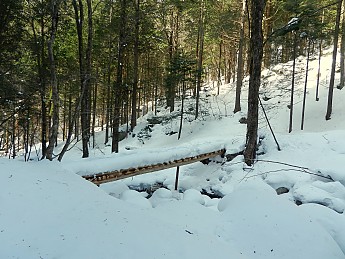 Another pic of one of the bridges on the way down, I think I crossed at least four of these. Once I got back to my tent, I packed everything up and started the 2.5 hr walk back down to the train station. Looking forward to hiking this trail again in the summer!