4:27 p.m. on February 10, 2013 (EST)
andrew f. (leadbelly2550)

TOP 25 REVIEWER
REVIEW CORPS
6,717 reviewer rep
2,211 forum posts
with my trip to the mountains of New Hampshire foiled by the storm, i settled for a couple days of snowshoeing and hiking about an hour outside boston.  when i arrived, the ground was basically clear.  spent a healthy couple of hours hiking while the snow was starting to fall on Friday afternoon, but it was basically an inch or two on top of dirt - nothing to photograph, but nice with no one but my brother in law to share the trail.
a day and a half later, it took me two and a half hours to clear my parents' driveway with a snow blower.  i pulled out a measuring tape and leaned it against the snow, slightly drifted.  in truth, they got about 2 feet of snow, with drifts as deep as 3 feet: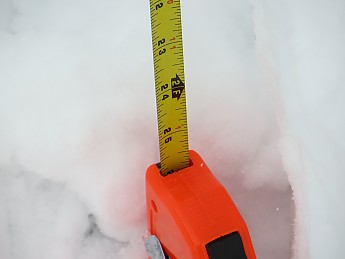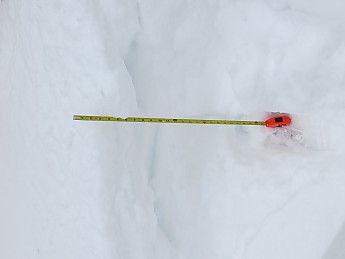 with snow still flurrying down on saturday, i walked to a local farm and snowshoed around some untracked powder.  it was tiring - very fluffy, postholing 12-18 inches.  not very hilly, just kind of rolling.  i was on my own and didn't see a soul.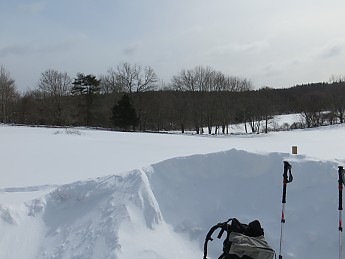 i think the last time i saw this much untracked powder was in Jackson Hole, downhill skiing.  a lot of this farm (Steele Farm in Boxborough) is open, but it has some trails through the woods.  Maybe 6-7 miles if you cycle through all the trails.  it was gusty, 25-35.  a fair bit of snow blowing around.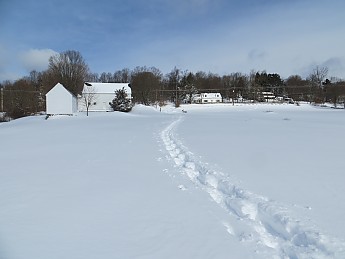 today, the snow was a little more packed down when my brother in law and i set out for some different trails through the woods.  these are all within minutes of their house - i'm jealous.  still barely tracked or untracked today.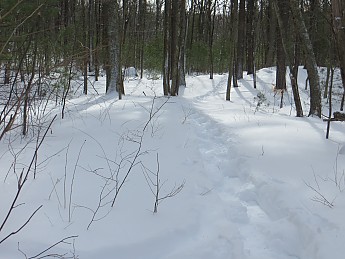 much warmer and very little breeze, so i was in base layers and gaiters.  still hard work when we were making our own tracks.  saw deer and coyote tracks, but no wildlife.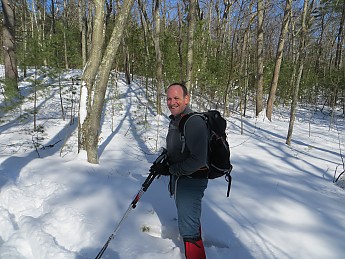 these are my relic snowshoes - purchased in 1984.  on their 3d set of bindings, but otherwise in great shape.  great float, 9 x 34.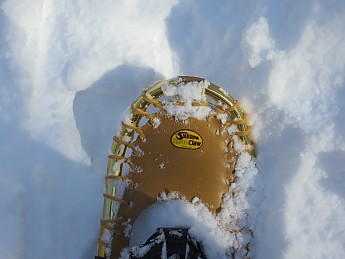 can't say i'm happy we didn't head into the mountains - we missed a spectacular day up there today.  couldn't be helped, and i can't exactly complain about having time to bash around in this much snow.