8:49 a.m. on February 28, 2013 (EST)
Tipi Walter

295 reviewer rep
1,436 forum posts
Here's another trip boys, this time in February in the mountains of TN and Georgia.
TRIP HIGHLIGHTS

TRIP 142
February 9-26  2013

**  18 DAYS IN THE COHUTTA WILDERNESS.

**  WINDSTORM IN THE BIG FROG AT LOW GAP.

**  SHUNKA RETURNS.

**  AT THRUHIKER TREE BEARD AND DANNY ON FROG MOUNTAIN.

**  GOING PAST DALLY GAP ON THE BMT.

**  THREE MILES ON THE PINHOTI TRAIL.

**  ROADWALK FROM BUDDY COVE GAP TO 3 FORKS MOUNTAIN.

**  COLDEST NIGHT ON PANTHER TOP.

**  CROSSING A BUTT COLD JACKS RIVER.

**  TWO BACKPACKERS CROSS BEECH CREEK.

**  HELLISH WIND AND RAINSTORM IN LOW GAP AGAIN.

**  PATMAN COMES INTO THE BIG FROG.

**  WITH PATMAN ON BIG FROG MOUNTAIN.

**  SIX BACKPACKERS FROM KENNESAW COLLEGE.

**  BACKPACKING OFF FROG MT WITH THE HUNTSVILLE SIERRA CLUB.
It's a beautiful day for a backpacking trip.  Once again I get Little Mitten to drive me up the Ocoee River and into the Big Frog wilderness by way of Thunder Rock campground for another long backpacking trip.  40 lbs of food, 8 lbs of books and 4 lbs of fuel---I'm ready to climb the 8 switchbacks out of Thunder Rock with an 80 lb pack and pull my 4.4 miles to the first night's camp.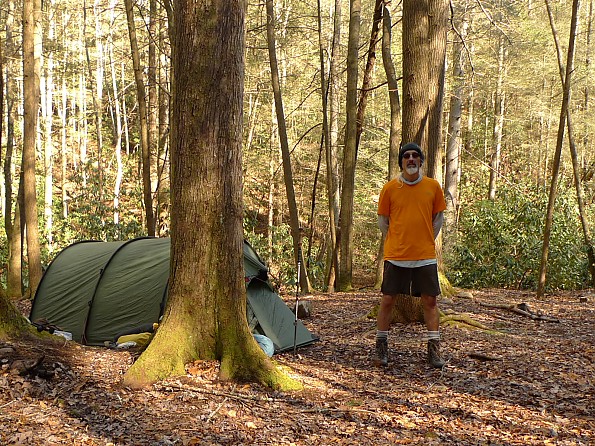 As on my last trip I'm ensconced at West Fork Camp on the banks of Rough Creek.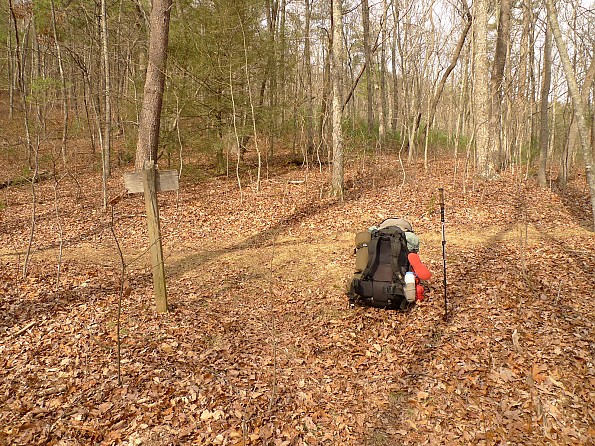 On Day 2 I follow West Fork trail which parallels Rough Creek.  A new trail beckons and it's the west part of the Rough Creek trail as it climbs to the Big Frog trail and here's the jct.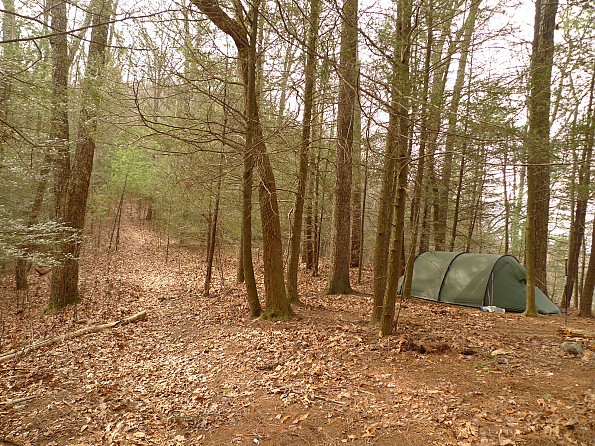 A big windstorm hits and so I hoof it to Low Gap and barely get the tent set up in the wind and have to use all 16 pegs to bolt it down.  Low Gap is a gap so all of the wind is channeled thru it but it's level and there's water.  A big rainstorm is supposed to be coming.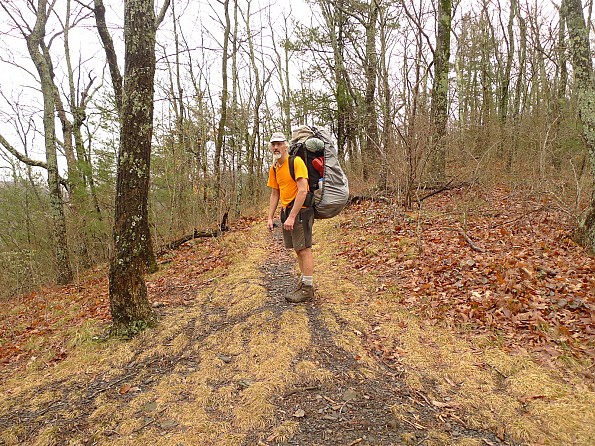 On Day 3 I leave Low Gap and climb up 900 feet in 1.3 miles to reach this point on the ridge going up to Big Frog Mt.  I call this ridge the Frog's Wall.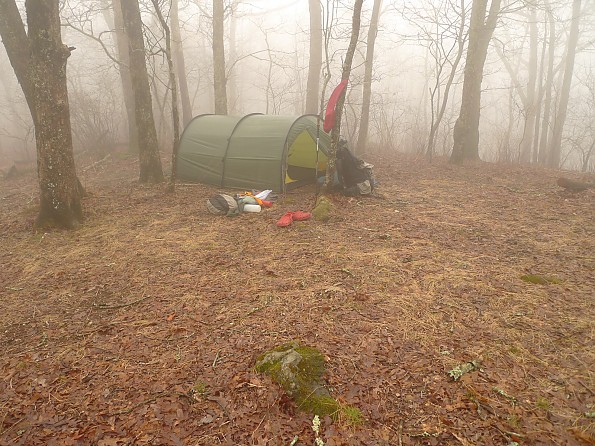 I make it to Camp 4 on Big Frog Mt and set up in the usual conditions---a cold fog.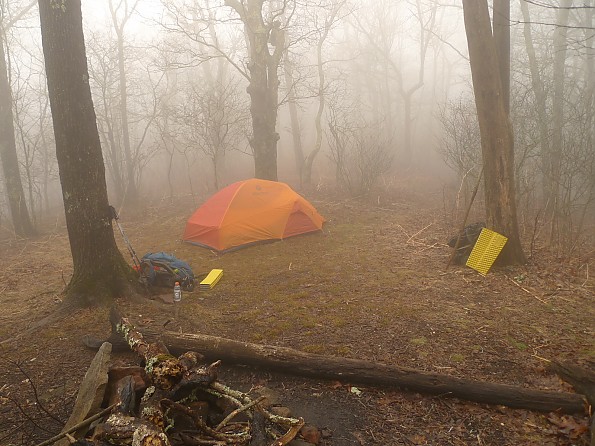 Finally I've got campers nearby and go to check out their Marmot wedge tent.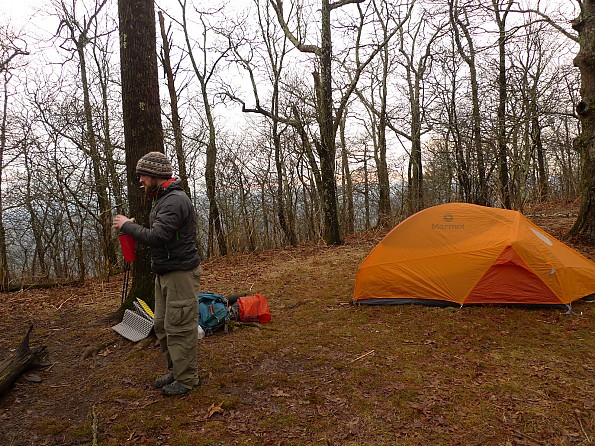 Tree Beard (and Danny) are from Chattanooga and came up the Wolf Ridge trail from Pace Gap.  Tree Beard thruhiked the AT in 2011.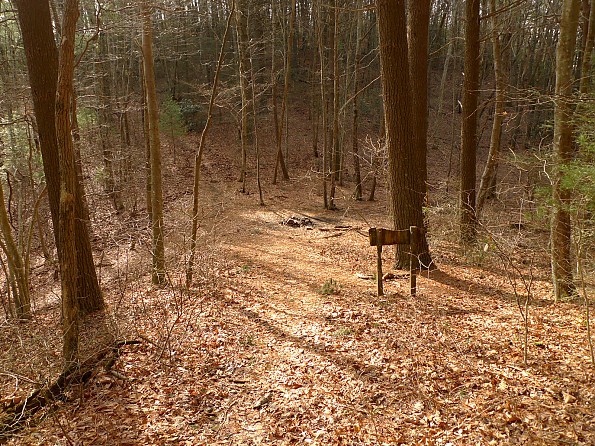 It's morning on the Frog and so on Day 4 I make hot tea and prepare to backpack a thousand feet off the mountain on the Licklog trail.  There's a section of the Hemp Top trail above Double Spring Gap which loses 800 feet in .8 of a mile.  Finally the nutbuster drop enters Double Spring Gap where one spring is on the east side of the gap and one is on the west side.  It's too good of a place to not camp so I set up by the east spring and call it a short day.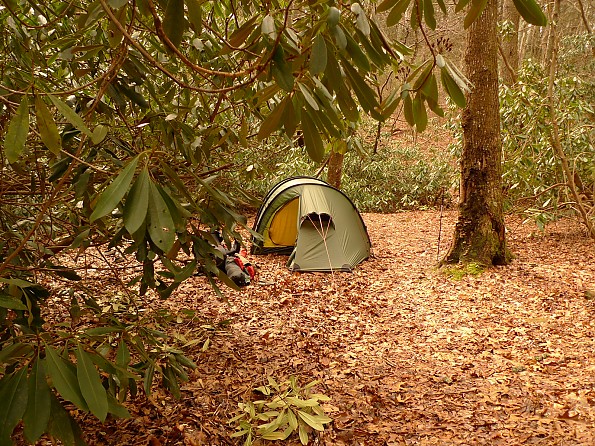 My tent by the east spring in Double Spring Gap.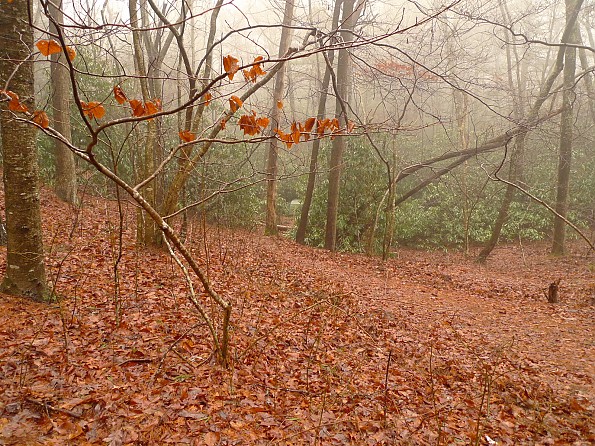 Okay boys, Day 5 dawns cold and wet with another nonstop mountain rain so I yes sit put and pull a zero day to avoid hiking in a 35F rain.  My tent is in the gap but hiding near the east spring.  It's a great place to stay the night.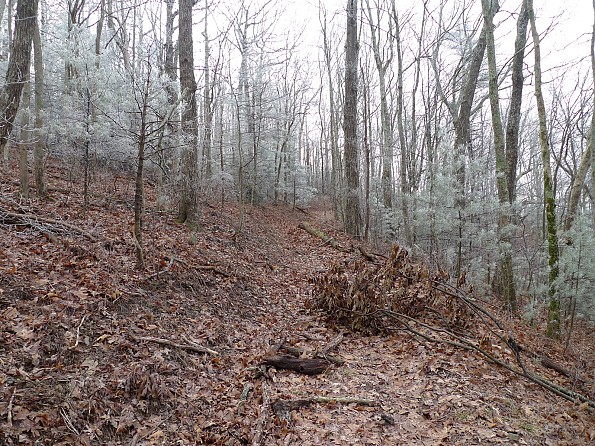 Day 6 dawns cold and foggy but there's blue coming so I pack and leave Double Spring Gap and in 1.3 miles I'm on Hemp Top Mt which is covered in frost.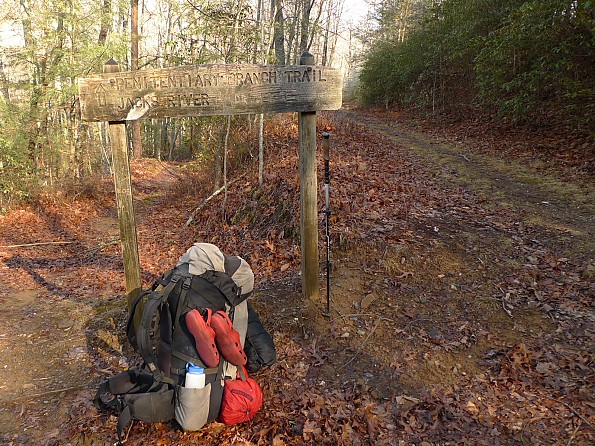 In 3.3 miles I make it to Penitentiary Branch jct which goes to Jacks River in 3.5 miles.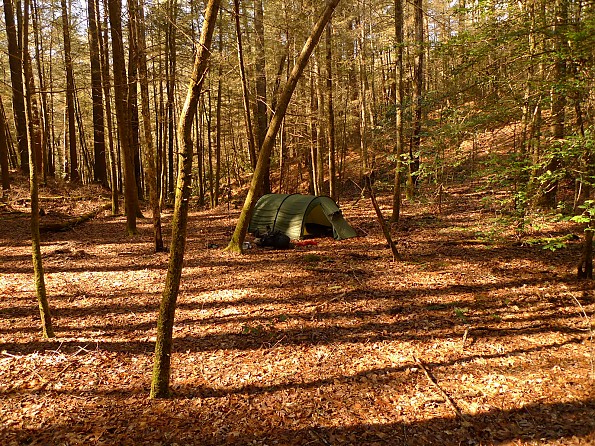 In 6 miles I make it here where the BMT intersects the Jacks River trail and so I keep hiking to the Bear Branch crossing but I don't find a good campsite so I double back and go down the Jacks trail a 100 feet and find a nice camp by water.
MORE TO COME DAY 7