BigRed
TOP 10 REVIEWER
REVIEW CORPS
7,258 reviewer rep | 1,248 forum posts
5:56 a.m. on April 5, 2013 (EDT)
My older daughter Molly has been studying at the university in Grenoble, France for the academic year so we decided to use our Easter vacation to visit her and do some front- and backcountry skiing in the Alps. Over the first four days we stayed in Grenoble and did day trips in the mountains around the city, including a day of lift-serviced skiing at Alpe d'Huez and an ascent of Les Vans (about 2500m) in the Belledonnes. The latter half of the week was reserved for the Big Event: an attempt on the Dufourspitze (4634m, 15,203 ft), the highest point of the Monte Rosa massif, on the Swiss-Italian border. The idea was suggested by Molly's friend Ivar some months ago, and another friend, Astrid, joined the group. I was very much the Old Man of the group but I keep myself pretty fit and also had the days around Grenoble to acclimatize so despite my advanced age I was not the slowest in the group. (My wife and other daughter aren't quite so hard-core and so decided to spend a few days in Paris).
After traveling by train to Zermatt, we took the Gornergratbanen (basically a "mountain train" up to Rotenboden and set off at about 4PM in poor visibility for the 6km ski into Monte Rosa hut -- a traverse across some steep slopes, descent to a stagnant glacier, across the glacier and then a final 400m ascent to the hut. This was an hour or so later than we planned to leave partly because the airline misplaced Ivar's ski boots and they came in on a later flight. But, hey, how long can 6km take? Well, about 5.5 hours as it turns out. The initial traverse was steeper and more exposed in places than anticipated, and the snow was deep, rotten corn so we had to move carefully.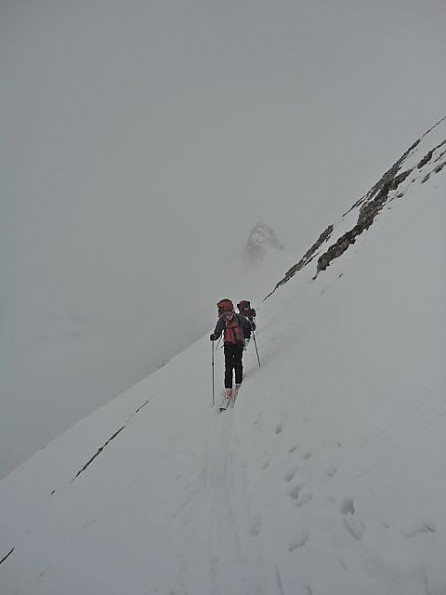 We picked up some fairly fresh tracks and followed those, but they led us to a ledge where we had to take off our skis and downclimb. There were of two moves that were just delicate and exposed enough where none of us wanted to do it with packs on, and pathches of wet spring snow over the rocks above and below didn't make it any easier. After a lot of futzing around we worked out a chain gang method to get packs and skis over the ledge, with me as middle man hanging on to a sloping hold with one hand and swinging the packs around downhill with the other. Awkward, but it worked. Took us about an hour to get over those rocks, and the steep, slushy descent to the galcier was also slow even with skis. We got on to the glacier just at dusk and it wasn't long before the headlamps came out.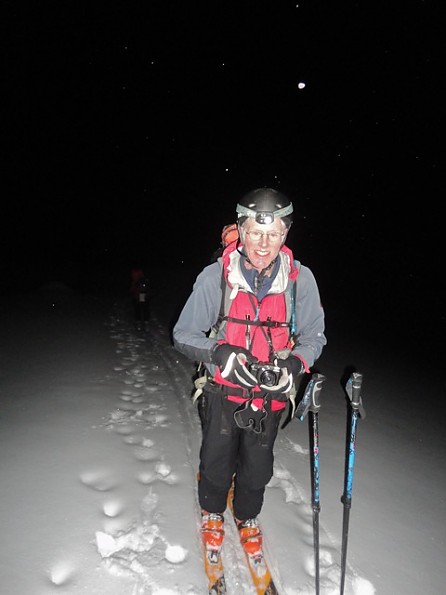 But we had pretty good tracks to follow and eventually caught a glimpse of the lighted windows of the hut and so just kept plugging along, over some up and down to cross the glacier and then grinding up the steep 400m to get to the hut. Tracks disappeared for a short stretch near the top but we picked them up again, with Molly doing some heroic trail breaking as the new snow got deeper with elevation. We two arrived at 9:30, with Ivar (hindered by a heavy load - he brought most of his food to save money) and Astrid (unacclimatized) not too far behind.
Here's the "hut" in broad daylight: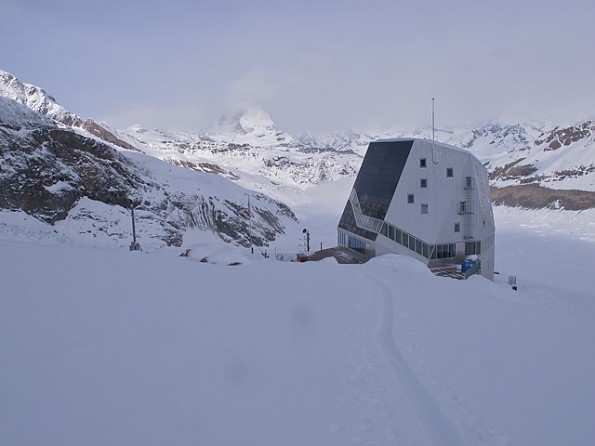 It was opened in 2009, replaced an older and small stone hut. The black wall on the left is all solar panels. I could see as where you might think it was ugly or out of place, but I actually thought it was pretty cool, both outside and in...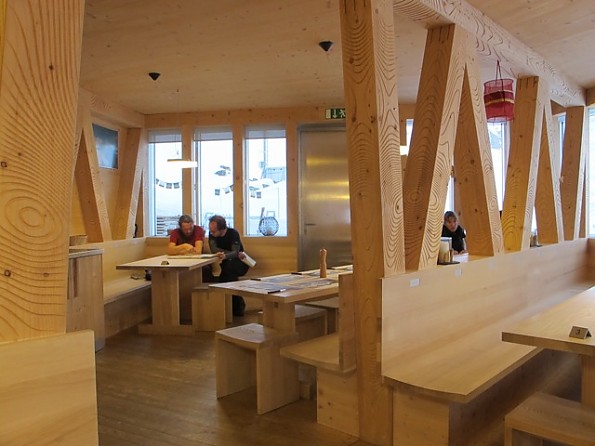 .. but still sticking to the wooden table and bench aesthetic of Alpine huts, and so not as cosy or comfy as most of our Norwegian huts. The bunkrooms have about a dozen beds each, and end up being triangular in shape because of the geometry of the hut but pretty well thought out otherwise. There's no penalty for canceling a reservation up to 24 hours before the day, so although the hut is often supposed to be full if the weather isn't good a whole lot of people just cancel -- we ended up sharing our room with 2 others on the first night and having it to ourselves for the next two. If it was full it would get pretty crowded. (Norwegian huts typically have 2 to 4 bunk rooms).
The weather was variable the next day, with clouds in and out, so we used the day for some acclimatization tours, up to 3300 m (the hut is a little under 3000), then down for lunch, then back up a couple hundred in the PM before a nice nap. Good powder on top, but there was a layer of stiff old snow underneath that could still grab a ski, just to keep you humble.
The next day, Saturday was clouded in all day, so we passed the time reading, joking, and playing cards and Molly and I got out for a short tour when the clouds lifted a bit. There was also a lot of communication back and forth between Ivar and his buddy Rasmus, who wanted to come in and join us. It turns out there is a much better way into the hut, a 1.5-2 hour, well-used glacier descent from the top of the ski lifts on Stockhorn, wish we'd known about that but it didn't come up in my research on the route. The forecast was good, so we figured we'd ski up and meet him part way and then try to hit one of the sub-4000m summits at the top of the glacier. But this would mean that  I at least would have to forego an attempt on the top, since I had to get out to Geneva by that night. The others had a bit more flexibility and could go for it on Monday weather permitting. We all got up at 4AM (actually 3 AM in our heads because we shifted to daylight savings that night) for an alpine start, and over a sleepy breakfast Molly and I decided to give it a shot while the others went up to meet Rasmus.
We actually stalled a little bit because we wouldn't have any daylight for a while, but when we saw some other groups headed out at about 5:30 we also headed out into the darkness. There had been light snow for much of the night and it was still snowing when we set out by headlamp. The route starts out pretty easy but then there is an hour of slow climbing up a steep slope to get to a glacier at about 3300. We were able to turn off our headlamps partway up. We roped up on the glacier, just because you never know, and fell in behind the three parties (of 2, 3, and 4) ahead of us. We threaded around one obvious crevasse and under some small ice walls, and the clouds gradually opened up. Eventually we could see the Dufourspitze up ahead.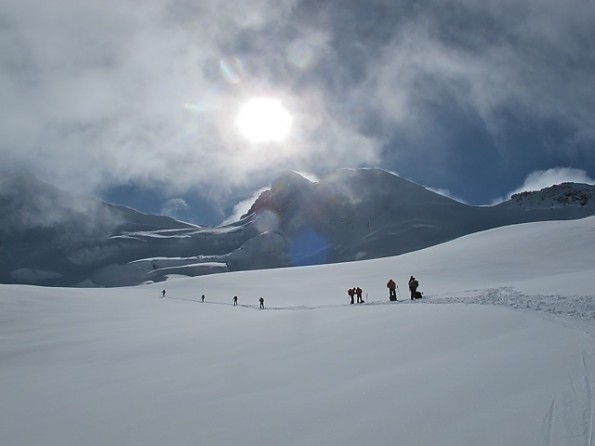 A little further on and about 11AM we came out near the top of a dome at about 4200 meters and saw that the groups ahead had descended a little into a bowl before starting the final climb up a steep glacier to get to the Silbersattle. From there it was supposed to be a short scramble up fixed ropes to the top. Look closely for a little line of ants near the shadow line in the middle of the picture.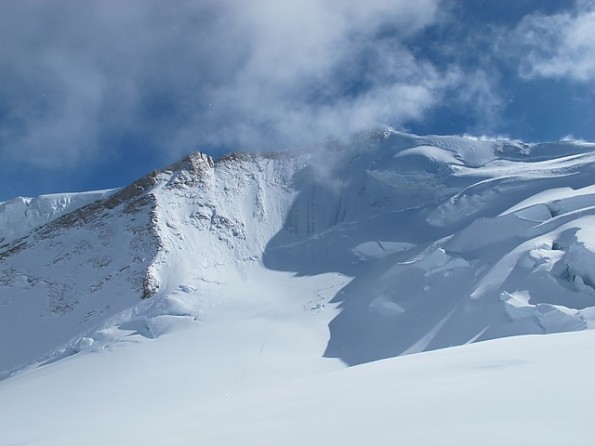 Well, we took a look at that and without much discussion agreed that we weren't really prepared for that kind of terrain. Sure, we could have kept following the other groups, but neither of us had the training or experience to deal with any situations that might arise (i.e., crevasse fall). I went over the basics in a NOLS course in the North Cascades way back in 1975, but I could definitely use a little freshening up before taking my daughter over something like that. So we found a comfy spot and watched two groups tackle the glacier and talked to the third group who had decided to tackle the steep ridge above us instead of risking the glacier. Eventually the clouds closed in again, albeit temporarily, and we headed down in rather poor visibility, just staying close to the ascent tracks. I had though we would be able to ski unroped, but a coupe of people recommended that we stay roped up on the glacier so we had to ski tandem with me taking the rear. With the good powder snow that was a lot easier than I would have thought, but still good for a couple falls. It started to clear again as we descended, and we unroped at the top of the steep slopes and had a great run the rest of the way back to the hut.
(system keeps logging me out so I'm going to post now and finish later)