3:53 p.m. on May 3, 2013 (EDT)
Ashleigh

4,096 reviewer rep
603 forum posts
In mid-February, Jay, Bryan, and I headed to Hot Springs, NC. We were originally planning to get shuttled to Max Patch Bald and hike the AT back to Hot Springs, but Max Patch Road was dangerously icy, so we opted to do a loop incorporating the AT in the Hot Springs area. 
We left downtown Hot Springs and headed across the bridge and to the left after we crossed it and then turned on to Reservior Road and walked it up until we got to the top of a big hill, where the Roundtop Ridge Trail started. When we left downtown, it was about 35 degrees and windy, but the straight uphill jaunt warmed us pretty quick!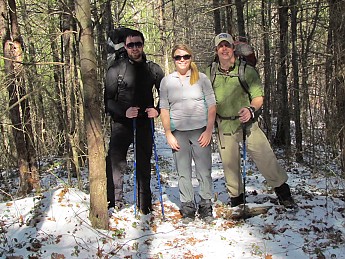 Roundtop Ridge Trail (3.2 miles long)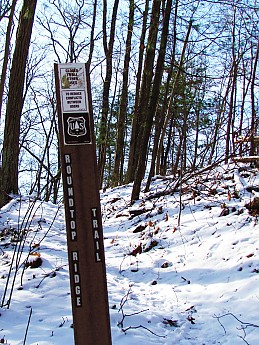 Intersection where Roundtop Ridge Trail met the AT

When the Roundtop Ridge Trail met the AT, we went up just a short way, then ended up at the Rich Mountain Fire Tower. It was very icy and dangerous. Some previous hikers (or jerks) had trashed the inside of the tower. It was really a sad site to see.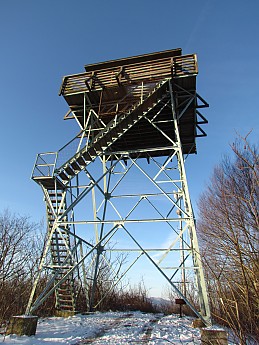 Rich Mountain Fire Tower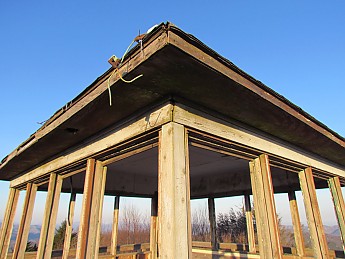 We found the campsite about 250 yards away from the tower.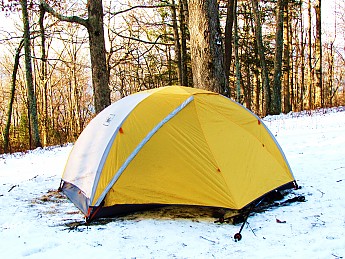 REI Half Dome2 at the Rich Mountain Campsite

I had a kind of scary moment happen at the campsite. I was very warm from the hike, but the temps were dropping steadily, especially since the sun started to go down. Since I was just so warm, I did not think to put my down jacket on. I started to clear the snow to put the tent up with my feet. Apparently the cold snow drained the heat out of my body and my core temperature started dropping. I tried everything possible to get back warm, but I could not stop shivering. I doubled up my socks, put on my long johns and my down jacket, got in two down sleeping bags, rubbed my feet, and even had Jay lay on them. Nothing I tried worked. I was not thinking clearly and I started to panic because I had never had this happen. I finally remembered where I had put my handwarmers...in the jacket pocket that I was wearing. I exposed them to the air and put them directly on my feet and within two minutes I was perfectly fine! We built a fire and I wasn't cold at all the rest of the night. It was so strange, but was very scary! I hope to never experience real hypothermia! Every time I go out into the wilderness I learn at least one lesson. I learned a lot from this experience! 
The next morning, I went up to the fire tower to catch the sunrise. I was rewarded with some fabulous views!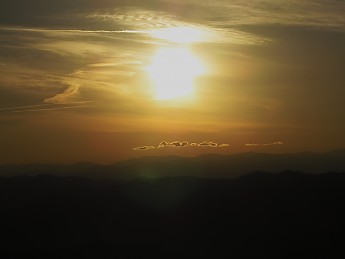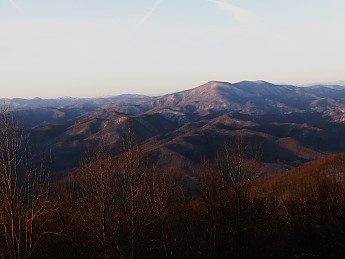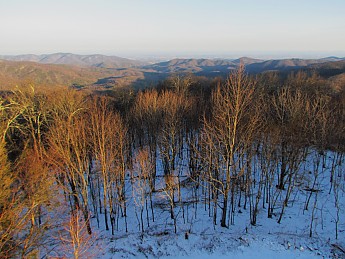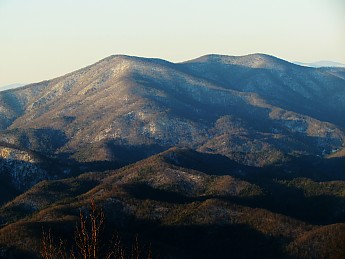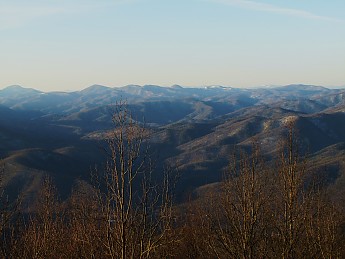 After that, we packed up camp and headed the 8.8 mile scenic trip down the AT back to Hot Springs.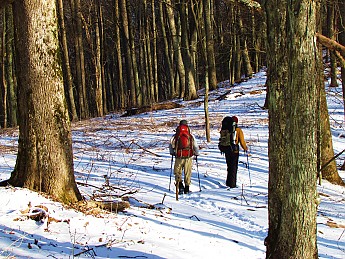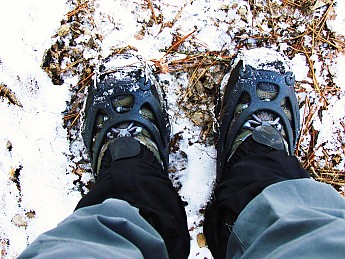 It was a gaiters and Kahtoolas kind of day.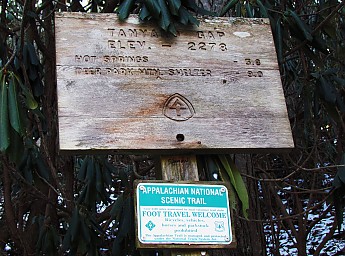 After about 2 hours, we reached the halfway point of our trek, Tanyard Gap. We had to cross a bridge that went over the highway to get here. Then we started a little bit of uphill climbing, but nothing too bad.
Shortly after Tanyard Gap, we reached a big open area known as Mill Ridge that was formerly used for farming tobacco.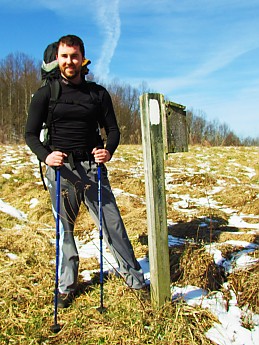 Bryan posing by an AT marker in Mill Ridge

While in Mill Ridge, we encountered this: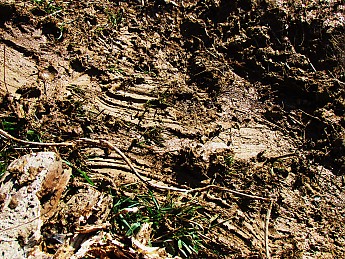 And then this happened: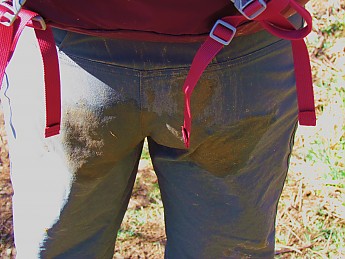 I was mad! I pride myself on being very nimble, but I was no match for that mud. It was as slick as ice! Too bad I didn't leave on the Kahtoolas.
We continued on and arrived at a beautiful frozen pond.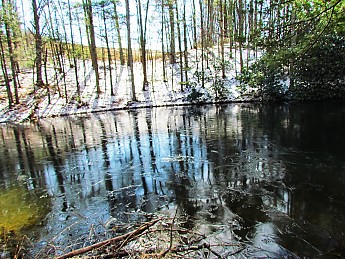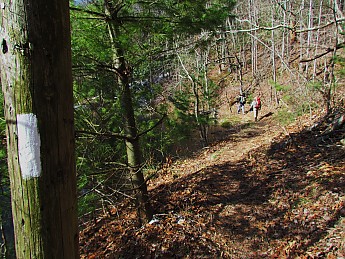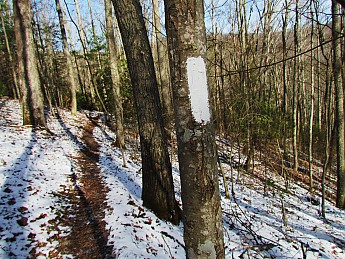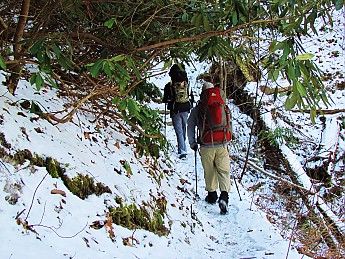 About a mile later, we came to the Pump Gap area and the snow started to diminish. Not terribly far after that, we camp to Lover's Leap, where you can see a beautiful view of Hot Springs and The French Broad River.
Lovers Leap Rock , one of the most popular AT side hikes in the area, offers a grand view of the French Broad River 500 feet below. Lovers Leap Rock gets its name from a Cherokee Indian legend that tells of a maiden who threw herself from the steep cliff after learning her lover had been killed by a jealous beau. (credit:http://www.bluffmountain.com/-hiking)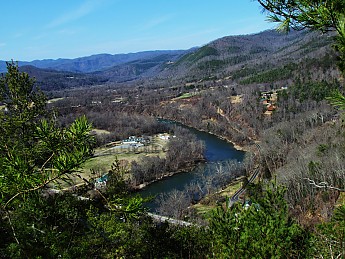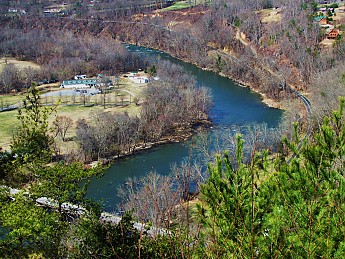 Here you can see the Hot Springs Spa and Resort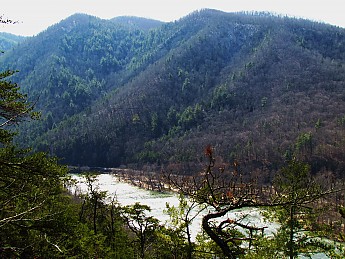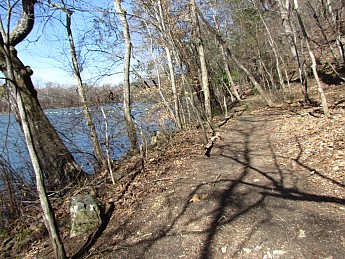 The trail descended from Lover's Leap and eventually completely flattened out for a nice walk along the French Broad. This is a beautiful section of the AT.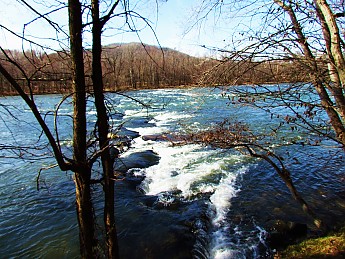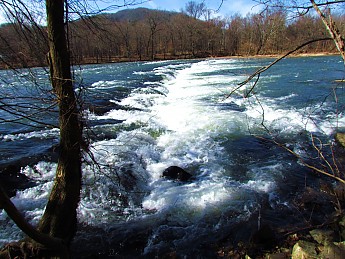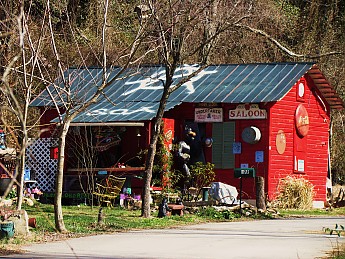 You never know what you are going to run into along the AT. I bet Mike and Frank from American Pickers would stop by for a "freestyle pick" if they saw this!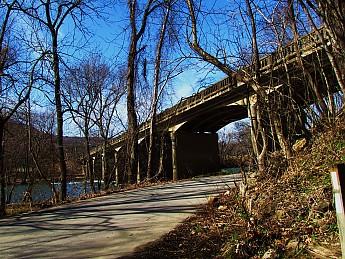 Ah, the French Broad Bridge. We were officially back in Hot Springs. What a beautiful and scenic day on the AT!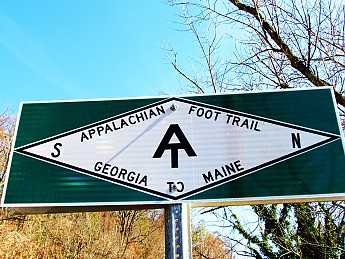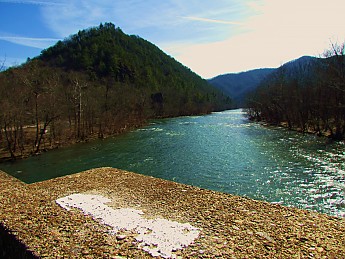 White Blaze on top of the French Broad Bridge

Lover's Leap (rock formation in the middle of the mountain) from the French Broad Bridge
Jay was very happy to be in Hot Springs. This meant juicy burgers, Asheville craft beer, and a soak in the hot springs! It was the perfect ending to a perfect day!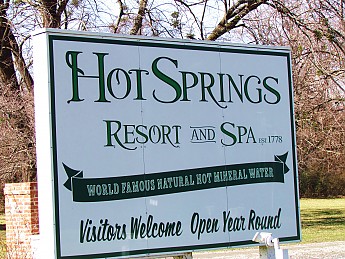 The AT runs right through downtown Hot Springs. Some might not realize that there is shopping, restaurants, bars, and a mineral springs resort right on the AT.
Make sure you stop by Bluff Mountain Outfitters if you come through town!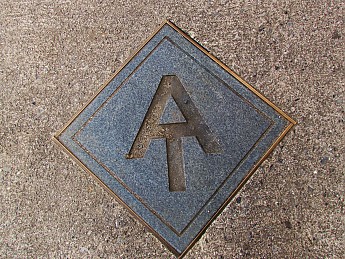 AT marker in front of BMO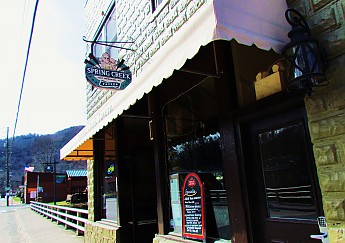 We stopped at Spring Creek Tavern for lunch and beverages. The back porch is right on the river and is a really nice post-hike atmostphere. The food was great too! After that, we soaked in the hot tubs and then headed back to South Carolina. This was a really fun trip!