4:24 p.m. on May 28, 2013 (EDT)
FromSagetoSnow

TOP 25 REVIEWER
REVIEW CORPS
6,956 reviewer rep
1,694 forum posts
No sunscreen or bug repellent required!!
Each year we try to day hike up Granite Mountain (5,629 ft, 3,800 ft elevation gain, 6-8 miles RT depending on route) near Snoqualmie Pass as a warm up for the season.  This year my oldest decided to sit it out but her little sister picked up her ice axe and came along for her first time in the snow fields.  
#2 and #3 at the TH, its early, they slept on the way. #2 is rockin' the TS cap.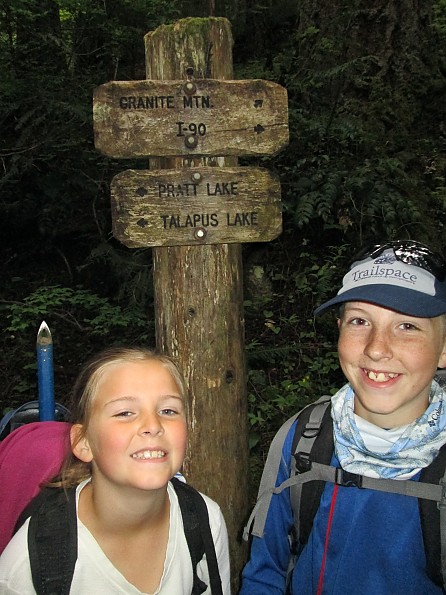 The weather window closed up and was pretty much gone by the time the day came and the views were a little disappointing.
The view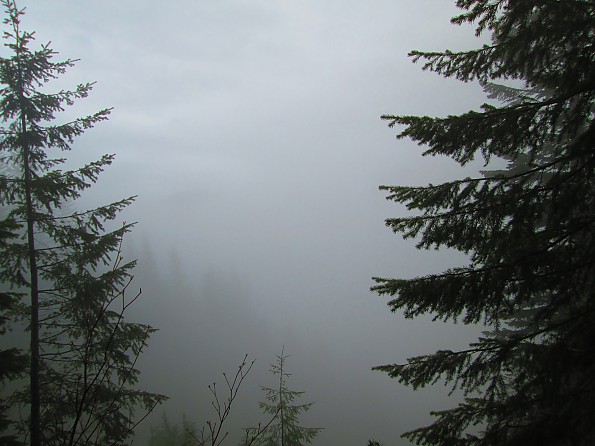 The entire day was characterized by a steady drizzle/mist that kept us damp but thanks to modern fabrics and vigorous movement, we stayed warm. 
The most decent view all day

The hill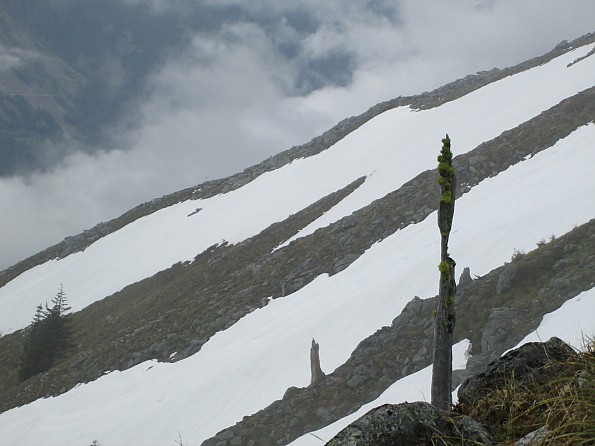 We ditched the trail and went straight up an old avalanche chute in the snow.  This is the mountain where a Seattle-area dentist and a woman were killed in April by a huge avalanche that swooped down the mountain at over 55mph.  We saw television sized granite blocks hanging suspended in trees over twenty yards from the avy chute, this was a big one.  Of course the snow we walked on was completely consolidated but I still carried a shovel anyway. 
Up the gully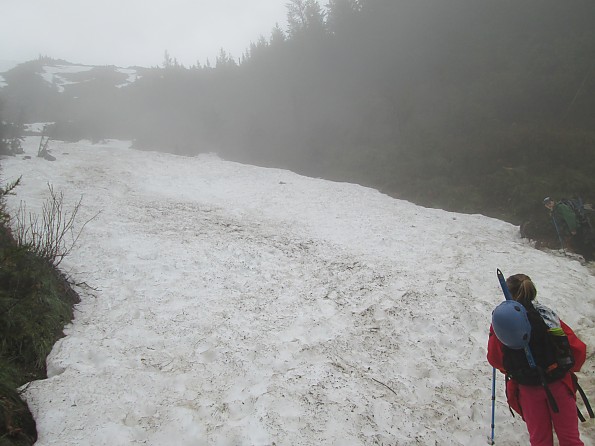 We gained the summit ridge after some boulder scrambling and headed up to the fire lookout, obscured by the clouds. Walking within grabbing distance of my daughter on the way up the summit ridge and staying in the boot-pack I had to toss a snowball a couple times to find the cornice edge in the fog.
Summit ridge at its clearest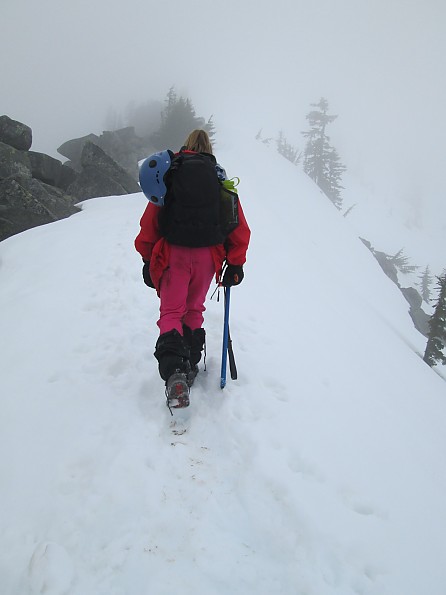 A fantastic surprise, the lookout was open for the weekend by volunteers!  Chuck, the USFS volunteer showed the kids how the Osbourne Fire Finder (http://en.wikipedia.org/wiki/Osborne_Fire_Finder )  worked and some other cool info.  This was their first visit inside a lookout tower.  We hung out with Chuck and talked about mountains, weather and the recent avalanches in the area.  I think we overdid the avalanche talk because my daughter was a little sketched out after that when we walked the summit ridge and looked at the cornices and recent point release slides in the area.  On the bright side, she was proud to learn a ton of new vocabulary words such as avalanche, corn (as it applies to snow), cornice, glissade, self-arrest, crevasse, summit, etc.    
Lookout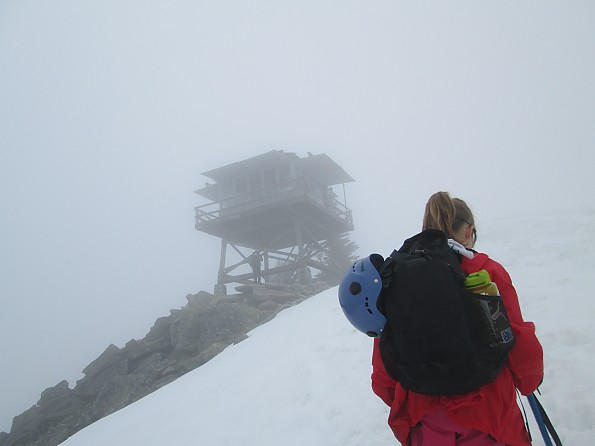 We quit steaming and got chilled talking with Chuck and went back down to the packs where the kids put on their hats, mitts and puffies under their storm shells.  I tried to get them to take some of it off for a picture but the wind and blowing drizzle convinced them to refuse. 
Summit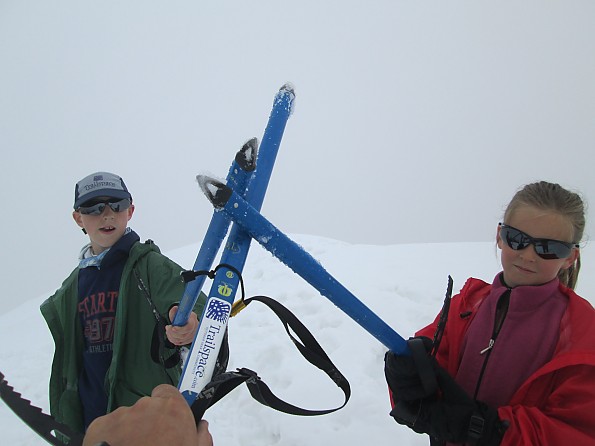 Wind picked up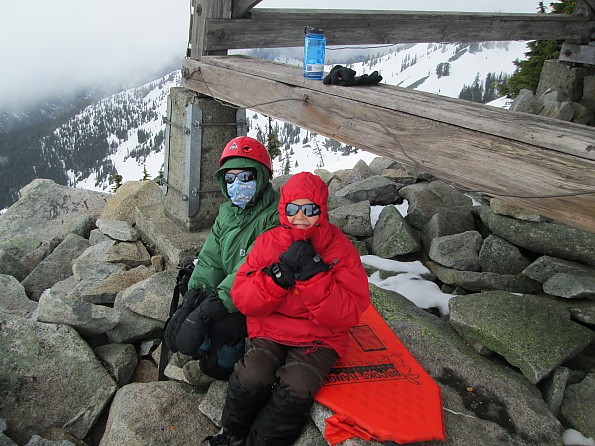 Refueled after lunch.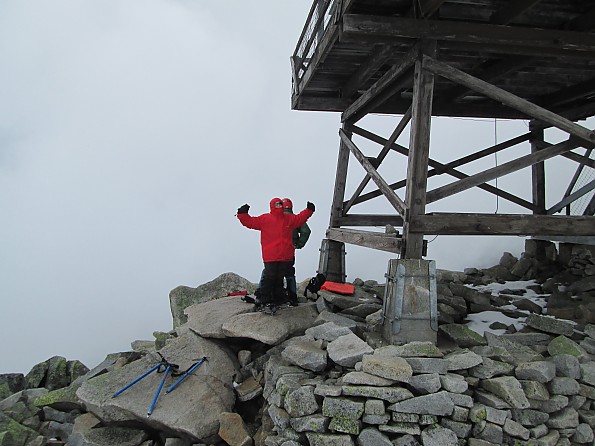 Dad.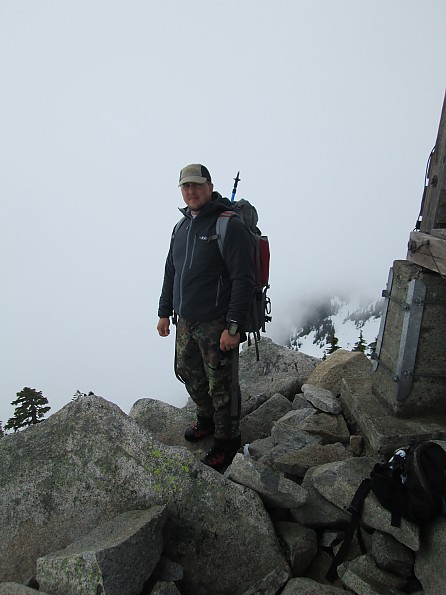 We practiced self arrest and #3 got to try her first glissade, with variable results:
#2 demonstrating the proper glissade: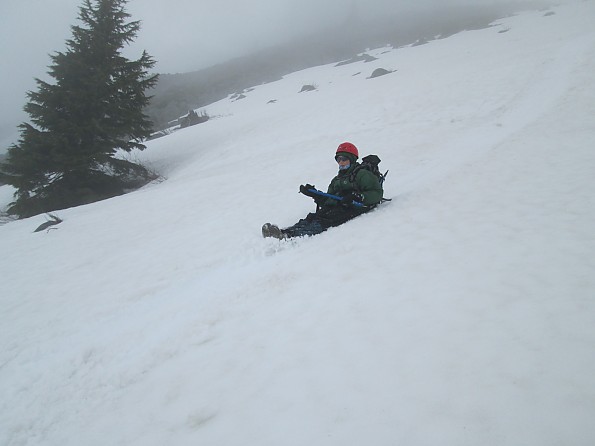 First attempt at self-arrest after a glissade by #3.  Kind of a yard sale, helmet came unbuckled, ice-axe dropped.  Gentle runouts are a life-saver! She got better.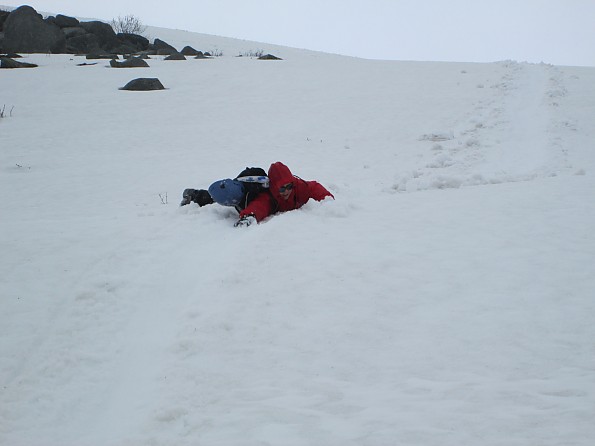 The kids said they were smiling, the lookout is 40 feet behind us mid picture, you'll have to trust me on that.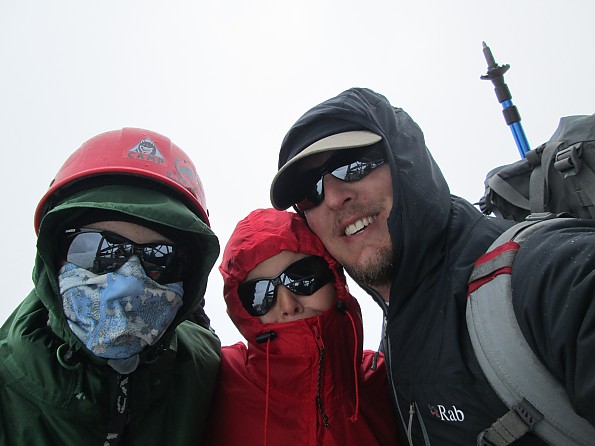 I thought we'd save some time by snow-running down one of the snow chutes (we had agreed to quit calling them avalanche chutes) in order to lose some fast elevation on the way back to the car. As it turned out I took us down the wrong chute and we had to bushwhack about 100 yards (took most of an hour) through vine maple and slash alder and across a couple rushing streams to get us back to the trail.  This sounds easy and the pictures don't do it justice but it was a soaking wet epic.  I am proud to say that the kids soldiered on and made it through in good (and forgiving) spirits.  At one point I had to lower an accessory cord and assist them out of a little gully I had climbed with my ice axe. 
This stuff sucks!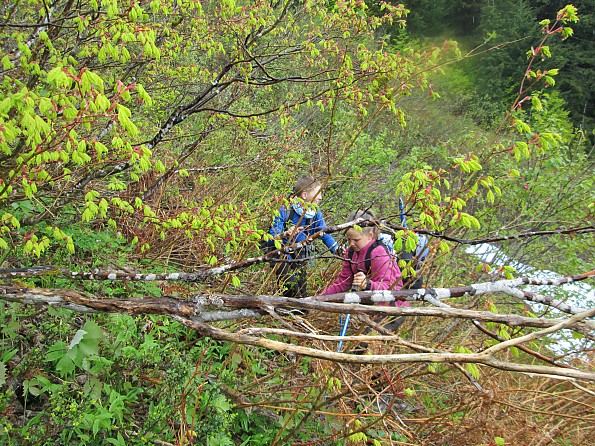 Afterwards I congratulated the kids and told them, "Now you know how hard things can get and that you can still make it when they do."
I didn't mention my son much but it was his third time here and he has done a decent amount of summits with me and took the role of path-finder on the way up.  He has the makings of a mountaineer. 
Sometimes you can't wait till nice weather.