9:54 a.m. on June 3, 2013 (EDT)
Tipi Walter

295 reviewer rep
1,436 forum posts
18 DAYS
ON THE
NUTBUSTER
TRAIL

Trip 145
May 13-30  2013

**  18 DAY RETURN TO THE NUTBUSTER TRAIL

**  SVEA BOY AT WATAUGA CAMP

**  INDIANA FIELD TRIP

**  FOLLOWING A GIRL AND 2 GUYS DOWN THE BIG FAT TRAIL

**  7 DAYS OFTRAILWORK ON THE NUTBUSTER TRAIL

**  29TH CLIMB OF THE NUTBUSTER

**  MEETING BACKPACKERS GARRETT AND JOHN ON THE NUTBUSTER

**  THE NUT EATER EATS MY GLASSES AND RETURNS THEM THE NEXT DAY

**  PATMAN CAMPS WITH ME IN BUCKEYE CAMP

**  PATMAN AND I CLEAR LEGS 4 AND 5 ON THE NUTBUSTER TRAIL

**  COY WILLIAMS PASSES THRU BOB BALD

**  CHANTILLE AND THOMAS ON HANGOVER MT

**  30TH CLIMB OF THE NUTBUSTER WITH FINAL TRAILWORK

**  14 MILE DAY

**  GRASSY BRANCH TRAILWORK




JOURNEY TO THE NUTBUSTER TRAIL
     The month of May brings warmer temps but you wouldn't know it standing in Beech Gap in Tennessee on a Monday afternoon with a brisk cold wind blowing into your flesh.  Little Mitten and her son Blade drive me up the Skyway to Beech Gap at 4,600 feet and we say our goodbyes as I strap on an 85 lb pack with a real book and 8 internet book rolls of 70 pages each.  While in the gap I cache an emergency Thermarest wrapped several times in 2 large garbage bags and it's my old 1980's era Thermarest Ultra Light 20x72 inch pad of ancient linage.  After the stash I move north on the BMT/Fodderstack to Cold Gap where I sit in a cold wind from the west sipping an Odwalla superfood fruit smoothie at 12 fluid ozs.


My first night is 3.5 miles in with a gain of a thousand feet to Bob Bald.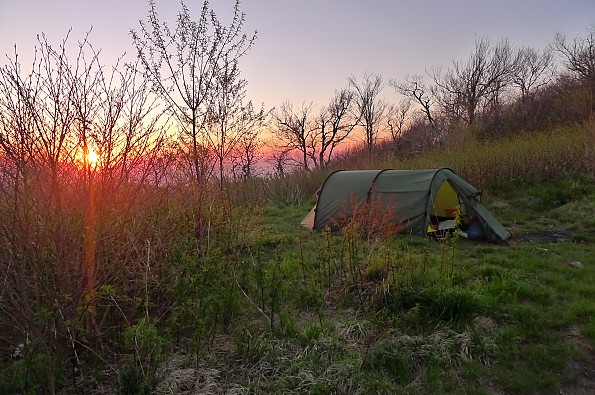 On Day 2 I leave the Bob and head 3 miles to Hangover Mt where I catch a sunset.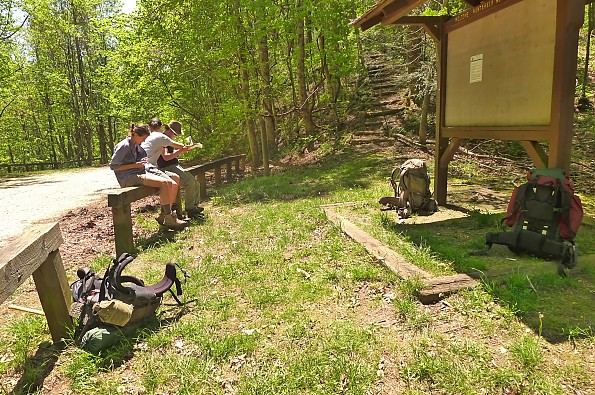 On Day 3 I leave Hangover Mt and descend 3,000 feet to Slickrock Creek and stop in Big Fat Gap for a break when I run into these 3 backpackers from Georgia.  They head down the Big Fat trail and I follow behind.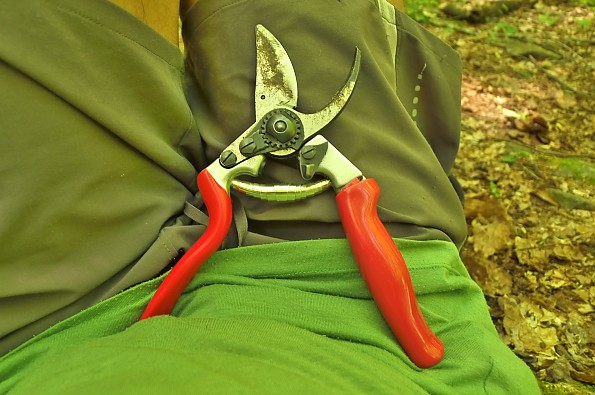 I cleared the whole of the South Lead/Big Fat trails with this simple tool---a Felco #10 left handed pruner.  (Didn't really clear the trail, just a light touch up).  It will come in handy on my work on the Nutbuster trail on Day 5.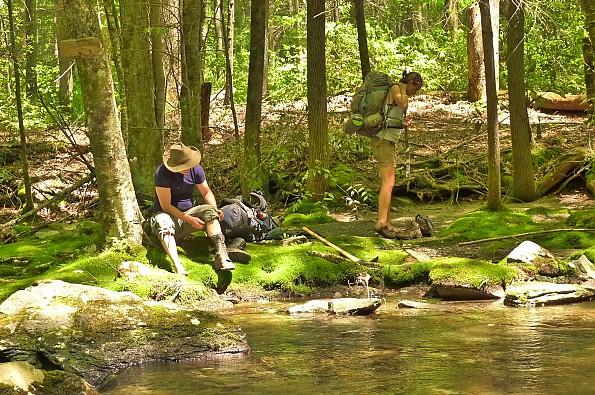 The kids getting ready to cross Slickrock Creek and I get to watch.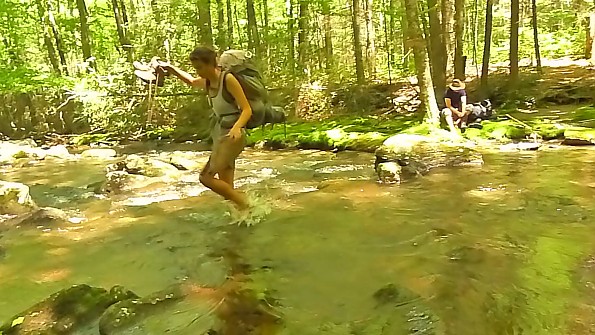 The girl crossing the Slickrock.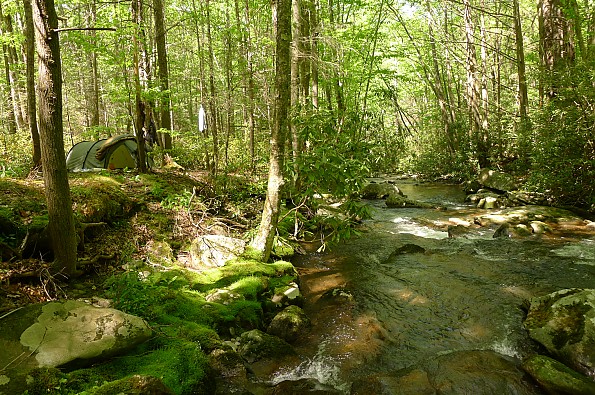 My camp on Slickrock Creek.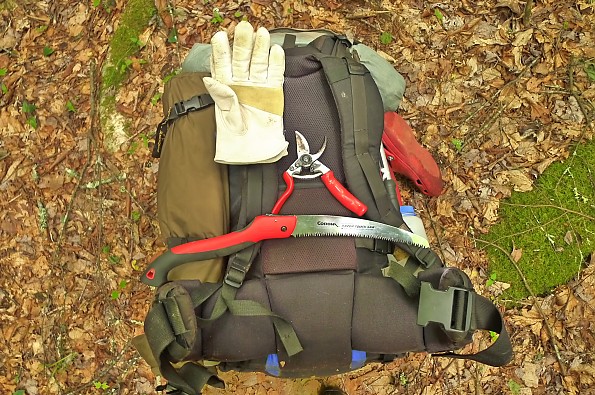 Day 4 is a big day as I grease up the tools and start clearing the 10 legs of the Nutbuster trail, a monumental task.  There are 10 sections of the Nutbuster and I clear the first leg up to Burnthouse Camp.  Here are my trail tools.  An amazing amount of work can be done with these 2 tools.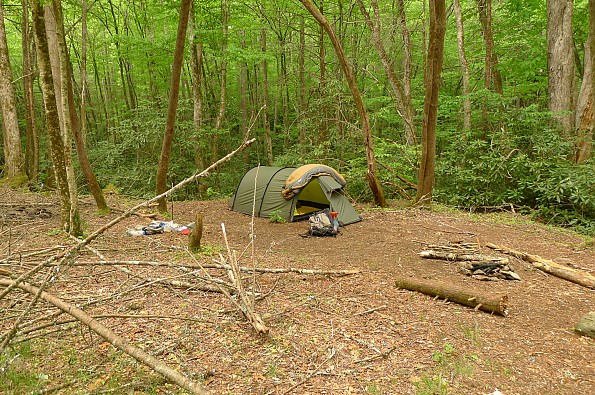 After I finish the first leg I set up camp on an island between 2 creeks---Slickrock and Hangover.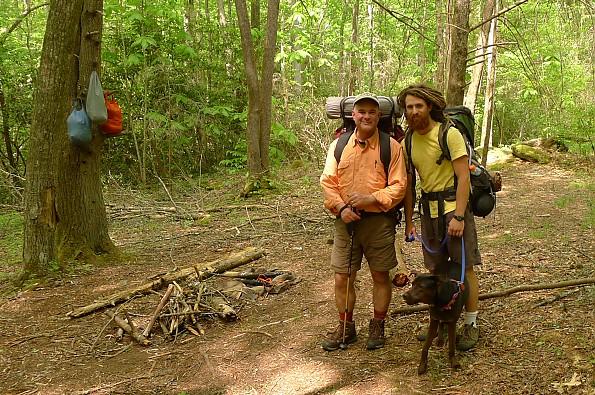 These brave souls came down the Nutbuster trail and met me on Leg 3 doing trailwork away from camp.  They are John and Garrett with dog Bodhi---a father and son team.  The first day of trailwork gets me to the middle of Leg 3.
John and Garrett crossing Hangover Creek.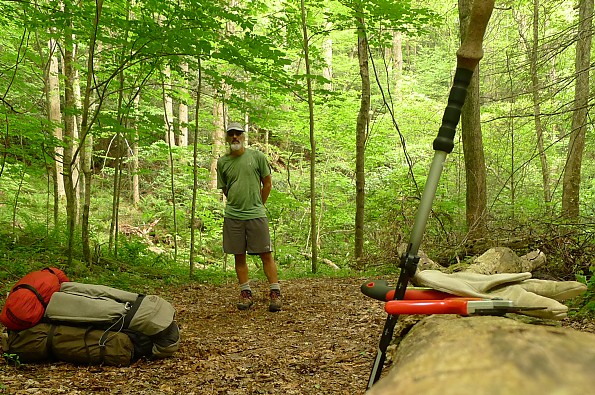 Day 5 starts out clear and sunny so I pack up the kit and enjoy the hike on newly cleared trail to Buckeye Camp which is awesome so it becomes my home for the night.  After camp is arranged I take the tools on Leg 4 which is a mess but get most of it finished before returning in a light rain.
As I'm working Leg 4 on the Nutbuster who hikes up but backpacking buddy Patman.  He helps me on Leg 4 and then I take him to Buckeye Camp and show him this special spot where he finds a place for his tarp.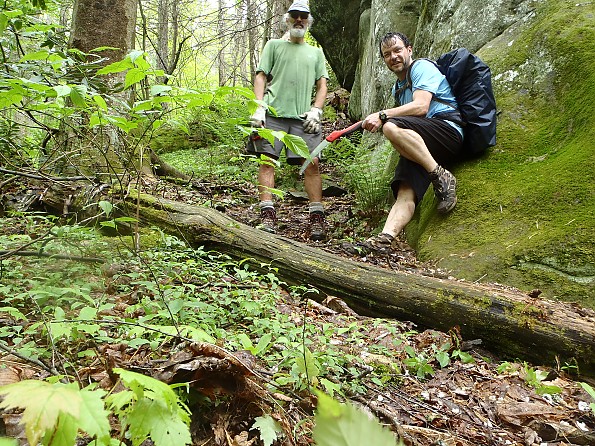 Day 6 is spent with Patman doing trailwork on the godawful Open Cove section of Leg 5.  Here we are near the end of the leg.  This is taken with Patman's camera.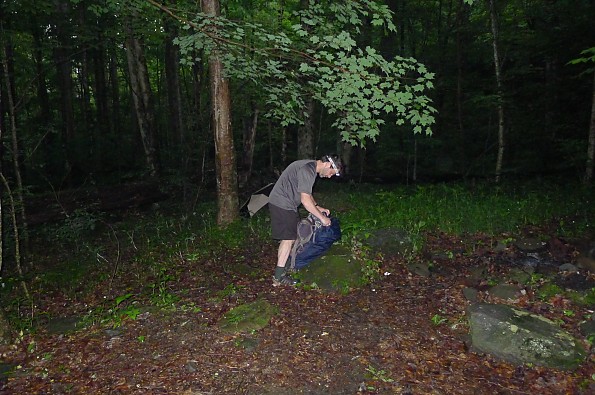 On Day 7 Patman leaves early and on the trail by 6:45 and so I take the necessary fotogs.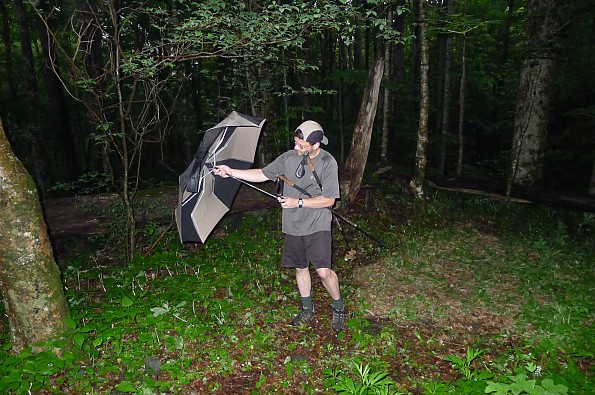 Stowing the umbrella.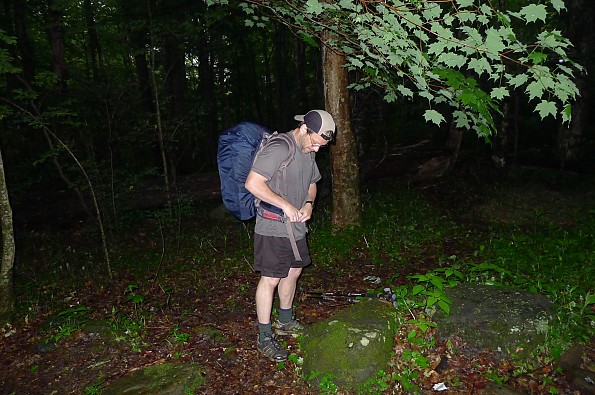 Cinched up and ready to descend the Nutbuster and climb up the Big Fat trail.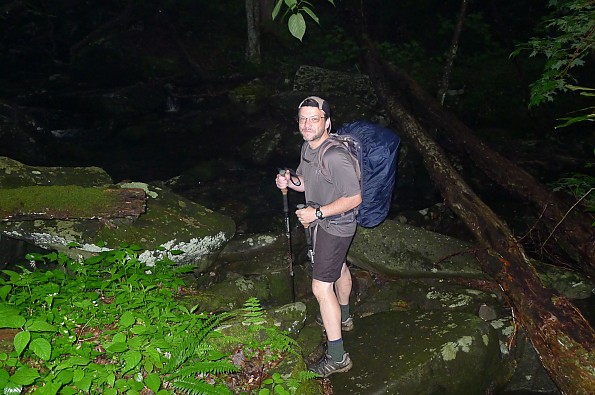 Patman leaves Buckeye Camp by crossing Hangover Creek.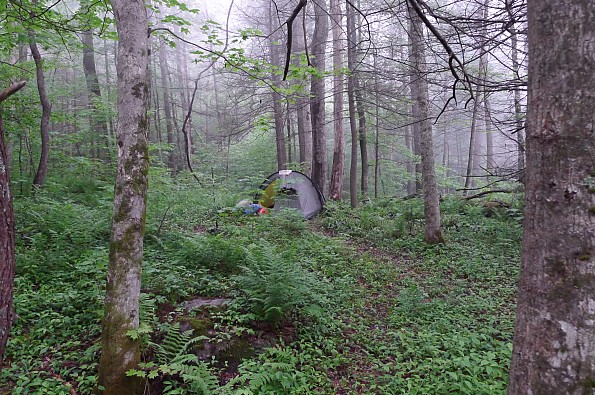 A DAY OF THUNDER---On Day 7 I pack up under a bright but cloudy sky and backpack up Leg 4 and do a little trim work along the way and reach the beginning of Leg 5 in the Open Cove leg of the Nutbuster and set up in the temperate rain forest of the dark north facing cove in the Slickrock wilderness.  Just after camp is set the sky turns mean with booming thunder and so there will be little trailwork done on Leg 5 today.  I end up pulling 3 good hours on Leg 5 after the storm.
MORE TO COME ON DAY 8