3:40 p.m. on June 17, 2013 (EDT)
LoneStranger

TOP 10 REVIEWER
REVIEW CORPS
10,543 reviewer rep
1,678 forum posts
Baxter State Park June 10-14 2013
Planned Itinerary
Day 1: Enter via Matagamon Gatehouse (North entry)  Wadleigh Trail from parking past Trout Crossing to Frost Pond LT est 6 miles
Day 2: Wadleigh/Frost Pond Trail to Freezeout Trail to Little East LT est 3.8 miles
Day 3: Freezeout Trail to Webster Lake Outlet LT est 8.7 miles
Day 4: Freezeout Trail to Wadleigh Brook Trail to Hudson Pond LT ext 4.8 miles
Day 5: Wadleigh Brook Trail to trail parking est 8.5 miles
Before I spin this epic yarn of the Maine wilds I'll explain a few things. 
First, if you aren't familiar with the story of Baxter State Park, it isn't really a "state" park.  Percival Baxter left it to the people of the state, not the state itself and left a few simple instructions; "Forever wild" being the most important.  There is no running water or electricity anywhere in the park, no paved roads or concessions.  Nature is left as natural as possible and most anything man made is there to protect nature from man rather than the other way around. Camping is by reservation and at approved sites only.
Second, mileage in the park is best considered a relative reference or perhaps a hint rather than an exact science.  You can go by your map, you can go by the signs, you can go by GPS, but none of them will likely agree with each other and often seem to argue with themselves.  Most of the trails are quite natural so travel generally takes longer than you might expect so you want to make sure you allow enough time to reach your destination each day, especially if you are heading into the more remote parts of the park.
Day 1
We stopped for the traditional entry chat with the ranger at the north gate.  Those with backcountry reservations are usually subjected to a friendly conversation that is actually a screening process they use to help identify folks who need to be cautioned about the dangers of not being prepared.  They are very nice about it, but they don't want to have to rescue people or add names to the already too long list of park fatalities. Based on my previous park backcountry experience we weren't subjected to much more than a detailed discussion of our day to day plan for this trip.  We soon headed the few miles down the road and found ourselves parked at the trailhead.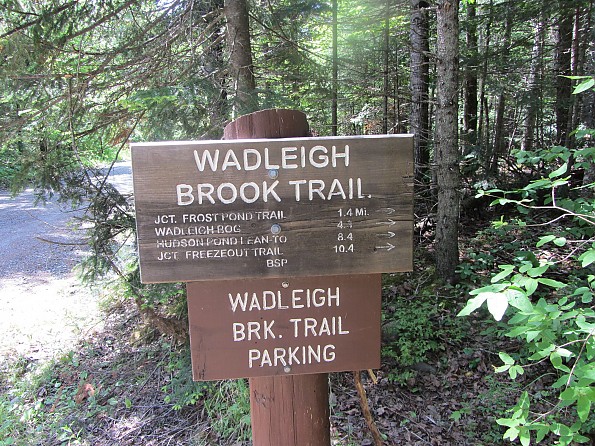 Such an inviting trail welcomed us so we quickly were on our way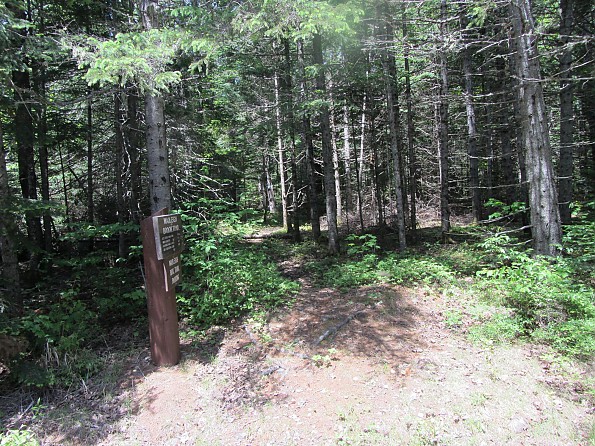 I think someone has been using this as a scratching post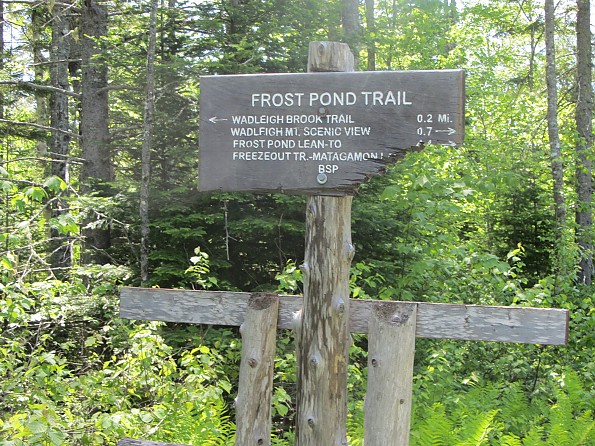 We crossed one of the logging roads still maintained in the northern part of the park which is a scientific forest management area Baxter specified as part of the park's purpose.  We heard no activity during our entire trip and this was the only road we saw.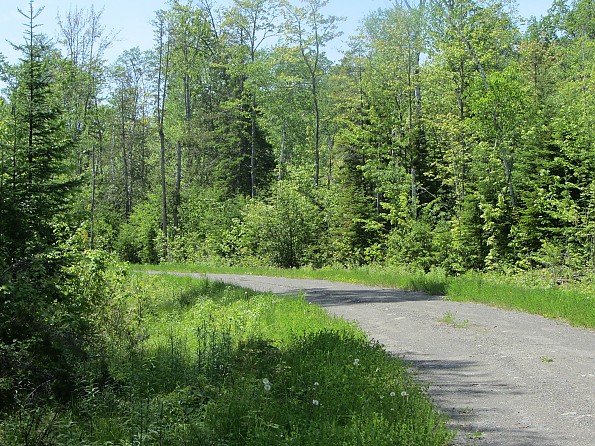 Frost Pond LT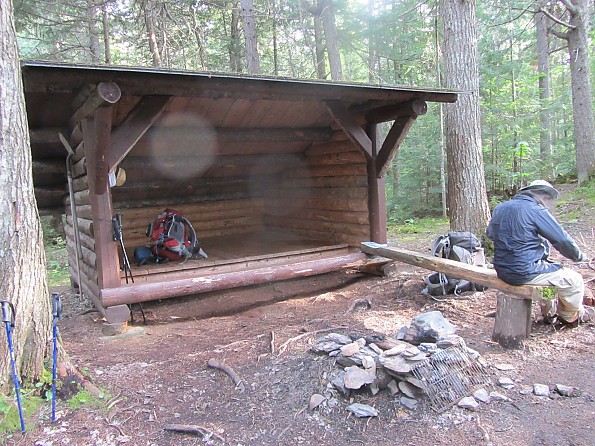 Canoes are available at quite a few of the back country pond sites.  $1/hour on the honor system in the back country though some sites closer to the road need a key you pick up when you check in.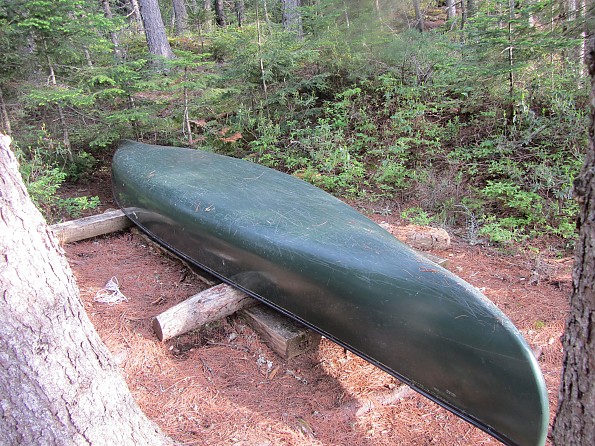 Sunset at Frost Pond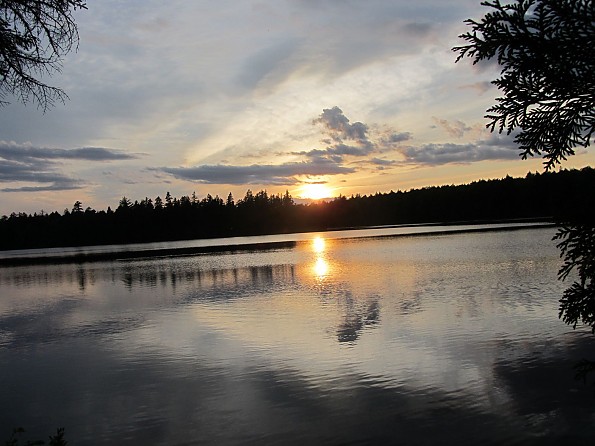 Beaver who kept an eye on us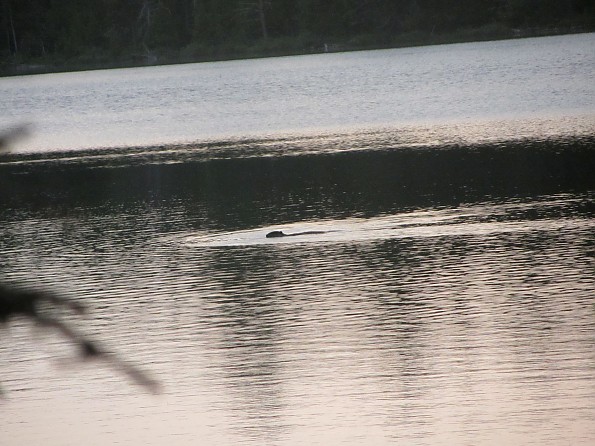 We managed to cram three tents w/o fly in the LT.  If you've never camped in Maine you might wonder why we had tents, but if you have then you know the answer heh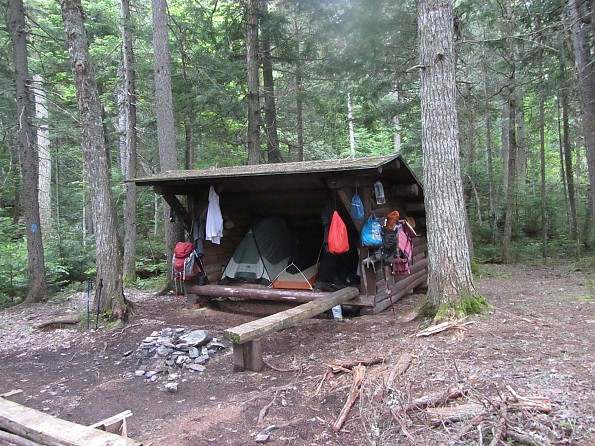 Day 2
We expected showers later in the day so weren't surprised that we didn't see a sunrise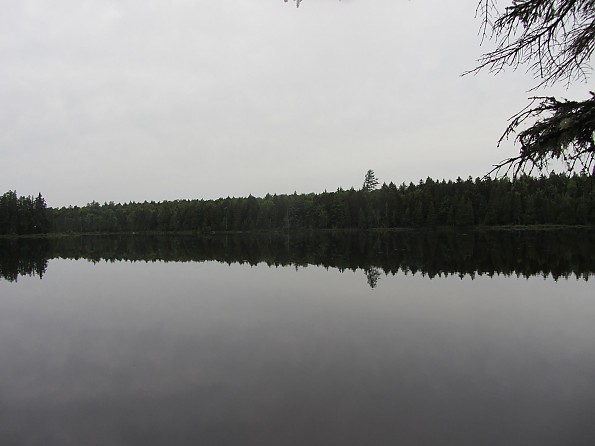 I did take a moment to capture this wonder.  Baxter is known for some impressive latrines but this wasn't one of them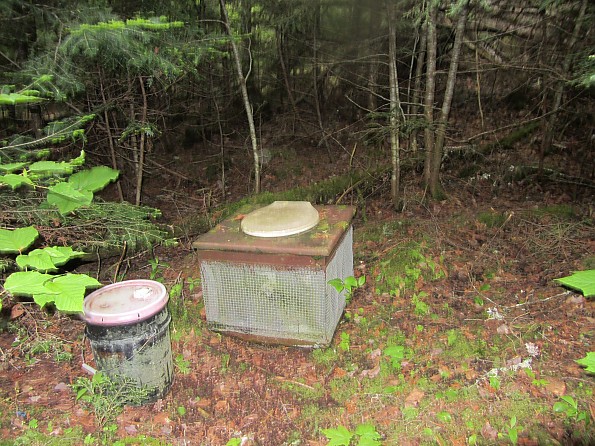 Easy day planned.  1.7 to the lake, 2 miles along the shore to where we hoped to get some fishing in before the rain got too bad.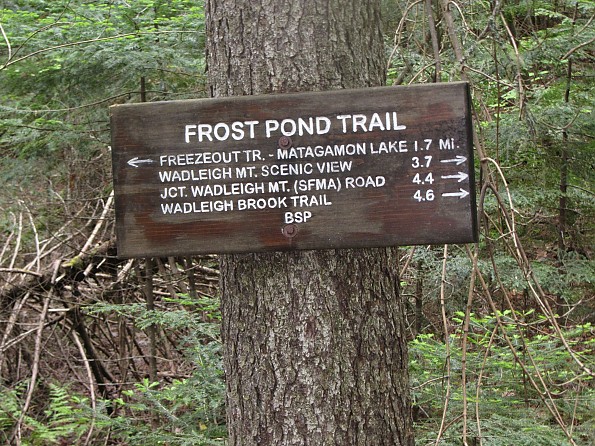 Well, maybe not entirely easy heh.  Some swampy bits on this stretch including some badly blazed areas that required some scouting.
Looking back now this seems so clearly a warning to turn back but at the time we didn't realize it.  We reached what we assumed was the turn for the trail along the lake but these were the only signs and all of the arrows pointed back the way we'd come.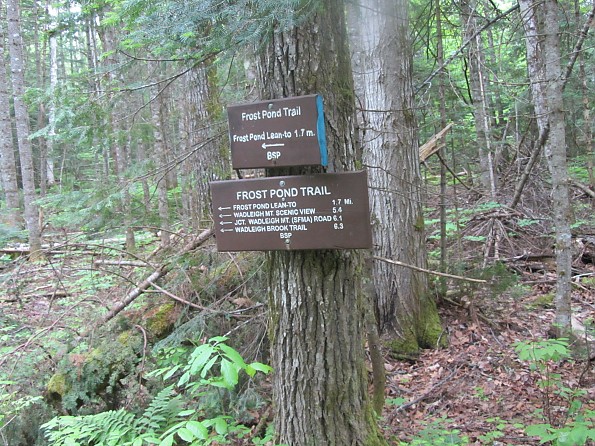 We sent the youngster up to make sure the lake was in front while I checked my compass and map.  We soon validated our navigation by reaching the Northwest Cove Tent Site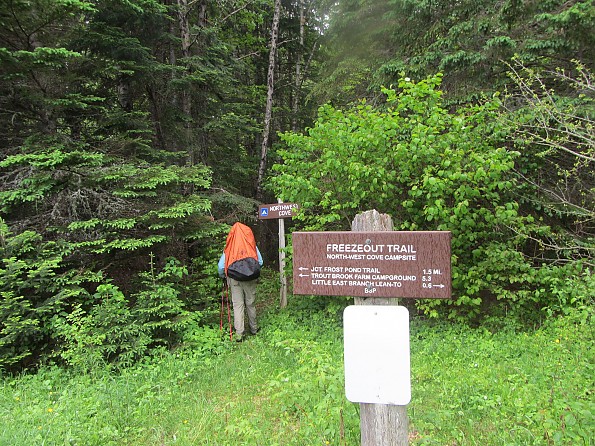 Right on the water so a bit exposed to weather sweeping in off the lake but some trees around the tent site/picnic table area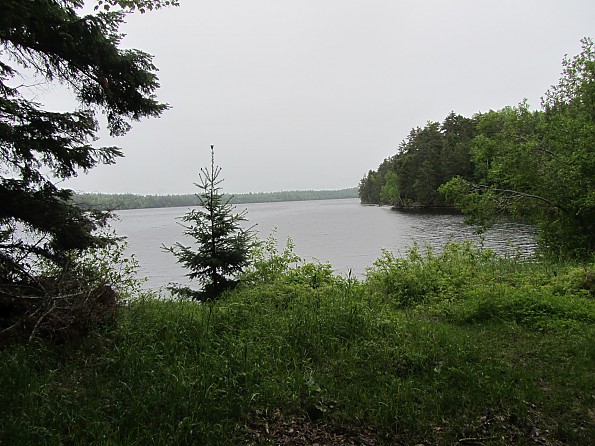 Little East Tent Site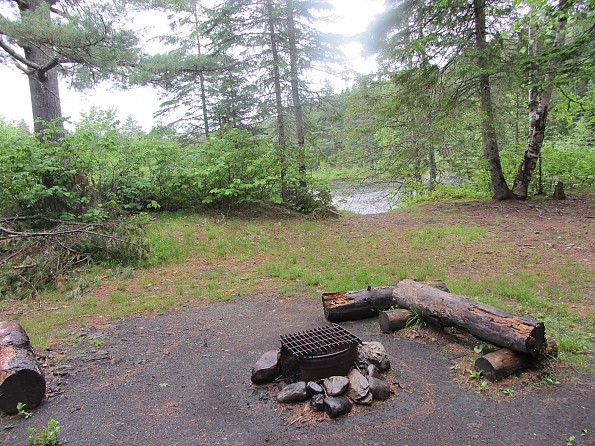 Webster Brook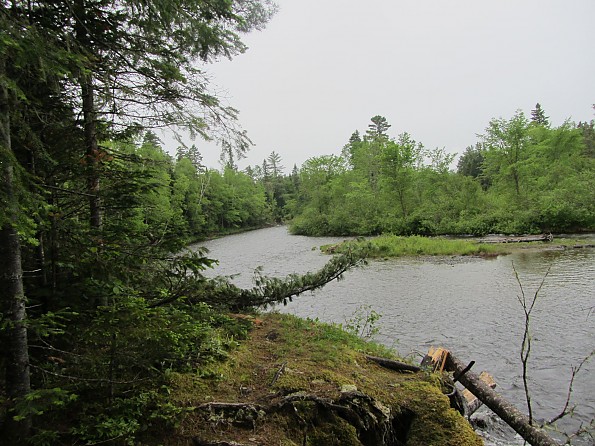 Little East LT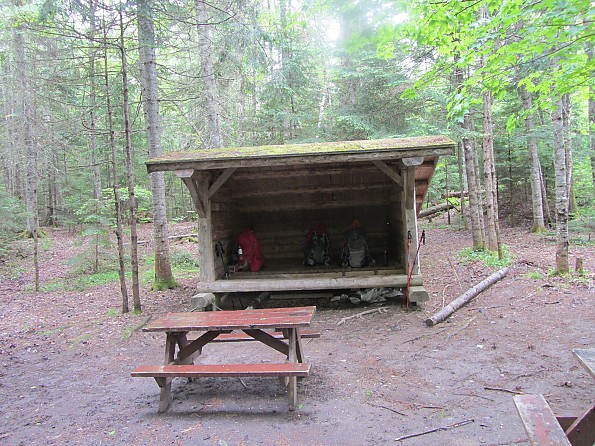 We did a little exploring and set up camp.  A light rain had started so we donned rain suits and quickly broke out our fishing gear.  The others headed to the brook in front of camp while I went about a half a mile up stream and found a spot below some falls.  It didn't take me too long to bring in 2 landlocked salmon for an afternoon snack.  I found the guys in camp had only caught several smaller fish that went back in the brook to get bigger so I directed them to my spot.
By now the rain was a steady soaker so when I headed deep into the woods a ways back on the trail to clean my fish I also gathered up birch bark the moose and deer had scraped off of trees.  Even soaked it makes a great fire starter, but never strip it from trees.  I grilled my fish quickly as the rain increased.  The others returned and were only able to cook some of their fish before the rain got ahead of the fire.
Night set in with a steady soaking rain but we expected weather and were prepared for it.  It is all part of the adventure, right?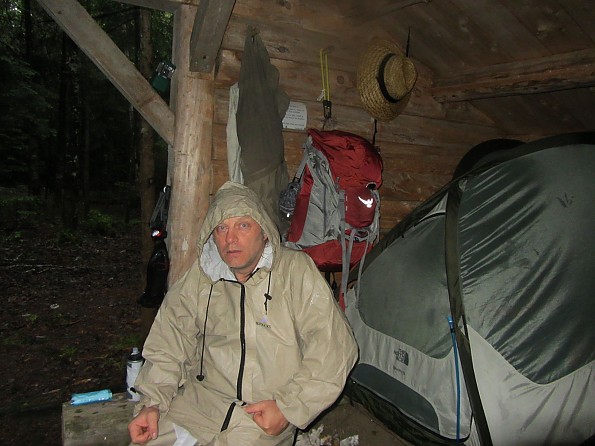 Day 3
The rain never let up all night and even grew stronger at times.  The .gov forecast had called for likely showers with a total of up to 1.5 inches over night and today but by morning it looked like we'd already had twice that or more.  We packed up and geared up for a long day.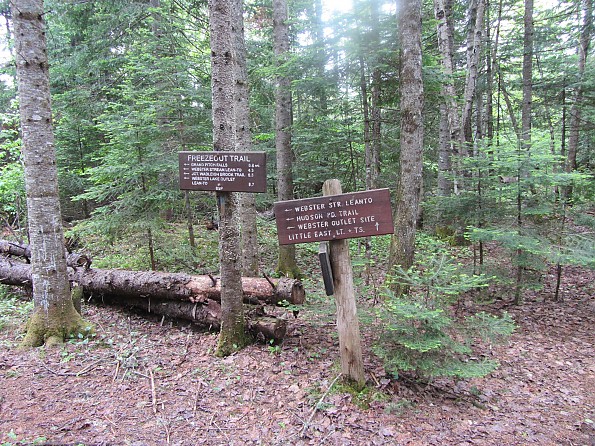 The trail was creeky on the inclines and boggy on the flats after so much rain.  We made Webster Stream LT in about 4 hours and took a long break.  The rain continued without stopping so we pressed on thinking we had come about half way.  Then progress began to slow as we found more and more storm created water crossings.  Having the roaring brook so close to our right made even the little ones more threatening because anyone going in the brook was not coming out alive.
Then about 3pm we came to Hudson Brook just before the Wadleigh intersection.  It was well over its banks with several deep channels.  We bushwhacked up stream trying to find better but all options looked stupid dangerous and then we hit the Wadleigh Trail.  Going forward no longer seemed an option so we decided to try to make Hudson Pond, our camp for the next night, by following the Wadleigh only to find another branch of the brook had that trail cut off as well.
The youngster was starting to look a bit scared at this point and later discussion proved that while we may not have looked it, both of us oldsters were feeling some of that "healthy respect for nature" too heh.  Our options being rather limited we bushwhacked back downstream with no one saying it but all hoping we hadn't been cut off from behind as well.  Thankfully we were able to make it back to the Webster Stream LT where we'd had lunch, though there were more and deeper crossings than just a few hours earlier.
The rain finally let up so we set up camp and got into dry cloths asap.  A quick dinner and everyone sacked out early both to warm up and from exhaustion.  The night cleared and dipped to around 40f by my guess.  Tough to get old and have to pee in the dark hours but morning while chilly, brought the sun!!
Day 4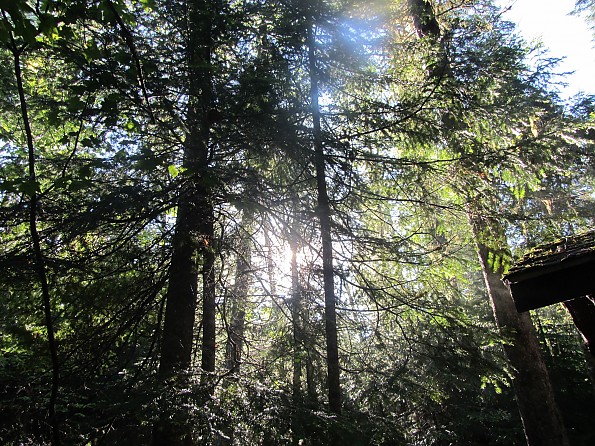 We looked at our options and decided that since we were still alive the smart thing to do would be to go back the way we'd come in.  Even if the Hudson was down enough today for us to reach Hudson Pond we were concerned about finding  Wadleigh Bog impassable.  So far as we knew we were the first to attempt it this year and with the recent deluge it seemed wiser to go the long way back.
So we got back into our wet trail clothes set out hoping to reach Frost Pond in time to do some boot drying that afternoon.  The sunshine really helped even if we and the forest were still dripping wet so spirits were pretty high all things considered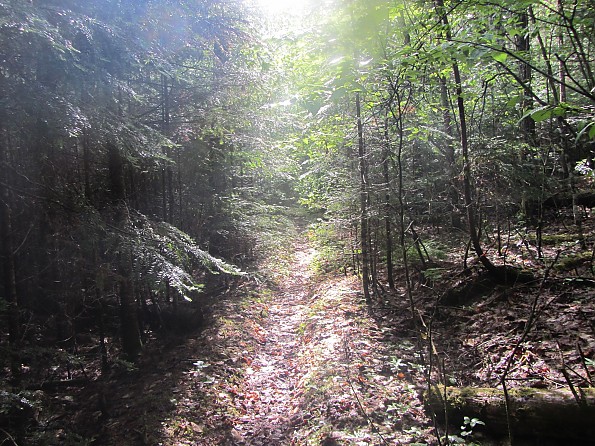 The boys enjoying a rare stretch of above water trail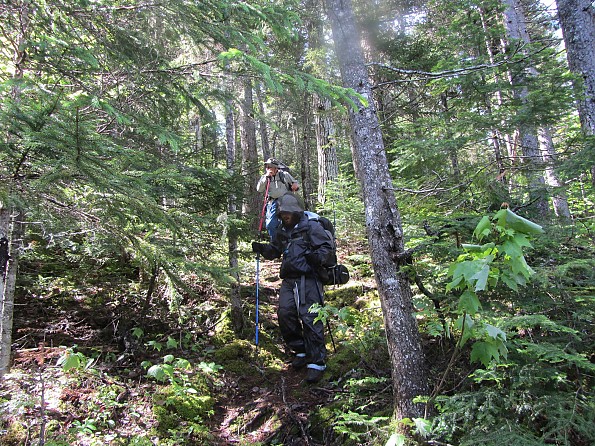 I mentioned the trails here are a bit more "rustic" than most places, right?  This stretch of the Freezeout was more blow downs than not at times.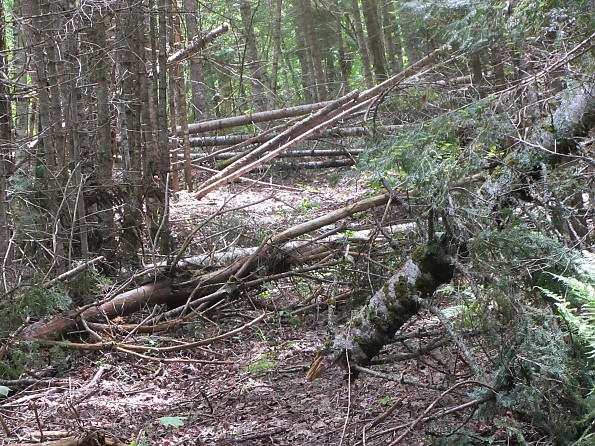 Giant sawdust pile from previous lumber operation.  Amazing to see, but also a problem…it means we missed our turn off to Frost Pond.  That intersection we found on day 2 that was missing most of its signs was invisible today.  All three of us walked past without noticing a thing.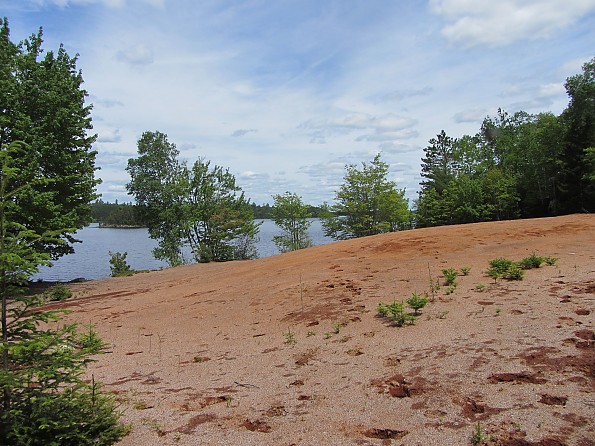 Time for another list of options…backtrack and hope we can find the intersection from this side or press on to the campground which should be another 4 miles or so ahead?  At this point visions of cheese burgers were starting to impact our decision making so ahead it was!  Lots more water, mud and blow downs later we reached Trout Brook Farm campground.  We'd covered something like 12 miles of ugly trail in about 8 hours of slogging with wet boots.  So now…let's check the map to see where did we leave the car?
6.4 miles of dirt road away!  Youngster was too tired to take another step, his dad wanted to go for moral support but he couldn't keep up.  1:40 later I was cranking up the AC to kill the skeeters and driving barefoot back to pick up the boys.
I hope you've enjoyed our little adventure despite the fact that I don't expect I've told this anywhere near well enough  As I told them while we stood in the rain trapped between the two Hudsons; "You'll tell people this story but only us three will know what this was really like"
If you are thinking about heading to Baxter or any other wilderness please be smart.  Come prepared in terms of your training and gear, but also come prepared to change your plans as circumstances warrant.