Ashleigh
RETAILER
REVIEW CORPS
4,256 reviewer rep | 603 forum posts
5:33 p.m. on July 9, 2013 (EDT)
About 6 months ago, my husband and I were deciding what we should do for my 30th birthday. I told him that it had better be something epic! At first, we thought of doing the Presidential Traverse in the White Mountains of New Hampshire. Then, Jay came up with a better idea and decided that we should go back to Yosemite and climb Half Dome, since we didn't get to do that on our last trip. Our 2nd wedding anniversary was also very close to that time, so we thought it would be the perfect time to go back. Our friend Pack had never been out west and we knew he would love it as much as we did, so we invited him to come with us. In March, we put in 21 entries in the Half Dome Cables Lottery via Recreation.gov.  First, I got my e-mail that said we were unsuccessful. Then, Jay got his unsuccessful e-mail as well. As soon as Pack got up, he checked his e-mail and his said we were all approved for June 19, my 30th birthday! Perfect!
On June 18th, we woke up in Mammoth Lakes and headed towards Yosemite. We stopped at June Lake, Mono Lake, and Tuolomne Meadows before heading to the Valley. We finally started our hike at the Curry Village around 3 P.M. Our plan was to hike four miles to Little Yosemite Valley via the Mist Trail and camp there, then wake up at 5 A.M. and hike the remaining four to the subdome and make it to the cables by 7 A.M. before all the rest of the hikers.  
Make sure you have a permit if you plan to hike to the top of Half Dome. The punishment if you illegally hike it is up to  $5000 fine and or 6 months jail time!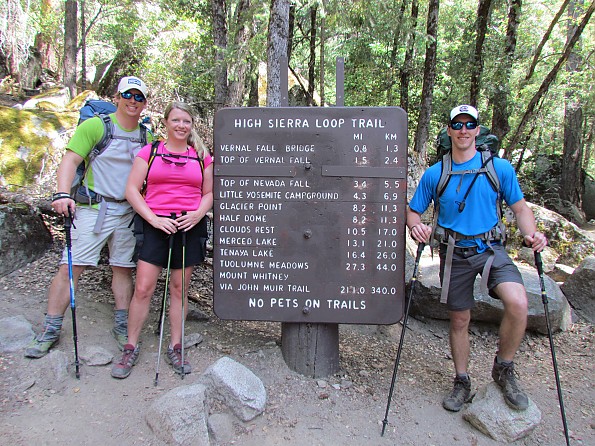 JMT Trailhead - 8.2 miles to the summit of Half Dome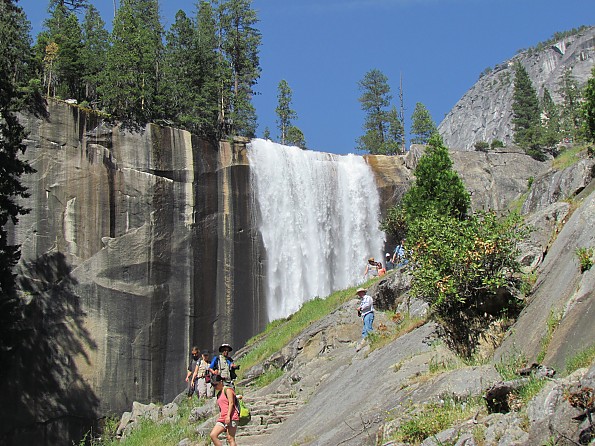 Approaching 317' Vernal Fall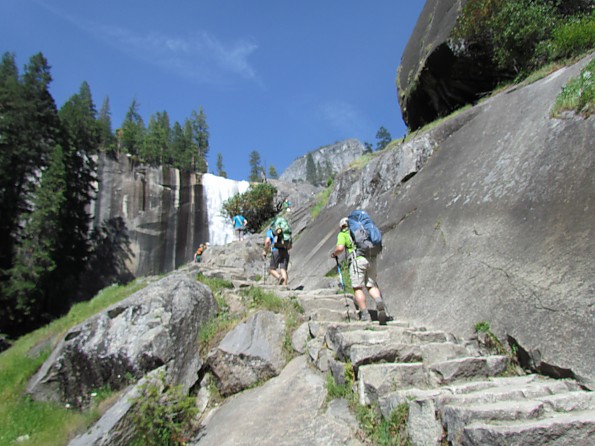 The Mist Trail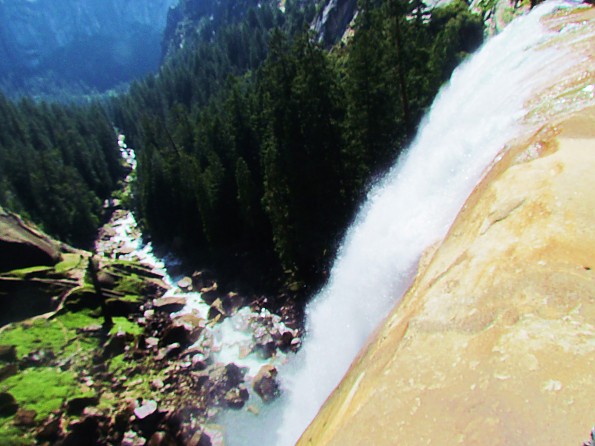 Top of Vernal Fall - 1.5 Miles down
 (Elevation 5044')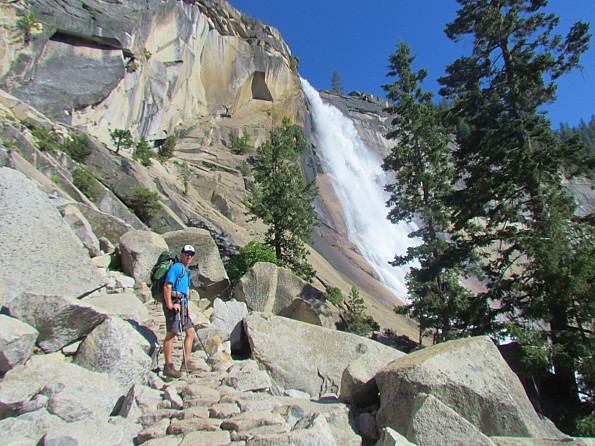 Pack approaching  594' Nevada Fall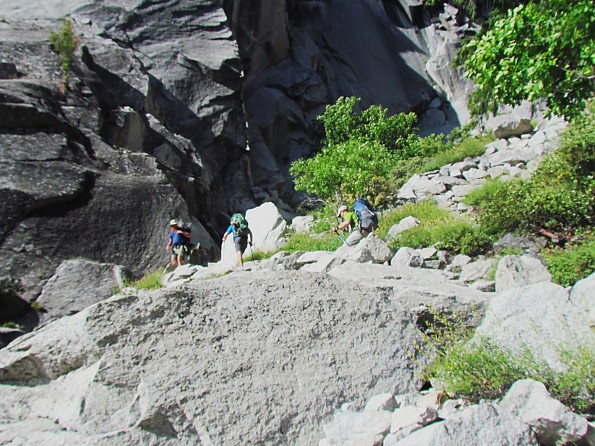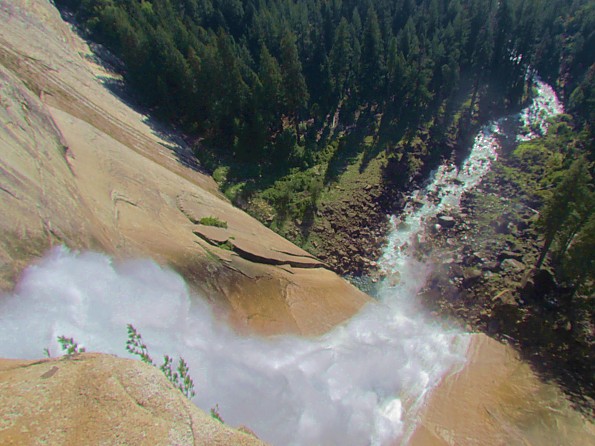 Top of Nevada Fall- 3.4 miles down (Elevation 5907)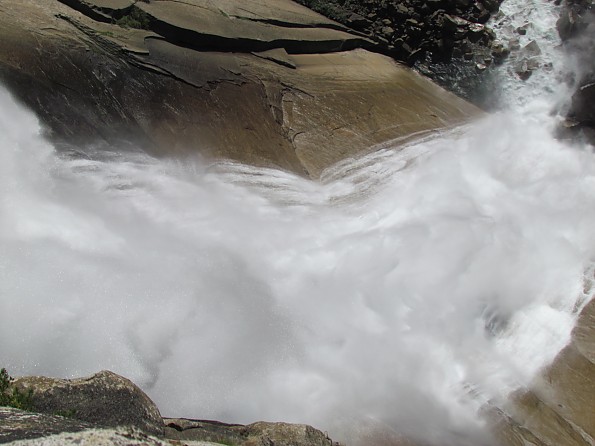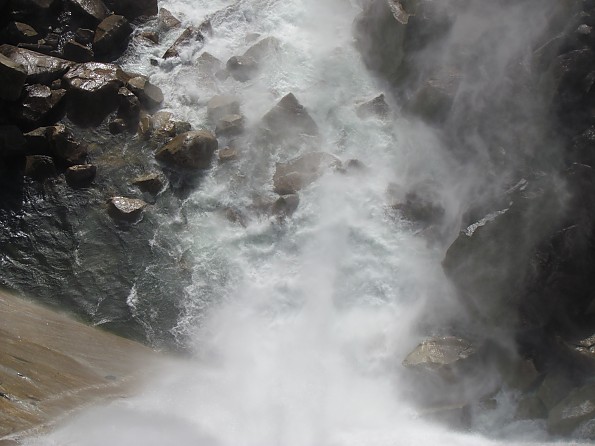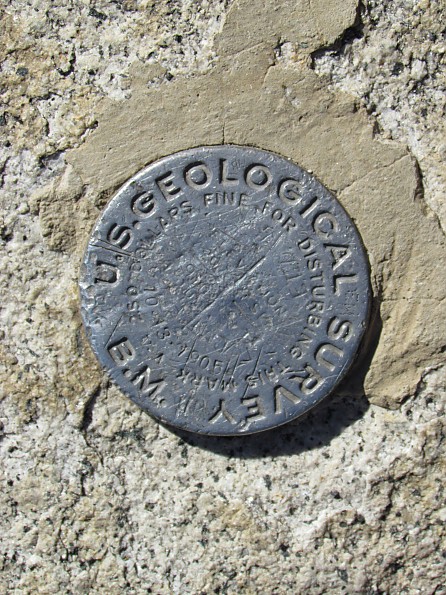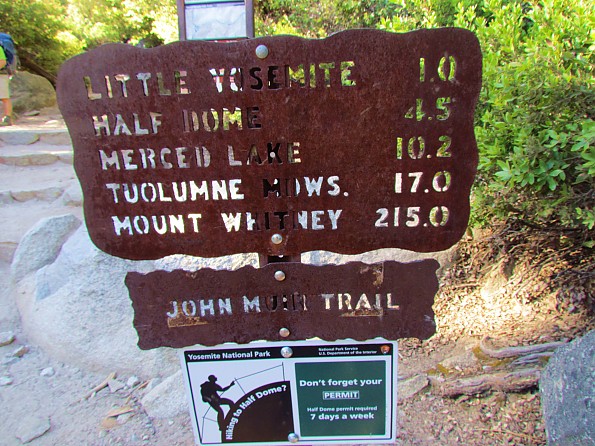 Mist Trail/JMT Junction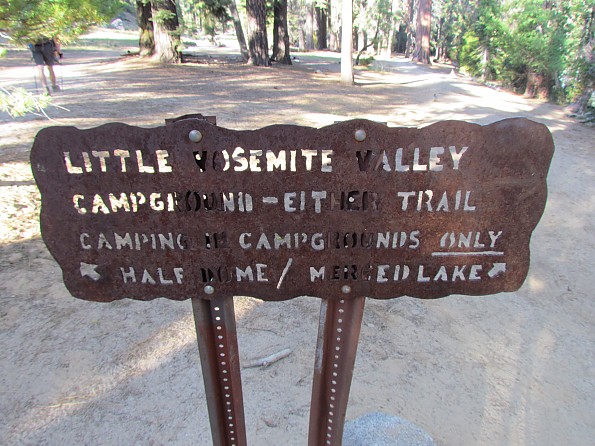 Little Yosemite Campground - 4.3 miles down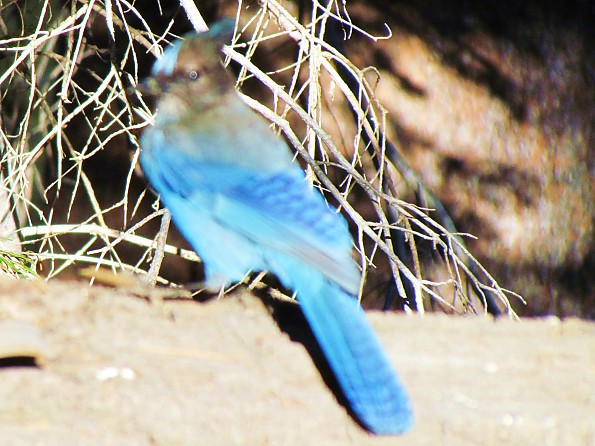 Steller's Jay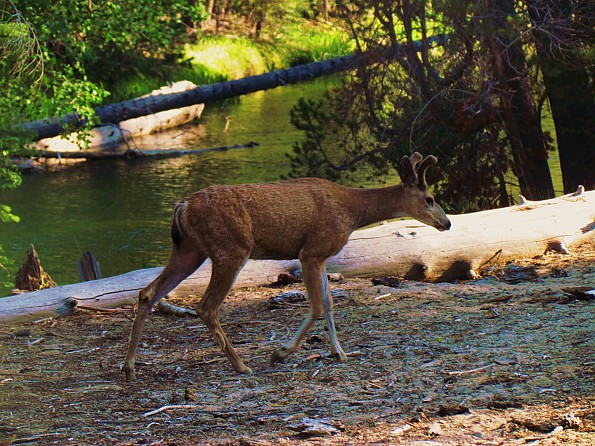 Mule Deer by the Merced River in Little Yosemite Valley
We locked our tents up with our gear inside and took as little as possible to the summit. We came back after and cooked some lunch and packed up.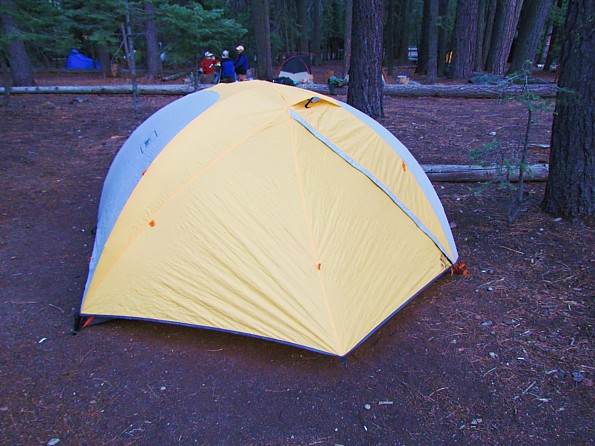 The REI Half Dome...on the way to Half Dome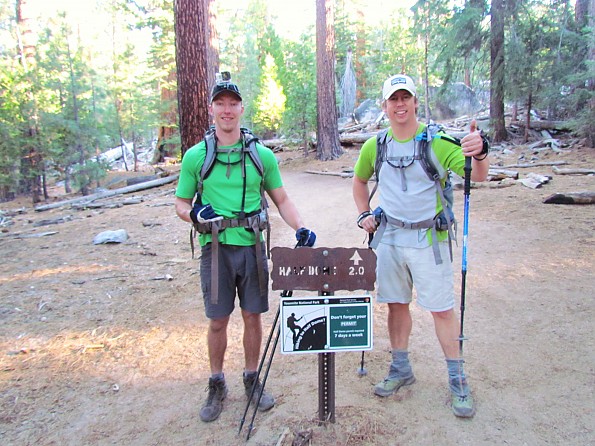 Two miles to Half Dome!!!! WOO HOO!!!!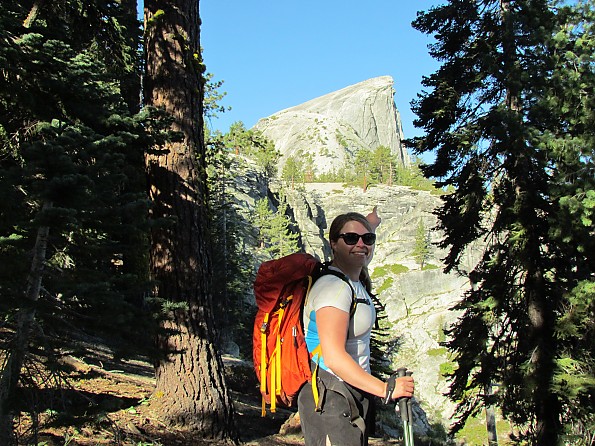 There it is!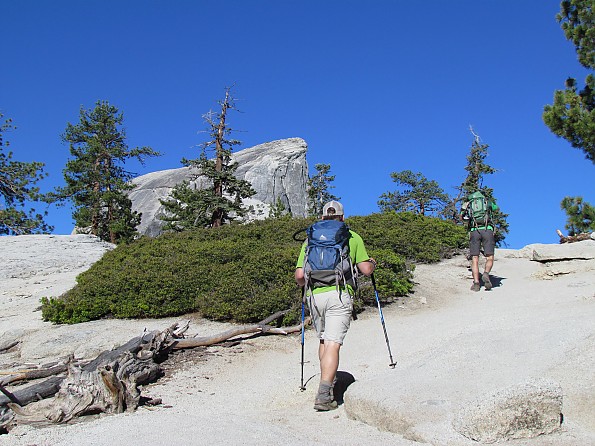 Jay and Pack approaching the subdome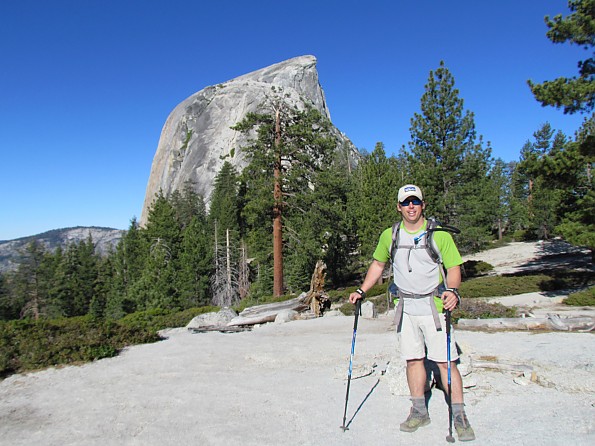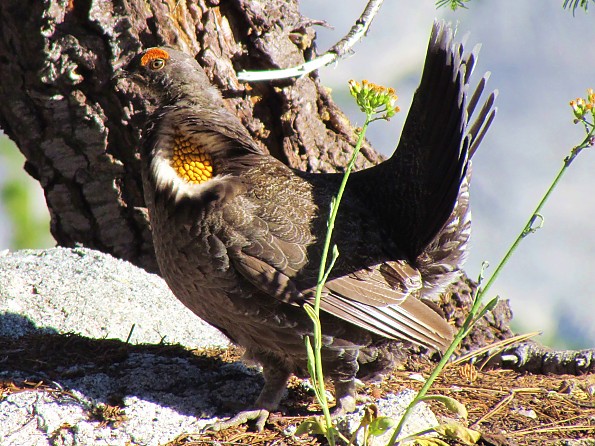 I have no idea what this bird is called, so I have aptly named it "Half Dome Turkey."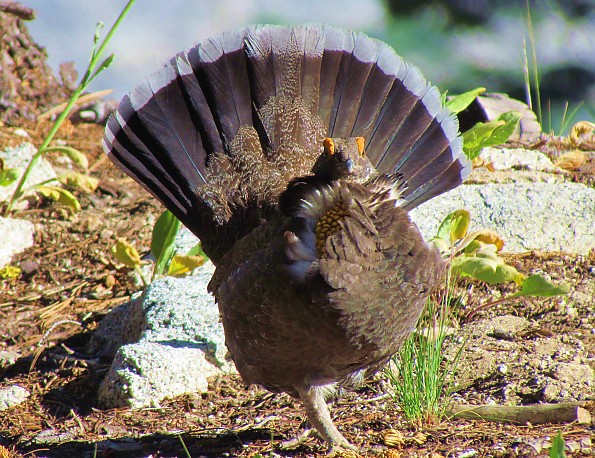 Once again, I have made a wild animal angry with me for taking a picture of it!
Subdome switchbacks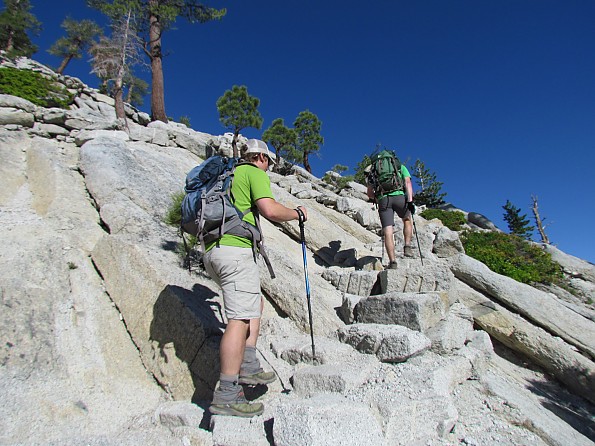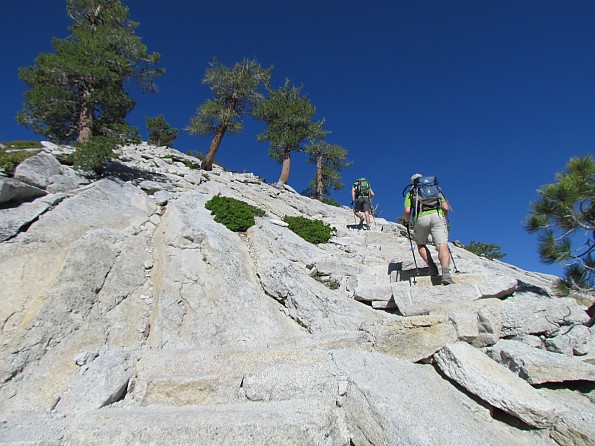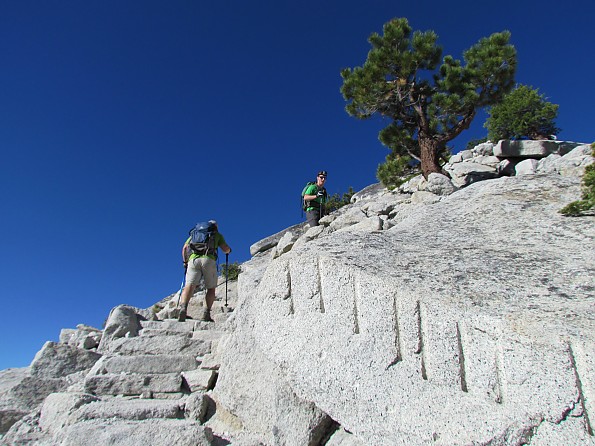 Up, up, up the subdome we go!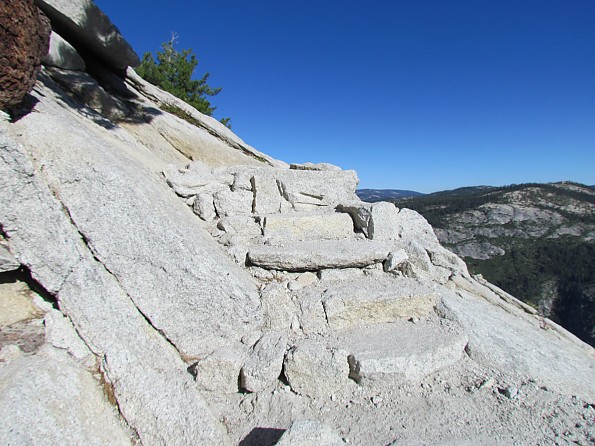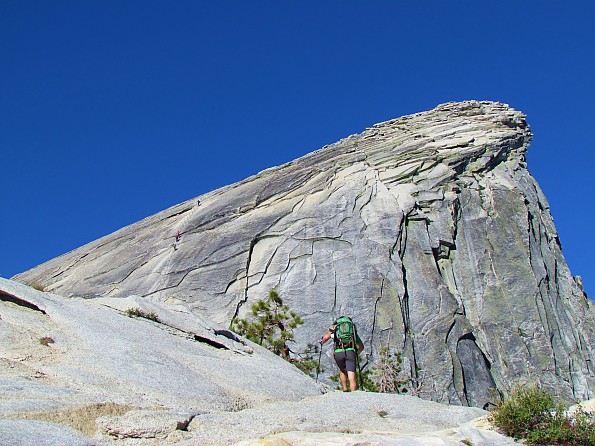 Almost there!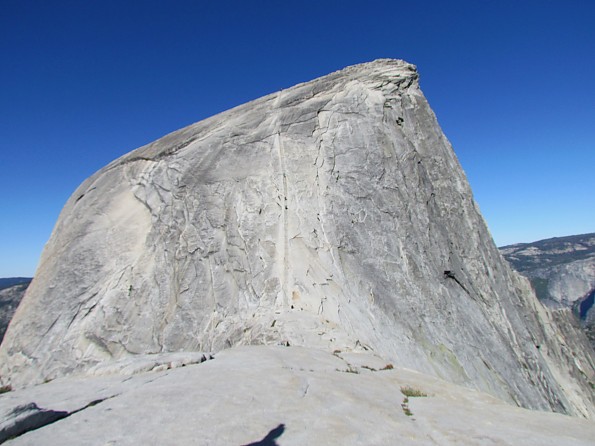 FINALLY! Somehow, when we got to the top of the subdome, we looked at the cables and thought that it wasn't going to be as bad as we had anticipated. This was wrong, lol!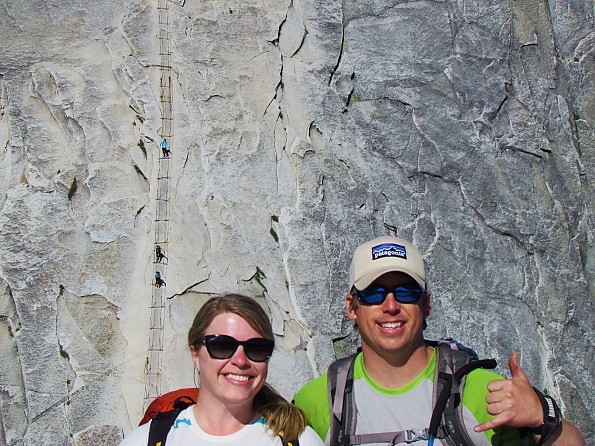 So excited!!!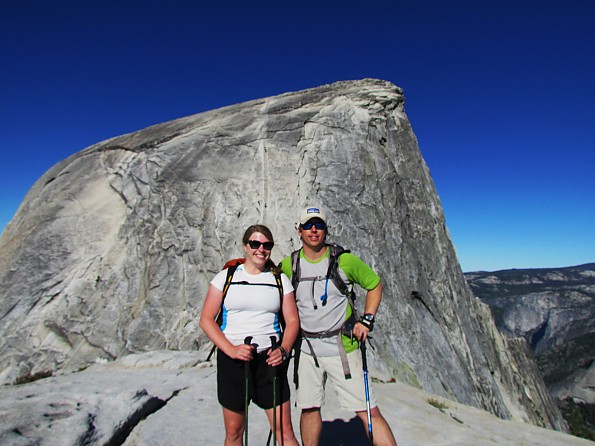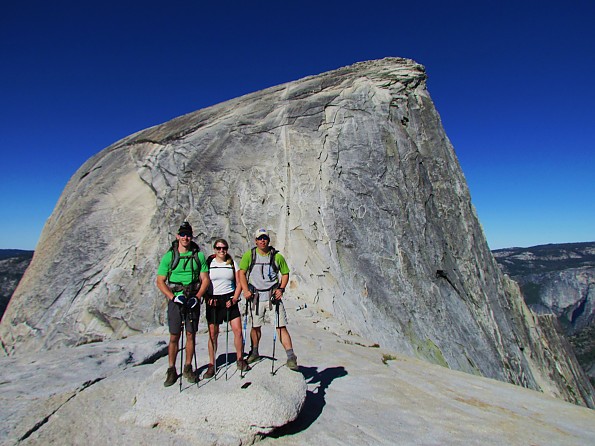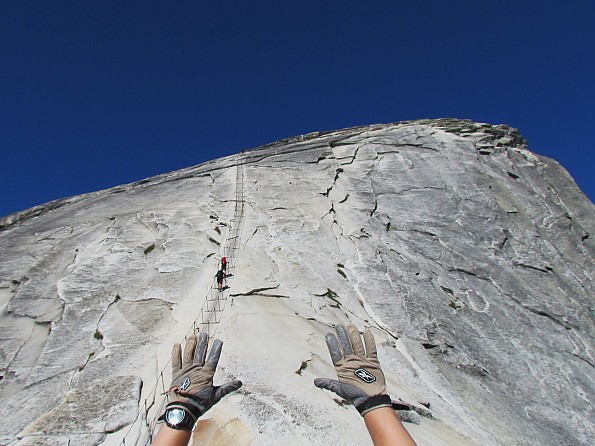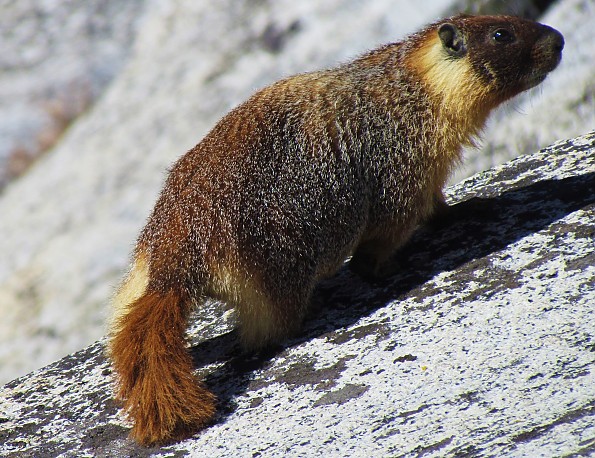 Marmot at the base of the dome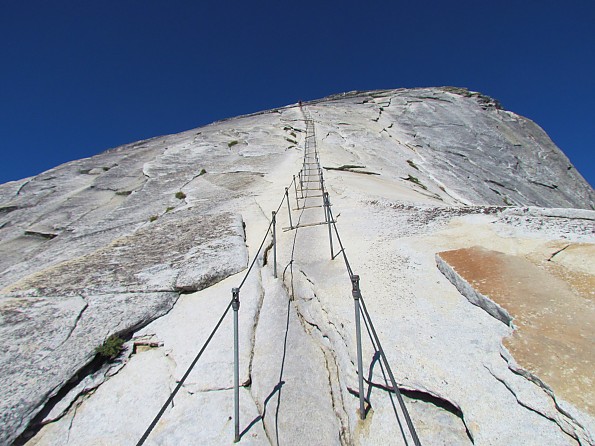 Ever wonder exactly what 400' elevation gain looks like? Yikes! By the way, this is not an optical illusion.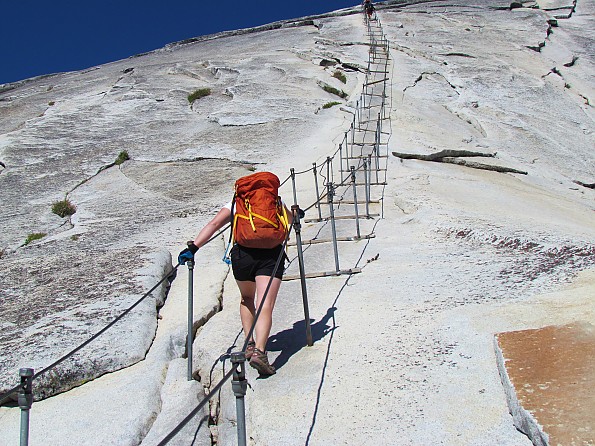 Here I go! At this point I already understood how hard it was going to be. This is easily the most challenging thing I have ever physically done. It was a full body (and mind) workout. I had no idea how much I was going to have to use my upper body. A word of advice - to train for this, make sure you work out your upper body just as much as you do your lower body.
About 1/2 up, my arms and legs were both complete jello. So...8,400' suspended in the air, hanging on to cables and slick granite and I am exhausted with shaky arms and legs. I had two options: 1) go back down - that was NOT happening 2) find some sort of inner strength and continue to press on. I went with option #2 and found some adrenaline and kept on truckin' all the way to the top. We had to take some breaks to rest and stretch, but we made it up in about 25 minutes. We were very lucky because we did not have hardly any traffic going up the cables.
By the way, the poles come right out of the ground if you pull them and a lot of the boards were loose! Plus if someone else walked in your grid (in between boards) and pressed down on the cables, they wobbled! One word: Scary!
Here is a five minute sample that Pack shot on his GoPro: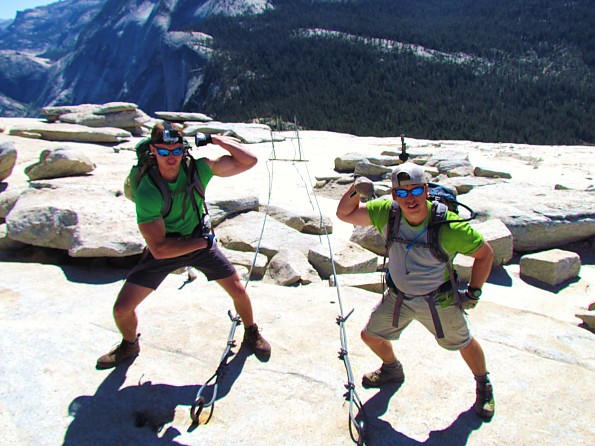 Woo hoo!! We made it -8.2 miles and almost 5000' elevation gain!
The summit elevation is 8835'.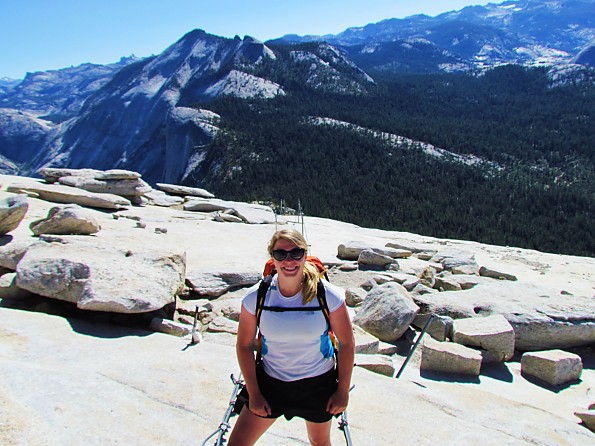 Here is a video that Pack shot of the summit: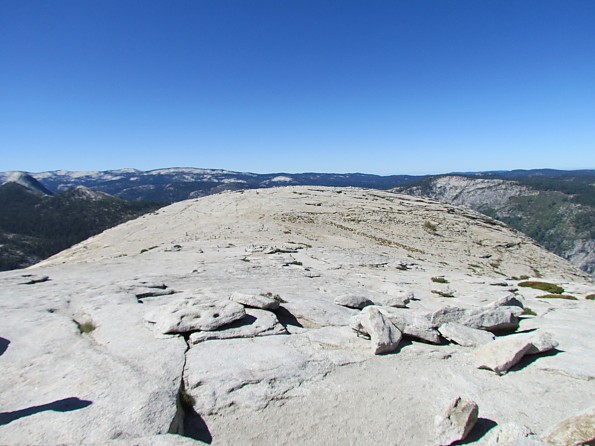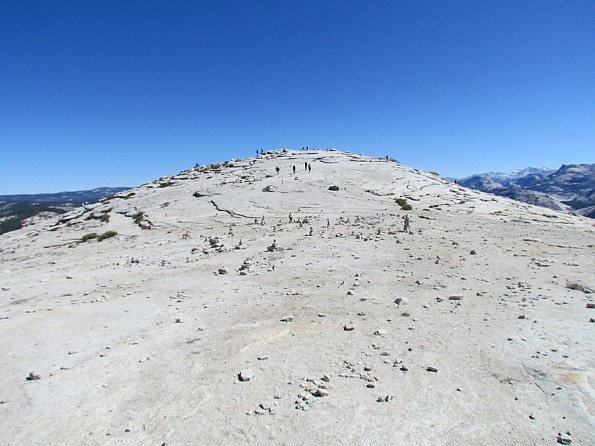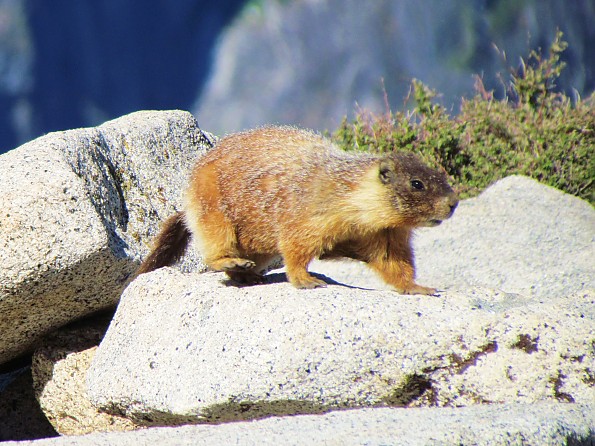 Another marmot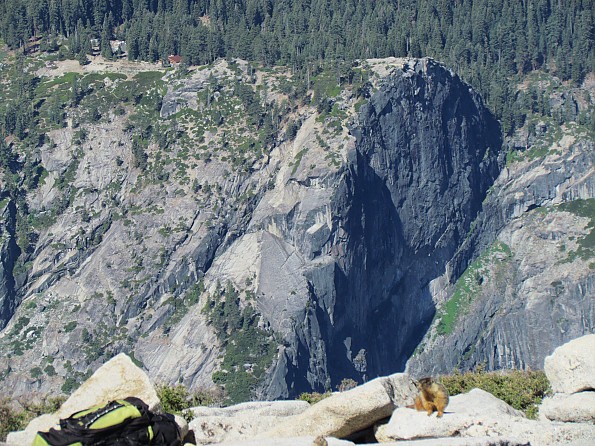 Marmot posing in front of Glacier Point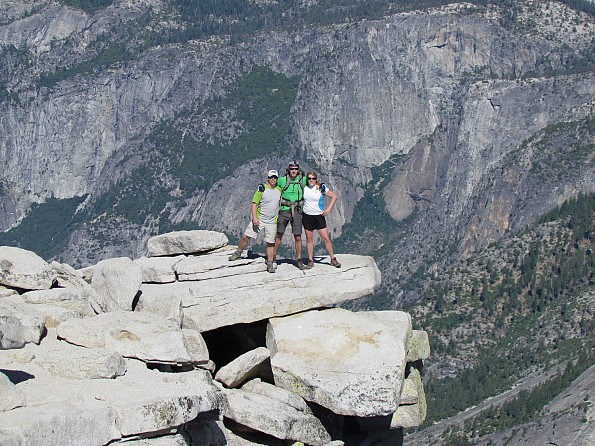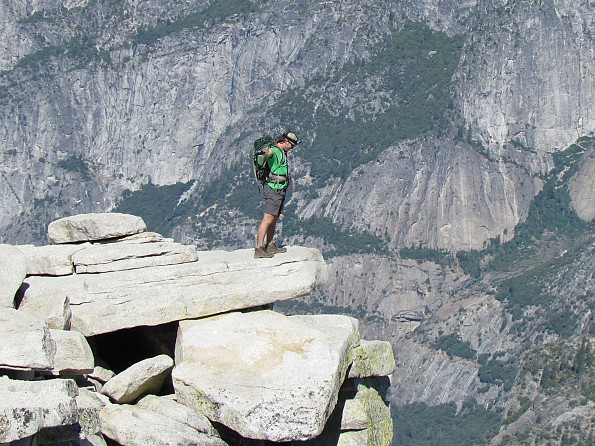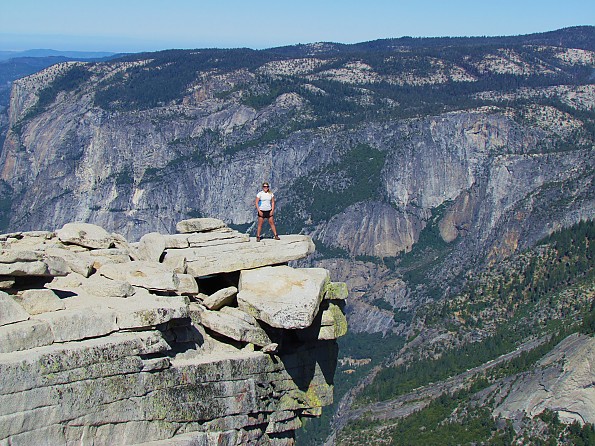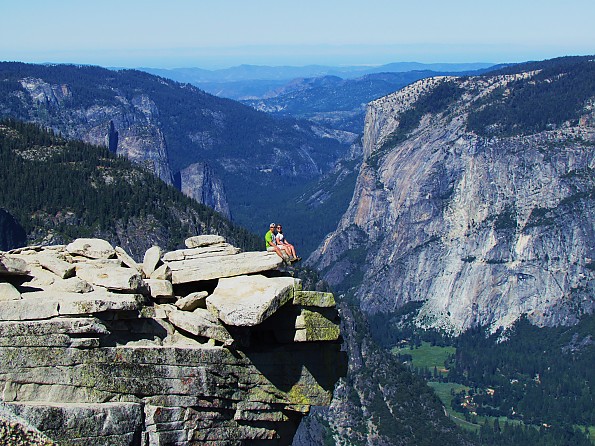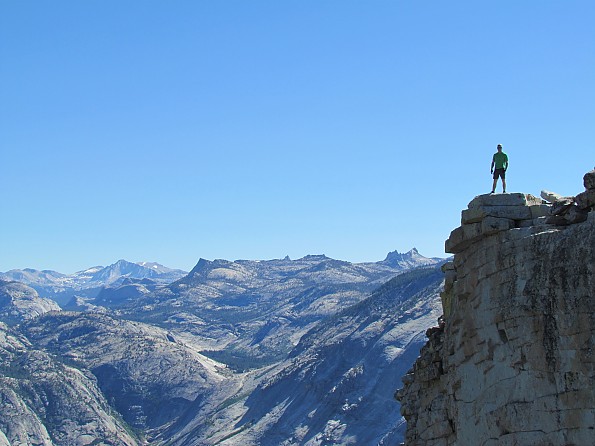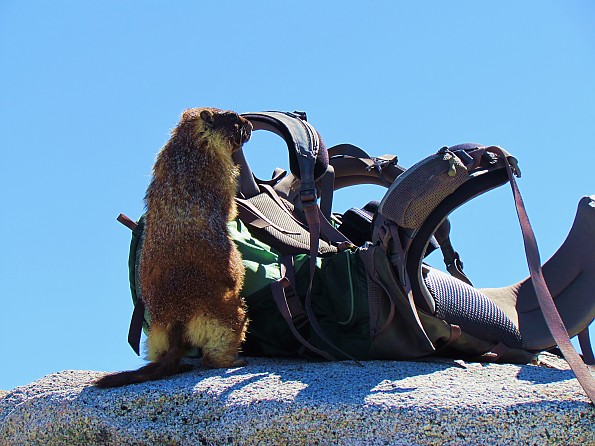 This marmot was bad! I yelled and clapped at him and he did not care. He wanted snacks! I guess I can't blame him - he could listen to me and definitely not get any snacks or he could ignore me and possibly get some snacks. Smart guy! I guess he is pretty used to people.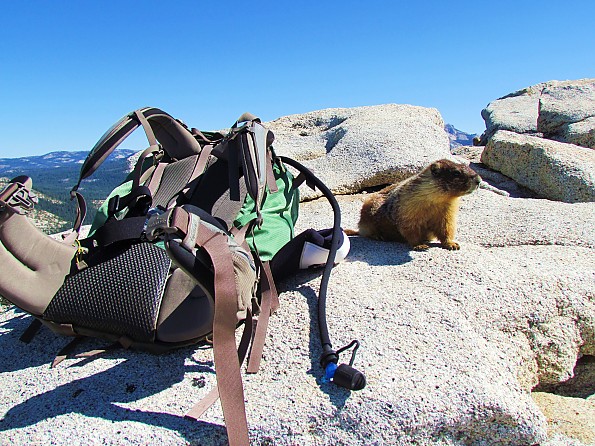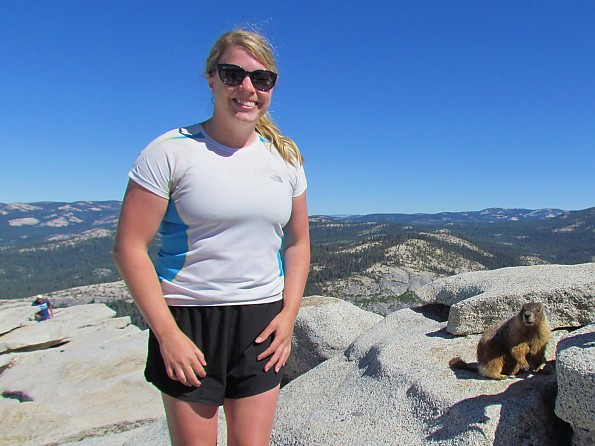 Well, if he wasn't going to listen to me I figured I might as well get a picture with him!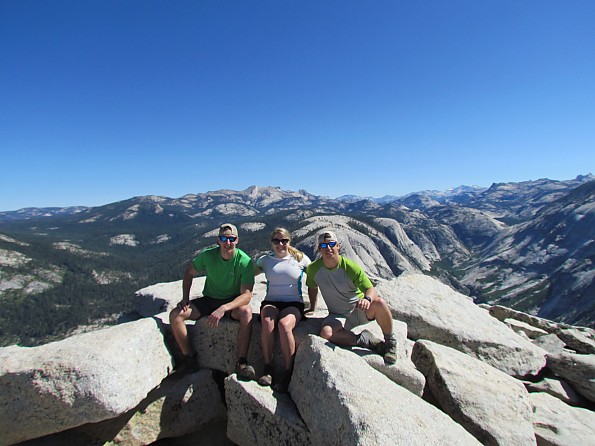 Most epic way I can think of to spend my 30th birthday! This was such an awesome day!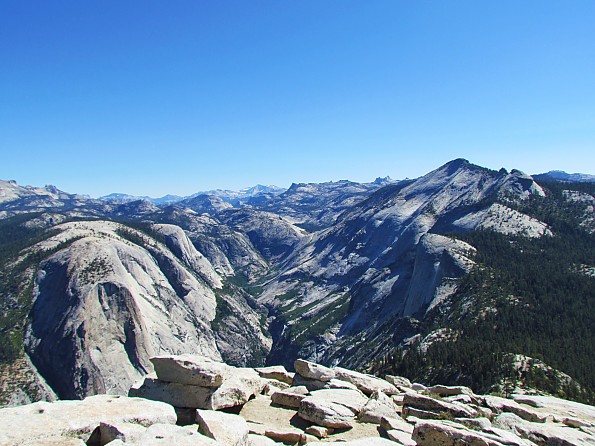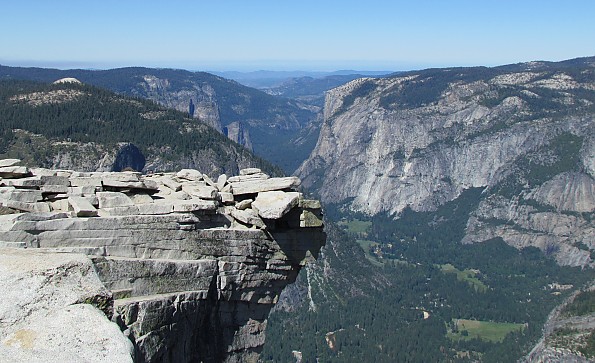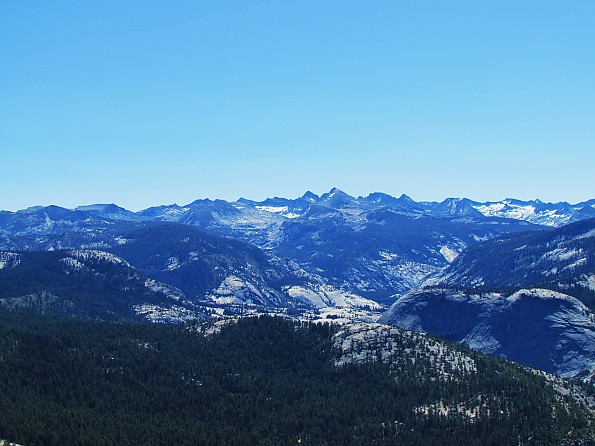 The beautiful high country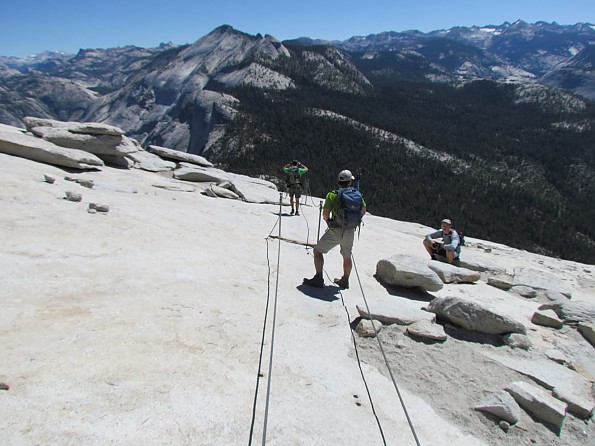 Now we had to go back down. The part I was most afraid of. Some parts weren't too bad, but some parts were super scary. It was incredibly steep in some sections. The granite was also pretty slippery in places. My grips on my shoes were a little too worn for it and I was slipping all over the place. I went back down in between the boys. They both had to assist me a couple of times, but we made it. We encountered a lot more traffic going down! That was not fun!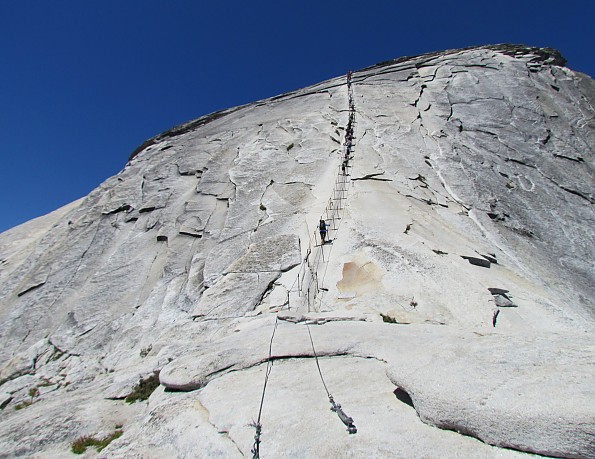 One last shot of the cables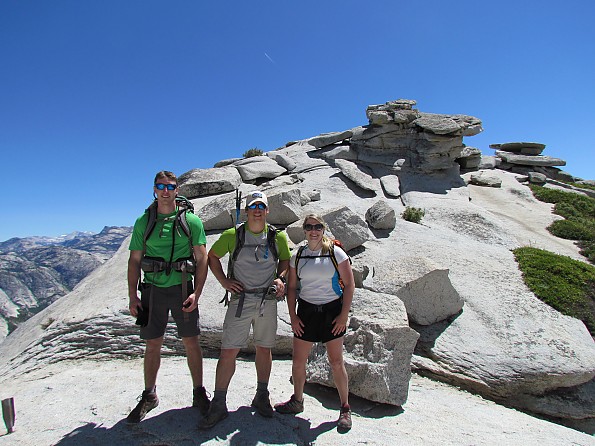 We were so happy to be back to the subdome! We made really good time going down. We opted to take the JMT all the way down, instead of going back down the wet and crowded stairs on the Mist Trail. Once we were finished, we stopped in the Village Store for some souviners and then headed to the Chukchansi Hotel in Coarsegold to celebrate our big accomplishment and by birthday.
No doubt about it, this is the best hike I have ever been on.