3:16 a.m. on July 21, 2013 (EDT)
lambertiana

0 reviewer rep
436 forum posts
Since my big trip is just one week away, I decided to get in one more conditioning hike.  Franklin Lake in Sequoia NP is my home away from home in the Sierras, and I didn't get there last year.  I couldn't work out an overnight there, so today I did it as a dayhike. 
To get there you have to brave the Mineral King Road - 25 miles with 7000' elevation gain, 698 official curves.  And not quite two lanes wide, which made things interesting when I met a dump truck and a garbage truck on the way up this morning.  Finally reaching the trailhead, the first thing I see is one of the local denizens.  Mineral King has hordes and hordes of them, and they hang out at trailheads to chew on belts and hoses in cars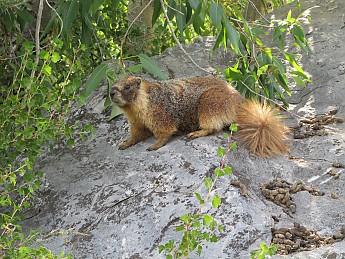 View from the trailhead.  The trailhead is at 7800', Franklin Lake is six miles in and at 10,330' behind the peaks on the left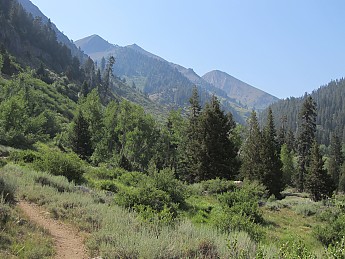 I always stop for a snack at the first crossing of Franklin Creek, where it drops into Mineral King Valley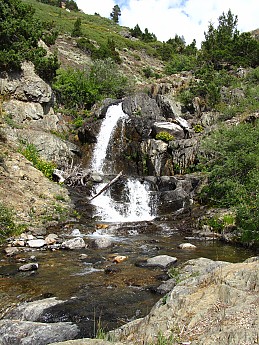 Getting a little higher, Vandever Mountain becomes prominent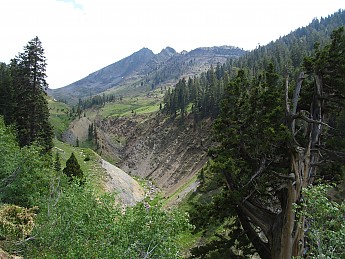 You eventually cross Franklin Creek again right at 10,000'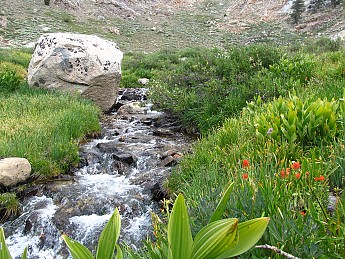 Not much higher, and you crest the rise before Franklin Lake, this is the first view you get.  The lake is at 10,330', and Florence Peak behind the lake is 12,438'.  Florence Peak is one of my favorite ascents, a fantastic boulder scramble for the final 400', but not on this trip...
I went to the place I usually camp at the lake, on a shelf with this view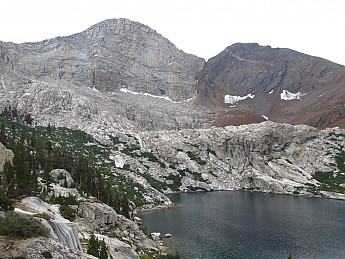 Since the clouds were gathering I had to start heading down...forgot to bring raingear.  In the end it only sprinkled on me.  First, a farewell shot of the lake.  Forester Lake, which is where Patman and I will camp on the fourth night of our trip, is just behind the ridge on the left.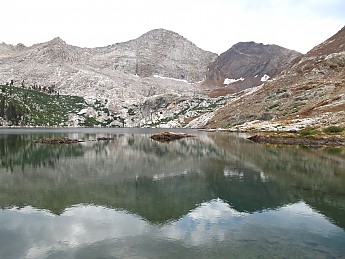 Some views on the way down.  In the first one, you can see Timber Gap (the wooded saddle on the distant ridge, on the right), which Patman and I will cross next Saturday.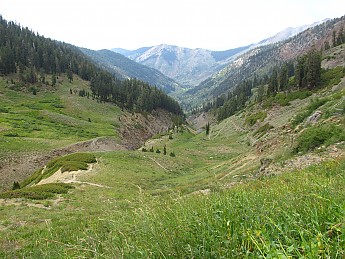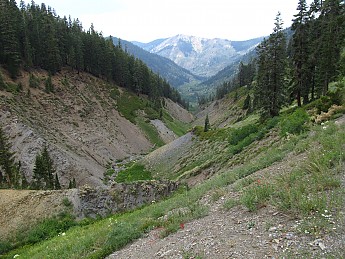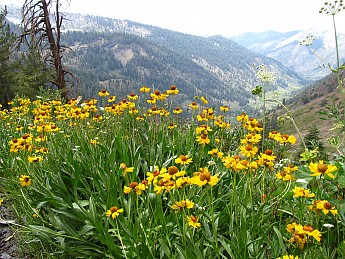 And finally, a graphic reminder of the thin air.  I last had this water bottle open at Franklin Lake...see what it looks like when I got back home at 300' elevation