Shyne
9 reviewer rep | 47 forum posts
9:52 a.m. on August 4, 2013 (EDT)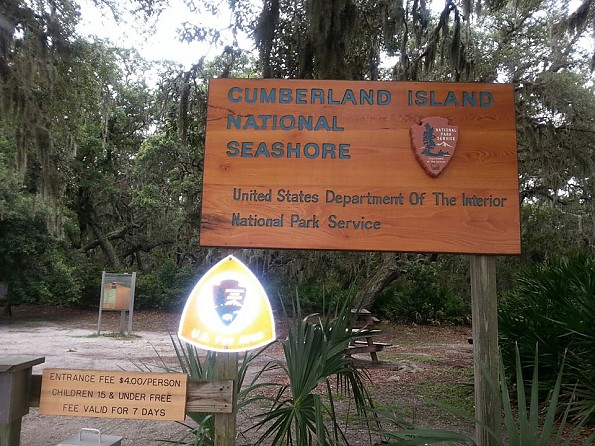 Cumberland Island, GA is a very unique place filled with history, charm, and wildlife. It's a 17 mile long island in southern GA, just off the coast of St. Marys. It has been the home to Native Americans, The Spanish, a Revolutionary War hero, freed slaves, a Carnegie from the Gilded Age, and is now a National Seashore for the public to enjoy. It has beaches, swamps, wild horses, historic landmarks, and a lot of sand. There are a series of trails that cover the island from North to South. There are also 4 back country camping sites sites and 1 regular camping site. 
The only way to the island is a by boat, there is no bridge. We took the NPS ferry. We drove 8 hours to St. Marys and arrived with only 30 min to spare before catching our boat. We checked in and took the 45 min ride to the island. On the ferry you can purchase snacks, firewood, and bug spray. This is the last place you can buy anything; on the island nothing is available for purchase, although you can rent bikes.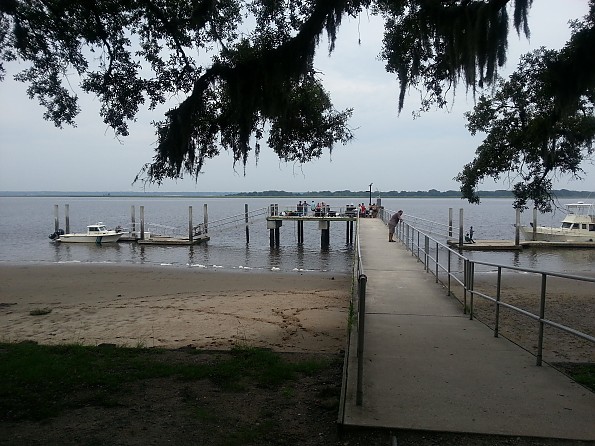 This is a shot of the Dock at Sea Camp.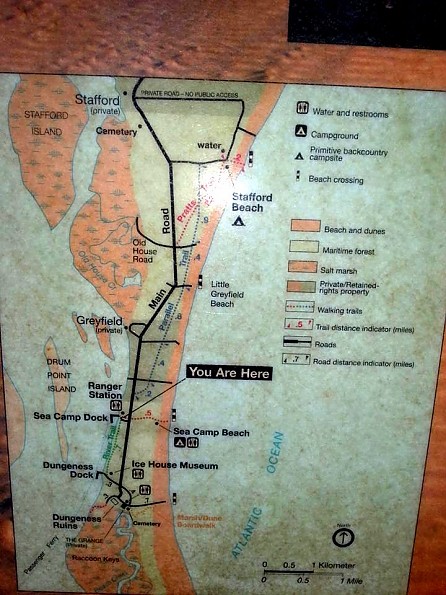 Here you can see the lower part of the island. The "You are Here" is where we started our 3 night adventure. From this point you are only a 10 min walk from Sea Camp which is the "regular camping" I spoke of, there are fire pits, bathrooms, showers, and treated water. Distance to backcountry sites are as follows Hickory Hill: 5.5 miles, Yankee Paradise: 7.5, Brickhill Bluff: 10.5 miles. But for our first night we were going to Stafford Beach which was 3.5 miles away. 
We took the Parallel trail up to Stafford beach. Where we enjoyed such luxuries as toilets, showers, a 5 min walk to the beach, and running water. The water here does need to be filtered though. All in all, in backpacking terms we felt like we were at a nice hotel. lol.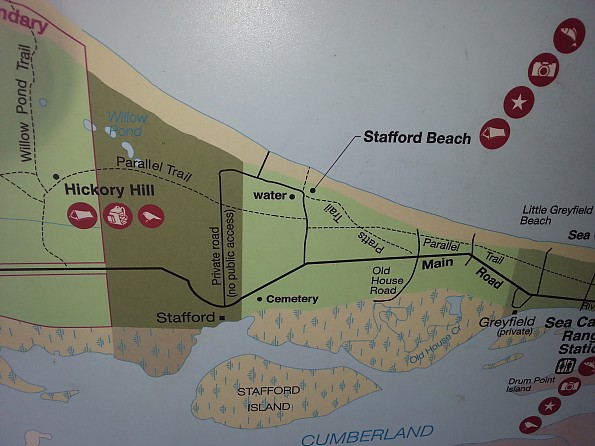 Here is a shot of our campsite.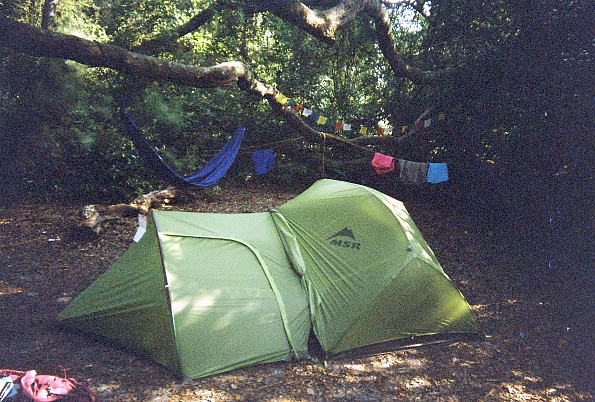 I brought the MSR gear shed with me. It adds a lot of extra space to a Hubba Hubba tent. This is a shot of inside the gear shed. IT'S HUGE.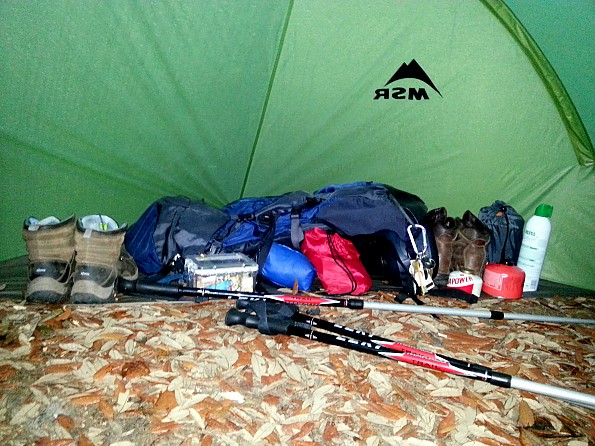 Here is a shot of a new toy I got to play with for the first time. It's called the BioLite Camp Stove. You can cook on the fire on the top...but also that orange thing there is a battery that blows a fan to keep the fire hot and also you can plug into it and charge your devices!! It works too: I kept my phone and Kindle Fire well charged throughout the trip.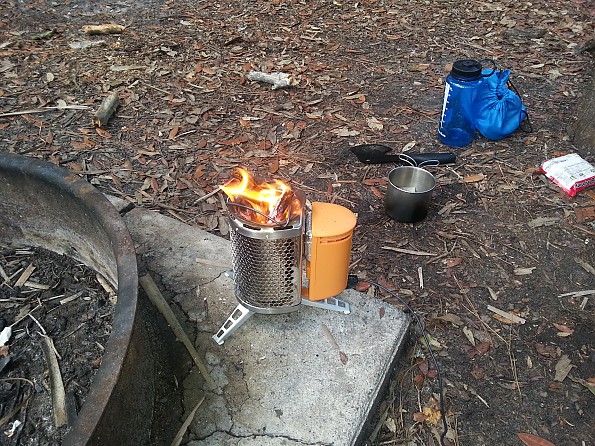 We had a good meal, and relaxed after a long drive and hike to our home for the night. Being in southern GA in the wilderness is a lot different than East Tennessee. We had a armadillo, possum, and a horde of bugs at our campsite.  We also slept under a large live oak and Spanish moss. The bugs weren't too bad till sundown, then the air was so thick with them we couldn't breathe without inhaling one! As we got ready for bed we were still trying to decide how we were going to vacation. Were we going to stay on the south side and see all the sites, or venture to the north so we could say we went to the furthest, and rumored coolest, camp site on the island? We decided....that we would decide in the morning.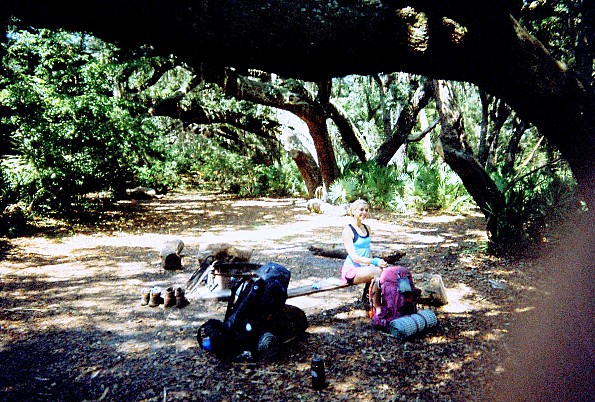 We decide that we are hiking north. We want to see all the other campsites and stay at Brickhill campsite that night. Above is a shot of our campsite and my lovely wife right before we took off for the day.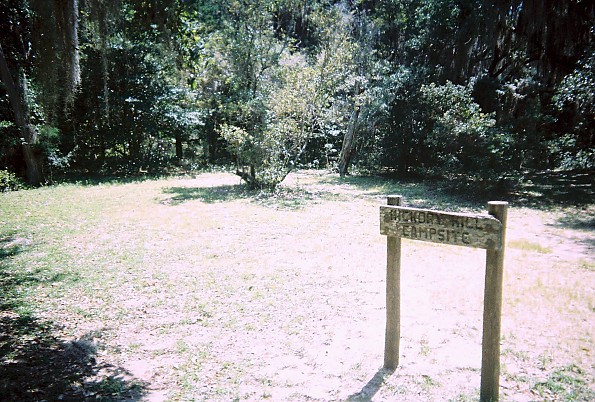 Above is Hickory Hill campsite. This was our first stop of note. We explored around and decided this was a nice place. It was a little too close to a marsh for summer camping, but would probably be cool in the fall or spring. Water is kind of far though. It shares a well halfway between it and Yankee Paradise.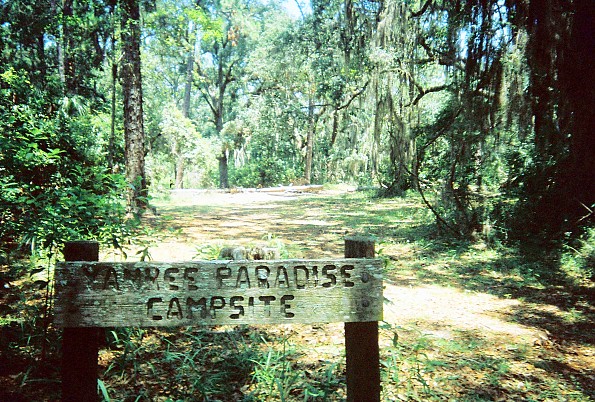 Bugs were really bad at Yankee Paradise. Its quite large though. It's in a little pine grove and not too far from a cool spot called Plum Orchard where we would be having lunch.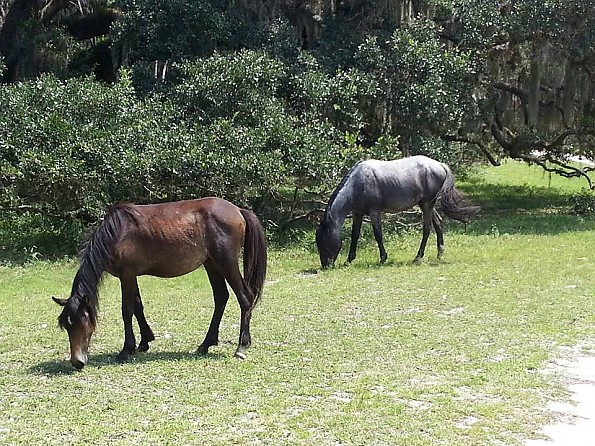 At Plum Orchard I saw my first group of wild feral horses that roam the island.....it was wild. If you want to see more, don't worry, I have plenty of gratuitous horse shots coming up. Also here is some Wiki info on why there are feral horses on Cumberland Island. 
Horses are not native to Cumberland Island. Popular myth states they were brought to the island by the Spanish in the 1500s.[2] However it is believed that these first horses more than likely did not survive due to the lack of visits made by the Spanish and the local Native Americans on the island finding them of little practical use.[2] In the 1700s the English began settling Cumberland Island. The horses seen there today are most likely descendants of horses brought by these settlers, as this is when a large majority of the horses began to roam freely and revert to their natural state, becoming feral. During the 1800s, efforts were made to capture and make use of the horses. The first attempts were made by Robert Stafford who owned a plantation on the island. He allowed visitors to purchase and capture the horses, which Safford called "marsh tackies," for their own personal use.[2] Those animals were then selectively bred over the years.[citation needed] After Stafford's use of the animals for income, the horses were next used as cavalry animals during the American Civil War. After the war, records suggest that people from Jekyll Island captured some of the horses for horsemeat.[2] Around 1881 Thomas M. Carnegie bought two plantations on the island and introduced Tennessee Walking Horses, Paso Finos, and Arabians into the feral horse population in an attempt to improve the animals. Carnegie received a small amount of income from the buying and selling of these animals. Later, many island residents began introducing additional breeds into the herds on the island, further diversifying the bands of horses. In 1921, a large number of horses were brought on to the island from Globe, Arizona, all of which had been running wild on western rangeland.[2] Since the National Park Service acquired the island in 1972 few new horses have been introduced to the island, though four Arabians were introduced in the early 1990s in the hopes of diversifying and bettering the existing population.[2] Since 1981, the Park Service has been monitoring the horses and tracking their impact on the environment.[3]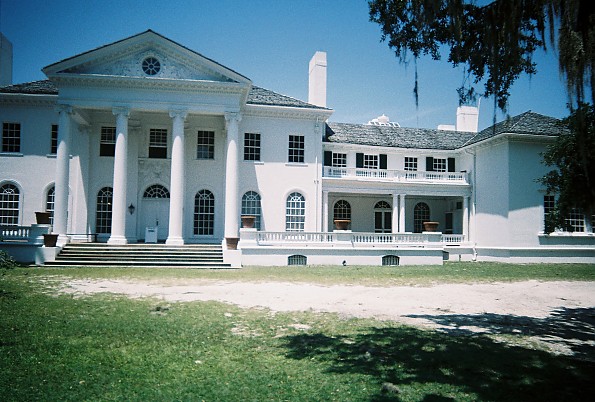 This is Plum Orchard. It was a very impressive site. There is also treated water all around the building. It is worth a stop by for sure.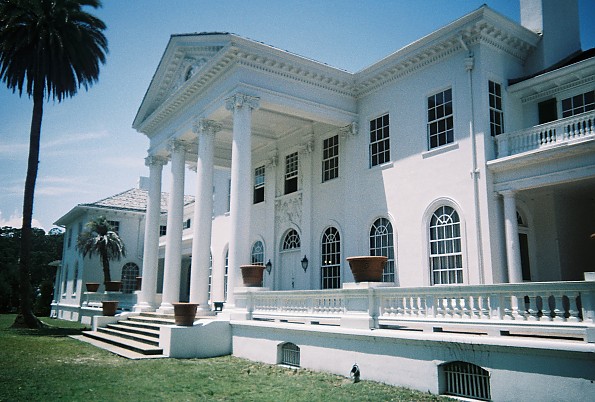 Tearing ourselves from the glorious vestige of the past, we just keep going north....on our way to Brickhill for the night.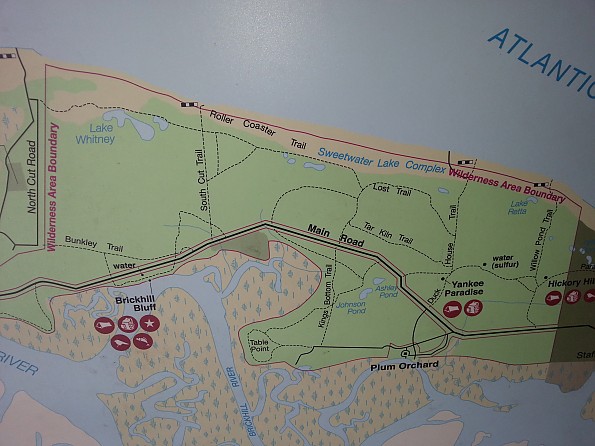 Between Plum Orchard and this bridge, the bugs were terrible!! This is our first shot to sit for a min and have some water and beef jerky.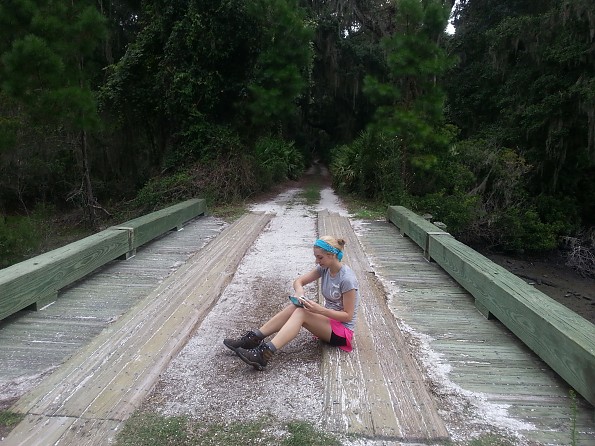 Before long we are moving again.....
Below is a sign that says we are almost there. Yay!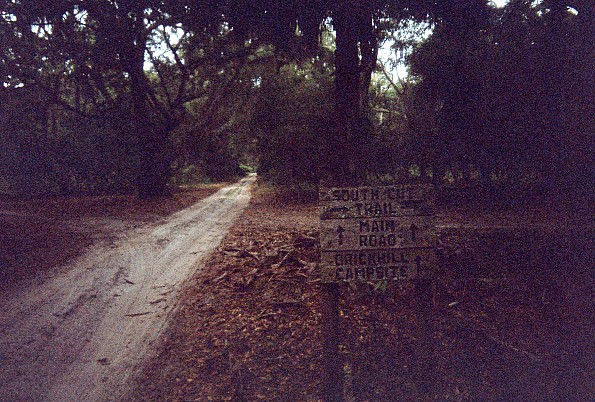 Finally we make it......and we have the entire place to ourselves!! Everyone is right; this campsite is awesome. You can set up right on the river and the water is very close. It comes from a pump, it does need to be treated though. That's ok because I brought my filter setup: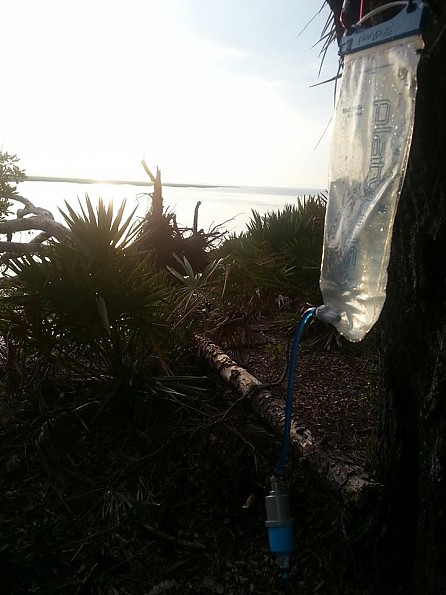 Below is a tent shot. Notice the lack of the gear shed....I was feeling too lazy for all that lol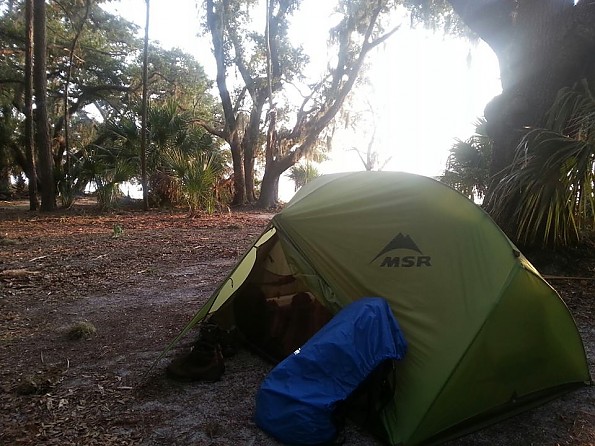 While we were here, we saw a shark eat something right off the shore. It was crazy!! Also, 3 horses came pretty close to us while stomping around and such. And there were 3 armadillos that came running out of brush at one point. It was a fun evening. 
Here are some fun sunset photos: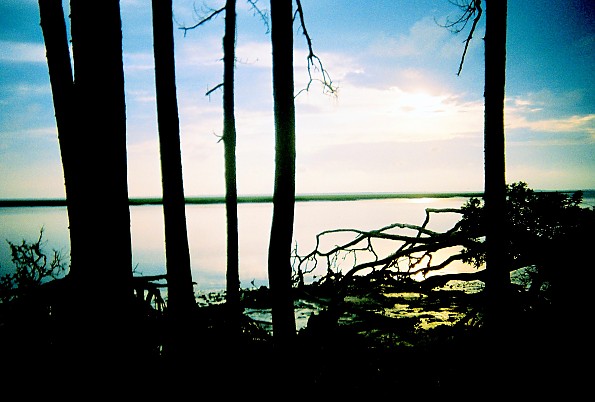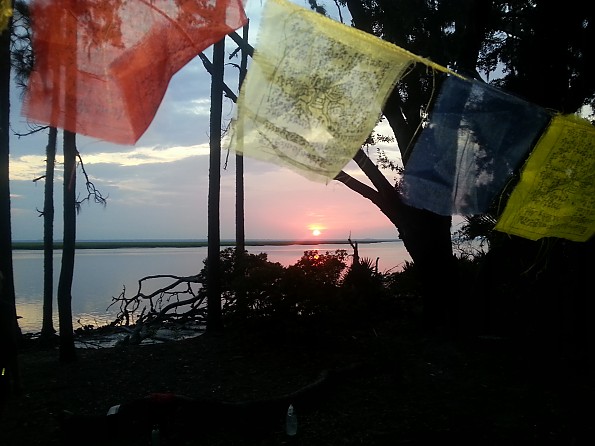 It was a perfect ending to a hot, sweaty day.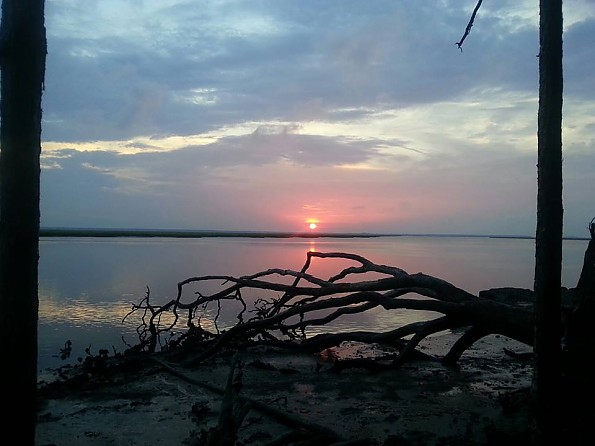 The next day we woke up wanted to explore the north coast of the island. We wanted to find the first African Baptist Church built by freed slaves after the civil war........we never did find it but we did totally by accident come upon this cemetery.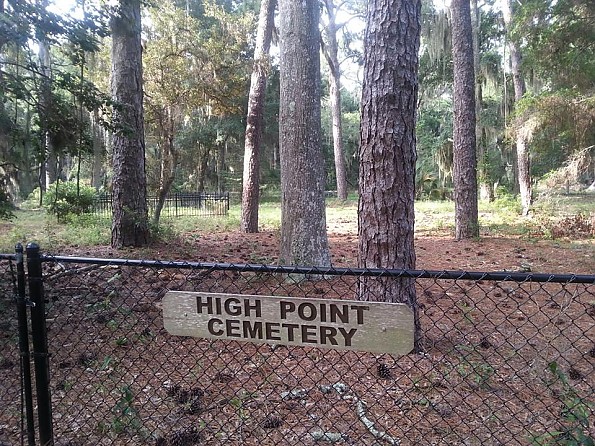 This was pretty neat but we thought we were lost so we retraced our steps back to camp. We did see some neat stuff on the way ....enjoy.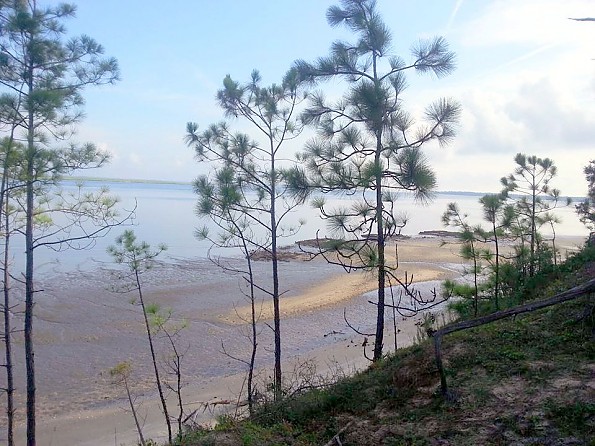 I told you there would be more Horse shots! (below) This guy was a lot closer than he looks. He turned around and ran right at us. When he got close I scared him away by waving my poles....i bet he didn't know how much he scared me though.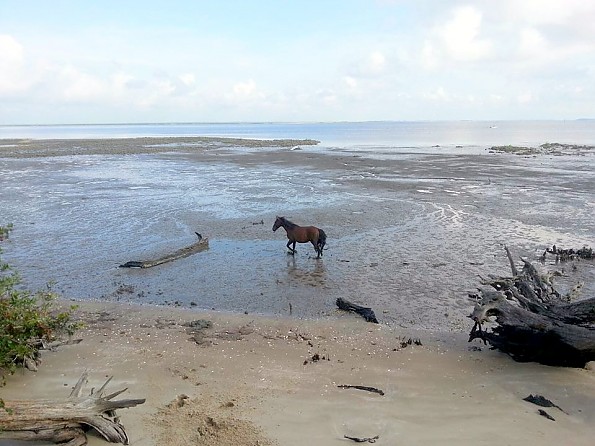 We had done a four mile round trip on the north of the island, and all before 10am. We made it back down to Brickhill, ate lunch, packed up, and left to make the 7 mile journey back to Stafford beach camp.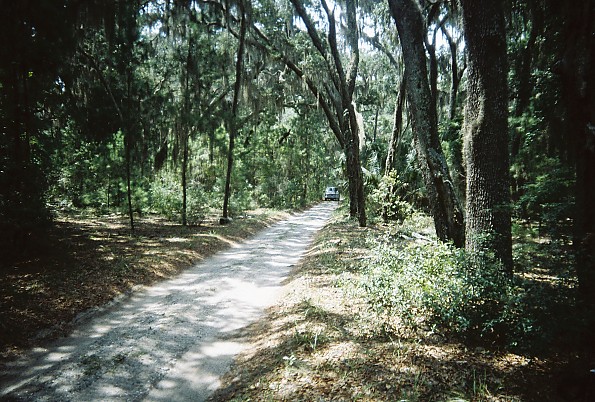 If you take the road, watch for cars.....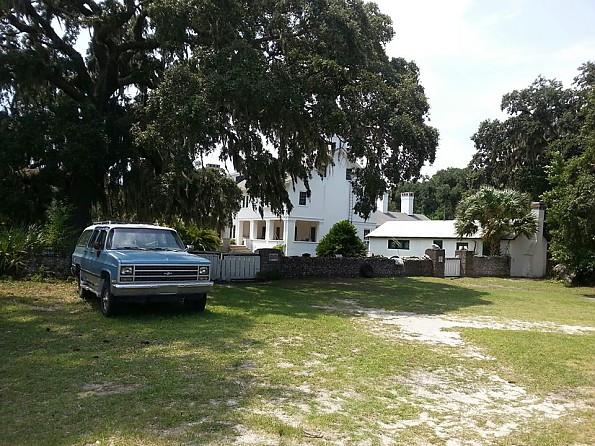 On the north side of the large field north of Stafford here is a nice private home. There is also a plane, so i guess this large field is an air field.
 Also while tromping through this field.....we found some big (that's an understatement) trees.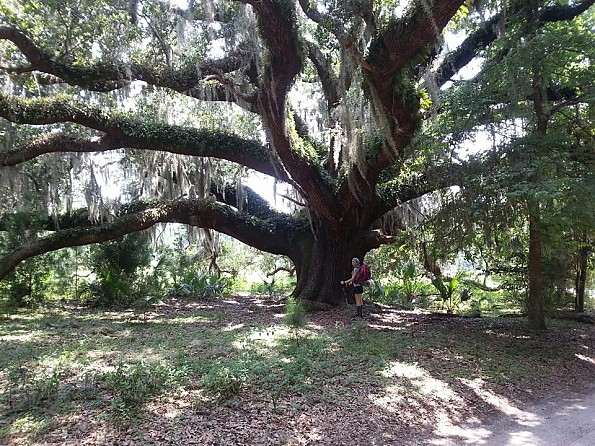 and more horses.....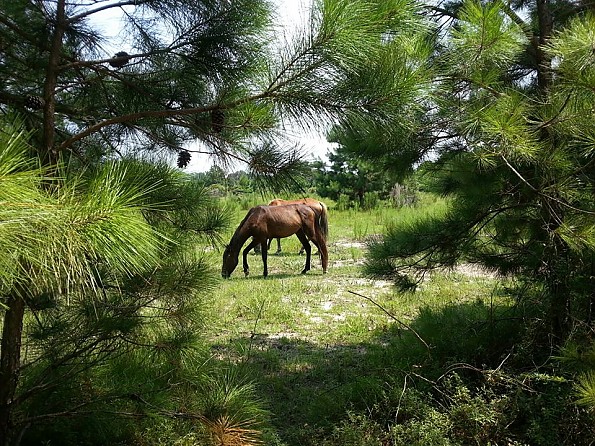 We made it back to Stafford Beach Camp, tired, sore, and covered with bug bites.....so we decide to take a dip in the Great Atlantic Ocean. It's only a 10 min walk from the camp. We basically had the entire beach to ourselves, unless you count the crabs :) The beach and water were breathtakingly beautiful......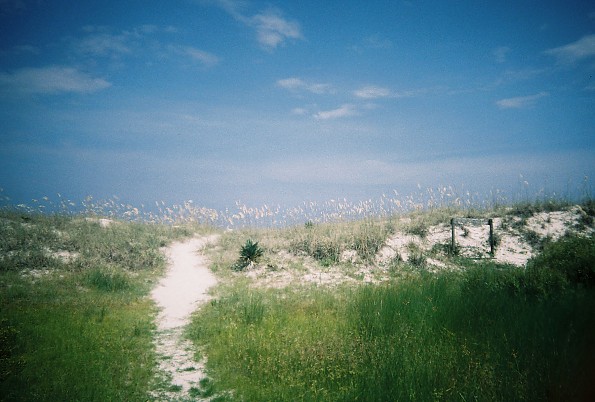 No life guard on duty..........swim at your own risk.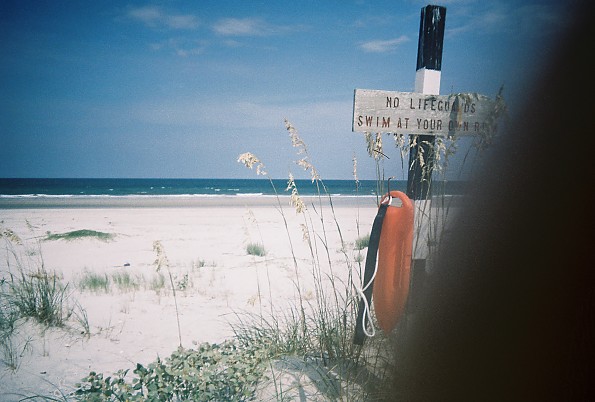 While we were out in the ocean, I naturally assured my wife there were no sharks in the water....I gave her the big speech about the statistical improbability of being attacked by one, and how it wasn't going to happen......then, like the Universe was laughing at me, in the wave right behind us we SAW A SHARK! It was clear as day, I saw it from front to fin and so did Bethany. We ran out of the Ocean like like the Road Runner from Looney Tunes!

After are run in with the shark, we ate and collapsed.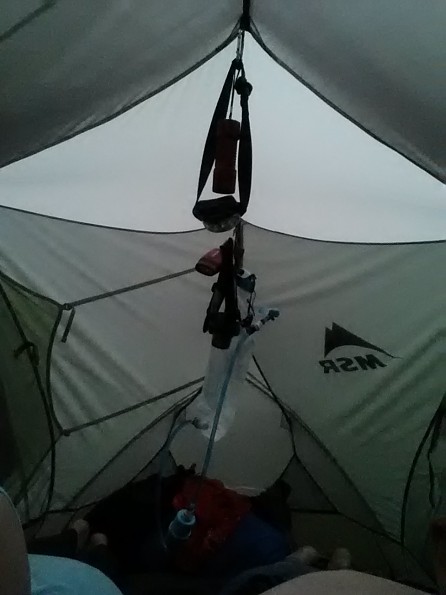 It had been a 11 mile day, very hot and very buggy. We had to wake up early to take the 10:15 ferry back to St. Marys and we still had 3.5 miles to go.
This is me the next morning about to take down the tent. It is always bittersweet when you pack up camp for the last time on a longer trip. It means next time you sleep it will be in your own bed, warm, comfy, and clean.  It also means the adventure is almost over, and the excitement is behind you. 
We made it to Sea Camp in an hour and a half. We were feeling refreshed and rejuvenated after the long hike the day before, and really booked it down the road back to Sea Camp.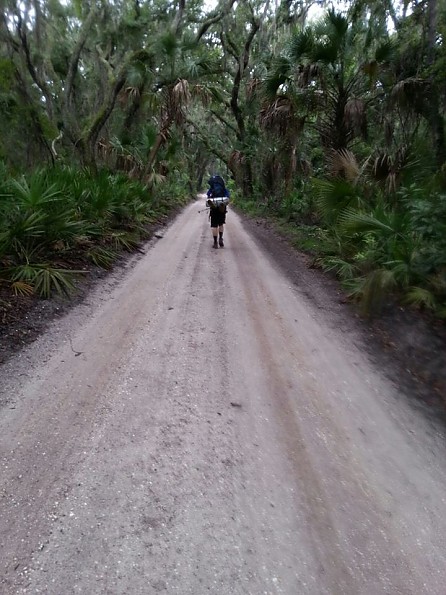 the long and winding road.............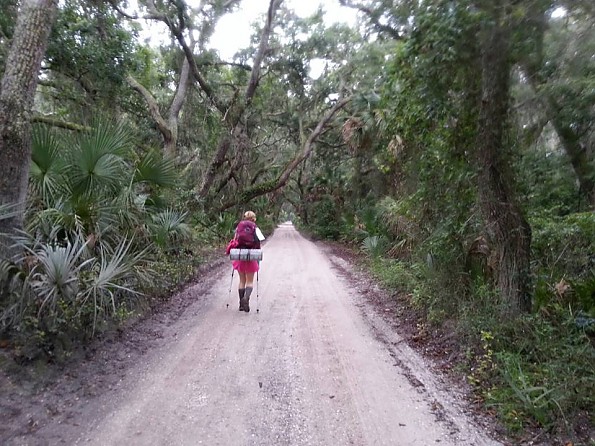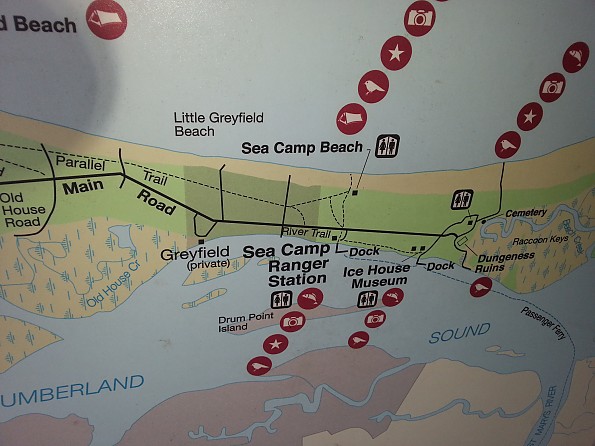 We did not see a lot of the normal touristy things that most people see when they go to Cumberland Island. But we accomplished our goal of getting to Brickhill campsite and pushed ourselves hard in the heat to do so. We did not see Sea Camp, the Dungeness or the south side of the island, even though we plan to in the future.  We had a great time and a great adventure and that's all I could ever ask for on a 3 night backpacking trip. I recommend this place to anyone. See it all, see as much as you can, and I'm sure you won't be disappointed. Thanks for reading and I hope you enjoyed the pics.