FromSagetoSnow
TOP 25 REVIEWER
REVIEW CORPS
7,660 reviewer rep | 1,714 forum posts
1:38 p.m. on August 5, 2013 (EDT)
The Waptus River in the Alpine Lakes Wilderness in Eastern WA is a favorite place of mine.  A perfect place for someone's first backpacking trip.  We hiked 3 or so miles.
Most people might balk at taking five kids backpacking but the older three of mine are pretty salty mountain kids so it was really pretty easy.  I can't believe I have a daughter in high school now!
Bright jerseys; easy to see in the woods. Numbered to help me keep track.  We brought the little dog along this time too.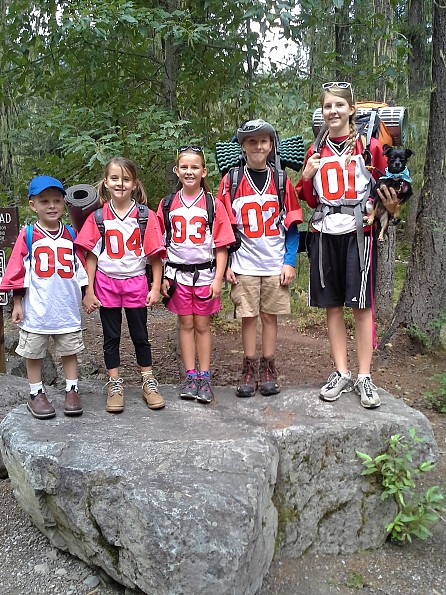 The first thing to know about kid packing is that there are not enough gummi bears or granola bars in one zip code to satisfy them so pack about 3X more than you think is necessary.
The second is that five year-olds are unique backpackers, capable of hiking speeds of upwards of 150 questions per hour.  Try to keep up.
Eyes on the back of a pack are a cool idea.  He's carrying his sleeping bag, plastic binoculars and one Mountainhouse dinner (Mac n' Cheese of course).  Ok, its not a real backpack, just a sack with straps for carrying a sleeping bag.  Next trip I'll let him carry the tent and all the food ;)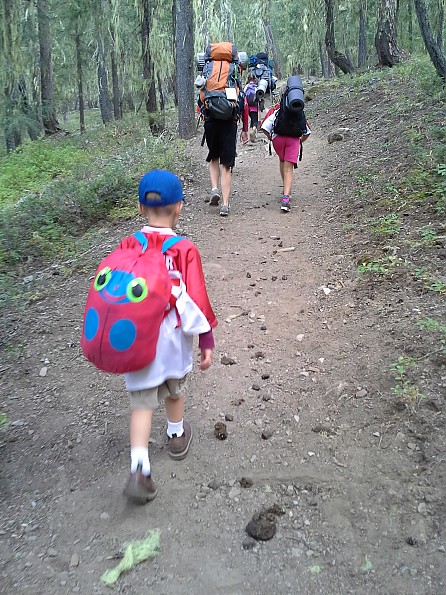 Follow the horsey-poo trail
The older kids brought their own tent so they could have some independence.  Also there was no way I was carrying two tents so they kinda had to if they wanted to sleep in one.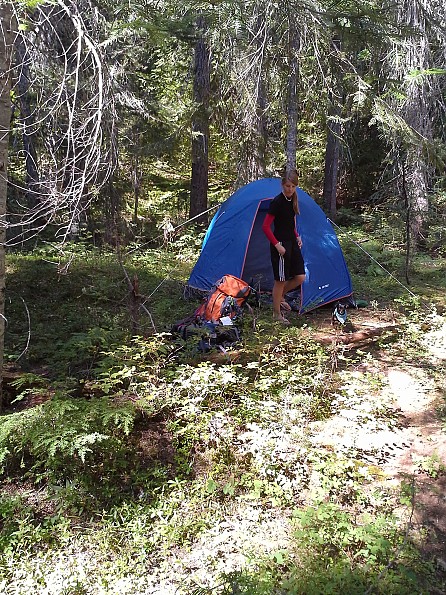 My tent, the youngest named it "Thunder Boy"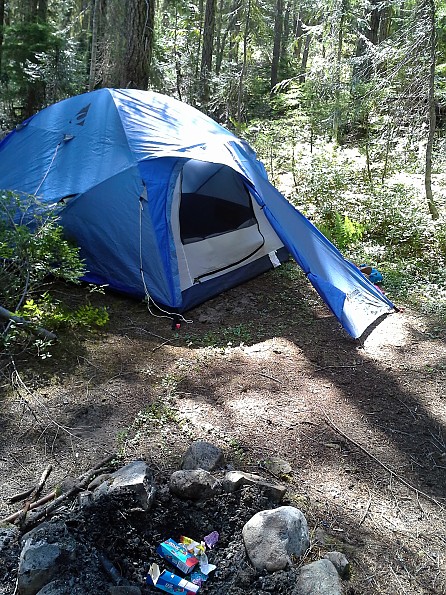 I don't know if these falls have a name.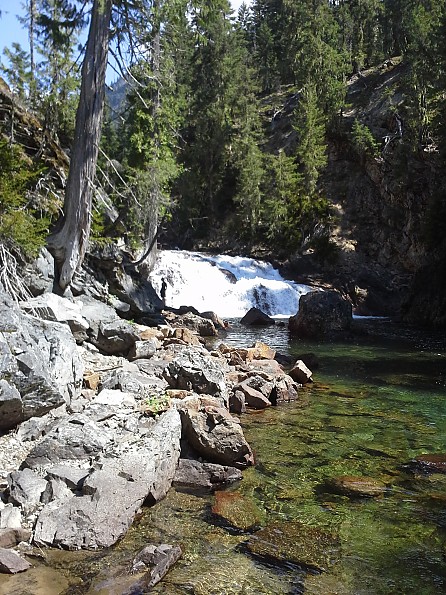 Now my son knows the answer to, "Where does the white go when the snow melts?" That was question #322.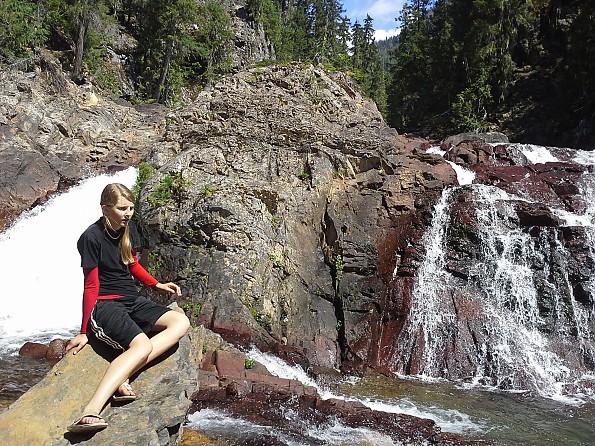 We spent a lot of time at the river playing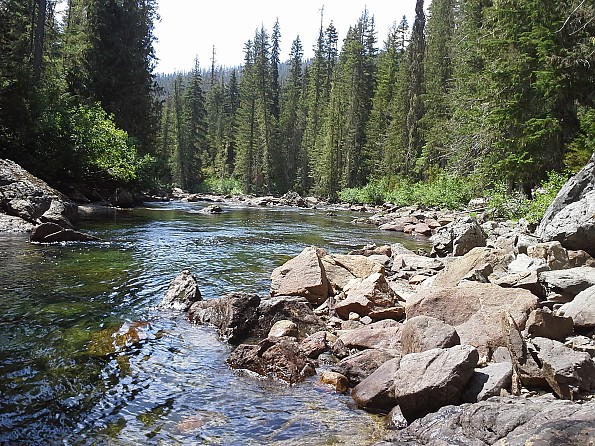 We don't get to see many trees at home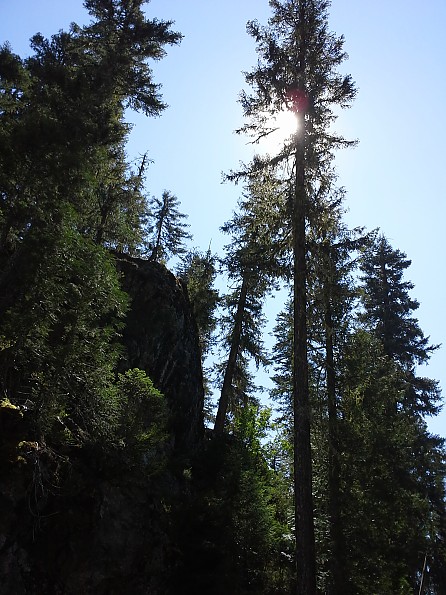 I think he threw about every rock there into the river.

Cold.  This stuff is pretty much just melted from a snowfield upstream.   That expression is pain, numbness followed shortly after.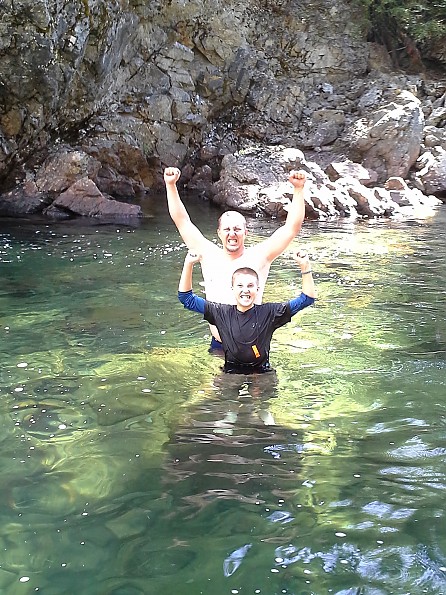 Diverting the creek near camp.  I rested on a log, thinking back to when I had that much energy.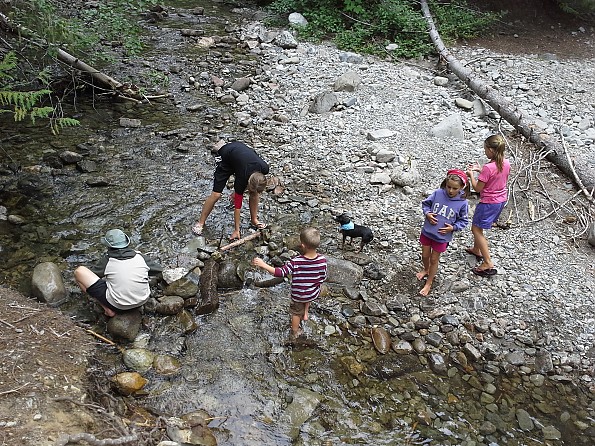 You only get a finite amount of campfires in your life with your kids, enjoy them. Luckily there was no campfire ban this weekend.  I don't often go places where you can cook on a fire, it was  nice.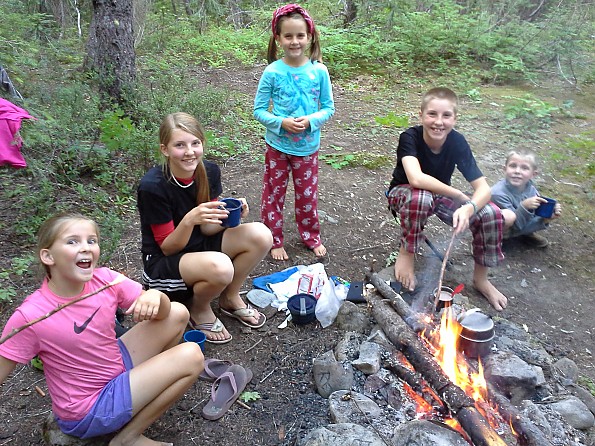 We ate a Mountainhouse dinner, mostly b/c its so light and everyone carried their own meals. I had already tested it at home so I knew the kids would eat it.  Of course we roasted marshmallows too.
Flip flop sandals or just bare feet were the order of the day for camp wear.
At night the little ones all wore glow stick to help keep track of them.
Huckleberry season! Great in oatmeal.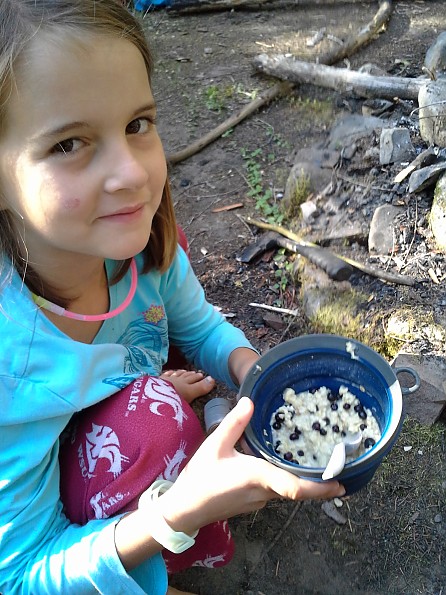 "Master Blaster runs Barter Town!"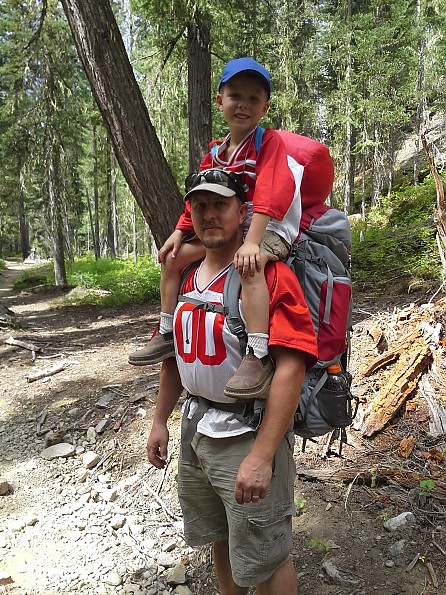 He rode for a half mile or so, then wanted down.
Walking out.  Gently rolling river bottom country.  This area burned 5-8 years ago.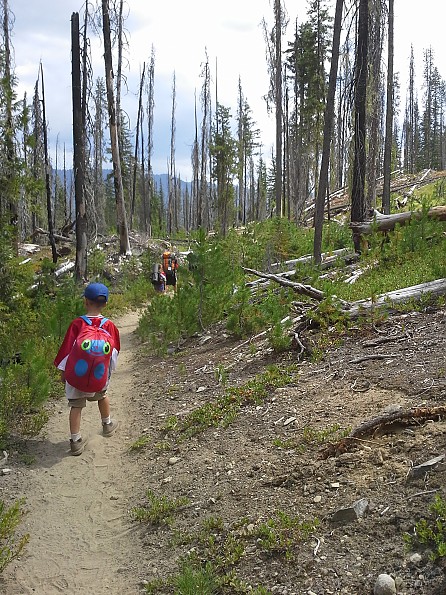 The kids have been hiking since they were all four of five so taking one more isn't that much more work.  I only had to carry my own gear, an extra sleeping pad and the snacks, the bigger kids all carried gear for the smaller ones along with their own tent.  Since it was a short hike no one minded a little heavier pack.
Someday I'll write a book on camping/hiking with kids.