11:55 p.m. on August 6, 2013 (EDT)
Well, folks, I did it.
A little sore and worse for the wear, but I successfully completed the first backpacking trip of my life - and a solo trip, at that.
But I'm alive, and in one piece.
The destination was Mississippi Palisades State Park, in the Northwest region of Illinois bordering, well, you know which river. This park kept me in my home state, and was only a 2 hour and 45 minute drive from home in the Chicago suburbs.
PARK OVERVIEW
Infamous for their namesake rock "palisades," the park's main attraction are the steep, lofty cliffs along the Eastern banks of the Mississippi River, complete with viewing platforms allowing access to the scenic overlooks. The 4 overlooks (Ozzie's Point, Louis Point, Oak Point, and Lookout Point) are accessible via paved roads and require - provided you've a set of wheels - no hiking whatsoever. The Oak Point overlook is even handicap-accessible. 
TRAILS
These overlooks make up the middle third of the park, inbetween the North Trail System and South Trail System, offering a total of 15 miles of hiking trails. 
CAMPGROUND
The established campground sits at the North entrance to the park, and has 241 Class A and B sites. Non-electric sites are $10 per night. Electric sites are $20 per night, and both offer access to showers. Holidays bump the price of electric sites up to $30 per night. The main campground looks more like someone's manicured front lawn - large expanses of grassy sites in close proximity to another without any trees or brush inbetween them. Open year-round, the prices in the off-season (November 1st through April 30th) both decrease to $18 and $8, respectively. 
PRIMITIVE CAMPSITES
Primitive Sites A, B, and C are all within the North Trail System, about a 1 to 1.5-mile hike from the main campground. These are $6 per night and only open from Mid-May through October 31st, and cannot be reserved online. 
TIPS - RESERVATIONS
Although most campsite reservations are made online with ReserveAmerica, I would actually suggest you call ahead to check availability and book your campsite as a walk-up reservation, sparing yourself the $5 online reservation service charge. From what it seemed, the primitive sites were seldom requested or booked, and I'd imagine you'd have an easy time acquiring one as a walk-up. I don't know if the same applies for the main campground's sites, but it's worth a try to save an easy five dollars.
TIPS - SATELLITE RECEPTION
For those of you relying on GPS for directions, do yourselves a favor and print them out on paper at home. I couldn't get clear GPS satellite reception anyplace near Savanna, and relied mostly on my own navigational instinct to get me around.
Special thanks to TheRambler for urging me to buy a compass (I may have not needed it on the trail, but I made good use of it in my car!).
TIPS - PHONE RECEPTION
The same goes for cell phones. Keep them on you, but don't expect to be making or receiving any calls. If you do need to make a call, drive or hike up to the lookout point parking lots. I managed to find a spot here that gave me 3 bars and held long enough to make a couple calls.
DRINKING WATER
Water safe to drink is available at pumps throughout the campground and park. For primitive campers like myself, your best bet is the blue pump in front of the check-in booth.
There is no reliable, natural source for water. The only running water I found through the campground looked like it may be from a drainage source and I wasn't going to chance drinking that when I'd guaranteed, safe drinking water from the pumps.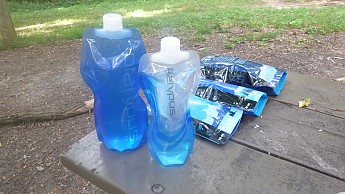 While this campground is along the Mississippi River, it is not on it directly. The main highway leading to the park is separated from the river by railroad tracks, which are on private property. 
PARKING
Being an Illinois State Park, admission and parking are both free.
If you've booked a standard site, you can drive right onto the lawn and park there.
If you're camping at the primitive sites, park your car in the shower house parking lot, just South of the Bittersweet trailhead.
WEATHER
The sky was clear, the sun was bright, and the temperature was true to the forecast. High in the low 80's, low in the upper 50's.
I was comfortable for most the day with my convertible pants unzipped into shorts, wearing a hiking shirt with the sleeves rolled up to my elbows.
Wearing a cap (my Trailsapce Trail Runner Cap!) served double duty, both keeping the sun out of my eyes and the sweat off of my brow. 
After midnight the temperature did drop some, and - still in my hiking clothes from the day - had to jump into my sleeping bag to stay warm the rest the night. 
TRAIL SYSTEMS
If there's one thing you need to know about the Palisades, it's the fact that very, very little of this park is without an incline. The trails traverse up and down ravines, and most the time is spent going up or down a hill.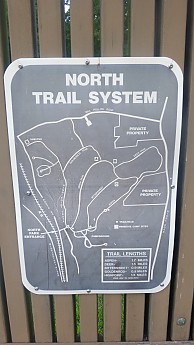 The NTS (for short) is the less challenging of the two systems, but the lengthier of the two.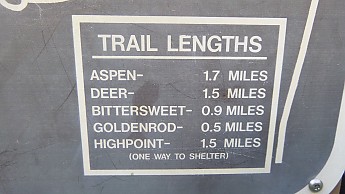 While both require hiking on inclined surfaces, the NTS trails sit in the middle of the woods, while the STS trails traverse the outer perimeter (occasionally balancing along the cliff edges).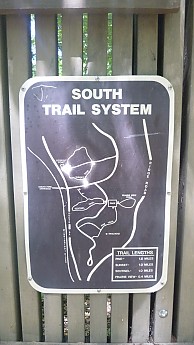 My first day came with some 12 total miles of hiking, and I woke up the next morning with my calves more sore than they've ever been. Without reliable support from my calves, I couldn't depend on my ankle strength, and decided to save the STS for another visit.
TRAILHEADS & INTERSECTION MARKINGS
The NTS trails are even, wide, and well kept up. Trailheads and intersections between trails are clearly marked with named posts. So long as you've got a map, you won't have much a problem getting around. I kept mine tucked into the pocket on my hip belt.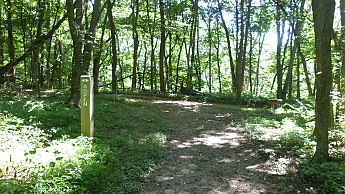 There is a separate pamphlet available for the trail systems, but the maps are - not even kidding - drawn by hand, and aren't as clear as the large map you'll find in the state park brochure. 
FIRST STEPS OF MY FIRST BKPKING HIKE
The trailhead was innocent-looking enough, cutting through a patch of prairie restoration to dive straight into the woods of the North Trail System. A couple of steps into the forest, and I see it: a hill.
A big, darn incline, largely relying on exposed tree roots for "steps." 
My first quarter-mile was rough.
I'd never hiked any distance with weight on my back before (much less 30 pounds), and my breath support couldn't keep up with my stride. Unable to catch my breath and move forward, I took a knee and five minutes to rest once I made it up the initial hill.
It was at that moment I promised myself to know and set limits, and if ever I was in doubt of my body being able to keep up with me, I'd change my plans accordingly.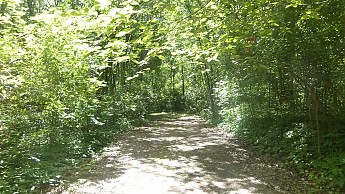 After that five minutes, I was fine, back on the trail and moving forward at a decent clip.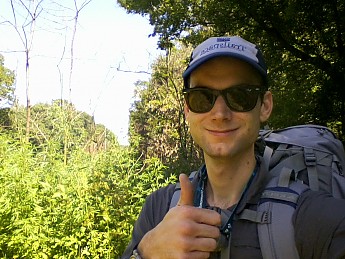 THE PRIMITIVE CAMPSITES - A, B & C
I was excited to see the backpacking sites. There're next to no pictures or information about them on the internet, and I honestly had no idea what to expect.
A park employee mentioned they came equipped with a picnic table and fire ring, and that Site C was the largest and most well-shaded.
Well, he was half-right.
Here's my appraisal of all three sites:
SITE C
It was large, but only because the Bittersweet Trail bisects the site and literally cuts right through the middle of it. Shade? There wasn't any. The site sits in a clearing, allowing the sun to reach right up to the site's perimeter edges. I didn't want my tent turning into a Guantanamo Bay hotbox come evening, so I moved on.
Note: I didn't have a chance to take a picture because another couple backpackers would up taking this site - be sure to either make a firm decision ahead of time, or make your way back to the registration booth to let them know which site you choose. 
These "backpackers" also managed to carry in a cooler, gallon-sized jugs of water, and firewood like you'd find sold at a gas station. Looks like I was the only true backpacker that day!
SITE B
Smaller and on the North side of the trail, giving it a southern exposure I wasn't too fond of. However, the trail was at least beside it, and not through it. I didn't like the cock-eyed fire pit, and there was a lot of green vegetation on the ground. Didn't really want to stamp-out growing plant life just so I could pitch my tent. 
SITE A
Everything the first two sites weren't. Positioned on the southern side of the trail, it was wide, well-established, and fully-shaded. I could pitch the tent anyplace I liked, provided the ground was level and it wouldn't be downwind of the fire pit. 
I'd a winner.
I stuck with Site A.
It was further away than the other two sites, and - above everything else - gave me as close an experience as possible to the backcountry. Sure, I was directly off of a trail, but it was isolated enough that I can count on one hand the number of passerby I saw while I was at my campsite.
SETTING UP CAMP
The campsite came with a built-in security system. I don't think anyone would be inclined to steal something and then have to hike it a mile out of the woods. Passing through the main campground, I noticed almost everyone left their gear inside their tent (and even their entire kitchen setup on the picnic table) unattended.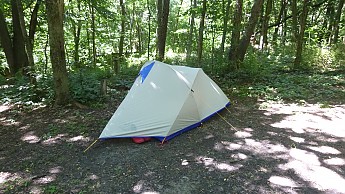 Once I reached and decided on Site A, I decided to pitch my tent, inflate my sleeping pad, and fluff-out my sleeping bag and compressible pillow. It was an easy way to cut weight, and I would need the space in my pack to carry in water that night for cooking, drinking, and extinguishing the fire.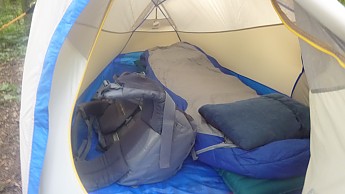 Before I left I decided to pre-build a fire so I wouldn't have to go foraging for wood in the dark. Didn't want to reach for what I thought was a log and turned out to be a rattler!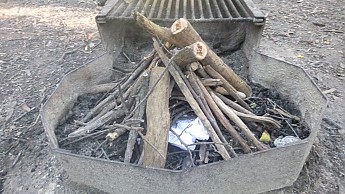 FIREWOOD
Cost of firewood?
Free!
The park does allow the collection of downed and dead wood to be used for firewood. There was a generous amount of twigs and tree bark at my campsite, and even a few wrist-sized logs that had "fuel wood" written all over them. With a little help from the wood saw on my SAK, I was able to cut them down into a manageable size for my fire pit.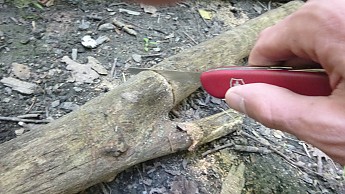 The middle-sized, thumb-diameter wood I collected on one of my hikes back to the site, and between those, I didn't have much a problem foraging my tinder, kindling, and fuel wood. 
I built my campfire ahead of time so all I had to do that evening was come back to camp and light it. Thinking back on it, it was a smart move, because the last thing I'd want to do after hiking 10 miles would be sawing wood.
Mosquitoes. Horseflies. Bees. Ticks.
The sampler platter of pesky insects. Don't hit the trail until you've applied your bug repellent, and if you've got it, a mosquito head net wouldn't be a bad idea (I was bit on the face and neck more than anyplace else). 
The only time I seemed to shake the bug problem? While I was tending to my campfire. I built that sucker large and hot enough to make sure I'd have at least some reprieve from the bites. 
I did have bug repellent, but it was a non-aerosol, sponge-applied variety that didn't spread evenly and couldn't be used around my eyes or above my jawline. I've reviewed it negatively and accordingly, as that was the only piece of gear that failed me the entire trip.
LOOKOUTS
After setting up camp, I took the trail back toward the main entrance of the park to refill my Platypus bottles and notify the employees I that I decided on Site A. 
From here, I hiked the long and entirely uphill road to the lookouts. It may have been on pavement, but there was no tree cover and the walk up there was certainly a warm one. There are countless picnic tables and pavilions along the way. Matter of fact, I ate my "lunch" (a couple protein bars) under one of the shaded pavilions, earning a quick reprieve from the heat, and gaining back some of the calories I'd burned.
The hike sure was worth it. If you crane your neck to look up at the palisades on the drive into the park, you'll notice the wooden decks all the way up there. They're all accessed by paved roads with parking lots, picnic areas, and even restrooms - it's a nice place to picnic, and even if you couldn't spend the night here, it's worth a stop if the park's along your route.
OZZIE'S POINT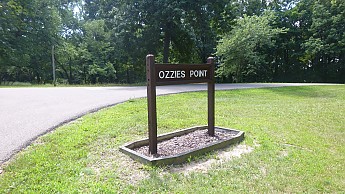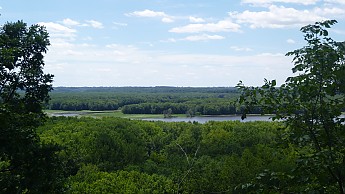 LOUIS' POINT
OAK POINT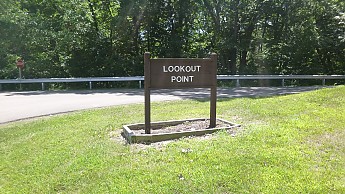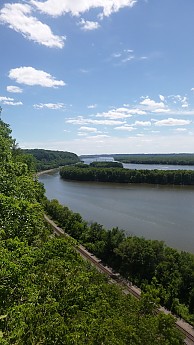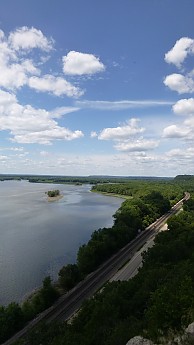 Enjoying the heck out of these views!!!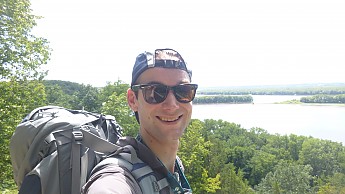 Made sure to hit them all, and was glad I did.
Things to note:
Oak Point is handicapped-accessible and has a ramp down to a viewing platform down at ground level.
Lookout Point is, hands down, the most scenic of the platforms, and offers the best views. Postcard-perfect, really. I'd so many more shots beyond these, but let them serve as a sampling of just how scenic this park is.
Like I said, even if y'all can't spend the night, do yourselves a favor and at least enjoy a quick lunch here.

SUPPERTIME
On my way back to camp, I passed by a nice employee on a golf cart. I earned myself the nickname of being "The Primitive Site Guy," and anytime we crossed paths, he'd stop to say hello, check-in with me, and see how I was enjoying myself. Told him my hiking itinerary, and he replied back that I was likely making a 15k hike come the end of the day.
15k? 
More than I've ever hiked in my lifetime. I ran cross-country in junior high, and heck - that was only, what, 2.2 miles? 
My waterbottles were refilled anytime I passed by a pump, and I - not having the bulk of the tent taking up weight and space - I filled up all my Platypus and Sawyer Squeeze bottles for the hike back to camp.
Got back into camp, took off my pack, and began assembling my camp kitchen so I could boil water for dinner. Before leaving, I picked up an MSR Stowaway Pot (1.1L), and I'm glad I did. Sucker's half the size of my GSI one, weighs a lot less, and that lid locks down tight.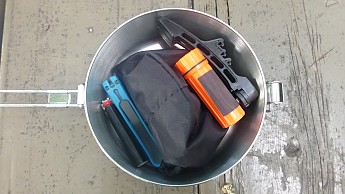 Here's my pot, stove, fuel, stand, folding spoon, lighter, and matches.
The canister stand was a redundancy since I'd the picnic table, and I never had to use the BIC lighter, but both were of a negligible enough weight than I didn't mind having a contingency plan.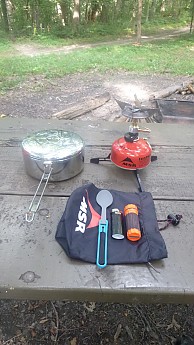 Lit up the 'ol MSR SuperFLy...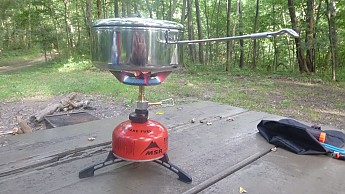 ...and had a boil in less than four minutes. Good thing - I was hungry!


BP Santa Fe-Style Rice with Chicken. Because - when you're on a solo trip - there's no shame in a spicy, Mexican meal. Not my favorite freeze-dried meal, but my appetite didn't seem to mind. This thing was gone in ten minutes.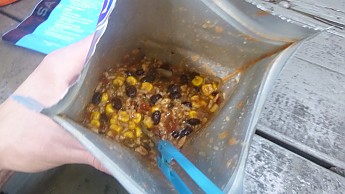 Packed the trash into the BP zip-loc bag, and hiked back into the main campground so I could dispose it and not let it be critter bait. Little did I know, had I gone down another trail, there was a trash can only a couple blocks from my site. 
Came back, and as the sun started setting, decided to light up the fire I'd built earlier. 
I didn't bring any form of recreation or distraction for myself. I didn't have a book, and the only thing I had lying around to read was the trail map which, trust me, I practically had memorized come the evening.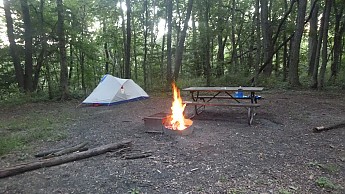 So, I decided to keep stoking and tending to the fire, and kept it going for probably three hours or so, from before dusk right into the dark of night. 
Once the sun set, and it got dark? It was darker than anyplace I'd ever been.
The forest canopy blocked the night sky from view, so there weren't stars or even a moon to reference. I'd my map and compass, but my dogs were barkin' from the hiking, and I decided to snuff out the fire and get ready for bed.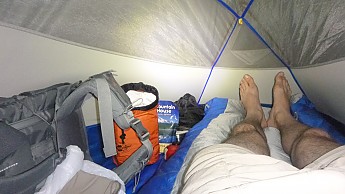 Got up the next morning, and man - my calves were sore. Really sore. My original plan to hike the STS was scrapped, as the trails are often treacherous and occasionally cliffside. Figured it'd be a good excuse to come back here sometime.
The tent experience a little condensation against the backside of the vestibule. I kept the foot-end vent open overnight, but zipped the front vent shut since I was chilly. Used a pack towel to dry it off so it could be put back in the stuff sack.
Woke up at 6:30AM, thought I'd sleep in until 7:00AM, and the bumblebee buzzing around my rainfly begged to differ, playing it like a drum.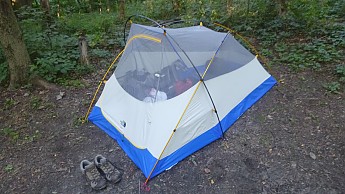 Taking nature's wake-up call, courtesy Mr. Bumblebee, I packed my things up in about 20 minutes, hit the trail, and was back in my car and on the road come 8:00AM. 
I couldn't have lucked-out any more than I did.
The primitive sites were all available, and I even received a $4 refund after switching from a standard non-electric site. 
Not a single drop of rain fell, and skies were as clear as they were blue.
Downed wood was plentiful and I hadn't any trouble in foraging firewood.
Water pumps with safe drinking water were easily accessible and numerous. 
It was definitely a challenge hiking as far as I did with an approximately 30-pound pack. My calves took another 24 hours to fully recover and I was moving very, very slowly come Sunday afternoon. I've spinal stenosis and a bad back, but never once did my back hurt. I've kept my core strong and it seemed to compensate for it just fine.
No complaints, here.
I didn't even regret the decision (or lack thereof) to bring a book with. Spent 100% of my time here with nature, and gave it my undivided attention.
Looks like the bugs gave me theirs, too.
Until next time!
MISSISSIPPI PALISADES STATE PARK
16327 IL RT 84
SAVANNA, IL 61074
DNR Website:
http://dnr.state.il.us/lands/landmgt/PARKS/R1/Palisade.htm
ReserveAmerica Website:
http://www.reserveamerica.com/campgroundDetails.do?contractCode=IL&parkId=453801