3:04 p.m. on August 10, 2013 (EDT)
Middle aged campers

162 reviewer rep
8 forum posts
My husband and I are a little older than most of the hikers we meet on the trail and this trip was no different (I'm 51 and he's 62.) We have recently moved to Idaho where we are finding a lot of opportunities for day and backcountry hiking. In late July we made a trip to Grandjean, ID, and then on over to Stanley, ID, to check out the Sawtooth Wilderness. Grandjean has a quiet National Forest campground on the South Fork of the Payette River. There are several sites for campers with livestock as well as more than 20 sites for trailer or tent camping.  There are pit toilets (very clean) and also a single water point with potable water. The campground hosts are a retired couple who have come to this area every summer for 40+ years so are a great resource. It is also near a hot spring on the Payette River which can be accessed from the road quite easily for a quick soak before or after hiking. There is a "lodge" near the campground offering trail rides, a swimming pool fed by the hot springs, and a small restaurant. The cabins appear rustic, but have more amenities than the campground.
Stanley also has a number of options for camping and hiking, but we found the little town full of tourists, motorcycles, and motorhomes. There is a really interesting fish hatchery nearby and we did take a tour to learn about the lifespan of the two varieties of Salmon which are native here. Also saw some the massive giant Chinooks which had just made the 900 mile trek to return to this part of the Salmon River.
We decided Grandjean offered more quiet and solitude. On Aug 3 we camped at the Grandjean campground which is co-located with the trailhead for Trail Creek Lakes. It was 31 F when we began the hike the next morning which is 5.6 miles with a 3,000 ft elevation gain. The trail follows the Trail Creek. At the first crossing point 1.5 miles into the trip, we had hiked mainly up wooded switchbacks, but were beginning to get into the edge of a burn area from 2006. The second 1.5 miles of the trail is through more open burn  areas with a few groves of douglas fir which somehow escaped the fires.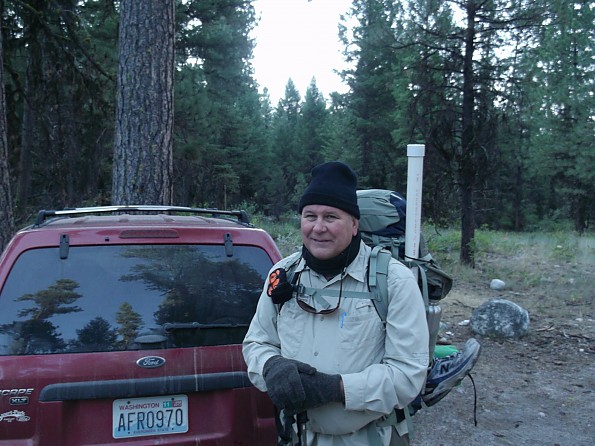 After the second creek crossing at about 3 miles of hiking we encountered more switchbacks up a rock face winding through burned trees. After a third crossing of the creek you enter the actual Sawtooth Wilderness. Past this point there are no motorized vehicles allowed. The fourth and final crossing of the creek takes you on another set of switchbacks to the top of the canyon where the trail splits.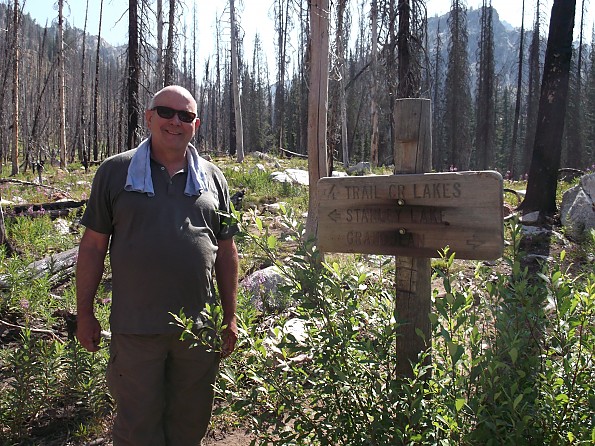 Another 3/4 of a mile or so of hiking straight uphill through the wilderness, up a dry stream bed, and though forest decimated by fire and you reach Trail Creek Lake.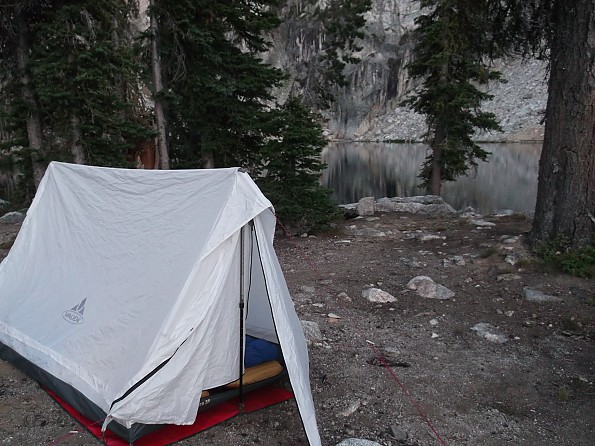 We spent 2 nights here. My husband fly fished and I just enjoyed the beauty. There is a lot of soot and ash here that sticks to everything and only a few trees survived the fire. Still it is a beautiful and wild place.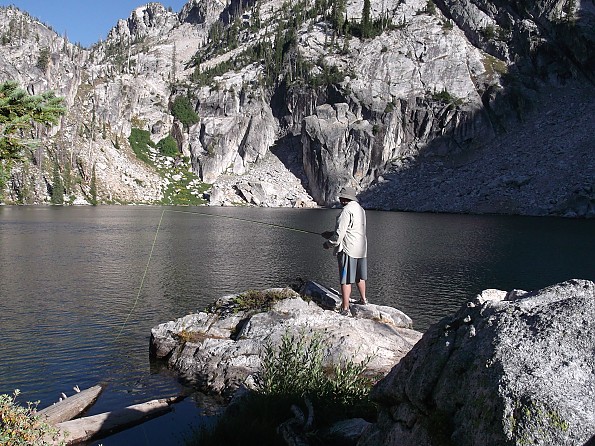 I spent the day just enjoying the quiet. Our first night a family was camped nearby, but the second night it was only us.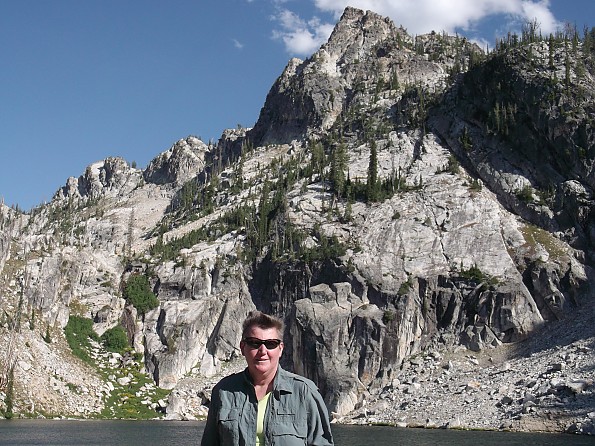 There are two other Trail lakes which are more difficult to access, but nearby. One feeds this lake by a waterfall and is located about 250 ft higher.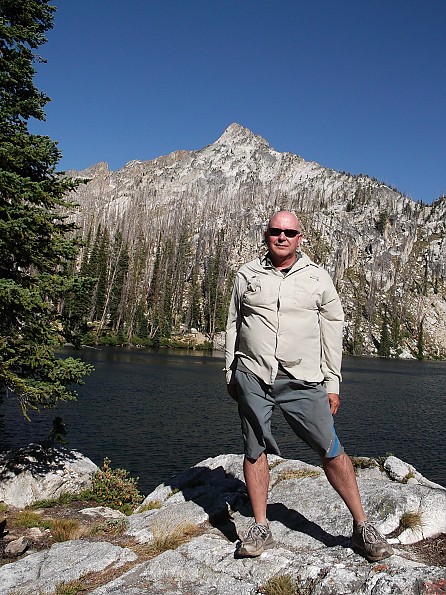 We headed back down on Aug. 6 and met another family who was heading up to the Trail Lakes. This is a somewhat difficult hike as the trail is always going up (or down). There is little respite from the grade. It seems much further than a 5 mile trip. It took us a total of 9 hours to reach the lake and 6 hours to hike back down. We rested often when there was some shade and drank plenty of water. We were impacted by the elevation change and felt short of breath at 8,000 ft. During the day it was hot and very dry. We encountered some day hikers who had been drinking from the stream because they did not anticipate the conditions so we helped them fill their water bottles using our purifier.  People apparently do bring horses on this trail from time to time, but there are several slide areas and the switch backs are quite narrow. There are also several downed trees which must be circumnavigated and might be more difficult on horseback.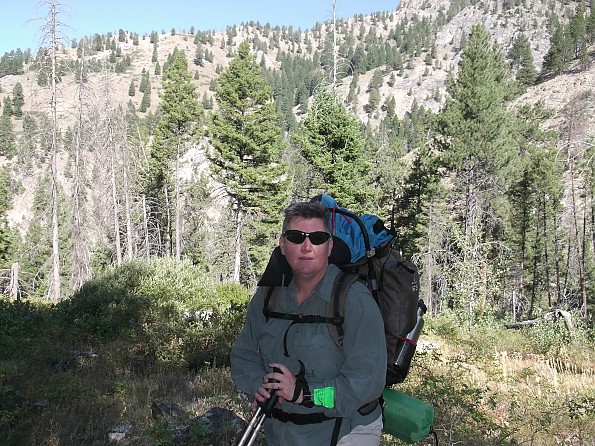 In all it was a great trip. Very different than our backcountry experiences at Glacier National Park where even the backcountry campgrounds have pit toilets, established food hanging and consumption areas, and numbered campsites. In Glacier we saw a ranger at least once a day. In the Sawtooths we did see a ranger's truck parked at the trailhead, but did not encounter any rangers on the trail or at the lake. I would recommend this trip in July, August, or September. This gives the stream time to recede from the snowmelt to make the crossings easier, and the nights at the lake would be relatively warm. The coldest temperature I recorded was 43 F at the lake on the second morning.
We saw lots of birds and wildflowers. Plenty of hummingbirds at the lake along with Western Tanangers, Mountain Bluebirds, and a host of smaller birds and warblers all along the hike. There were lots of small ground squirrels and chipmunks at the lake. Although we saw no bears or bear sign, we hung our food when not in use which kept the rodents out of the bags.
Next summer, we'd like to try some other hikes in the Sawtooths and perhaps in the Frank Church Wilderness. We purchased a new "spot" device for this trip which allows us to send our GPS location on a google map back to friends and family each night telling them we are safe. It also allows us to contact "search and rescue" in case of an emergency. It worked well and we are happy with the purchase.