Danny Wang
490 reviewer rep | 189 forum posts
12:28 a.m. on September 4, 2013 (EDT)
I recently had the pleasure to stay at a cabin in Sawyer Lake with my girlfriend and her family.  Her family has owned a cabin there since 1965.  This was to be my first trip ever to Wisconsin.  Prior to my departure, to my surprise, my girlfriend suggested that we would camp near the lake!  This would be the first time we would be camping together, as my girlfriend has had little experience camping in the outdoors, and the little experience that she had was during her childhood.  So I packed up my cheap Big-5 Sporting Goods Hi-Tec backpack with all my gear, flew out from Los Angeles, and headed north to Sawyer Lake the next day after landing in Milwaukee. 
Our original plan was to canoe over to Jessie Lake via a small channel from Sawyer Lake to some primitive campgrounds on the shores of Jessie Lake.  We did a recon mission in the canoe, prior to our actually scheduled overnight, in order to scope out the sites: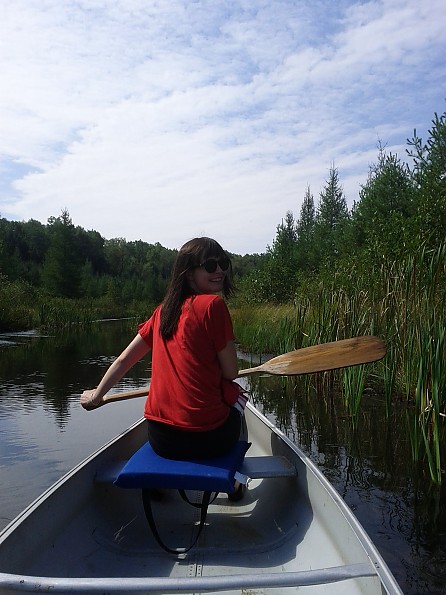 The sites offered firepits, a portion of a trunk of a tree that was fashioned into a seat, and some nice views onto Jessie Lake: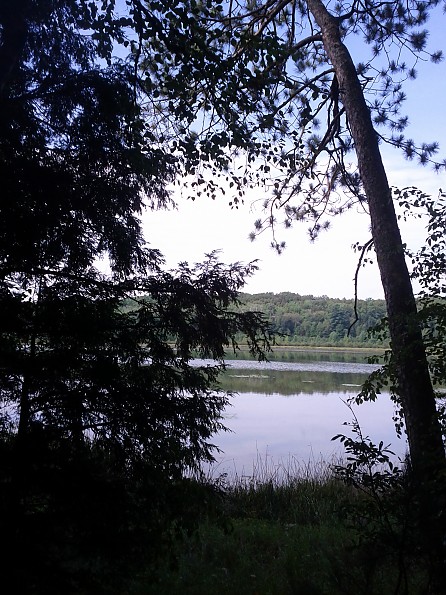 The areas surrounding Sawyer and Jessie Lakes are beautiful.  The water is crystal clear and the lakes are teeming with fish.  The woods are thick with trees, with white pine and birch among others.  There is also an abundance of bald eagles on the lake.  It's hard to see.. but there's a bald eagle perching atop that tree limb in the center of the picture: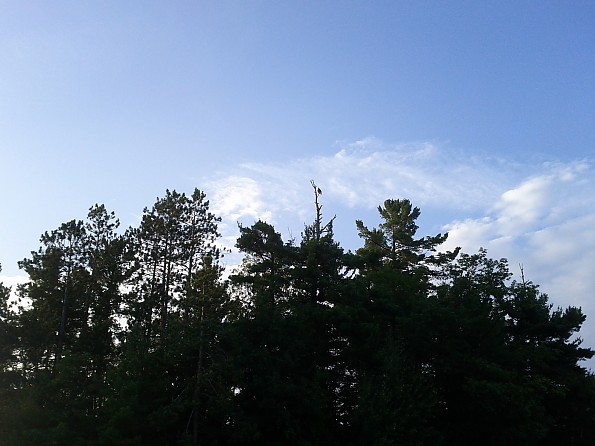 However, that night after the recon trip, it rained terribly as we watched from the cabin, so we were suggested by others to camp at another site near Sawyer Lake.  It was very close to the cabin where we were staying, so the next day, after dinner, we packed up the canoe and made a late start as we set out for a short ride towards our destination: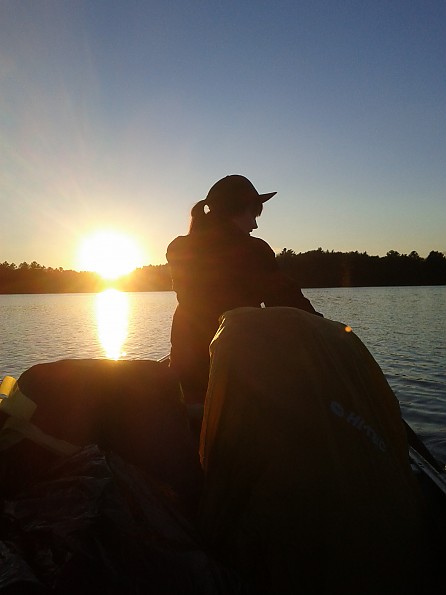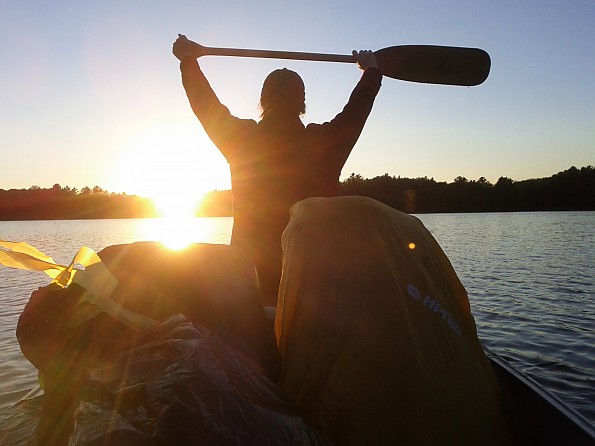 There was a nice spot with firepits that we were able to stay at.  I made a small fire and we played trivia games all night as we sipped on some wine.  We happily awoke the next morning, knowing that access to coffee and breakfast was just a short paddle away, right on the other side of the lake: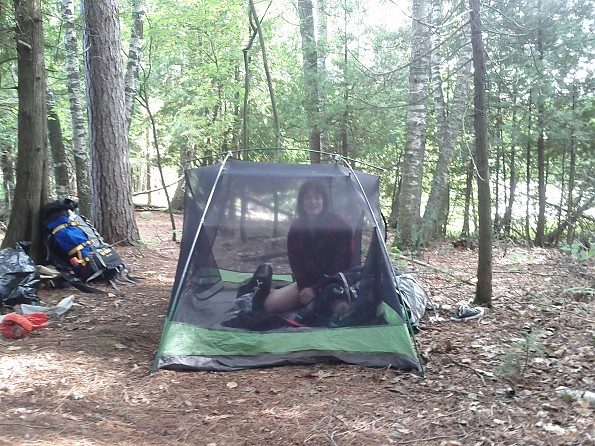 Although by no means was this a trip "into the wild."  Our site was only a short distance away on the lake from other cabins within the surrounding areas.  However, we were lucky to find the spot we were in, as we were the only ones on the island and we were still able to attain a feeling of seclusion from our site.  But despite its close proximity to other cabins on the lake, this was one of my most memorable camping trips. Most importantly, I was able to share it with the one I love.  Initially, my girlfriend was reluctant to the idea of camping. However, due to its proximity to her parents' cabin, she felt comfortable and safe, and willing to sleep in the great outdoors.  Now that we were able to spend this first overnight trip together, I hope it leads to many more camping adventures in the near future!