10:56 p.m. on October 3, 2013 (EDT)
Horn Rimmed Hiker
2,186 reviewer rep
493 forum posts
How many Trailspacers does it take to hike the River-to-River Trail?
This September I met up with some of the fellas from the Trailspace community: Joseph (jrenow), Vince (pillowthread), and Jeff (G00SE).
The four of us completed a section hike of the R2RT (River to River Trail) through Shawnee National Forest.
And lived to tell the tale.
L to R: HornRimmerHiker, jrenow, G00SE, and pillowthread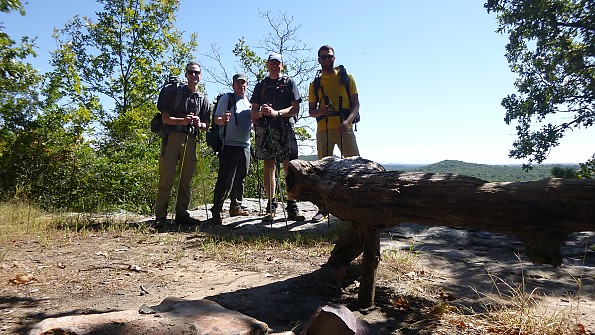 Well, barely lived: a mile from our finishing point we almost stepped on a couple venomous snakes.
Here's my take on our little shindig. Or - as the locals call it - "hootenanny," if ya prefer.
This is the first of a three-part series, one part per day.
DAY ONE
FRIDAY, SEPTEMBER 20, 2013
H: LOW 70'S / L: 55F
MILES HIKED: 9.0
CATS, DOGS, AND TWO OF EVERY OTHER LIVING AND EXTINCT ANIMAL
Coming from the SW Chicago suburbs, it was a five-and-a-half hour drive, due south. When the weatherman predicted "rain" for Friday, he wasn't kidding around. It rained from home all the way down to my destination. Finally, after a few missed turns, gas station pit-stops, and a trip down a seemingly never-ending gravel road, I made it to Camp Cadiz.
THE ONLY TIME YOU'LL BE GRATEFUL TO SEE THE FIREPLACE WITHOUT THE HOUSE
So quiet, it's where peace and quiet go for a little peace and quiet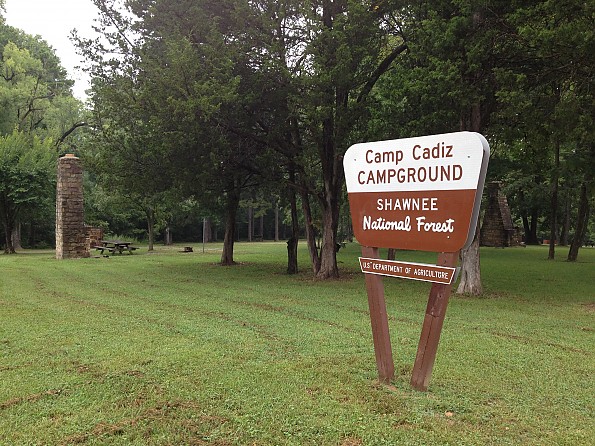 Cadiz is a primitive campground with a dozen or so sites (give or take) and doubles as one of the R2RT trailheads. It was an old work camp. All that remains, however, are massive stone fireplaces from the original buildings. They're wonderful landmarks, because the second you see them, you know exactly where you're at - even if you missed the big 'ol sign. They'd pit toilets and a water pump, so we were able to drain some things and fill others up - so to speak.
CHANNELING MY INNER CAMEL
I carried 2.5L of water at the most, usually chugging my half-liter bottle before I could put it back in my pack – so, 2 liters, for all you mathematicians out there. We depended upon man-made pumps and natural creeks. The rest the fellas all had been there before and were familiar with both kinds of water sources.
YOU CALL IT "PARKING," I CALL IT "MORE GRASS"
The overnight "parking" is across from sites 8 and 9, and that quickly became the meet-up point. It's a grassy patch on the side of the road opposite the campsites. Joseph pulled right in as I did, and it was only a few minutes until Vince dropped-off Jeff (who parked his truck over at Indian Kitchen to serve as the shuttle car).
ALL I NEED TO KNOW...I LEARNED IN THE CAMP CADIZ PARKING LOT
Joseph learned that a backpacking checklist probably should include such items as "your car keys" - he forgot his in the ignition. CC is so remote and so seldom-used, however, it's doubtful anything with opposable thumbs came within a mile of his car while we were away for three days. This place definitely puts the "primitive" in "primitive campground." If peace 'n quiet's your thing, you ought to check this campsite out. It makes a great base camp.
Vince learned to keep your friends close, and your dogsitters closer. Poor guy couldn't find anyone to watch his dog that first day, so he had to sit out and join us the next morning.
REASONS TO MAKE FRIENDS WITH KAYAKERS AND OTHER SMART IDEAS
Joseph lent me a dry bag for my valuables along with some trash compactor bags (I highly recommend them), and Jeff was kind enough to lend me a pack cover. The compactor bags are "grocery store gear," essentially thicker, sturdier plastic garbage bags. Put one in your empty pack, pack as your normally would, and tie that puppy up good. These kept my gear dry throughout the entire trip: stored in my pack during the day, and in my tent at night. Who'd have thought the item to come in handy more than anything else would be a garbage bag. Used it for everything from a door mat to a camp seat.
IF IT'S NOT A GAS STATION, IT PROBABLY DOESN'T HAVE A TRASH CAN
Speaking of garbage? When it comes to that stuff, it's pack it in, pack it out. Shawnee National Forest didn't have garbage cans at Camp Cadiz, and I had to wait until we finished the trails and stopped at the gas station to unload my trash. GOTG did have a dumpster there, but being our mid-point, it only allowed me to throw-out half of my trash.
GOOSE DOESN'T @#$% AROUND
In his "can-do-and-let's-do-it-now" style, Jeff said "Let's do some hiking!" as he led the charge onto the R2RT. Right on-time, we headed out at 1:00PM.
HornRimmedHiker (L) and G00SE (R) - open to Black Diamond Sponsorship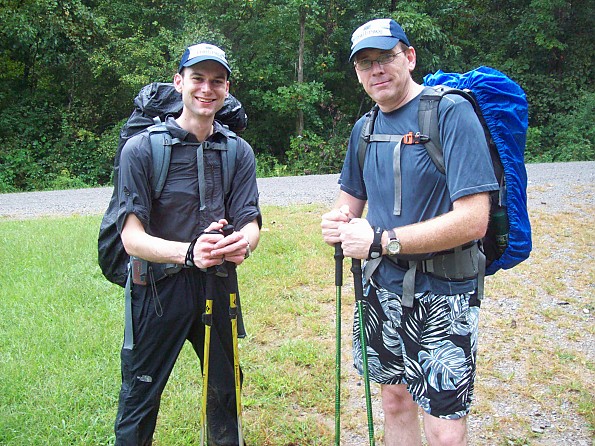 RAIN GEAR, OR THE D.I.Y. SAUNA
Jeff asked me if I'd be wearing my rain shell on the trail, knowing I'd get warm, start sweating, and my best efforts to stay dry would find me in the same place as if I went without it. I'd a synthetic shirt on and could wring it out, if need be, so I decided against wearing the shell in favor of keeping cool. Considering I was already rockin' the "pit-zips" before I hit the trail, it was a decision well and timely-made. I kept the rain pants on because the amount of times I smile in a day is directly proportional to how dry or not my underwear is.
THE ONLY TIME I'LL REGRET LEAVING THE BEAR GRYLLS MACHETE AT HOME
The first mile or so could probably qualify as unofficial bushwhacking, as we hiked through a section of the old R2RT. It wasn't the most scenic route, and between the thorns and poison ivy, it sure kept a guy on his feet. Not being the most scenic route, it did spare my camera batteries some power. The route was infrequently marked, if marked at all, and it took an honest effort to find the faded blue blazes spray painted onto the trees.
BLAZES, OR LACK THEREOF
"What is this, a trail junction for ants?"
It spat us out alongside a gravel road bordered by "No Trespassing" signs on one side, and an electric fence on the other. Nothing helps pick up the pace like a little inadvertent trespassing, and soon we found our way back on the trail. Stopping on the other of a road crossing, we set our packs down to grab a sip of water and a snack. We finally started seeing the blue, lowercase letter "i" blazes on a regular basis, and knew we were heading in the right direction. Pretty soon thereafter we started passing signs as trail junctions.
Signs are good. Arrows? Even better.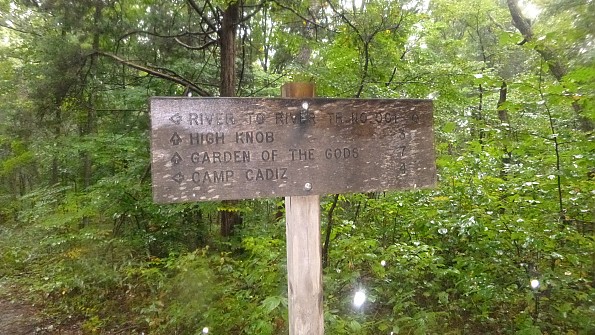 YEP, STILL RAINING
By now we officially were soaked-through.
THINGS THAT STAYED DRY
Wet shirts. Soggy socks. Squishy shoes. Should've dressed myself in the trash compactor bags! A moving body is a warm one, so it only became all the more motivation to push ahead.
GRIZZLY ADAMS WOULD BE PROUD
Further down the trail was an old log cabin, and we stepped off it for a respite under the front porch. This was our second "snack spot." Old, abandoned, and far from level, it wasn't exactly structurally sound. We didn't dare venture any further inside than the front porch. The building did enough leaning on its own, so we didn't feel it needed any help by us propping ourselves against it. I did learn that few things look manlier than gnawing beef jerky on the stoop of a log cabin.
IF YOU EAT ENOUGH OF SOMETHING – YOU CAN MAKE A MEAL OF IT
I didn't eat proper lunches and instead relied upon a series of calorie-dense snacks (nuts, jerky, M&Ms). They weigh less in the pack, are non-perishable, require no fuel or cooking, and can literally be eaten on-the-go. It helped they were all individually sealed and plastic-wrapped, so they were rainproof before anything else was. They were kept in a side pocket on my pack that didn't require too much fuss to get to.
KOOL AID O'CLOCK
If I wanted to drink plain water, I could have opened my mouth and tilted my head back. My last trip I went without any sort of water flavoring or enhancer. This time I picked up a Mio-style bottle of Kool-Aid water enhancer. The liquid additive mixes easier than a powder, stays entirely in one container (opposed to individual packets), and is easily found at the grocery store. This way, I at least found myself enjoying my water. When it's lukewarm, it's hard to enjoy just by itself. You laugh, but, being a devout soda-drinker, it made drinking water suck less.
HIGH KNOB CAMPGROUND: FULL OF SOUTHERN [ILLINOIS] HOSPITALITY
We missed spaghetti night by a couple hours - damn!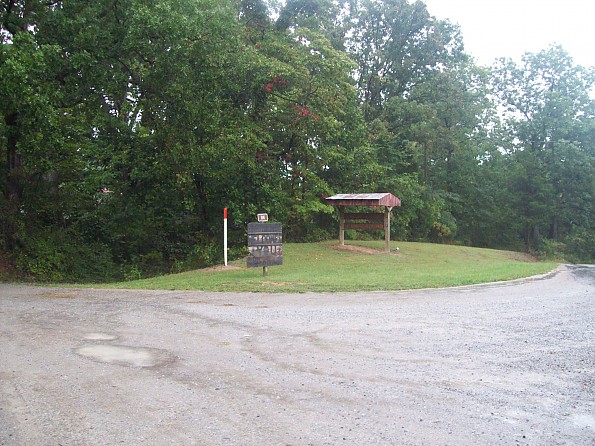 Later we came into High Knob Campground, which mainly serves equestrian, RV, and car-campers. Scanning around to find a water pump not directly on someone else's campsite, we found one sitting in the middle of a small field. A woman standing on porch across the way called us over.
After hiking muddy trails all afternoon, you don't mind a little pavement!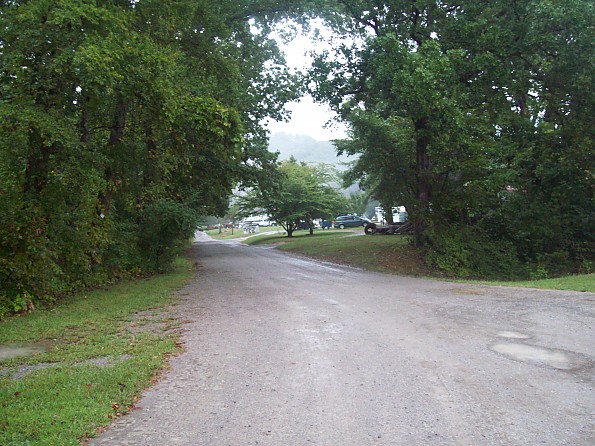 JO-JO
We didn't know her then, but we know her now: Jo-Jo. She's the owner of the campground, and – so it turns out – has a soft spot for hikers. Watching us from the porch, she must've took a little pity on us, because she offered us the bunkhouse for the night (it's normally ten bucks, per person, per night and includes beds, showers, and a kitchen). Joseph politely declined the offer but told her he'd be more than happy to take her up on it sometime in the winter. We asked if it'd be alright to use the water pump we saw, and she more than gladly allowed it. We kept on down the trail, keeping with our original plan to spend the night in the backcountry. That wasn't the last we'd see of Jo-Jo.
SMILEY CAMPERS
We started racing for our campsite as the sun raced for the horizon. The only other people on the trail that day were the two people hiking alongside me, however, it wasn't too far from High Knob we noticed a couple backpackers behind us. They'd large, overstuffed packs. They'd ponchos. And there were still awfully smiley to be hiking in the rain. Not wanting to have someone claim our campsite before we could, I double-timed it up the trail with Jeff not too far behind me, and Joseph behind him.
G00SE and HornRimmedHiker, "trail running with trekking poles and packs"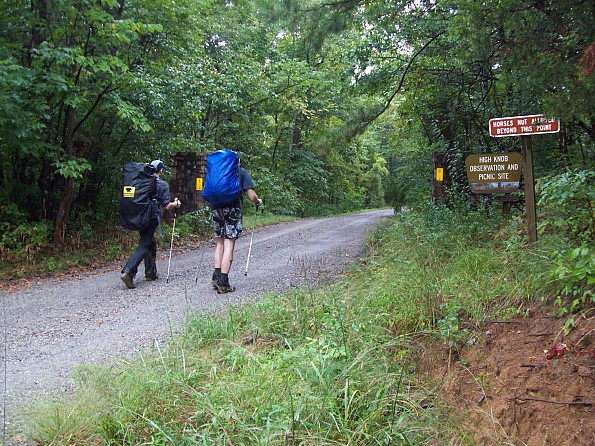 HOW ANDREW JACKSON MUST'VE FELT EXERCISING MANIFEST DESTINY
What was I looking forward to most on my first day? Taking my pack off, and knowing I wouldn't have to put it back on until the next morning. I enjoyed it even more because by putting that pack on the ground, I was claiming "dibs" on our site.
HOW EVERYONE ELSE FELT WHILE JACKSON EXERCISED MANIFEST DESTINY
Were we going to have competition? We were going to have company? Would we have to share our campsite with complete strangers? It wasn't until I was assembling tent poles (and very deliberately) that we decided to strike-up conversation with the backpackers who were behind us. Luckily, they'd just started hiking and parked their car at High Knob: they planned on making it to at least Pharoah, if not Garden of the Gods, before calling it a day. They must've made it as far as they planned, because we didn't run into the next day or the one thereafter. It was just going to be us three, looks like, after all.
jrenow, soaking up the sights, and not the rain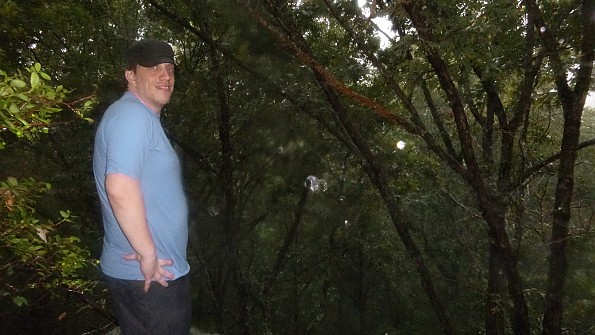 THINGS YOU CAN DO INSTEAD OF CARRYING A PACK
Safely claiming the campsite as our own, we called Buzzard Bluff home for the night. We camped on the side of the trail nearest the cliff edge, where the soil was drier and rockier. The other side had a cable tied between the trees, and being a horse camp, was muddy as muddy could be. I didn't mind spending some extra time fussing with stakes to avoid looking like I tripped and fell in a pig sty.
Which one of these doesn't belong? Hint - I'm not a hammock camper!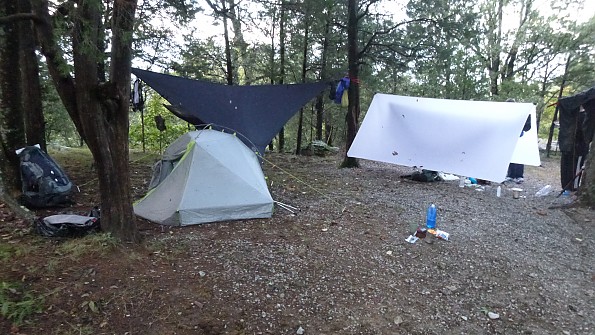 VINTAGE '08 MOUNTAIN HOUSE
Dinners were exclusively freeze-dried meals. Everything is packed and cooked in one bag, and it doubles as a trash bag once eaten. Convenience over everything. I'm not the kinda guy to demand gourmet meals, and if it's edible, it's probably alright by me. Putting this mentality to the test, I brought with a five-year-old Mountain House meal I got for next to nothing on clearance...because it was a five-year-old Mountain House meal. Since I'm still alive as I'm writing this trip report, you can see it was edible, and therefore – it my book – a satisfying meal. All kidding aside, the Chicken Stew is one of my favorite flavors. Nice just to eat something other than rice or pasta. Since canister-stove-cooking is ill-advised inside of a tent, Joseph was kind enough to let me cook dinner beneath his hammock's tarp. I was so hungry and single-track-minded, I didn't even notice I spent the 20 minutes cooking and eating squatting, without ever truly sitting on the ground. Joseph had to remind me to sit like a normal person. Jeff, on the other hand, reminded us all why most folks go to their grandmother's house for legitimate Italian food - and not the 'ol Backpacker's Pantry. We'll just say he was less than pleased with his lasagna. Maybe there's more to that five-year aging process than I thought!
"SPUTNIK?" MORE LIKE "SKYLAB."
I got the requisite crap for being a "ground-dwelling" tent camper, and as much was to be expected. Ironically, my proximity to the ground wasn't what did me in on my first night. It was the fabric my shelter was made out of.
The Sputnik 2 is a tunnel-style, single-wall: the sides of the "tunnel" are mesh walls, and the solid-wall body extends down over them to form the "vestibules."
THE SPUTNIK - BLAME IT ON THE RUSSIANS?
The 4 lb 8 oz tent I used before was substituted with the Sputnik, and shaved a pound off my pack weight. It was nice to pack the canopy and poles separately, making the canopy as small as possible in the compression sack. The design is a breathable single-wall, so all you've got to do is add the poles and stakes and you're pitched.
My tent, rear view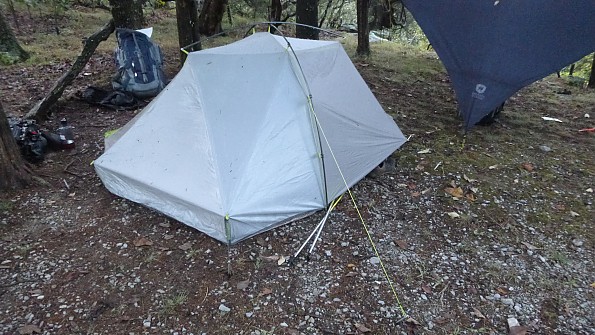 However, I'd three things working against me that night:
Soil that rocked harder than the Stones. While hammock campers rely on strong, well-spaced trees, a tent's only as reliable as the site it sits on. The ground surface was level, but the soil itself was full of rocks. The ground made most of the decisions when it came to where the stakes should go.

A tent whose angularity rivals Picasso's Cubism. One of the main problems with the Sputnik's weather-resistance is the asymmetrical, angular design. It takes a lot of stake-out points – and a lot of adjustment to them – to attempt a semi-even pitch. For every surface pulled taut, another seems to sag. Pitching this tent remains a work in progress.

"Breathable, single-wall design." I believe the same words would come from a snake oil salesman's mouth, were he employed by The North Face in the year 2013. This tent started taking on water before I'd even gone to sleep, and I tried buying myself time by wiping it down with a pack towel, wringing it out, and wiping it down on the hour until I'd gone to bed.
I'll probably try sealing the seams and apply my own DWR treatment to compensate for the shortcomings of the fabric. If it already takes on water, it's not like it'd be taking on any more. It's conflicting, because it was a bargain at $165, and offers a better space-to-weight ratio than pretty much any tent in that price range.
TODAY'S BROUGHT TO YOU BY THE LETTER "I"
With that, I shucked-off my rain pants, covered in more dirt than a semi's mud flaps, and put on a non-swishing variety. Put on some clean, dry socks. Stored the hikers in the vestibule and slid on the camp shoes. And enjoyed a well-deserved couple ibuprofen. I had a hell of a time on my first day out, made some new friends, and was proud of myself for still hiking despite the rain.
Would my tent turn into a kiddie pool come morning, minus the fun?
Will my legs be able to make it a second day, unlike my first solo trip?
Will that five-year-old Mountain House meal kill HornRimmedHiker after all?
Keep and eye out for part two, and y'all will find out!
The return of Jo-Jo...Garden of the Gods...and a second day of lasagna problems!
And don't worry folks, it gets a LOT more scenic tomorrow!