8:51 a.m. on October 9, 2013 (EDT)
g00se

TOP 10 REVIEWER
REVIEW CORPS
12,465 reviewer rep
1,433 forum posts
Before reading this report, I recommend you read my trip reports Sullivan Cave Part 1 https://www.trailspace.com/forums/trip-reports/topics/150413.html and Sullivan Cave Part 2 https://www.trailspace.com/forums/trip-reports/topics/151058.html. This report takes place 12 months after Part 2.

From 2003-2012, my caving club developed a routine of visiting Sullivan Cave off-and-on, but each February was our "BIG trip," where we would push the furthest boundaries of Sullivan.

In February 2006, a group of us decided to go to the end of the cave, a point called "The Rise of the Sullivan River."
The bulk of this trip report will be video shot from Laura Lexander (who also wrote the Part 2 report I posted). But to give some back story.
The Rise of the Sullivan River is the point where the stream called Sullivan River enters the cave from a complete "sump." A couple [insane] people have tried to push the sump in hopes of finding more cave beyond, but without success.
The reason only a couple have tried is that The Rise is miles from the nearest cave entrance. A round trip slog to The Rise takes a minimum of 15 hours (I know one crew who took a full 24hrs to finish.). You must wear wetsuits and pass through three low-air passages called "Bathtubs."
More people have been to the top of Mt. Everest than have reached The Rise. I can't imagine carrying scuba tanks and etc to push The Rise, but it's been done once, at least.
The map to Sullivan Cave is copyrighted. So I can't post it here. But here is a rough rendering of the north end of the cave. Keep in mind, this crude drawing represents a big section of cave. We spent several hours in this section alone.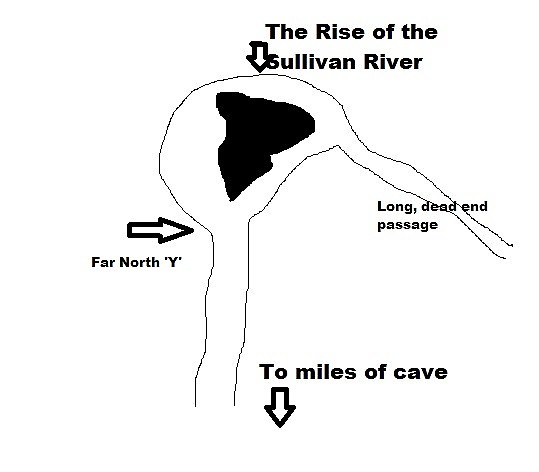 Our plan was to reach the north end of the cave, pass through it counter-clockwise and return down the main passage, taking a detour on the dead-end passage. More on that later.
Here's the video. For some reason, Laura managed to include me in the best parts of the video. You'll see me "Dropping Into the Deep Water" at 2:08minutes and "Emerging From the 1st Bathtub" at 4:14minutes.
Well, after all that, we didn't entirely reach our goal. Yes, we made it to The Rise. We even checked out the dead in passage. However, we couldn't find the connection back to the Far North "Y". So, we had to backtrack to The Rise and go back the way we came.
Of course, that failure meant we would have to try again to complete the route next February...trip report to come.