6:20 p.m. on November 11, 2013 (EST)
GaryPalmer

244 reviewer rep
5,257 forum posts
I went to the top of Glendale Bench and then instead of going around Red Hollow I decided to hike north along the edge of the bench and came down thru the town of Glendale. I left the highway this morning at 9 am and it took me over an hour to climb the steep road to the radio tower and another 30 minutes to get to the top of the bench. I could see long valley from Glendale to Mt Carmel and all the way west to the top of the East Temple above Zion. To the north I could see the Sunset Cliffs which are in the same sandstone formation that Bryce is in and they look similar with Hoodoo's. It was a brushy hike thru Manzanita,scrub oak and pines. I tried to come down Stewart Hollow which is a couple miles above Orderville but came down to a 20 foot drop in the cliff so I had to back track and get back up on the other side of Stewart Hollow to the north and followed the rim for a ways till I came to upper Spring Hollow and went around it to the east, its a longer canyon and I had to go about two miles before getting to the head of the hollow and crossing to the north side. I decided not to go back west to the rim of the bench and stayed straight as possible heading towards the Glendale Road that led down to highway 89 at Glendale. I walked thru Glendale then at the south end of town started hitchhiking and caught a ride to where I live with a guy from Kanab.
This is the map of my route. The zigzag black line to the east of Orderville on the map below is where I started from the highway and walked up the steep 4X4 road to the radio towers. Then I followed a big hornsheep/mule deer trail up and around the small un-named canyon and made it to the bech top. The next canyon NE is Stewart Hollow and this is the one i tried to come down only to get cliffed above a 20 foot drop off. Spring Hollow is the next one north and even tho I saw animal tracks leading down at many places I did not attempt another down canyon hike.
At the head of Spring Hollow I came to a dirt road and followed i to the Glendale Road and came down to the highway.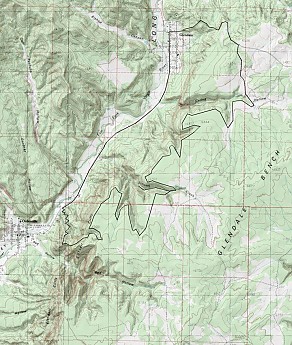 Later after I load and edit the photos I took today I will add them in. Glendale bench is about 1000 feet higher than where I live just northeast of Ordervills Utah in the lower left area. I think I walked about 10 miles today. Its November 11th but was a bright sunny day in the high 60's.