Horn Rimmed Hiker
BRAND REP
2,186 reviewer rep | 493 forum posts
2:03 p.m. on November 19, 2013 (EST)
FOREST GLEN PRESERVE / RIVER RIDGE BACKPACK TRAIL
Westville, IL
Pardon the lax quality of my writing on this one. At home for the second day with a nasty stomach flu, and wanted to write this before I forgot anything. What it lacks in humor and detail, I hope it makes up for in pictures.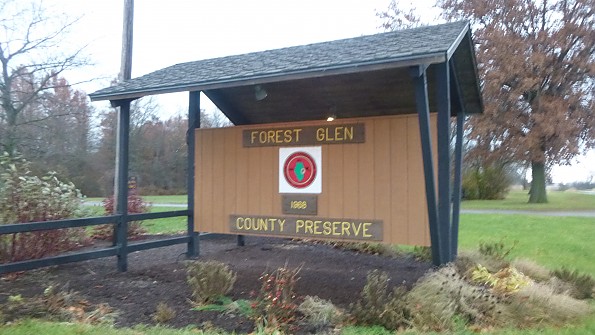 Getting there? Drive straight through the cornfields of East-Central Illinois, and you'll see an ingruous-looking forest (which one of these doesn't belong?). Ditch the GPS navigation, tear-up your Google Maps printed directions, and - no BS - just follow the main highway toward the trees. If you're on gravel, and if you're in a cornfield, you're driving in the wrong direction. Thank me later.
Day One
Friday, 11/15/2013
H 53F / L 38F
Miles Hiked: 0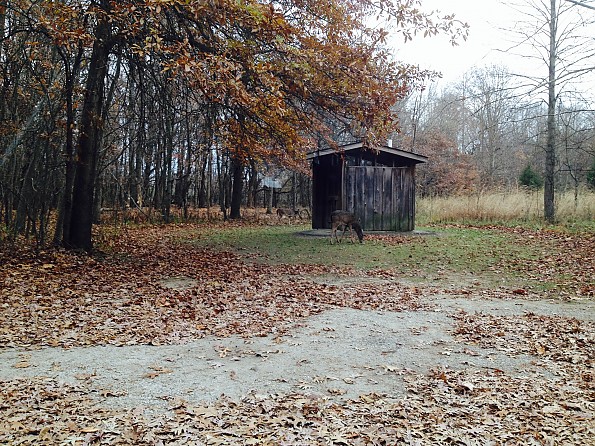 Almost ran over five deer and one [road-crossing] chicken before getting to the preserve.
It was the start of a wild Friday night.
Didn't take long before realizing I was the minority, here. There were so many deer, they probably should've posted "People Crossing" signs. They were all over the joint. Even had a staring contest with a buck who'd been stalking me out while I was using the privy.
Came down here to meet my friend and fellow TS member, Joseph. He was on his way up to Chicago, and FGP was a nice halfway-point compromise for us both. For myself, it was a 3-hour drive. For Joseph, at least 4-and-a-half (and then some, thanks to traffic).
We'd both be arriving near - if not after - sundown. We didn't want to be night-hiking on a trail neither of us had hiked before, and it was short enough a trail (10.5 miles) that we didn't need a minute more than the two days we'd budgeted for it, if that.
Joseph suggested we make base camp at the campground, and hit the trail the next morning. I looked into it, and FGP offered a primitive, walk-in tent campground that caught my attention.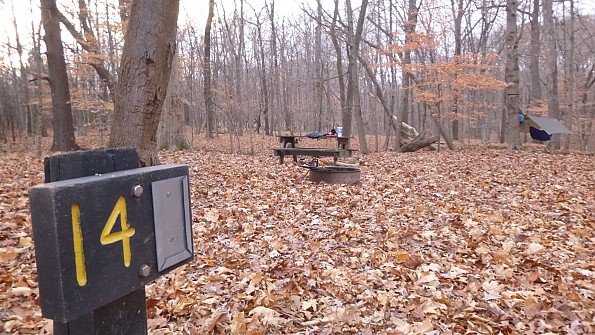 The TC offered a privy (complete with TP!), a well pump (shut off for the season), and 14 sites, each with a picnic table and a fire ring/grill. Site #14 was not only one of the largest, but the closest on the left side of the loop trail connecting them all. Even found a shortcut from the load-in parking area to the site - score!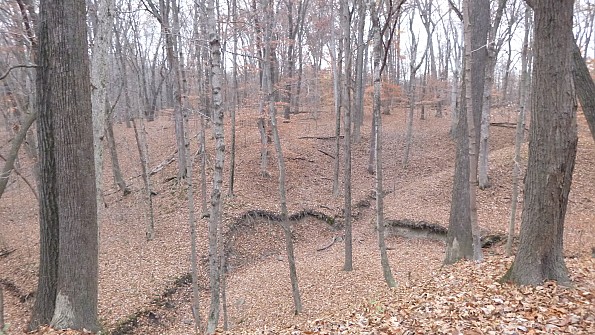 This site's "backyard" was typical of the park's topography, and filled with the runoff-created ravines we'd spend the next two days hiking up and down, i.e., nature's answer to the Stairmaster.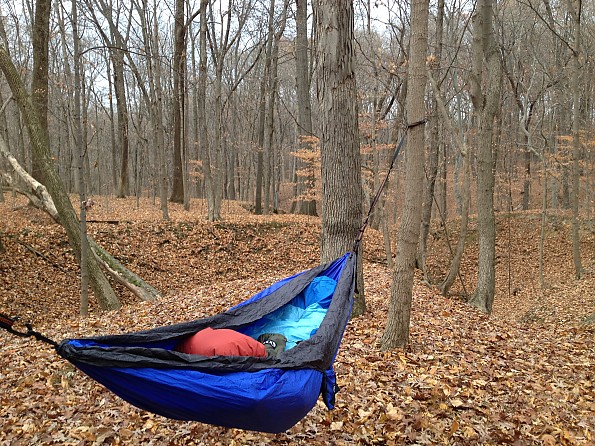 And, yep, that's a hammock - moreover, my hammock.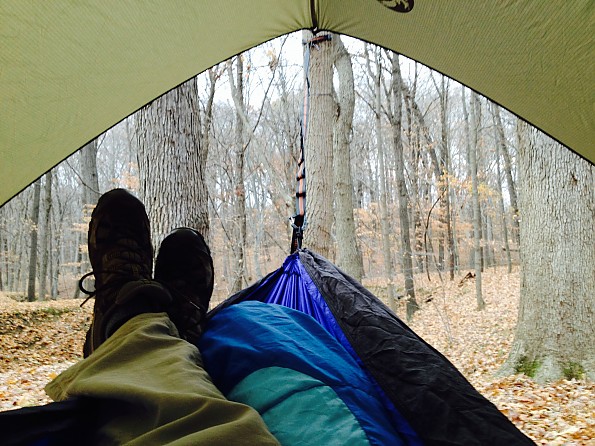 Needed to stop at Dick's to buy some FD meals. Saw they'd exactly one ENO hammock left in stock for the year...and bought it on impulse.
It was payday.
It was the shelter of choice for the majority of backpackers I'd met.
And it seemed a lot more appealing than two nights in a fabric coffin, i.e., bivy.
I used my NeoAir sleeping pad as a makeshift (emphasis on "shift!") underquilt, as it did drop to the upper 30's that night. Since it was that cool, though, there wasn't any need for a bug net. My 15-degree sleeping bag and a fleece liner kept me warm, and the NeoAir kept any wind from blowing straight through the hammock and into my bag.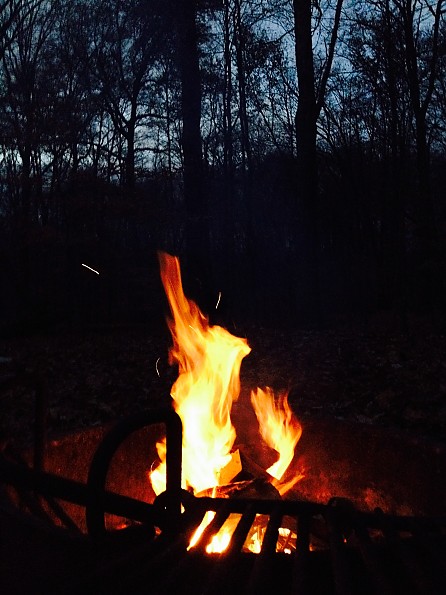 I pulled-in around 3:30PM, giving myself a solid 45 minutes to get things pitched and situated before sunset.
Luckily I'd bought a couple bundles of firewood from the gas station. Though I did go and forage my wood from the "boneyard" adjacent to the parking area (thanks, park staff, for the tip!), the occasional store-bought log helped keep the fire burn from dusk until 11:30 that night - 7 hours!
Joseph got caught in doomsday-level traffic in Terre Haute, so the first half of my evening was spent either A.) finding wood, or B.) burning said wood. Joseph finally got in around 7:30PM, and the park staff was kind enough to meet him at the front gate and show him to the tent campground. Him and I chatted it up around the campfire until about 11:30 that night. We had the entire campground to ourselves and it was nice to get a little - or a whole lot - of peace 'n quiet.
Day Two
Saturday, 11/16/2013
H 61F / L 42F
Miles Hiked: 7.5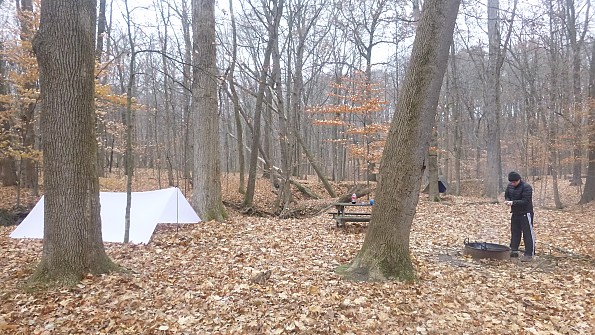 Joseph warming his hands up after re-starting the campfire on our first morning. His shelter is the white tarp on the left side of the picture: he pitched it in an "A-frame" configuration, sleeping in a bivy beneath the tarp. Also bought himself some extra protection from the wind and chill with a bed of leaves he placed under his bivy, and a wall of leaves around the perimeter.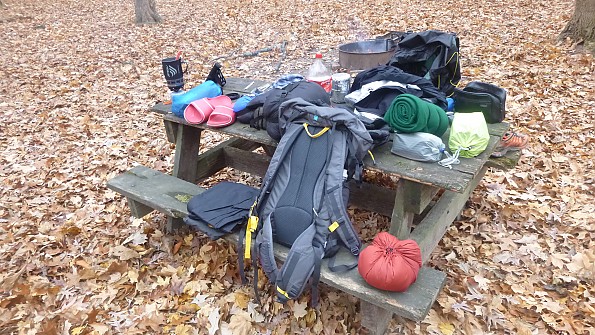 Our gear laid-out before packing up to hit the backpack trail.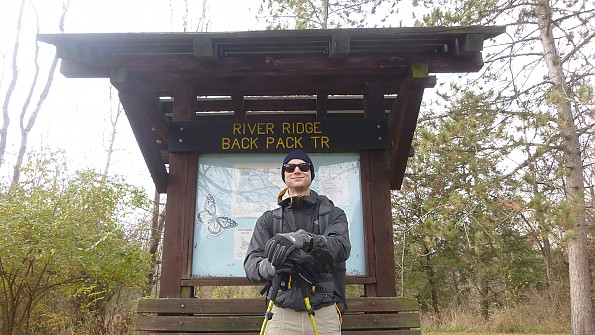 Trailhead for the River Ridge Backpack Trail, adjacent to the Staff Office.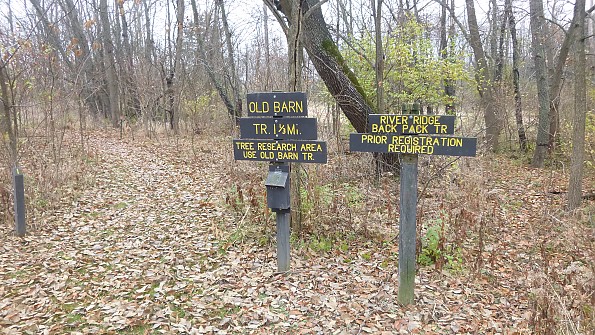 The backpack trail is a 10.5-mile loop trail, composed of smaller trails which interconnect to form the larger loop.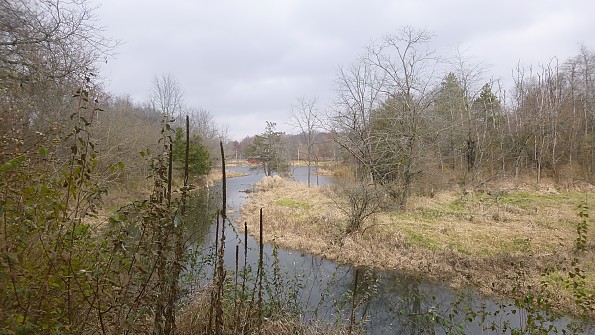 A view from the beginning of the trail, and - while admittedly pretty to look at - hiked more like a nature preserve trail than a true trail. Well, be careful what you wish for, because I wouldn't be calling anything "Nature Preserve" come a few miles into the hike.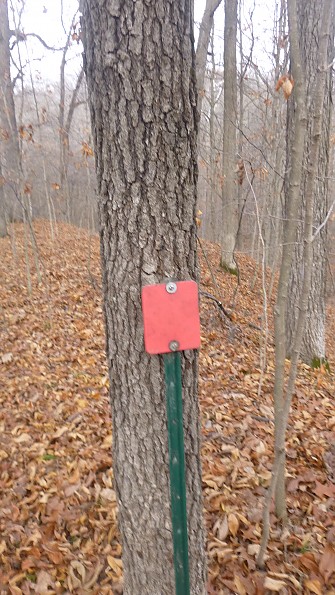 Some fella out there was kind enough to put blazes out there for his Eagle Scout project: here's a typical one. In addition to the red squares, you'll see red arrows. The red arrows will contrast the yellow arrows used for the individual trails. Occasionally you'll see red spraypaint markings on the trees. Or, as most the blazes seems to be - faded spraypaint on the trees. It may look black, but those bands you'll see on the trees are indeed blazes. Assuming it rained the last time they tried painting them, and they washed-off before they could set.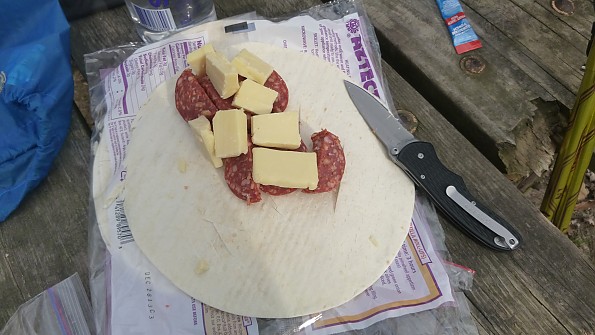 We made good time and got to Group Camp in time for lunch. Since there're garbage cans, a privy, and picnic tables, it was probably the best going lunch spot we could ask for.
Group Camp has "Boy Scout Jamboree" written all over it. In addition to a giant field that easily could host a hundred tents, there're several smaller fields back behind that one, around the 3.0 mile mark.
In addition to these two sites, there're 6 smaller sites at the 3.5 mile mark. Each is near a privy, and has a picnic table, fire ring, and garbage can.
Lunch was a simple combination of cheddar cheese, calabrese salami, and white flour tortillas. Since the cool weather was like hiking through a fridge, I didn't mind packing perishable items on this trip. This hit the spot!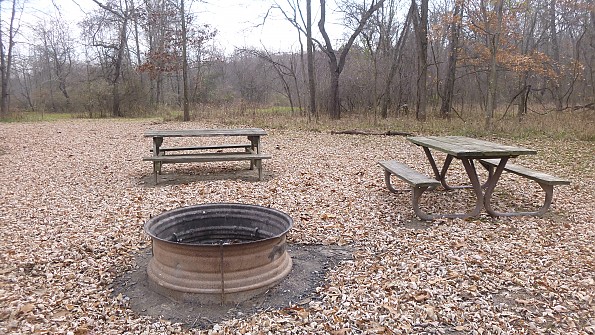 From where I sat eating my lunch. What you can't see is my JetBoil unit sitting on the other side of the fire ring, used as a windscreen while boiling my water.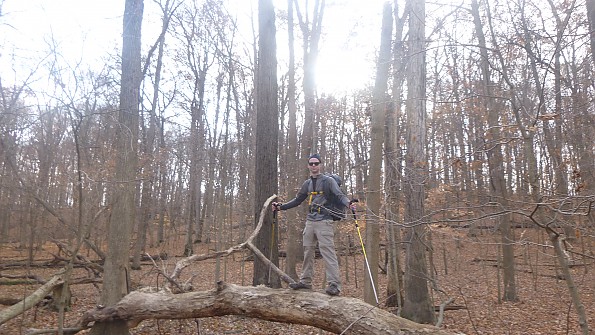 Climbing a fallen tree because, well, why not.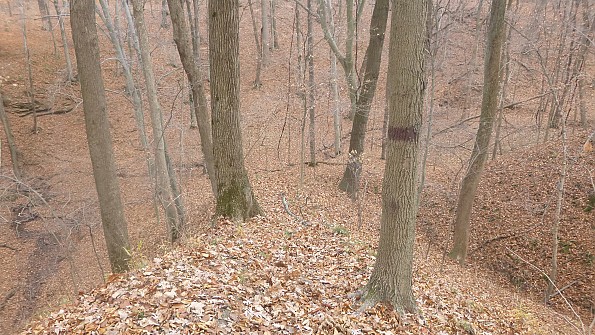 A view down one of the many ridges we'd be hiking on our trip.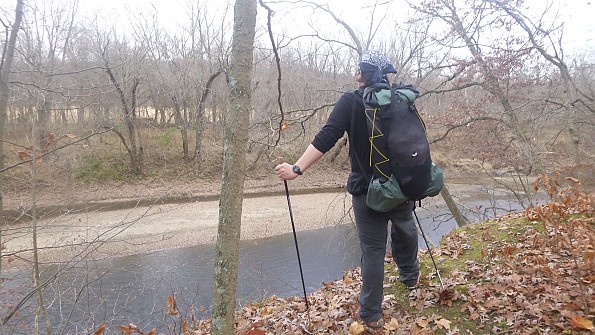 Here's Joseph looking out over the Vermilion River. There is some payoff to hiking up and down those damn ridges.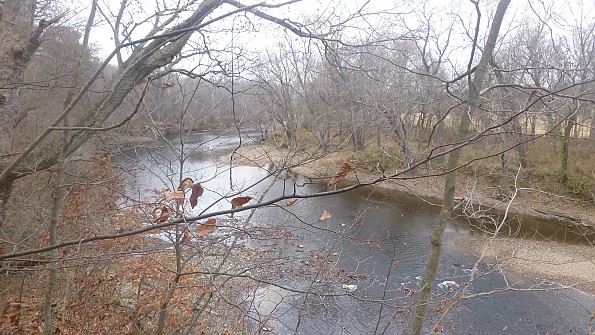 After staring at nothing but leaves and trees for most the day, well, you come to cherish the moments the trail peeks out and overlooks the water.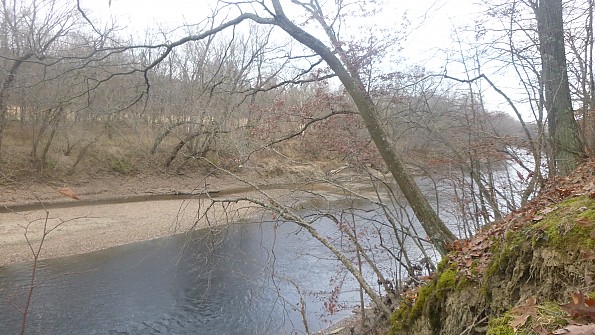 There's more than corn in Vermilion County!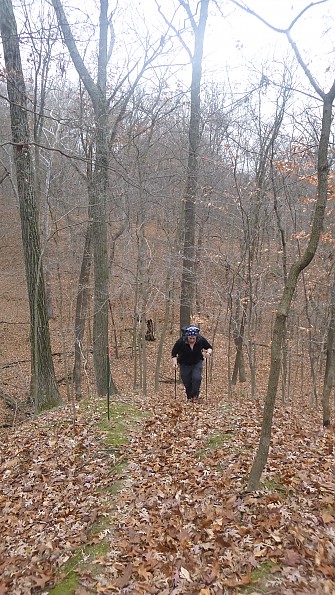 Joseph making his way up the ridge. Don't feel bad, buddy - I've got a picture of myself doing the same, coming up in a little bit.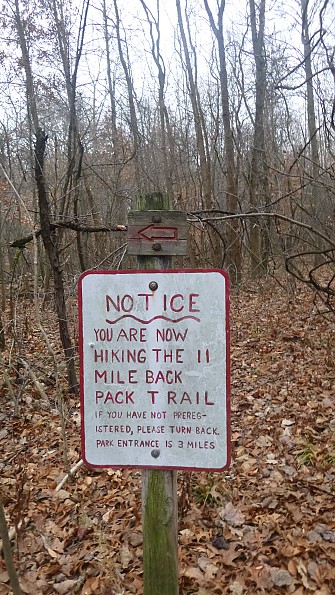 Came across this sign before getting to East Camp, which is the 7.5 mile mark on the trail (and 4 miles from the end of the trail and staff office). Well, at least the direction of the blaze was right!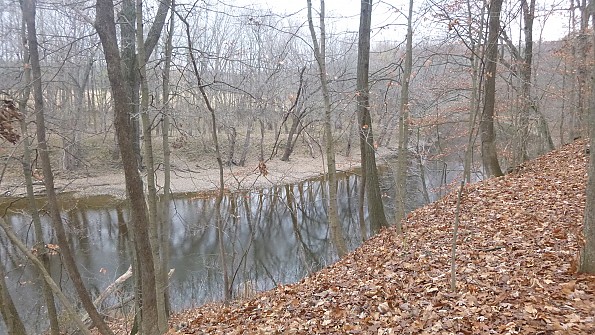 When you live in the suburbs like I do, you come to appreciate views like this one.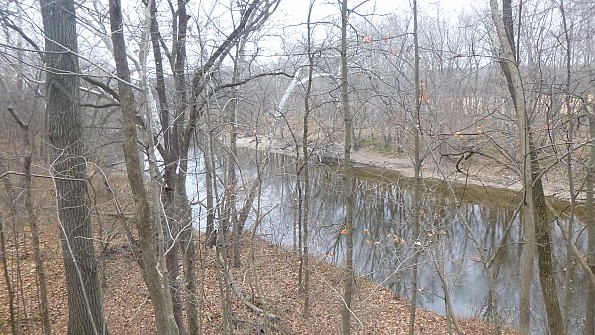 By the way, this River essentially serves as the border between Illinois and Indiana. Also to note? It was bow-hunting season and said hunting was done on the private property this side of the park bordered. Wasn't really a concern to us until we started hearing shotguns going off on our way to filter water.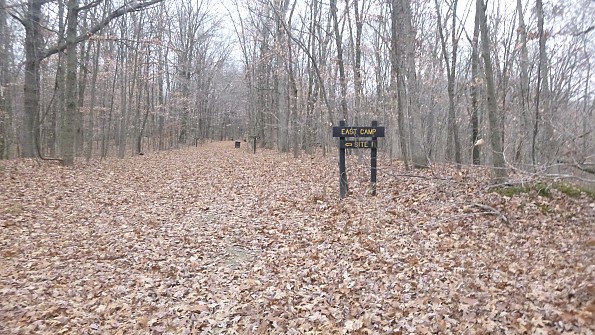 East Camp. What you're not seeing is the big-ass hill it takes to get here.
There're 5 sites: 3 on the W side, and 2 on the E side. There is one privy for the campground, and each site has a fire ring, garbage cans (with weighted lids), and a picnic table. We called Site #3 home for the night.
Much like the night prior at the tent campground, we had this camp entirely to ourselves, yet again. Have to say we got a little spoiled, there.
However, since no more than 5 minutes to the East is the IL/IN state border line (as well as the private property abutting the land) we did have 3 groups of hunters on the other side of the ridge. None of them made much noise (makes sense, given they're, well, hunters) but we could spot their respective campfires.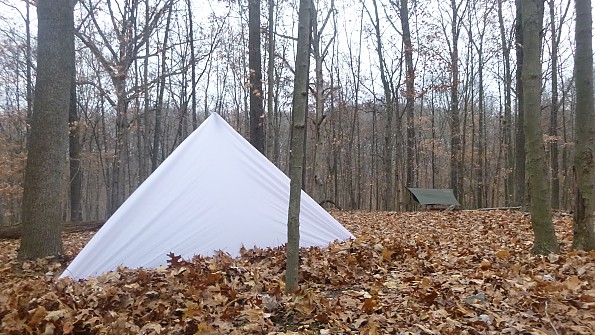 Our shelters, both pitched differently for the second night.
Joseph formed his tarp into a "tetra" shape, using a single trekking pole (atop a rock) as a center support. I took my own tarp all the way down to the ground, and borrowing a chapter from Joseph, used leaves to create a wind block between the cat-cut bottom of my tarp and the ground.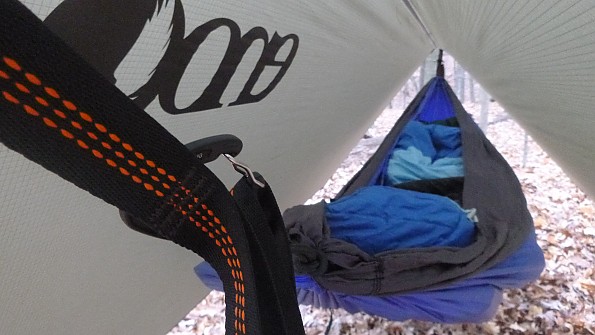 With myself laying in it, this hammock was hung almost low enough to touch the ground.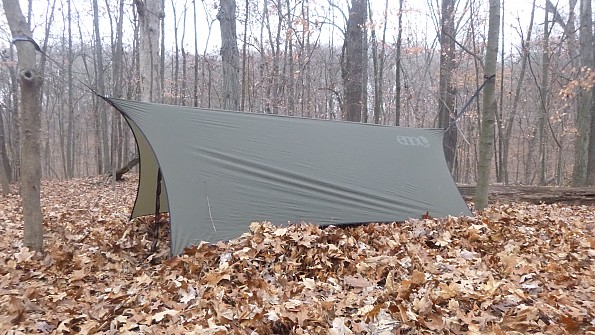 The second night brought STRONG winds and occasionally heavy rains. This meant pitching my hammock and tarp as low to the ground as I possibly could.
Since we had only an hour or so before sunset, we hiked down to the river after pitching our shelters, using a game trail that led us straight to the water.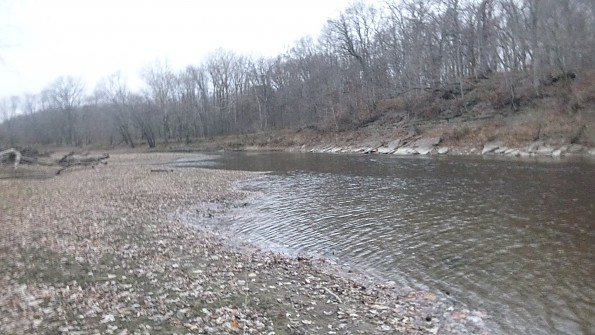 The banks of the Vermilion River, where we both filtered our water from for the night.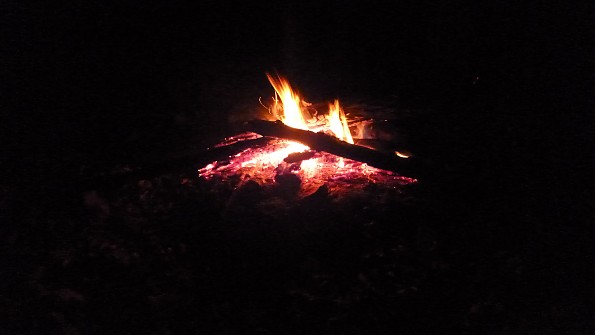 Since there wasn't enough daylight left for both, we had to choose between either hiking to the river, or collecting firewood. I said it's best we make the hike to the river and back before it got dark. We had to go off-trail using a game trail, and it'd be an easy place to get lost.
The deal was if I could gather the wood, Joseph would make the fire. Well, he sure held up his end of the deal.
I had my headlamp on me, flipped it on, and went about finding wood.
Now - if you couldn't tell from pictures - the three things more important to me than anything else are my shelter, my food, and my fire. By God, if I am backpacking I will have fire. And so, with that determination, I set off down the trail to find some wood.
Didn't have much trouble finding some smaller dead trees, easy to pull down.
But had a harder time using my buck-fifty, soaking-wet self to get a larger dead tree to come down. I managed to bring it down, and was glad I did: that one log burned all night. Apparentely I let out quite the exclamation when I finally got it to come down - he yelled back at me asking if I was alright.
And so, with water, and fire, all that left us to do was eat dinner.
Joseph was kind enough to bring me one of this own, homemade, dehydrated meals. He can correct me if I'm wrong, but I believe it was a green chile verde with chicken he'd made us. Poor guy got flustered enough by traffic he forgot to pick up Fritos, but I'd more than enough tortillas on me and just suggested me make burritos from 'em.
Good stuff! It was nice to taste the tang and acidity from the tomoatoes and peppers and get some fresh flavors I'm not used to in my FD meals.
On account of the winds and rain that were soon headed our way, we called it an earlier night so we could be up and out early Sunday.
Unlike the first night, which was chilly, it was significantly warmer the second night. I kept the fleece liner in the car, and probably could've slept in my base layers, it was that warm.

Day Three
Sunday, 11/17/2013
H 66F / L 45F
Miles Hiked: 4.0
Amazingly, the only thing to get wet overnight was my tarp. The hammock stayed perfectly dry. I put my pack into a tied-off garbage bag for added security. Woke up at 7:30AM, about a half-hour later than Joseph did: he'd already been packed-up and ready to go by time I got my wake-up call.
You get a little spoiled when you find garbage cans along the way, and this led me to eating all my snacks before breakfast the second morning. While I was thrilled not having to pack any of that weight and bulk out, it did mean I was plum out of food.
Thankfully Joseph gave me a couple of his fun-size candy bars for breakfast, which along with 16 oz. of hot coffee, really hit the spot.
Come 8:30AM, we were back on the trail.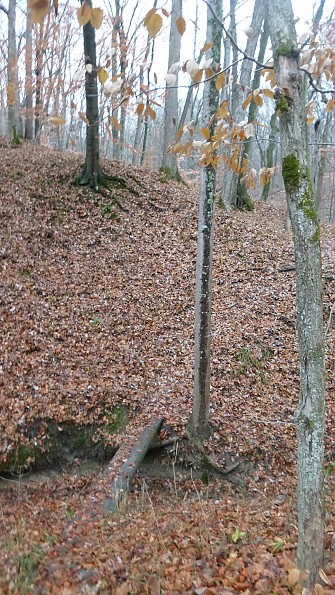 A lot of the RR Backpack Trail involves creek crossings. Luckily, the creek was pretty much dry for the most part. Sometimes you'll be given bridges with which to cross it. Now, by "bridges," I mean two wooden boards. And usually, one of those two is a little more wobbly and a little more rotted than you'd like. Always figure out which board's the firmer one before crossing: we were hiking on muddy ground covered in wet leaves, and much the same, wet wood isn't the safest thing to go walking about on.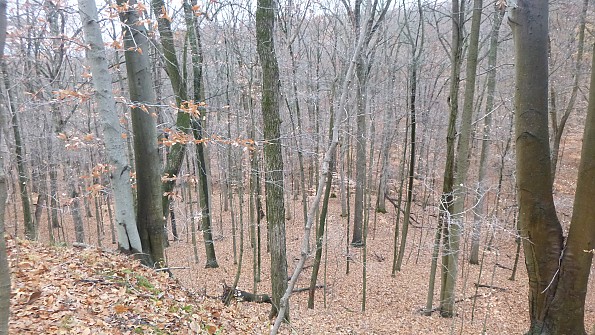 A nice view from atop one of the ridges.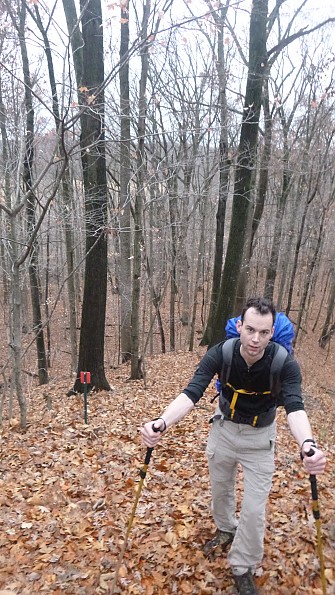 If you're going down, you can soon expect to be going right back up again. Now, on perfectly dry ground, these all wouldn't be so bad. We could ourselves side-stepping more than we'd have liked to, and the slippery leaves atop muddy ground made for some precarious hiking every now and then.
Don't go hiking this trail if you don't own trekking poles. You'll need 'em.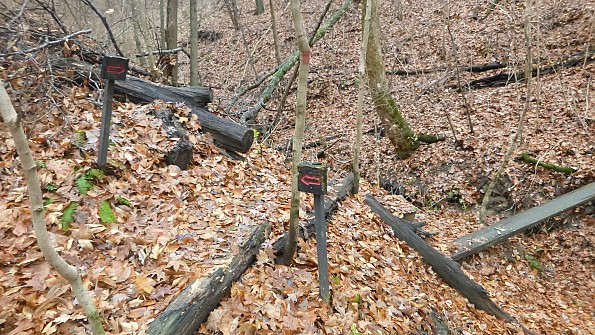 There were a couple times we got turned-around, or lost the trail. Why? Because usually there wasn't a blaze in sight. On the other hand, here you have two blazes within two feet of another. With a footbridge directly behind them (negating the blazes to begin with).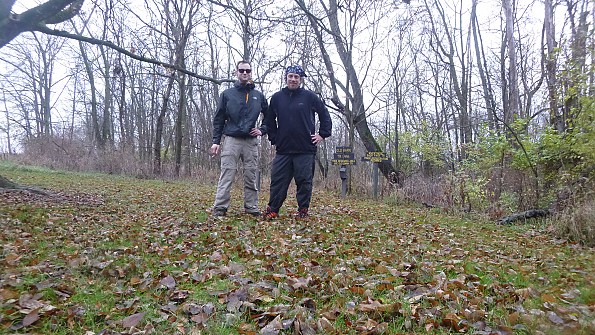 Joseph and myself took a quick photo together before the rain really started to come down. It started drizzling on the last 1/2 mile of the trail, and once we hit the parking lot, the skies opened up.
Lucky we finished the trail when we did.
I stopped my car and got out to photograph the park sign before leaving.
As I was taking the picture, a bolt of lightning cracked down RIGHT behind me.
All I saw in my rear-view mirror on the ride out was a thunderstorm taking out its wrath right over the Forest Preserve.
Little did I know, this would be nothing. The winds were strong, and the rain persistent, but making the transition from I-74 to I-57, I noticed the skies were getting darker. A LOT darker.
Driving North along I-57, I opened my windows to confirm my suspicions, and heard tornado sirens blaring as I drove down the highway.
The Weather Channel App on my iPhone alerted me of a tornado warning for each county I passed into. Mind you, for those of y'all not in twister country, "warning" means a funnel cloud has been spotted and visually confirmed. I raced home as fast as I could, because I could see the dark storm clouds riding at my coat-tails.
Made it so far as the exit ramp near home, down the street from Frankfort, IL, and caught firsthand what had to be the outer edges of the same twister that ripped through Washington, IL and Diamond, IL. Was like driving through a carwash and the howling winds and zero visibility were terrifying. I was on a main road at the time and had to come to a dead stop because I literally could not see where I was at, wipers on full.
I caught the tail-end of that tornado, and my girlfriend caught the middle third of it: she's from Diamond, IL (which was hit that day along with Washington, IL). Although her hometown isn't, she's alright and her family's home is, too.
Suffice it to say, far from a dull weekend!