James Milligan
RETAILER
203 reviewer rep | 14 forum posts
10:10 a.m. on December 17, 2013 (EST)

Winter, in my opinion, is the best time to visit Zion National Park for 4 reasons.
It's not 114 degrees
There is plenty of parking
 It's the only time of year you can get a true wilderness experience.
 Every 100 years or so a freak storm leaves a blanket of snow across the landscape enhancing the red rock backdrop.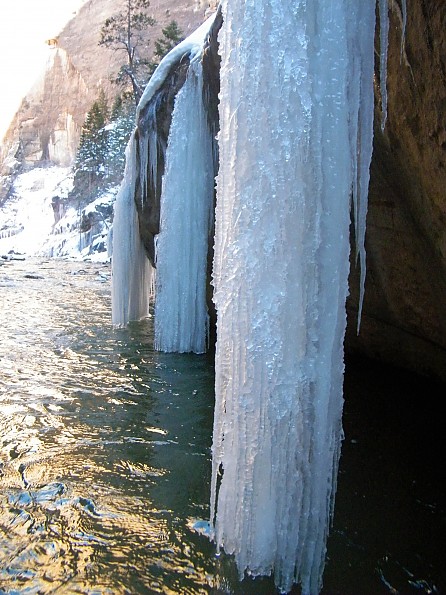 Since the first of December I have hiked The Narrows twice and have seen a total of 7 people in the canyon.  You normally have to get up at 5 in the morning to get that kind of solitude. Don't get me wrong.  I think it's great that people come from all over the world to visit the park and enjoy one of the greatest sceneries in the world. It's just nice to occasionally enjoy the park without over 1,000 different people. I am the type of person who enjoys nature, I love listening to rivers and wildlife. I crave solitude and adventure. I love being the first person to break tracks in freshly fallen snow. On a normal year Zion will get about 2-3 inches of snow. Usually the majority of the snow is gone in a couple hours. I thought the reason most people move to the desert is for the warm weather and the lack of snow.
This year, in one 24 hour storm Zion received, depending on the source, between 14 and 16 inches of snow. I was one of the lucky 4 people to be inside The Narrows when half of that snow dropped. When I tried to convince some of friends to come hike with me they thought I was crazy and many of the responses I received were "isn't it supposed to snow? "  "Of course it is, that's why I'm going" I would reply.
How many people can say they were in The Narrows in a snow storm? How many people can say they have been to Zion while snow was on the ground?  I would assume that besides a few locals that the answer is not very many.
When this trip was planned the weather station had reported that there would be 2-3 inches of snow. I figured this would be a good day to hike The Narrows and get a few winter pictures to use as ads for the shop. My train of thought was we'll get into the canyon a little snow will fall, we'll get some awesome pictures and then we'll go home. I figured it would take a couple hours. That was not the case.
When we first got to the park we were able to get a few photos of the turkeys and a snowy Angels Landing. Along the RiversideWalk we saw a few deer and icicles.  It was fairly warm out and ice was beginning to fall around the hanging gardens. Side note: This is a very hazardous spot to be, Ice falling off those cliffs could do some serious damage to a person. I caution any person attempting to hike in Zion during the winter to take all environmental risks into account. Ice is not the only thing that can fall. With all the freezing and melting in the park it does not take a lot for a slab of sandstone to come off the canyon walls.
With those words of caution I'll dive back into my story. The first ¼ mile of the hike was quite pleasant and we were able to snap some fairly decent photos, but the snow did not stop. The 3 inches we were supposed to get quickly turned into 6. Snow was accumulating so fast that every time we made a noise or tried to take a photo a mini "avalanche" would come off the canyon walls and create a hazy cloud of awesomeness. This made it very hard to photograph the canyon.
For some reason camera lenses condense and freeze up in these types of conditions. Lucky for us we were in full body Kokatat dry suits and had 10mm of neoprene covering our feet and some awesome Adidas Hydro Pro's; otherwise we probably would have condensed and froze like our cameras. Another side note and shameless plug for Adidas Outdoor:  If it had not been for these fantastic boots we may have lost some toes, I honestly think if we had been wearing any 
other brand of canyoneering boot this trip would not have been as successful. I would like to thank them for making such a great boot. I'd throw in a rant about how great Kokatat is as well, but after making dry suits for over 40 years everyone knows their suits are awesome. Hydro Pros are a newer product and if rumors are true this wonderful boot is set to be discontinued. If anyone form adidas reads this I beg you please keep making these boots. Ok enough of me whining and advertising, let's return to the trip.
We were able to make it Orderville Canyon and had some lunch before being turned back by more and more of the mini avalanches. We figured at some point the quick accumulation of snow on the walls would eventually bring rocks or other debris with it. Upon our return a couple of us enjoyed the buoyancy of the dry suits and floated down the river on purpose.  One more point of caution if any of you reading this attempt a similar trip. Take neoprene gloves with you!!  I had not originally intended to float and my hands froze up pretty quickly. My friend, who is a bit more adventurous than myself, had planned to float and so he brought the proper gloves. This obviously led to him being slightly more comfortable than myself.
Once we reached Mystery Canyon we were stopped for a brief moment by a slightly larger "mini avalanche" that came down right 
on top of us. Luckily there was no debris just lite, fluffy snow. When the haze cleared we noticed the 3 point buck walking up the river towards us. We moved to a deeper section of the water to allow his passage. We did this just as a sheet of snow come barreling down on to him. He shook the snow off and continued his trek up The Narrows. We stood in amazement and tried to get photos with our frozen lenses as bambi's father walked no more than 10 feet away from us.
We met a few people on the Riverside Walk and a few more in the parking lot whom looked really confused as they saw 4 guys in dry suits coming walking out of The Narrows with frozen hiking sticks and icicles in their beard. The truck was buried in roughly 10 inches of snow and the roads had not been plowed, which actually just added to our adventure. On the way out a snow plow was coming up the road with a ranger close behind. As we neared the lodge the gate had been closed to deter people from driving up canyon. I can only assume that the ranger was heading up canyon to let folks know they were closing the road. Three days after the storm I received my first phone call for the winter season. Lucky me, I was returning to The Narrows for another fabulous winter adventure.-