6:57 p.m. on February 25, 2014 (EST)
Patman

3,278 reviewer rep
2,294 forum posts
The last three weekends afforded great opportunity to enjoy the outdoors....
First up was a 2 night, 2 day loop through the Citico wilderness of East TN with plans to meet up with friends on the second night.
I parked at Eagle Gap on the Skyway after the usual Friday night post work launch.
My plan was to either hike or thumb up the skyway to Beech gap and the Benton MacKay Trail to start a loop. The wind was cold and the light was fading at the start and I doubted there would be any traffic on that kind of road at that hour but you never know.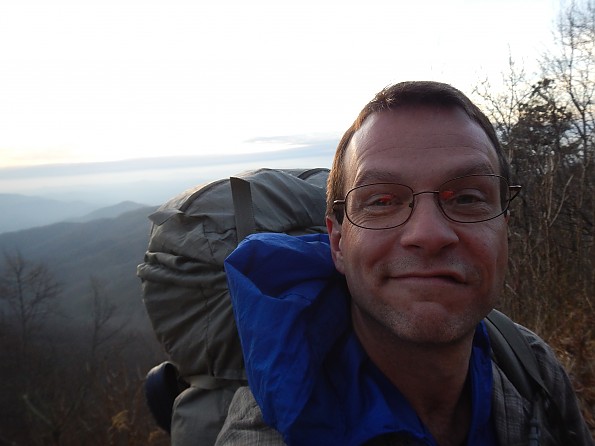 The first car that came by was a Cooper mini with a couple inside. The man was driving and slowed down; obviously he wanted to stop. The woman was gesturing frantically for him to keep going and they rolled on past as if I were a suburban stop sign. Too funny!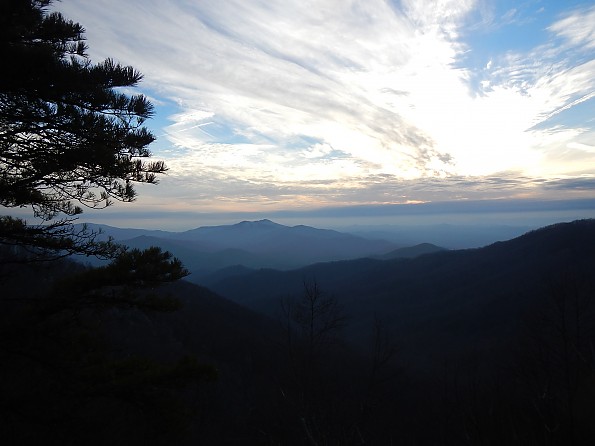 As the wind blew stronger I had some internal debate as to whether or not I wanted to do the five mile road walk plus a two mile trail walk with a late camp or if I should maybe shoot down Grassy Branch trail which I would pass en-route, hoping to find a quick camp spot.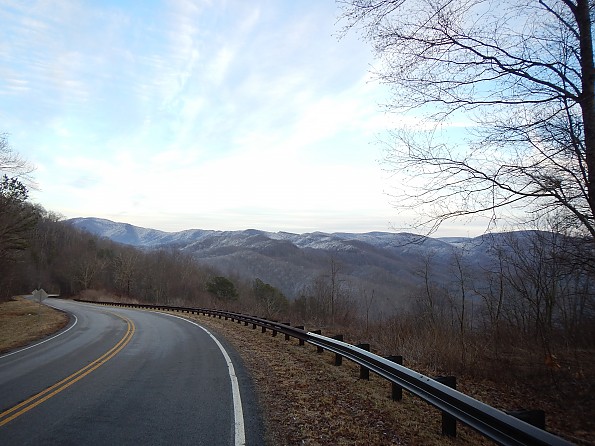 I opted to trudge on up the road and I was glad I did; I really enjoyed the scenery more than any previous time while driving. After going about three of the five miles a car load of Whig Meadow bound backpackers squeezed me in and dropped me off at Beech Gap.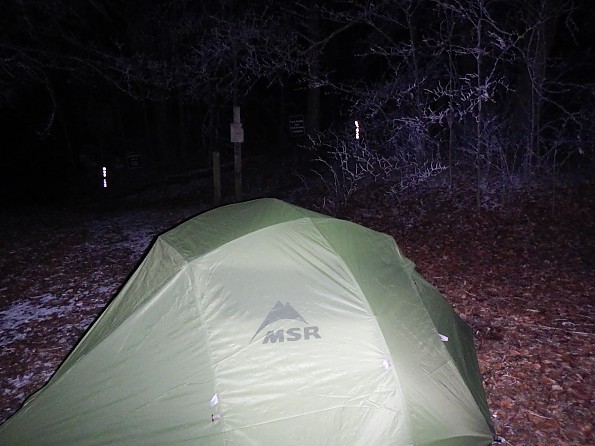 Beech Gap camp.
I got little sleep that night as the wind blew ice laden limbs off the trees all night long. Crash, whap, swoosh and wop was the tale of the evening....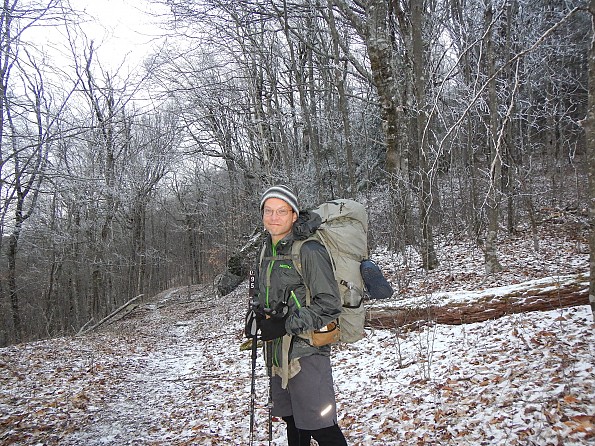 The next morning I was a little bleary from lack of sleep but ready to hit Brush Mountain!
Much could be said about the Brush Mountain Trail of the Citico but I'll be brief: For a large section it's really not a trail but just a vague suggestion of where a trail might one day be formed and there are at least a dozen places where you can make a wrong choice and lose it. Were it not for the flagging tape put up by Tipi last summer I would have taken a lot longer to find my way down that mountain. And lastly, it is the best route in the Citico for a wilderness trail experience.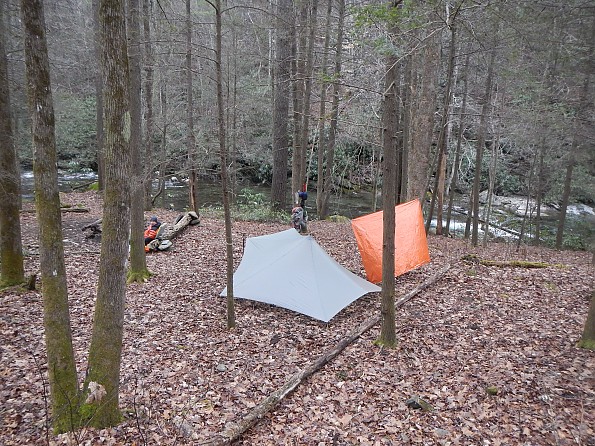 After navigating a frigid crossing of the South Fork I soon came upon a camp of leisure by a fellow I recognized from the Internet.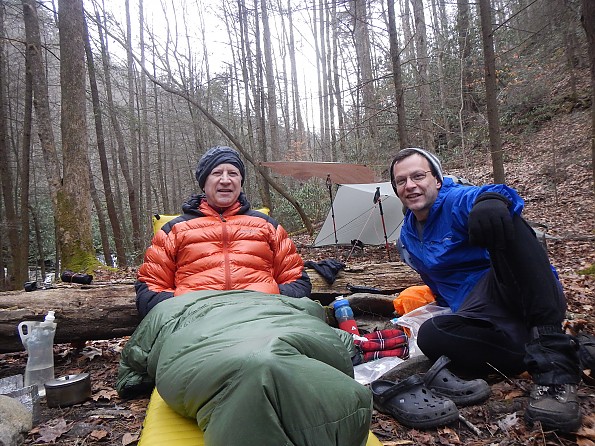 Here I am with Bryan Delay; he is in that 100+ night per year category of backpackers.
Bryan has that very stylistic visage like all the professional backpackers I know. He has a nice rhythm going on by running his real estate company four days a week and spending all the others out in the wilderness. I hope to have some version of that lifestyle myself one day. But alas, I'm in the 40+ night per year category, having to work full time and five days a week. :)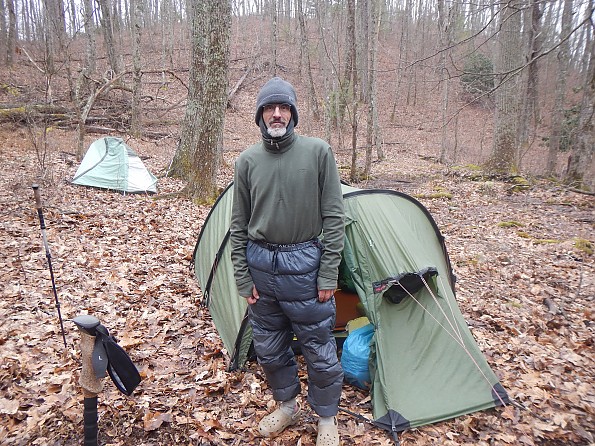 Several miles later up on the Flats Mountain Trail, I found the flagging tape marking a camp about forty yards off trail (put up as signal to me) by my backpacking buddy Tipi Walter.
And speaking of nights per year.....I'm guessing Walt is more like 200 per year. ???!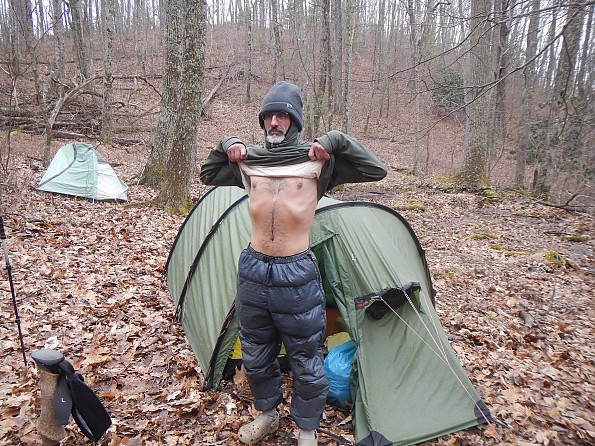 I asked Tipi to do something for the camera to make a good picture and this is all I got. Well, I do hope I'm in that good of shape when I'm in my mid-sixties!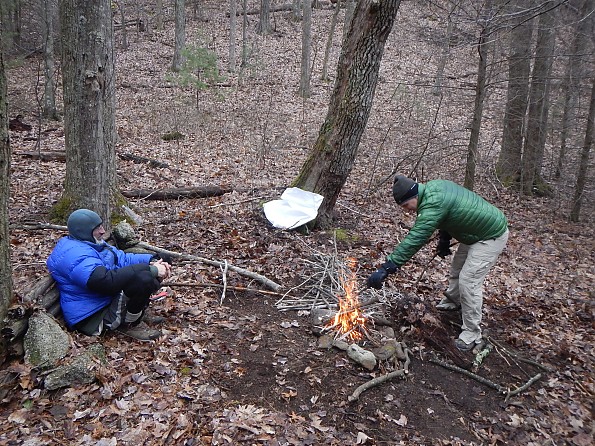 Tipi had already been joined by our mutual friend Bob Butterfield. Here they are around Bob's fire.
We had nice evening of fellowship and it was good to catch up. Bob is less than a year from retirement and plans on hiking all of the first two years post career. He will start with the AT. I've gotta stop hanging out with these retired, nearly retired, and part-timers  'cause I'm getting crazy jealous of their lifestyles!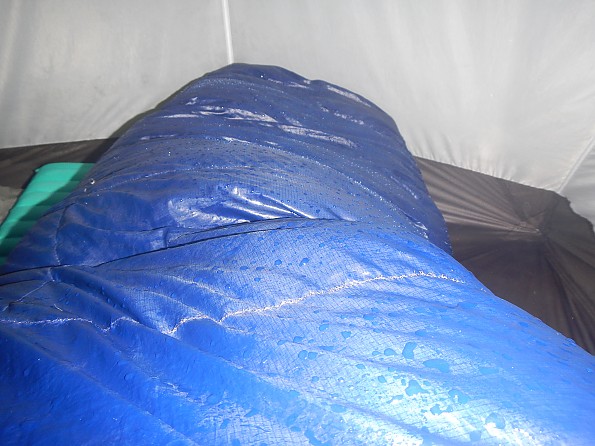 Here is that condensation I've been experiencing loads of this winter. This was after waking up in the middle of the night and wiping down the bag.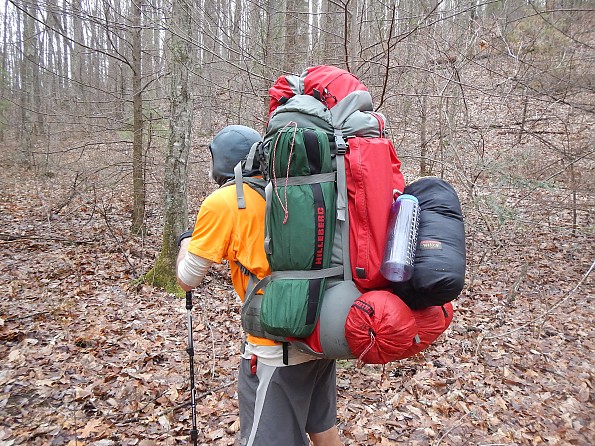 In a move few will be able to comprehend, Tipi Walter bought a bigger pack! WTH?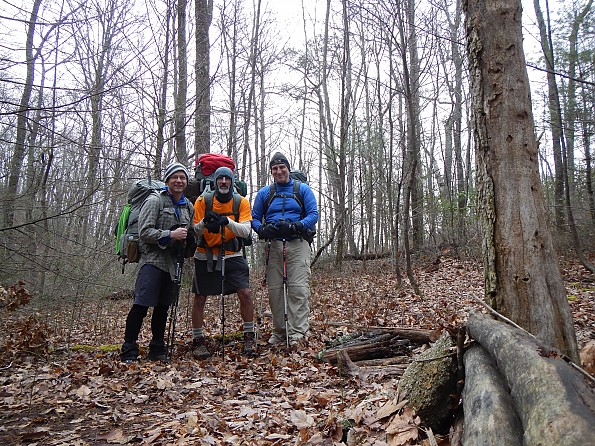 Me, Tipi Walter, Bob Butterfield
The next morning we were all ready to hike off in different directions ultimately. And my trip went on for a while but this is a good place to end the narrative. 
Next the blog moves to the Smokies and trailheads near Bryson City NC, where Susan and I spent Valentines weekend backpacking.
_____________________________________________________________ 
Here I'll just add a few favorite photos rather than a detailed report, it was Valentines weekend after all....: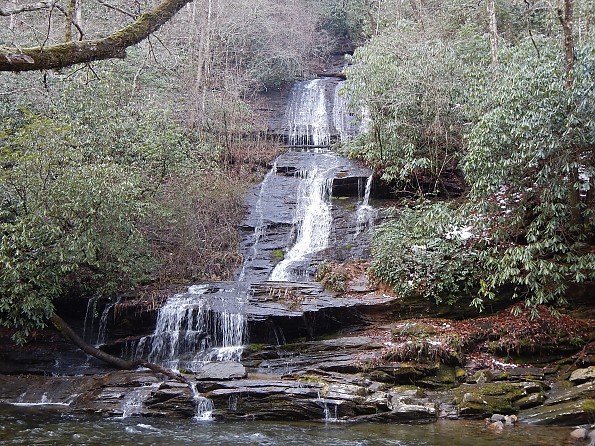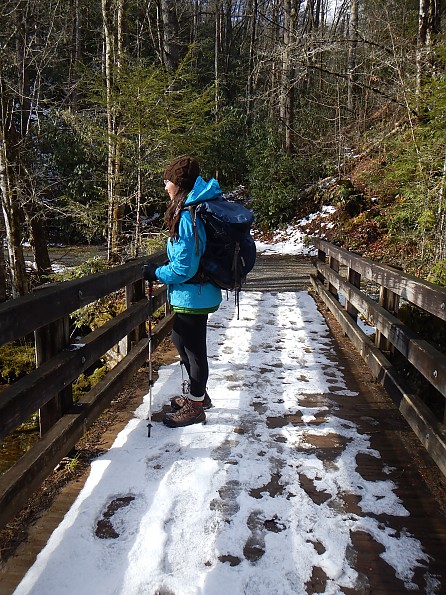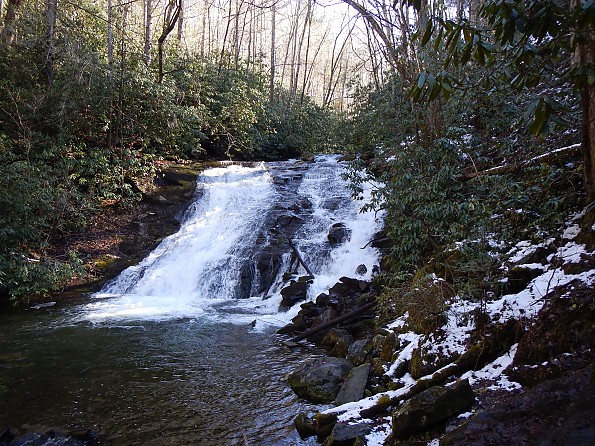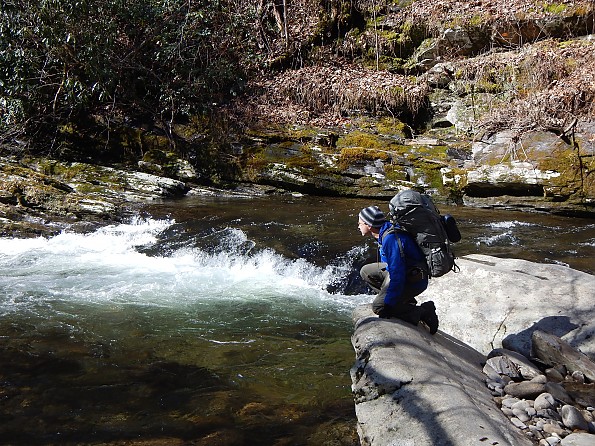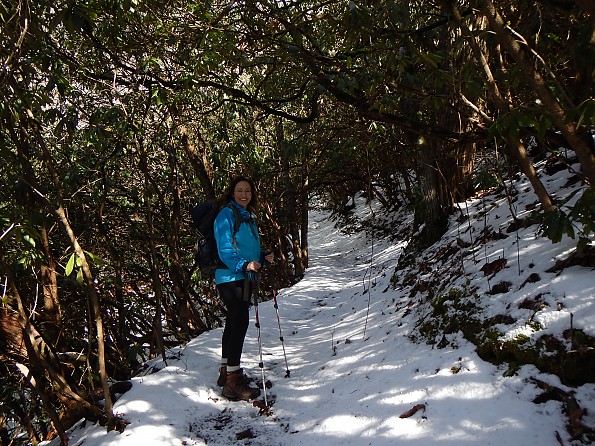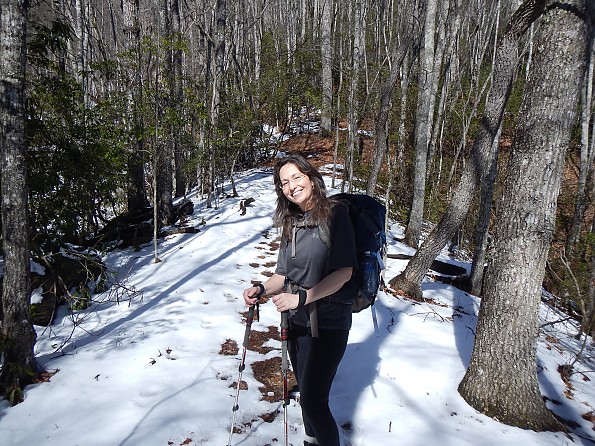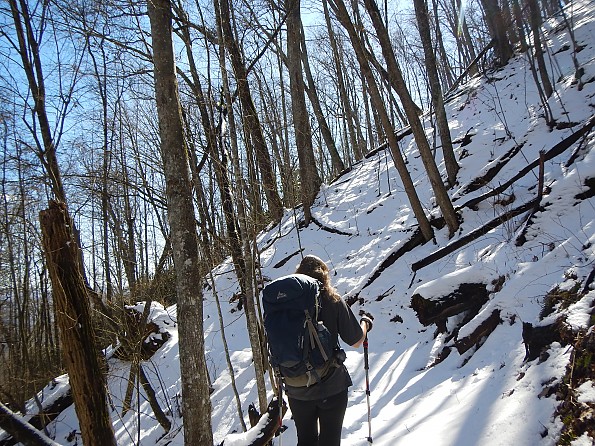 ______________________________________________________________________________
And finally last weekend was a shuttled section hike in the Smokies from Little Green Brier area to School House Gap trail with a stop over in White Oak Sinks.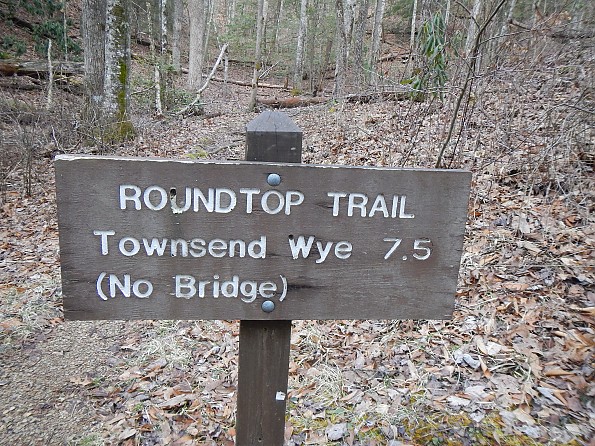 "No bridge" is the pertinent data for this trail.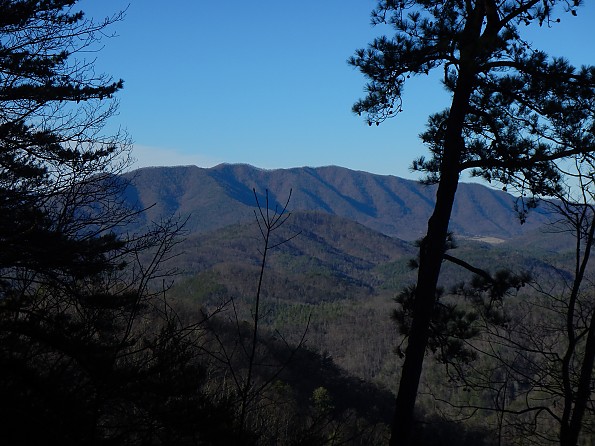 Though brown for now, these little mountains are still beautiful.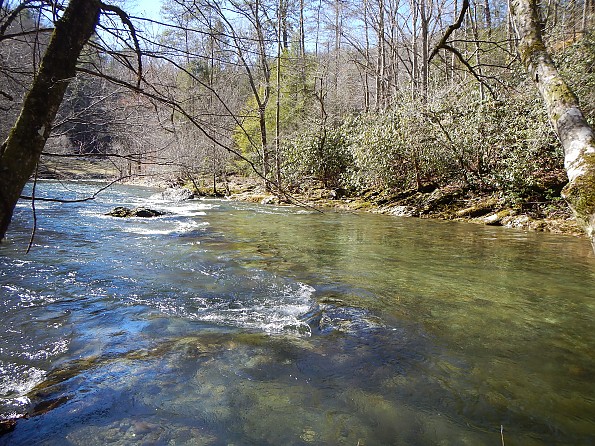 This is the end of the Roundtop trail looking back to the rocky bank I crossed from.
It doesn't really come across in the photos but the water was almost chest deep in spots and moving swiftly. I probably should not have crossed it. I really had to push hard and use good technique to keep from being swept off my feet.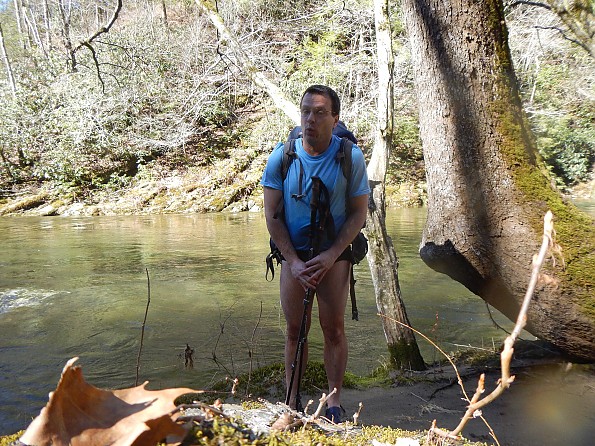 Yeah it was super cold; the water was high from snowmelt. This would have been a great spot for a packraft!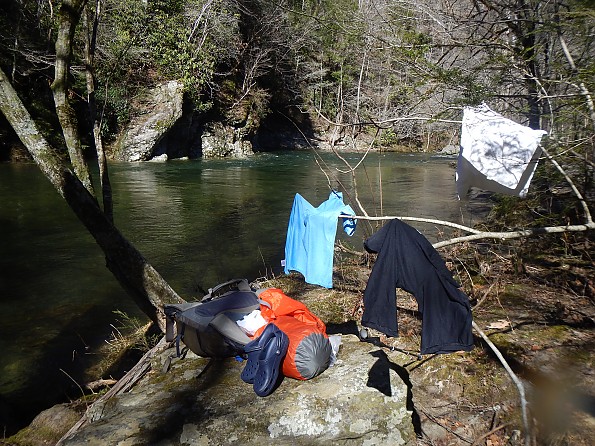 I knew I was going to get really wet and packed extra clothes just for this crossing.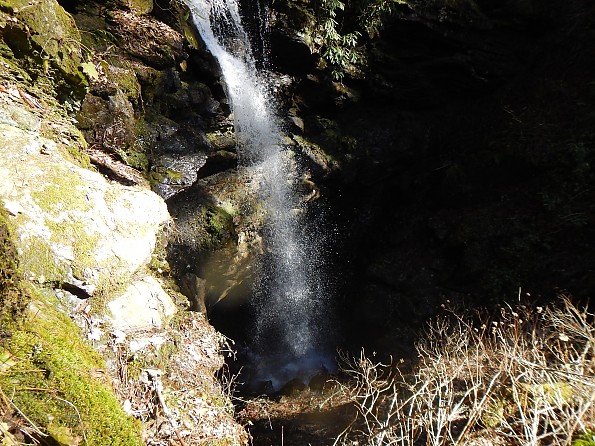 This White Oak Sinks waterfall goes straight in to a cave...very cool and a fine place to end the blog this evening....
Overall it was a great three weekends of backpacking!
Happy Trails friends!