4:07 p.m. on March 3, 2014 (EST)
North1

492 reviewer rep
324 forum posts
This report concerns a ski trip I took in January through February from Darnley Bay on the Arctic Ocean to the tree line (Dechinule). The duration of the journey was 6 weeks. There was no outside support or caches set up along the way; I was completely self-sufficient and food was augmented through hunting. I also did not carry a GPS, Spot, map, or a compass preferring instead non-technical means of route-finding. I understand that this may be atypical for many people out there accustomed to groomed trails in our National Parks, but for me I have seldom camped any other way. I also acknowledge that my methods may be a bit "old school", and I recognize that they are not for everyone nor would they be applicable everywhere.
This route was chosen mainly for its solitude as it was well off the beaten track. For all intents and purposes this is a true wilderness; there are no facilities or developed trails, and the best part, no people for hundreds of miles. Case in point, I encountered no other people or signs of people until the last day of my trip when I came across a snow machine trail which led into town. In other words it isn't a walk in the park. The Far North, thankfully, is still a place where your soul has elbowroom or as Calvin Rutstrum stated, "Now, dammit, we can holler for help and no one will hear us".
The trip in total was about 300 miles and I figured on five or six weeks depending on the weather north of the tree line, snow conditions and my own whimsy. I expected very high winds along the coast, blizzards and deep cold and I was not disappointed.
My kit resembled a mix of old and new, although nothing was purchased specifically for the trip.
The following is a list of items taken:
North Face Inferno sleeping bag, 27 years old, with VBL and bivy bag. With this setup I can sleep comfortably at -50C or so; much needed for this environment.
Exped UL Down filled mattress
Eldorado Tent, with snow stakes and ice screws
MSR Whisperlite stove (20 years old), 1 liter of fuel in bottle; this is for the sea ice and tundra only where firewood is non-existent. 2.6 liter titanium pot
An axe, to gather firewood where available and chop ice for drinking water
Clothing
Although I have tried many synthetics in the past, I prefer multiple layers of wool. Nothing fancy here: wool baselayers, socks and a sweater or two. I also have a light-weight Army Surplus Primaloft jacket. This is all I normally wear even when the temperature is below -40C. In very cold, windy conditions I will don my Primaloft jacket with a nylon shell. I don't wear Gore-Tex or similar material during any time of year. Altogether, the bulk of my clothing cost around $200.00, most of which is at least ten years old, and it is what I wear every day during the winter months.
Finally, Feathered Friends Rock and Ice Parka, size XXL; large enough to fit over all my clothing. This is my last defense against the cold and is only for rest stops and setting up camp. At a little over 3 pounds it is well worth its weight and, in an emergency, I have slept sitting up in it.
To complete my clothing, I also carried,
OR Altimitts with VB liners,
Smartwool Liner gloves x3
OR Gorilla balaclava,
Feathered Friends down booties,
Norsewear wool balaclava
Alico Telemark Double Ski Boots
Austrian boiled wool socks x2
Madshus Epoch ski with Voille 3-pin bindings
Wildline insulated expedition gaiters
Food
I don't care for the freeze dried foods and find many of them are too high in sodium so I took my usual fair of oatmeal and non-salted butter, powdered whole milk and homemade pemmican, which I like. Because of the nature of what I was doing and the intense cold my diet relied heavily on fats. I have travelled great distances on meals like this and never tired of it. I believe we should eat to live, not live to eat.
Besides the clothing I would normally wear and my skis, my pack totaled about 50 lbs. (I am just guessing here as I have never weighed my gear; if I can pick it up I can carry it, everything else can be improvised); everything was carried in my old North Face Alpha Aurora pack purchased in the early '90s.
I seldom take pictures these days, but for this trip carried a small video camera, (which I was forced to use sparingly to conserve battery life), and captured some stills for you. Captions are above the pictures.
My first week on the sea ice was dark but not too cold at around -30C.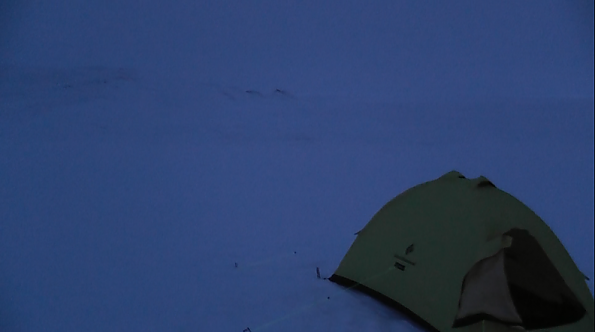 Crossing Franklin Bay, sun was still below the horizon, but the sky was brighter.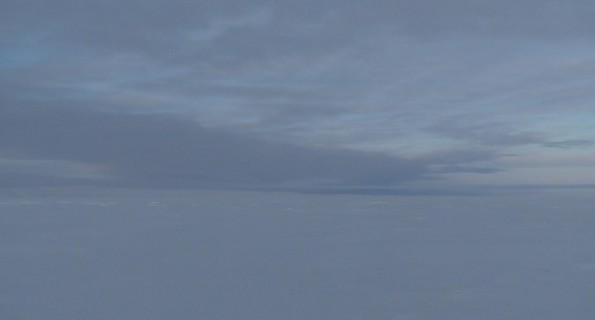 Moving inland, ski trail in lower left of photo; the sun finally shows its face after a month; January 8.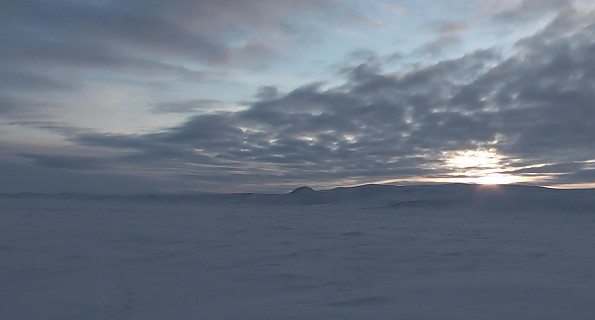 The easiest way out of the Horton River Valley, -48C. This was after a huge storm blew through from the north for two days. I was surprised my tent held up. You can see the wind-carved snow on the slopes. Skiing over the ridge and on to the plateau I could hardly inhale because it was so cold, but the sun was my reward. The snow was hard like Styrofoam.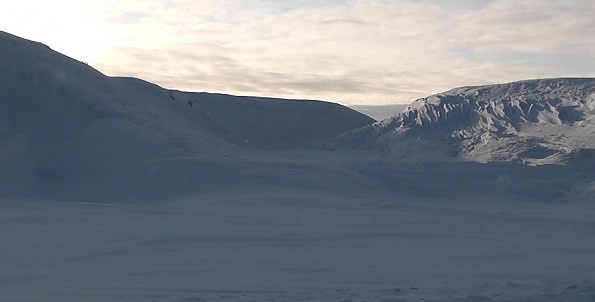 Me, travelling at night somewhere in the Arctic; as the days were short I would often travel at night to make up time. Even though I was without a compass I always knew generally where I was, especially on clear nights when the stars were visible.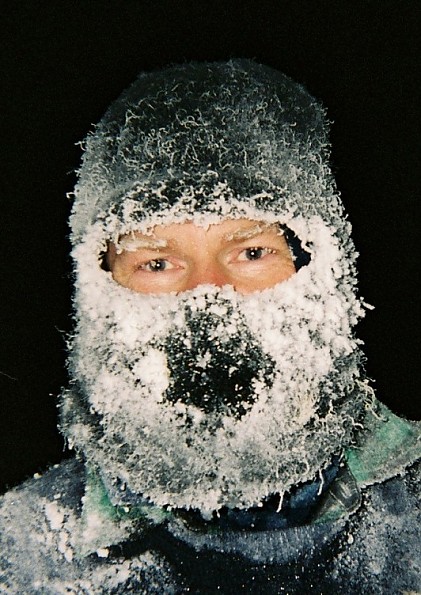 This time of year has long periods of twilight when the morning sky appears mauve and pink in colour. One's perspective is altered by the soft light. I am looking generally south in this photo. How do I know? Just look at the moon.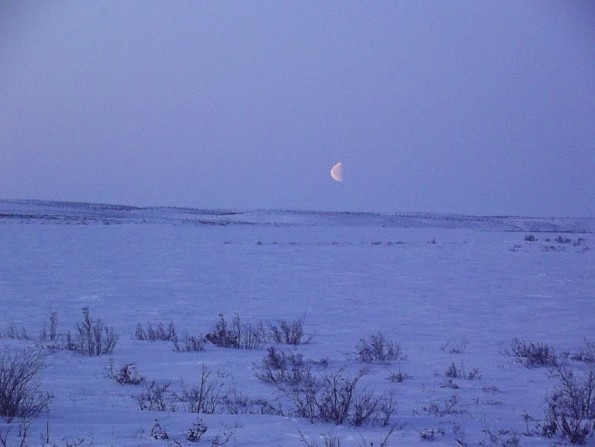 Caribou off in the distance; one never needs to feel alone if we know what to look for.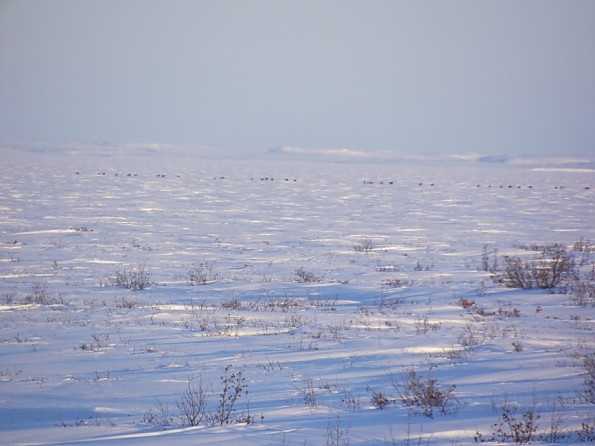 Land of long shadows; the shadow of my tent and skis in the morning. By monitoring the changes of the shadows I could plot the movement of the sun and my direction of travel.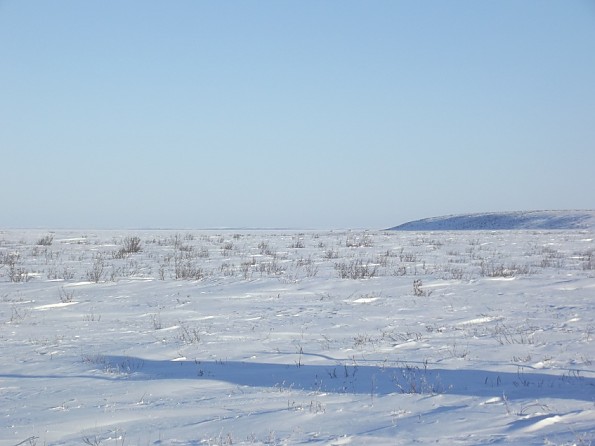 Caribou. Notice the vegetation is becoming more prevalent; this is mostly Green Alder (Alnus crispa) and Bog Birch (Betula glandulosa).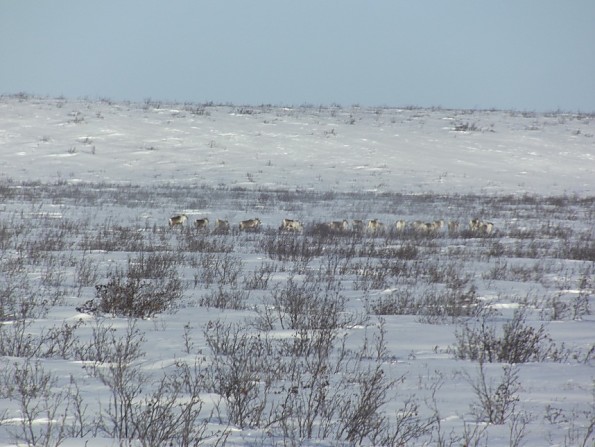 Anderson River Valley and caribou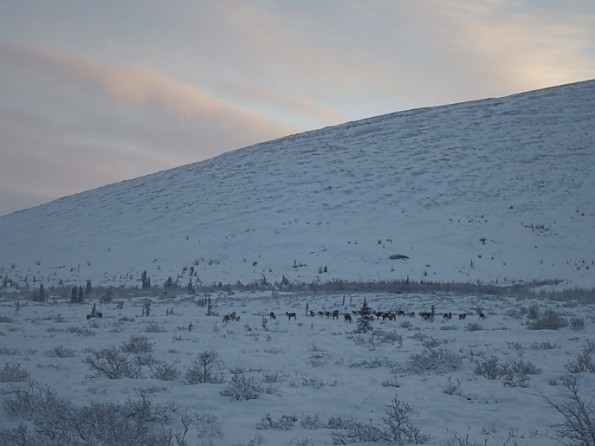 There were a lot of caribou on this trip; I saw several thousand. There were so many that they blocked my way at times. No sooner had I found a way around the first bunch when more came into view. They didn't seem to care that I was there.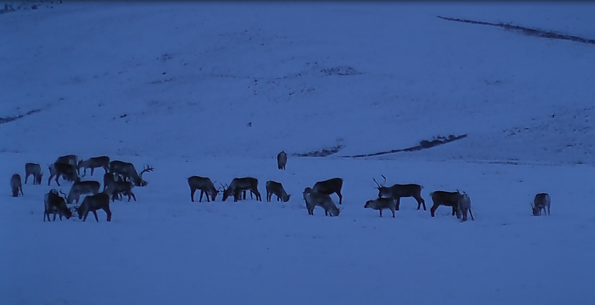 The tree line off in the distance; that's where I am heading.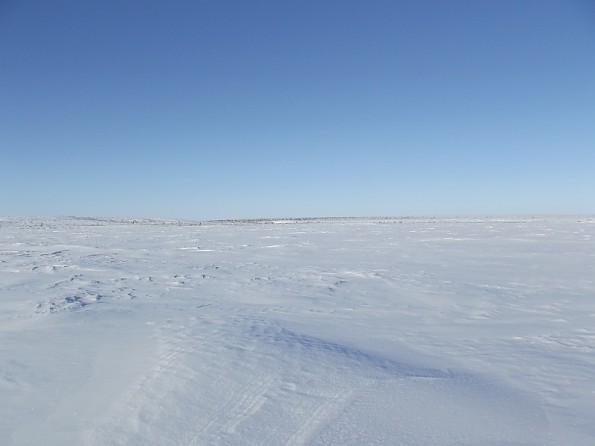 Wolf tracks and the remains of a caribou.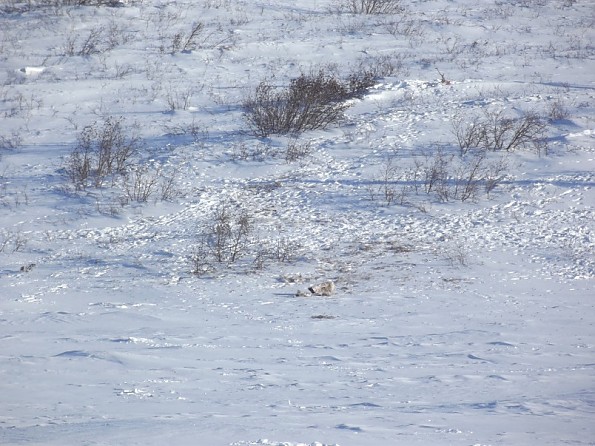 In the trees. The forest was really a mixed blessing; it provided a nice shelter from the wind along with firewood, but allowed the snow to settle, accumulating into deep, soft drifts which were difficult to ski through. For this reason I would only use spots like this for camping and stay to the more wind-blasted, open areas for easier, but colder, travel.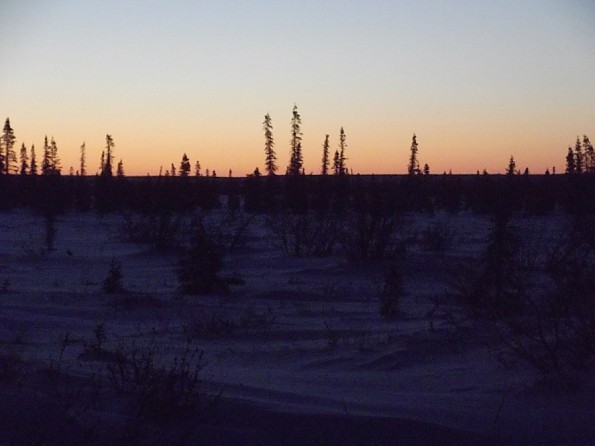 The last big lake and caribou tracks; almost home.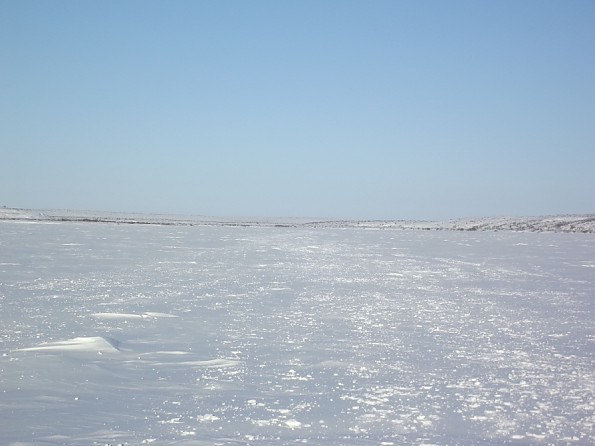 The blue hills of home, finally. From here my trip was pretty much complete as I travelled over familiar ground. This is an old burn which occurred back in 1968; it had been large stands of White Spruce prior to this. Regen takes a long time up here.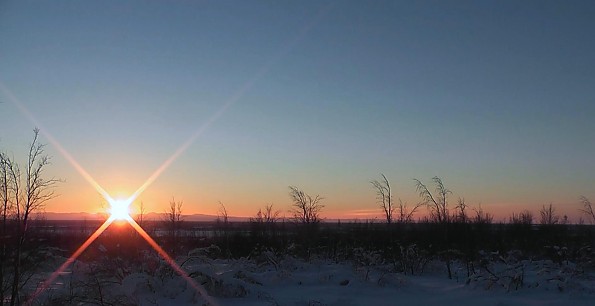 Looking North East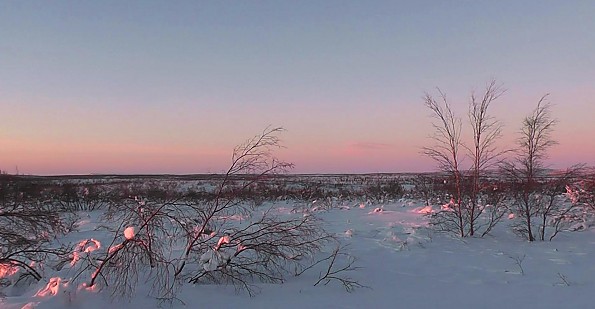 There are more pictures which I will post later with my gear reviews.
Thanks all for taking the time to read this.
P.S. Dechinule means "Land of Little Sticks".